Hedgehogs Blog (Y1)
Welcome to the our blog! We hope to share all the wonderful things that we are learning about in Year 1.

Our Class Teacher is Mrs Macfarlane and our Teaching Assistant is Ms C. Smith.
Here is our exciting CURRICULUM MAP FOR 2020-21
If this bubble has to self-isolate or we have to go into a school lockdown, click the orange button below to access the appropriate remote learning.
Spring Term 3 2021
Week 5
The mighty Finn McCool
It has been so lovely seeing how brilliantly you have been focusing on your Geography. I have absolutely loved seeing your pictures of the giant Finn McCool when learning about the legend of the Giant's Causeway.
It has been an absolute joy to see the children at our Class Assemblies. If you haven't popped along to one yet, please do! It has been so lovely seeing the children, but also for them to see each other and share their learning with their friends.
Numbers to 50
Today we started to think about numbers up to 50. It was lovely to hear that some of you have been very creative with the objects you have used from home to count. Remember to put the objects in groups of 10, this will make it much easier to count. You can have a go at counting in 1s (1, 2, 3, 4, 5 etc...) or in 10s (10, 20, 30 etc...)
Week 4
A fabulous end to another wonderful week of learning
We are very impressed with how hard you are all working. We know that it is a very tricky time for you all and we know that you are missing your friends, but we are so proud of how hard you are working. Not just our wonderful little Hedgehogs but also the home grown ups. Enjoy a well earned rest over the weekend. If you can get out into the fresh air, who knows we might even see some flurries of snow.
Travels around the United Kingdom continue
Well done Hedgehogs! I have loved seeing all the photos of your learning. I have especially enjoyed seeing how you are using what you are learning in RWI to record your ideas about our topic.
Also we have more children who are having a go at some baking. Yummy treats will definately get us through these strange times. I just wish I could have a taste!
Snowy Fun!
How very exciting it was to wake up on Sunday, open the curtains and discover that while we all slept a soft blanket of snow had covered everything! We have loved seeing your photos of all the fun you had in the snow. Keep sending them in and we can add them to our gallery.
Week 3
A fabulous end to week 3!
Wow Hedgehogs, you have all been working so hard this week. Mr Macfarlane was very impressed with your tartan designs, he loved the colours you used. Some of them were very bright and colourful!
We also saw some wonderful ideas for helping to support our maths this week. Children and home grown ups are really thinking about what they have at home to provide children with stuff to use for counting. I would never have thought of borrowing the counters from Connect 4 to use on a tens frame!
I can't wait to see what fun you all get up to with your learning next week! Have a lovely weekend Hedgehogs!
Off to Scotland we go!
In Geography we have headed off to find out about another of the four nations of the United Kingdom. I have loved seeing your Scottish fact files. What a lot of information you have found out. Remember to email me your kilts, I'd love to see them. Mr Macfarlane is Scottish and he wears a kilt to family celebrations. Each Clan has their own tartan, I am looking forward to seeing your designs.
What a great start to the week!
Wow Hedgehogs! What a lot of emails I have had today with all your wonderful learning. That really has started my week off with a happy smile on my face!
I can tell lots of you have really enjoyed finding out about London. There have been some wonderful Buckingham Palaces. If you haven't emailed them across yet, please do!
I am also thrilled to see that you are keeping up with your sounds in RWI. Remember those 'fred fingers' to help you with your spelling.
Week 2
Well done for a wonderful week of learning
Hedgehogs you have been amazing! I have been kept very busy with all the emails of your wonderful learning. This week we have learnt about the 4 nations of the United Kingdom and English landmarks. We have been busy counting on and using our number bonds, and I was very pleased to see children using their part whole models and tens frames to support their learning.
One of things I have really loved is seeing how many of you have been enjoying taking part with our physical warm ups, whether that is the GoNoodle's in the morning, (I have even whole families taking part,) counting to 100 with Jack Hartmann in Maths or skipping and beating personal bests. Great job Hedgehogs, keeping our bodies active helps to get our mind ready to learn.
How lovely to see all your learning!
Well done to all the Hedgehogs. We are so proud of how hard you are working at home. The highlights of the last few days are seeing children getting some fresh air and skipping, rocking out with a Wonky Donkey, keeping up with all their sounds, using number bonds, helping out home grown ups, creating wonderful flags and generally being fabulous!
Keep going Hedgehogs, you are amazing!
An amazing start to week two of our lockdown learning!
Thank you so much for working so hard for your home grown ups Hedgehogs. My email inbox has been pinging all day with all your fabulous photos. I am super impressed with the wonderful phonics work going on in RWI, the counting on in maths and finally our last session of work on winter.
Your wonderful pictures and happy smiles really brighten my day!
Week 1
What a fabulous end to week one of our remote learning!
Wow Hedgehogs! We are so incredibly proud of you all! There have been so many photos emailed to me of all your wonderful learning this week.
Everyone has been taking part in all their RWI sessions. We are very pleased to see that lots of people are using their phonic cards to support their learning. This is fabulous and remember you can teach your home grown ups their sounds too!
In maths we have been recapping some learning from last term. Well done for using your part whole models to find missing numbers. We also thought about 1 more and 1 less.
In our topic sessions we have been thinking about Winter. It has been wonderful to see some children have been going out for walks to look for signs of winter and little robins.
There has also been music, PE, PSHE, Computing, GoNoodle, personal bests and Draw with Rob! Wow!
You have thrown yourself into your learning, you are all superstars! Have a lovely weekend and we look forward to some more wonderful learning next week!
Wonderful start to remote learning!
Well done Hedgehogs! We are all very impressed with the work we have seen so far. Some really wonderful RWI sounds and writing, brilliant maths using a part whole model, fabulous writing about winter and even some photos of reading and stories. What a fabulous start to our lockdown learning.
Remember home grown ups, email me photos of your little person doing their learning, or photos of the work, and I can pop them on to the blog so we can all celebrate how wonderful the Hedgehog children are.
Autumn Term 2 2020
11.12.20 This year's Christmas performance has had to be different at WIS as with many other schools far and wide but we have made it as special as we can and the children's faces show just how much they have enjoyed singing the songs and doing the actions. Although we can't all be together in the hall, we have managed to make it just as special but in a different way. Today, all the children thoroughly enjoyed watching each other's Christmas performance videos during our virtual celebration assembly. We hope you enjoy watching them at home as much as we enjoyed making them for you. Plus the beauty of this is that you can watch them over and over again! Fantastic!
Another busy week of maths
This week we finished our shape work with some patterns and sorting by two or three different criteria.
At the end of the week we started thinking about teen numbers. We are making them using one ten and some ones. We represented them using a variety of different equipment.
Design Technology
This week we started a new Design Technology project where we are thinking about the structures in a playground. The children were brilliant at making links with the things we have already learnt. We were able to talk about the materials that the different equipment were made from and think about why.
Next we thought about making our own models. What materials could we use and how could we join them together. The children had a go at making a strong frame by adding supports and card triangles to make strong joins.
Finally we designed our own model ready to make next week. We are looking forward to seeing them all together in our Hedgehog Playground.
Human and Physical features
We have been learning about human and physical features of a city. We have really enjoyed looking at Capital Cities from around the world. It has been really interesting to see how different they all are. The children have done some wonderful writing about the features of a city and we have been super impressed with how they are really thinking about using their sounds as they write. Also very impressed to see finger spaces, capital letters and full stops. Well done Hedgehogs!
Marvellous Maps
As part of our Geography topic we designed our own maps of a city. The children used a key to add details to their maps. We thought about human and physical features. The children are fantastic at recognising the different features and whether they were created by people or are their as part of nature. Brilliant work Hedgehogs!
Our Autumn Collages
We worked so hard on our collages. Mrs Macfarlane has made a beautiful display of them in the classroom. They have definitely brightened the place up!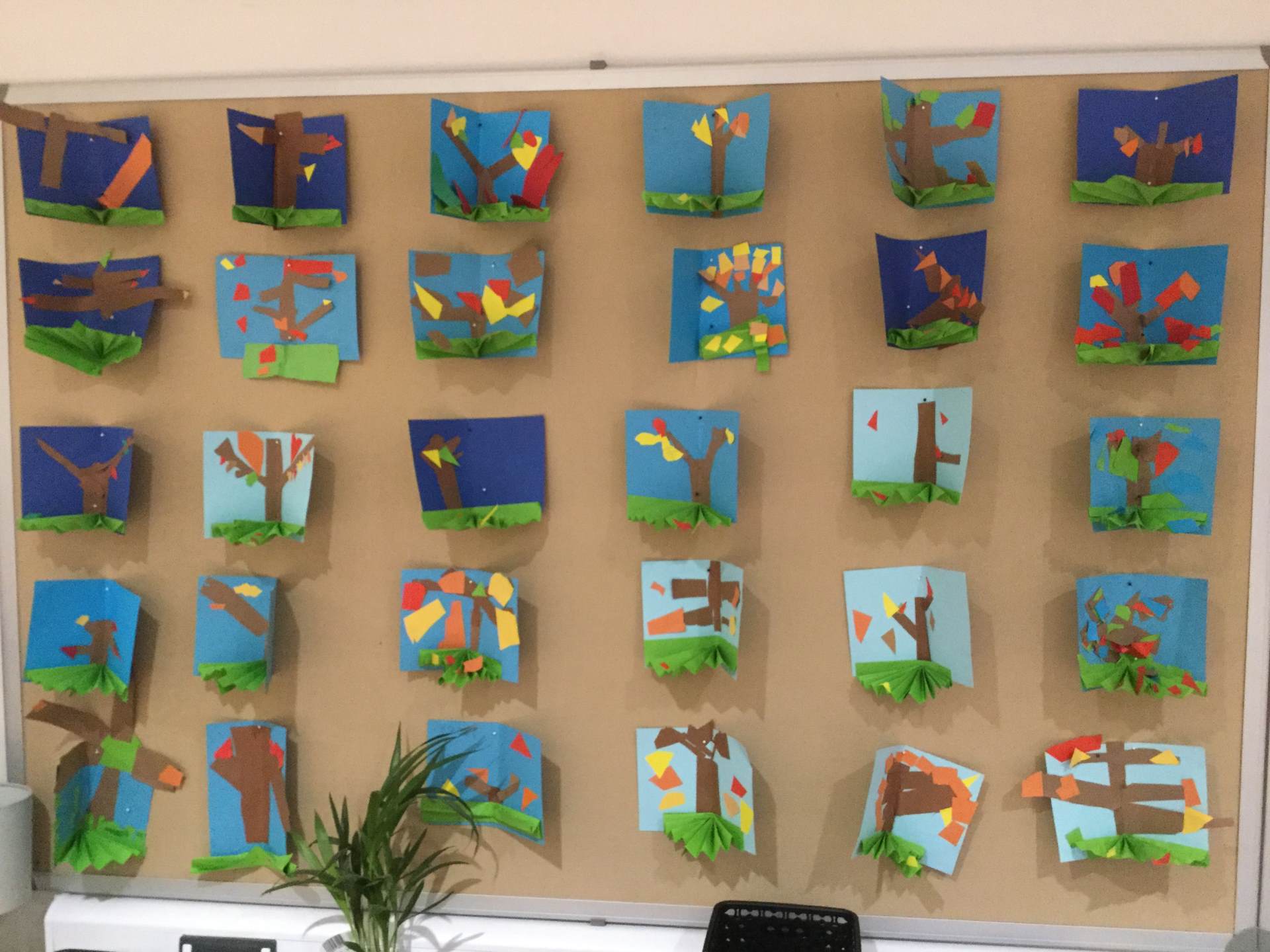 All about Seasons
This week we have started thinking about Seasons. We know that there are 4 seasons and that they go in a cycle; Spring, Summer, Autumn, then Winter. We talked about what the weather might be like in each season and how this might effect the clothes that we wear.
We thought about how Autumn is the season we are in now and what we can see when we look out of the window or go from a walk. Autumn is Mrs Macfarlane's favourite season. She loves the colours of the leaves as they begin falling off the tress. Some of the children said they loved kicking the fallen leaves and jumping into piles of them.
The children made wonderful Autumn collages. They are so amazing that Mrs Macfarlane has already popped them up on display in the classroom!
Remembrance Day
Today we sat quietly and remembered all those who serve in the armed forces and those who fought in the world wars. The children watched a short animation on cbeebies and we talked about why it was important to remember.
We talked about why we wear a poppy each year and why this year is different. The children shared their own happy memories.
Finally we used our water colours to create some amazing poppy art. We were very impressed!
Autumn Term 1 2020
Comparing numbers
We have been comparing two numbers using our crocodiles mouths <, > or =. The children have been working super hard and recording them really carefully in their books. It has been amazing to see how their maths recording has come on. We are all very impressed and proud of the children.
Alien faces
We are going to make an alien faces using different fabric and join them using tape, sewing, staples or glue. The designs are amazing and we are looking forward to sharing our finished faces with you soon.
Design and Technology
We have started to explore joining materials in design and technology. We are using what we found out about materials and their properties in Science to look at different fabrics. We have explored the fabrics and how they are used to make soft toys. We have also made hair using different materials. The end results were fabulous!
Waterproof or not?
This week we did a science experiment. We made sure our test was fair by using the same amount of material, the same amount of water and for the same time. The children were brilliant at predicting the result and then checking.
It was also great to hear them talking about their conclusions. We have decided that cellophane and tin foil are the best type of waterproof material as they are strong as well as waterproof. Newspaper and tissue paper held the water but then got all mushy and fell apart. The felt and the fabric soaked the water up them let it through.
Sorting materials and ordering numbers
We have had a really busy week of learning. The children have really enjoyed exploring materials and their properties. They have sorted by type of material, labelled them and then talked about the properties. It is wonderful to hear them using words like 'squishy' and 'bendy' to describe the materials.
They have also ordered number cards. Lots of really good ordering and some Hedgehogs managed to get all the way to 20. Well done!
Another busy week in Hedgehog Class
This week the children have been super busy in maths. We have been comparing two numbers to see which is the greatest or smallest. We have started using <, > and = to compare them. We remember this by thinking of a crocodile, and what do crocodiles eat? The biggest number! The children have really impressed us by, not only using the correct mathematical language, but also recording it in their maths books. What super stars!
We have also started learning about materials this week. We have been on a material hunt looking for glass, brick, metal, plastic and wood around the classroom. We then began describing their properties. We have had some wonderful words like squishy, hard, soft, rough and prickly.
With Miss Salmon on Thursday the children had a fabulous music lesson. They sang, danced and played along!
We are already looking forward to a new week of learning next week. Have a lovely weekend Hedgehogs.
More maths!
The children are getting really confident already with their recording of maths. They have been focusing on counting accurately and recording carefully, one number in each box. We have been really impressed with how many of our Hedgehogs are challenging themselves and getting on to the WOW challenges. We have been using a range of resources to support us; tens frames, counters, objects, buttons, numberlines to name a few. The children have been very independent with using the resources and putting them away. We think it is going to be a wonderful year of maths ahead.
Space Race
We have started our topic by thinking about the race to get to space between the USA and the USSR. The children took turns to draw a part of Apollo 11. As it was a space race they did not share their ideas with the other groups. At the end we looked at the pictures. They were all very different. We decided that it would have been easier if we had all seen the rocket at the same time. Maybe if the USA and the USSR had worked together then they might have got to space quicker.
Marvellous Maths!
This week we have been thinking about place value to 10. We have been sorting, counting and labelling. The children have really impressed us with their careful number formation and their maths books are looking great!
Back to school
It has been so lovely to welcome back our new little Hedgehogs. We have spent the week getting to know each other, the new routines and where things are in the classroom. The children have settled really well and we are looking forward to a wonderful term of learning.
To get us ready for our new topic next week, we did a 'Draw with Rob' session. The children listened really well and their pictures were fabulous. Much better than Mrs Macfarlane's wonky astronaut!
Singing Make a Wish Video
Story Time with Mrs Macfarlane & Miss Hillier
Term 6 2020
June
The best kind of email
Today I got an email full of fabulous learning from one of my lovely Hedgehogs. It's the best kind of email to get! Have a look through the photos to get some ideas for fun learning you could try at home. It could be some art inspired by a famous artists, inventing a brand new board, setting up science investigations or researching zoos. My lovely little Hedgehog has even designed her own cuddly hedgehog. What a lot of wonderful learning!
Zoom fun!
It has been so lovely to catch up with some of the Hedgehogs this week. This week's zoom fun has included chatter, stories, scavenger hunts, smiles, laughter, fun and we finished the week with a pyjama party! Thank you to the Hedgehogs who could make one or all of the sessions. You made mine and Miss Hillier's week!
We are going to do the same again next week, look out for the email for the days and times. Hope to see you there!
Wonderful creative writing!
Jack has written a wonderful story about a Rainbow Dinosaur. I've popped it into this week's home learning gallery so take a look. Maybe you could have a go at writing a story of your own? Think about a character, use your imagination and let it run wild! What problem could they have? How could they solve it? If you write one send it to me so I can read it and then I can publish it on our blog like Jack's.
Term 5 2020
May
Half term, but the learning continues!
What beautiful hot sunshine we are having! I have enjoyed getting home from school and sitting in the garden with a cup of tea and reading my book. It's so lovely to be able to enjoy being outside.
I have also loved seeing some of you in our group Zoom sessions. Next week I am going to set up a daily drop in session. It would be so lovely to see you, so ask your home grown up if they could help you to get on to Zoom. I will send them an email with all the details on.
While I've been busy at school, there has been some really wonderful home learning going on, even though it is half term!
If you are looking for things to do you could pop to the White Rose Maths site, the Year One home learning page has lots of great activities. If you head to the Oxford Owl site you will find some of our Read Write Inc books have popped up. If you would like to know what colour your tiddler needs to start on, pop me an email and I'll let you know, of course they might remember!
If we were in school next week we would have been starting our Zoo topic. You could research Zoos and maybe do a timeline. Jack has had a go. Take a look at the photos.
More Wonderful Home Learning
We love to see all your wonderful home learning! I have also been very proud to hear of the new things you are trying, how helpful you are being to your grown ups and of all the new skills you have been learning.
I have received some photos but it was also lovely to catch up on Zoom and see your beautiful art work, the garden you have been up to, new houses for some, paddling pools to splash in for others and generally lots and lots of happy smiles!
Sun shines for the new month!
After a rainy end to April it was lovely to see the sun again for the start of a new month. May is here and signs of Spring are well and truly blossoming. I hope that you have managed some safe walks or a potter in the garden to see the blossom, fresh new leaves on the tress and other flowers blooming. It is a lovely reminder there is beauty all around us. I know that Jack has been enjoying getting out, looking and identifying trees in his local area. Have a look at his photos, they might give you some inspiration for activities for the week ahead.
Jack also wrote me a wonderful letter. I loved it so much! If you would like to write me a letter you could either get your grown up to email it to me or post it to school and I can collect it next time I'm there.
Take care Hedgehogs, Miss Hillier, Miss Smith and I Are missing you all very much but we love hearing about what you are up to!
April
Very exciting news for our Hedgehog family!
Wonderful home learning!
I love receiving emails with photos of your wonderful home learning. It makes me so proud to see how busy you all are on your activities. I am also thrilled to hear that some children are taking the opportunity to learn new skills.
Have a little look through the photos and see what your friends have been up to, it might give you some ideas of what to try next!
Also if home grown ups email me at class10@westbury-inf.wilts.sch.uk I will be able to invite you to a Zoom chat. This means the children and I will be able to see each other as we chat. This is something I am hoping to set up for the week beginning 4th May.
Enjoy the sunshine Hedgehogs. Looking forward to catching up very soon!
Personal Best Challenge
Don't forget to do our Personal Best Challenges. This is where you can challenge yourself on an activity to see if you can beat your starting point by achieving your Personal Bests. Ask a brother, sister or grown up to time you and count how many you can do in 30 seconds and then record it on a chart. Practice daily and after 1 week record your results again. Can you beat your previous score and make a new Personal Best? Send in your results so that we can celebrate your achievements!
Captain Tom Moore
It was so wonderful to get an email from Oscar's Mummy to show me a wonderful card that he had made for Captain Tom. I'm sure we are all feeling very inspired by his wonderful achievement. Not only at the grand old age of 99 has he walked over 100 times around his garden, but he has also raised an amazing amount of money for the NHS. When I checked this morning he had got to £26.6 million!! That is such a fabulous amount. Well done Captain Tom. And well done Oscar for making and sending him a beautiful rainbow birthday card.
Family Garden Rugby Golf
We have been enjoying the sunshine. My son made up a brilliant game called 'Rugby Golf.' It involves us kicking or throwing the rugby ball across the garden and seeing who can get their ball into the bucket first. It was a lot of fun and the Macfarlane family are, it turns out, extremely competitive!
I hope you are enjoying the sunshine. Take care little Hedgehogs x
Baking fun!
My daughter and I decided to bake some brownies this week. I am not the world's best cook but they tasted pretty delicious!
Fabulous Home Learning!
It was so lovely to receive an email full to bursting of pictures of home learning from one of my little Hedgehogs. Well done you have been super busy!
Remember to send me your home learning pictures to
class10@westbury-inf.wilts.sch.uk
and I can put your fabulous pictures on our blog to share with your friends.
Going on a bear and rainbow hunt
The wonderful people of Warminster have taken on the challenge of putting rainbows, just like us Hedgehogs, and bears in their windows so that when children are taking their one walk of the day around the town they can spot them. My family and I went for our walk yesterday. We were super careful to stay 2 metres apart from anyone we met along the way. We had so much fun spotting rainbows and bears. My daughter used a little notebook and a tally chart to keep count. When we got home she counted in 5's to see how many she had seen. She counted up to 65 things that made us smile!
Maybe when you go out for your next walk you can spot things that make you smile? We also looked for the wonderful signs of spring that are popping up everywhere.
Remember to stay safe whilst having fun xx
Reading Eggs and Maths Seeds
Hi Hedgehogs! I hope you are still enjoying getting on with your home learning bits and bobs. Remember you can log on to your Reading Eggs and now you can also access Maths Seeds through that log on too. There are lots of wonderful games and features to explore. The best bit for me is I can see how you are getting on! I love to see how well you are doing and if you have managed to get any certificates!
Home grown ups - if you email me on the class10@westbury-inf.wilts.sch.uk email I will be able to email back any certificates your tiddlers get. I would also love to be sent any pictures of their home learning as then I can, hopefully as long as my technology lets me, pop them on here.
Keeping learning little Hedgehogs! I am very very proud of each and every one of you! xx
Hello Hedgehogs!
Hello everyone. I wanted to check in with all my little Hedgehogs and say how much I am enjoying seeing all your wonderful home learning.
Remember to use your Reading Eggs and through that log in you can also access Maths Seeds. I have had a quick look and can see 10 little Hedgehogs have been busy. Well done everyone!
Home grown ups remember you can email me on the class 10 email address. I have had a few already but would love to hear from you and your little ones.
I'm off to throw the ball in my garden for my very bouncy dog! She is very much enjoying having her family at home for lots of extra cuddles and games! Take care Hedgehogs and stay safe x
P.S Whatever I do this photo won't go up right. I'm afraid you'll have to head tilt to see my silly pup!
---
Term 4 2020
March
Porthole pictures
We painted some wonderful pictures of the SS Great Britain as seen through a pothole. I absolutely love them!
Rainbows of hope
As we leave each other for the time being, I want to share our beautiful rainbow pictures. Stay safe everyone. I will miss you but look forward to seeing all your wonderful home learning over the coming weeks. Take care little Hedgehogs xx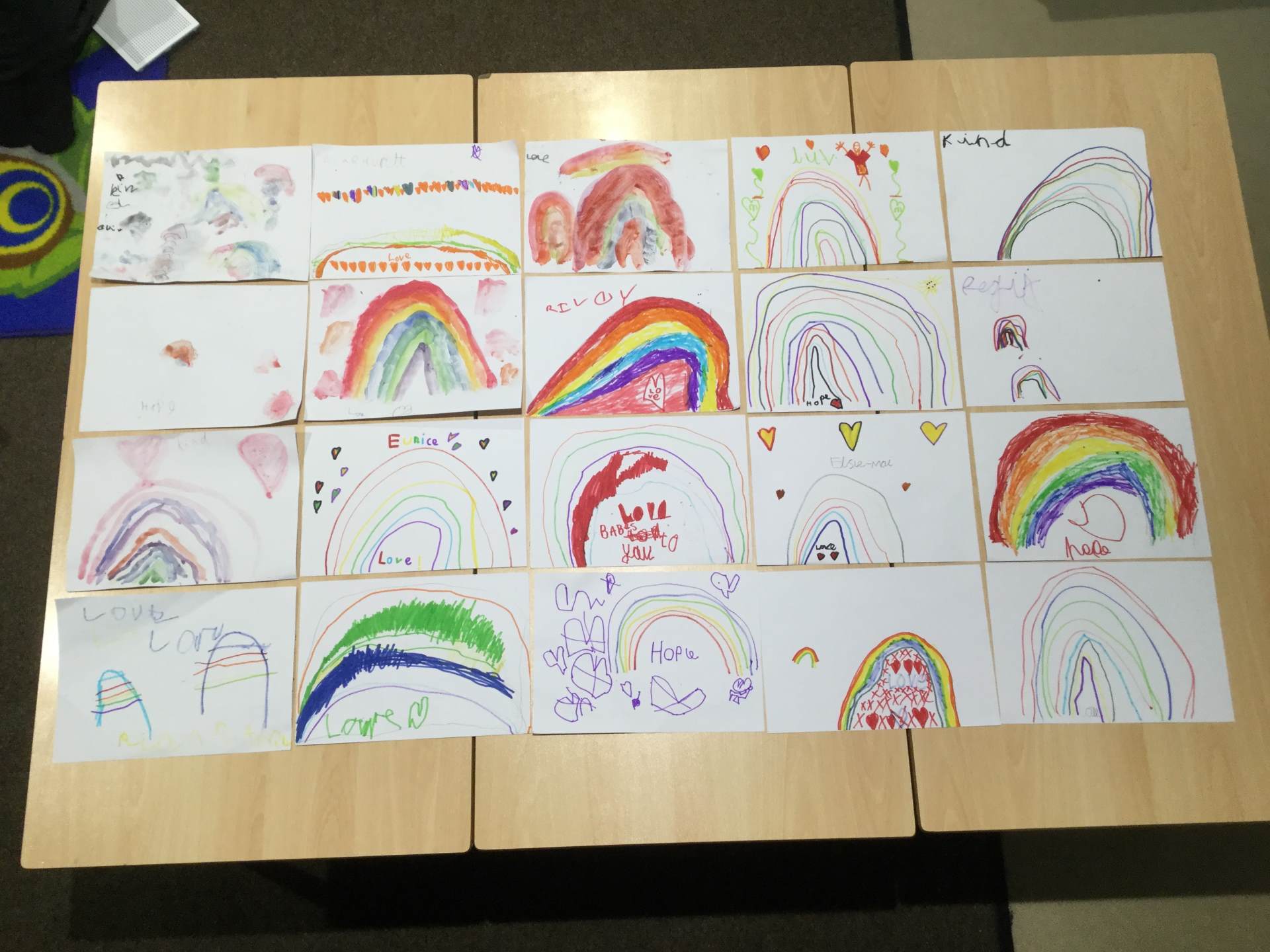 Marvellous measuring
This week we have been thinking about length and height. We compared things using taller, shorter or longer. Then we used non-standard measurements, straws, to measure each other and compare who was taller or shorter.
A wonderful trip to see the S.S Great Britain
We had the most amazing day visiting Isambard Kingdom Brunel's impressive ship. We couldn't believe how big it was! The engine was fascinating, watching all the cogs and pistons move was so interesting. The children thoroughly enjoyed looking around the ship, exploring all the different areas but I think our favourite bit was journeying under the water to see the hull, propeller and rudder.
Isambard Kingdom Brunel peg dolls
The children have really enjoyed finding out about Brunel, his life and amazing feats of engineering. They were very interested in his stove pipe hat. Did you know that the reason it was so tall was because Brunel was quite a short man and he wanted to look taller! He also kept sandwiches under his hat, a bit like Paddington Bear. We wonder if that's where Michael Bond, the author of Paddington's adventures, got the idea from, especially as Paddington Station was designed by Brunel!
S.S Great Britain
Ahead of our visit next week to the S.S Great Britain we have been finding out all about the man who designed it, Isambard Kingdom Brunel. We have also been finding out about what made the S.S Great Britain so different to other ships of the time and why we remember Brunel today.
We have been looking closely at the details of the ship. We are looking forward to sharing our completed view through a port hole pictures but here's a sneak peak at our watercolour paintings of the S.S Great Britain.
World Book Day
It was wonderful to see all the fabulous costumes. The children really enjoyed being characters from their favourite books. Mrs Macfarlane came as the Roly Poly Bird from The Twits which we are enjoying in class. We love predicting what will happen next. Mr and Mrs Twit are not very nice to each other! We are all hoping the Muggle Wumps and the Roly Poly Bird teach them a lesson!
Remember to keep reading at home to add to our minutes reading total!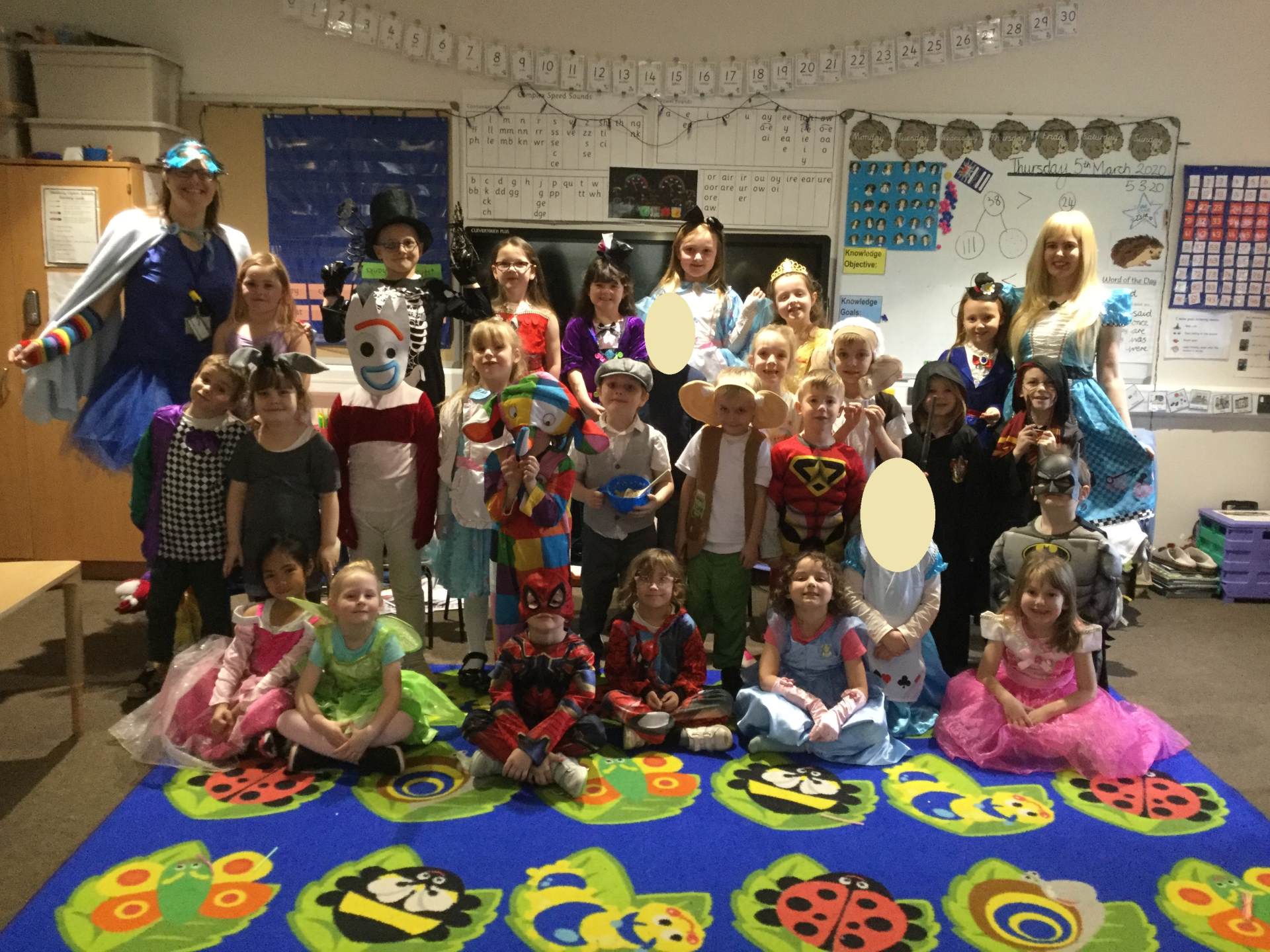 February
Place Value with numbers to 50
The children have been working very hard making numbers to 50 using equipment. We have been making tens first, counting them and then counting on the ones. It has been wonderful to see them working in pairs and independently and beginning to record their number sentences.
Pancakes!
We had a wonderful afternoon chopping fruit, flipping pancakes and most importantly sitting down together to enjoy pancakes! We all tasted them and really enjoyed adding the fresh strawberries and bananas as toppings.
Term 3 2020
February
Marvellous measuring
In Maths we have been thinking about weight and capacity. We have really enjoyed doing measuring through our cooking. It has given us a brilliant opportunity to use our knowledge in a practical way.
This week we have been measuring and comparing the weight and capacity of objects and containers using non standard measurement. We choose cubes to measure the weight of classroom objects and a small pot to measure the capacity of different containers. It was great fun and the children were using wonderful measuring vocabulary.
Cooking from the United Kingdom
This week we have been finding out about tasty treats from around the United Kingdom. Obviously it was very important that we cooked them so that we could taste them! We used scales and jugs to measure the weight and volume of the different ingredients we used. The children were wonderful at comparing the different weights and quickly recognised that we use grams to measure solids and millilitres for liquids.
It was lovely to see all the children join in with the cooking, taking turns and working as a team. It was also brilliant that everyone tried all the the recipes. Mrs Macfarlane said her Nanny used to say "If you don't try it, how do you know you don't like it?" So well done everyone for giving it a go.
The children enjoyed the English scones and Scottish shortbread better than the Welsh cheese and leek muffins.
We are looking forward to our final cook of the tour on Monday with Irish soda bread.
January
A busy week of learning
This week we have worked really hard on fact families and comparing number sentences in Maths. We used tens frames and counters to help us.
In PE we really enjoyed getting the equipment out. It was wonderful to see the children working safely, listening carefully and trying new things. Some of us were very brave and climbed up the climbing frame to the top!
A quick visit to Scotland and Wales
We have had a wonderful week finding out about Scotland and Wales.
The children loved listening to the bagpipes and finding out about Nessie in Scotland. Next each child designed their own tartan and then made kilts. They are absolutely fabulous!
Next we were off to Wales where we found out about castles and dragons. The children were really focused when it came to making teeny tiny matchbox castles with little tiny dragons hiding inside.
As well as being super busy in the afternoons finding out about the United Kingdom in Geography we have carried on with Read, Write Inc and Maths in the mornings. It's wonderful to see their reading and writing improve and their confidence grow. In maths we have been focusing on subtraction. We have been using tens frames and counters to help us, as well as our part whole models, and have been writing matching number sentences.
Well done Hedgehogs! Another busy fun filled week of learning.
Off on a grand tour of the United Kingdom with Paddington
This week we have begun our Geography topic 'Where is the UK?' We are getting to know the United Kingdom with the help of Paddington Bear. He will be taking us on a grand tour around our wonderful country taking in the sights in England, Scotland, Northern Ireland and Wales. We are very good at jumping on board the magic tour bus of our imaginations and shooting off!
This week we have focused on England. We looked at a map and found out where Westbury was in England. We then looked at pictures of famous landmarks from around England. Mrs Macfarlane was able to tell us all about the Angel of the North as it is near where her Grandad lives. We couldn't believe that tit's foot is taller than Mrs Macfarlane! We also looked at Stonehenge, Newcastle Bridge, Tower Bridge and lots more.
We have drawn some wonderful postcards of the landmarks. Can you guess which ones?
Next we focused on London which is our capital city. We really enjoyed finding out about the Tube and other landmarks. Again Mrs Macfarlane knew lots of things because she used to live in London. We watched a video of the changing of the guards at Buckingham Palace. We really love their tall Busby hats. We drew pictures of the Palace, looking carefully at the details, and then made our own peg guards and we also made the Queen.
Seasons
What a wonderful first week back we had. It was so lovely to catch up with the children about their Christmas holidays. It was also fabulous to see how quickly the children got back into routine and focused on their learning. Keep it up guys!
The children have been thinking about the seasons again in our Science work. Last time we focused on Autumn and this week we thought about Winter. The children enjoyed seeing Mrs Macfarlane dress up in her thick warm clothes ready for a cold winters day. We thought about the type of weather we might have, the clothes we wear and the affect the seasons have on animals.
We compared back to Autumn and thought about what had changed. Mrs Macfarlane said that when her alarm goes off at the moment it's still really dark. We are all looking forward to the days getting a bit longer and lighter as we head towards Spring.
We have made some super Winter collages. So good in fact that we popped them straight up on the wall. Pop in and have a look.
Term 2 2019
December
Final Performance to the school
Today we performed It's a baby! to the rest of the school and staff for them to enjoy. Everyone was blown away with the singing, acting and the dancing! We enjoyed learning this play and our costumes really made the performance amazing. Can't wait until next year!!
Christmas Stories
We have a book countdown in our class. Each day our Purple Learner opens a parcel with the date on and we get a Christmas story surprise. The best bit, for the children, is that Mrs Macfarlane wears a Christmas hat and we all snuggle down with the lights twinkling to enjoy our story together.
Kindness Elves arrive!
We were very excited to welcome our kindness elf Marshmallow this week. She is very impressed with how kind we are to each other and has said she'll pass this on to Father Christmas.
November
Designing playground equipment
This week we have been thinking about different playground equipment in our DT sessions. The children talked about what equipment they liked and what it was made of. They designed a model and then began making it. It was wonderful to see the children using the skills we learnt about joining materials last time. We had a very busy and productive afternoon of making!
Shape detectives
We have been learning all about 3D and 2D shapes. We have been looking for them in our school environment, naming them, sorting them and making repeating patterns with them. The grown ups have been very impressed and declared that we are shape wizards!
Warminster Town Park trip
The children had the most amazing time visiting Warminster Town Park. They behaved beautifully throughout the day and this was commented on by adults on the train, as we walked through Warminster and in the park itself. Despite the rain the children took part in planting and enjoyed exploring the park, looking for signs of Autumn. We were very pleased to pop into the Warminster Civic Centre to warm up and eat our lunch and felt very welcomed by the staff there. It was a lot of walking, Mrs Macfarlane's fitbit said 23,547 steps when she got home, but there was very little grumbling so well done Hedgehogs! We are all very proud of you!
Hedgehog rescue!
We were very excited when we caught sight of a small hedgehog scuttle passed our classroom window on Friday. The grown ups found a blanket and a box and popped our little friend in to a warm place. We called our hedgehog doctor, Mrs Bray, and she popped into school to collect him. She has updated us to tell us that he is only 198g and he should be 600g. However he is warm and eating now. She will update us with photos and news over the coming weeks.
Well done to the Hedgehog children who have become hedgehog superheroes and saved this little fellas life!
Autumn Detectives
This afternoon we were Autumn detectives looking for clues and signs of the season around the school grounds. The children loved spotting things like apples, blackberries, fallen leaves of different colours and bare branches. We finished off by being trees and throwing leaves up in to the air to watch them fall to the ground. So lovely to see the joy on the children's faces as they learn!
Term 1 2019
October
Our Alien Face designs
We used our joining skills to complete alien faces. Before we started the children designed their alien faces thinking about the materials they might use, how they might attach them and the shape of the face itself. We are looking forward to popping them up on the way to share with our friends.
Joining fabric
This week we have being trying out different ways of attaching fabrics. We have practiced our running stitches, used glue, blu tac, sticky tape and staples to attache felt, wool, ribbon and sequins to binka. The children really focused on their sewing and the end results are fabulous!
The Bird Show
This afternoon we were invited over to the Juniors to watch a wonderful show. The children were very excited and sat brilliantly, enjoying the show. The story was about a Heron and a Sparrow who lived together on a rubbish dump. They were very hungry and had to hope there was things to eat in amongst the rubbish. They were always wary of the naughty seagulls. One day they found a small green plant and the snake told them to take care of it. After a few songs, dances, some sad bits and happy bits they realised that if they took care of their dump and tidied away the rubbish things would begin to grow again. A lovely reminder of how important it is to take care of our world.
Getting stuck in to design!
This week we have started our design topic and we have been finding out different textiles. We explored the different fabrics which had been used to make dolls. It was brilliant to hear the children using their material properties vocabulary from our science learning over the last couple of weeks.
We have focused on hair. We thought about the different colours, whether it is curly, wavy or straight and finally if it long or short. We looked at each others' and we looked a a few dolls. We then had a go at making fringing using hessian. It was great to see such wonderful concentration on the children's faces!
Finally the children worked in pairs to create wild and wacky hairstyles!
Marvellous Maths
This week we started using part whole models and bar models to make numbers and then record in number sentences. It was quite tricky as it is a new skill but the children tried really hard and we are very proud of them.
More Materials!
This week we have really got stuck in to our science. We have explored how materials feel, how they look, what their properties are and why they are used for particular things. It has been really interesting thinking about why tables are made of wood and not fabric or why we use bricks to build our houses rather than sticks or wool. The children have had some wonderful ideas and reasons!
We had a go at using different materials to build houses for tiny people inspired bu the story 'The three little pigs.' We used art straws, lolly sticks, card, tape or lego bricks. Then we blew as hard as we could on them to see it we could blow them down. Some were more stable than others that's for sure! It was a lot of fun and everyone was very focused on their building.
Next we tested how waterproof different materials were. We thought about how we could make our tests fair and decided to use the same amount of water each time and wait for 1 minute to see how much water went through. We predicted which material might be waterproof thinking about what we know already about properties. After we tested each material we decided which material would be best to make a space suit for an astronaut. Although cellophane is waterproof, we decided in the end that it might not be suitable. After all who wants to see a space mans knickers! Instead we decided to go for tin foil.
We ended the week thinking about how materials are prepared to be used to make thing. Ask the children how wool gets from a sheep to a jumper. It is very interesting!
We discovered a brilliant science show on cbeebies that explains how things are made and how they work. Check out Maddie's Do you know?
September
Materials and their properties
This week we started our next block of learning. We have a new Knowledge Organiser about Materials and their properties. The children have enjoyed finding different materials in the classroom. We found things made of wood, plastic, glass, metal and fabric. Next we thought about the properties of each material. We used words like bendy, stretchy, rigid and rough to describe how they felt. The children really enjoyed making rubbings of different materials and their textures in our outside area. Lots of wonderful learning children, well done!
Space Quiz
The children really showed off their Space knowledge this week with a quiz. It was fabulous to see how much the children have learnt in just 3 weeks! Ask them about the 3 astronauts, or what the first man on the moon said and they will impress you too!
'We the Curious' trip
We had a wonderful day at 'We the Curious' in Bristol. It was wonderful to hear the children sharing their learning about space in the Planetarium and during our space workshop. We loved landing on the moon in our planetarium adventure and popping to a couple of other planets.
The children were wonderfully behaved so all the grown ups were very proud. Thank you to all our fantastic helpers. It is so lovely to share our learning adventures with some of our home grown ups.
Blast off in to space!
The children have thoroughly enjoyed finding out about the moon landings. They are remembering all the facts from their knowledge organisers and it's amazing to see!
This week we started off by taking part in our own version of the space race. In teams the children drew a picture of the rocket without sharing their ideas with the other teams. It was wonderful to see how much detail they remembered and to see them helping their team. We enjoyed looking at each groups rocket at the end and seeing how close they were to the photograph.
We have also made timelines. The children enjoyed finding out about Albert the monkey and Laika the dog who blasted off in to space before the astronauts did. Ask the children about Neil Armstrong, Buzz Aldrin and Michael Collins and see if they can tell you about their jobs in the Lunar mission.
A wonderful start to the year!
The new Hedgehogs have really got stuck into their first week in Year One. We have been super busy doing writing, maths, yoga, art, PE and computing. The children have enjoyed getting to know where their carpet spaces are, where their base tables are, where everything goes and there was lots of excitement about getting their own drawers!
We have been very impressed with how they have just got on with writing super sentences or recording their maths. It's going to be a great year for Hedgehogs!
Yoga fun!
We have been learning a bit of yoga in Hedgehog Class using the Cosmic Kids site. The children have been wonderful at following along with all the moves.
2018-2019
July 2019
Penguins, explorers and detectives!
We may be getting near to the end of term but the learning is still going full steam ahead! We have been reading 'Lost and Found' by Oliver Jeffers and the children have described the two main characters, drawn story maps, written a re-tell and made beautiful penguin collages. They have really worked their socks off!
With Miss Brown on Thursday the children used the lap tops to write up their diary entries from Scott and the race to the pole. They worked so hard on these and the results are fabulous.
Finally in maths we worked in teams to solve the 'Mystery of the Sports Day Trophy Thief.' It was great to see the children talking about the maths they needed to use and work together to solve the clues.
Making boats and games with Grandparents!
This week we continued our Science work by making boats using tin foil for a dinosaur to float in. The children were amazing at this. They used what we had learnt already and quickly realised that they needed to make a large surface area and edges to make a boat that would float. We then tried to make the tin foil sink. This was pretty impossible no matter how tightly we squeezed them into a ball. We had lots of discussion about why. They children are getting really good at explaining their thinking.
We finished the week in the most wonderful way by inviting our grandparents in to our art exhibition. Before they went along to the hall to view our amazing art work we shared games with them in the classroom. It was so lovely to see the children interacting with our visitors. There was lots of smiles and laughter. A really lovely end to a sunny week!
June 2019
The children take over!
As part of our Safer Internet Day we have been talking about staying safe online and this week the children have written the blog...
"We have learnt about science and materials.
We have been learning about floating and sinking. When we think about sink or float we had to make predictions. I got 1 wrong and 5 right. It was fun and I felt it was hard but it got easier.
We have been learning about waterproof. We found out what different materials were waterproof and not waterproof to keep teddy dry. We used different fabrics, a pipette of water, a plastic teddy bear in a cup and we timed it for a minute to make sure it was fair.
We have been learning about time, like 12 o'clock, or 6 o'clock or 7 o'clock. The clocks helped us tell the time to help us know it is lunchtime or home time. We made clocks to begin to help us tell the time.
We have written our own algorithms about brushing our teeth and leaving school. When it was mixed up we debugged it."
Super sewing!
After our trip to the aquarium we have been thinking about fish. We talked about the different shapes and colours that fish are, we were amazed at how many different fish there are in our oceans. The children have designed a fish that they are now busily sewing. We are looking forward to sharing our very own soft toy fish and finishing them off with our home grown ups at our parent's event later in the term!
Archers ready!
This week we had another go at archery. We were really good at making sure we were behind the safety line and waiting to cross the line. WE are even getting closer to the target.
Material Sorting
We continued our material science work this week by sorting a random collection of materials by their properties. We talked about what properties we could see and made labels to show how we had grouped them.
Numbers to 100
This week we have focused on numbers up to 100. We have been making 2 digit numbers by splitting them into tens and ones. We used part whole models and place value charts with Base 10 and numicon to help us. We have been able to compare them saying which is greater, less than and equal to. The children have worked really hard and it has been wonderful to see how independent they are becoming with their math's work.
A wonderfully busy week of learning!
This week has been super busy! We have been learning about money in maths and discovered that the children are very good with recognising coins! By the end of the week we could even recognise notes. Home grown ups look forward to lots of help when counting out your money in shops from now on!
We were also lucky enough to have a visitor this week who came in from Wessex Water to talk to us about the water cycle, saving water and how we can help the environment. The children were brilliant and showed Mrs Smith how good they were at listening and answering questions. Well done Hedeghogs!
In Science we continued exploring materials and their properties and worked in groups to sort materials. It was wonderful to hear the children using scientific words like opaque and transparent, see them working so well in their groups and use full sentences to describe the material.
A wonderful fishy day at Bristol Aquarium
We had the most amazing day at Bristol Aquarium. The children were brilliantly behaved both on the coach and going around the aquarium, they really did the school proud!
There are so many highlights that it is difficult to choose a few, but there were some fishy facts that we all found fascinating... When Starfish loose a limb, they grow a new one, but more amazing than that, the lost limb grows a new Starfish! Lobsters wee from their eyes! Octopus have 9 brains and three hearts!
Have a look at our fishy adventures.
Explorers
This term we will be learning about two explorers from the past, Robert Falcon Smith and Ronald Edmondson, and their famous 'race to the pole.' This week the children focussed on the story 'The Hare and the Tortoise' to link their own understanding and experiences to our history topic. The children developed their computing skills by creating e-books on a book creator app on the I pads, re-wrote the story on storyboards, played 'race' style games such as snakes and ladders and completed reading quizzes to extend their understanding of the story.
Materials Everywhere!
We have started this term's Science learning by going on a material hunt around the school. It was wonderful to use our outside area to find wood, plastic, glass, metal and fabric and to begin to talk about why we thought each material had been used. We noticed that both our aprons and a spade had been made out of plastic but that one was hard and one was flexible.
We are looking forward to exploring materials and their properties over this term and investigating using our scientific thinking.
May 2019
Family Picnic Event
It was so lovely to welcome so many home grown ups into school to join our end of term event. We celebrated our 'The ark' learning by having a family picnic. We enjoyed making jam, ham or cheese sandwiches, icing our biscuits and making floral crowns. We also showed off our wonderful 3D park maps. It was really lovely to see the children spreading the butter and fillings, then cutting the sandwiches themselves.
But most importantly having fun and sharing their learning. A wonderful end to the term.
Enjoy a lovely half term holiday and we look forward to seeing you in term 6 for our exciting new topic, 'Water, Water Everywhere.'
Biscuit tasting and cooking
We started the week tasting a variety of biscuits, describing them and then choosing the flavours we liked best. The children were brilliant at tasting new biscuits, even when they didn't like some of them! We all liked different ones best. some people enjoyed the crunch of the rich tea, some the spiciness of the ginger nuts, some the crumbliness of the digestive and some the sugary sweetness of the shorties.
We then went into the hall and made biscuits to share with our home grown ups later in the week at our end of term 'Family Picnic' event. The children worked in groups to cream the sugar and butter together, mix in the flour and their chosen flavours. Finally they rolled out the dough and used the flower cutters to make their biscuits.
They certainly smelt yummy whilst cooking!
Busy, busy, busy!
This week we have been very busy! We started the week by finishing our Georges Seurat inspired pointillism paintings. The children worked so hard on them and we have a wonderful display of their fabulous finished works of art in the classroom.
In Geography the children have worked in groups to make 3D park maps. It was wonderful to hear them talking to each other and deciding on what would be included in their park and who would make each part. They used tape to attach the different parts. We are hoping that they will still be in one piece by Wednesday 22nd May so that we can show them off to our home grown ups at our end of term family picnic event.
On Thursday afternoons the children have been working with Miss Brown on a variety of computing activities all about maps. Miss Brown said they have worked very hard, especially on the I pads.
Lots of spotty dots!
This week we have been finding out more about Georges Seurat. He was a French painter who was born in 1891. He invented a completely new way of painting during the Impressionist era called Pointillism. He painted amazing pictures using lots and lots and lots AND lots of tiny dots of paint in primary colours. We loved seeing some of his paintings in pictures that had zoomed in on the detail. Far away the paintings look like all the colours of the rainbow, but close up you can see that he put primary colours close together and let our eyes do the mixing. It's a bit like paint magic! We are very impressed.
We have looked at one of his most famous paintings called, 'Sunday afternoon on the Grande Jatte,' which took Georges Seurat 2 years to paint! We couldn't believe it. That really is a lot of dots!
The children have practised shading, blending and mixing coloured dots so that we can have a go at making our own pointillism pictures tomorrow.
In Maths we have been thinking about division. We have been grouping and sharing objects into 2s, 5s and 10s. The children have been using their sapphire powers and tried really hard. They are looking forward to having a practise at home with their homework!
A busy week of science learning!
This week we have focussed our learning on science. We have been talking about plants and linked our learning back to our trip last week. It was brilliant to hear the children sharing their ideas about what makes a plant grow, the different sorts of plants and naming flowers.
We have started a growing experiment where we have planted our own seeds but also a set of seeds that we will either water but keep in the dark, keep in the light but not water or water and keep in the light but they have no soil! The children have made scientific predictions about what they think will happen and we will check back at the end of term to see if we were right!
The children have worked in groups twice this week to produce a labelled collage of a flower and also a branching data base of wild and garden plants. Lots of great teamwork going on as well as lots of scientific chatter! We have some really wonderful posters that we can put up in our classrooms and also in the hall too.
Finally we all took part in the colour run on Friday afternoon. A really brilliant way to finish the week and blow the cobwebs away before the weekend! It was quite breezy!
April 2019
Park Keepers for the day!
The children had a wonderful day at Warminster town park being park keepers, even though it was a little bit rainy. First we listened to Stuart tell us about the things the park keeper has to do to look after the park and then helped him by clearing 5 flower beds ready to be re-planted. We have saved the tulip bulbs and are looking forward to planting them around the school in pots.
After we had finished our park keeper duties, and had a quick lunch break, we followed the new Tree Trail around the park looking at the deciduous and non-deciduous tress. We were amazed how many different types of trees there are in the park. We also saw some of the wild life, swans, geese and ducks. The otters and water voles were hiding, maybe we might have been a little bit too noisy! Just as we were leaving we spotted Harry the heron! He was watching us walking back to the station in the rain!
Superhero Afternoon
What a lovely end of term event we had in Hedgehogs Class this week! Thank you to all the parents and grown-ups who were able to join us. We hope you enjoyed the afternoon as much as we did.
For those of you who were unable to join us this time, please take a look through the slideshow below and see the children having fun making their own superheroes, measuring and ordering superheroes, playing superhero 'Guess Who', using our super senses to smell, hear and feel different things and snuggling up with a grown-up or friend to share our favourite stories.
March 2019
Beebot Fun
This week we were writing algorithms (instructions) to move a Beebot (a programmable floor robot) around a town. We worked together to write, test and amend our instructions to move the robot from one house to another. We then applied our skills in writing algorithms to our work on the computers. It was great fun!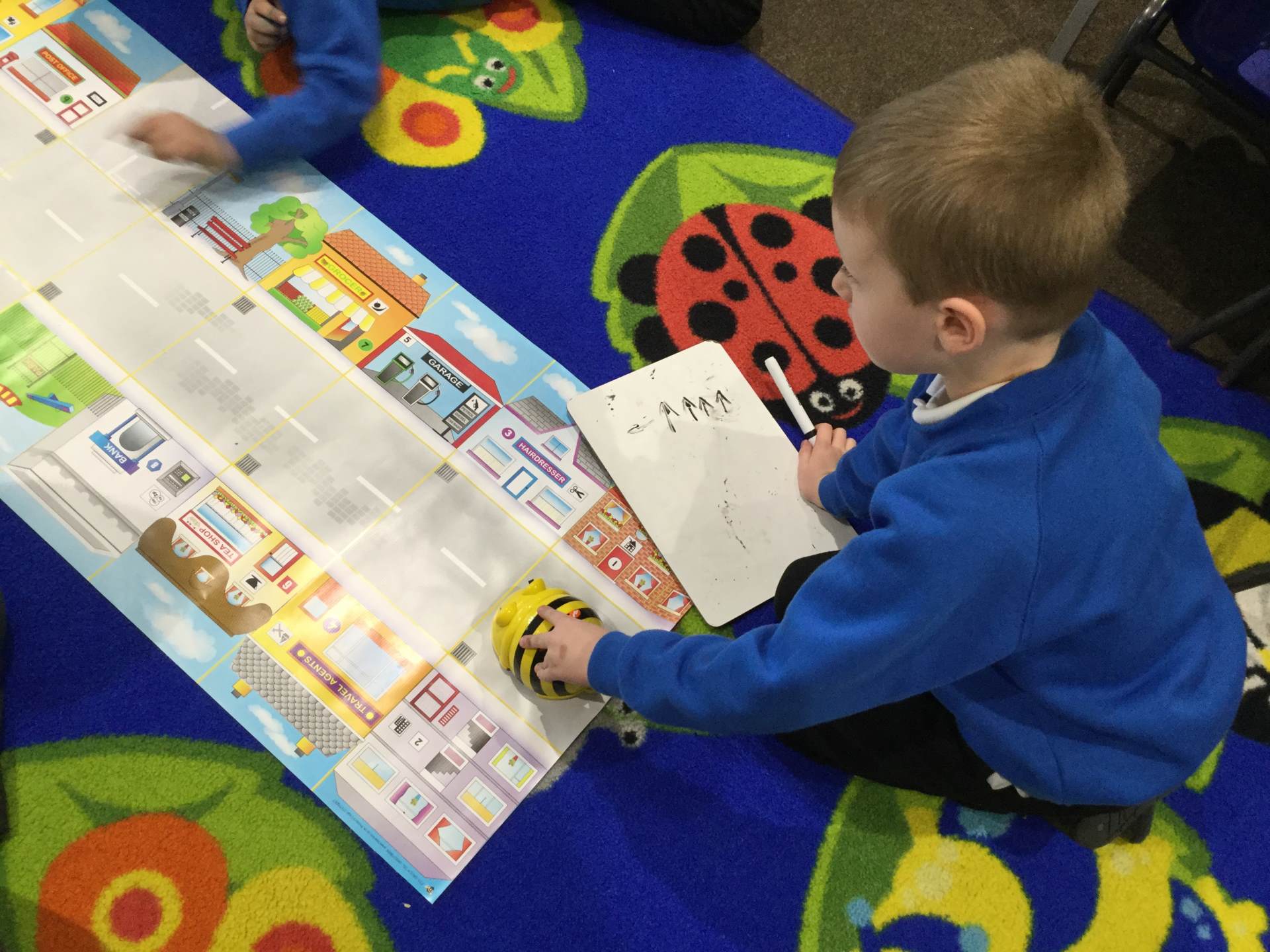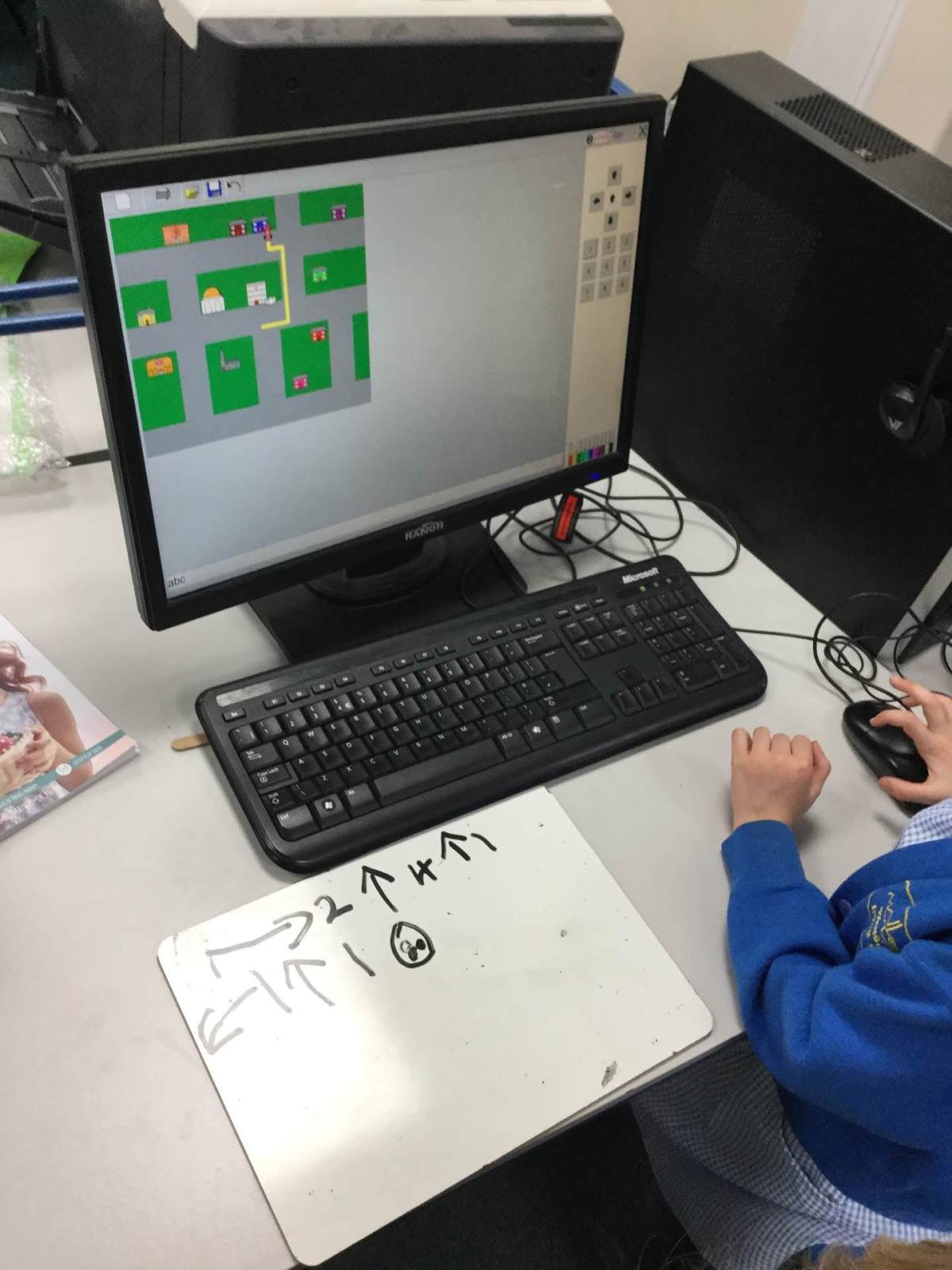 In maths this week we have been looking at volume and capacity. We have looked at the difference between the two and have had the opportunity to measure both. We had fun using different non-standard units to measure the capacity of a bowl and discovered that it is better to measure a larger item with bigger non-standard units so that it doesn't take as long. For example, we found out that it took 3 milk cartons or 10 cups or 237 spoonfuls of water to fill the bowl. Measuring large capacities with spoons is not a great idea!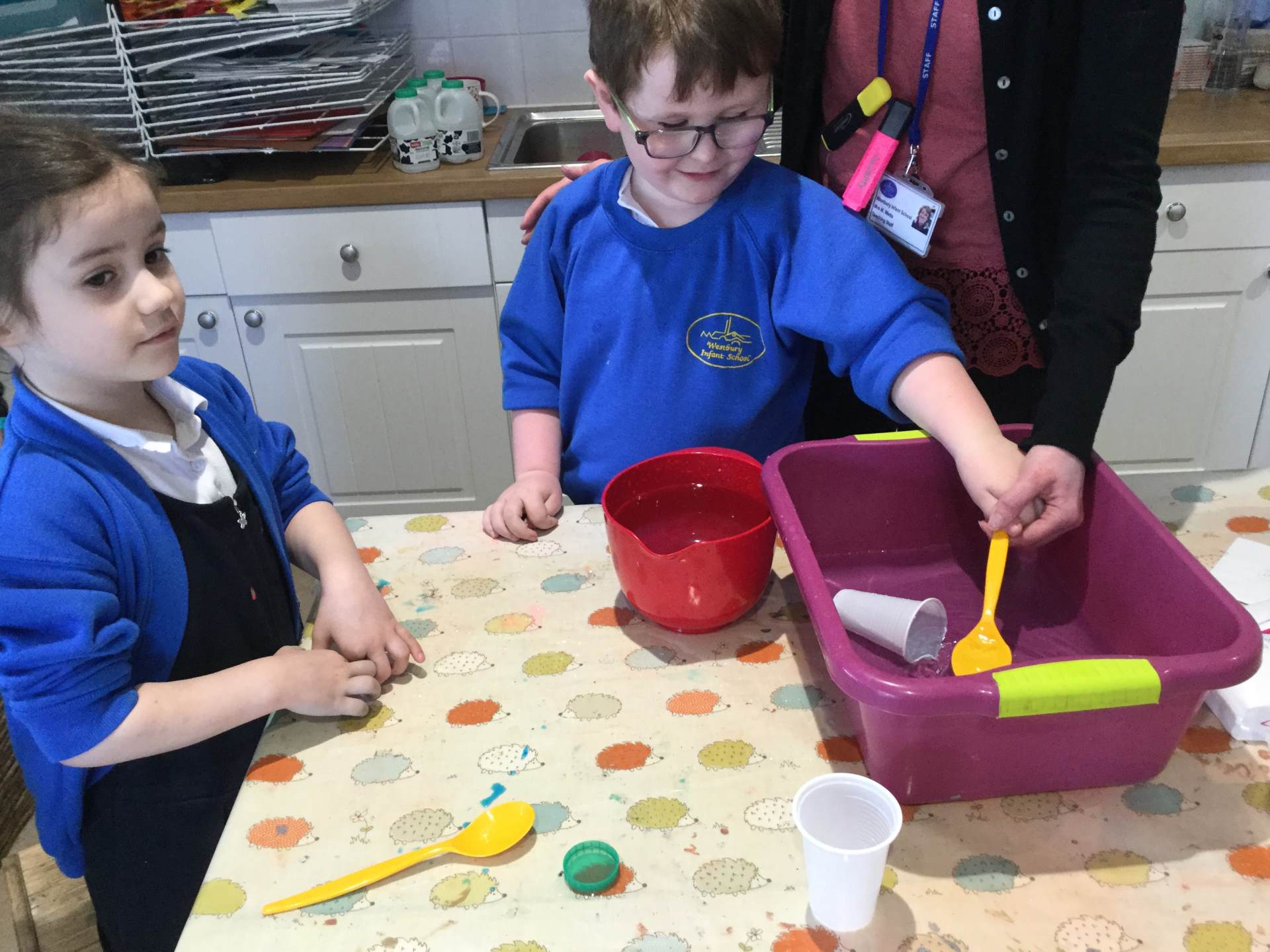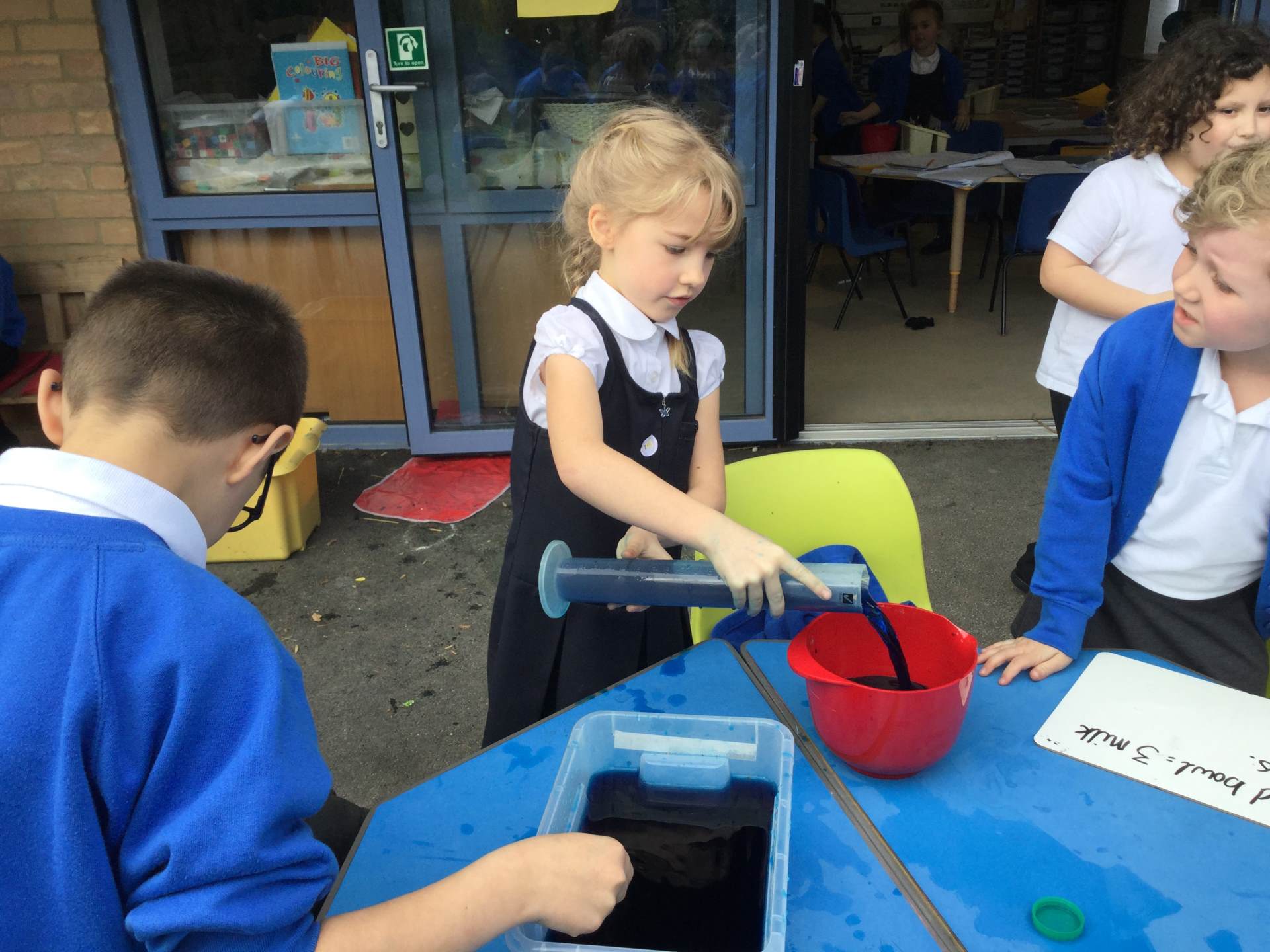 We also had to test whether the statement 'A tall container holds more water than a small container' is always true, sometimes true or never true. We used a tall measuring cylinder, a cup and a milk carton to test our ideas. We found out that the statement is sometimes true as the smaller milk carton held more water than the measuring cylinder but the tall measuring cylinder held more water than the cup.
Florence Nightingale
We have been learning about a real superhero in Hedgehogs class this week. Her name was Florence Nightingale and she was a nurse, living in Victorian times, who improved the conditions of a hospital in Scutari during the Crimean War. The improvements she made whilst away, and after her return, have changed the way hospitals are run today. In groups we discussed how she improved the Scutari hospital and then we wrote a diary entry to explain these changes to others.
In our music lessons we have been learning to play the glockenspiel to accompany a piece of music. We found it quite challenging to keep in time with the music but with the help of our friends we were able to play the tune correctly. Next week we are planning to split the class in half and play our glockenspiels whilst the rest of the class are singing a song.
Marvelous Measuring
In our Maths sessions over the past couple of weeks we have been measuring height and length. We began by thinking about how we describe height and length. We used the vocabulary tall, taller, tallest, short, shorter, shortest and long, longer, longest to compare heights and lengths. We then went on to measure objects using non-standard units such as cubes and paper clips. We compared the different units of measure and decided that measuring this way was not as accurate as it could be because the objects that we were using to measure with were different sizes. We decided that a more accurate way to measure would be to use standard units such as centimeters so we used rulers to measure lines and objects; draw lines for a given measurement and compare the measures by finding the 'difference' between the two lines/objects.
In Design and Technology this week we made our own wheel mechanisms. We cut a small hole in some card and then attached a wheel to the back using a split pin. When you turn the wheel, the face that you can see peeping through the hole that you cut, changes.
We ended the week celebrating Red Nose Day and raising money for Comic Relief.
Shrove Tuesday
What a busy week! On Tuesday we were learning about Shrove Tuesday which is also known as 'Pancake Day'. We found out that Shrove Tuesday takes place on the last day before Lent begins and that Lent is the Christian period leading up to Easter, when people often give up something. The tradition of eating pancakes started because in the past people were not allowed to eat foods such as eggs, so to use them up before Lent began, people would mix them with other rich foods such as milk, flour and butter to make pancakes.
We worked in small groups of three to make our own pancake batter and once cooked, we added our own toppings before eating them. They were very tasty!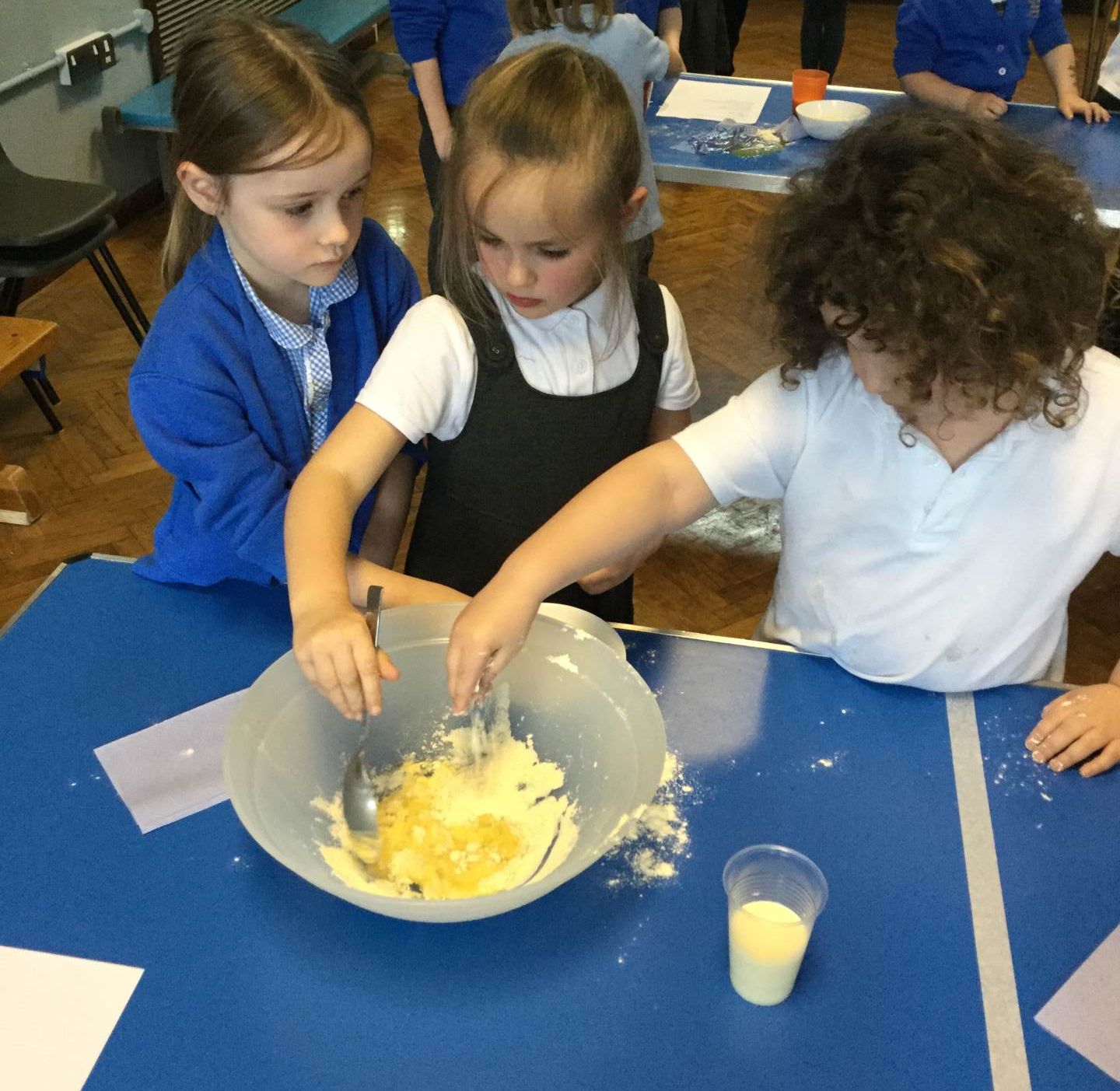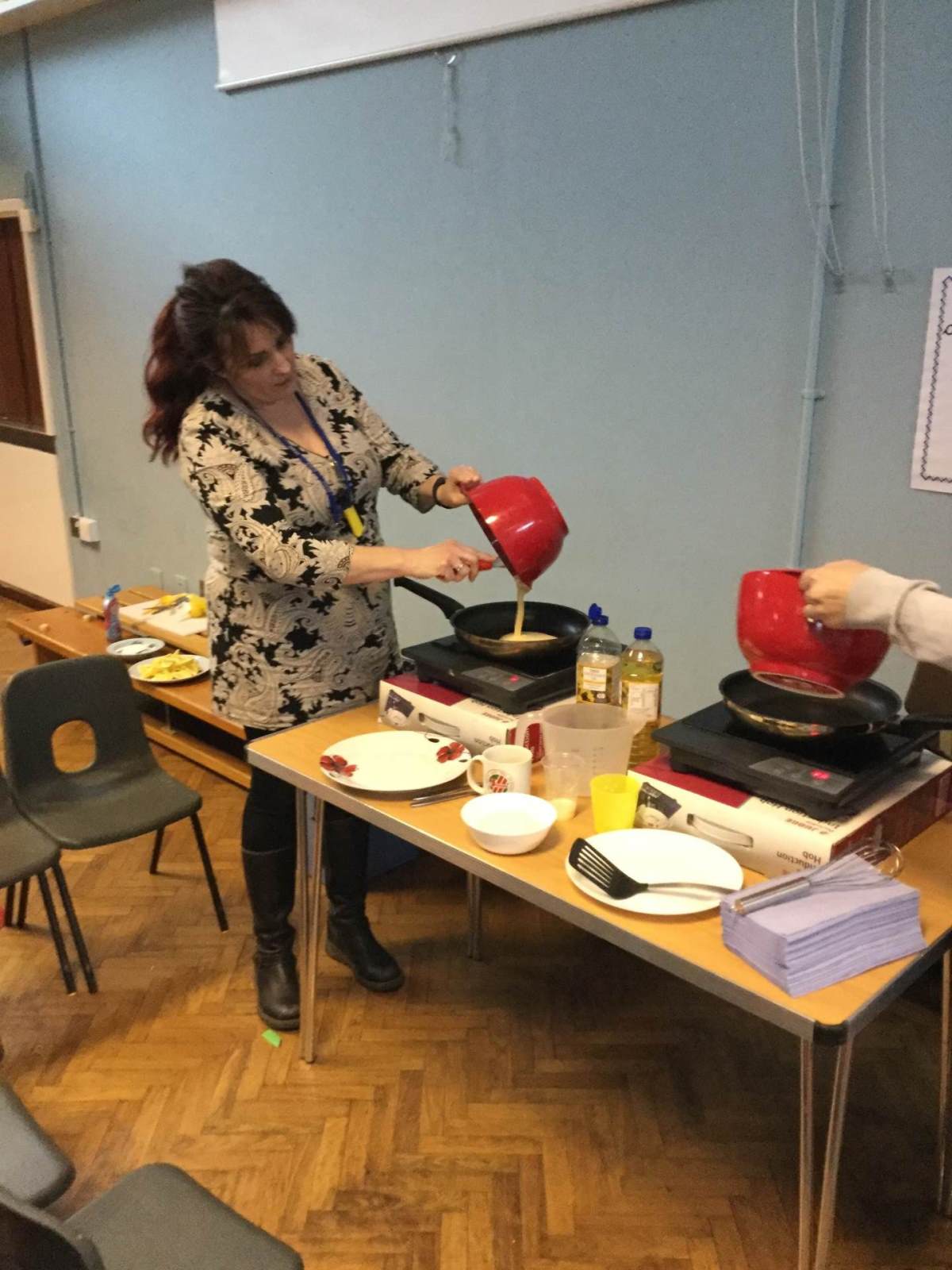 On Thursday we celebrated World Book Day and the children dressed up as their favourite book characters - they all looked amazing! During the day we were lucky enough to meet the author and illustrator, Mike Brownlow who is well known for writing 'Ten Little Superheroes', 'Ten Little Pirates' and many more stories. He shared some of his stories with us and taught us some actions to help us retell them. It was a really enjoyable day!
Superhero Day
What a busy and enjoyable day! The children all looked fabulous in their costumes and were very excited to share their super powers with the class.
After reading the story 'Supertato', we made our own superhero characters by adding googly eyes, capes, belts and masks to potatoes, carrots and parsnips.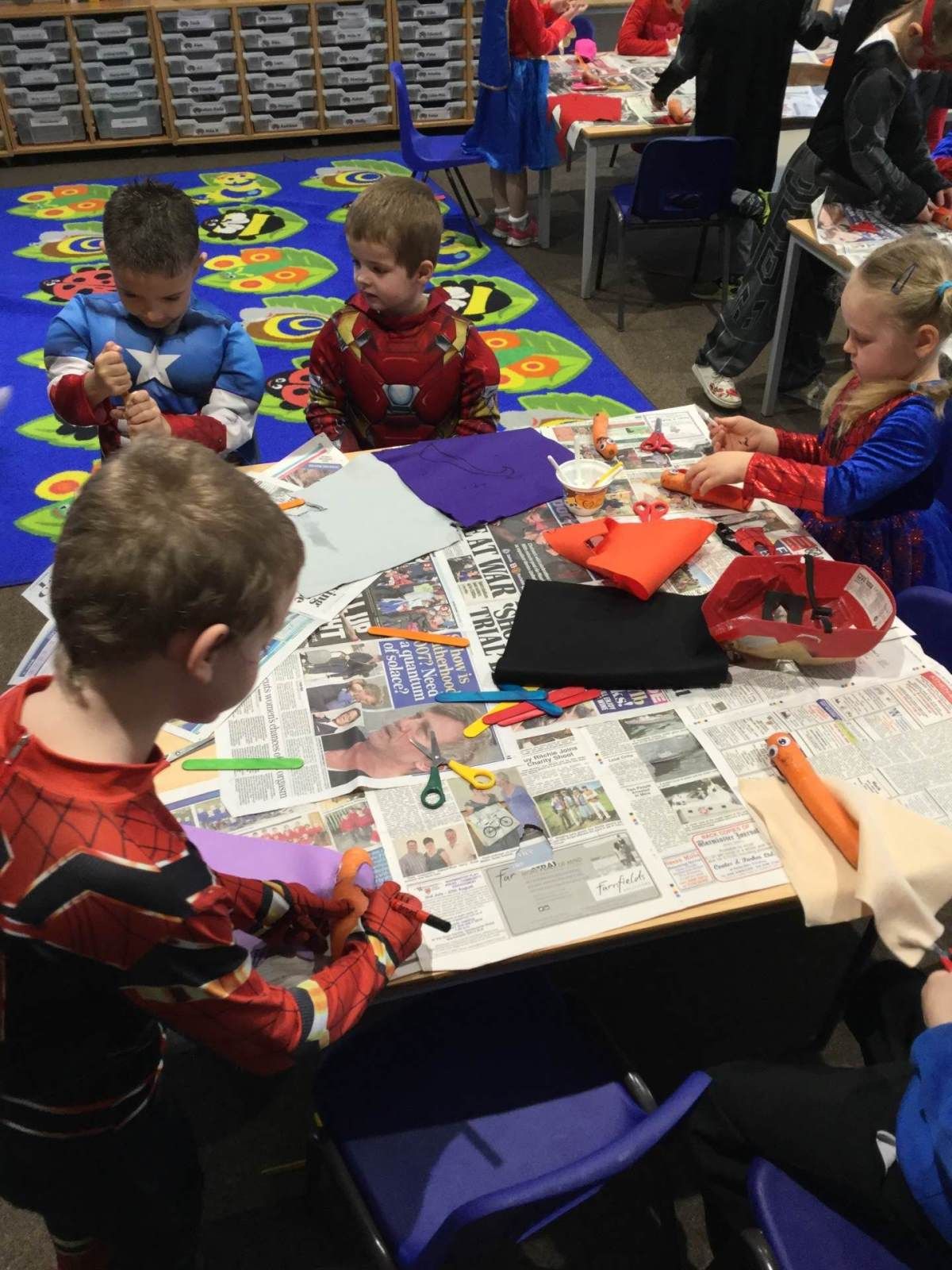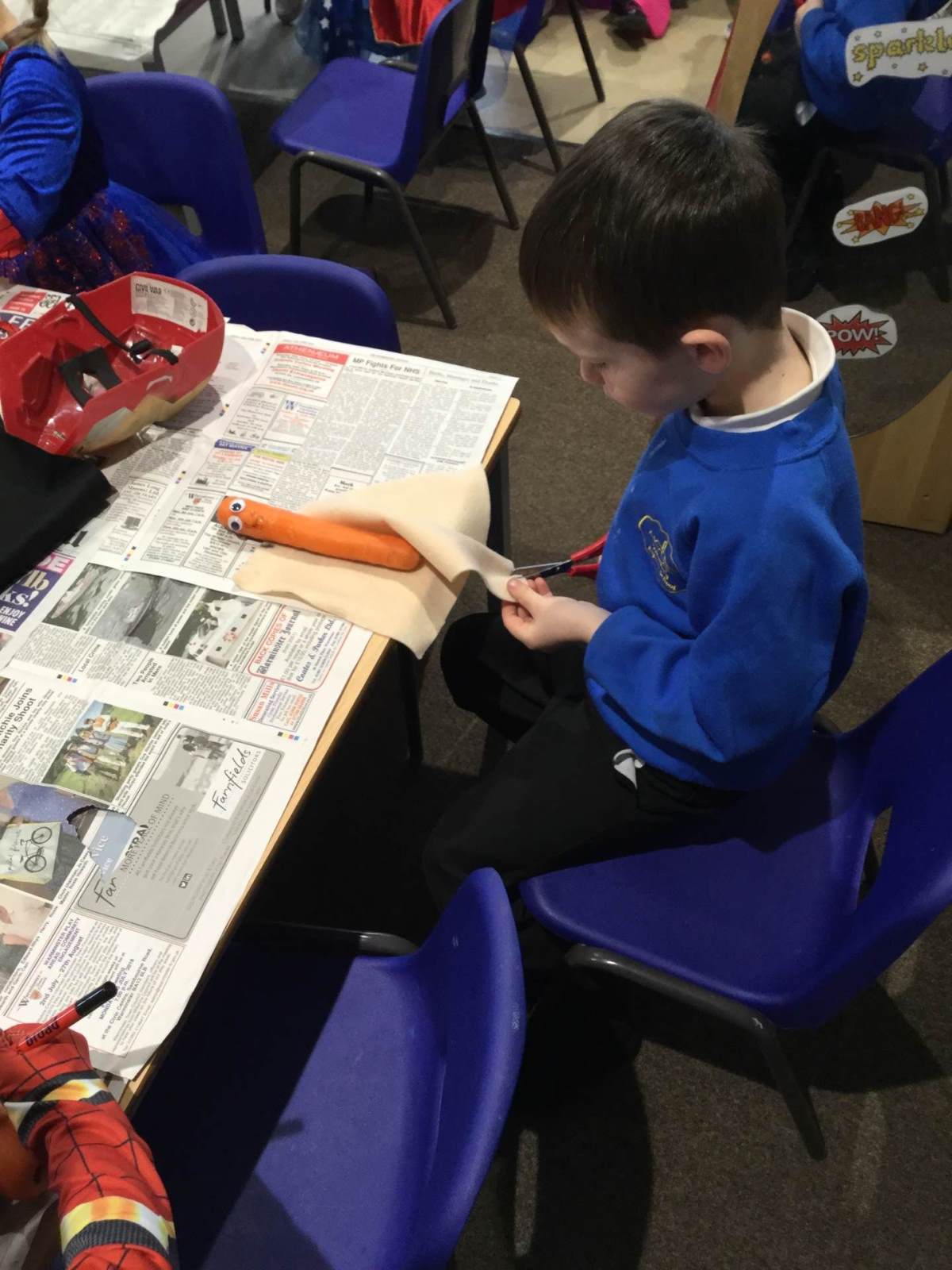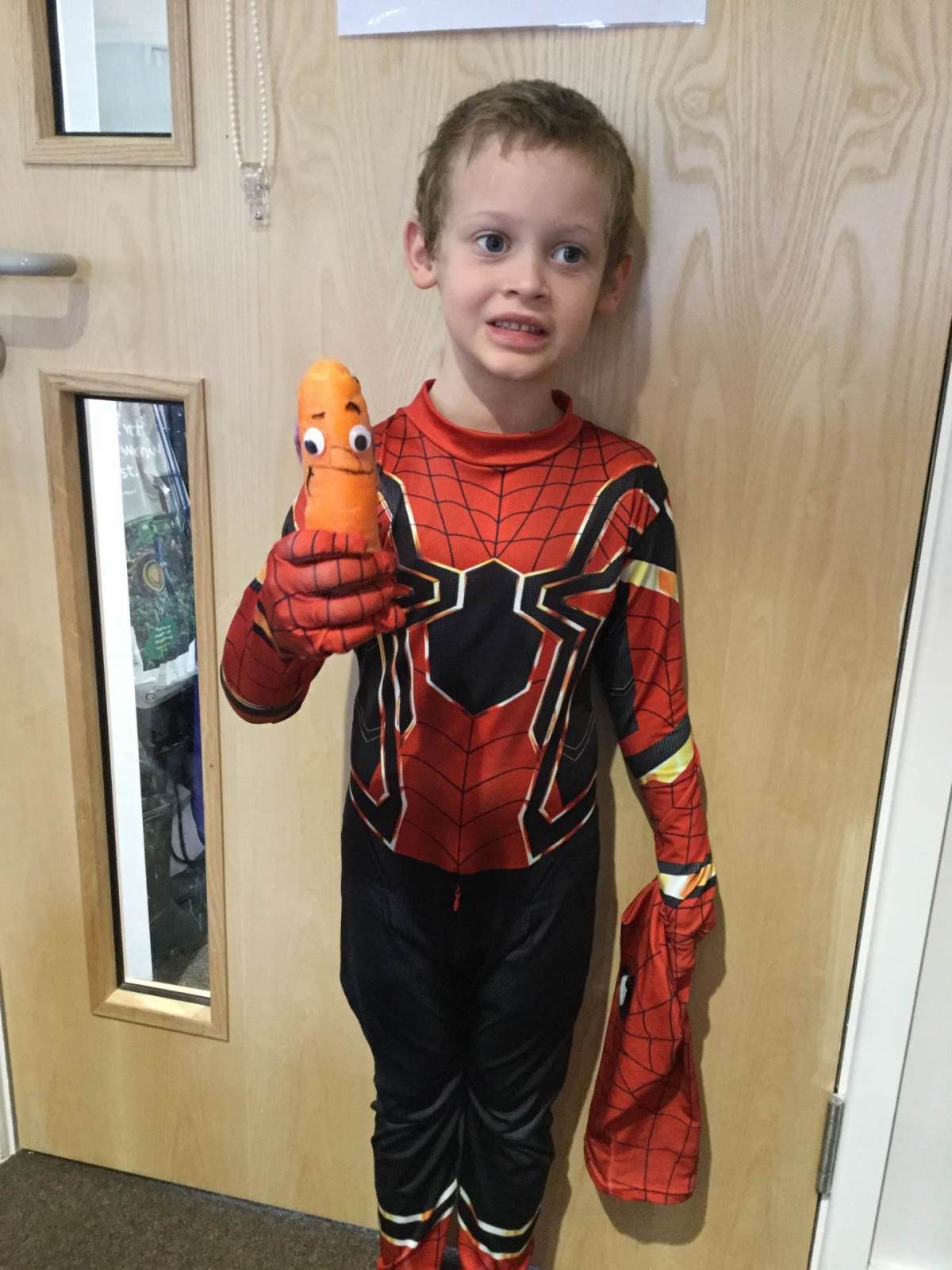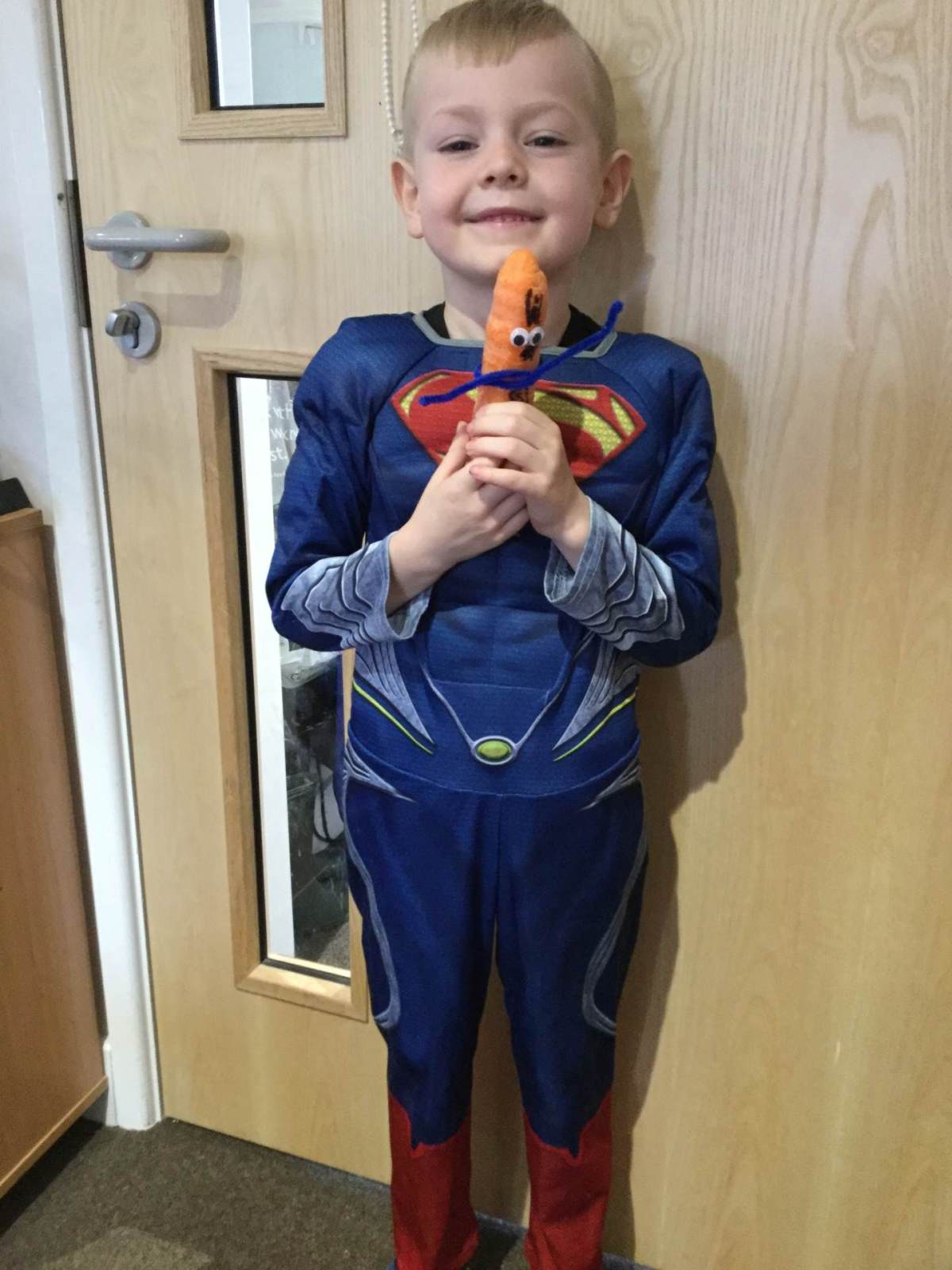 We used our superhero characters to help us write our own stories based on the 'Supertato' book. We thought carefully about our sentences and used adjectives and the conjunction 'and' to make our writing better.
In the afternoon, we made superhero hands. We drew around our hands, cut them out, decorated them to look like our favourite superhero characters and wrote a message of kindness inside. We gave our decorated hands to a friend.
February 2019
All around the world exhibition
Thank you to everyone who came to our exhibition this week. We loved sharing all our fabulous learning with all of our special family members! Have a wonderful half term break and we look forward to seeing you in Term 4 for our Superhero topic!
Making numbers in different ways.
This week we have been making 2 digit numbers in different ways using a range of equipment. We have been seeing how many tens and ones are in each number and recording this. The children are getting really good at counting in tens and using 100 squares to help them with one more and one less than numbers between 20 and 60!
Pizza fun!
We spent the afternoon today making our own pizzas from scratch. We had such fun mixing and kneading the dough and then adding the toppings. We cannot wait to share them tomorrow at the exhibition!
Wonderful stick men!
The children have finished their Giacometti inspired stick men sculptures. They are fabulous and we are looking forward to sharing them with you all at our exhibition next week.
We will also be sharing our eBooks about Giacometti which children have worked on in pairs on our I pads to make. They have been importing photographs, adding sound files and changing the backgrounds. All very impressive!
This week in Maths has been really busy as we have begun to work with bigger numbers. The children have been grouping in 10s and 1s to count larger numbers and then been recording the 10s and 1s in a given number. They really are becoming maths wizards!
January 2019
SNOW day!
Enjoy the snow everyone! Stay safe and warm and we really look forward to hearing all about your snowy adventures next week!
Designing our stick men
The children have really focussed on the details of their Giacometti inspired stick men. It is so wonderful to see how the children are using their sounds to write labels and sentences in their design work. As well as drawing their designs they also had a last go at making models using different resources.
Creative learning
This week we have been thinking about how the seasons effect a little robin. The children really enjoyed looking at pictures of our robin in the Spring, Summer, Autumn and Winter. They asked lots of questions to further their learning and listened really well to the answers. It was wonderful to see how they used what they had learnt in their writing when they recorded the robin's journey through the seasons.
Later in the week we thought about seasons again, this time in music when we listened to Vivaldi's Four Seasons. First we lay quietly in the classroom and listened to each season. We then talked about what it made us think of. Finally we drew pictures as we listened o the music again. The pictures are really wonderful, they show what the children have learnt about the seasons in our Science so far. A great way to use music and science together.
With Miss Brown the children have begun designing their Giacometti Stick Men. They explored different materials to see which will be best to make their final sculptures. They are going to be wonderful when they are done!
A week of new learning!
This week we really have been very busy using our Emerald gem power to keep going with new things and make those new connections in our brains. The children have been really focussed, Sapphire gem powers, on learning the new skill of adding to numbers by making 10 first. It has been wonderful to see them working together and explaining their thinking.
The children have also been designing their stick men, inspired by Giacometti and his sculptures. They are really looking forward to transforming their designs into their own sculptures to share with you all at our Around the World exhibition in a few weeks.
In Computing the children have been using the search engine to research Giacometti and have found out some wonderful facts. They really loved this!
We have carried on finding out about the world around us and this week focussed on China. The children were fascinated by dragons, noodles, the Terracotta Army and The Great Wall. We have also written about our focus country, Spain, with the children really thinking about the facts they have learnt. They have used their capital letters, finger spaces, full stops and sounds to write some wonderful sentences.
Finally throughout the week the children have been enjoying the wonderful 'Pizza Parlour' role play that Miss Jelliffe has made. Some wonderful language and imaginative play. I even bought a yummy pizza for 10 dollars!
Welcome back everyone! Looking forward to a wonderful term full of learning all about 'The World Around Us.'
A busy first week of the year!
We have been very busy this week in Hedgehogs. The children came back ready to learn! This week in Maths we have started to use number lines to help us with our addition problem solving. The children have worked with their learning partners to jump along the number lines. It has been wonderful to see them working so well together and really developing their independence.
Also this week in PSHE we have been talking about the things that are the same or different about us. The children worked with their carpet partners to come up with three things that were the same and three things that were different. They really looked carefully. We talked about how it wasn't just the way we look that can be the same and different but also the things we like and don't like. We decided that being different and the same was brilliant. It definitely makes life interesting!
With Miss Brown on Thursday the children have begun to find out about artist and sculpture Alberto Giacometti. He made some famous sculptures of a stick man figure. The children are researching him, his stick man sculptures and then having a go at making their own sculptures. They are looking forward to sharing them with you at the end of term Exhibition.
December 2018
Christmas!
This week we have been enjoying a variety of Christmas writing, maths and crafts.
It has been lovely to show off what we can do with setting and character descriptions. We have really tried hard with our sounds throughout the Autumn term and we can now write some really wonderful sentences.
We used lots of sequins and glitter to make our Christmas crafts. A lovely sparkly way to finish off the term.
Have a very happy Christmas everyone and see you in January for more fun and learning!
Recreating a Jan Griffier painting!
We worked together as a whole year group this week to recreate a Jan Griffier painting of The Great Fire of London. Each child a piece of the painting to copy. Once everyone had finished their piece Mrs Bray and Mrs Philips put them together like a giant jigsaw puzzle in the hall. The finished picture is out representation of the original painting. It is definitely very fiery!
We have also been enjoying reading books in the book corner and writing book reviews. We are very excited to be making our own book of reviews to help our friends choose a book to enjoy.
Making a mini Great Fire of London!
We have really enjoyed making our own Great Fire of London jars. First we covered a glass jar in yellow, orange and red tissue paper, sticking it with glue. This represented the flames. Next we placed black tissue paper on top to make the London skyline. When it had all dried we placed battery tea lights inside. We were so pleased with the results and when we lit them all the classroom looked magical!
Magnet Magic!
In Science we have been thinking about materials and their properties. This week we had great fun using magnets to see which materials were attracted to them.
Next we made a magnetic maze. We drew our maze on a piece of paper and then moved a paper clip through it using magnet. It was great fun!
November 2018
Yoga-tastic!
We joined Badgers this week for a wonderful yoga session run by Mr Parish. We were very impressed to see the children join in wholeheartedly with the pigeon, boat, downward dog and many more yoga moves!
Another really busy week!
This week we have been learning about 3D and 2 D shapes in Maths. The children have been naming the shapes, describing them by their properties and making repeating patterns. It has been wonderful to hear our shape experts talking about corners, sides and faces as they describe shapes to their friends.
In RE this week the children found our about the creation story. Miss Brown set up some wonderful activities for the children to explore the 7 days that the Bible says God created the world in. It was a wonderful hands on learning experience for everyone.
We finished the week with Science. We explored different materials. We had three activities where we explored objects and described how they looked, felt and what questions we might like to ask about them. The children are getting really good at working with a partner and are becoming really independent.
A wonderful visit to Trowbridge Fire Station!
We had a fabulous topic starter this week when we visited Trowbridge Fire Station. First we popped to the Civic Centre to have our picnic. We were pleased to be sitting inside in the warm and it was lovely to see the children chatting and enjoying eating together.
Next we had a quick walk around a part of the park. We loved seeing the ducks and swans, and there was great excitement when the fountains turned on and squirted water jets. We also spotted some wood, metal, plastic and bricks which will help us with our Science topic this term, Materials and their properties.
Then it was time to jump back on the coach and head to the Fire Station. We met Paul and Nick the fire fighters and they showed us a film about Frances the firefly. We talked about how to keep safe and how important it is that we NEVER play with matches or fire. It is dangerous and we could get seriously hurt.
Paul showed us the special clothes fire fighters wear to keep them safe when they are putting fires out. Then we went outside and looked around a fire engine. We saw all the different equipment that is on board and found out that their is even a kettle on a fire engine to make sure fire fighters get lots of hot chocolate!
I think everyone's favourite bit was getting to fire the water hose. The water shoots out at such speed that it is hard to hold on to the hose and the children were super strong mini fire fighters.
The thing the grown ups enjoyed most was seeing how much the children enjoyed themselves and how wonderful their behaviour and manners were. We heard a lot of "thank you" being said to all the people who helped us have a brilliant day!
Guided Reading begins...
This week we started a daily session of guided reading in Hedgehogs. Over the week the children will read to Mrs Macfarlane, read to Miss Jelliffe, listen to a story at our listening station, read a book for pleasure and do a game. The children have made a fabulous start to this and we are looking forward to hearing their reading blossom. Remember that you can help at home by hearing them read their reading books and writing in their reading records. We really love stories in Hedgehogs and look forward to our daily story session.
Rainbow Challenges with our parents
We thoroughly enjoyed sharing our Rainbow Challenges with our parent's this week. We did lots of different farm related activities including making split pin animals, bingo, soduko, word searches, play dough farm animals, I spy and foot print animals. It was a lovely end to our 'On The Farm' topic.
Monday Mindfulness
We have been enjoying doing mindfulness activities all term. This has been helping with our concentration and giving us an opportunity to be quiet and still. Sometimes we lie in a space and listen to a meditation story or practise a few breathing techniques, but our favourite has to be Cosmic Kids yoga.
This Monday we did 'Popcorn and the pirates.' It is so lovely to see how much the children participate and follow the simple yoga poses. If you would like to try some at home please follow this link https://www.youtube.com/user/CosmicKidsYoga
A week of visitors and surprises!
We have had a busy week again this week. On Wednesday we were very excited to meet Eileen Browne and hear all about how she writes her books including Handa's Hen. It was a wonderful way to really get us excited about books and reading before our wonderful new library was unveiled! How lucky we are to have such a fabulous area to enjoy books in.
We also spent some time with Basil and Pepper, our school guinea pigs, thinking about what pets need to be healthy. The children were wonderful at being quiet so they didn't get scared, but also have gentle hands gibing them strokes and tickles. It has been really fabulous to see how enthusiastic the children have been during our Science this term. We have learnt so much about animals and have been listening to each other as we share our knowledge and ideas.
During Rainbow Challenges we have been thinking about the seasons as we begin to see signs of autumn in our outside area. The children have drawn the tress, carefully using colours that they see and really developing those muscles in their hands making play dough trees. It is so lovely hearing the children telling each other how much they like what their friends have made. Really using those Ruby gem powers!
In Maths we have finished off some work on addition and begun subtraction. The children have used real objects to tell subtraction stories to their partners and then begun to record them. This has been easier as we have continued to use our part, part, whole models to help us.
What busy Hedgehogs we have been! Only 3 days left of this term but still quite a lot of fabulous learning to get in. We are very much looking forward to welcoming our grown ups to out Rainbow Challenge Parents Event on Monday 22nd October!
Vegetable faces!
We had a wonderful time this week recreating our own version of Giuseppe Arcimboldo's famous vegetable face paintings using a variety of different vegetables. The children really concentrated on feeling the different vegetables and talking about the colours, shapes and textures. We are very proud of their end products.
A busy week of learning!
This week we have been learning about number bonds. The children have used a variety of resources to help them including part, part, whole models and tens frames. We have also been recording addition number sentences. It has been wonderful seeing the children really focus in their Maths sessions and try their very hardest.
We have also been doing a bit more art work inspired by Giuseppe Arcimboldo. First we used water colours to create a large vegetable for a head and a background in a contrasting colour. Next we added photos of vegetables to create the features. Our finished work are displayed in the hall, the link corridor and the classroom. We are super proud of them and all agree they look really wonderful.
September 2018
A great start!
The children have really settled in well to Year One life. We are looking forward to lots of exciting learning this term. Our topic is The Farm and we are excited about our trip to Warleigh Lodge farm next week. Especially as we get to spent the day being real farmers!
Down on the Farm
The children had a fabulous trip to Warleigh Lodge Farm despite the rain and the treat of thunder and lightening during lunchtime! We loved splashing in the river, rolling down the hill, squeezing into the 100 year old tree and meeting all the animals. We fed the hens, collected the eggs, lay the bedding straw for the pigs, fed the goats and, after a bumpy tractor ride, fed the beautiful cows. It was a super trip and the children were a credit to the school with their manners and behaviour!
A visit from the Life Education Bus
The children enjoyed a visit from Harold the giraffe and Becky this week. We found out all about our wonderful bodies. The children were brilliant at coming up with ideas for how to keep their bodies healthy. There was lots of oohing when the lights were turned down and the stars came out!
Really using our maths brains!
The children have been working really hard this week comparing numbers. They have used a variety of equipment to represent more and less and have begun recording this in their maths books. We are so proud of how they are using their gem powers to keep going even when things are difficult and to really focus. Well done Hedgehogs!
GalleryID{11610}