Starfish Blog (EYFS)
Welcome to the our blog! We hope to share all the wonderful things that we are learning about in EYFS.

Our Class Teacher is Mr Brewer and our Teaching Assistant is Mrs N. Smith.
Miss Adlam will be helping with interventions across the year group. Mrs Bayley teaches the class on a Tuesday.
Here is our exciting Curriculum Map for 2020-21
If this bubble has to self-isolate or we have to go into a school lockdown, click the orange button below to access the appropriate remote learning.
February 2021
I have been amazed at all the work you have sent in. I have been particularly pleased with the effort and improvement being shown in your handwriting. When I look back through your learning journeys it is clear rapid progress is being made! Well done, keep it up!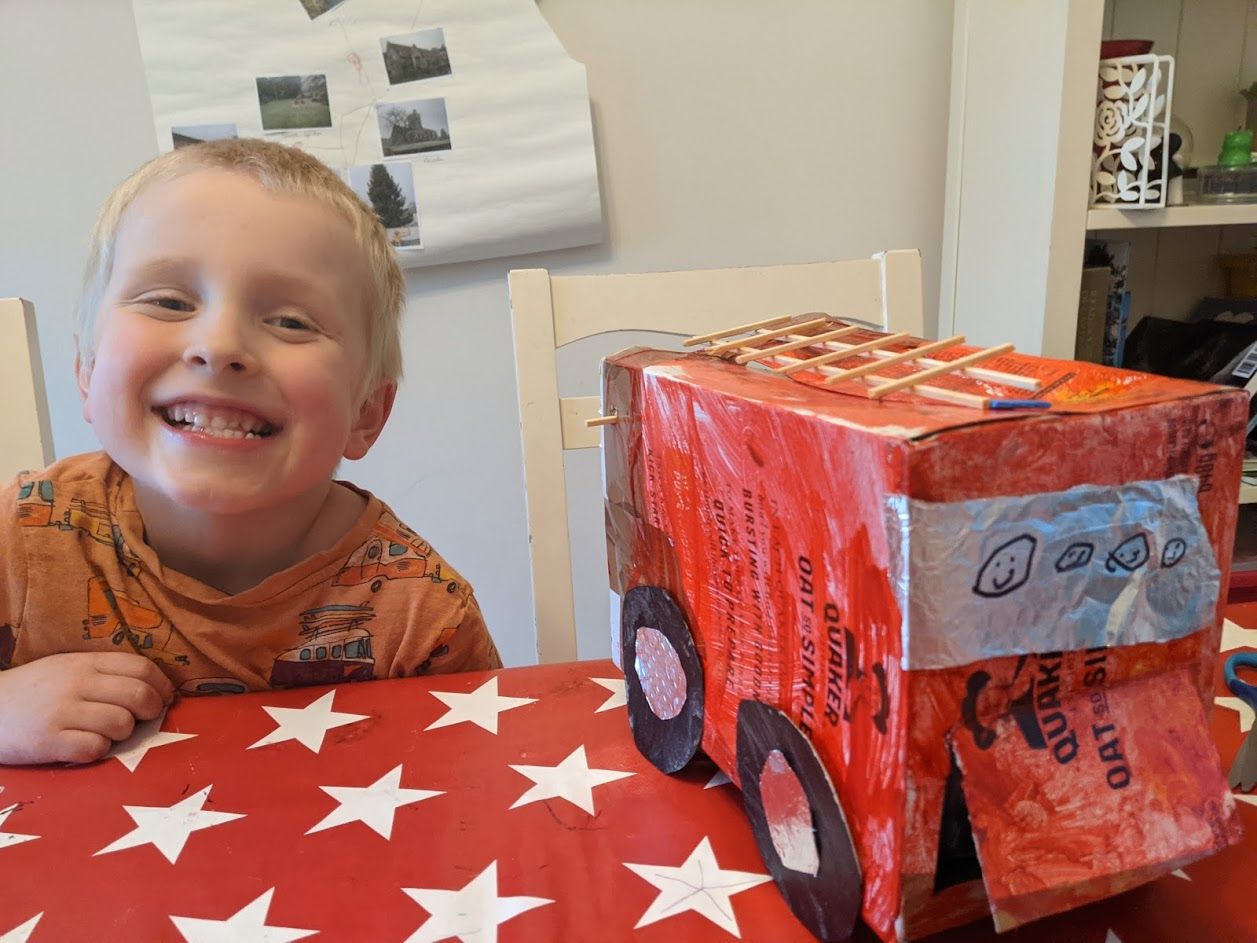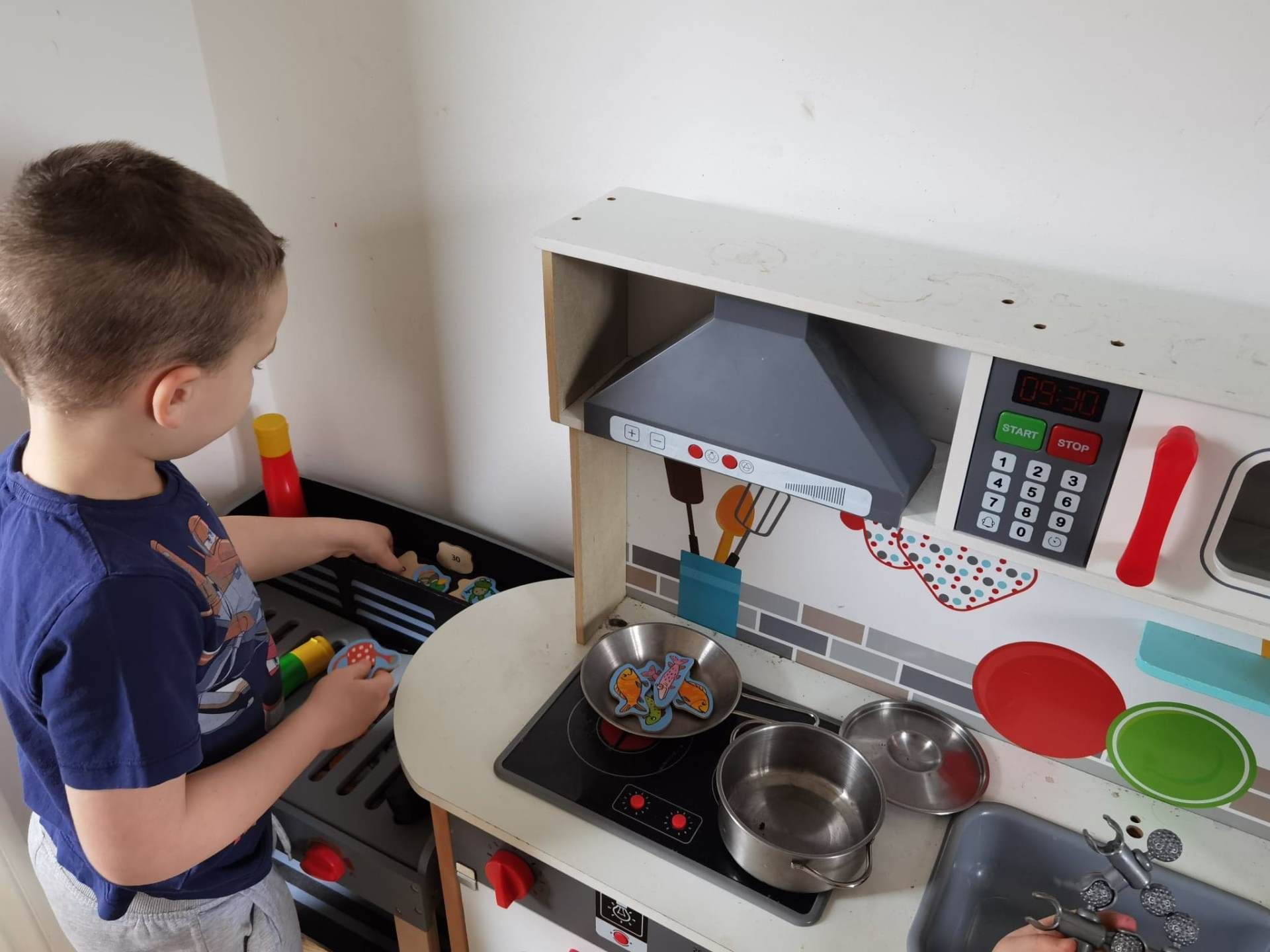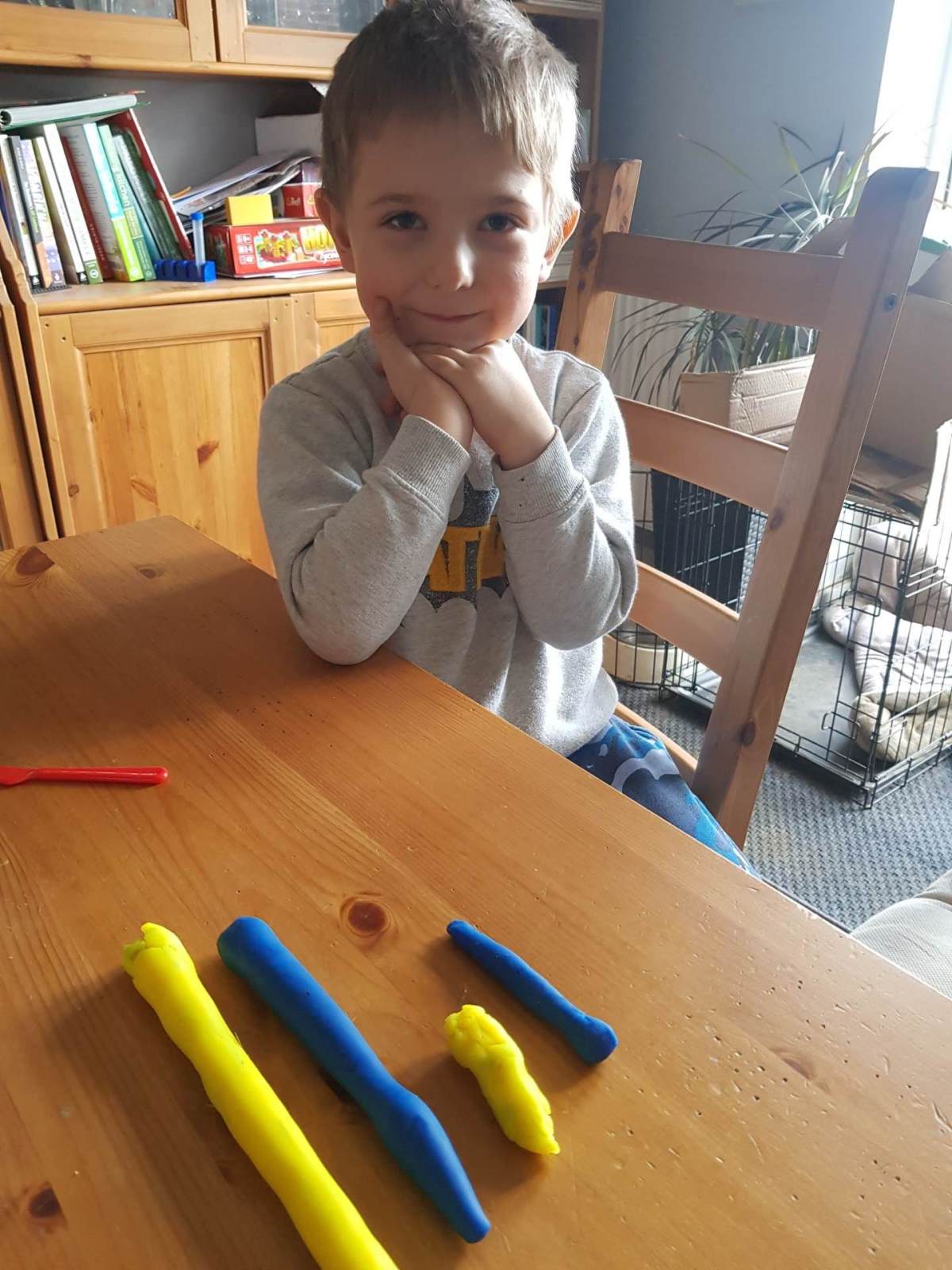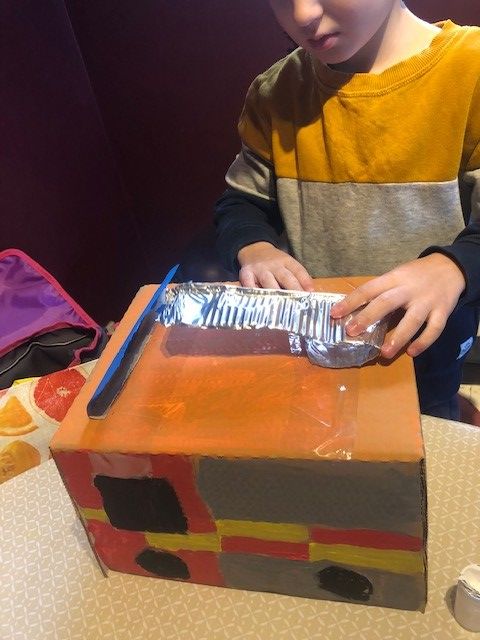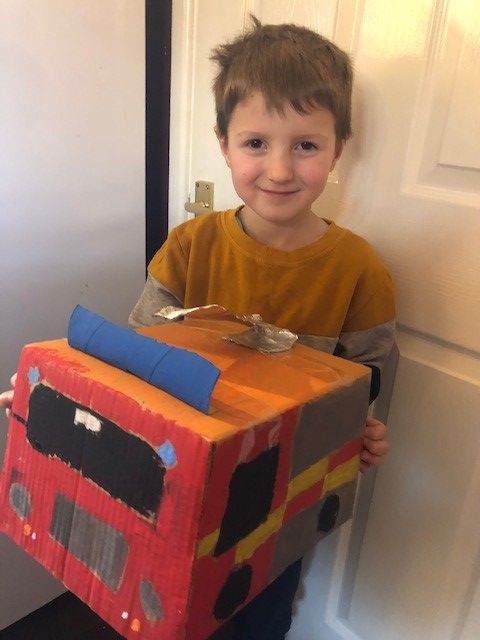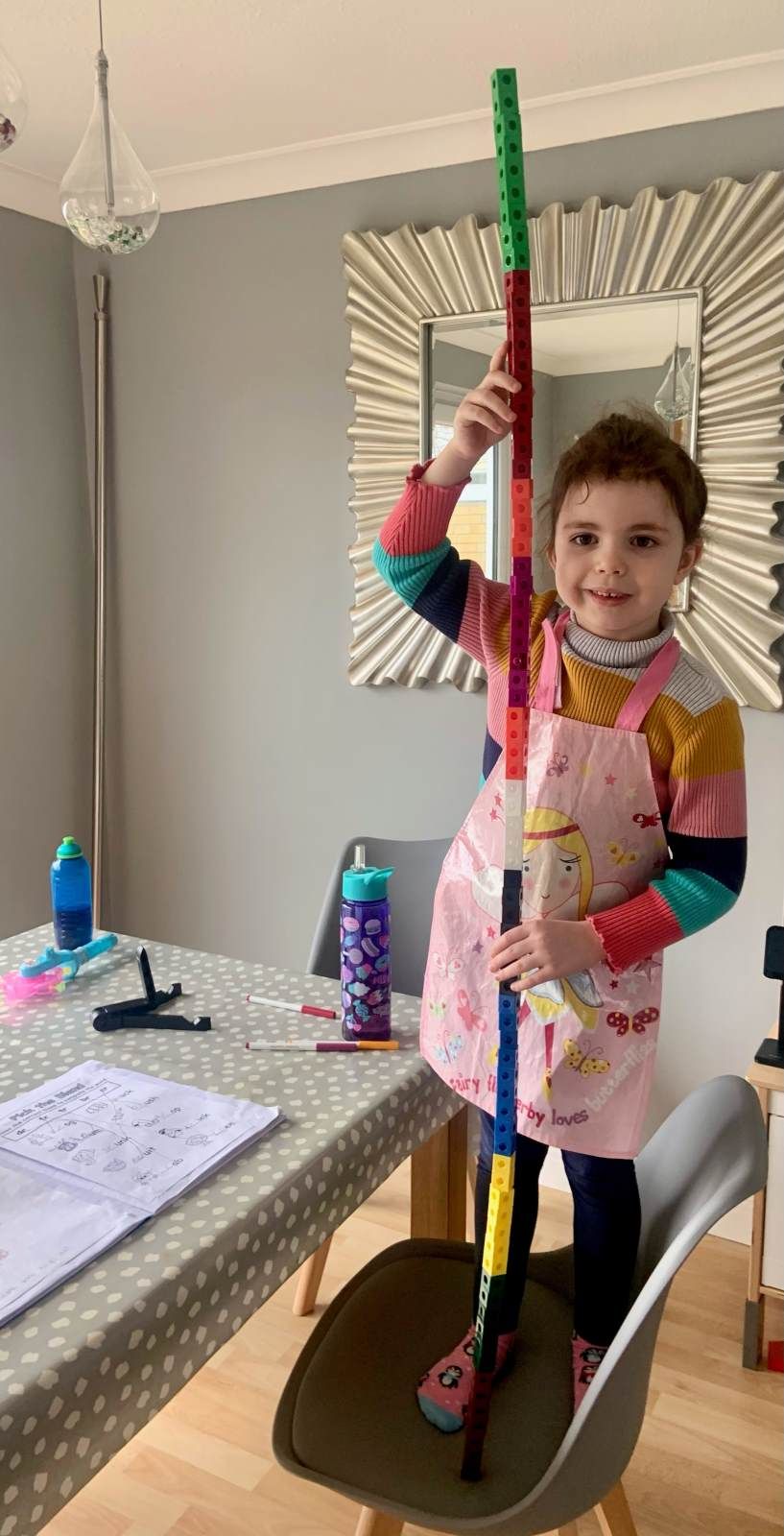 Here we have some super drawings of fire engines, ordering of numbers, making pairs, fire engine models, using Fred talk to write words, home made musical shakers, time capsule contents, dice making and individual art. Just a few things Starfish Class have been completing this week. You have been busy!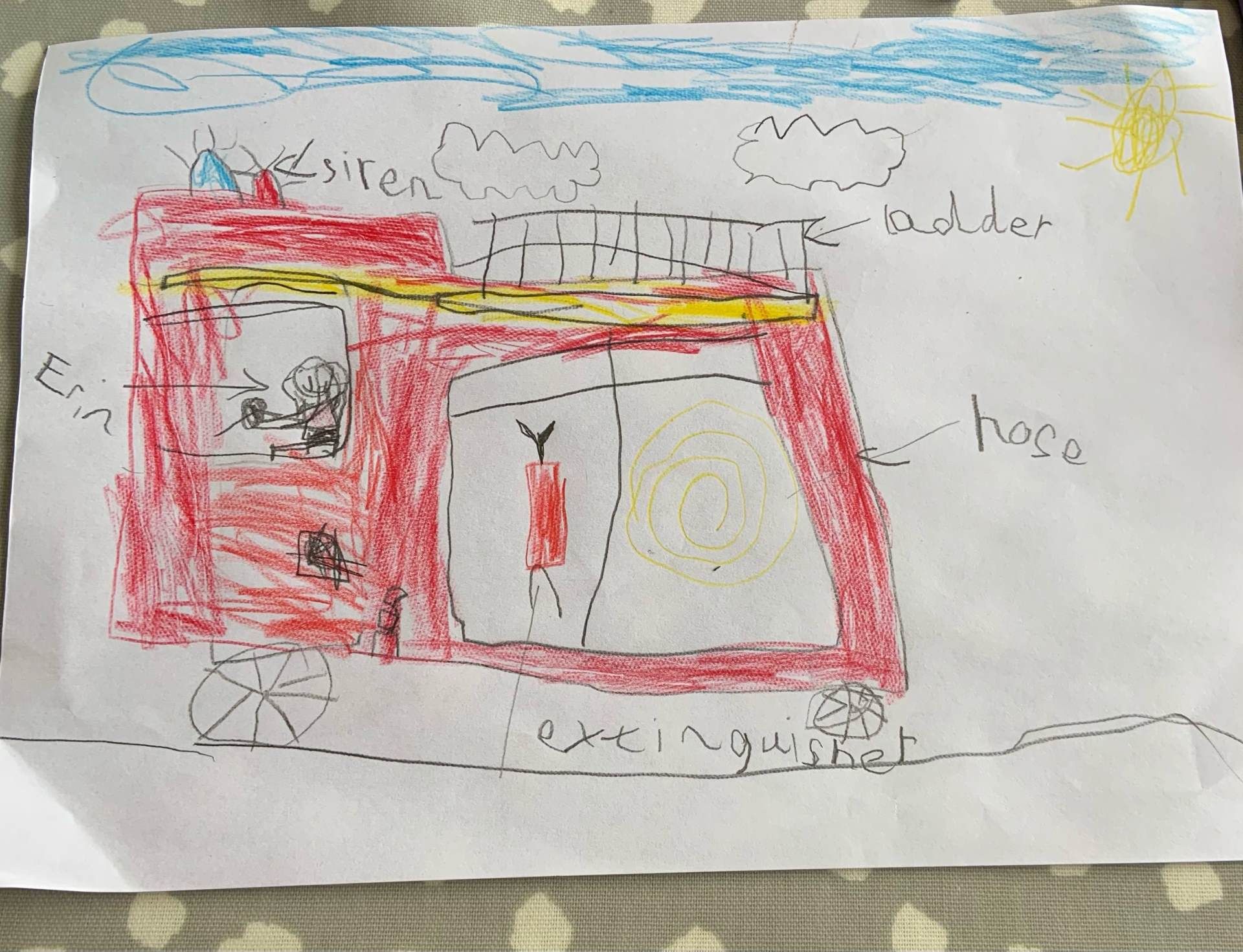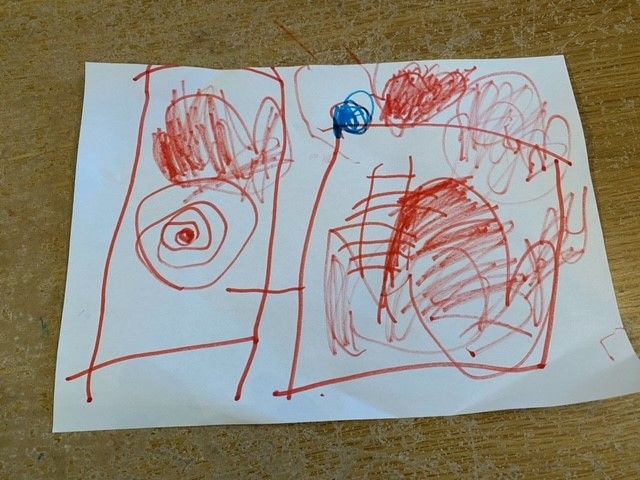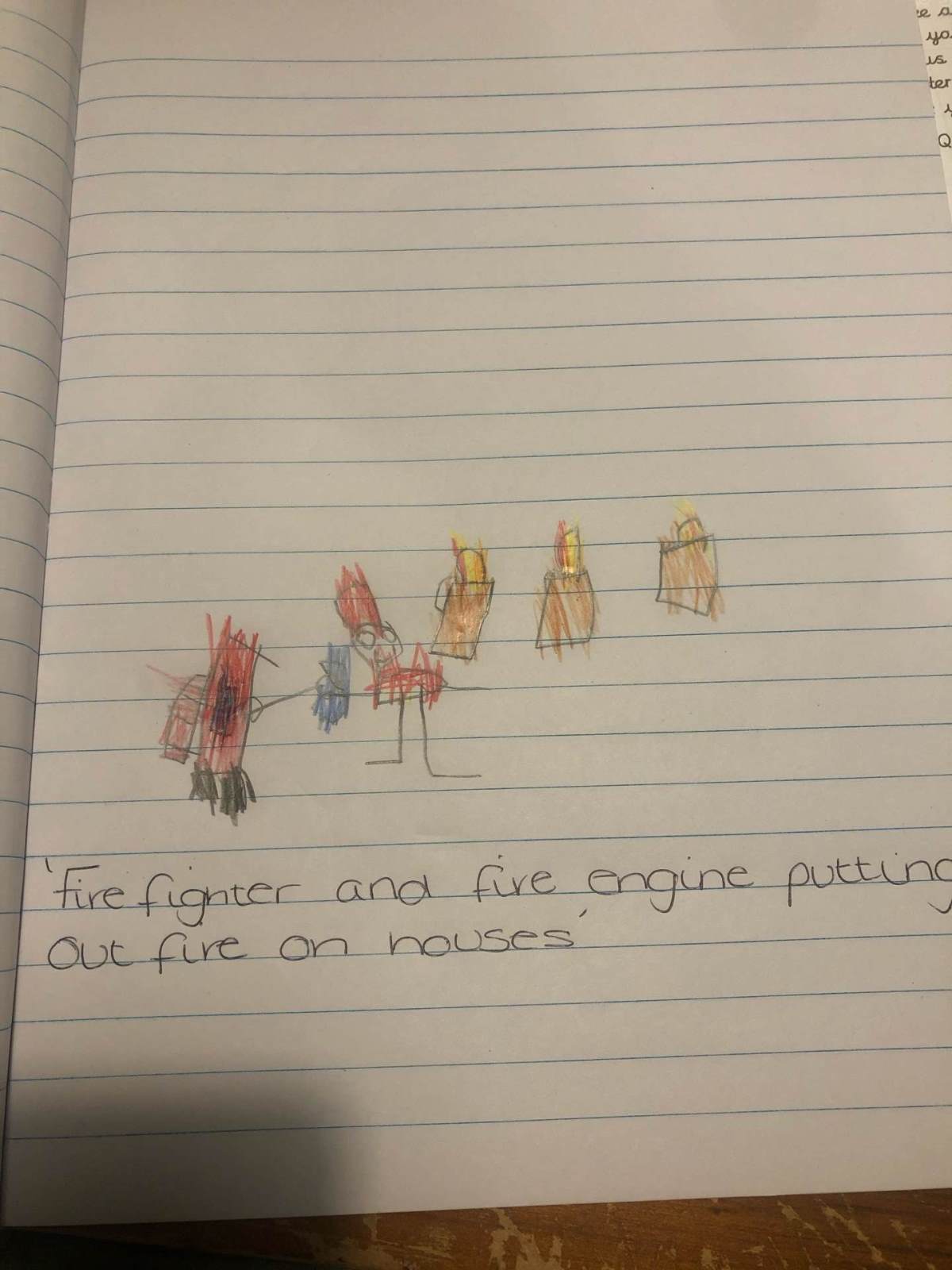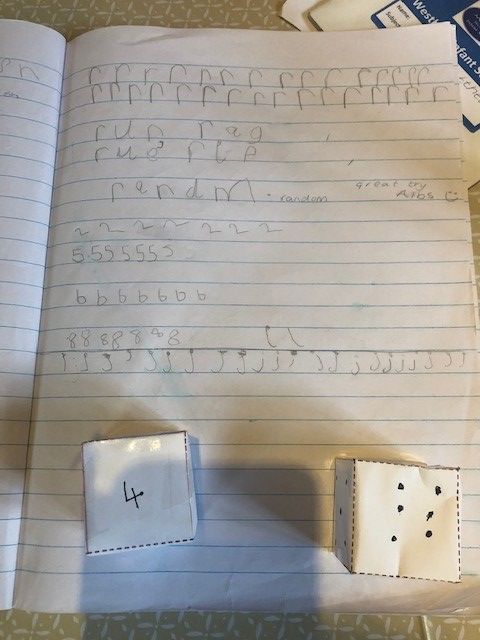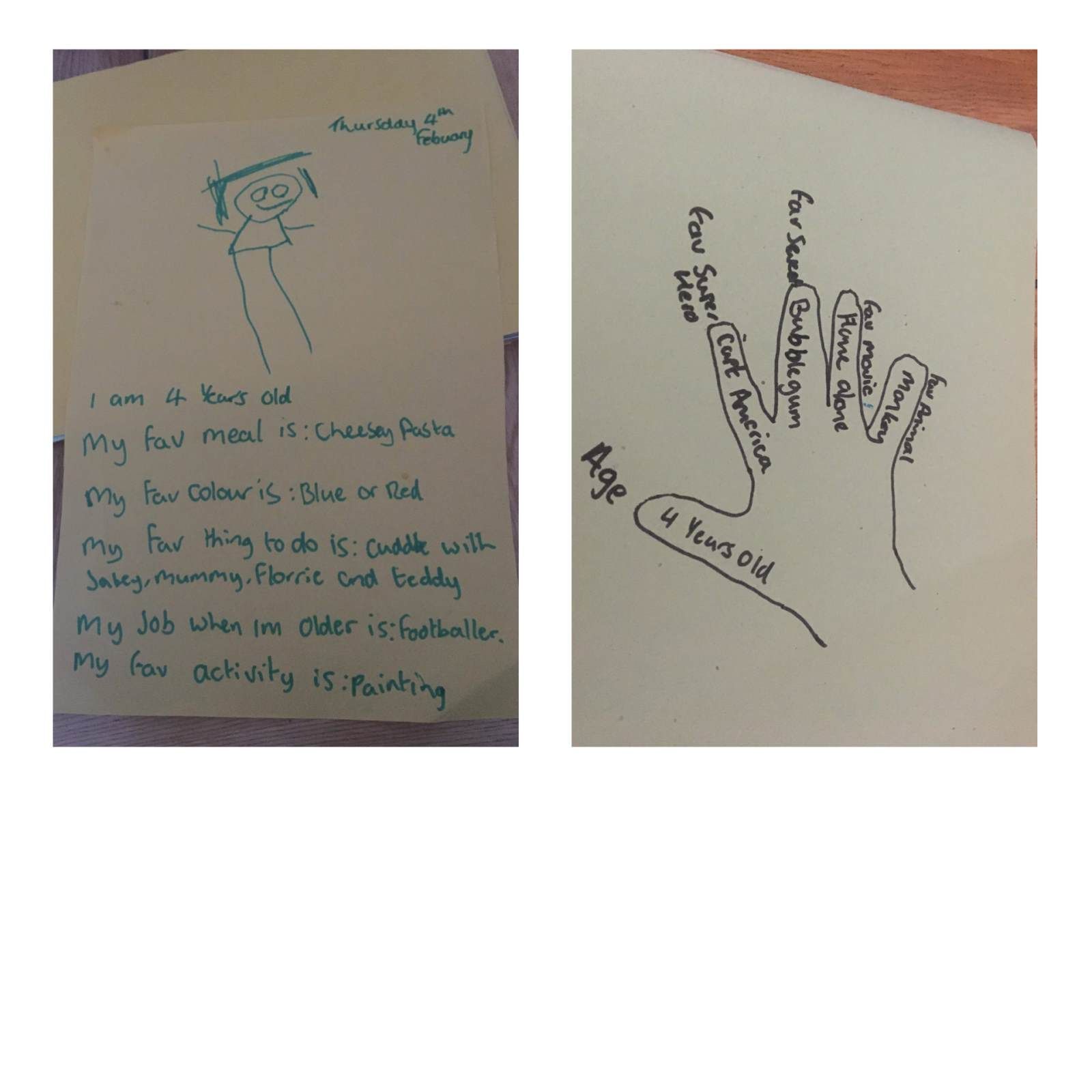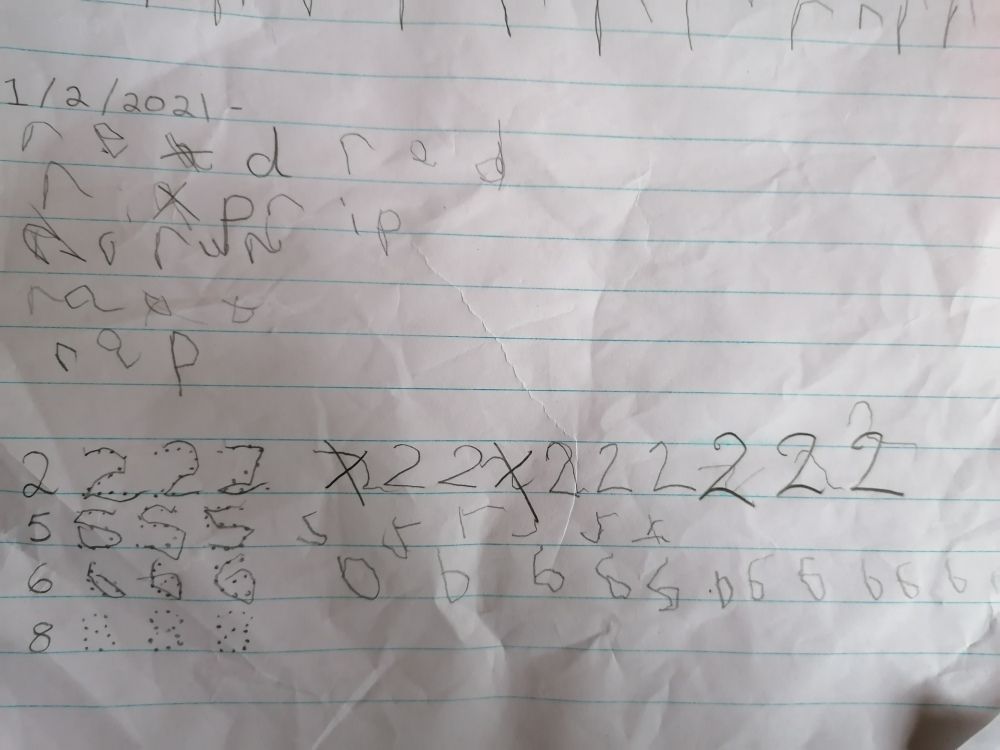 January 2021
Here are some more photos of you all doing lots of different learning. Keep the model photos coming in...we have something else to make next week!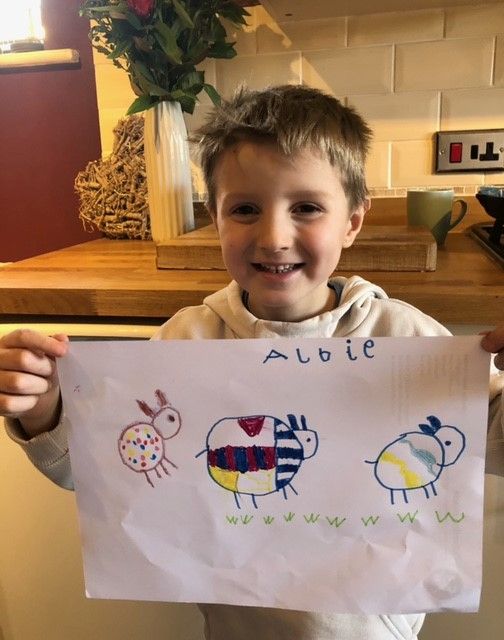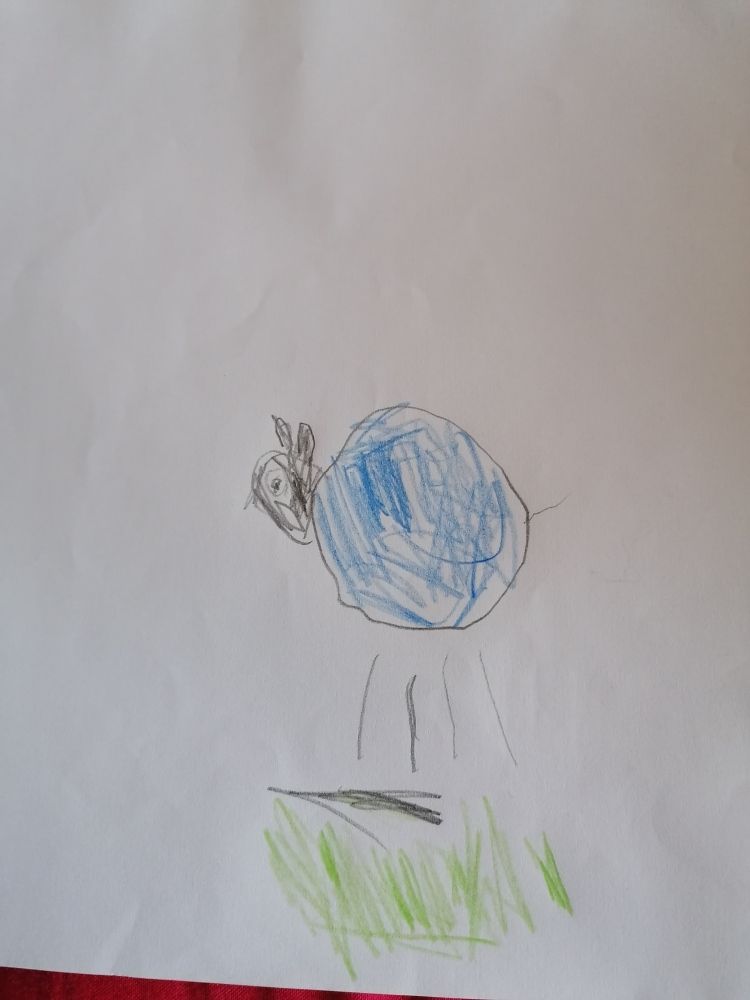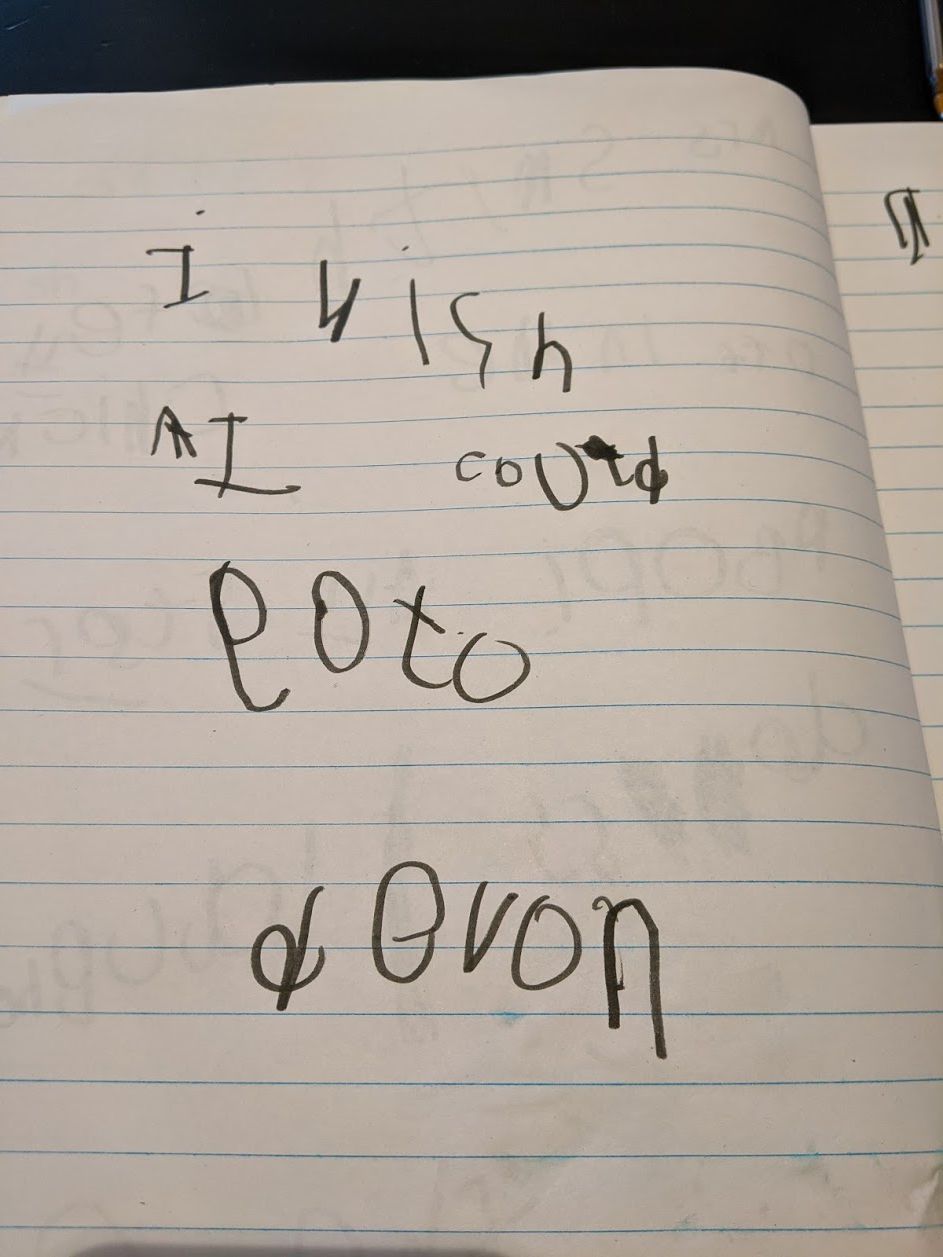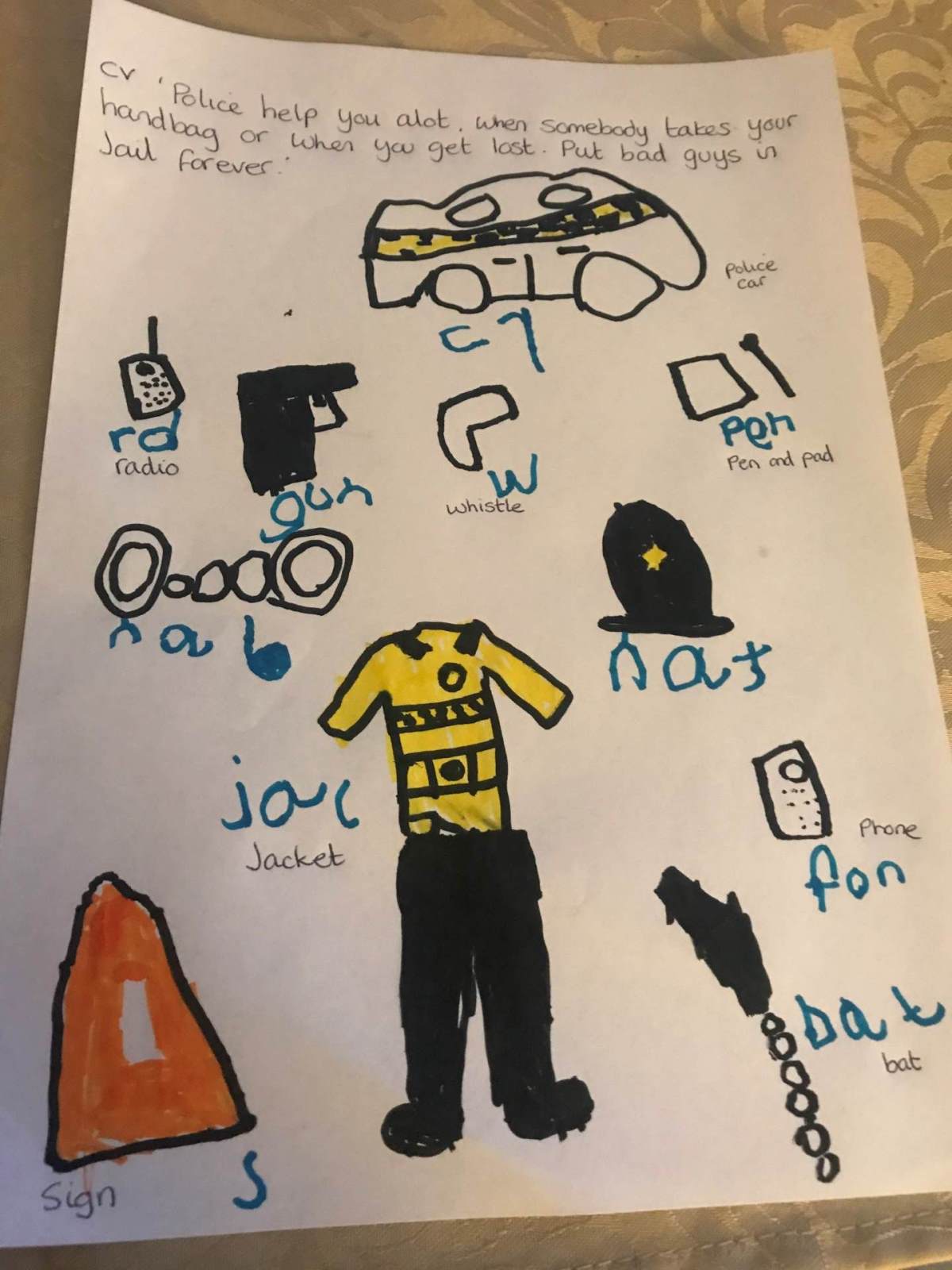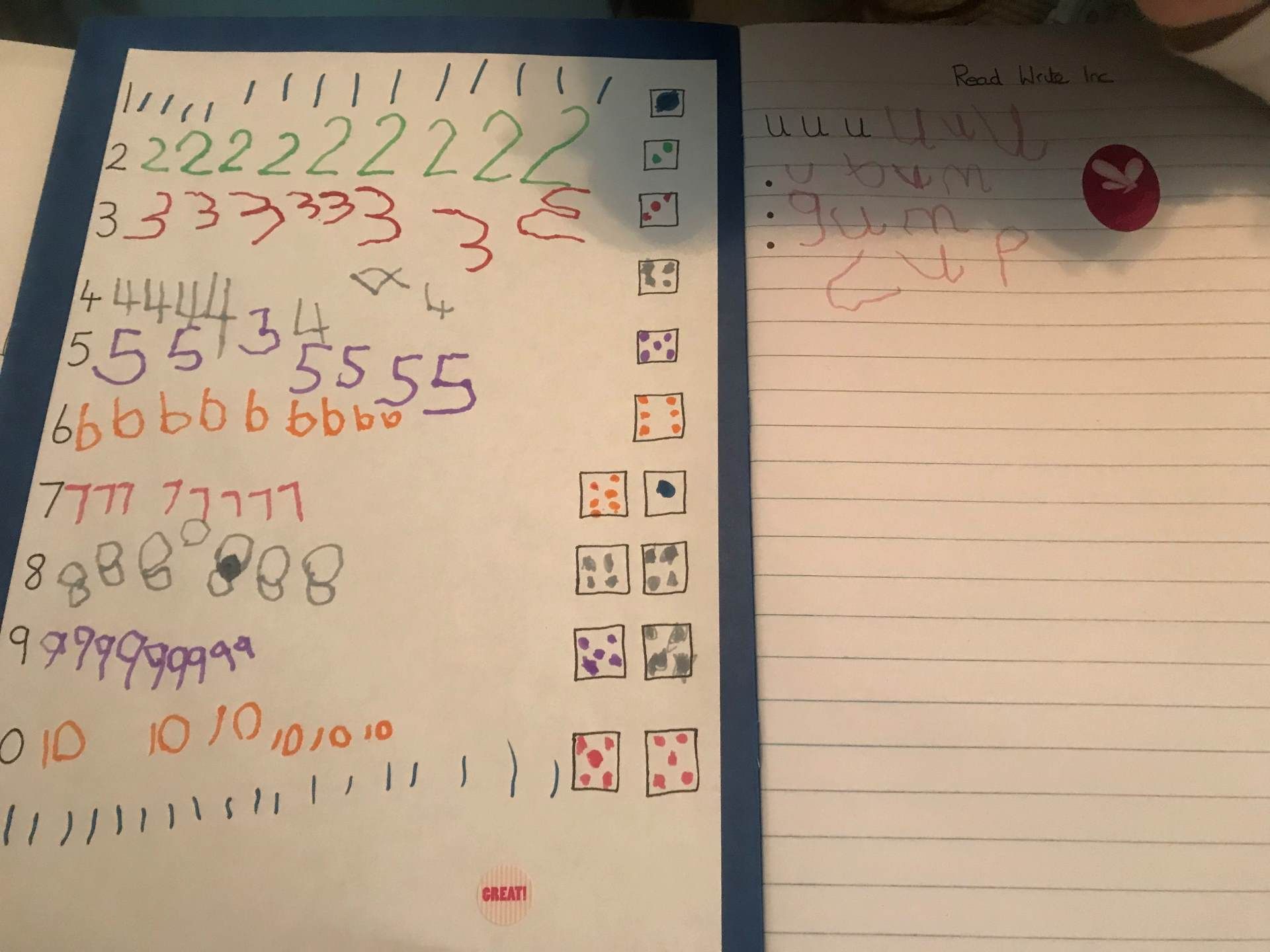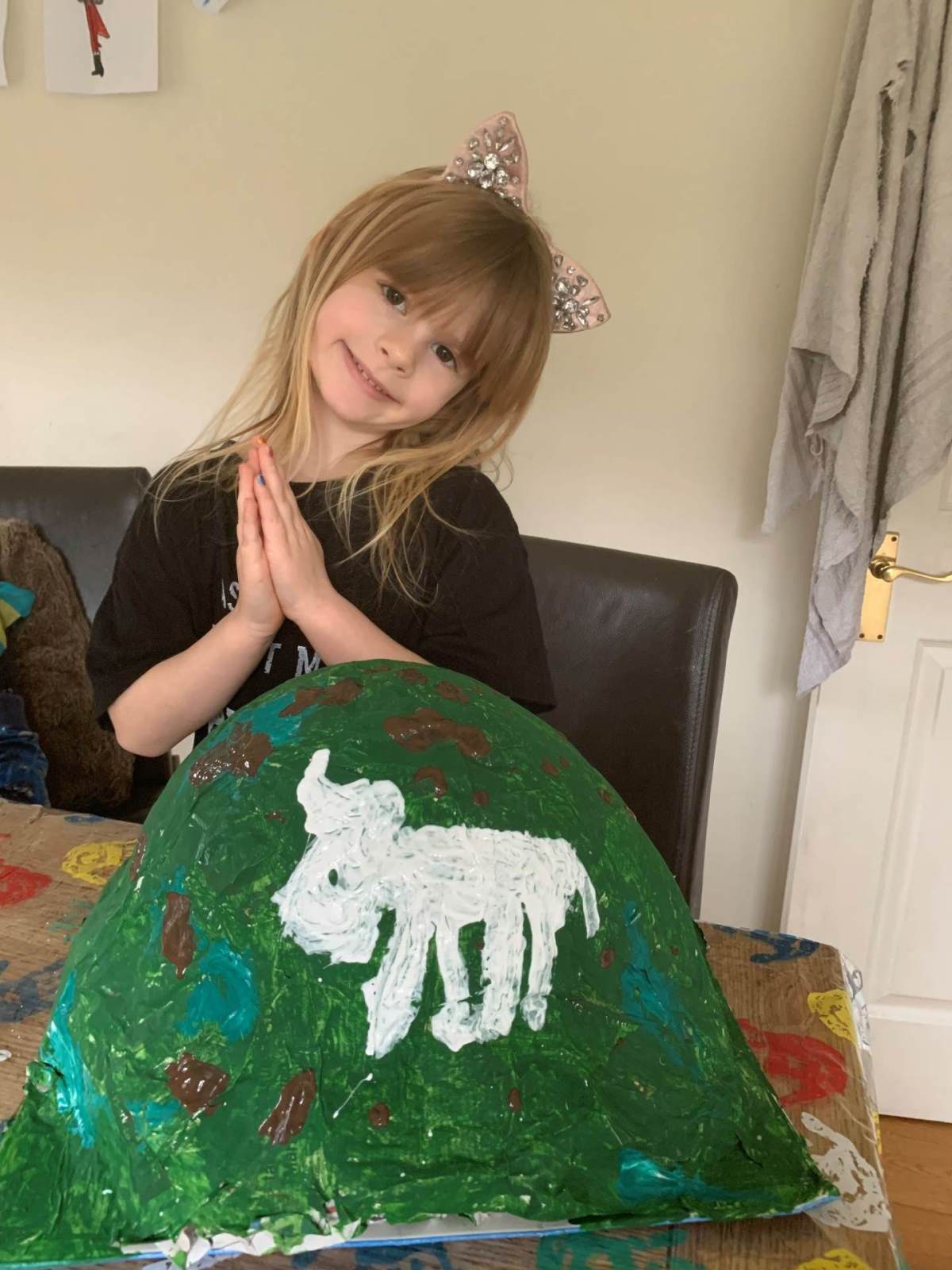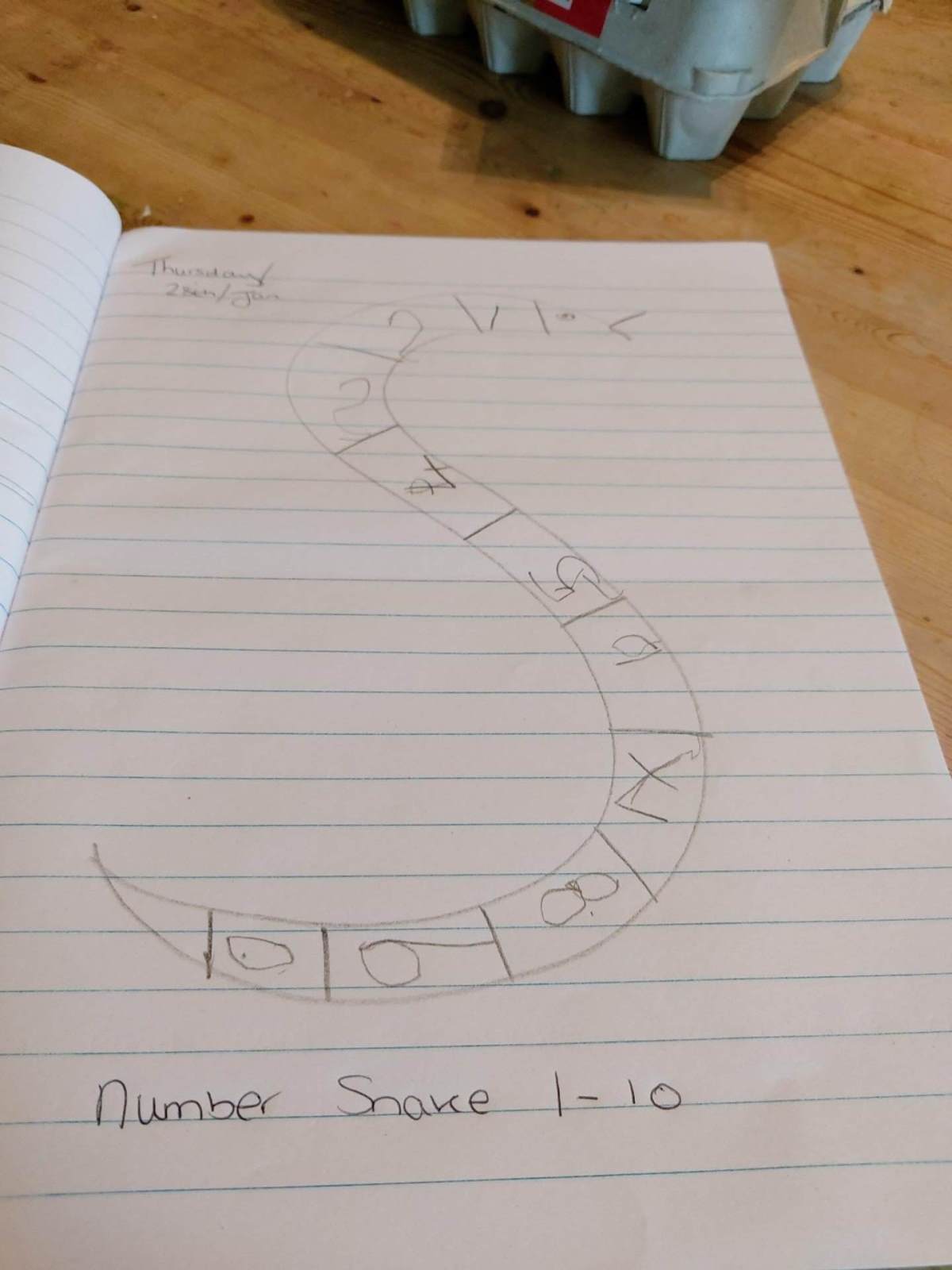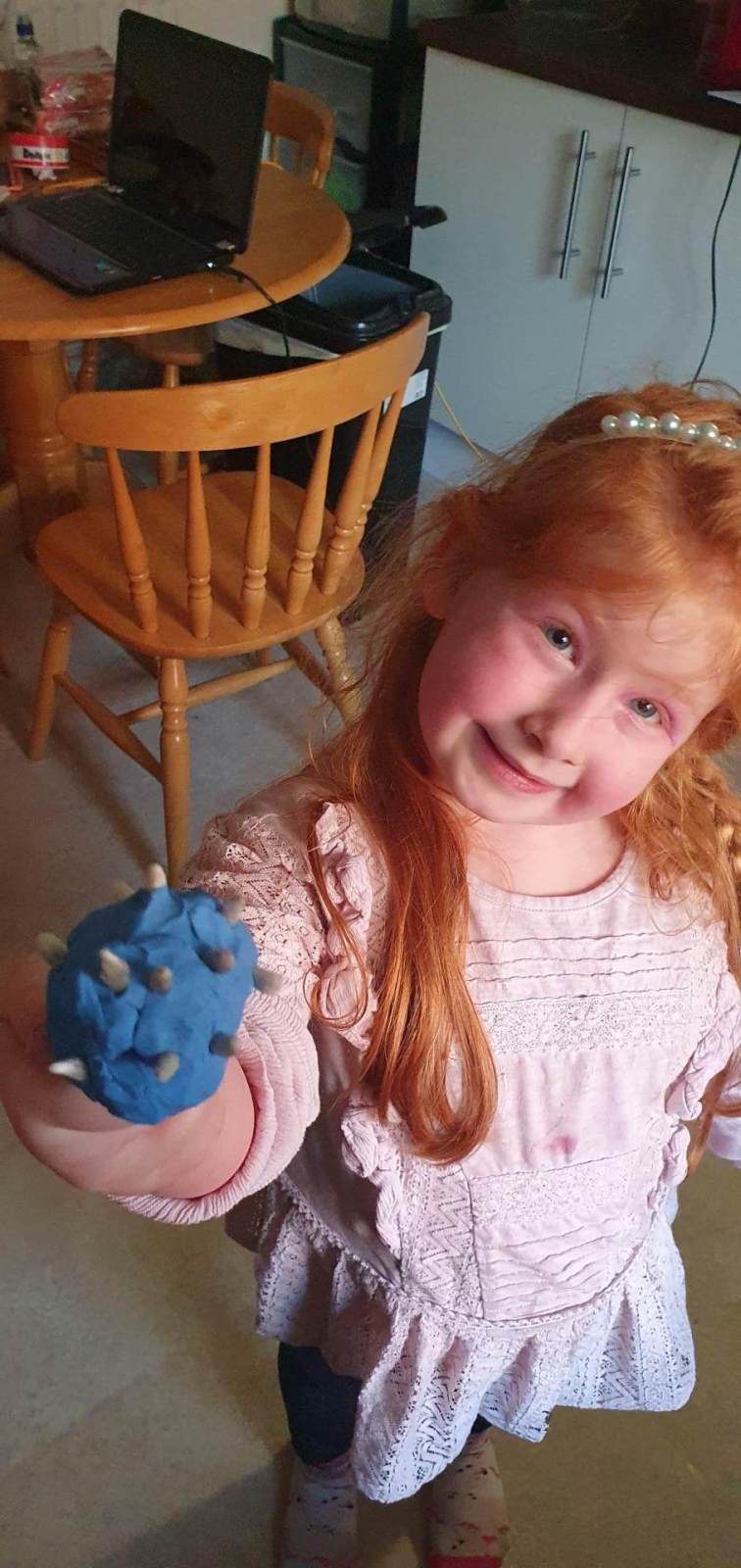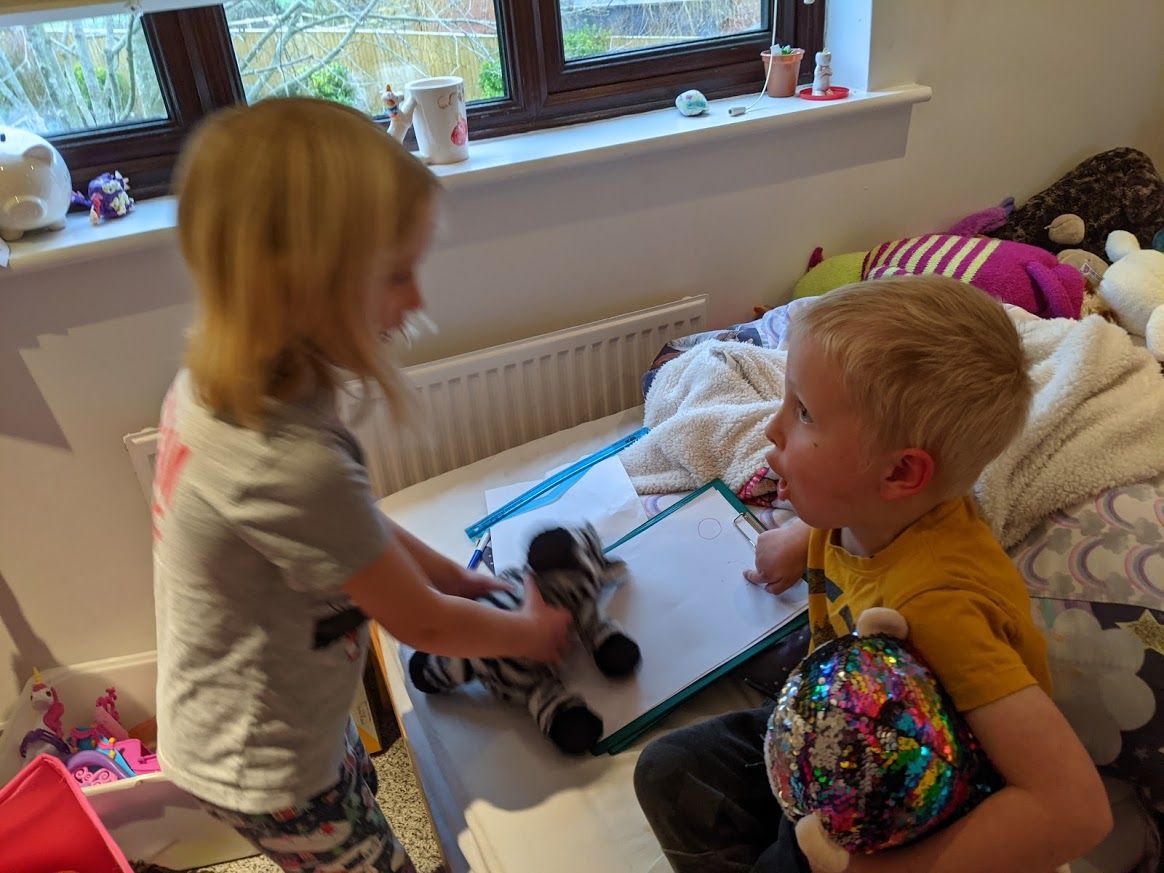 Fun in the snow! Spot the big kid. If you have any other snow photos, please send them in.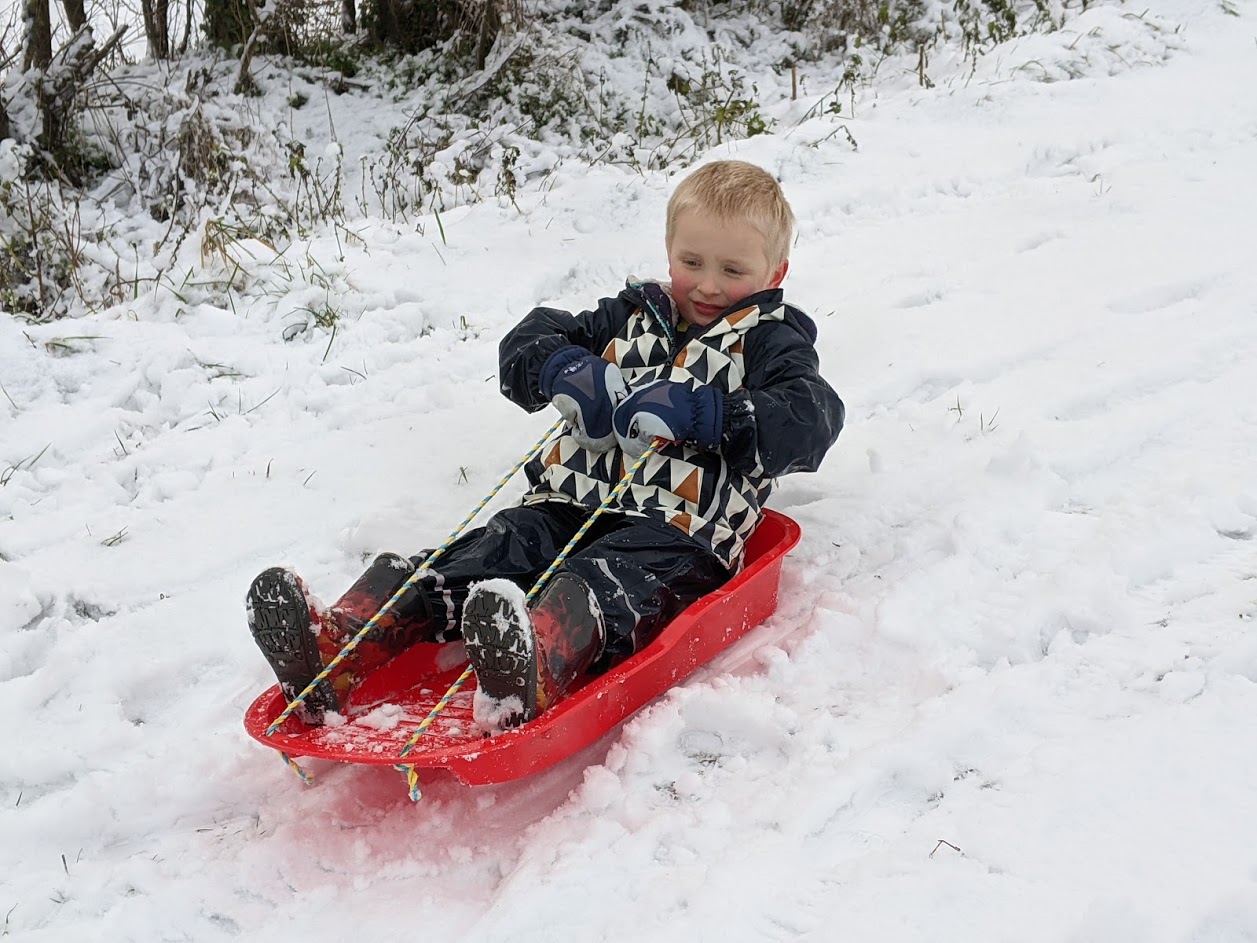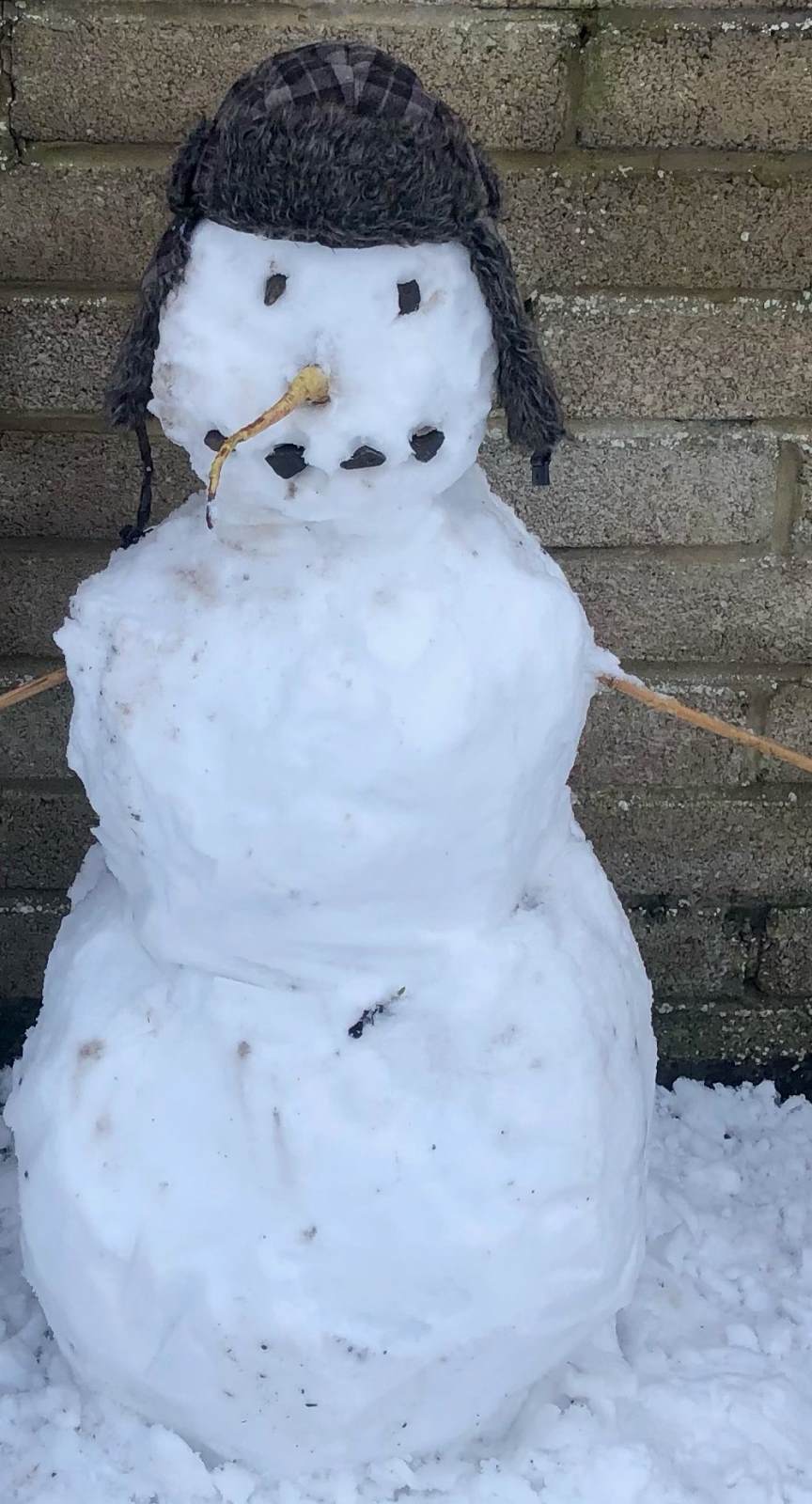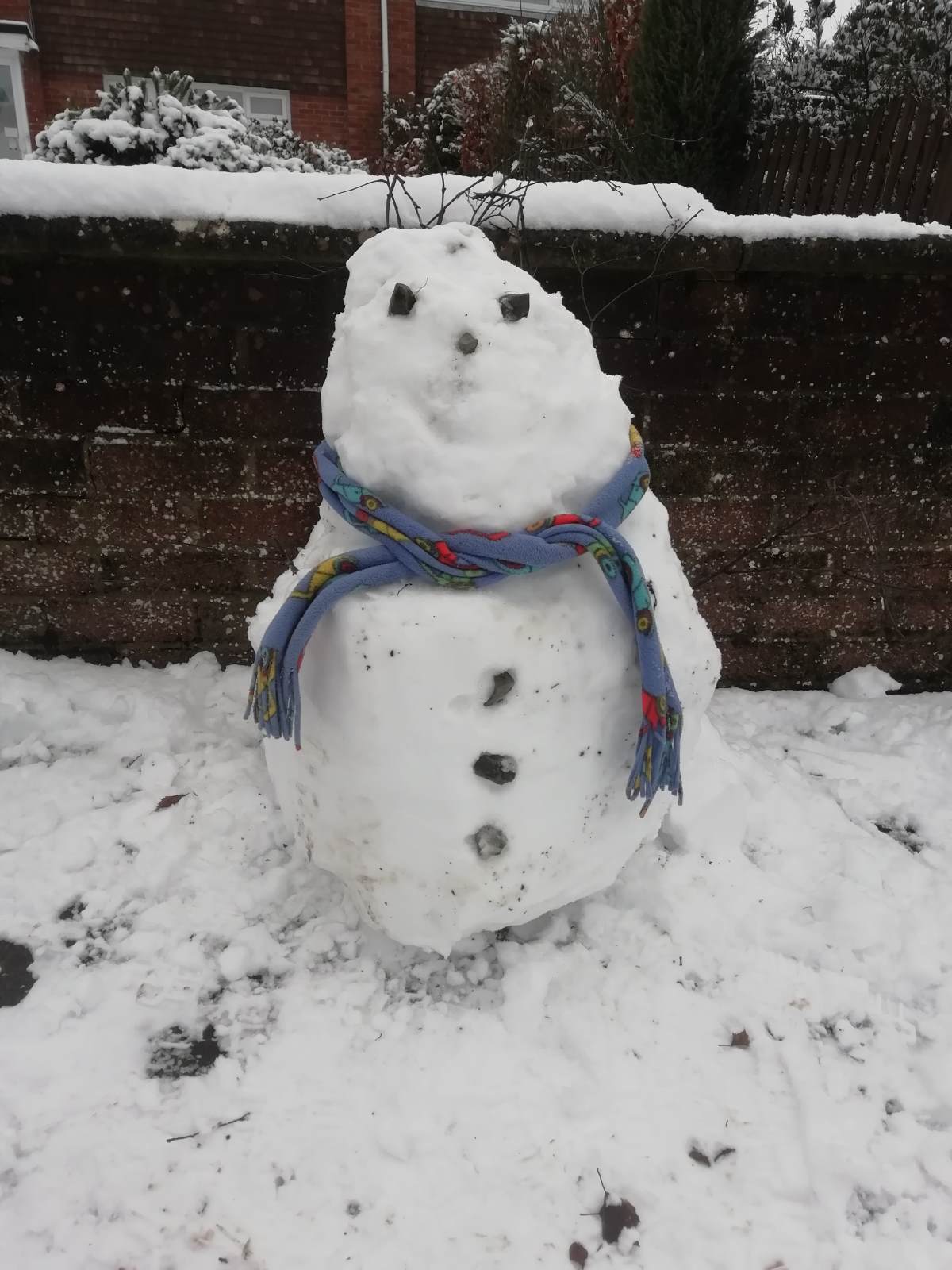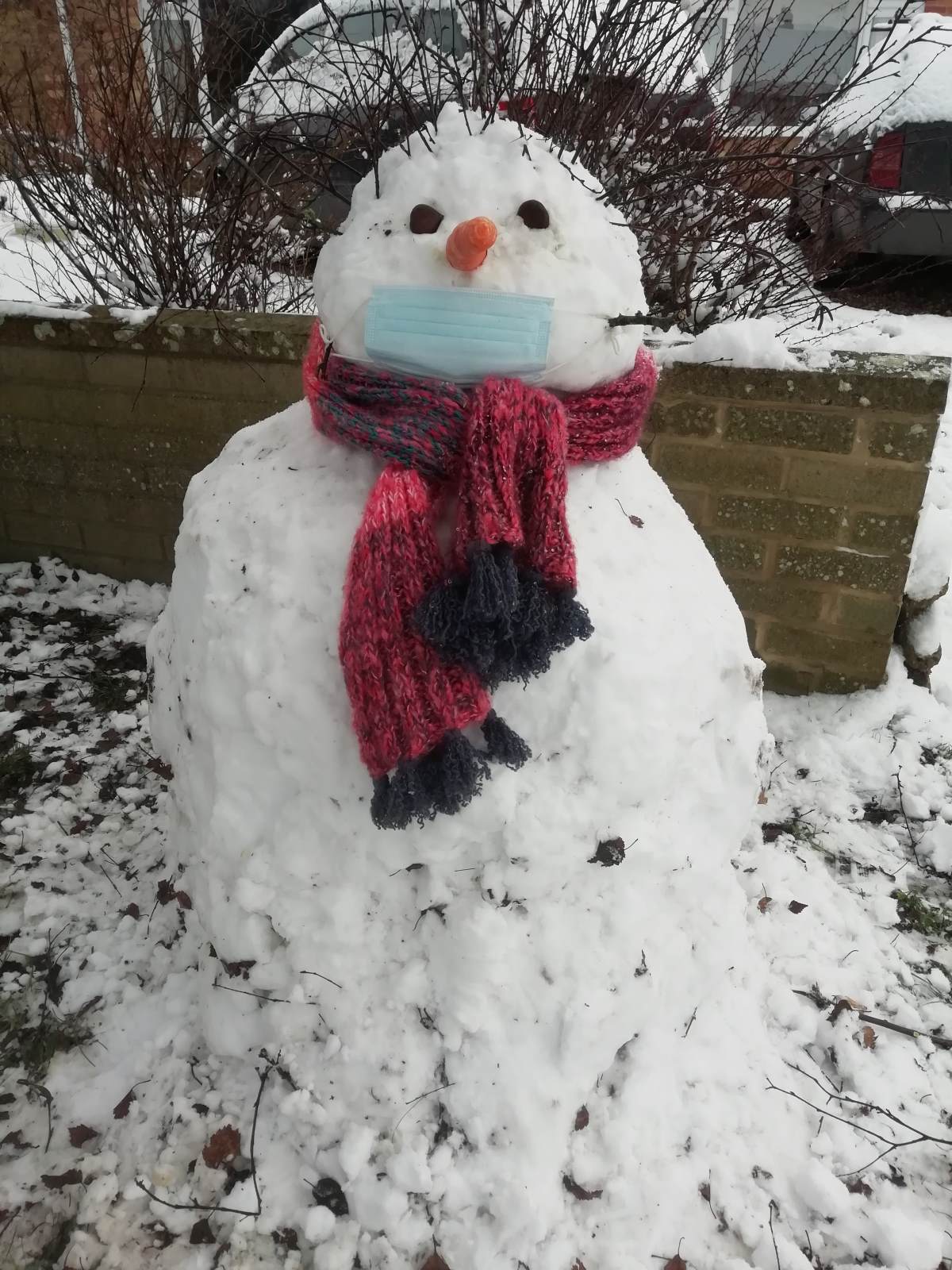 We have more fabulous models, super measuring of ingredients, great writing, counting of tiny items in a tiny box and wonderful thinking about 'dream jobs'. Keep working hard Starfish Class!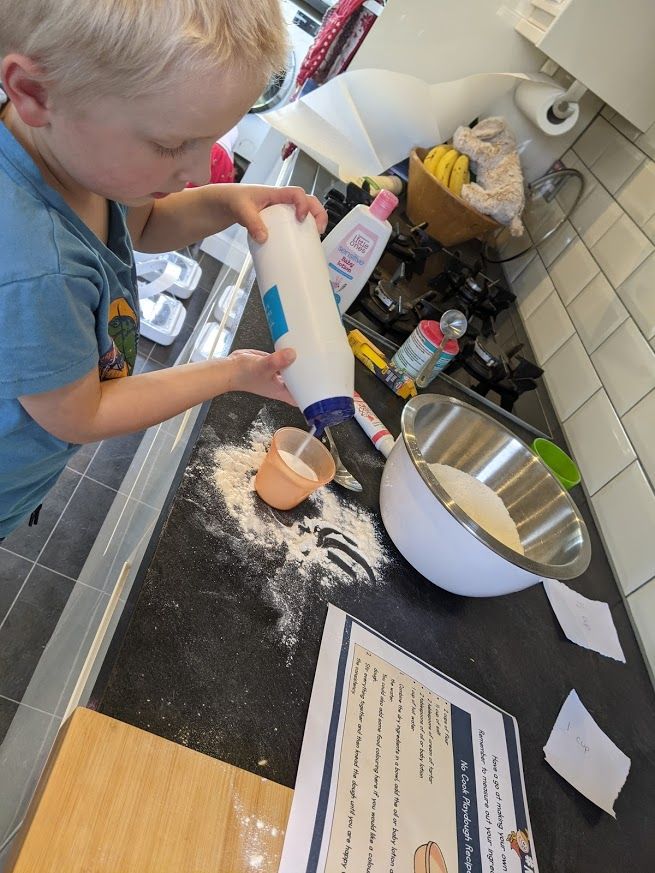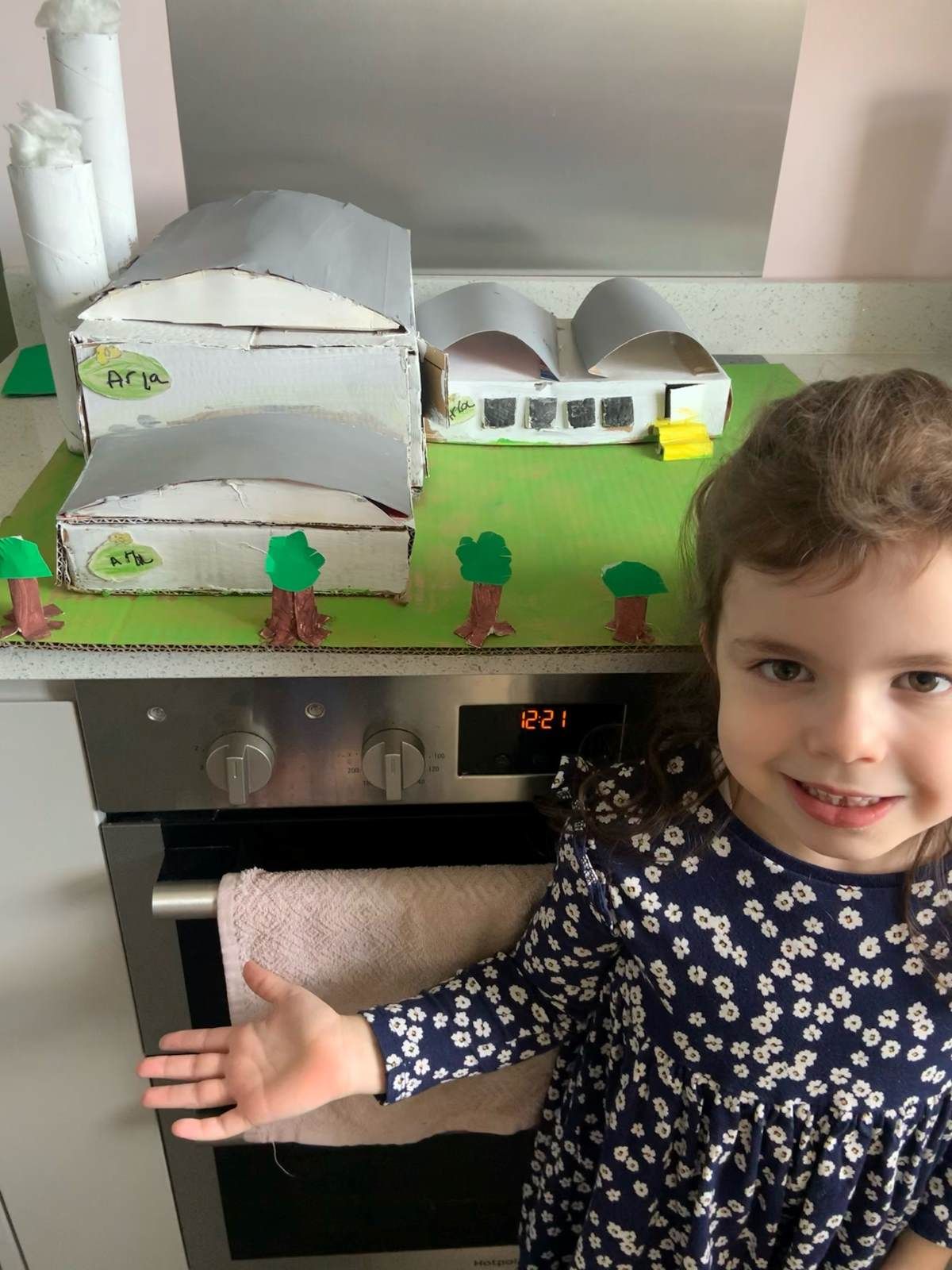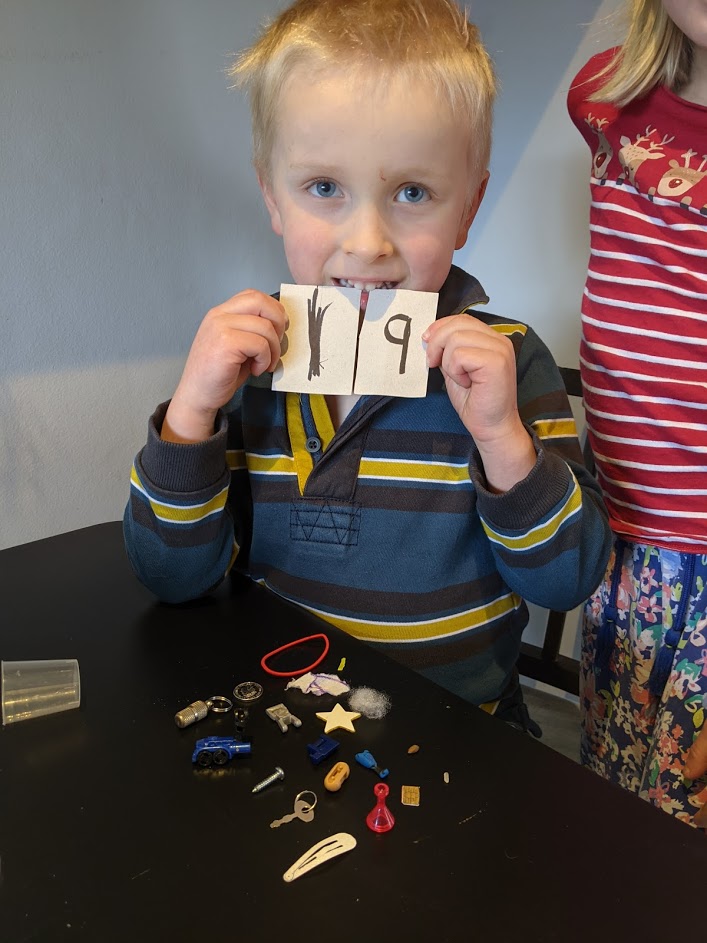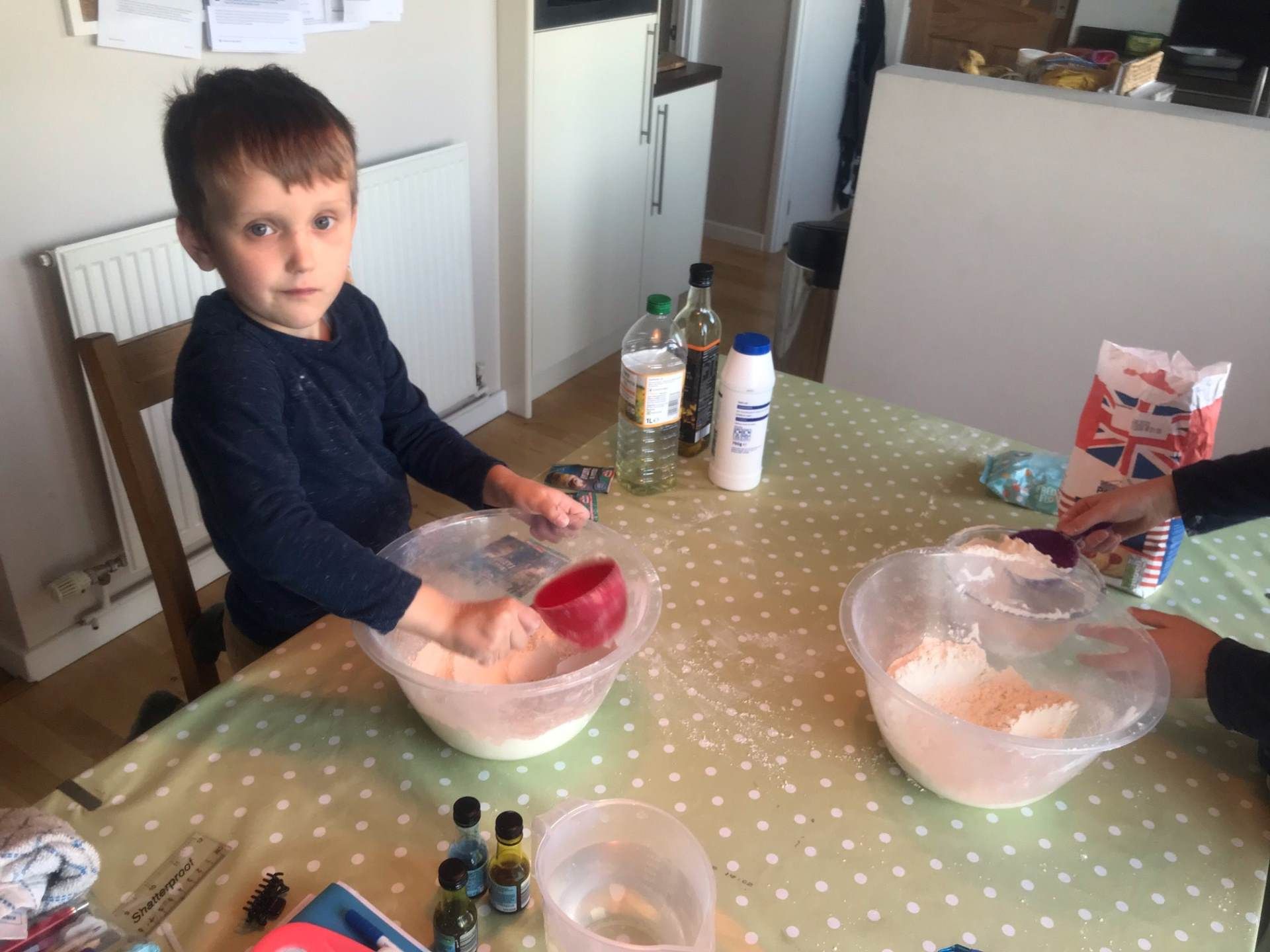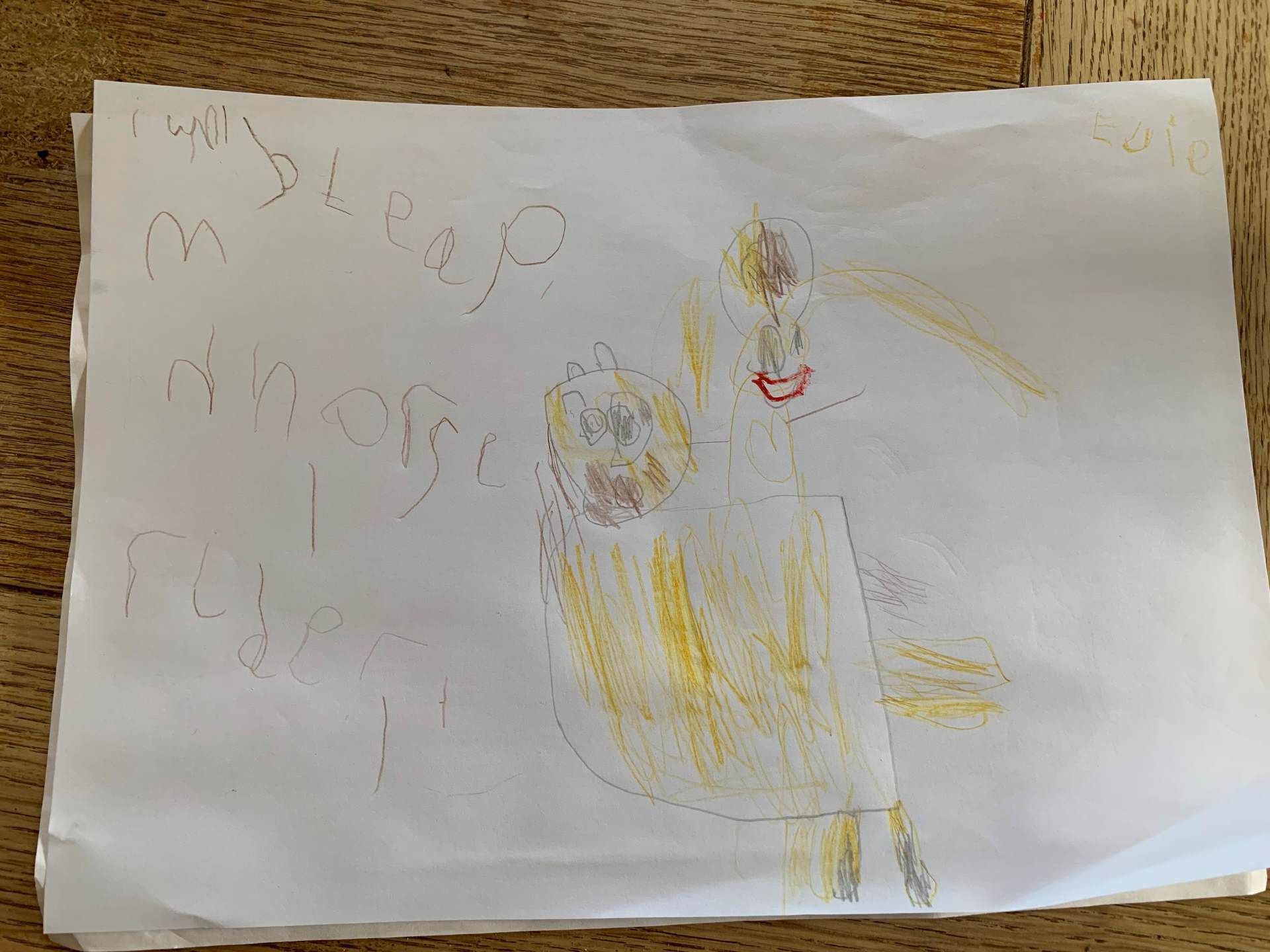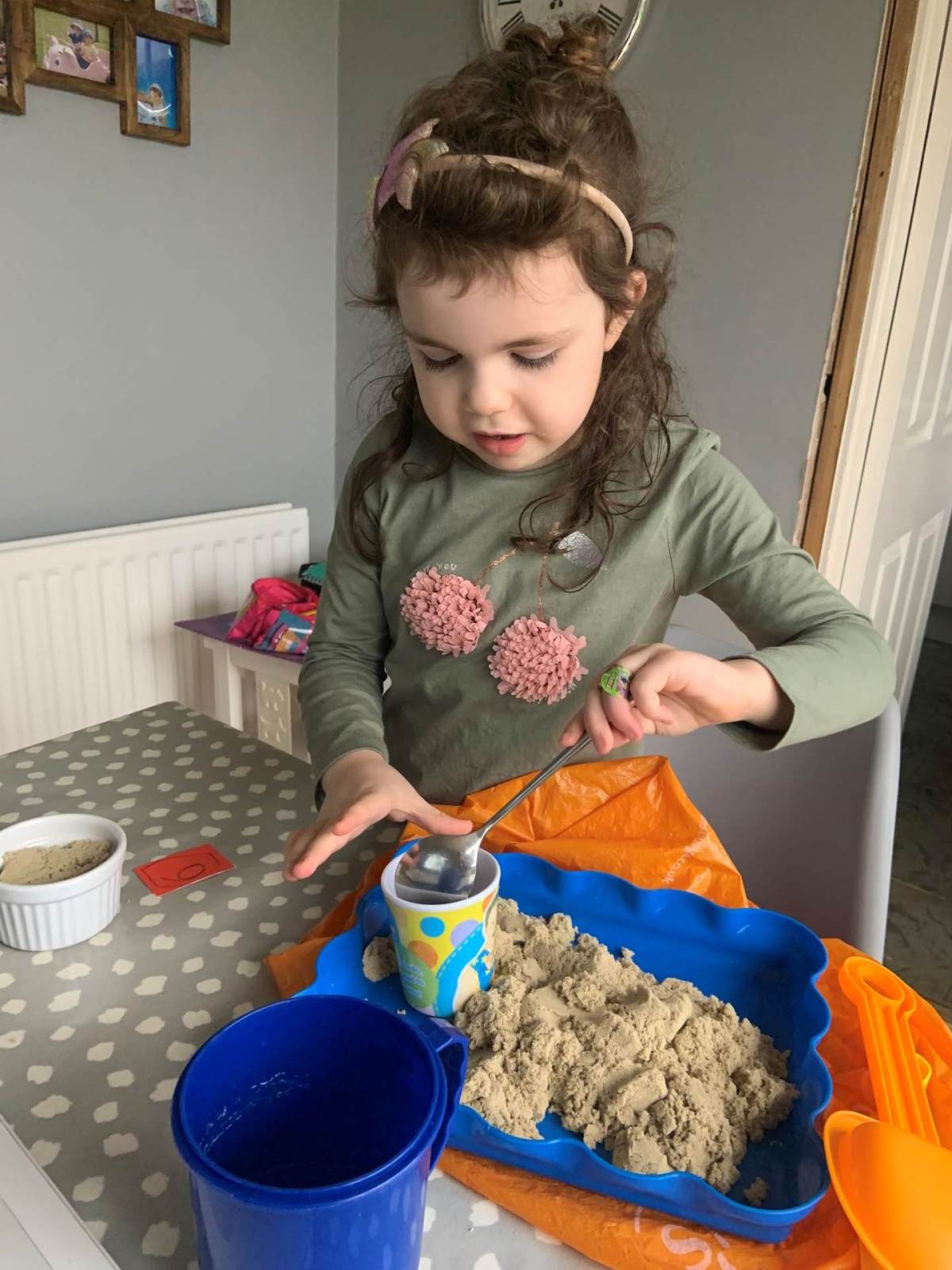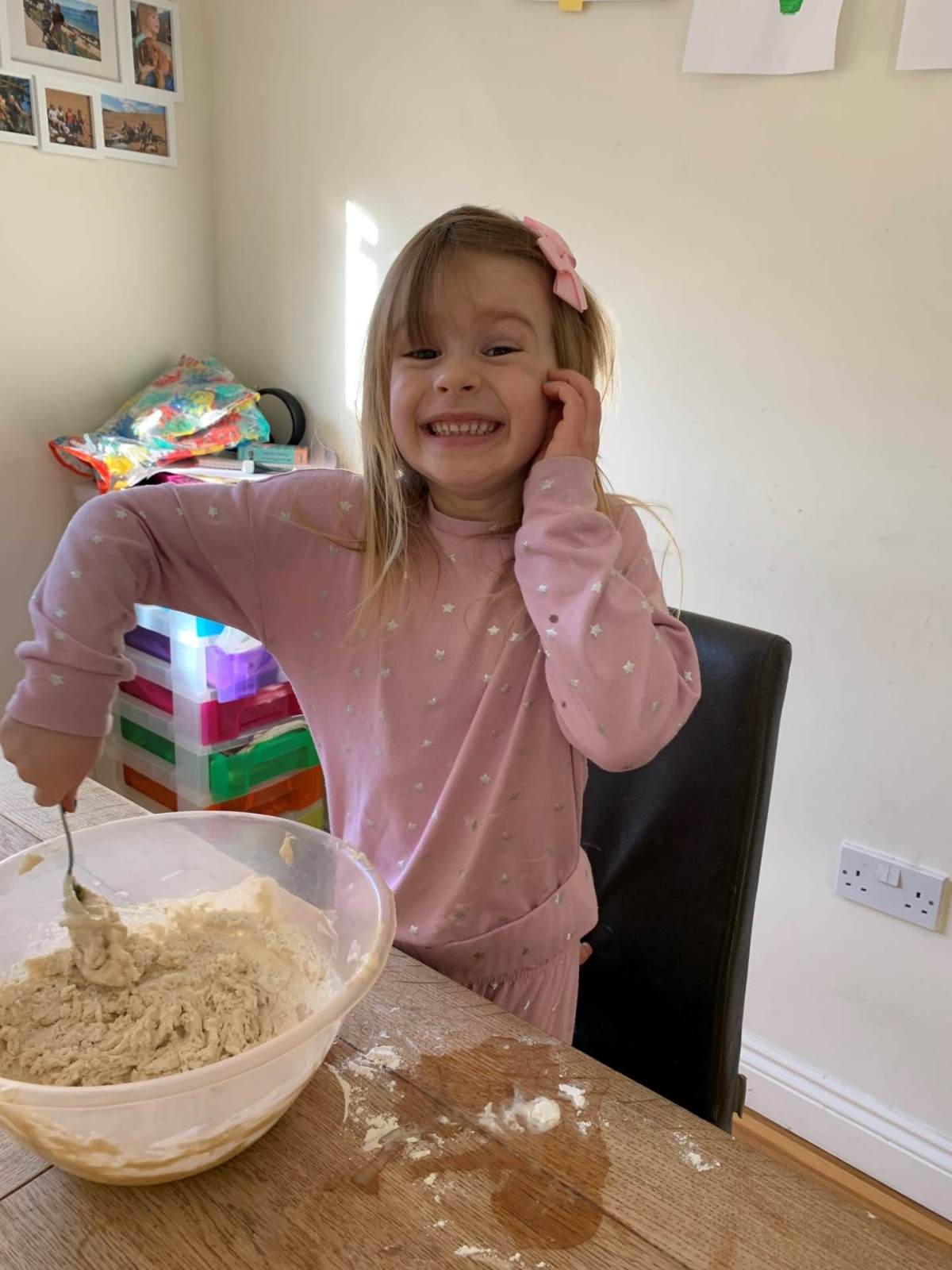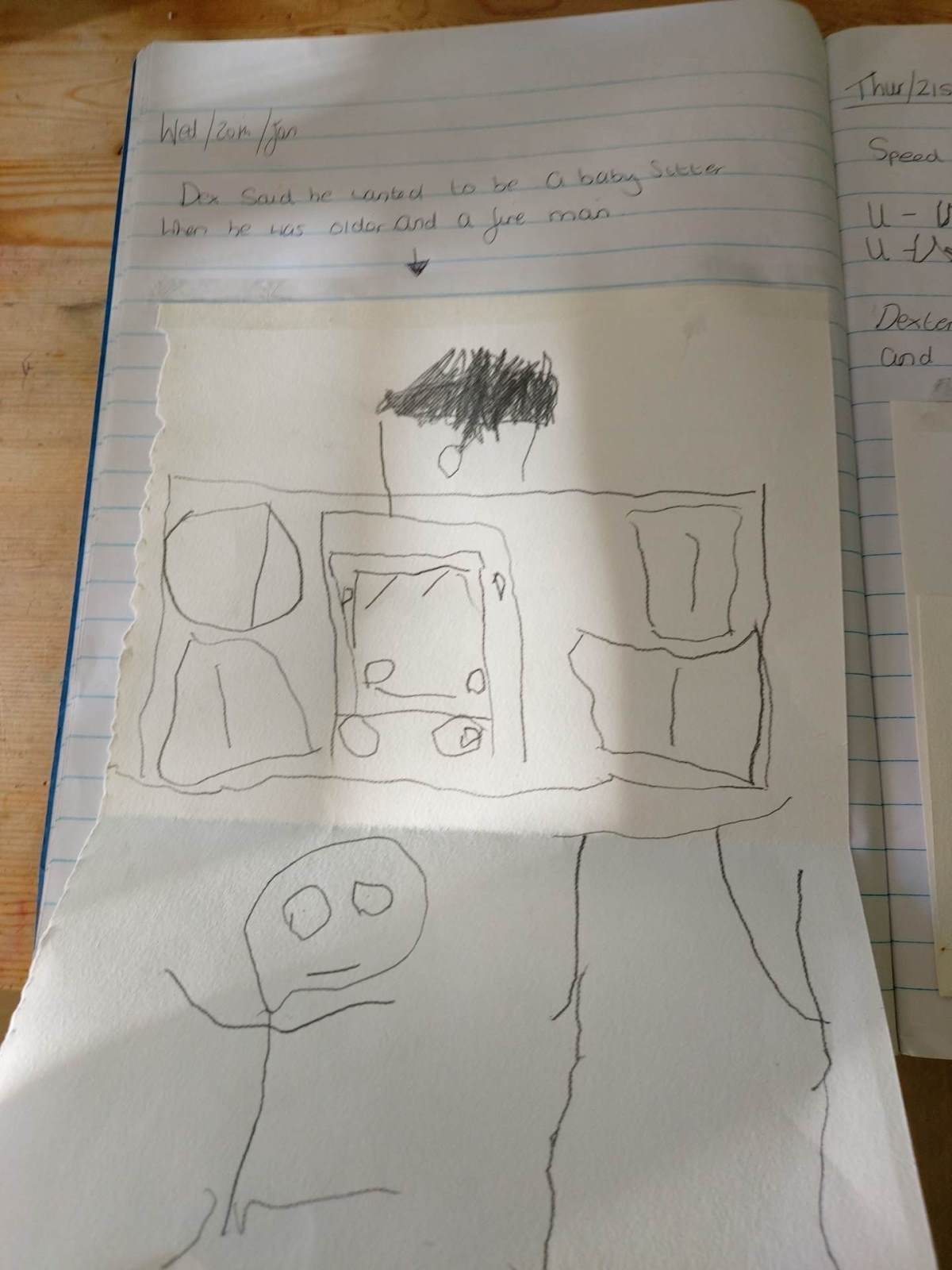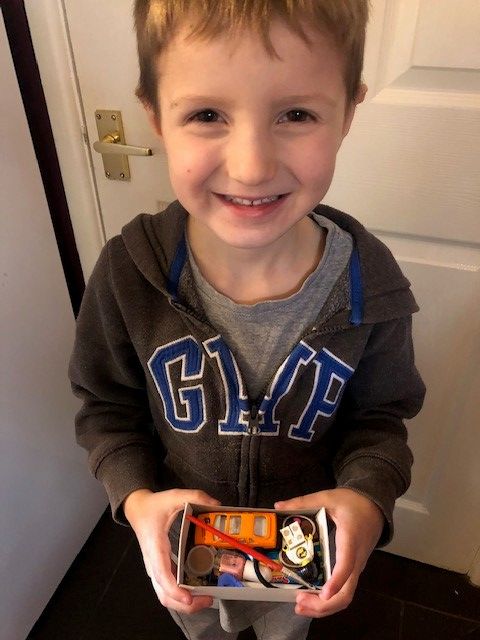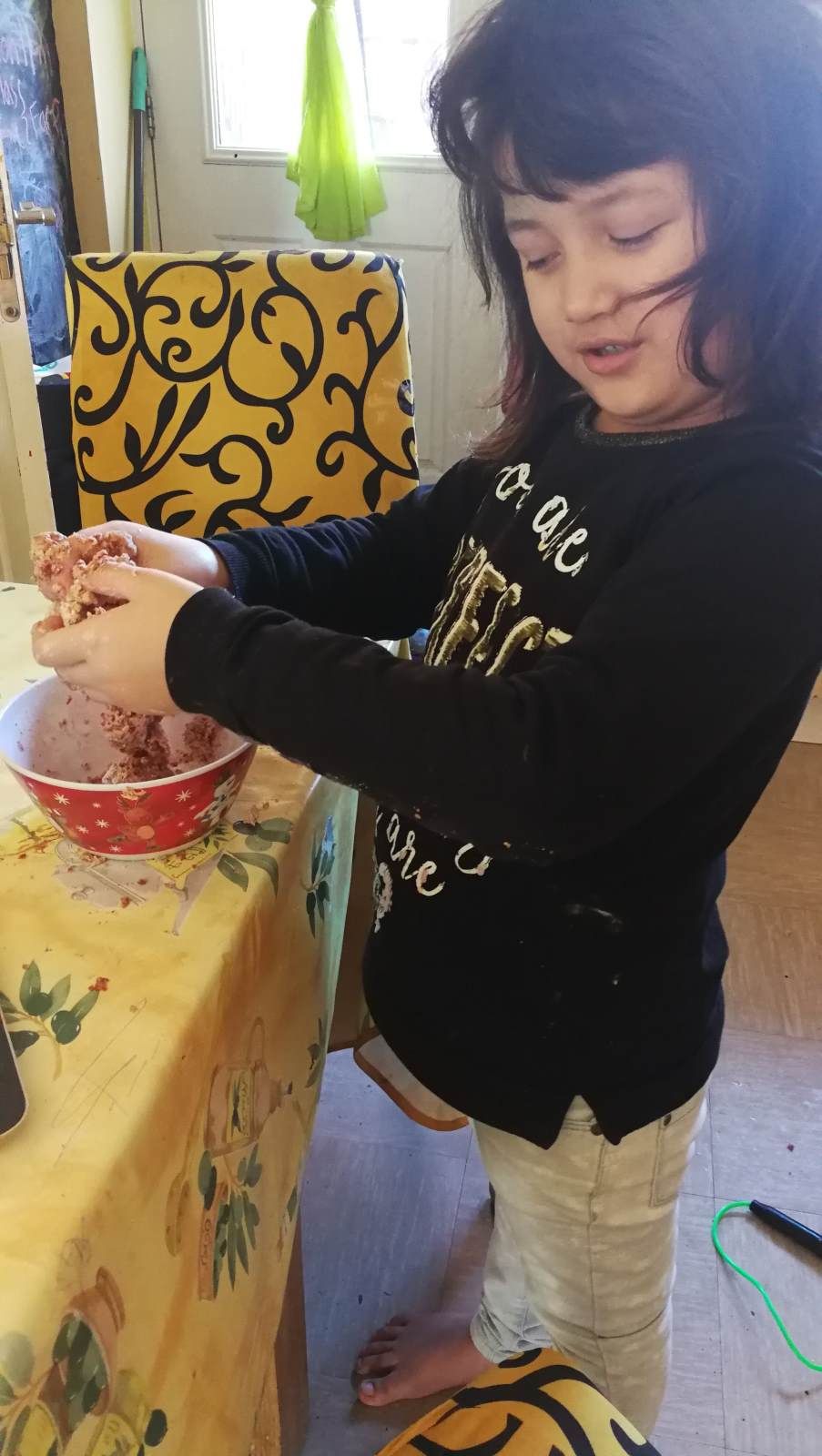 Thank you for all the messages saying how much you have enjoyed the different activities this week. The photos and video below will show how Starfish class have taken on their learning, such as taking the blood pressure of parents after watching 'Maddie's Do You Know?' thinking about dream jobs and completing the final week of Alive in 5! We also have more photos of your models. Keep up the great work!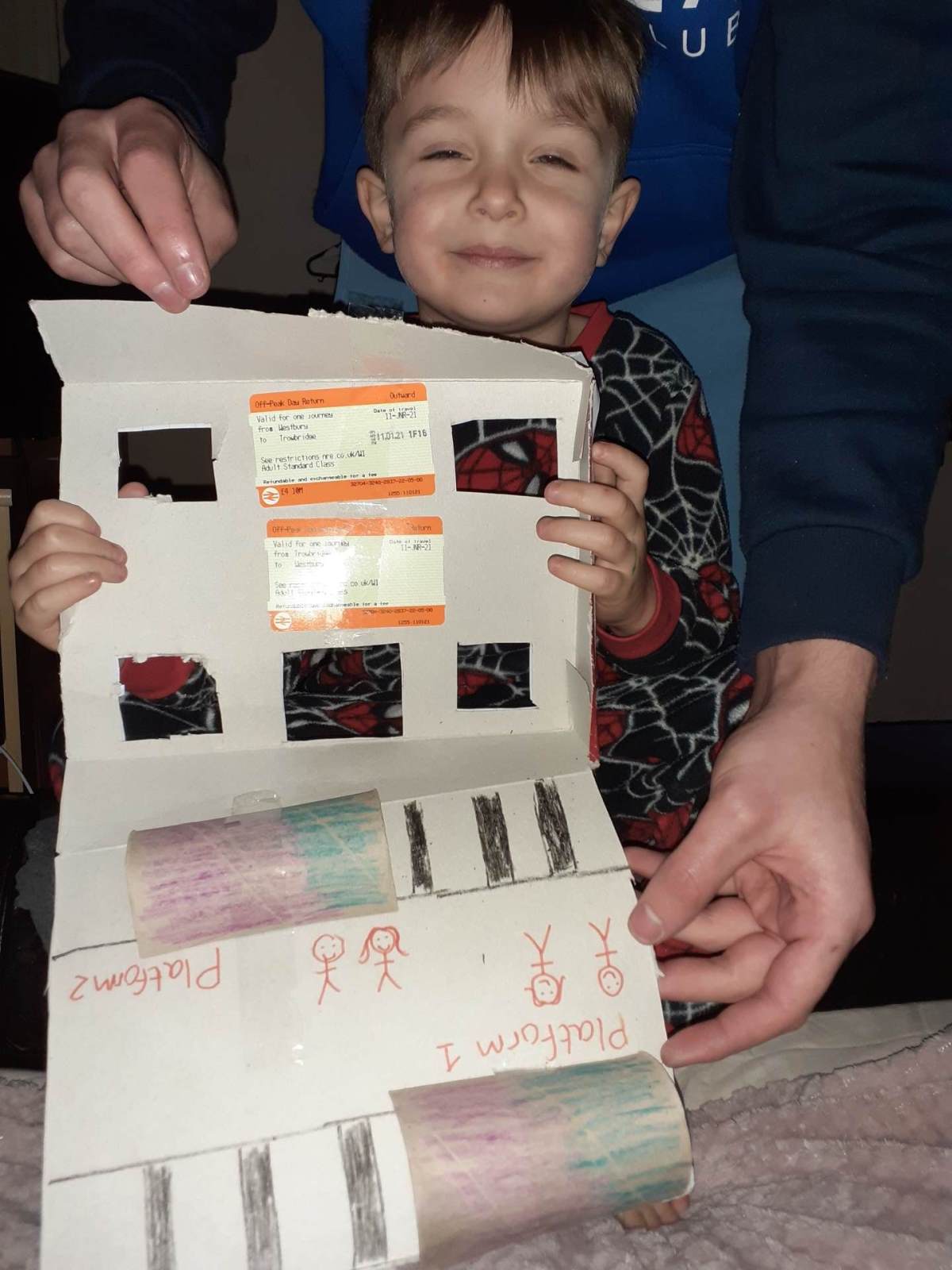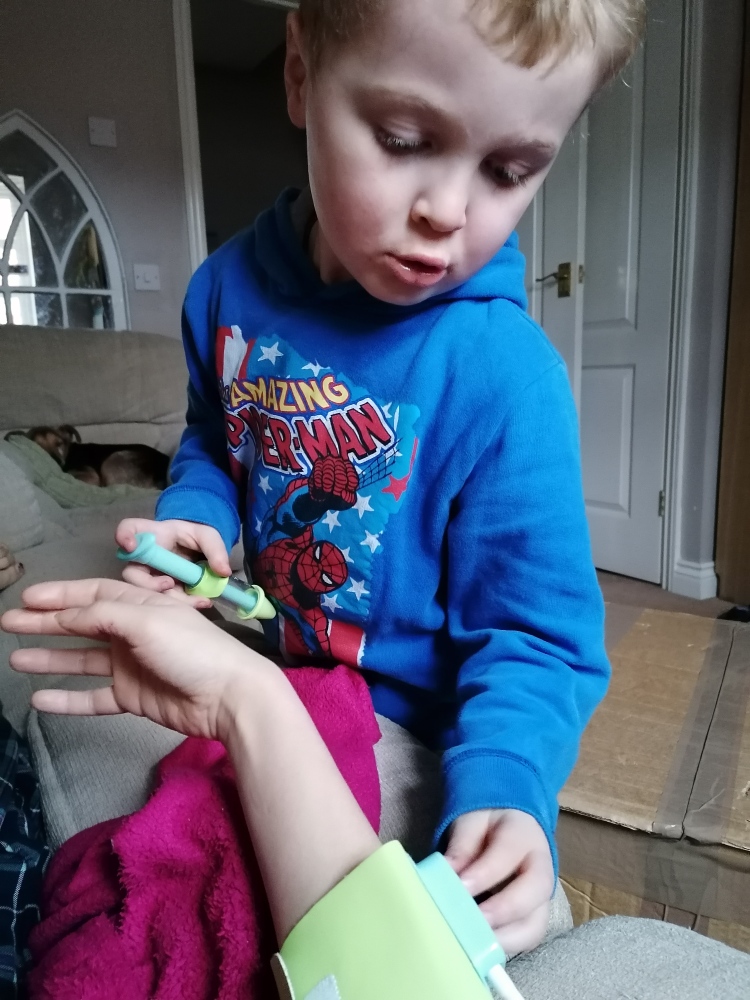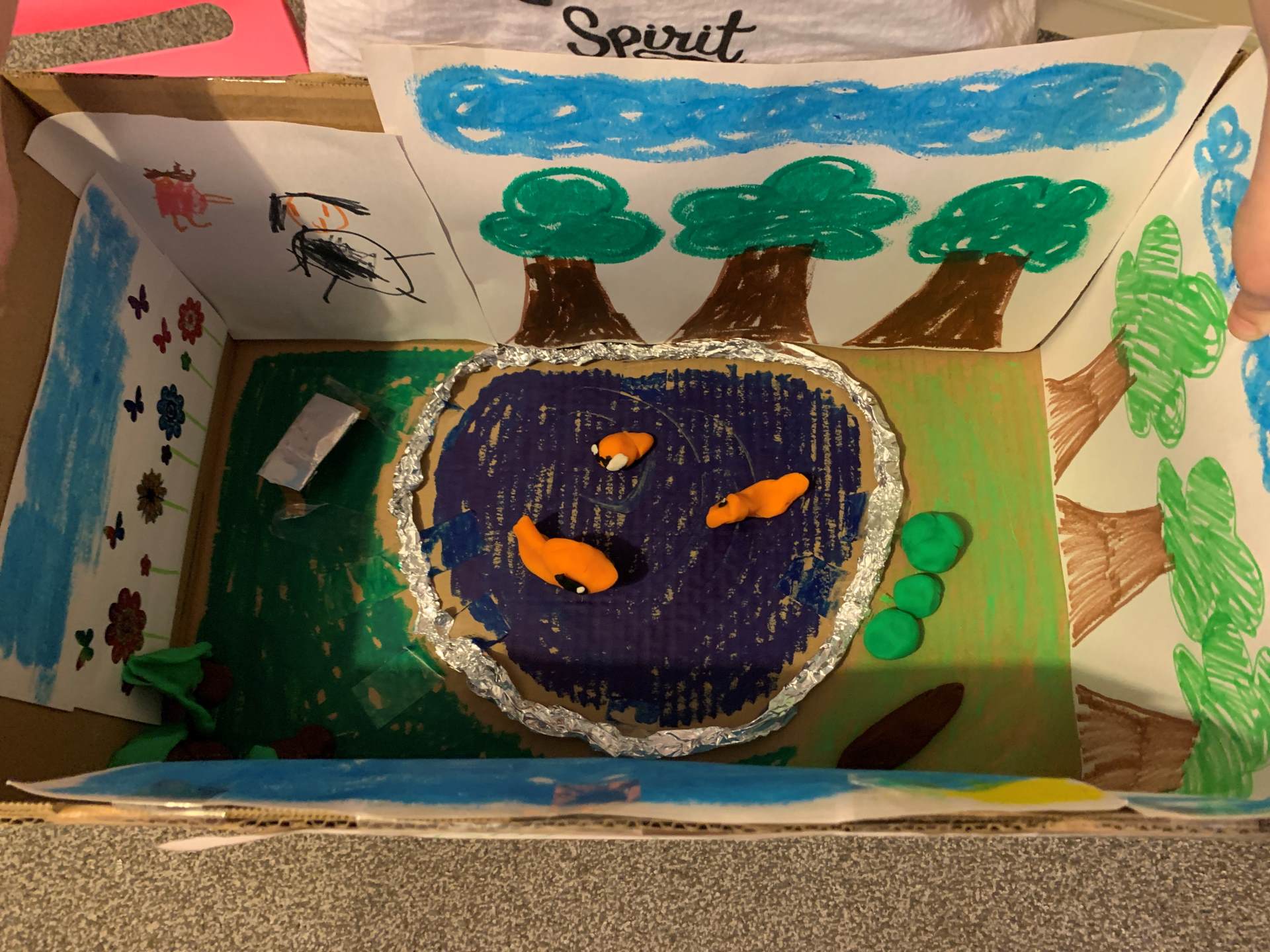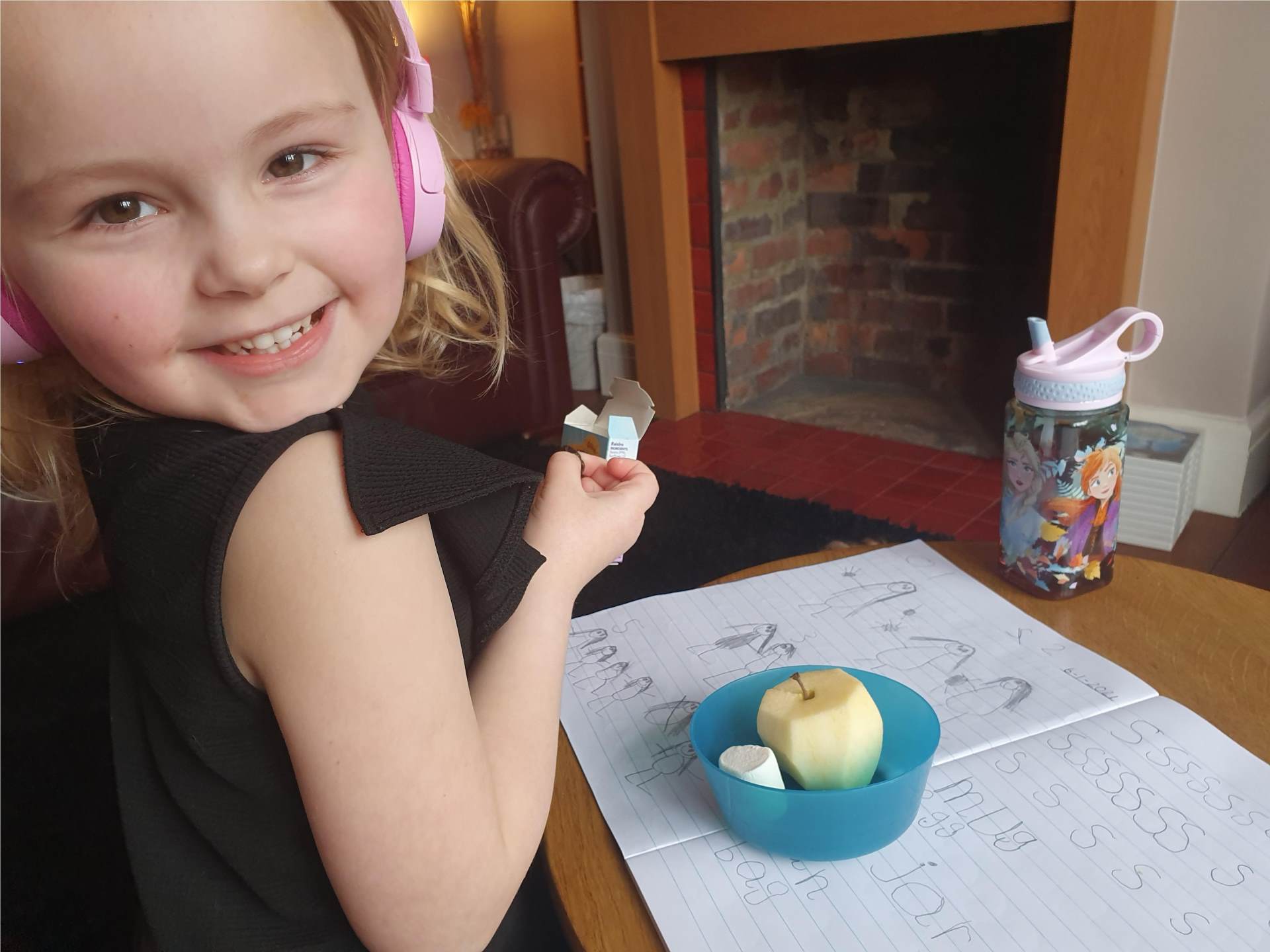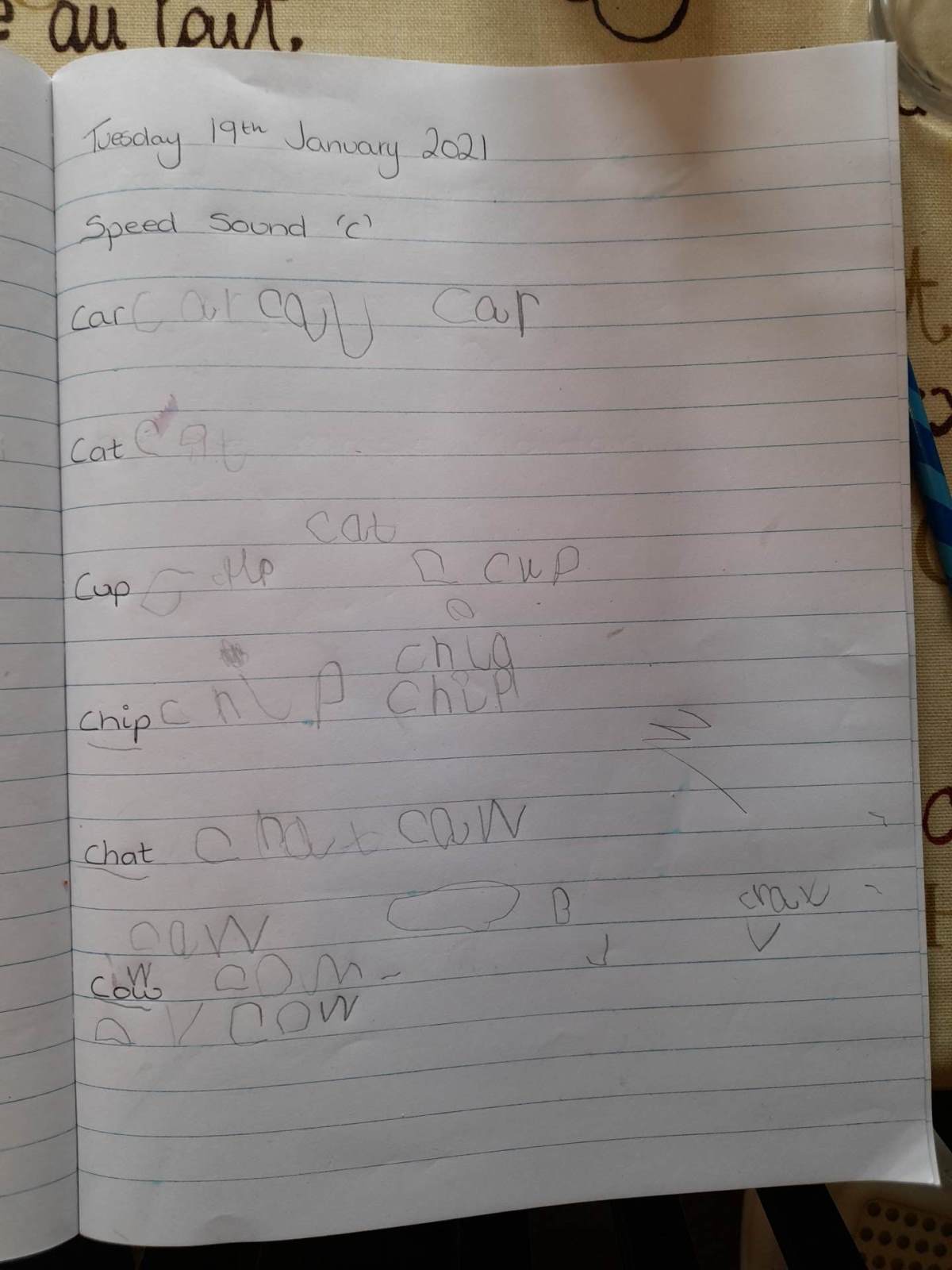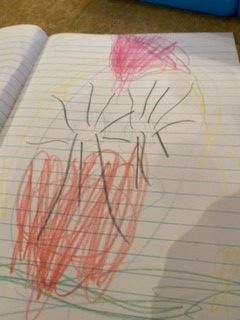 The latest batch of photos continue to show a wide variety of work that has been completed at home and around Westbury. Many in Starfish have been working very hard improving their handwriting, counting and spelling. It has also been great to see the first couple of photos of Starfish class making models, along with maps of Westbury. These were inspired following explorer walks around the town.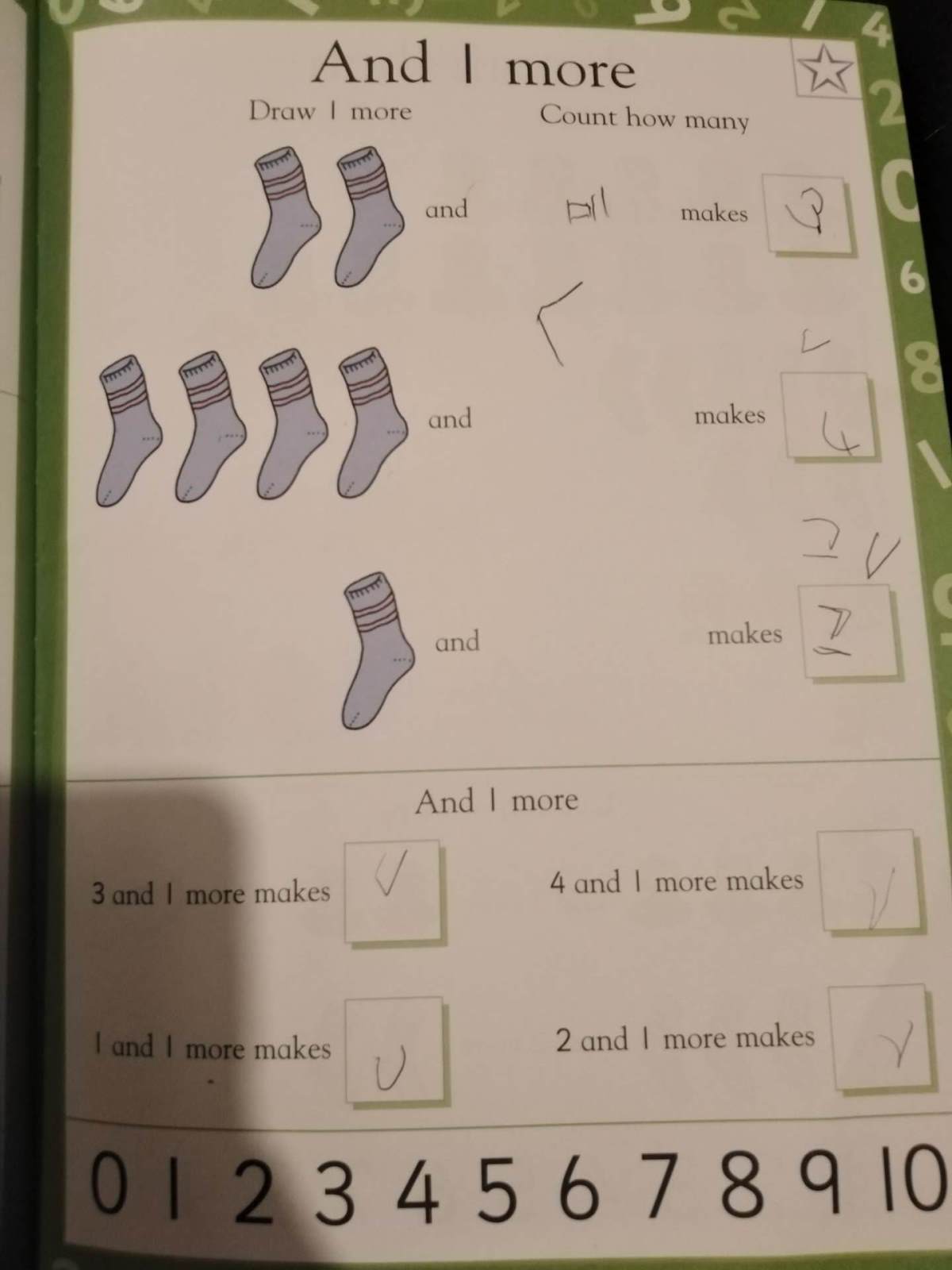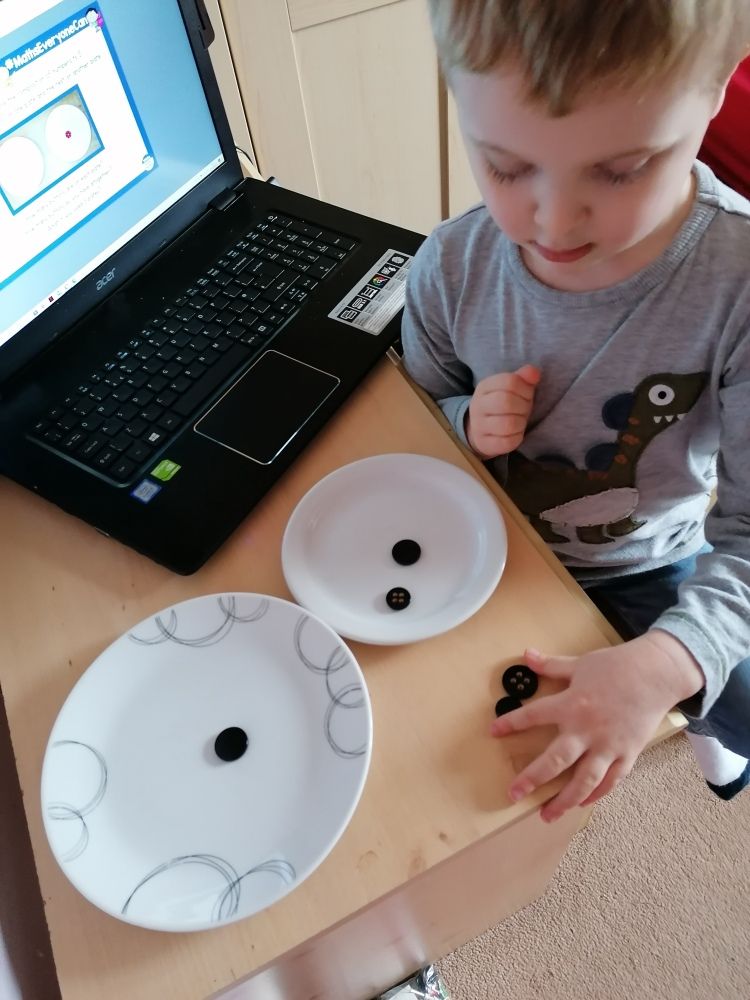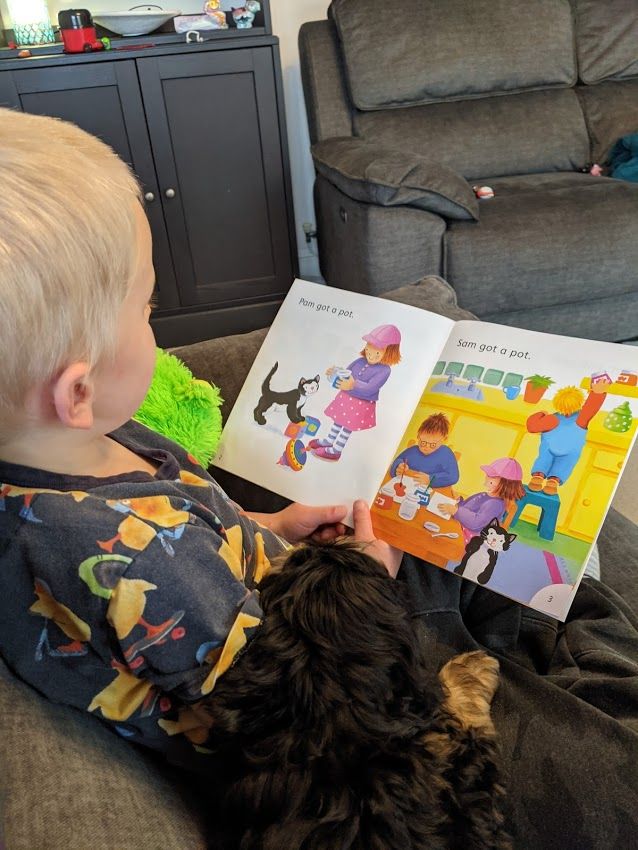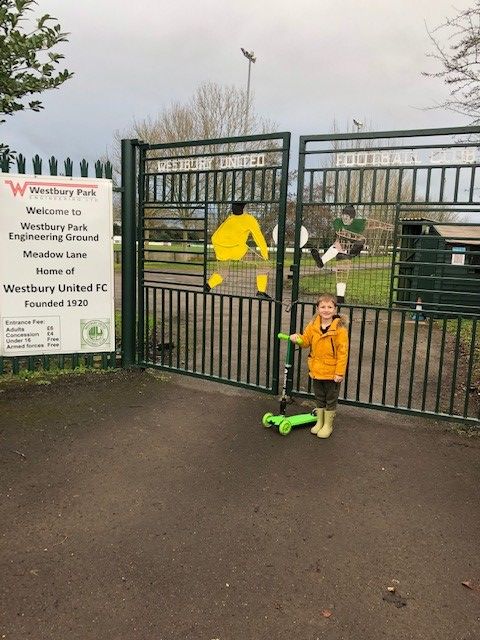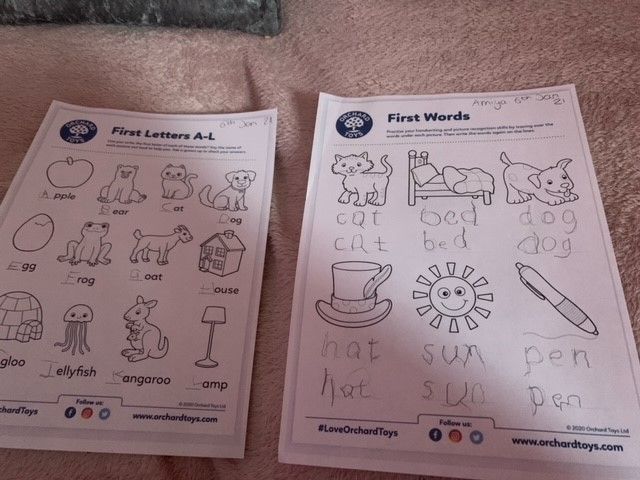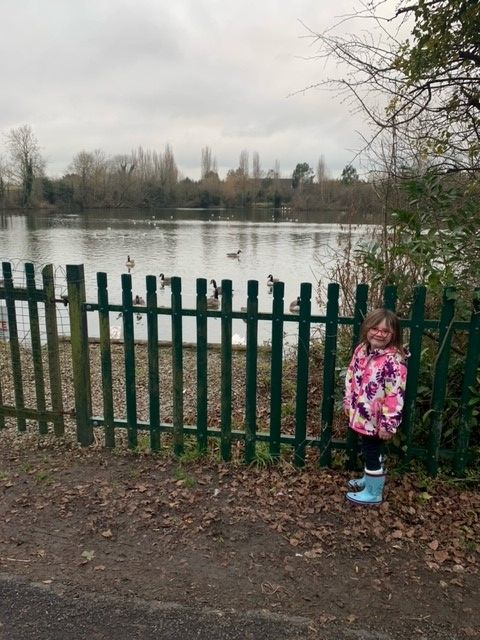 Some more of your home schooling exploits. Keep up the great work, I hope the tightrope challenge wasn't too difficult for you...or your pets!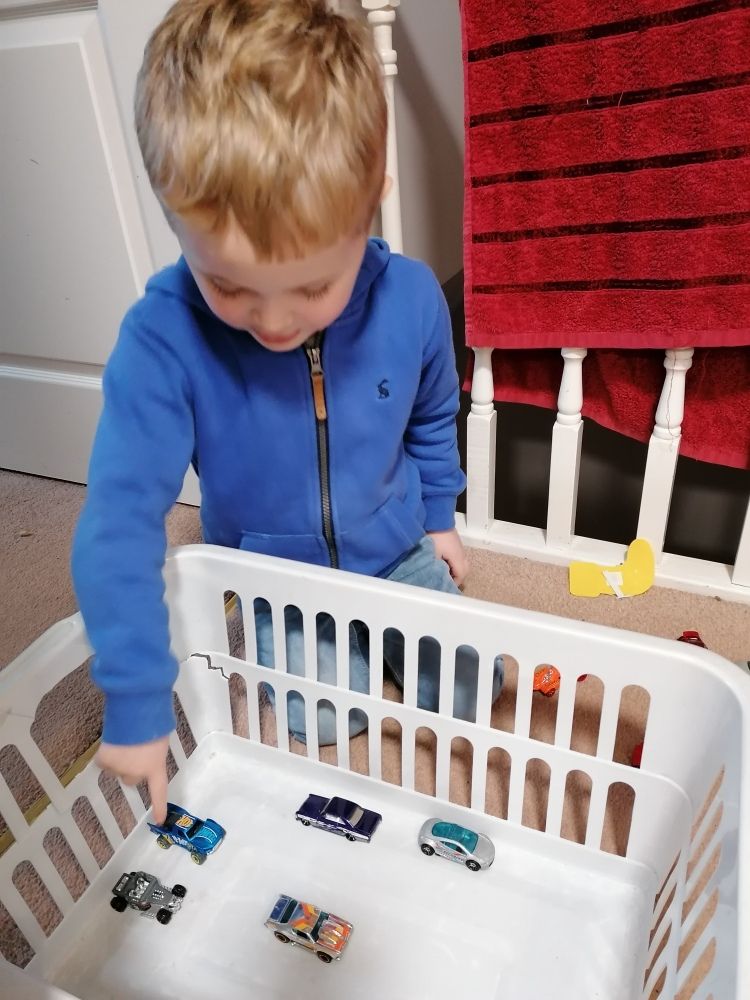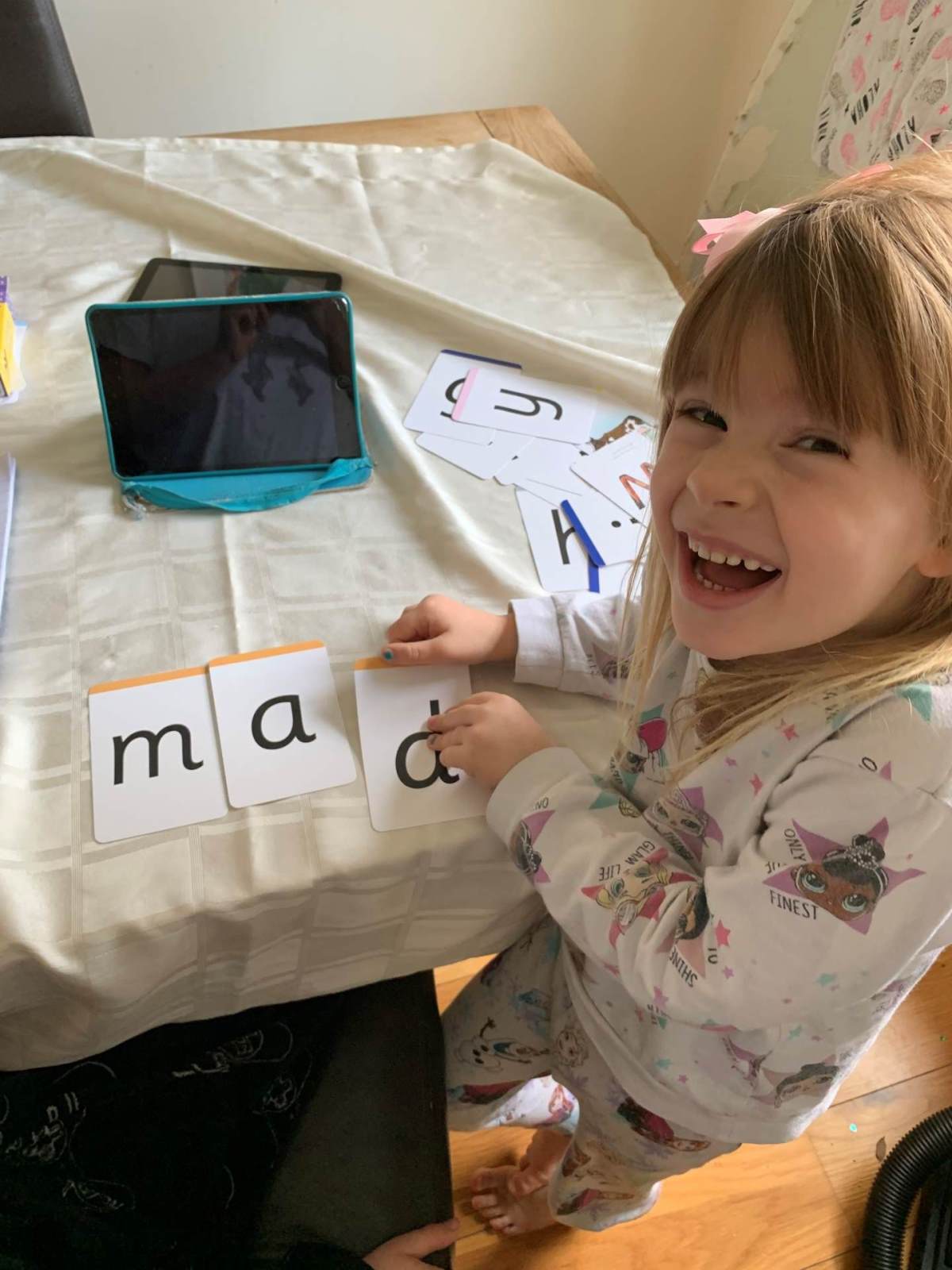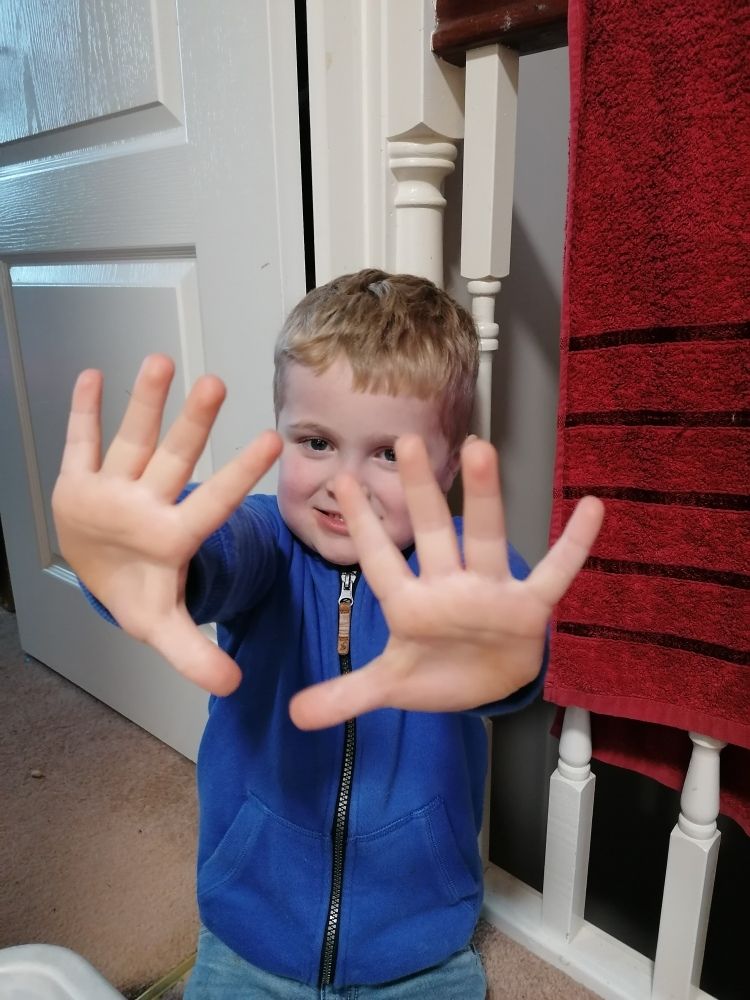 Just three days into your home schooling and below is just a small selection of the work you have completed. Keep trying your very best and show the world you can use your gem powers wherever you are, and whatever you are doing!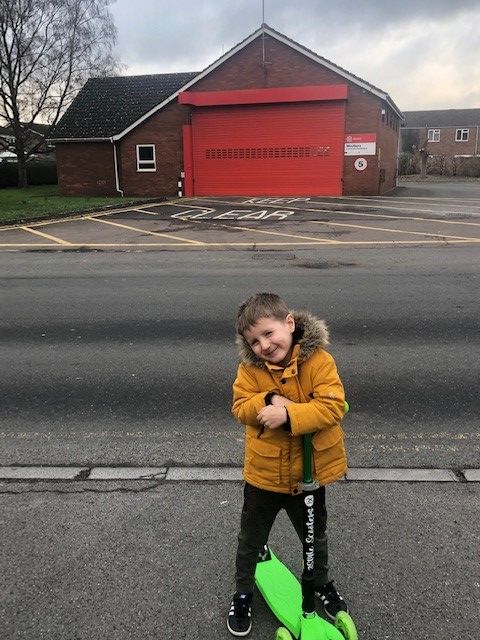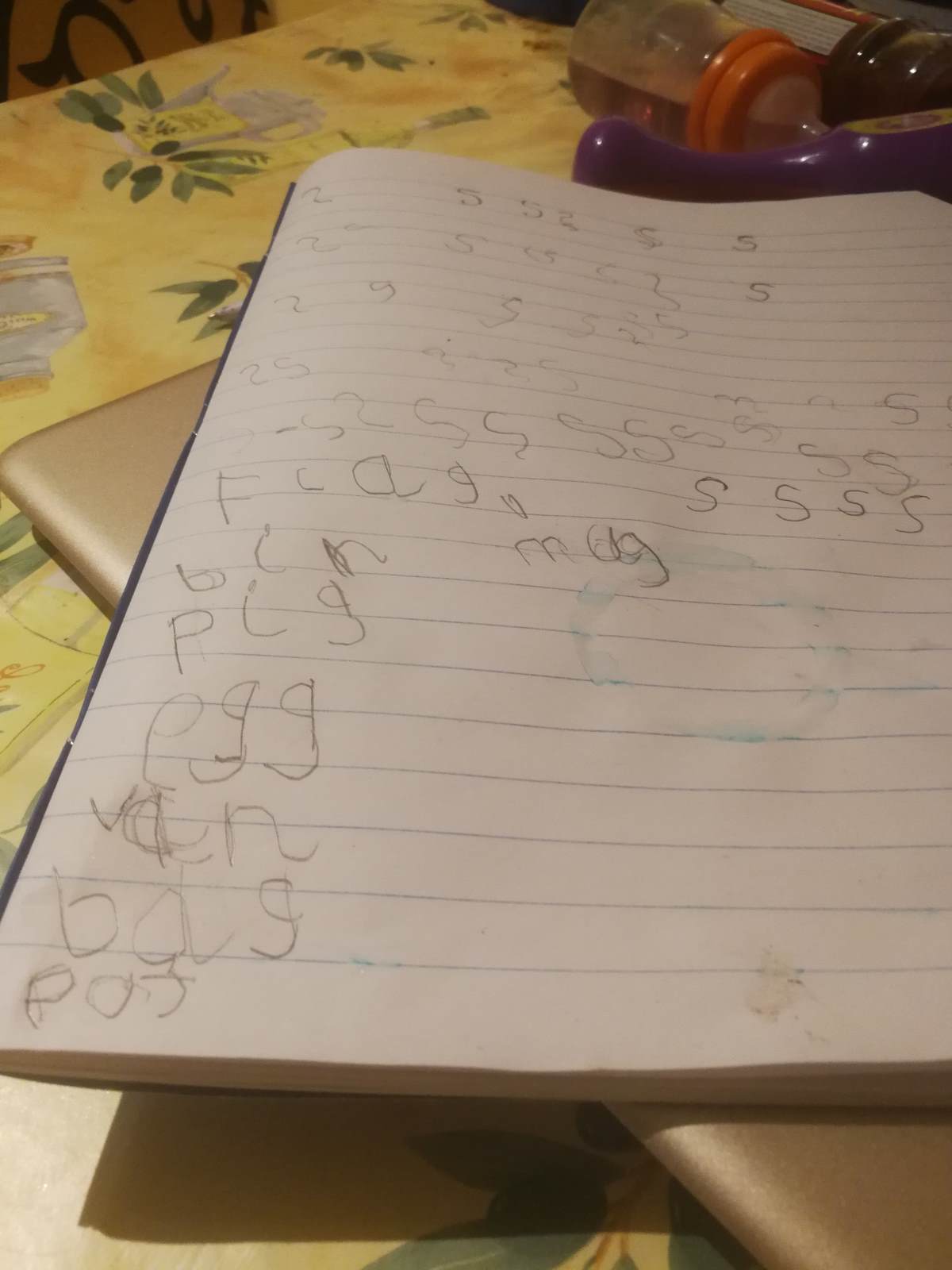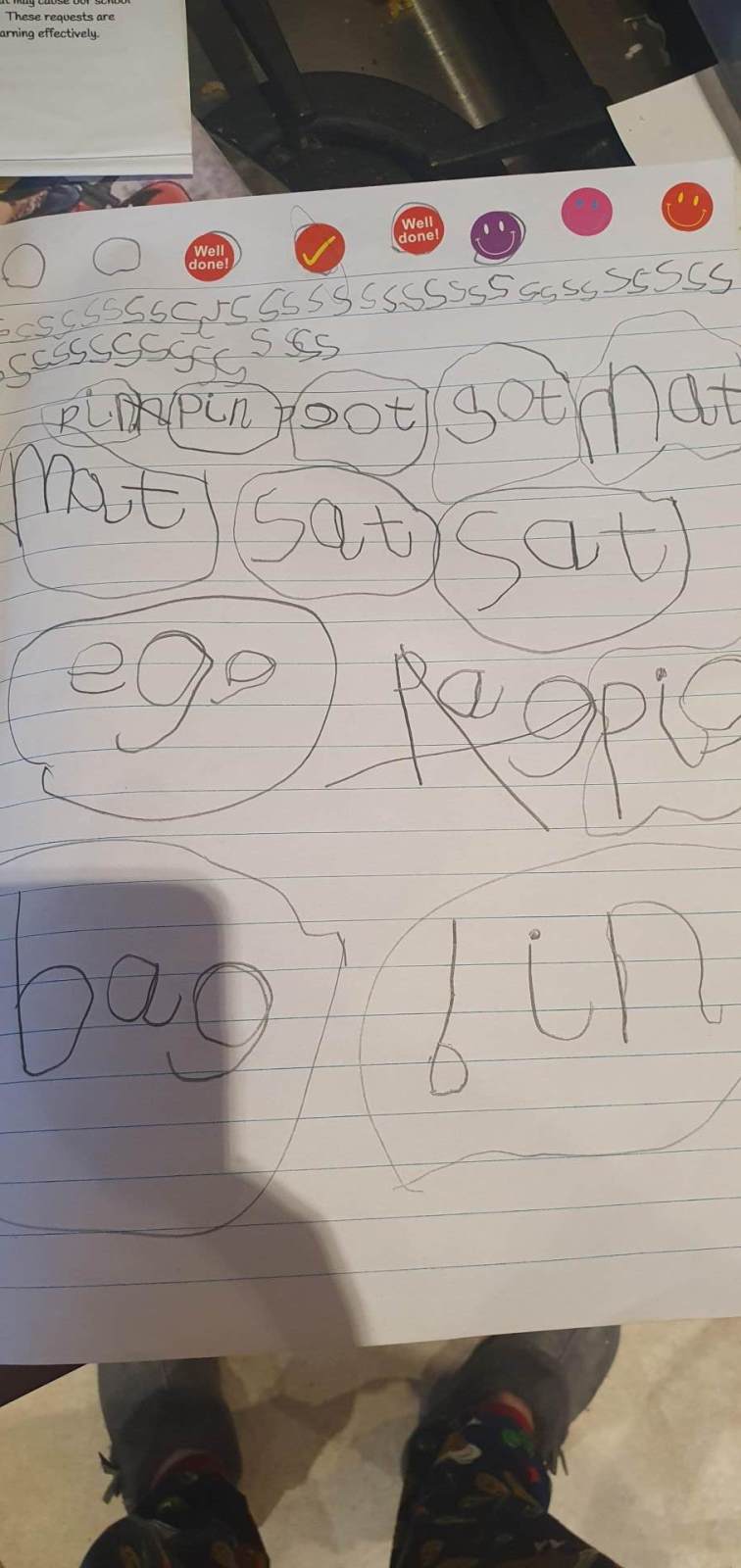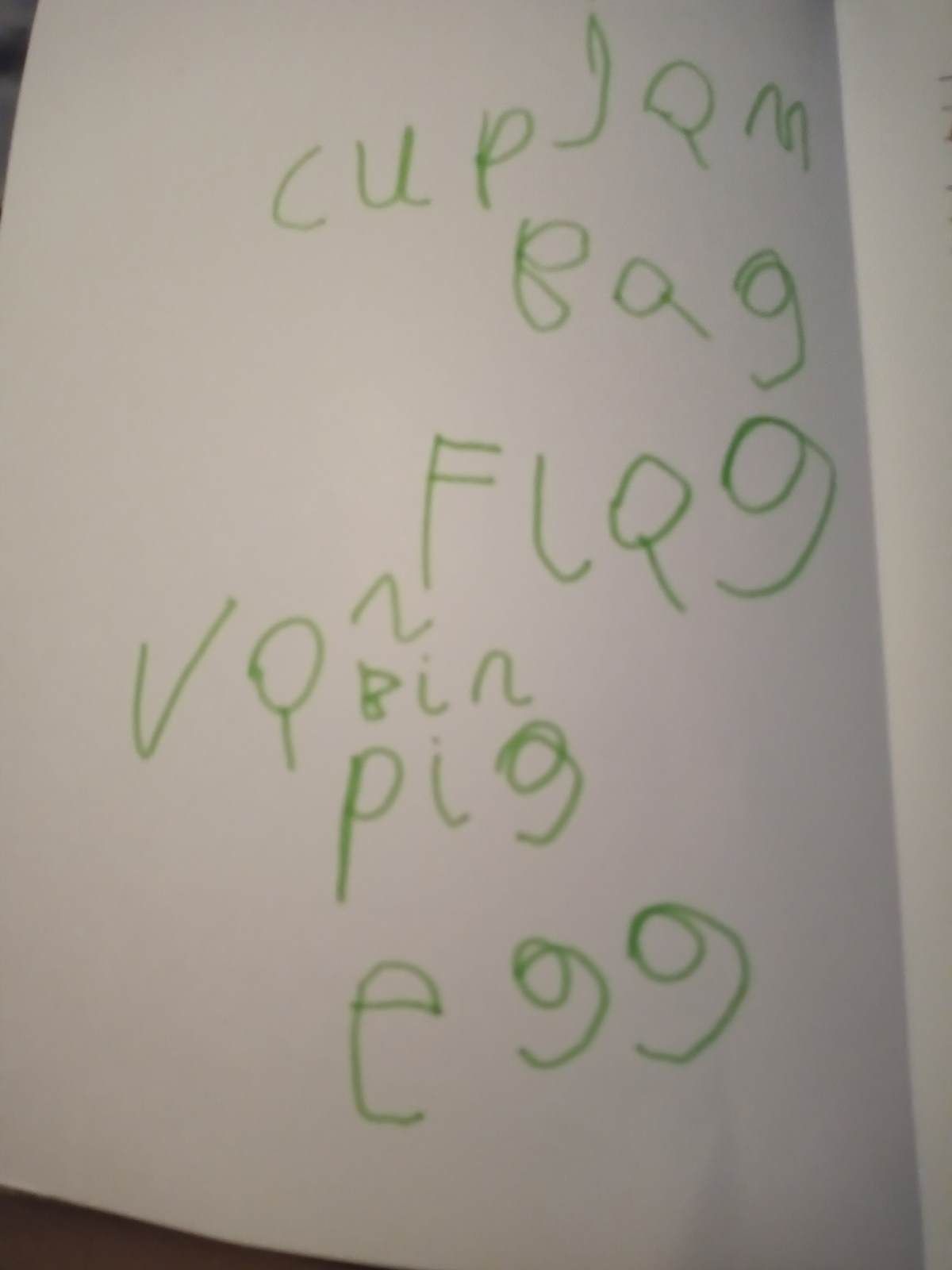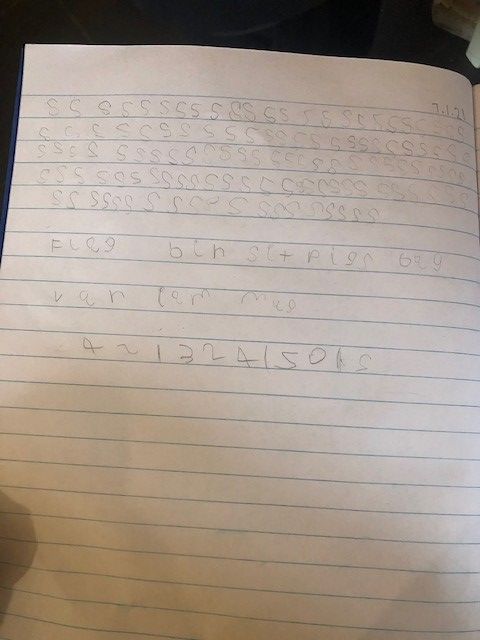 Happy New Year! Our topic this term is 'Where I Live and the People Who Help Us'.
December 2020
Crackers pulled - all ready for our delicious Christmas lunch!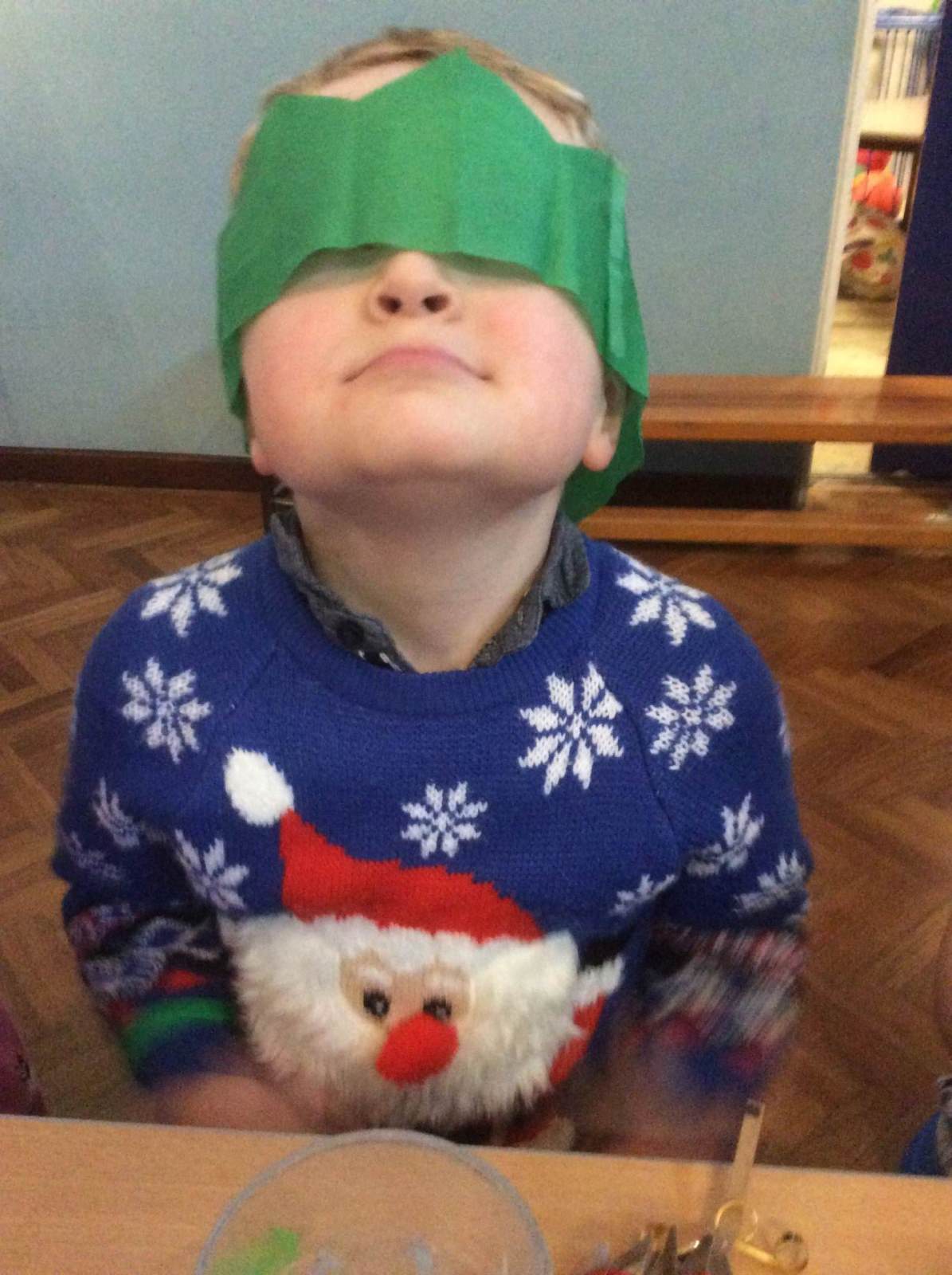 Below is a photo of our lucky raffle ticket winners. When the children work extra hard at either writing, reading or maths they get given a raffle ticket to put in the pot. At the end of term, one winning ticket is drawn in assembly and prizes given out! Congratulations!
During maths sessions, the children have been finding and representing one less, equal to and one more than a given number.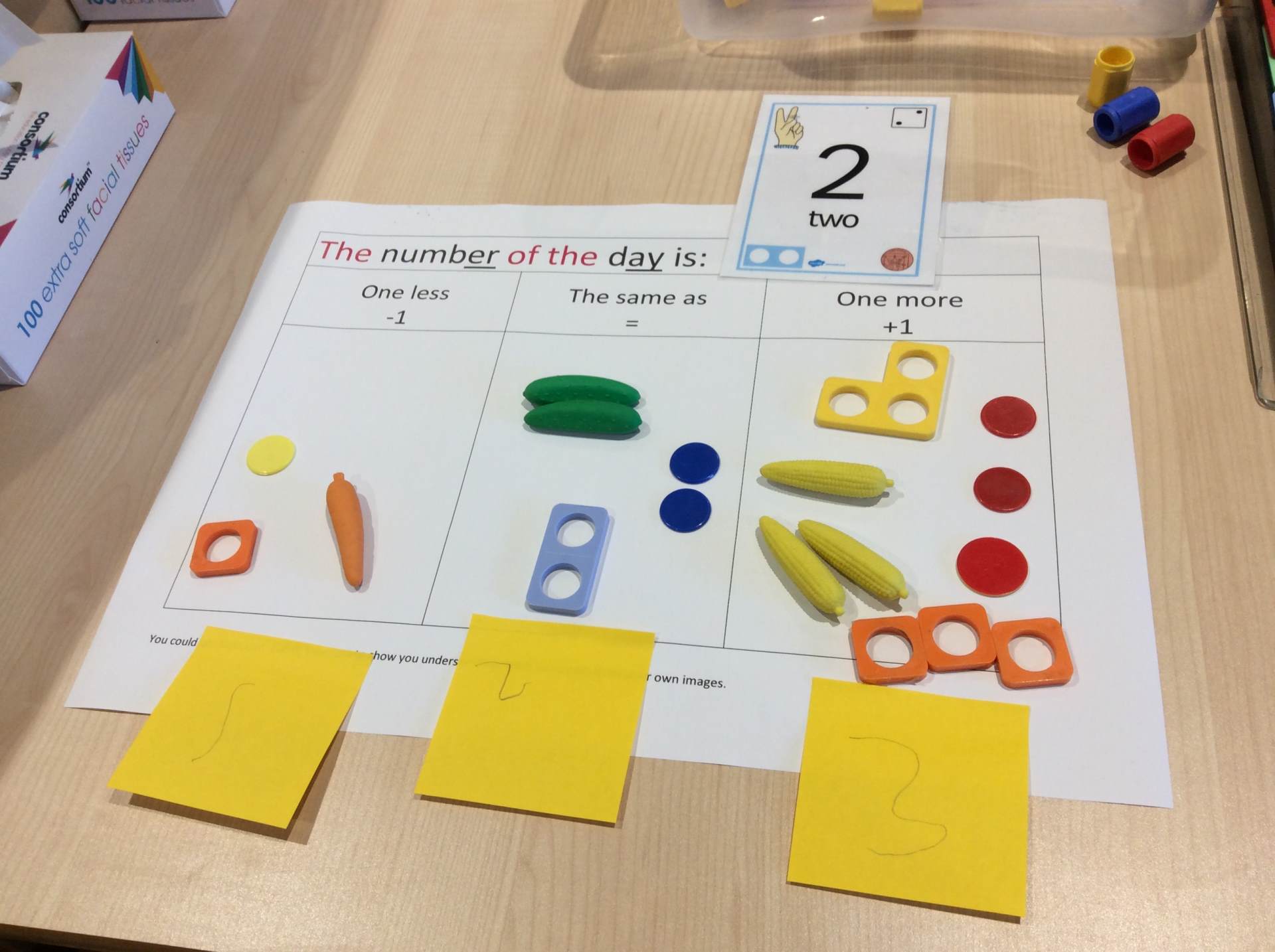 This year's Christmas performance has had to be different at WIS as with many other schools far and wide but we have made it as special as we can and the children's faces show just how much they have enjoyed singing the songs and doing the actions. Although we can't all be together in the hall, we have managed to make it just as special but in a different way. Today, all the children thoroughly enjoyed watching each other's Christmas performance videos during our virtual celebration assembly. We hope you enjoy watching them at home as much as we enjoyed making them for you. Plus the beauty of this is that you can watch them over and over again! Fantastic!
Two cheeky elves have arrived in Class 7 that have been named Candy Cane and Snow. They appear to get up to a little bit of mischief each night but do leave us a letter to read each morning. The letters have a variety of tasks to complete for the following day which the children have enjoyed completing. I am sure they will happily tell you further details!
November 2020
In PE we have been learning how to move in different ways, this included two footed jumps, landing with control. We used our movements whilst singing a counting song.
Below is a selection of our shape monsters along with some super maths work where Luke and Benji made ten in different ways.
This week we have continued to learn about woodland animals and where they live. The children have drawn pictures of animals and their homes, and annotated them. We have also had time to talk about how we care for each other, watched an animation on Cbeebies about Remembrance day, made super poppy pictures and supported Children in Need.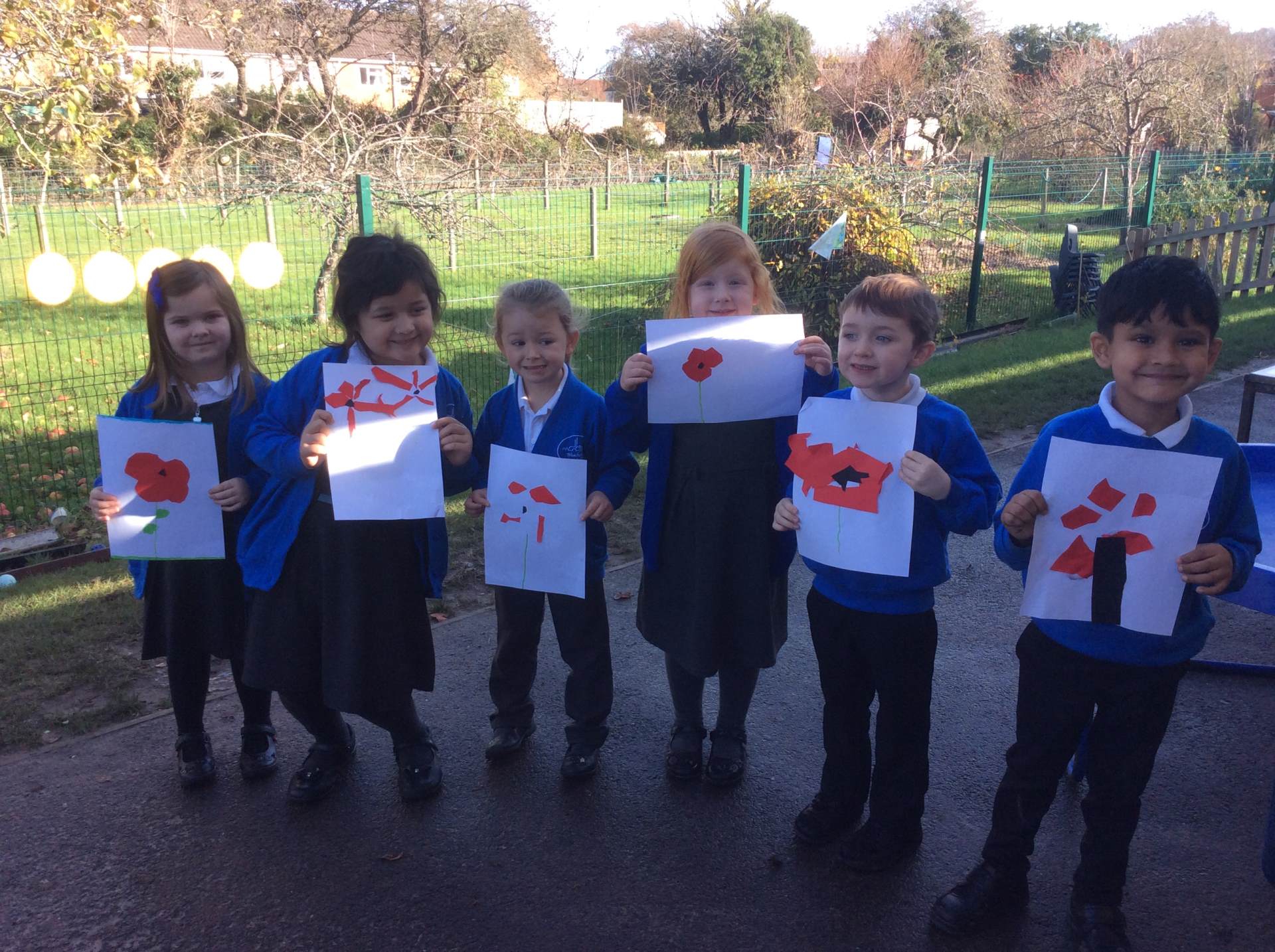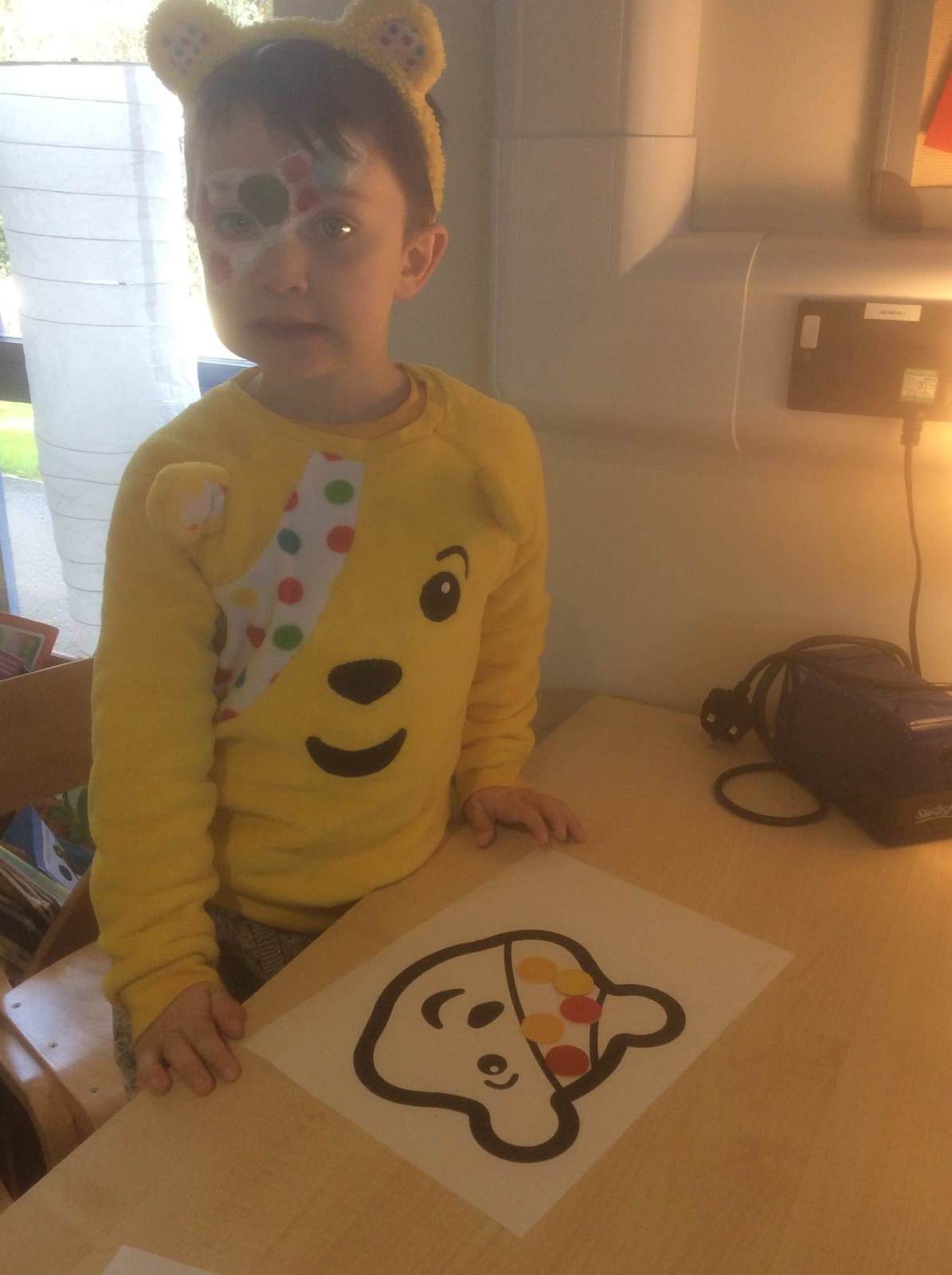 The children continue to enjoy sharing their 'home leaning' each week. We have a display in class that celebrates the work and experiences that they share. This term our topic is 'If You Go Down To The Woods Today'. We would usually take the children on a trip to some woods, unfortunately we are unable to do this. If you get a chance to visit a local wood and answer some of the questions on the 'Knowledge Organiser', that was sent home this week, this would be of great help and allow the children to get so much more out of our topic.
I hope you enjoyed the exclusive online 'Read Along' story-telling session with best-selling children's author Natalie Pritchard, that took place Tuesday. She read a couple of her stories and answered many interesting questions about her work.
October 2020
It has been a busy time in Starfish Class in our last full week of Term 1. The progress all the children have made since starting school has been lovely to see. They have all worked hard and are ready for a rest! Thank you to the parents I got to speak to at the parents' evenings this week. I know it must be difficult not being allowed 'on site' and not being able to see where they spend so much time learning. Please do get in touch if you have a query or concern.
In maths, the children have been learning about repeating patterns. They made these with objects, toys, painting, actions and through music. Some of the children have been showing off their starfish pictures they have entered into the competition. They are all brilliant!
It has been lovely listening to the children talk about their home learning. We share the work completed in the purple books each week. The confidence that the children show, when talking to the class, has been great. They are always proud of their work and have also loved telling us about special trips and events they have attended.
In maths this week, the children have been comparing amounts. They have used the vocabulary, 'more', 'fewer' and 'equal' and are becoming secure in sorting collections into sets. After comparing amounts, they then went on to comparing size, mass and capacity.
Our Read, Write, Inc sessions continue each day. This week the children were introduced to 'special friends' 'sh' sound, along with 'e', 'l', 'h' and 'r'. They were also given a pack of sound cards to keep at home. Regular time spent learning the sounds and then putting some together to make words is always worthwhile and allows the children to progress at an even faster rate. A Read, Write, Inc parent video can be found in the September part of this blog. This will show you how to pronounce the sounds correctly.
Our 'Continuous Provision' allows the two reception classes to work together and this was seen when they made an obstacle course one afternoon.
September 2020
We have had a few visitors this week. On Monday, Rosie, our school dog came to spend some time with us. We talked about the rules we have to follow and she showed us how she can sit, lay down, give high fives and spin around.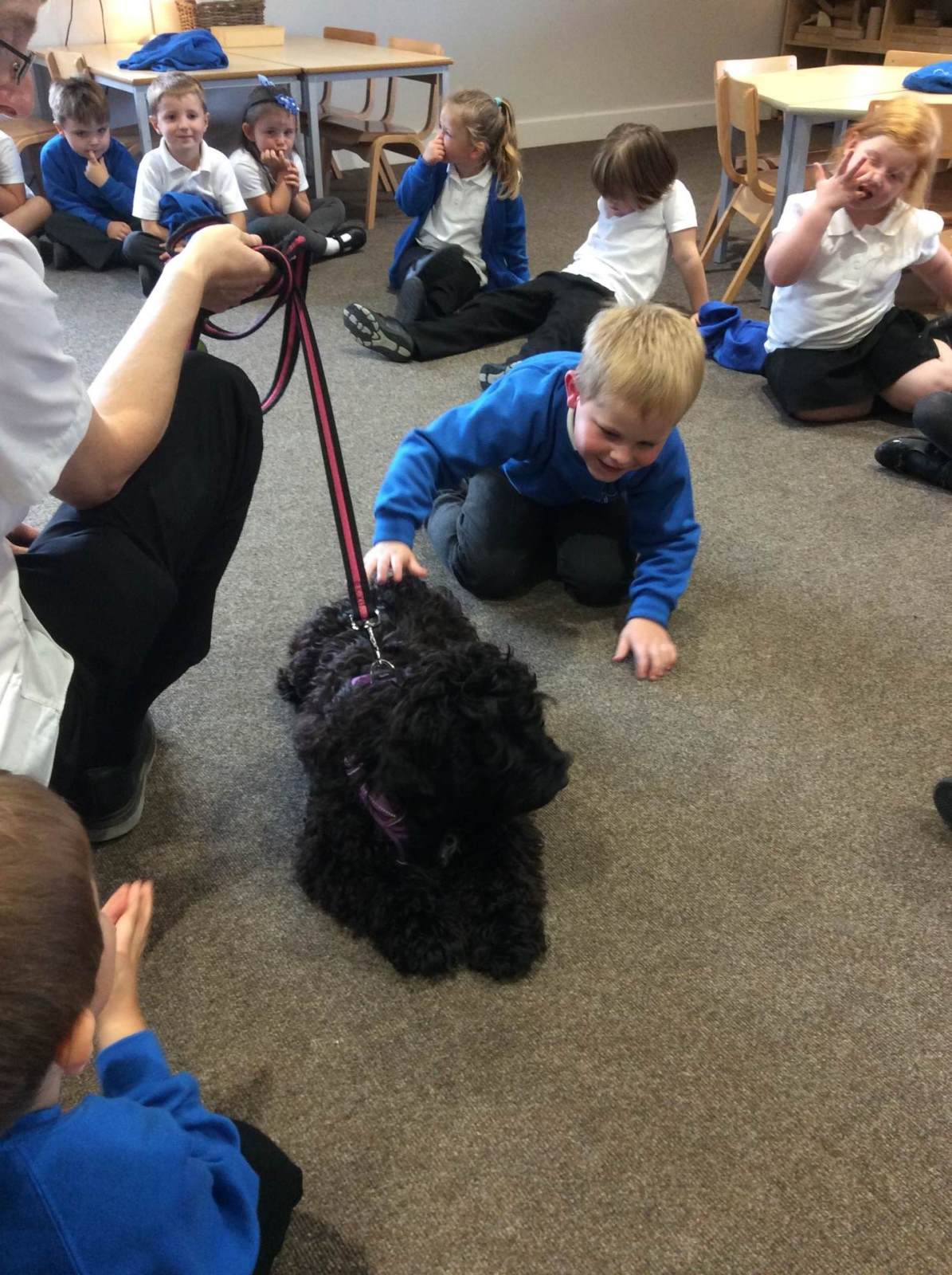 Our chickens also came back to school, following their extended summer break. Again, we talked about the rules on hygiene and how we can look after them. Each day we have collected the eggs and many of the children are already fluent in 'chicken speak'! A neighbours' night vision camera has shown that there is at least one fox who lives nearby...we have fingers crossed that Repecca, Boc-Boc and Yokey will be safe. The school Facebook page has a short video of them exploring their extended home.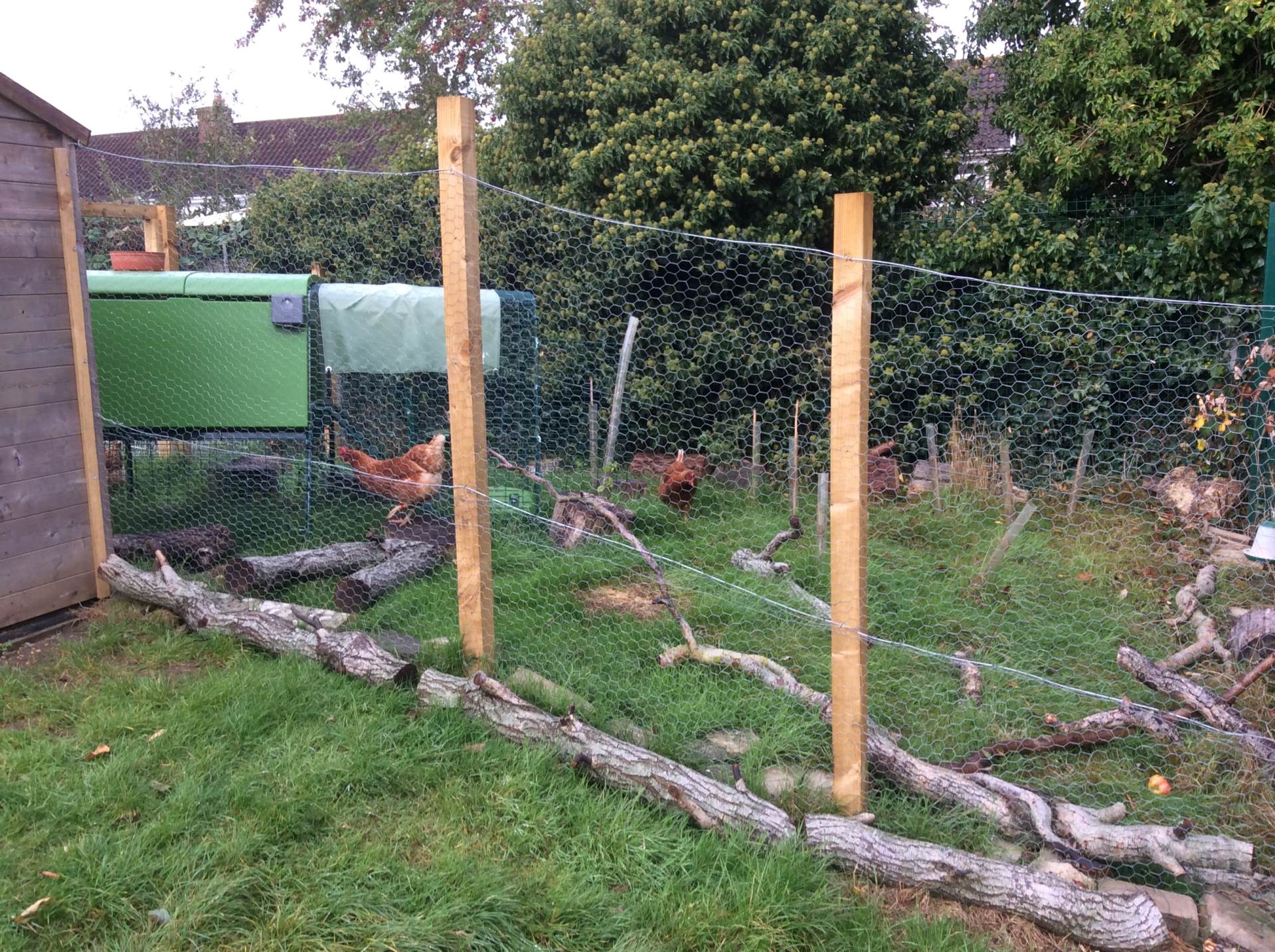 The term continues at a pace and the children have continued to work hard. This week we have talked about our traffic light behaviour chart and how it is 'good to be green'. This means that they are always making good choices, ready to learn and being polite and sensible around the school.
We had a mystery with some missing shoes which I think has now been sorted, but is a timely reminder to name everything! The children also enjoyed our virtual 'good work' assembly with the rest of the school. Two of our class were especially proud of an older brother and sister receiving a head teacher's sticker.
This week the children were introduced to 'Fred the frog'. Fred is part of our Read, Write, Inc (RWI) scheme where the children help him to put sounds together to say and read a word. We teach the children a new sound every day. This week was 'm', 'a', 's', 'd' and 't'. We talked about the importance of saying these sounds correctly and not for example, saying 'muh' for 'm'. We also had a go at writing some of these sounds - all of which have a little phrase to aid formation. This year we are going to delay using a 'lead in' to the letters until after Christmas time. By the end of Reception we will have taught all 'Set 1' and 'Set 2' sounds. You should have received a 'Welcome to Starfish Class' letter on Friday. If you haven't looked at the RWI clip yet, the link is here:
All the Starfish class have settled in very well. We have been working on rules and routines that will continue next week. The children have been having their lunch in the hall with many happy faces and clean plates! On Thursday, our first day as a whole class, we had a skipping session that had a focus on agility, balance and coordination.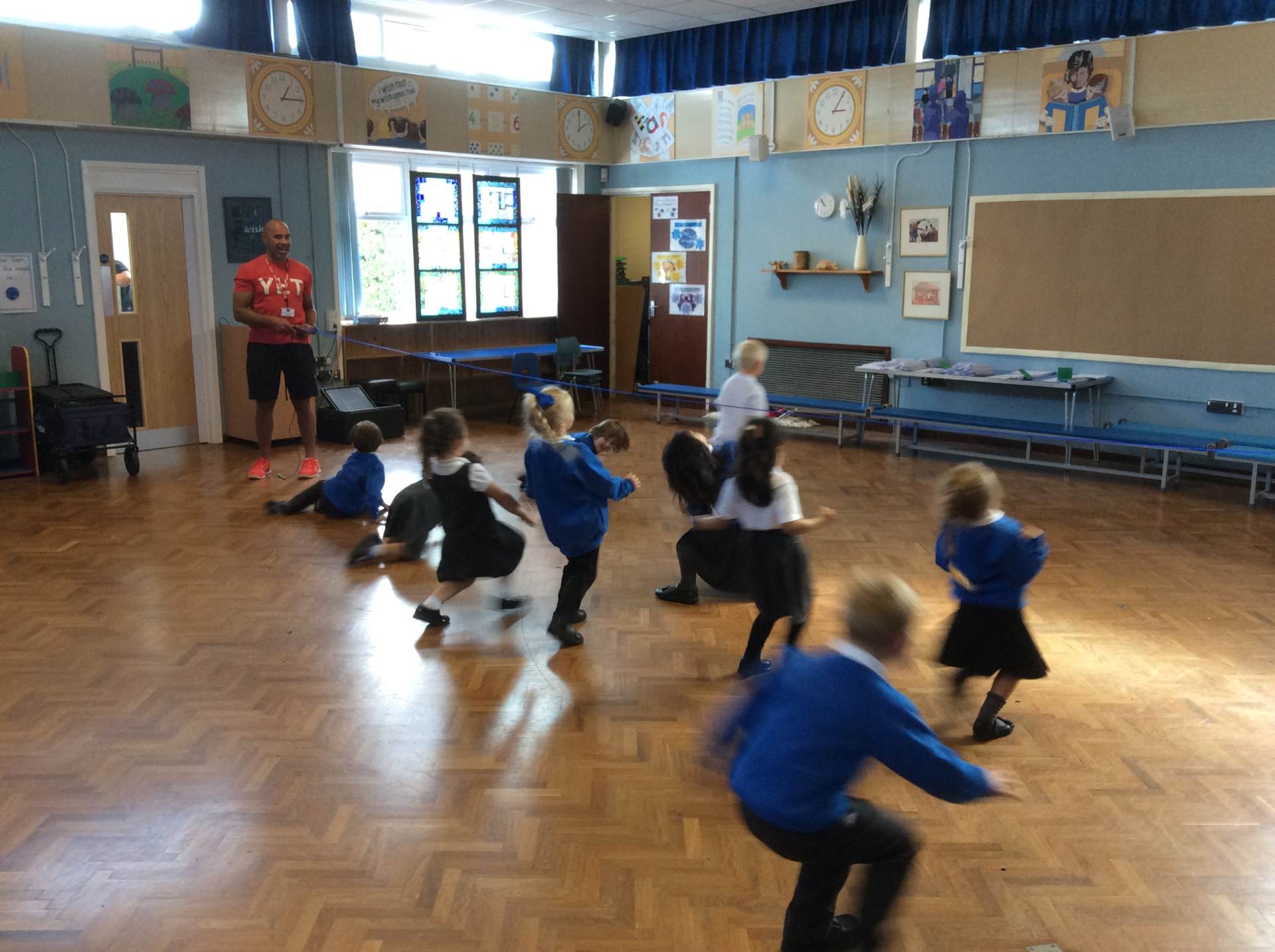 Singing Make a Wish Videos
Story Time with Mr Brewer and Mrs Smith
August 2020
Home Visit dates have been emailed to all the new starter Starfish pupils. These will take place on either Wednesday 2nd September, Thursday 3rd September or Friday 4th September. Please confirm that the time given is suitable. I look forward to meeting you all then.
July 2020
Our skipping skills are improving day by day. Here are a few photos of us in action!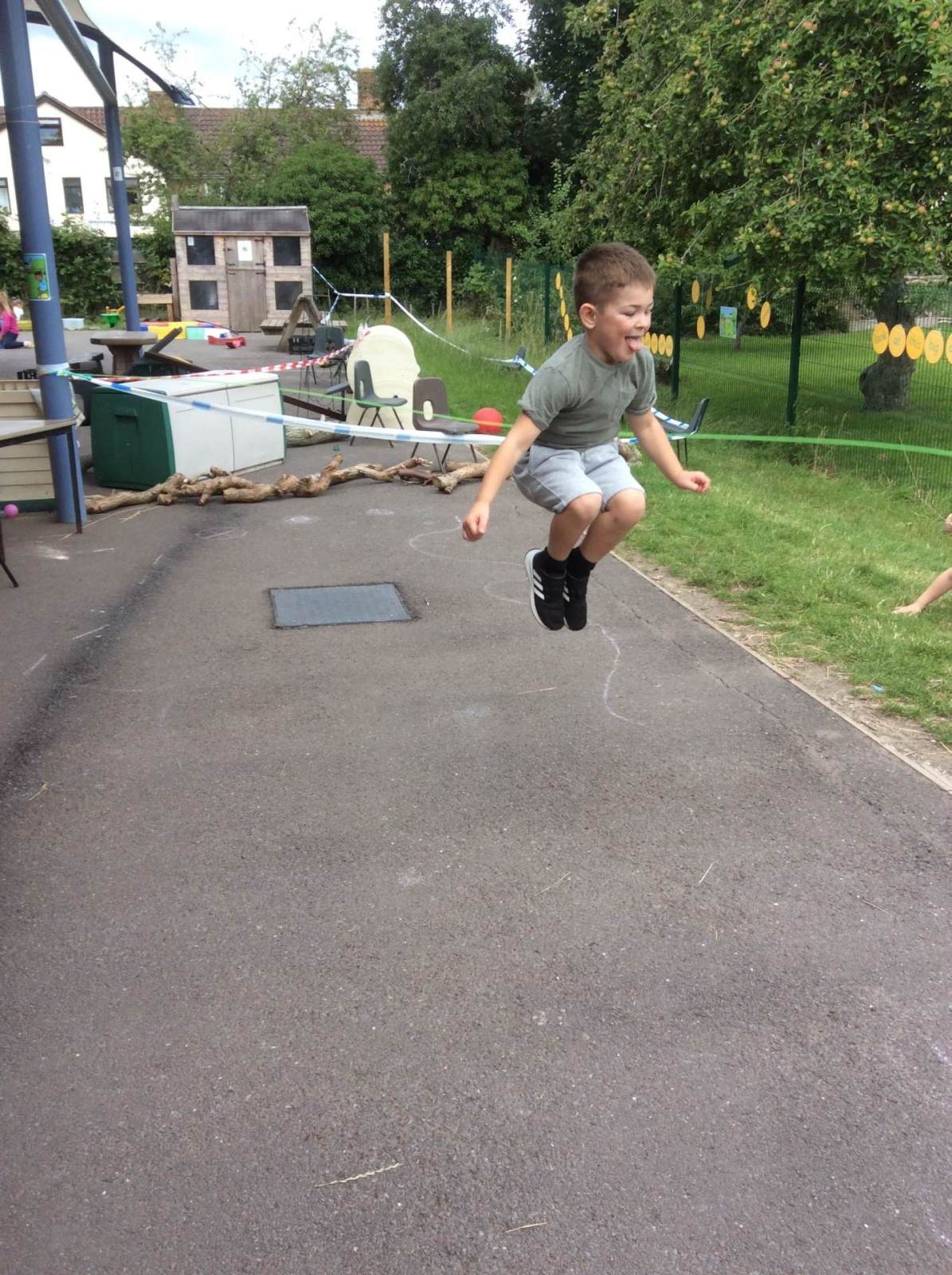 June 2020
The Group 1 bubble have been collecting the eggs this week and have made scrambled eggs. They were delicious!
Repecca has laid some eggs! We have been told by our expert that Boc-Boc is also nearly ready to start laying some as well. This just means that Yokey needs to sort herself out. I am not sure who is most excited at this news - perhaps one of the photos below may give you a clue. Repecca is obviously a clever chicken as she appears to have laid her eggs in a dice formation! I wonder what half a dozen would look like?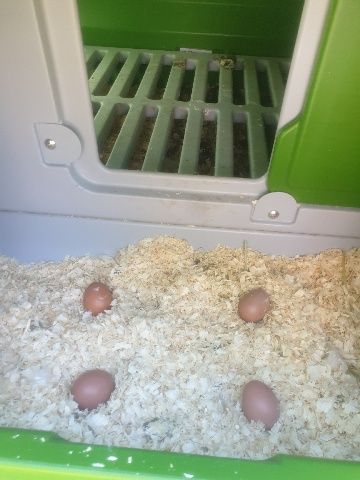 Below are some more photos of Starfish Class working in their different bubbles. It has been wonderful to see the social interaction between the children and how they are looking after each other. If you are working from home please email showing me what you have been getting up to so I can show your friends. We all miss you very much!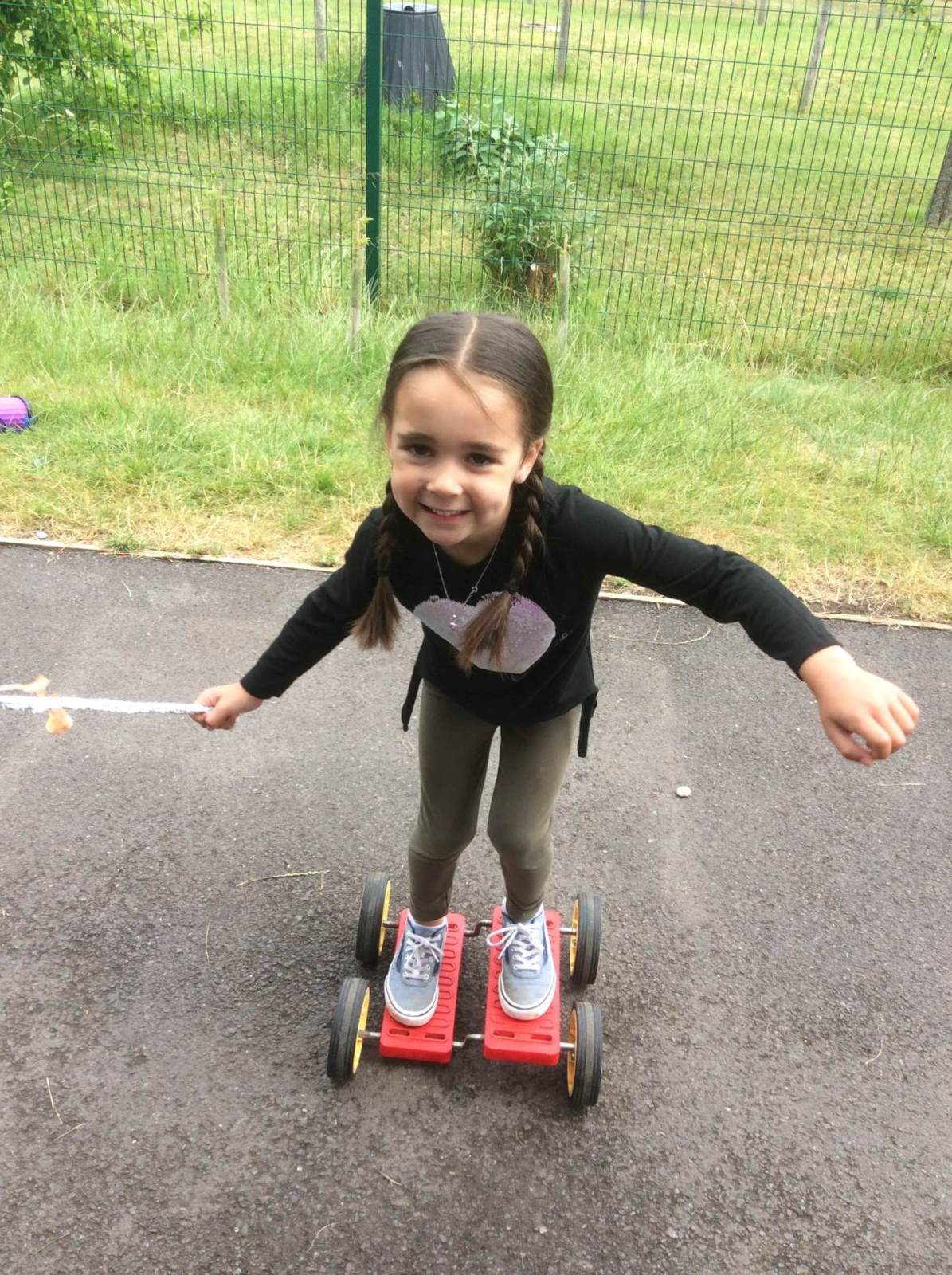 The children continue to adapt to our new way of working which has included lots of art activities, yoga, role play, phonics and counting. When the weather is nice they have lunch outside the classroom where they can also interact 'over the fence' with the children from Group 2 bubble and beyond for those with stronger voices!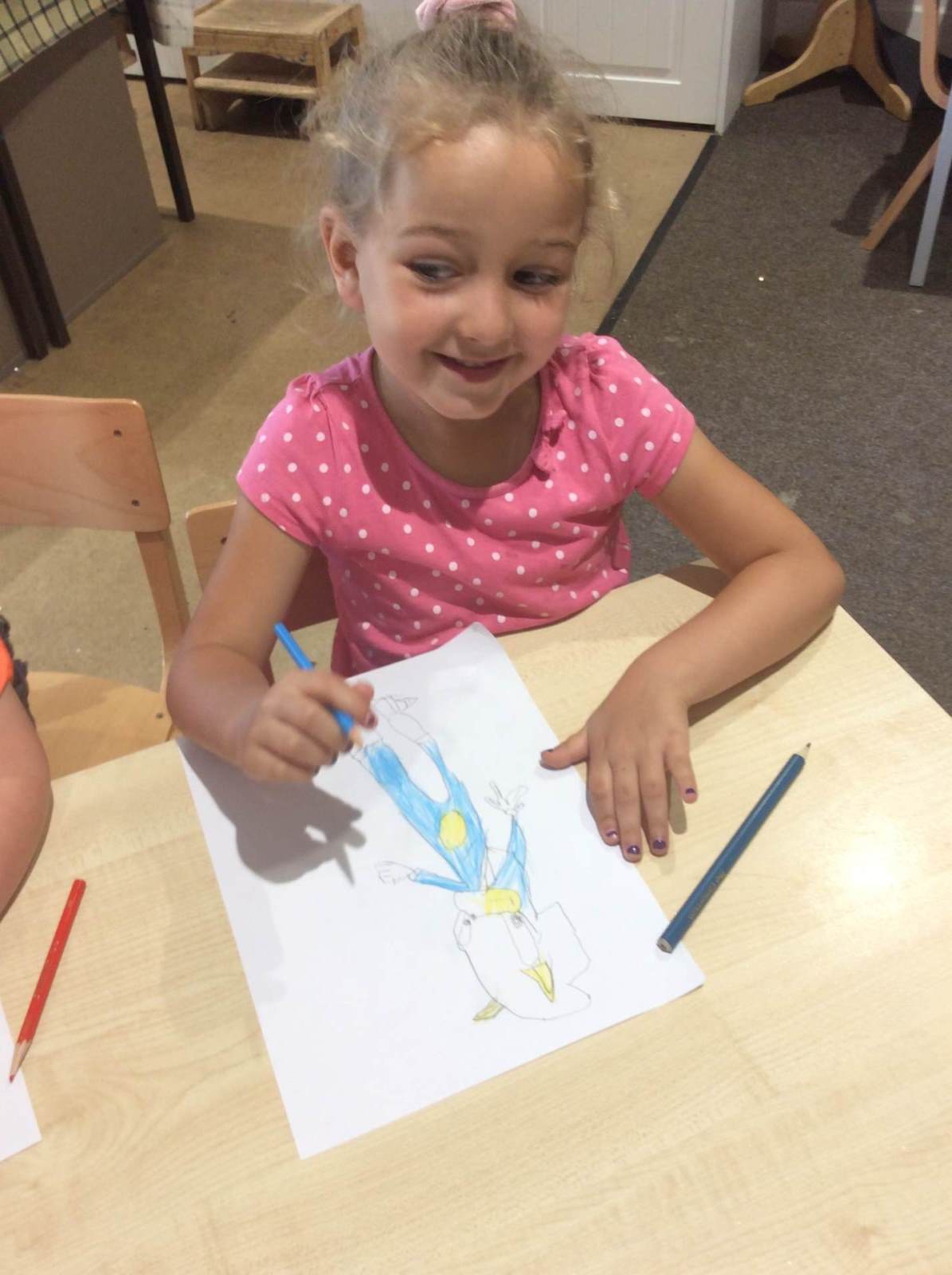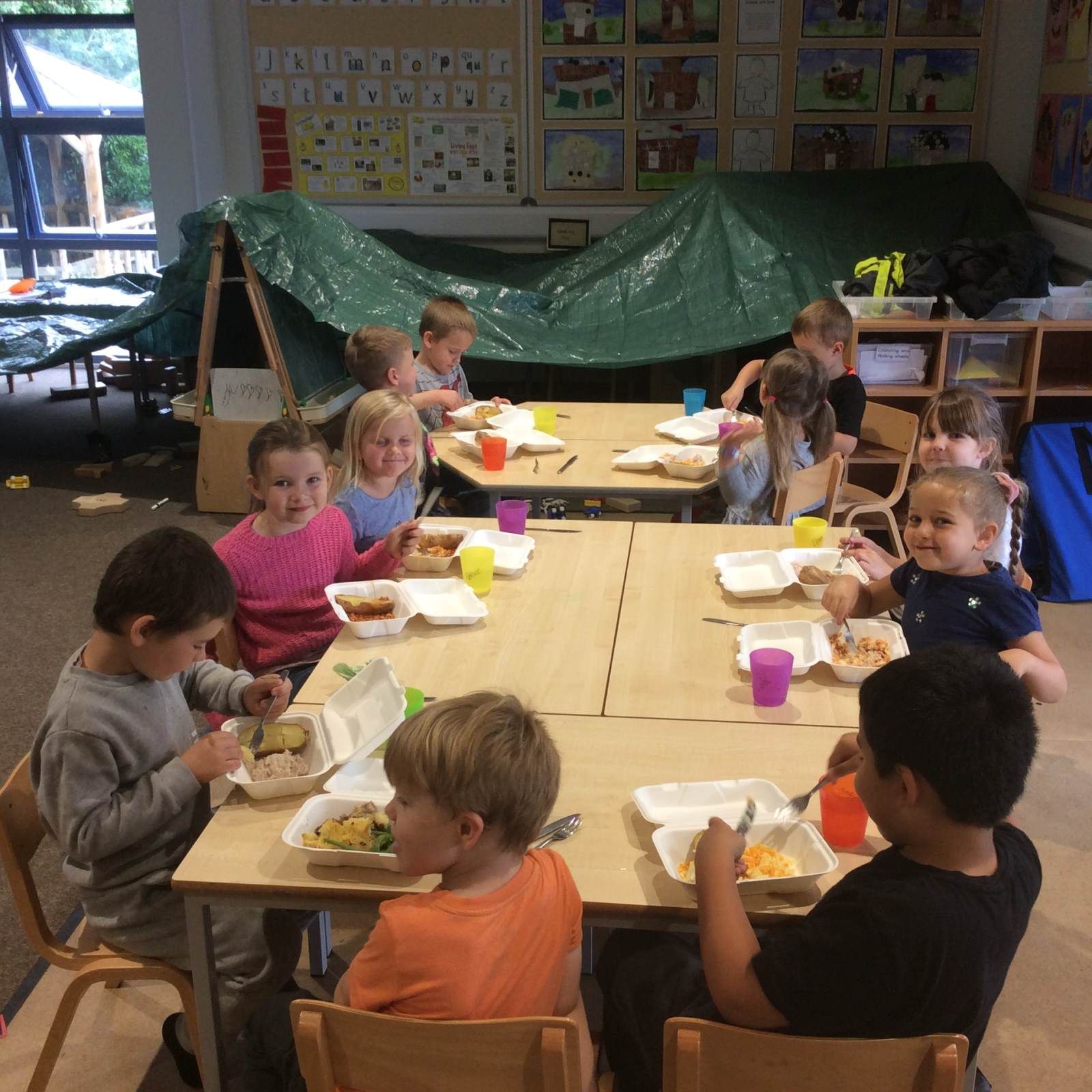 Work continues both at home and school which is great to see. The middle photo below is a super reminder that you can tune in to a daily Read, Write, Inc session on YouTube to learn new sounds and revise some old ones. They also model how to read words and introduce the red 'tricky' words for you to read and spell. Reading Eggs is also still available - if you haven't logged on recently why don't you have another go?!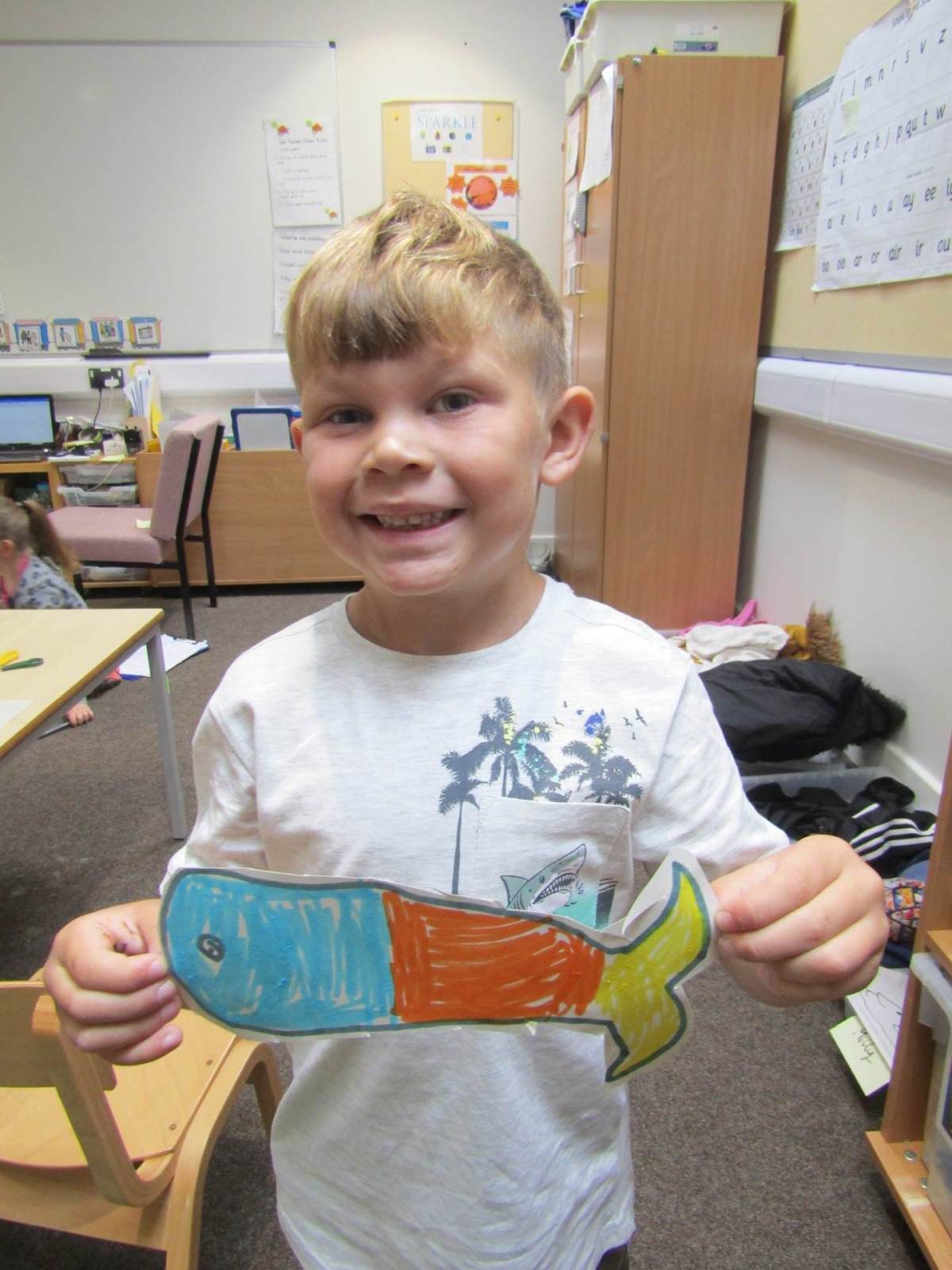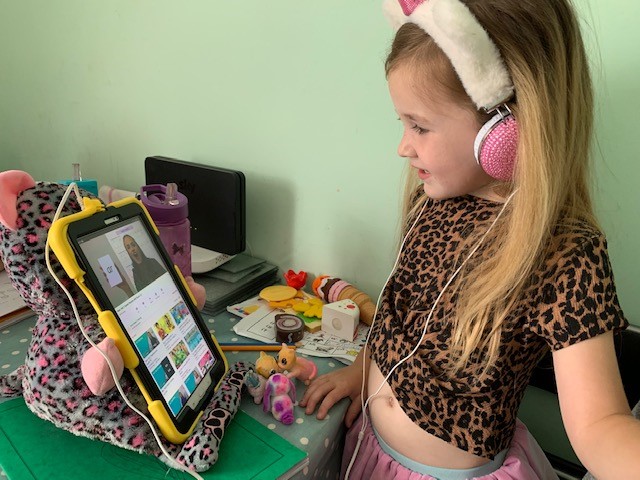 Two 'bubbles' have opened up at school and although some of Starfish Class are not in my bubble I do get to see their work and have lovely chats 'over the fence' to find out how they are getting on. It has been really great seeing how all the reception children have carried on as normal and have got back into the routines of school and have dealt with many new rules with surprising ease! This week, each bubble has used 'draw with Rob' on YouTube and have also completed some bubble art work.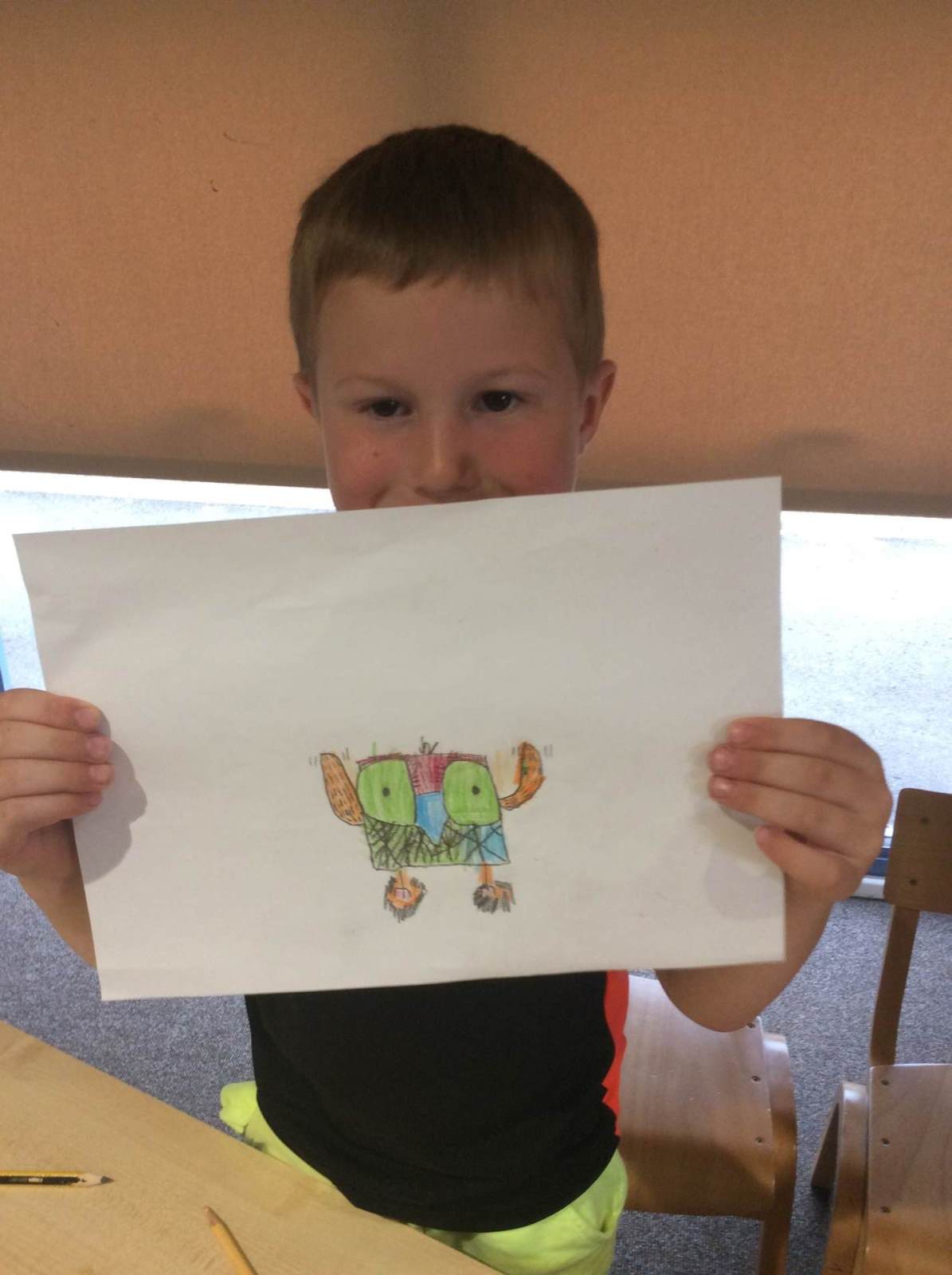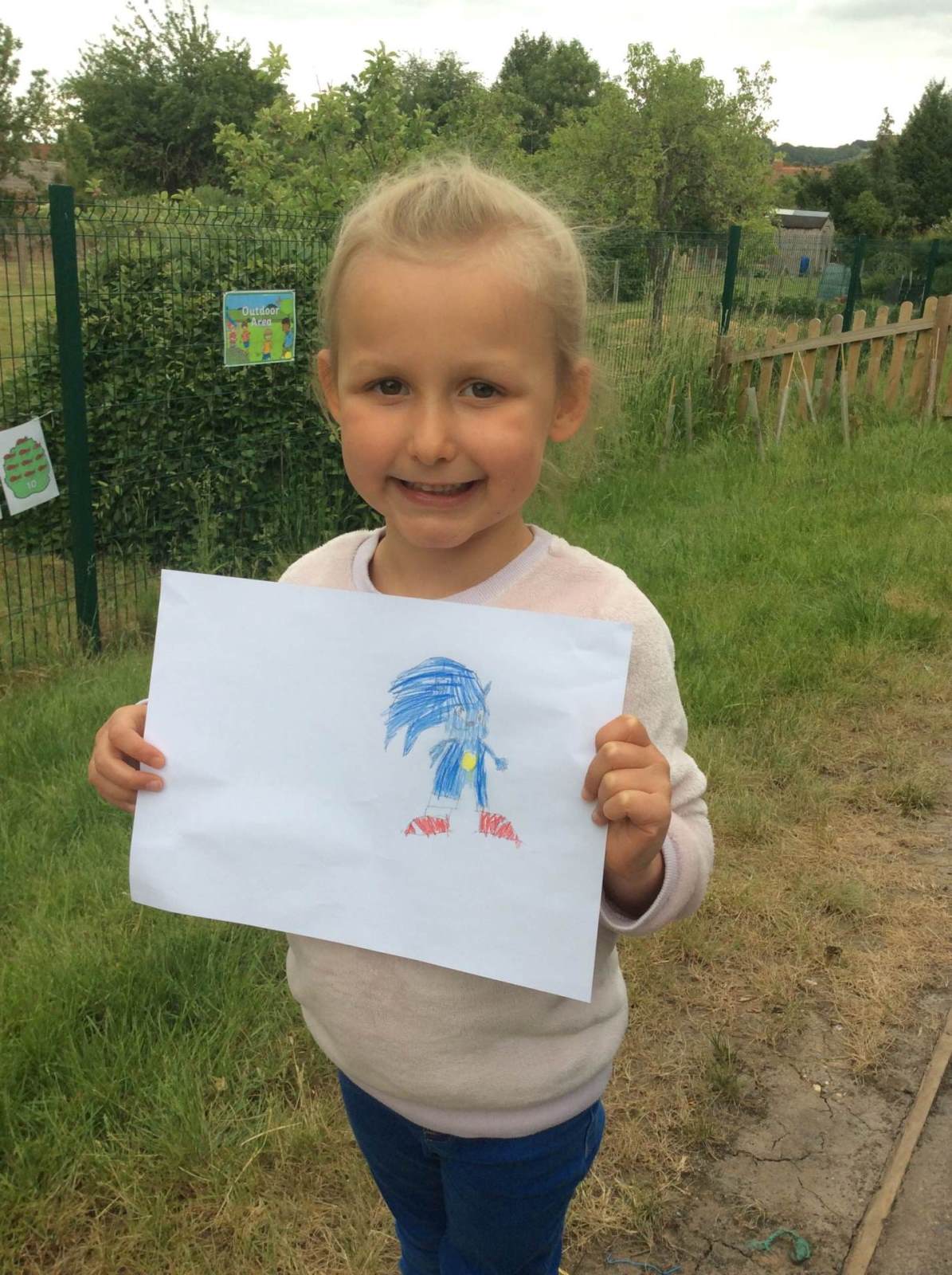 Our topic in Term 6 is 'The Beach', further details are on the curriculum map. If you are continuing to work at home we would still love to see what you have been getting up to. There are some additional ideas under the 'teaching and learning' tab, followed by the 'our curriculum' tab that you can do. In class we have looked through all the photos on the blog with some of the children adding more detail to the activities that they completed.
May 2020
Mason has been playing 'The floor is lava' but with a phonics twist. He has been leaping from different words as stated by mum, with great control and coordination, landing on two feet each time!
Another Starfish ready for Junior MasterChef. These are Swiss Brunsli biscuits and they look delicious! He used a gingerbread man and Fredo cutters and saw these biscuits being made at Christmas on CBeebies.
Below is a short YouTube clip from Staffordshire Police, created in partnership with Staffordshire Fire and Rescue and also the West Midlands Ambulance Services. It explains how to make an emergency 999 call and is a useful starting point for discussions with your children.
https://www.youtube.com/watch?v=ZxzewVTDas0&safe=active
Another super starfish up for the challenge. She has been very busy celebrating VE day, making her own piggy bank, building a variety of emergency vehicles out of Lego, making an ambulance and writing about it! She has also been learning a very important skill and now knows what to do if she sees an emergency.
The challenge set at the end of April has been taken up! This is a rather wonderful ambulance which I and I know some of you, have been lucky/unlucky enough to have traveled in, on the way to hospital. The paramedics continue to do a great job for us all - perhaps it is a job you would like to do when you are older?
Here is a photo of one of our Starfish helping his dad build a pond in the garden. Ponds are a great way of attracting wildlife into your garden. These will come over the coming weeks. The next step is to identify all the animals that have arrived! If you cannot make a pond then leaving an area of your garden to become overgrown can also attracted many animals - that is my excuse for many parts of my garden!
This young scientist has been observing items found in her garden using her microscope. This is a very important skill to learn. If you want some more science ideas please have a look at www.westbury-inf.wilts.sch.uk/Science/
Jessa-Rose has completed some amazing work about VE Day. She did some research using the internet, newspapers and books. Jessa-Rose has also spoken with her Great Nan who celebrated VE Day 75 years ago, writing down what she recounted. The delicious Victoria sponge cake was made using a recipe her Great Nan used during World War 2.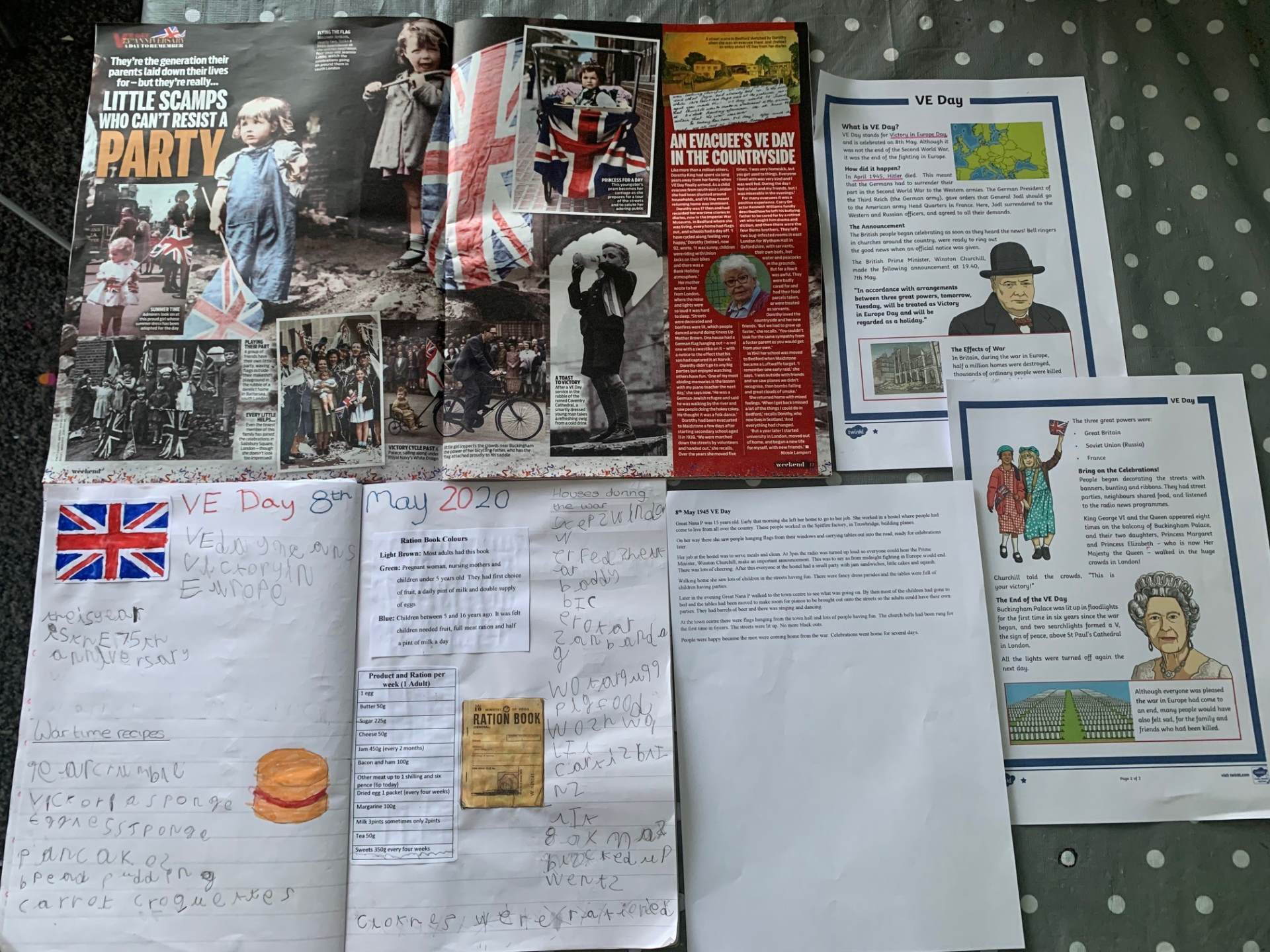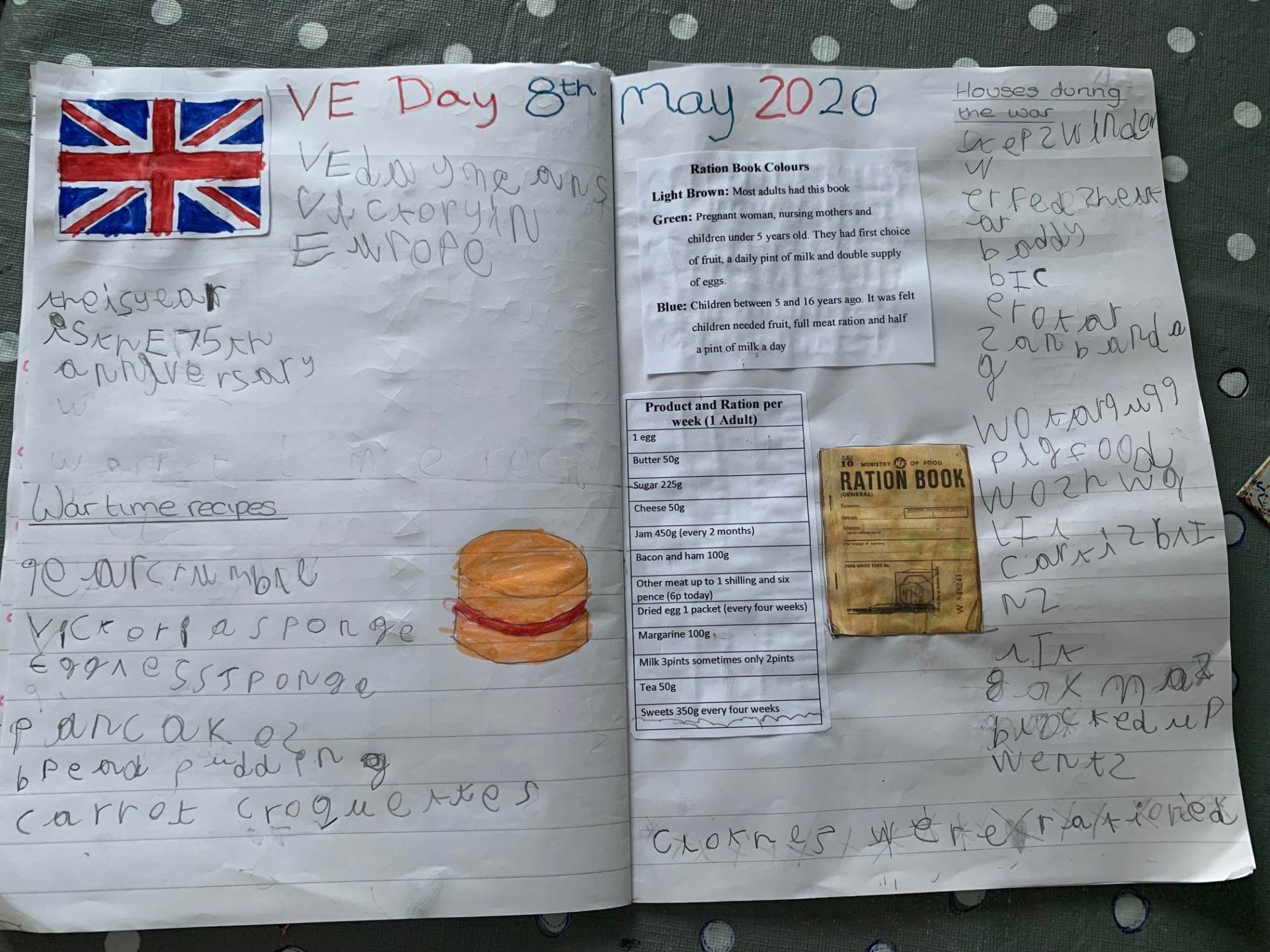 Yet more super work from some of our superstars.
If you would like your child to take part in a 'Zoom' meeting with some classmates please would you reply to the email sent as soon as possible. If you didn't receive the email please email me on class7@westbury-inf.wilts.sch.uk with your up-to-date email address. Thanks to those that have already agreed, I will send further details later, with a view to starting the sessions from 11th May.
April 2020
As mentioned at the top of the page, our topic this term is 'People who help us'. Below you will see some super planning and construction of a fire engine with its own private number plate. I think the challenge has been set - can another Starfish make an ambulance, paramedic car, breakdown recovery van or perhaps surprise me with another idea? You could finish it off by writing a caption, just like the great ones you did for your Westbury models that were on show at our 'Around the World' exhibition in February.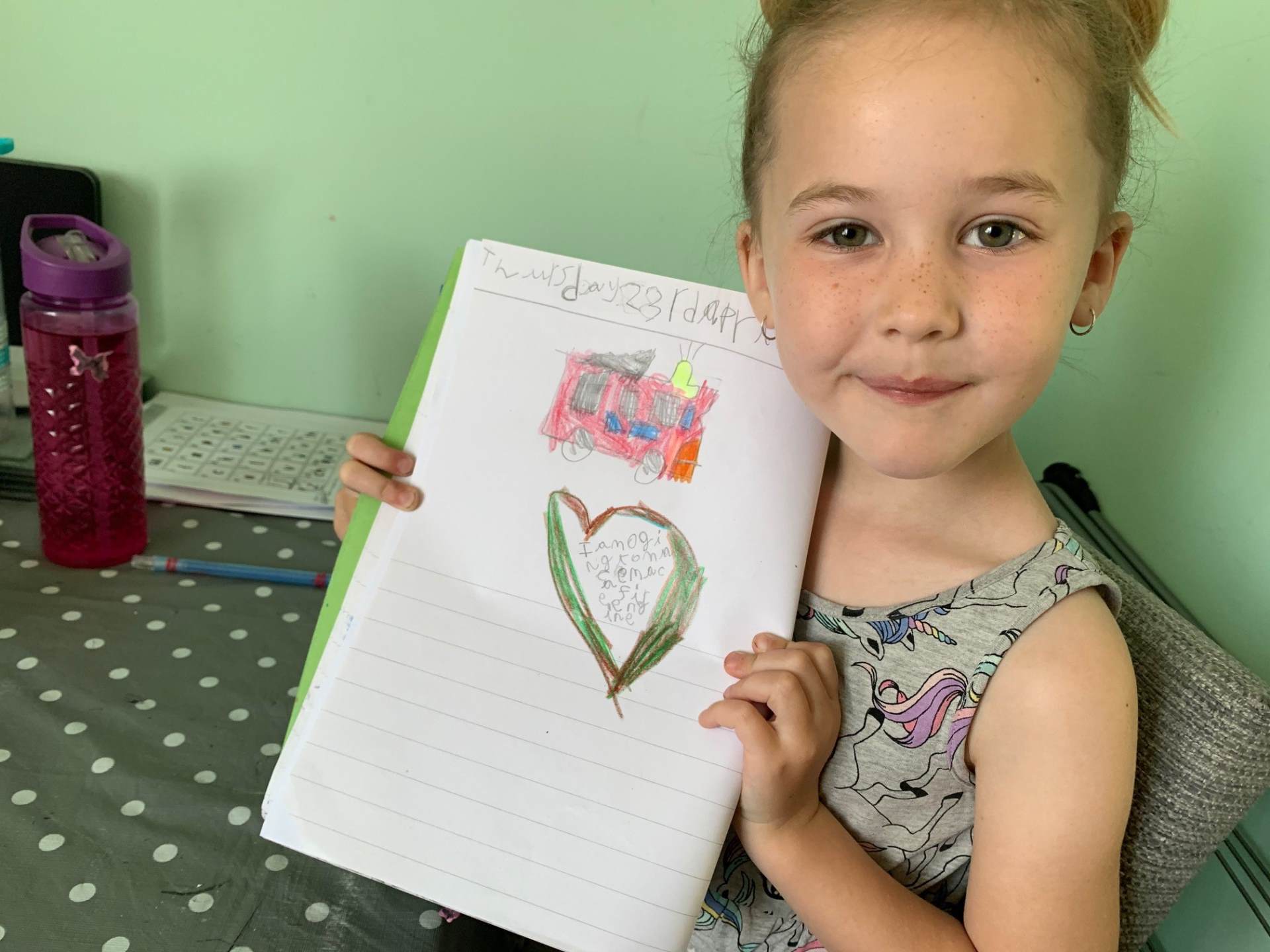 NEWSFLASH!
Presenting our newest baby Starfish. He and mum are well and big sister is over the moon! Congratulations from us all.
Another batch of photos showing off some great writing, phonics, science, PE and more! I can't wait until the next cake sale, you will all be experts. I am also especially pleased to see such hard work and as you know in Starfish Class, we know that is happening when the 'concentration tongue' sticks out!!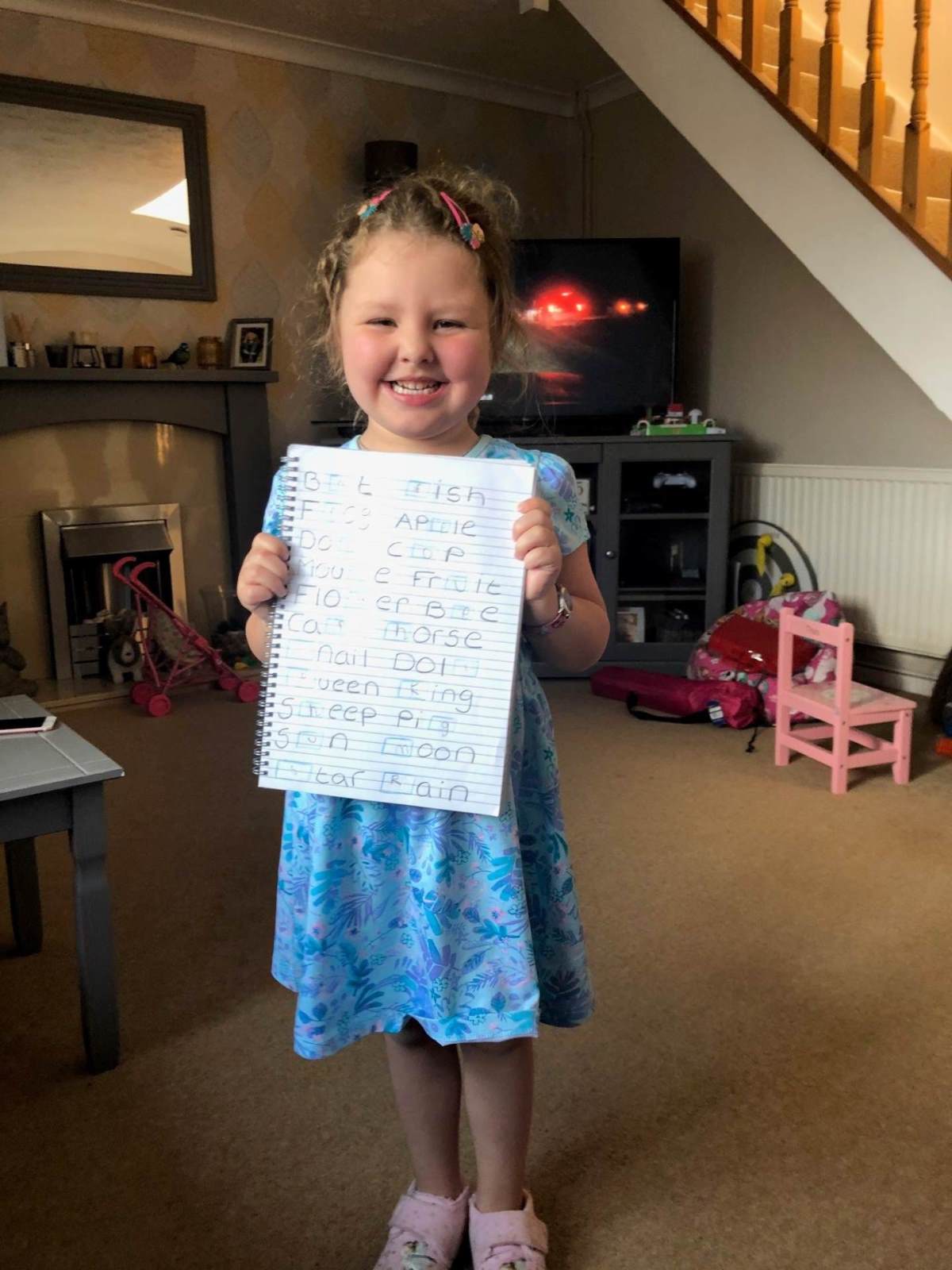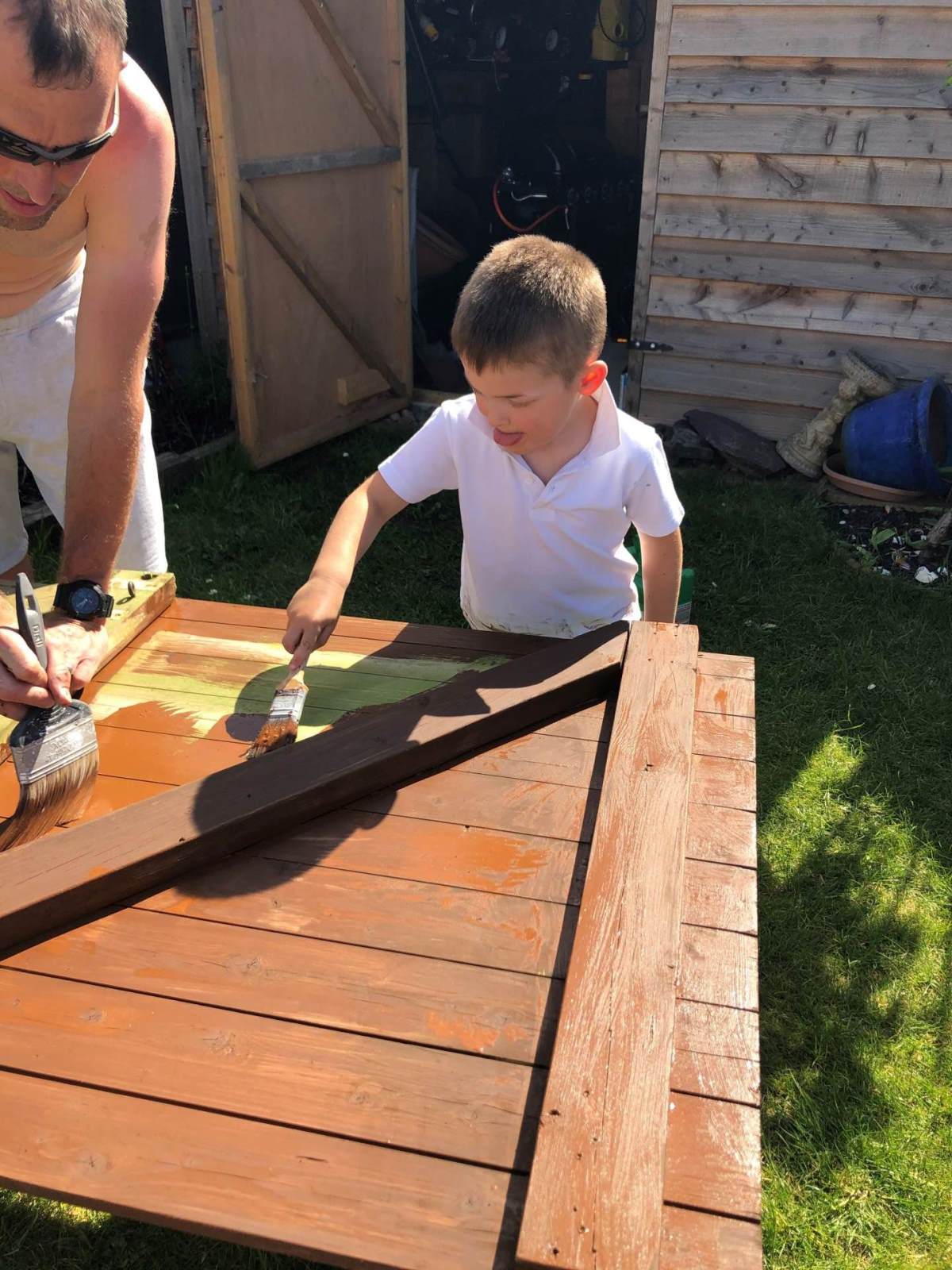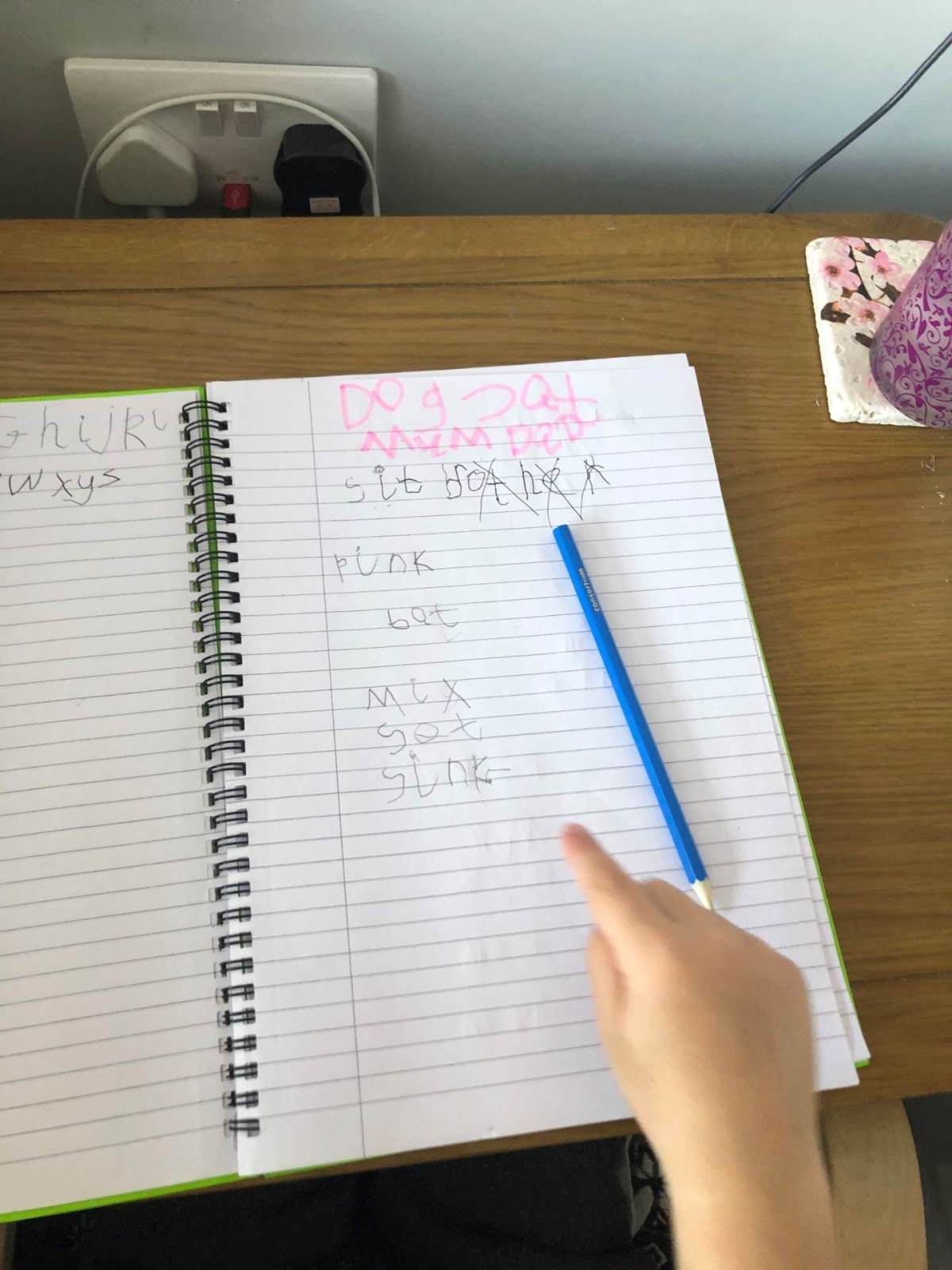 The photos continue to come in and it is great to see all the different activities you have been doing at home and around Westbury. If you haven't sent any in so far you can email them to me at class7@westbury-inf.wilts.sch.uk Remember there are daily Read, Write, Inc lessons on YouTube. Just type in 'Set 1 Speed Sounds' and you will find them there. I think Mrs Smith is doing a guest appearance on Story Time soon, so look out for that!!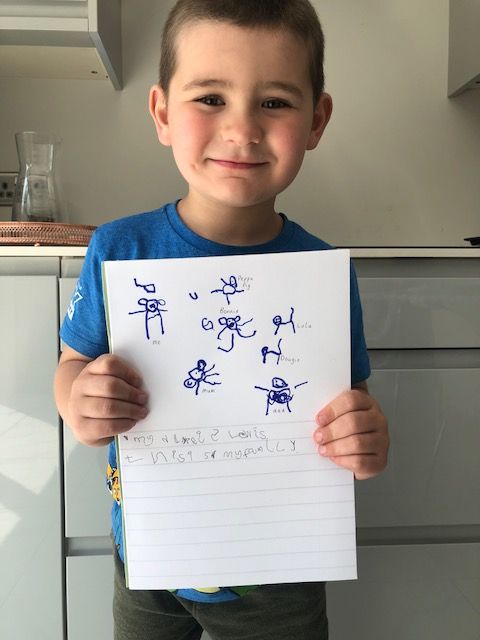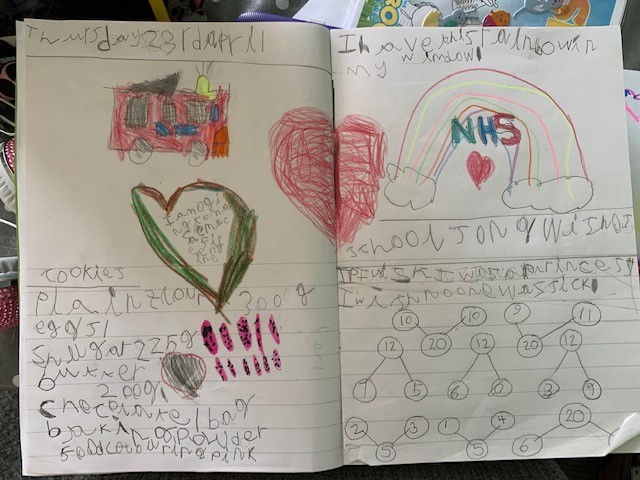 Below is more super work I would like to share with you all. Although we do not expect you to send in work it really is lovely to keep in touch and answer any questions you may have about your learning and other daily issues which we are all facing. Our mental and physical health is the number one priority at these times and it is lovely to know that members of the Starfish Class have been sending messages, including videos of what you have been getting up to. If you have a book request please do email me and I will try my best to find it! Take care.
Charlie accepted the challenge I set in the last storytime and emailed his super work to me before I had realised Mrs Newbury had uploaded the story! Freya has also been busy with her excellent writing and I have also been sent a pic collage of another Starfish completing numerous activities, great work. Keep them coming!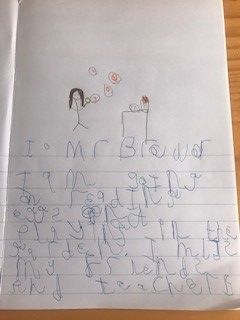 Thank you for the messages and photos you have sent in, they are lovely to see. The photos below show one of our very hard superstar working members of Starfish class. Her mum says she enjoys the maths, although her face says something different! I think she prefers the cake...I know I would! Have you looked at Mrs Budge's blog yet? Captain Pancake also has a face that is a little tricky to read...what do you think he is thinking?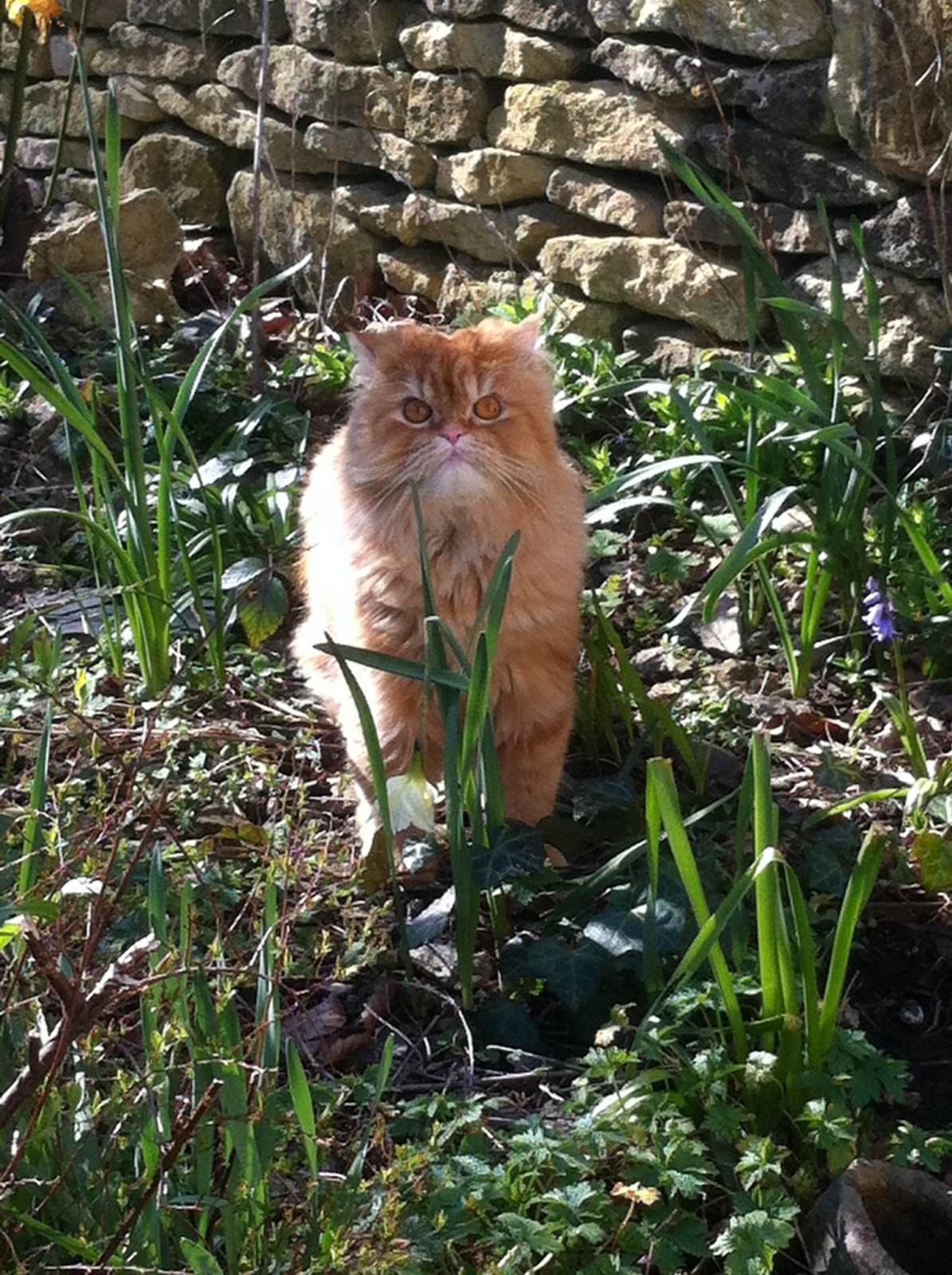 I hope you enjoyed the story, I thought it would be a good end to our topic this term. I think you also did, by voting for the next one which will be on here very soon!
I have been sending and receiving lots of emails between Mrs Budge and also Mr Davis, who is looking after our chicks. We have been working out what sort of chicken coop and run they would like best and also where we are going to put them. I thought the space behind the playhouse best. What do you think? Mr Davis has sent me a photo of our chicks who are now nearly 5 weeks old!
My first email has just been received by this very hard working student who has been doing a variety of different activities, including reading, writing, maths and science. She has also been keeping a daily diary!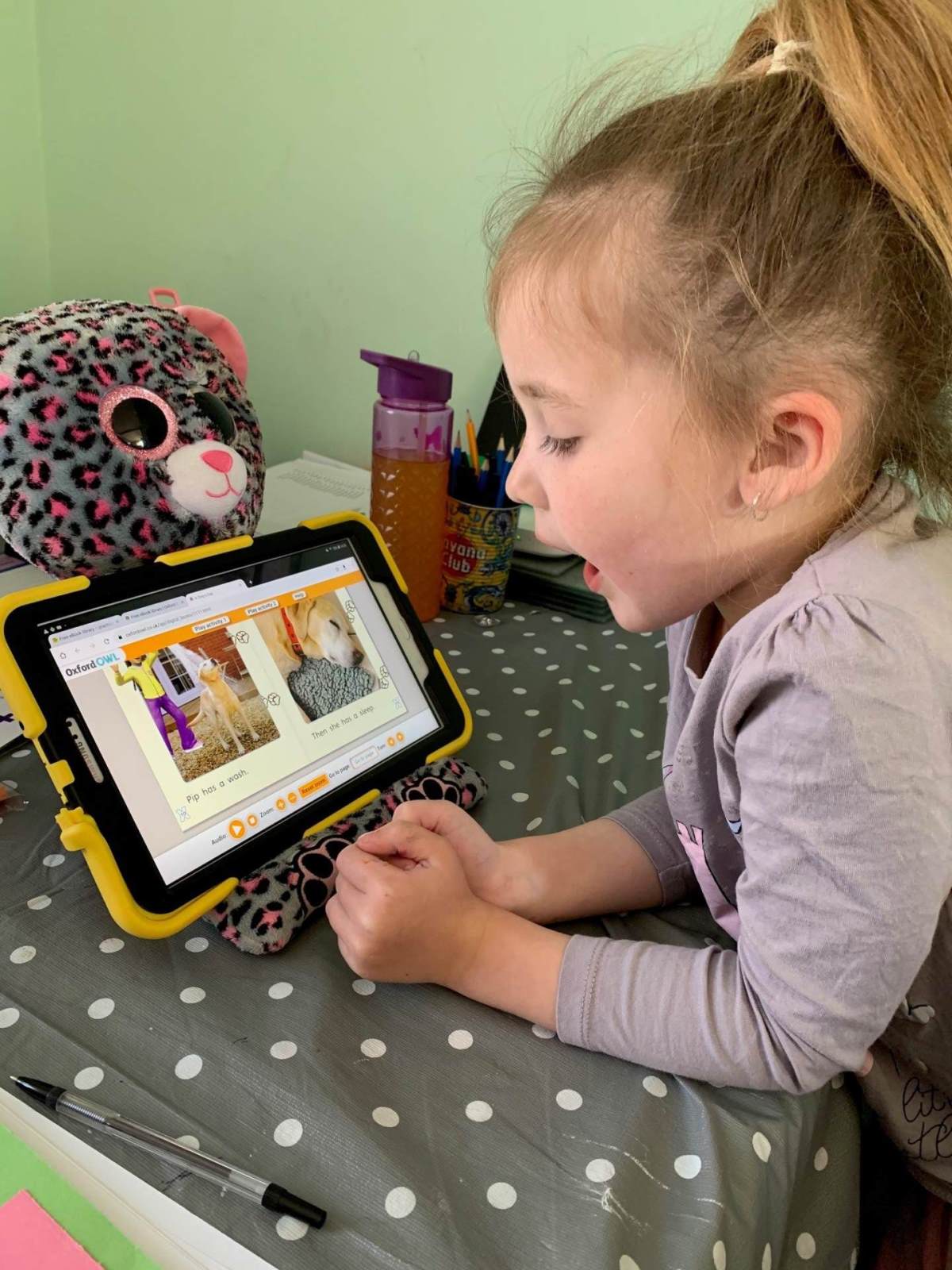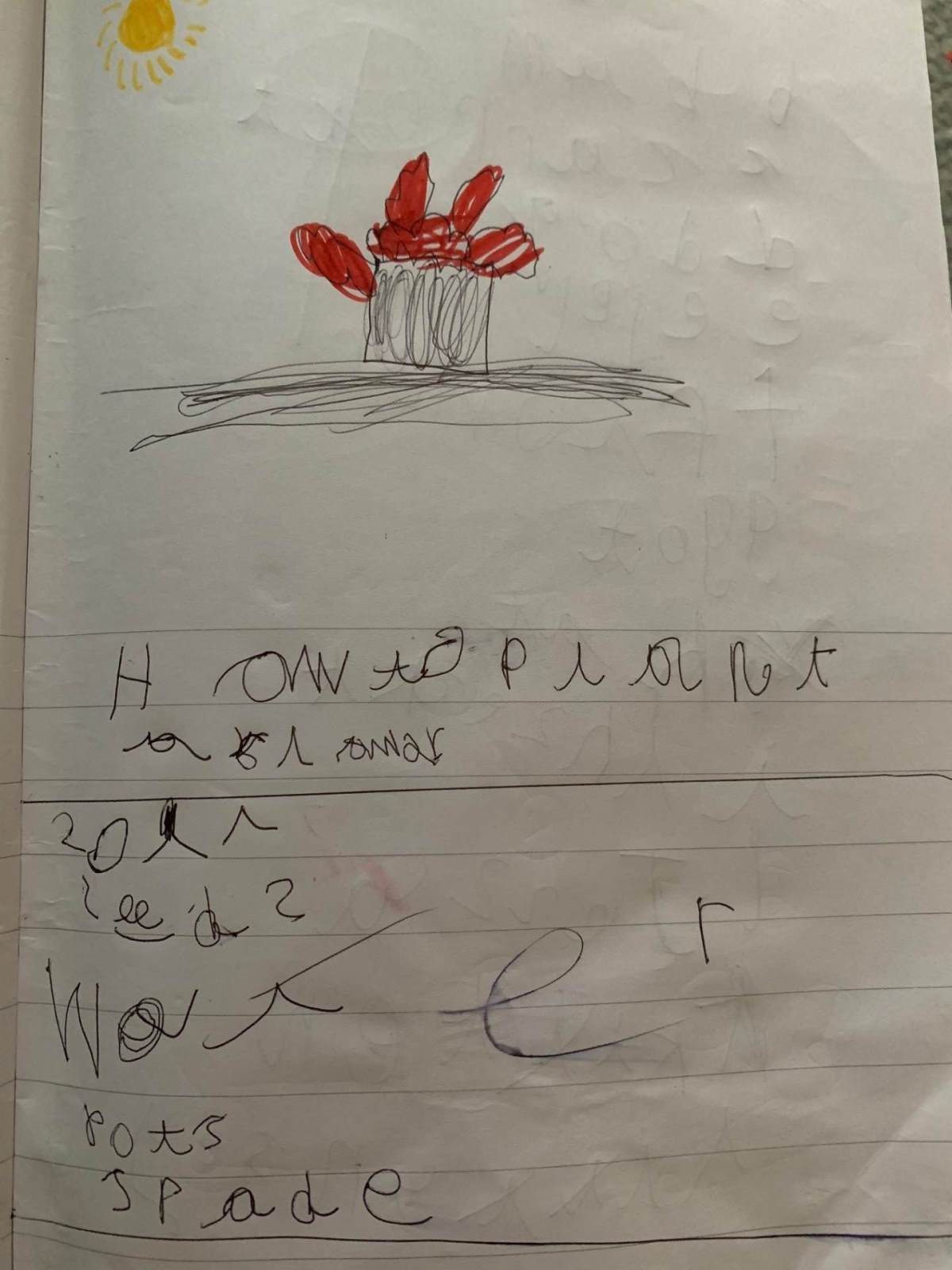 It has been great to see those that have used Reading Eggs so much in your first week of Home Learning. Twelve gold certificates have been earned already! If you haven't logged on yet, your log in and password are inside your Reading Record. Remember the children have also been given copies of the Read, Write, Inc ditty books. If you have any queries regarding anything about the Home Learning please do contact me on the class email. I will get back to you as soon as possible. It would also be great if you could send me some of your work that I can then add to our blog.
March 2020
I am sure you are all continuing to work hard at home and joining in with Joe Wicks each morning at 9am. If you would like a further physical challenge, Mrs Kirby has set a 'Personal Best Challenge' which can be found on the school website -
www.westbury-inf.wilts.sch.uk/PE/
I look forward to hearing how you are getting on! If you have any questions please do not hesitate to contact me on the Class 7 email address in your home learning packs.
We all had a fantastic day out at Caenhill Countryside Centre and especially enjoyed getting to know so many different animals and helping out with a variety of jobs such as planting hazel trees and feeding the lambs, pigs and cows. The children got to handle many of the animals, most of which roamed freely around the farm in between the children!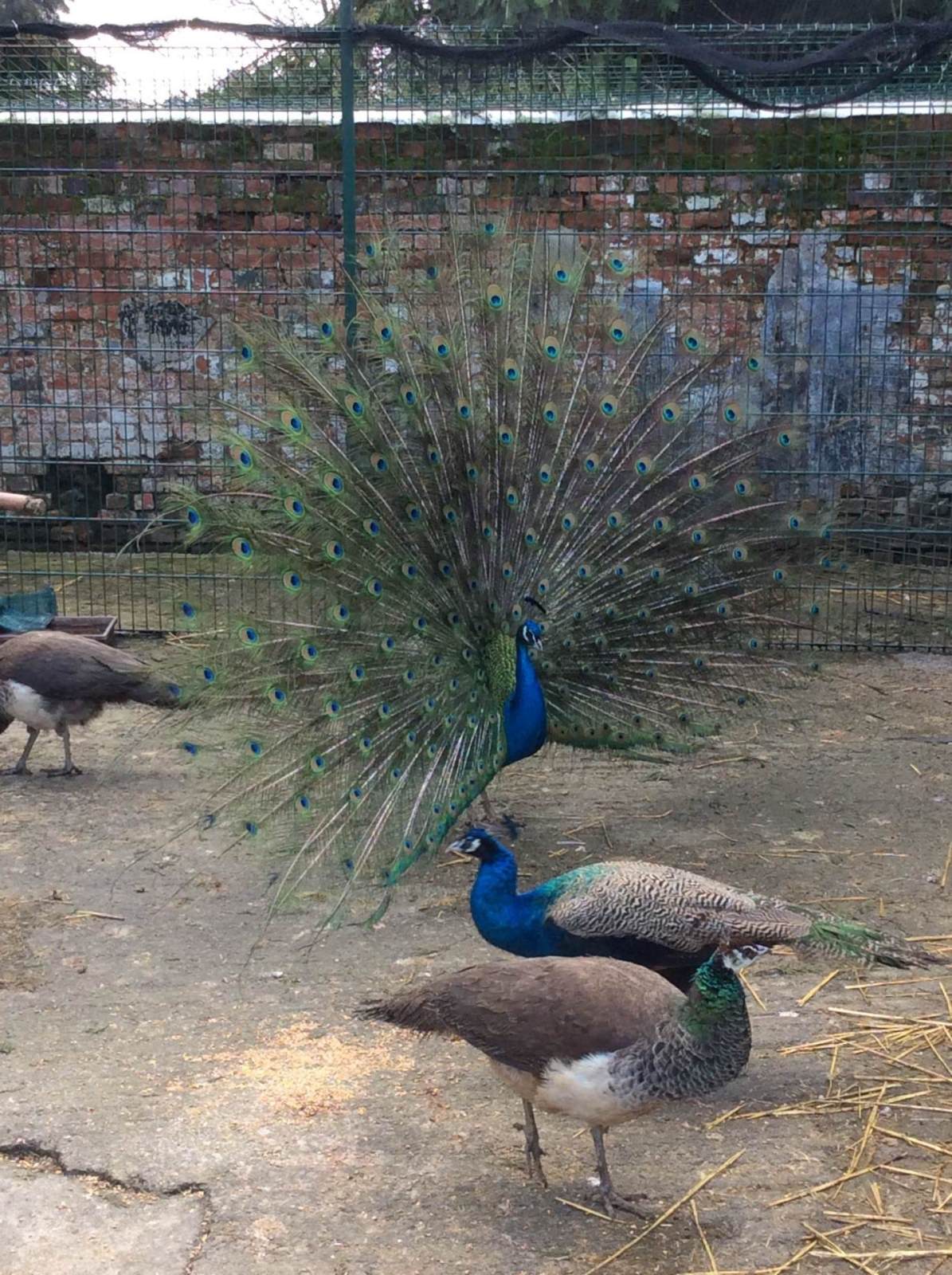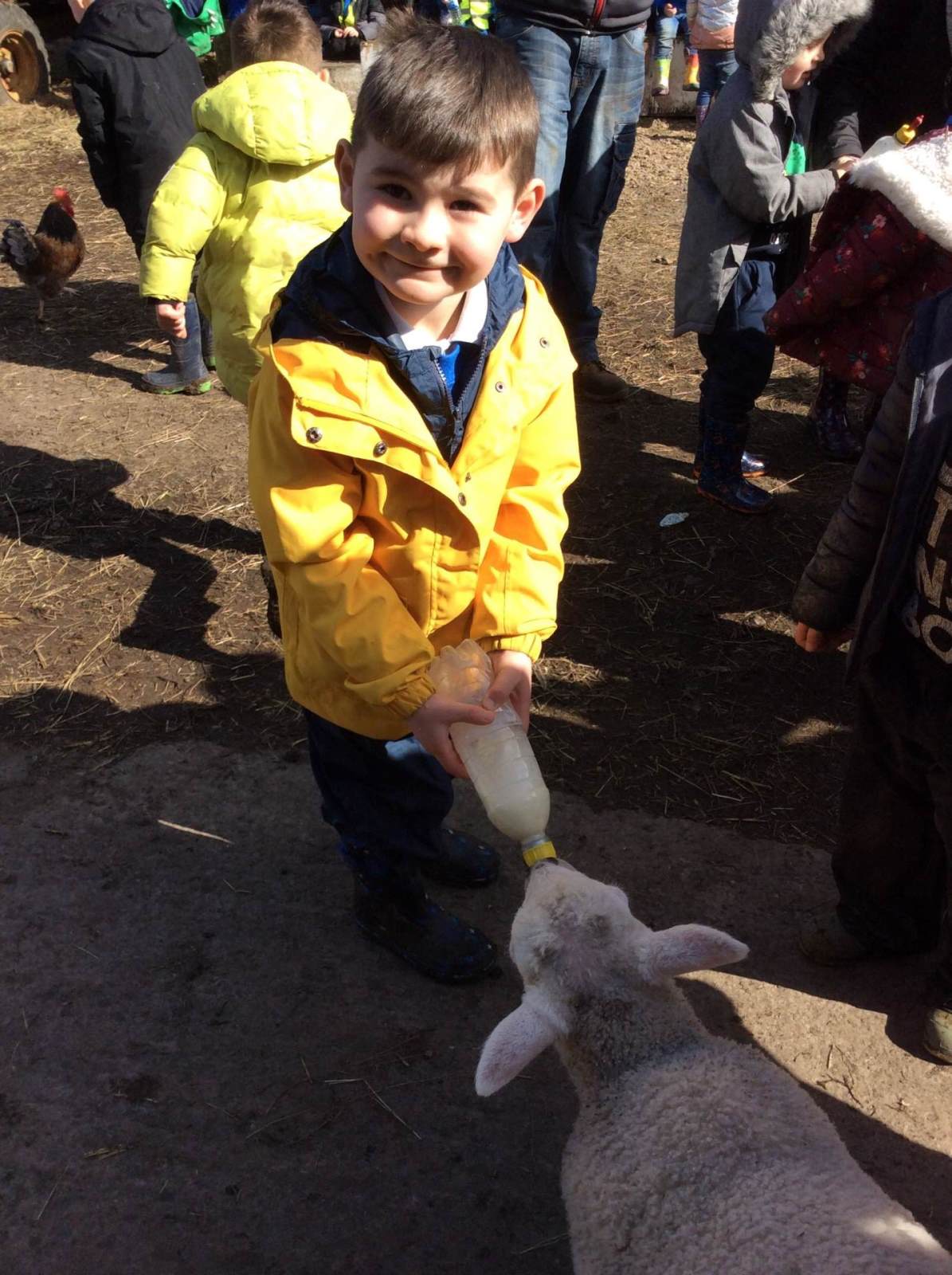 Starfish Class joined in with the whole school effort of running 200 miles this week in aid of Sports Relief. Each morning they ran multiple times around either the trim trail or the playground. The enthusiasm of the children was superb with many running much further than was required!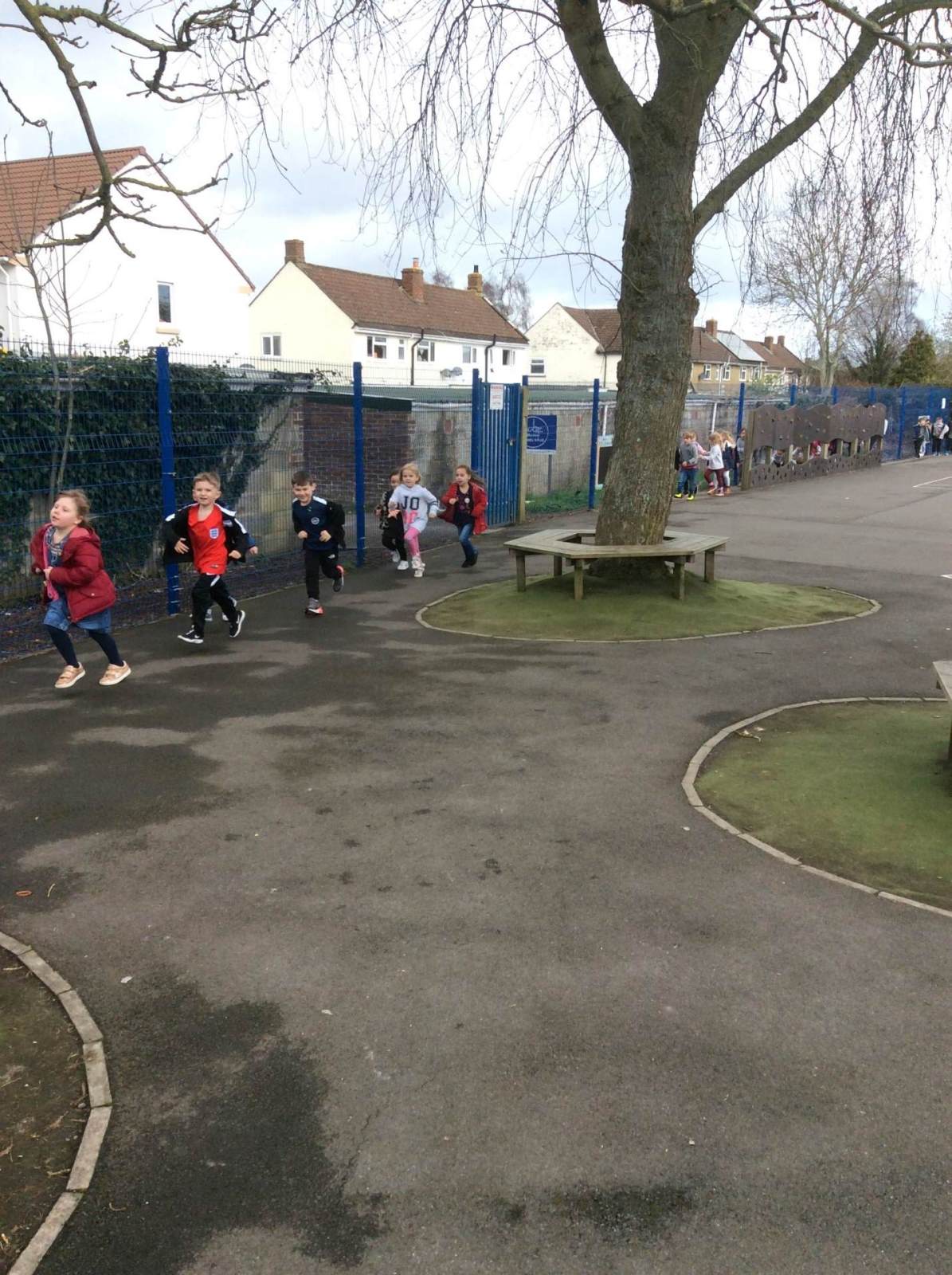 The children have really enjoyed having the chicks in class for the two weeks and have all had a photo taken with them. Some are now being looked after by one of our wonderful parents until we can arrange larger accommodation at school, whilst some others have moved in with the Channon family.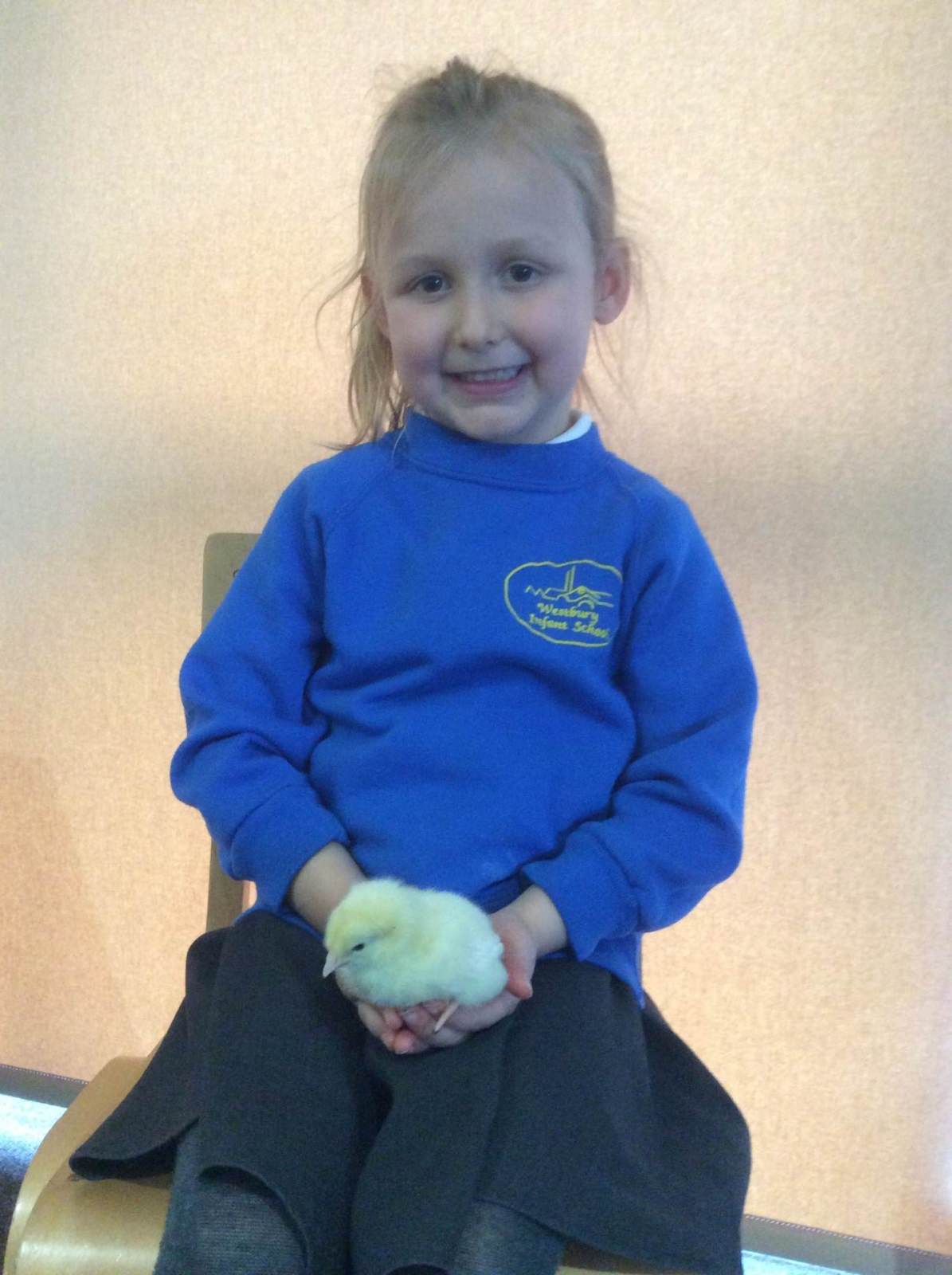 And then there were six!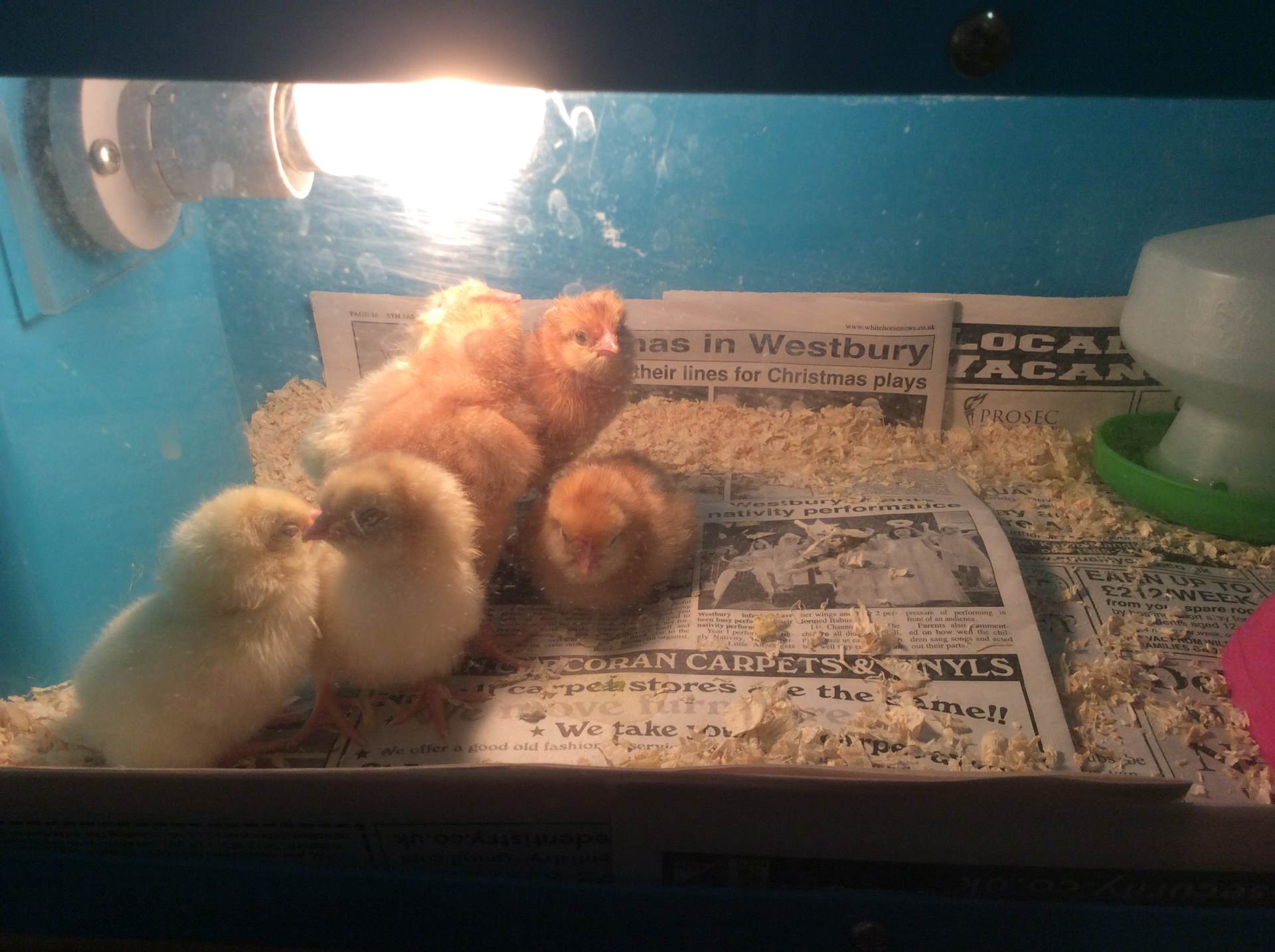 They keep on coming! The children have been amazed at the chicks' determination when cracking open the eggs. They have been surprised at how exhausted they are when newly hatched but also by the speed that they 'fluff up' and make friends with the other chicks. Now that there are a few chicks hatched, we have moved them into the brooding box where a light keeps them warm and food and water is on offer.
It is not only chicks that have been with us, we have also had a visit from two African Land Snails. The children had to spray their hands with water so these cold blooded animals could move easily. As with the chicks, the children showed great interest and observed the snails in great detail.
Excitement levels went up a few levels today as our first chick hatched out! This is Bob.
Starfish Class have had a delivery! We expect some developments very soon and will keep you updated. The children are very excited and have started to think of some names.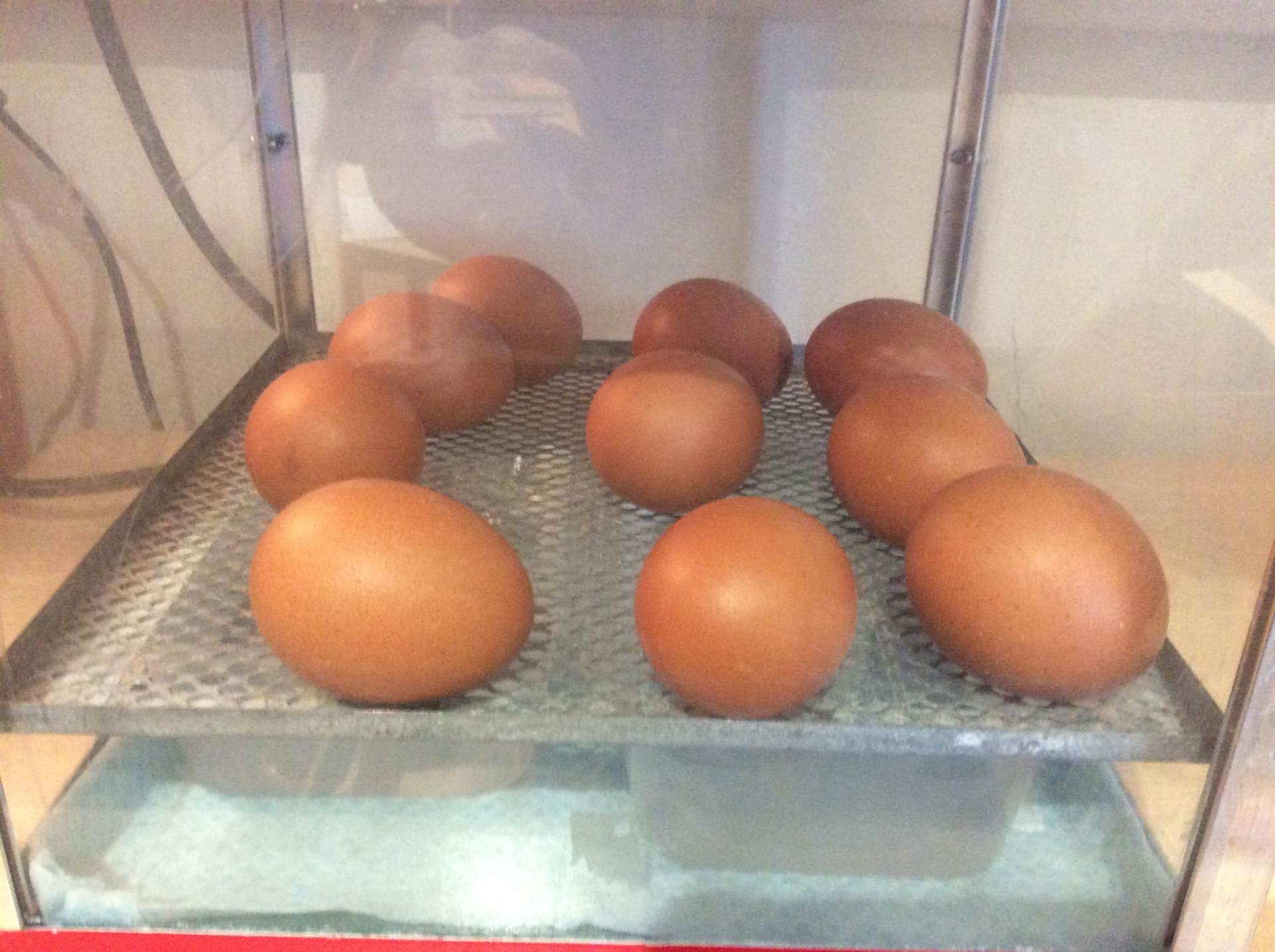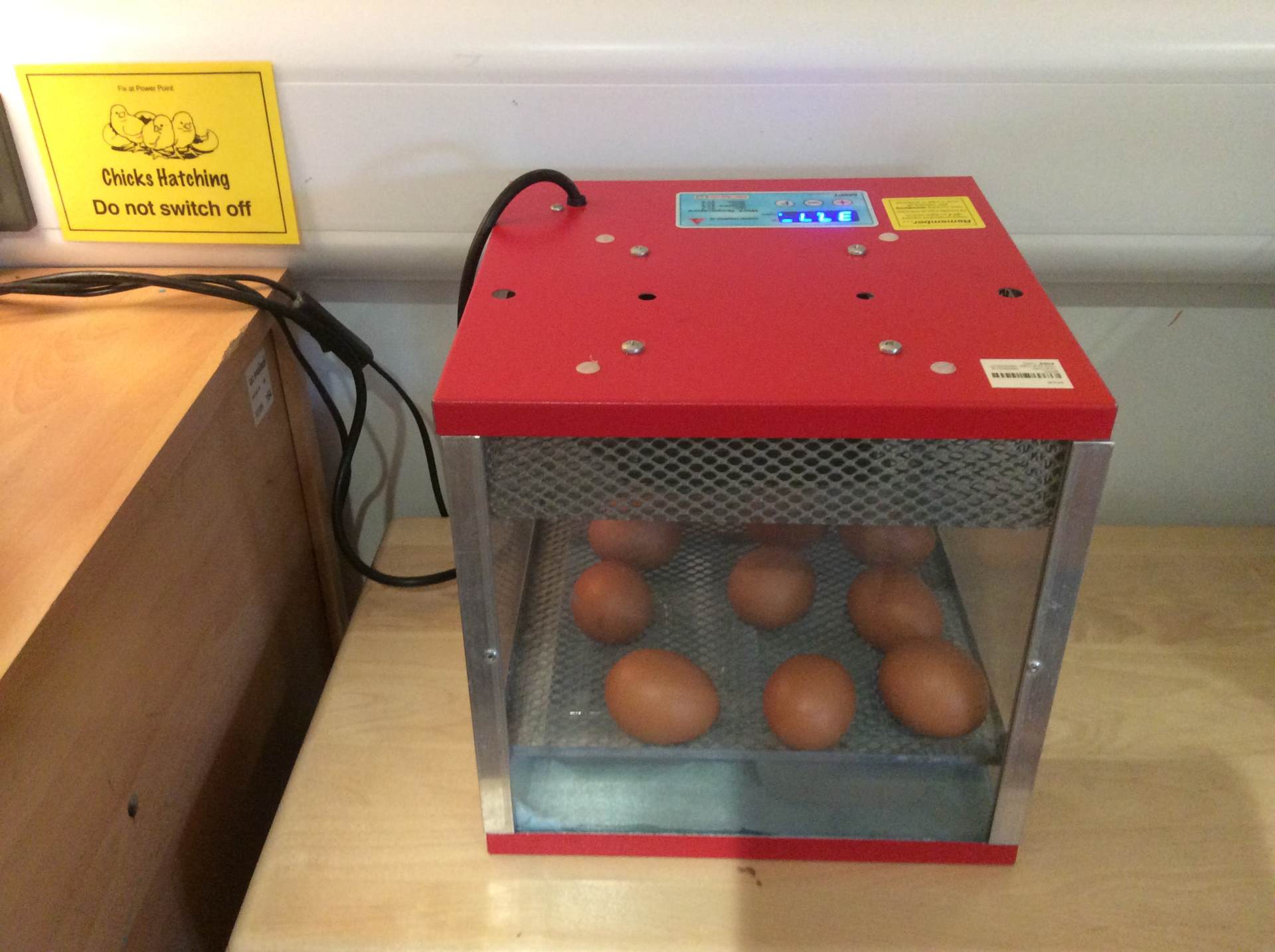 February 2020
Thank you to all the parents who came and supported our 'Around the World' exhibition. We hope you enjoyed looking at all the work from each year group. The children got another chance to look around the following morning where we talked about how much progress they had made since starting school and what their work will be like in the months and years ahead.
If you haven't yet signed up for parents' evening the sign up sheets will be out again on Monday morning. On Thursday 5th March is World Book Day. We would like the children to dress up as a character from a book that they have enjoyed.
It has been great to see so many 'Westbury models' come into school from home, ready for our exhibition on Thursday 13th February. The children have been busy talking about how they made the model, who helped them and what the tricky bits were. They have also started to write some captions to go with them and we also had time to lay them out in the hall making our own model Westbury with houses, White Horses, train stations, swimming pools, Arla factories, cement works and much more!
In maths we have been adding two amounts together. We have talked about how we can start to 'count on' from one amount rather than 'counting all'. Some have also used a part/whole diagram to show their number story.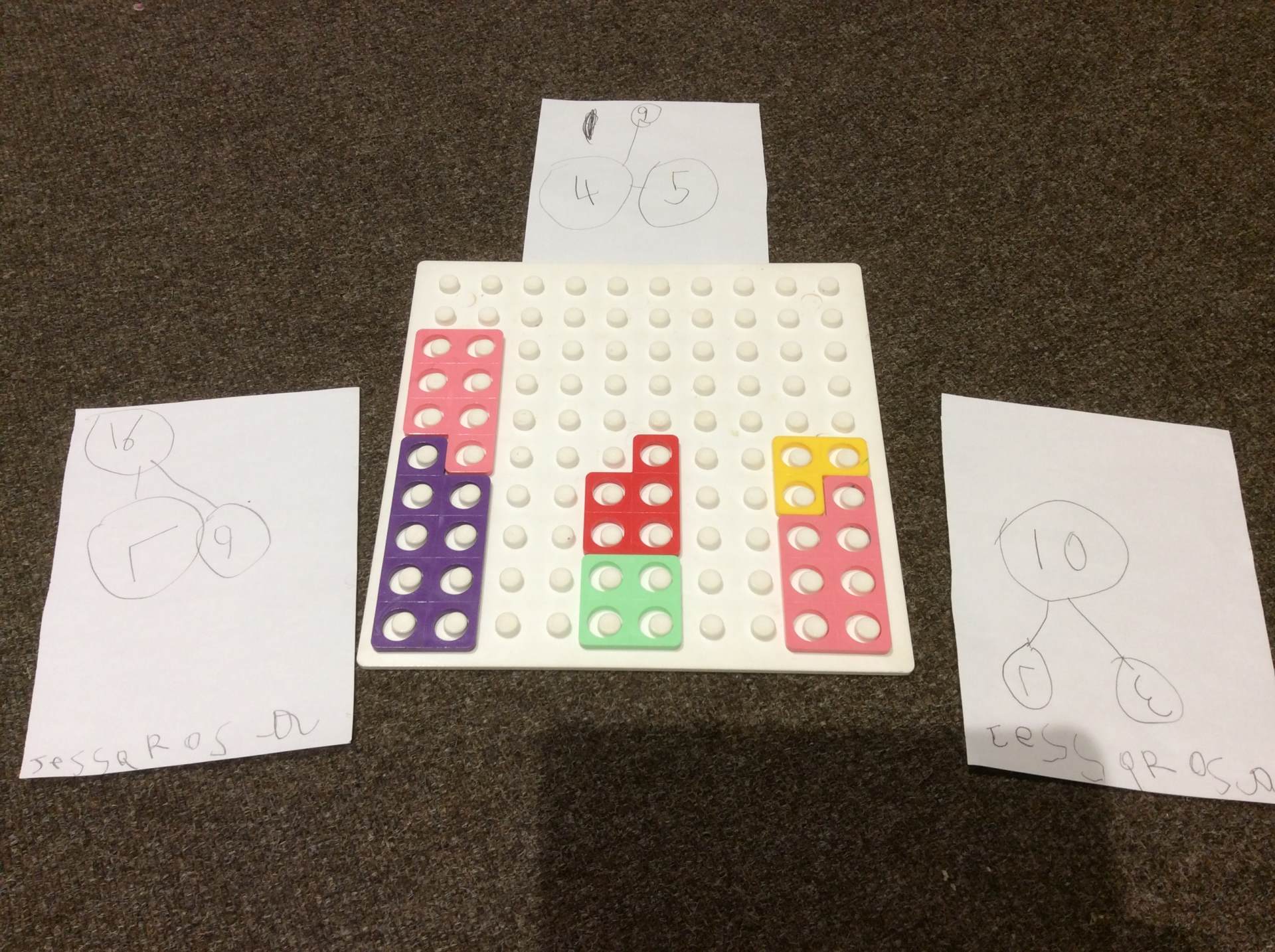 Read, Write, Inc assessments have been taking place this week and it is great to see continued progress. If parents and carers would like to know more about how Read, Write, Inc is taught there will be two workshops taking place on Tuesday 4th February at 9am and 2.30pm.
January 2020
Starfish Class walked through the park and High Street to the library where we were met by the librarians. One librarian kindly read One House for All, The Lion Who Wanted to Love and The Smeds and the Smoos to the class who listened very well, asking and answering questions about the stories. They also had time to look at the books on offer. The children have all been given library membership forms in case they are not already members. If they have a favourite book they are welcome to bring it into school and share it with the class.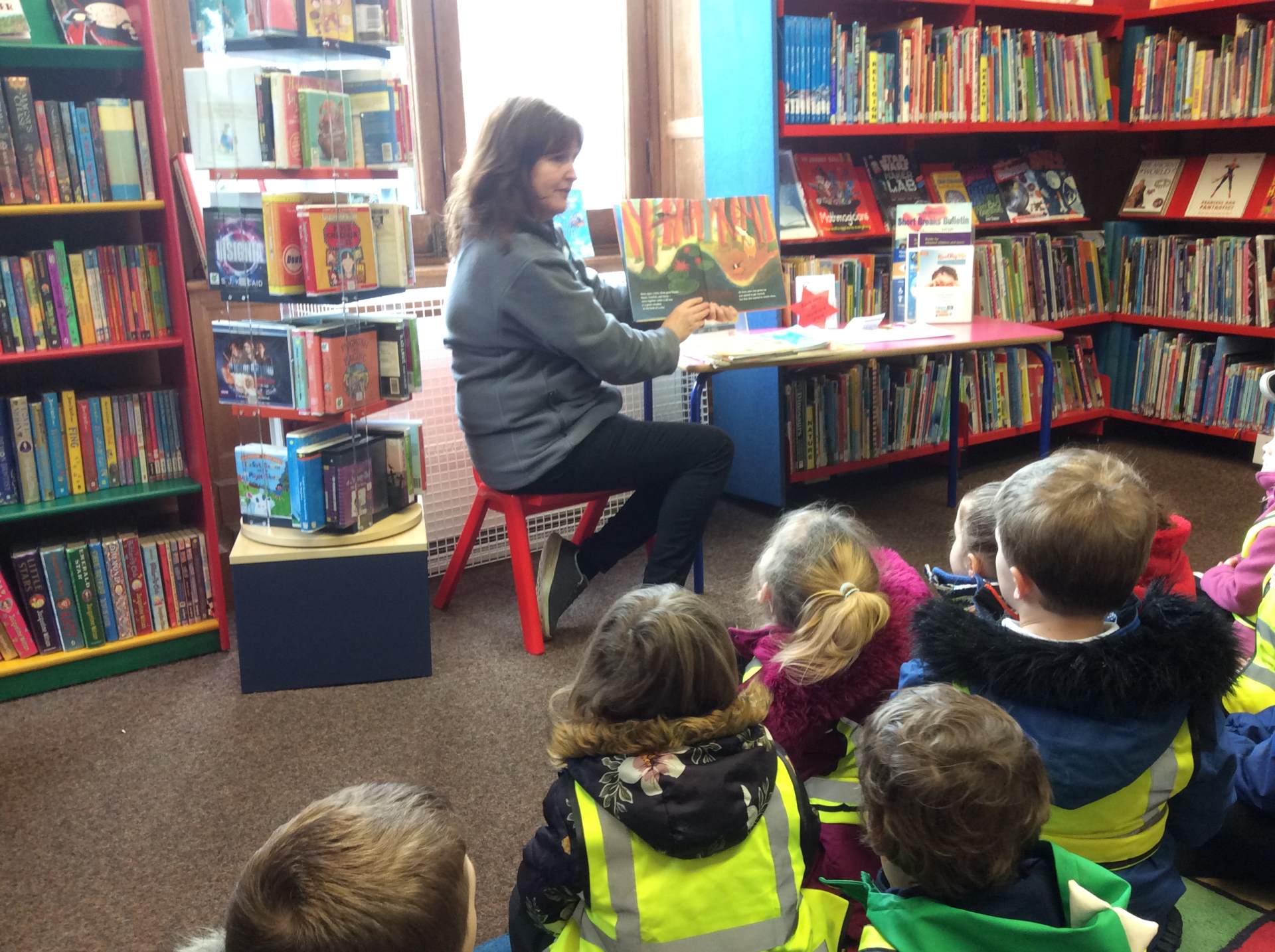 Another busy week ended with a visitor to school teaching dance to the class. They listened well and built up a dance bit by bit. The children have also been constructing buildings outside, started to use our new (muddy) digging area and produced some super collages of their homes which are on display in class.
On Friday we went on our first Explorer walk of the year, looking at our immediate environment and where we live. We looked at the different types of houses and talked about what things are static such as traffic lights, post boxes and the White Horse whilst other things such as parked cars may move away. When we got back to school the children started making simple maps using chalk. They talked about where we had gone and which direction to go.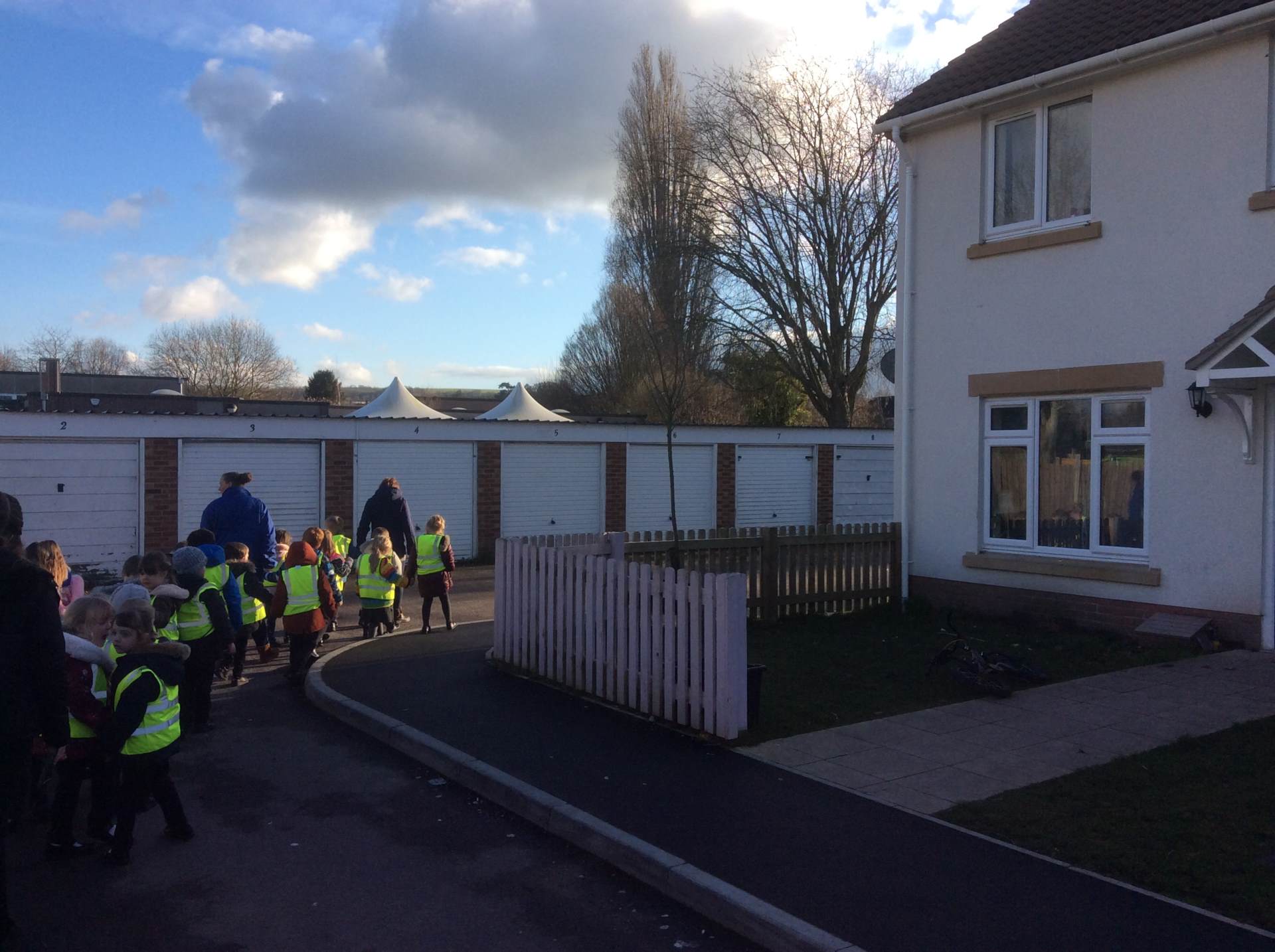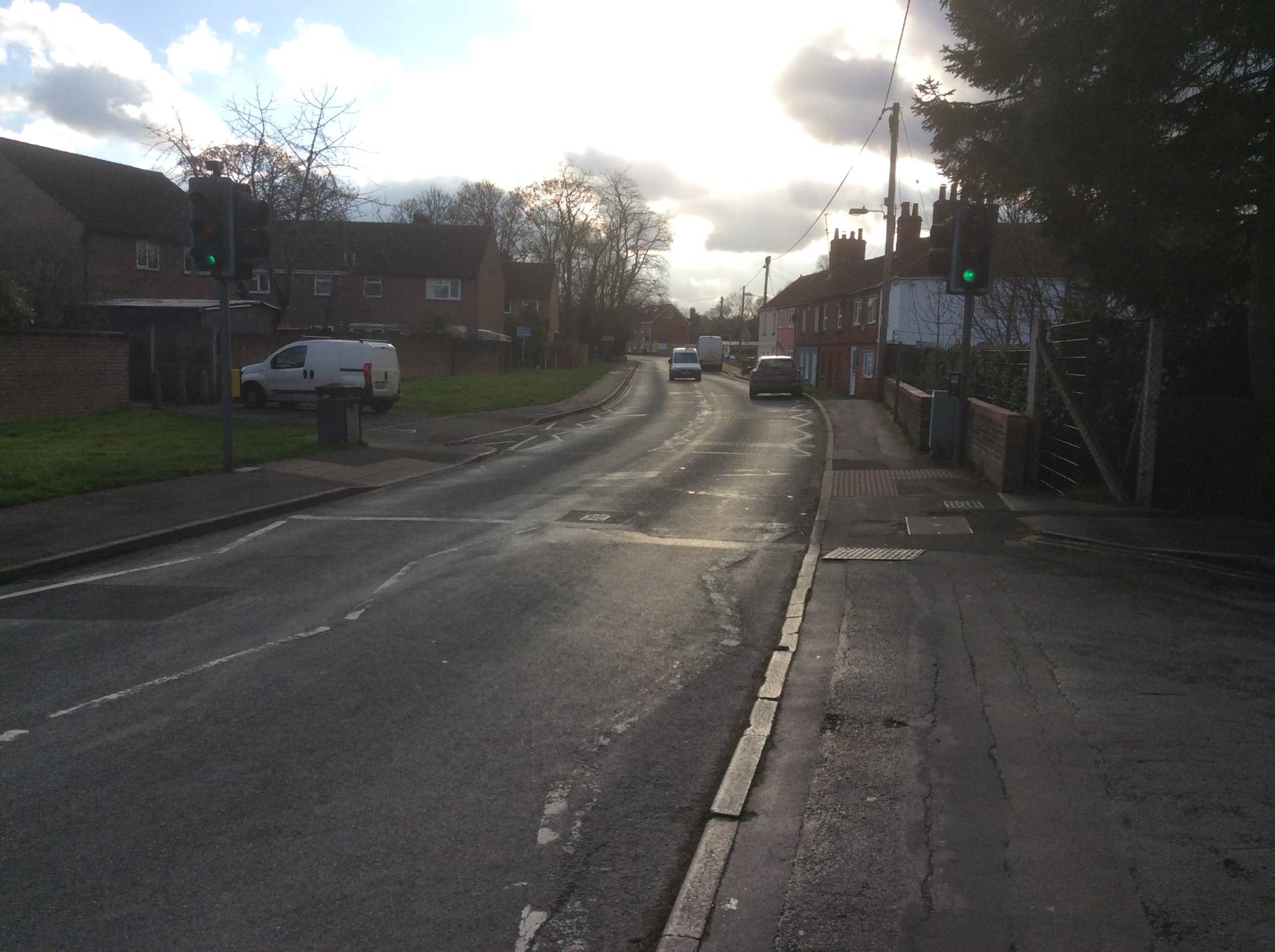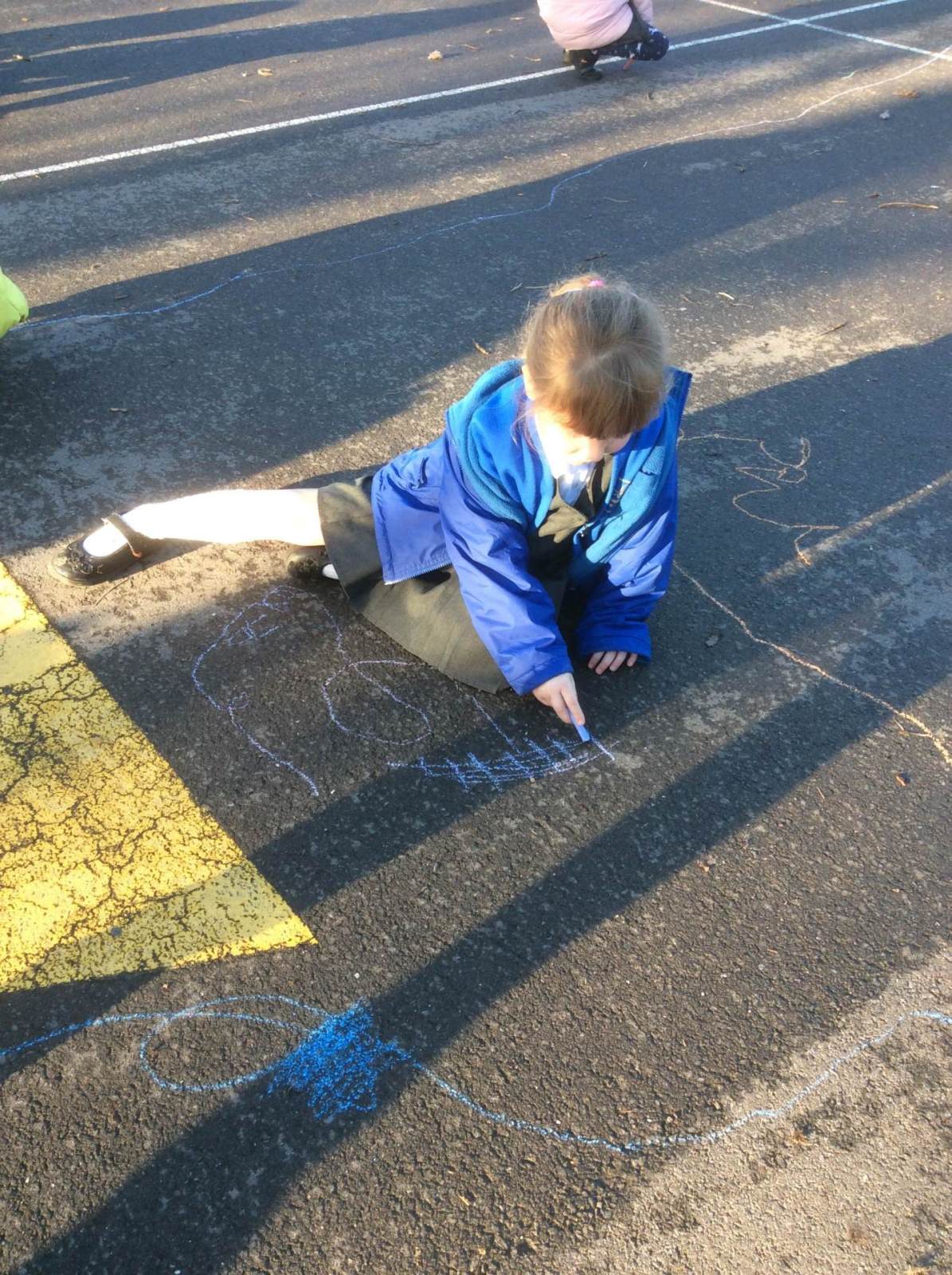 We have started the year thinking about how an amount can be split into two smaller amounts. The children have completed various activities looking at these number bonds and have started to record their findings. They found it trickier to explain for example, what amount could be in the bag when told that there were five pebbles in total, split into two bags, so we will continue with this over the coming weeks.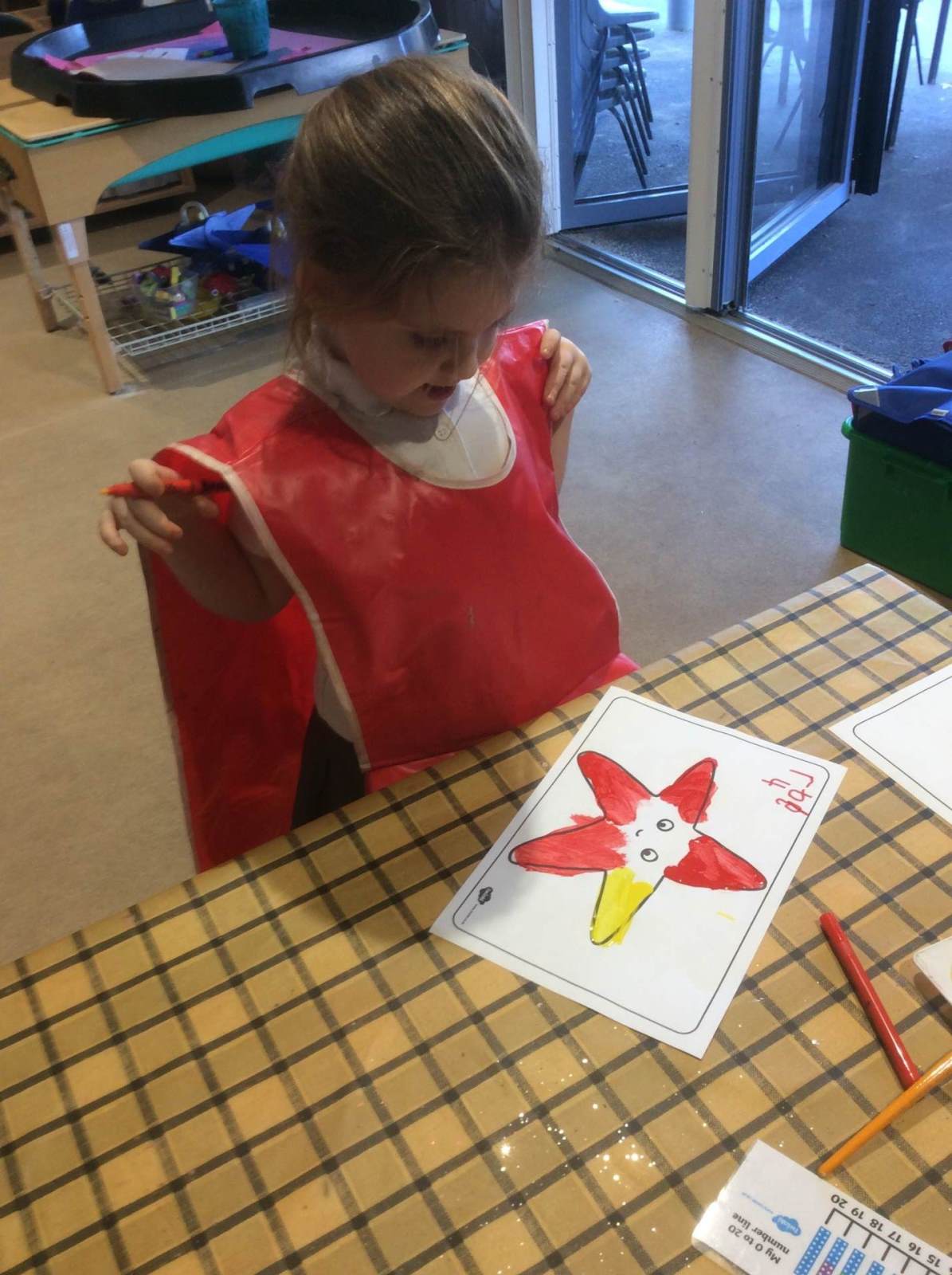 December 2019
The final week of term was as busy as ever. The children have been writing Christmas wishes, ordering the size of crackers, baubles, candy canes and Christmas trees, comparing the weight of presents, walking to the church for our Christmas service, eating Christmas lunch and having a Christmas party!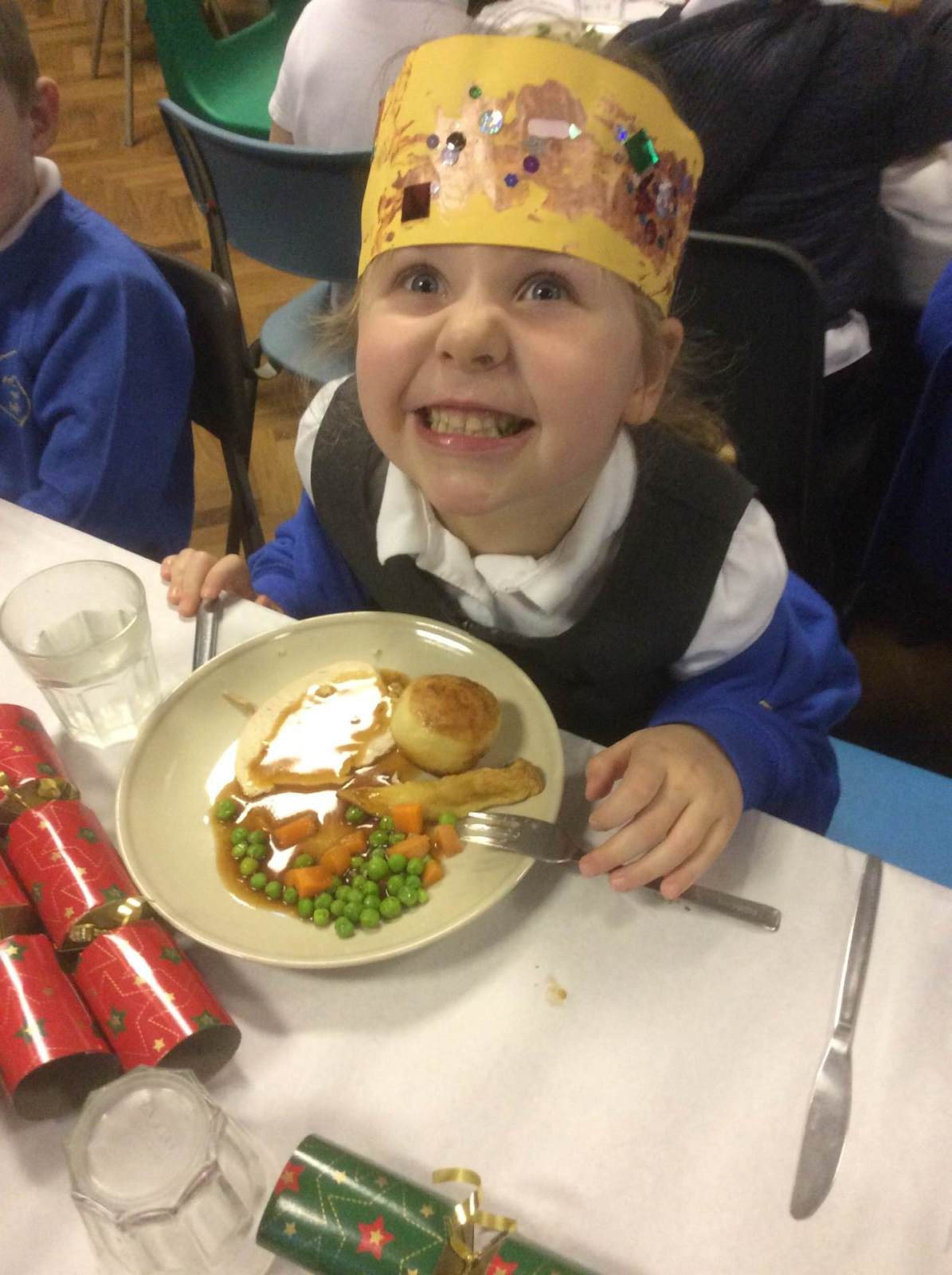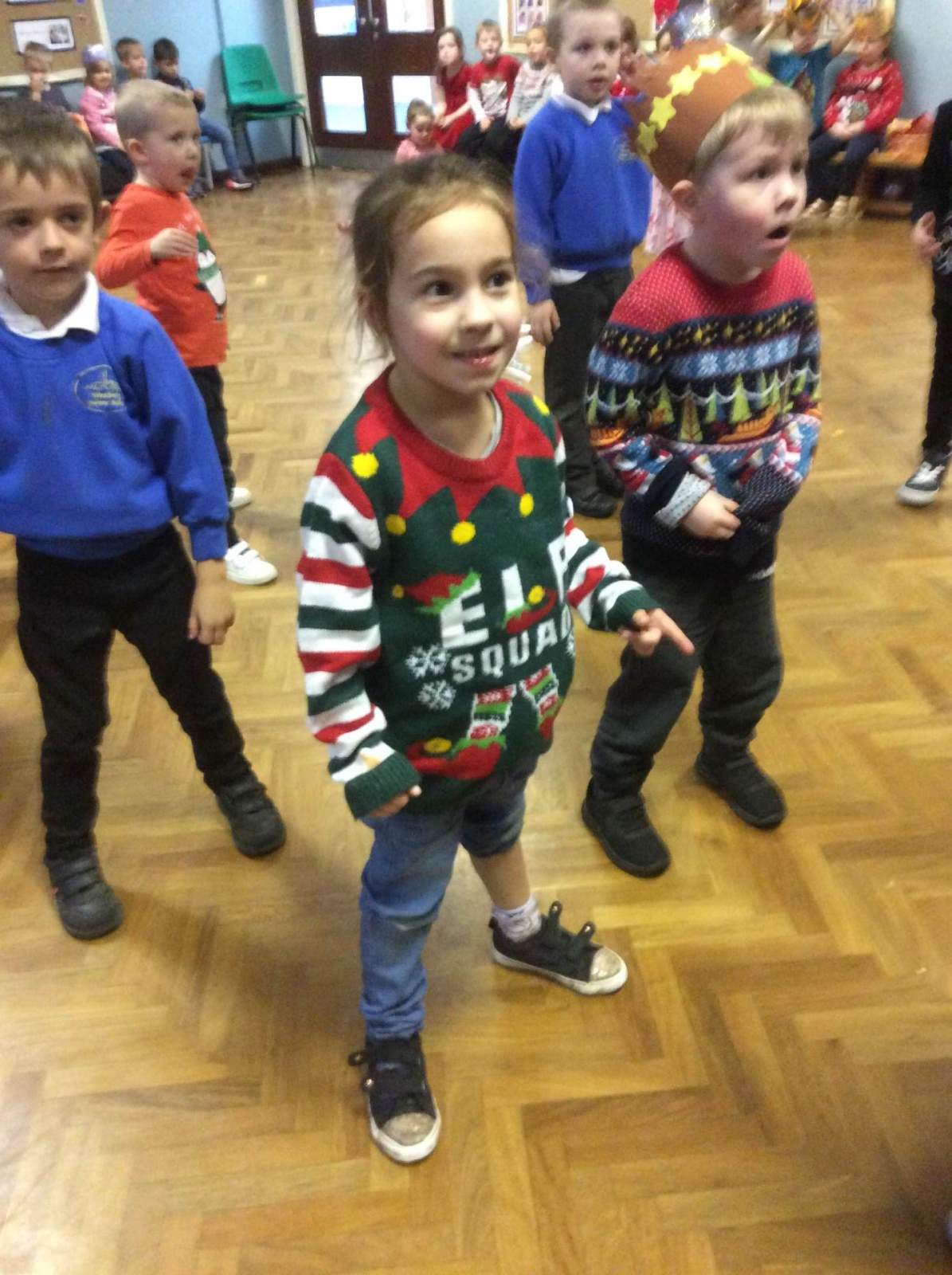 It was great to see so many children show off their new found confidence, performing on stage, singing the songs from A Wriggly Nativity. They worked very hard in a short space of time to learn the words and they all looked fabulous dressed up!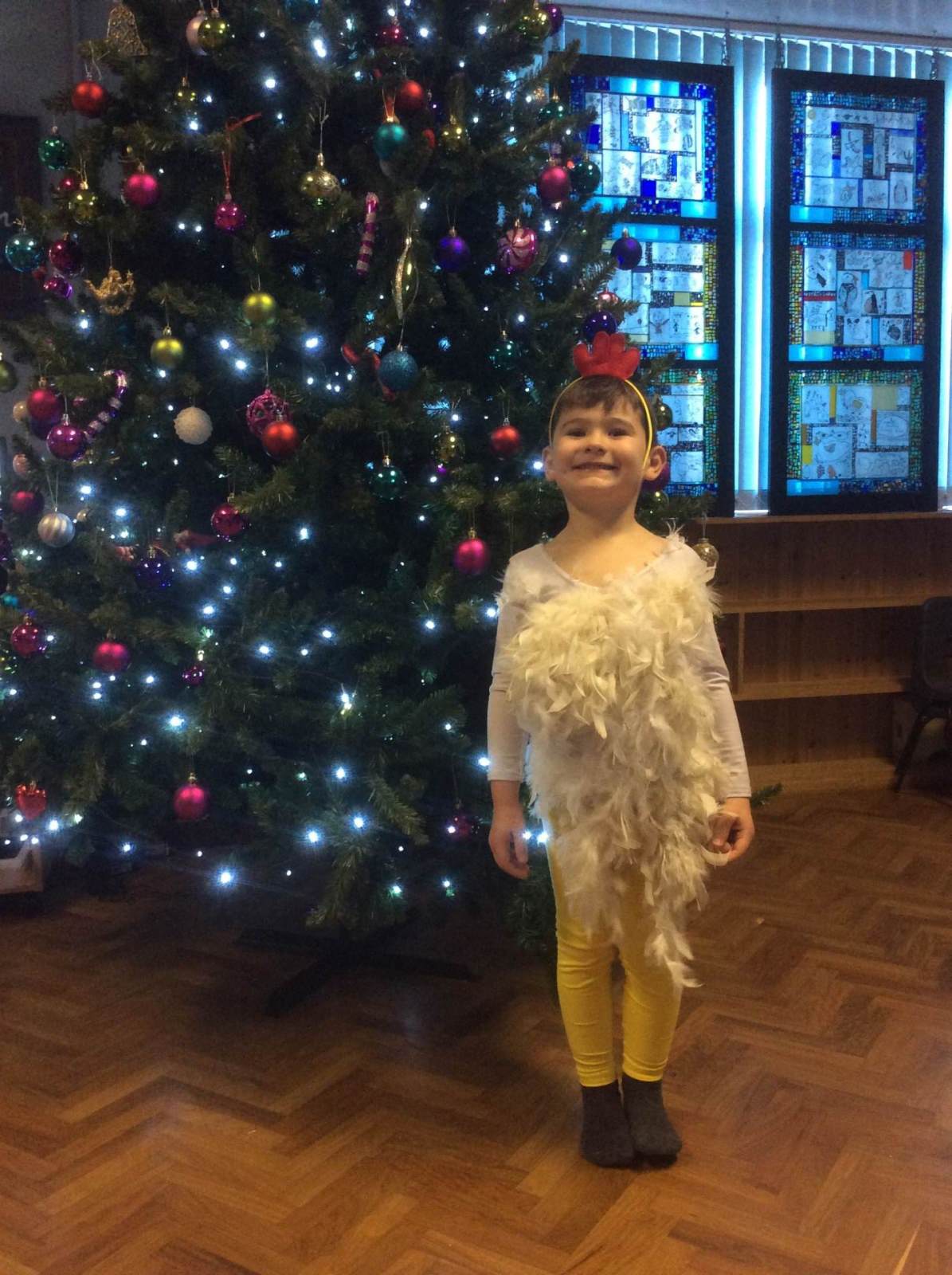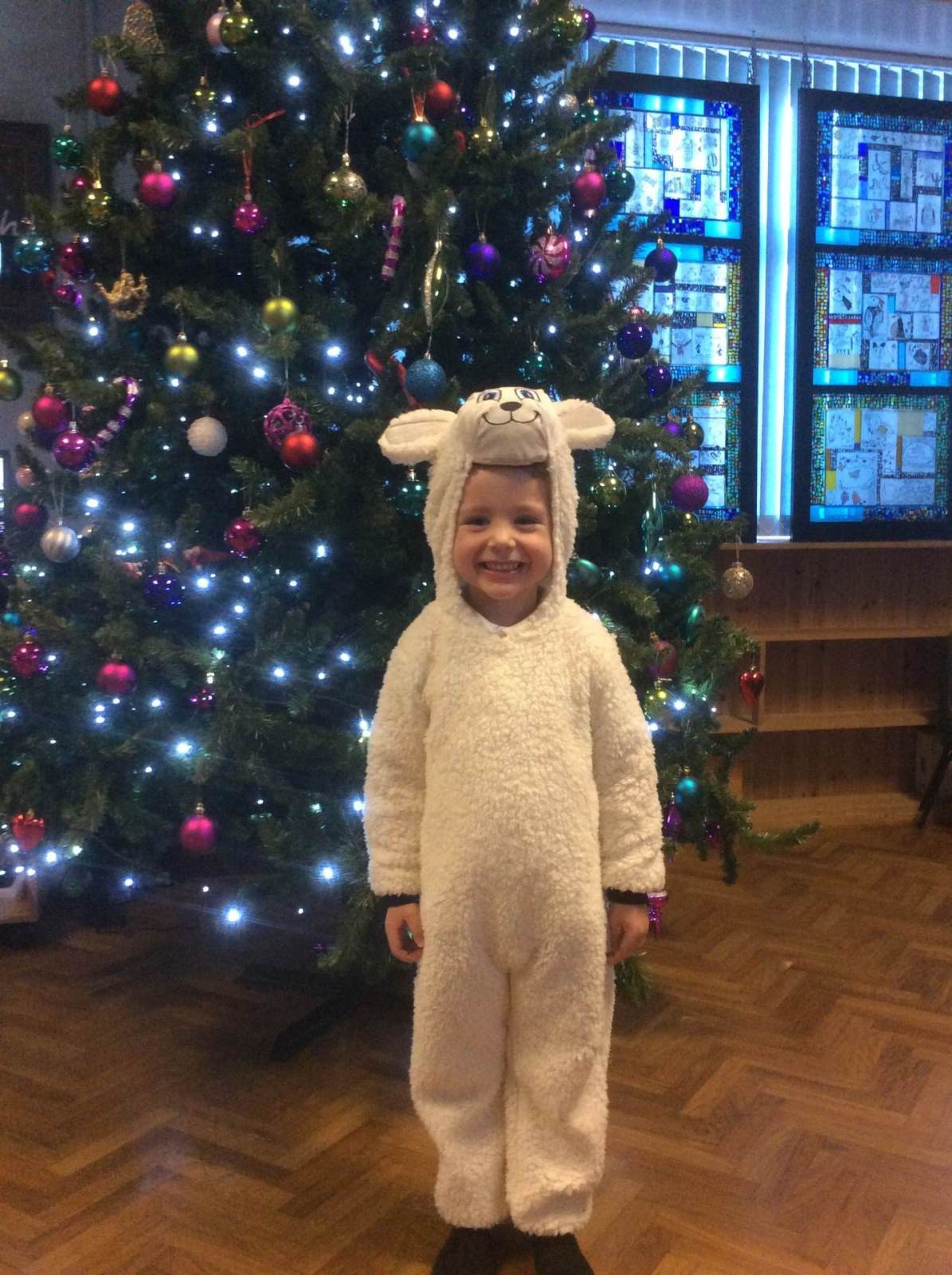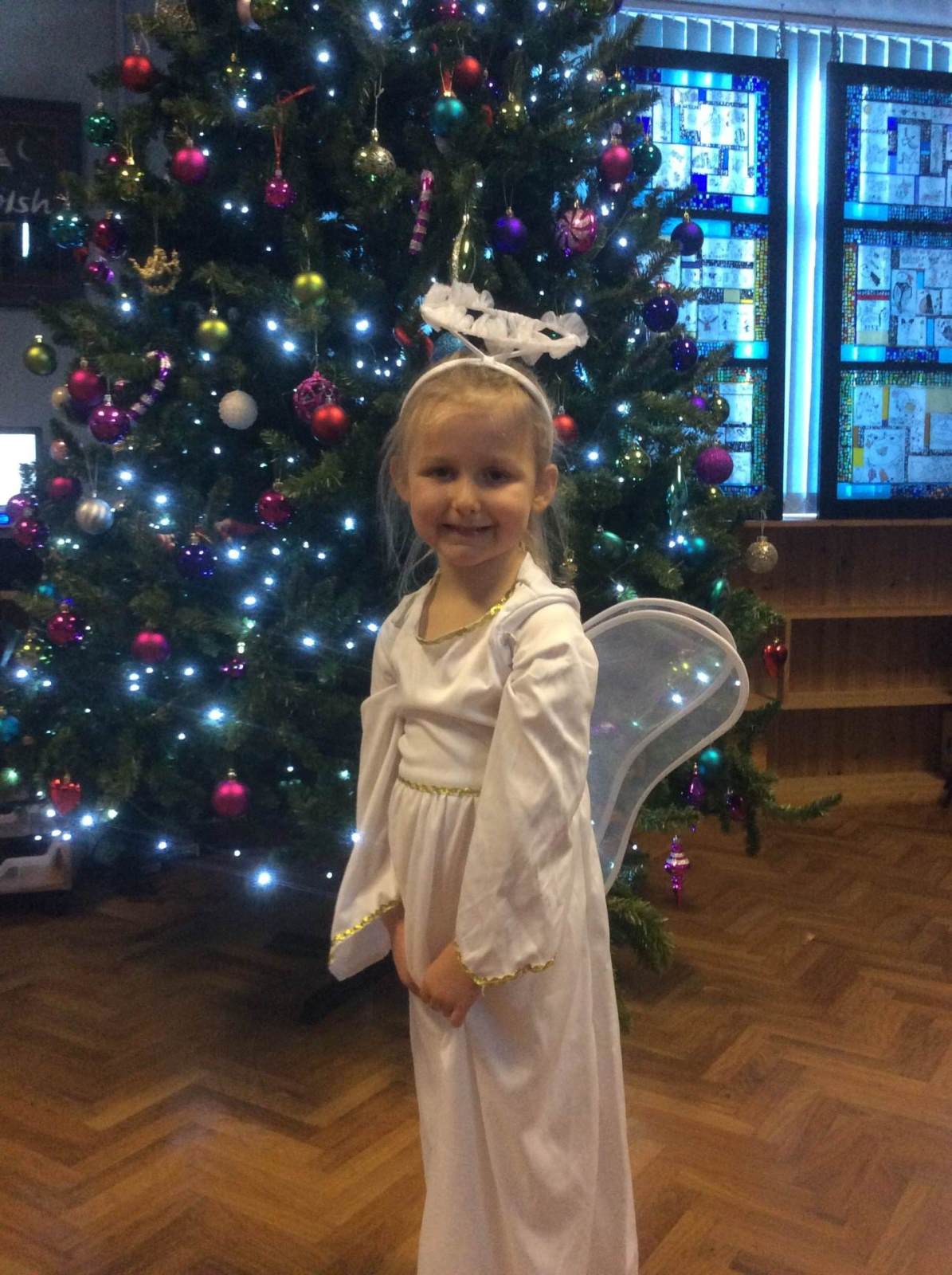 Another busy week has gone by which has included Read, Write, Inc assessments. It has been great to see so much rapid progress by the children since they started school. We would hope that by this stage of the year the children would be confident stating the single letter 'Set 1' sounds and to orally blend simple words such as 'pan'. Reading records have been updated which will inform you of any sounds that need reinforcing and the next sounds to practice such as 'ng', 'th', 'nk', 'ch', 'qu', and 'sh'. Over the next few weeks I will start attaching some 'tricky red words' to the reading diaries. These are words that the children cannot sound out (they may tell you that you 'cannot Fred a red') and need to be learnt 'off by heart'. This will allow them to read at a faster pace at a later date.
This week we will start to practice our Christmas nativity. If you are having any difficulty in providing a costume as stated on the letter please let us know as soon as possible. Thank you.
November 2019
Read, Write, Inc carries on at a fast pace. The children have enjoyed using the magnetic boards to make words and read them back. They use their 'Fred fingers' to help them decide which sounds they require and in which order they need to be, starting on the left.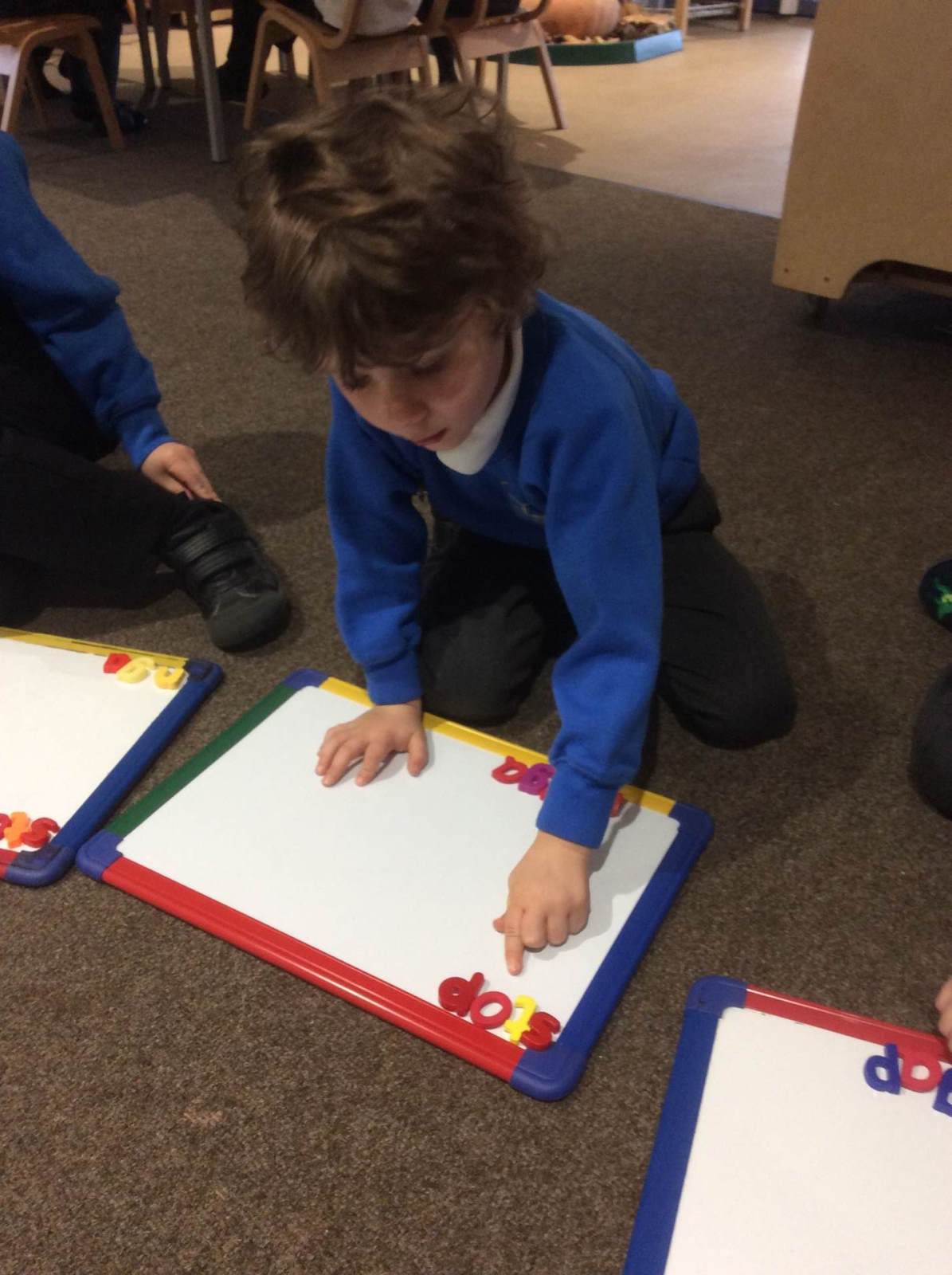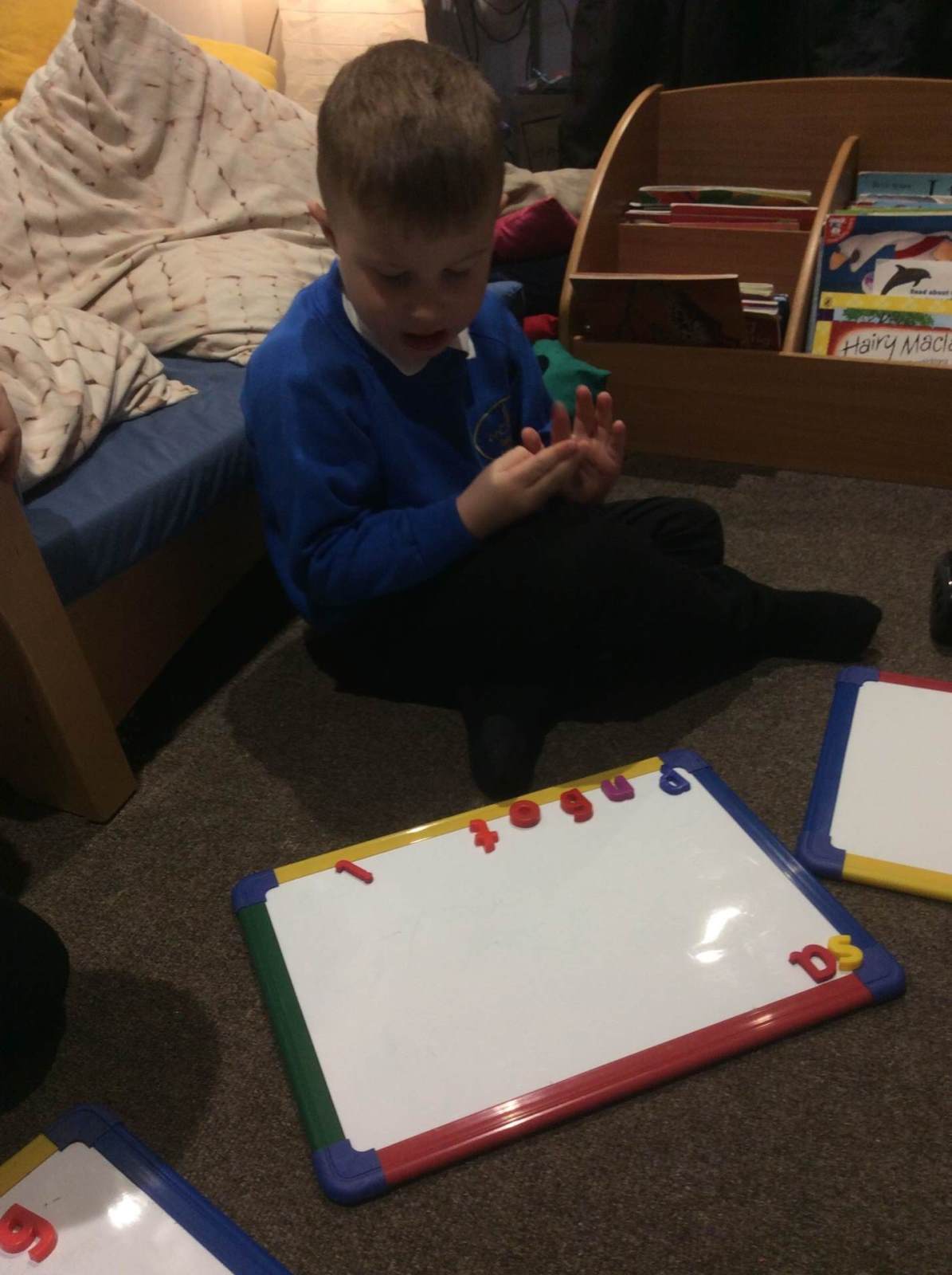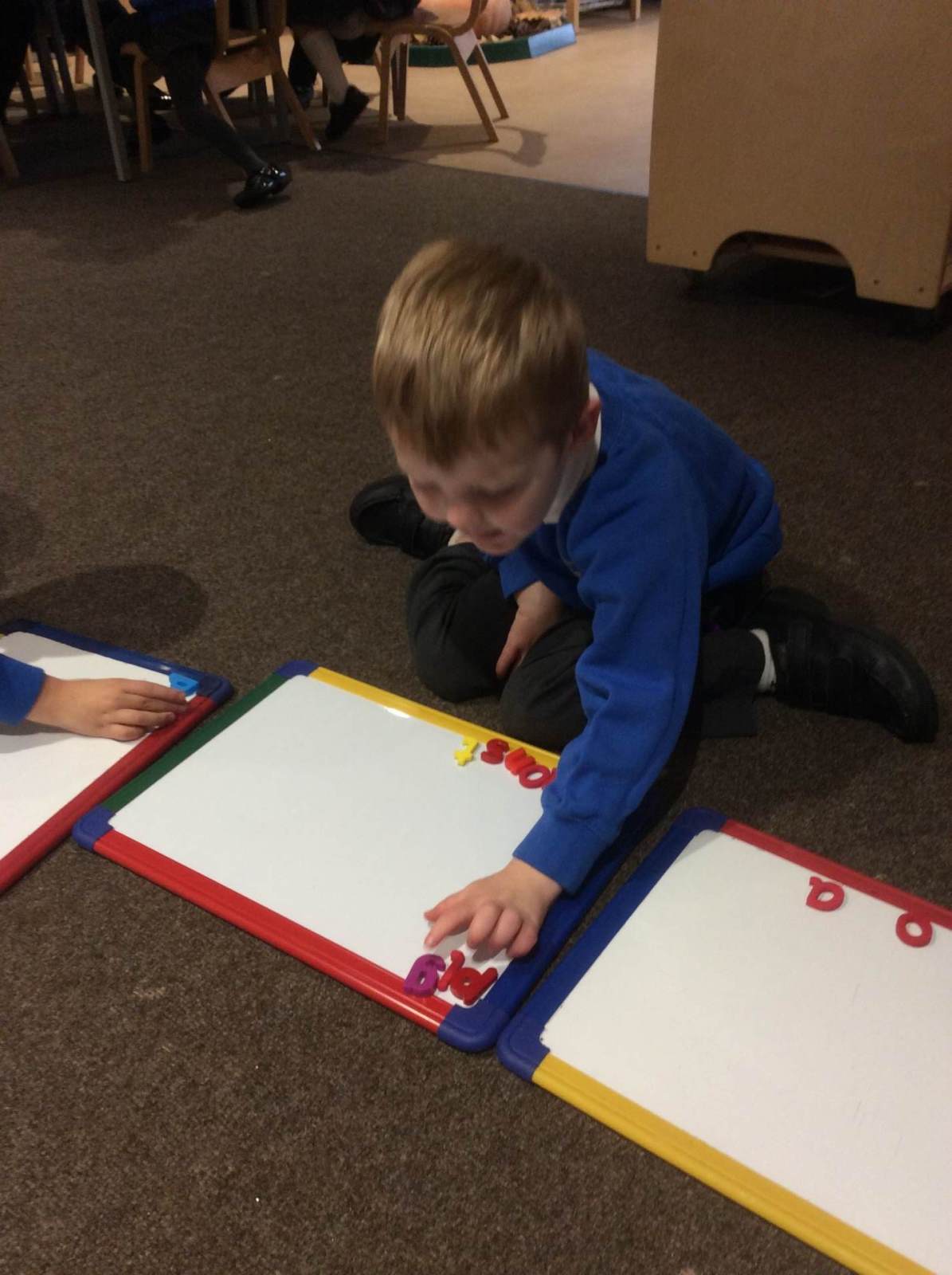 Our second trip of the year took us to the National Trust gardens at Stourhead. Despite a little drizzle the children enjoyed walking around the grounds finding a variety of leaves. They also had great fun climbing up the slippery slopes, walking through the dark tunnel, collecting natural objects from the woodland floor and splashing in the puddles.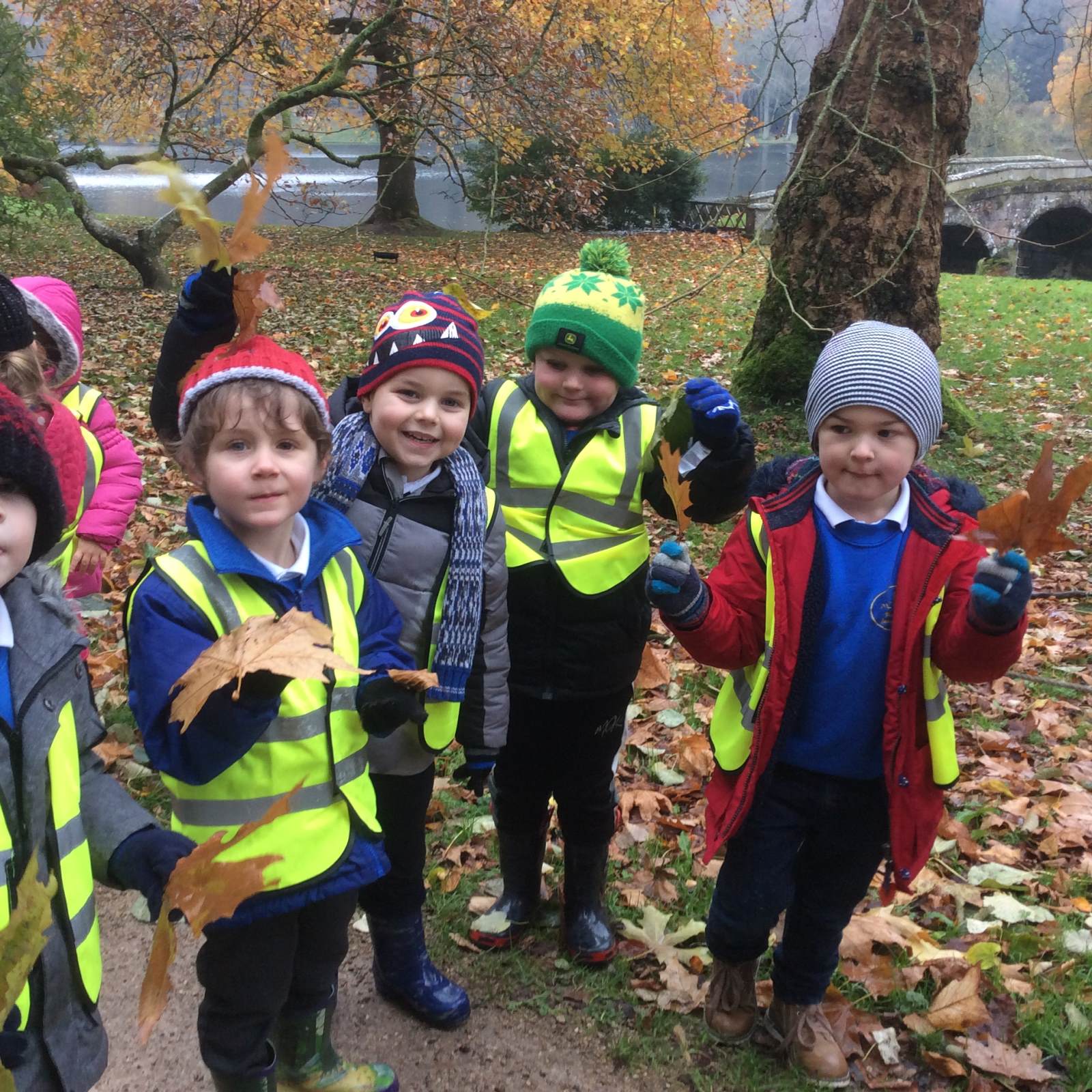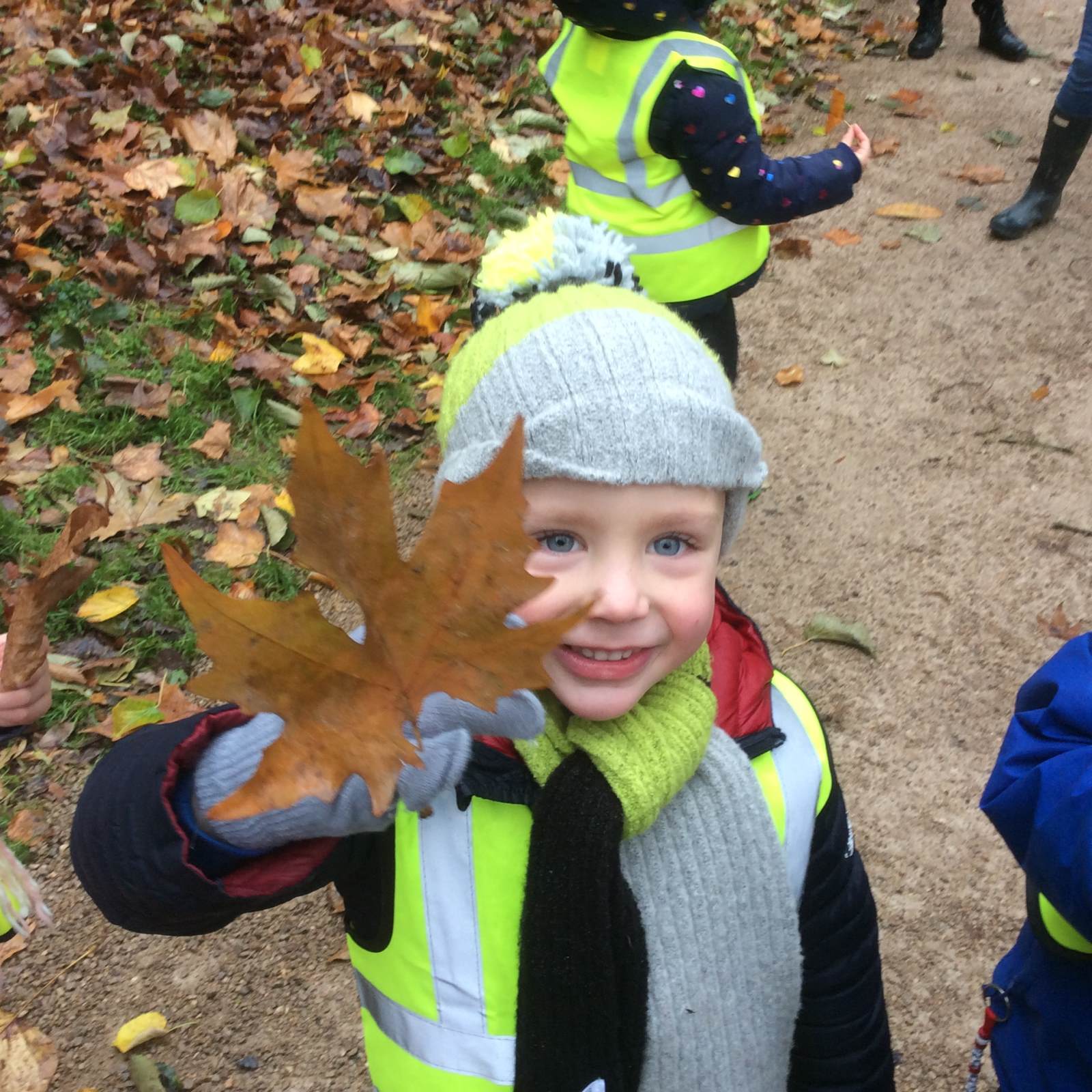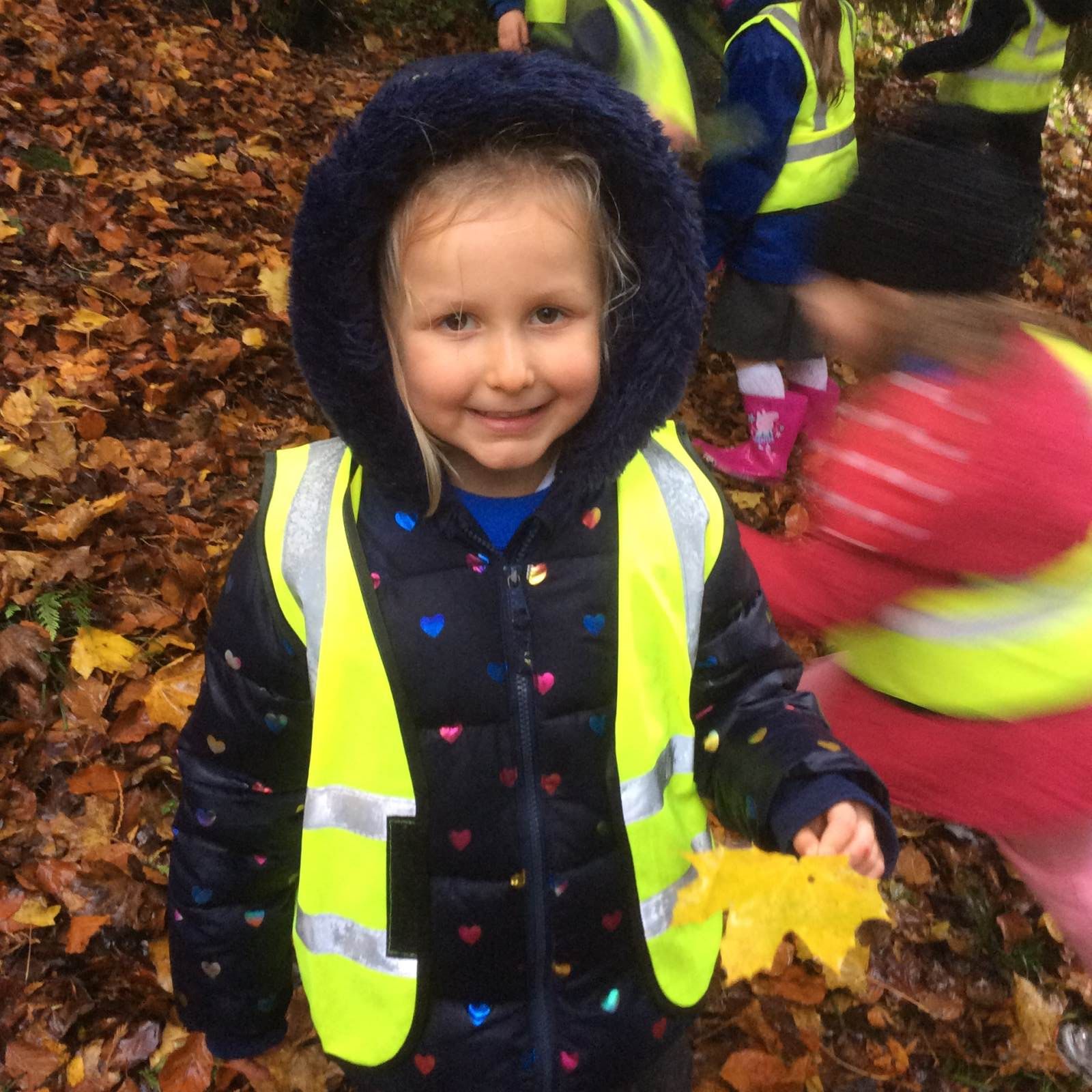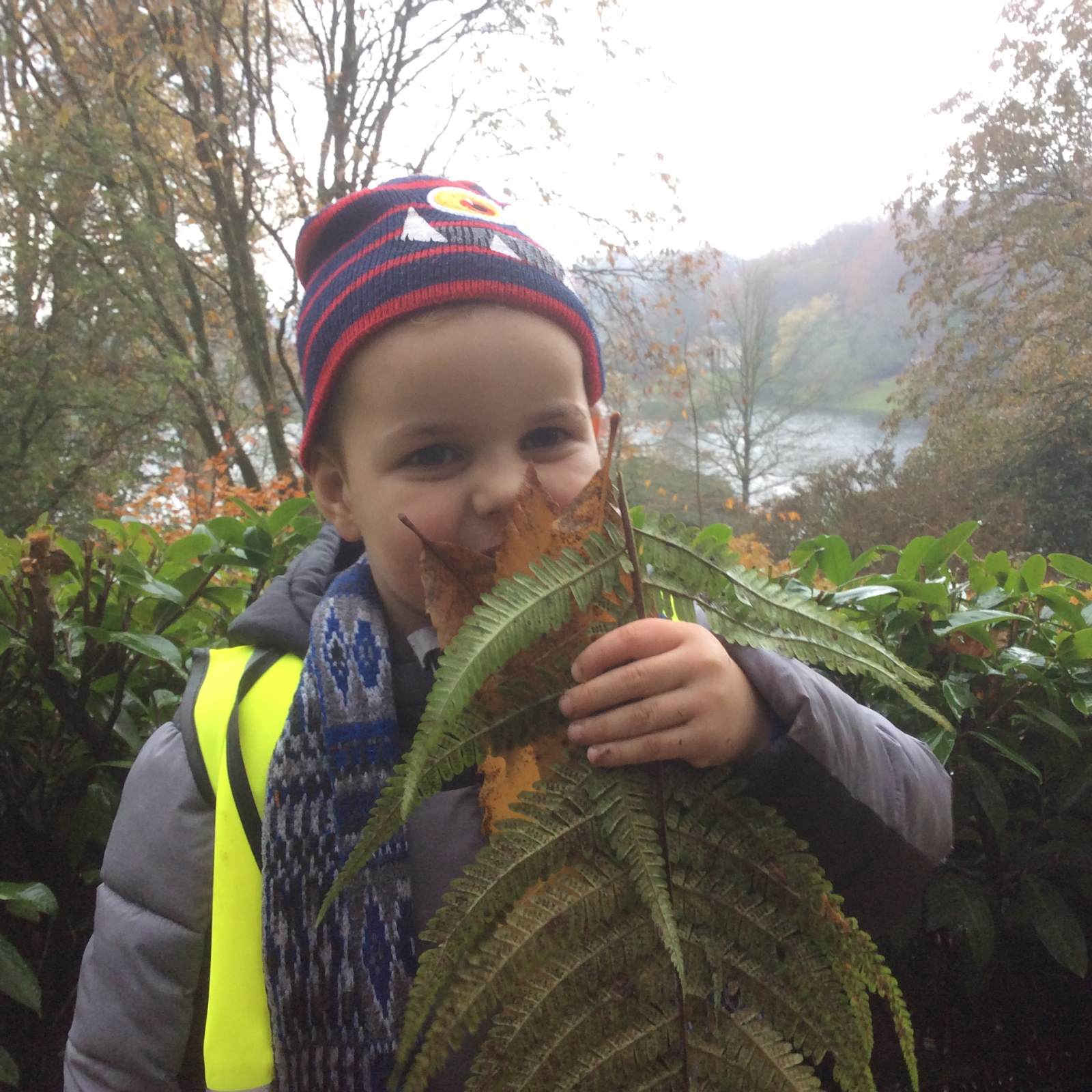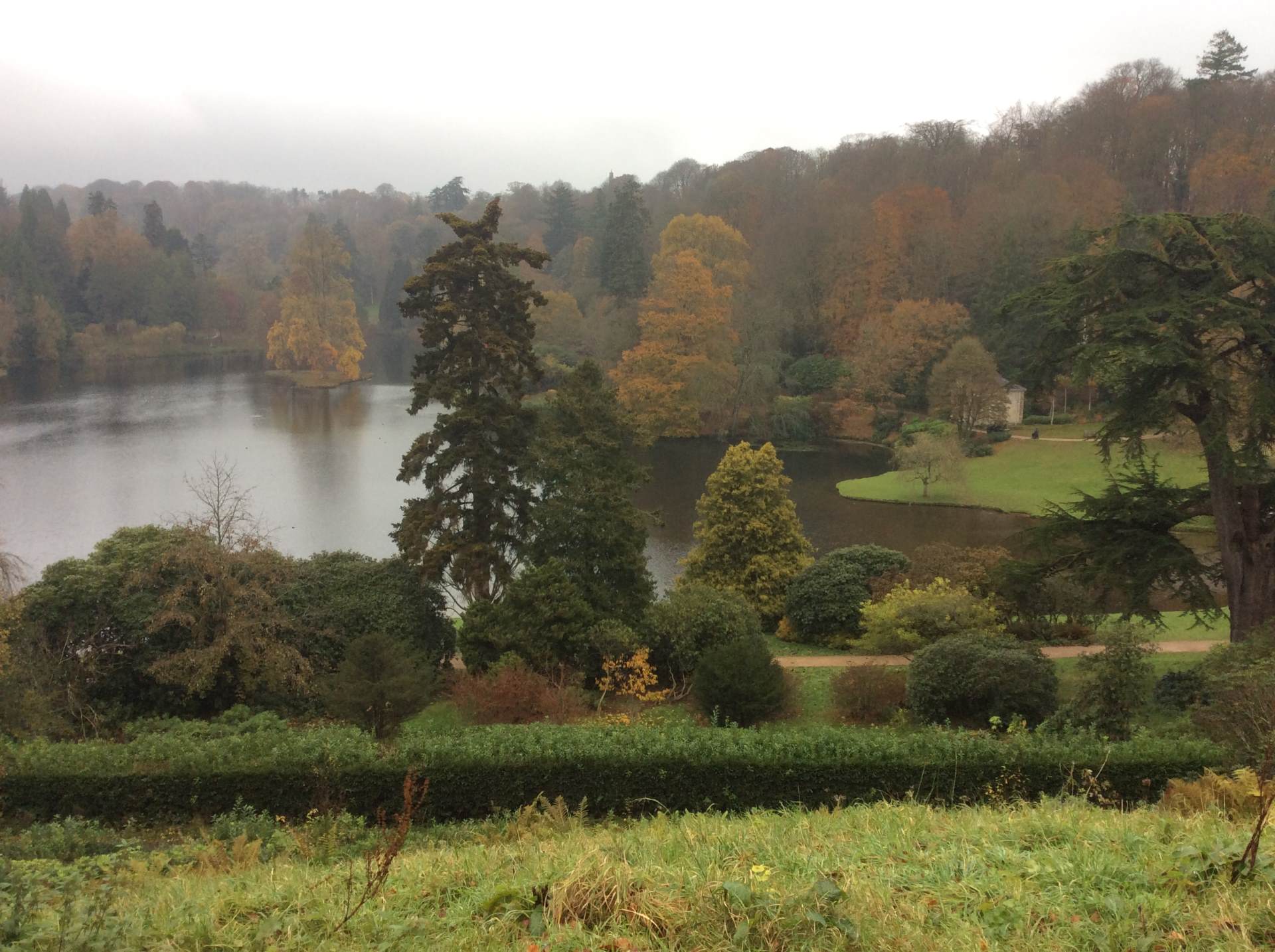 All the children in Starfish Class looked gorgeous during our recent photoshoot.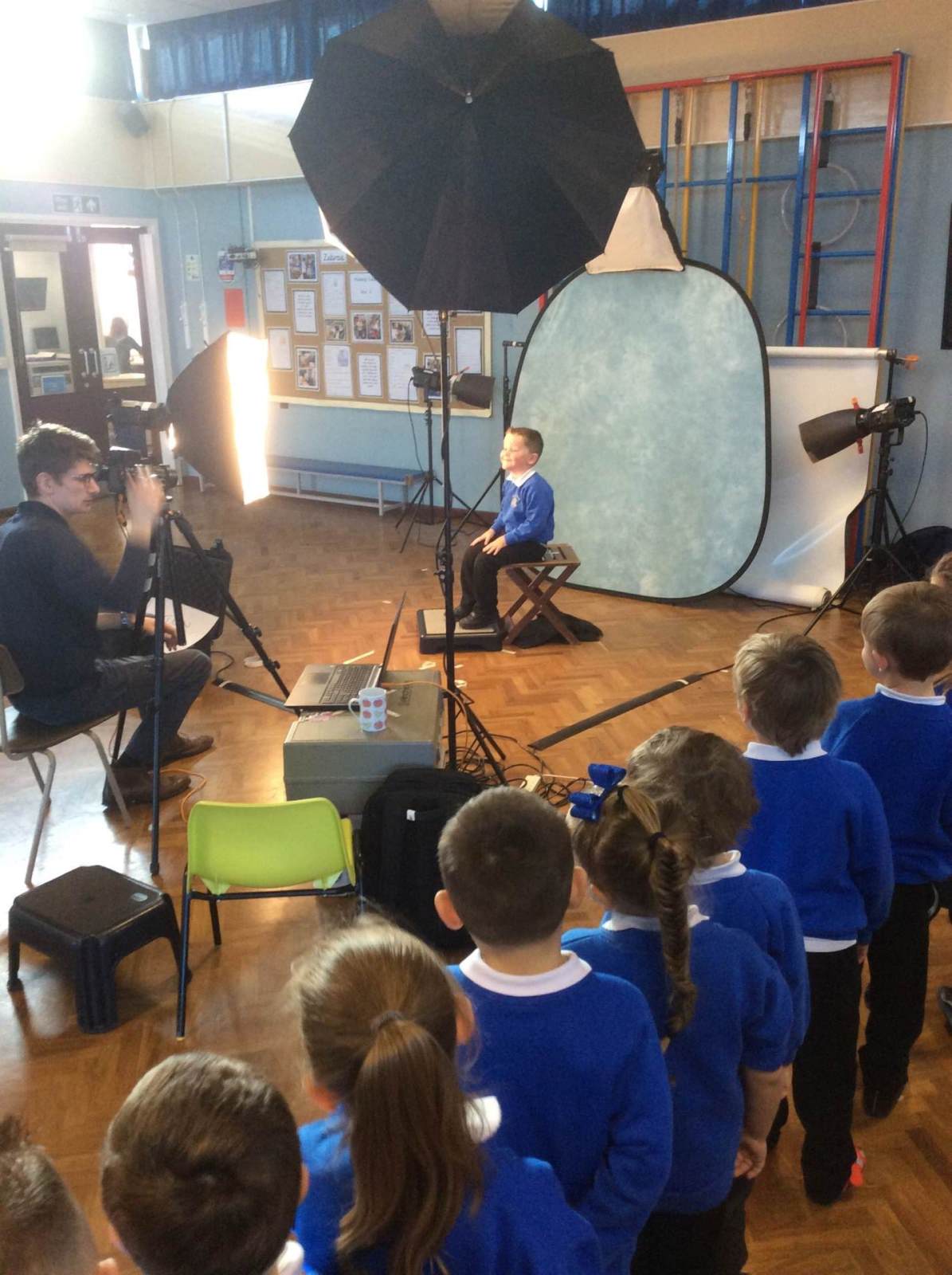 We have started the new term with a new topic. This first week has been spent looking for signs of Autumn around the school grounds. The children have completed some writing along with leaf rubbings. We finished the week by planting trees which included Wild Cherry, Hawthorn, Rowan and Hazel which over the years will help bring in more wildlife for the children to observe and look after.
October 2019
During our maths sessions this week the children have been learning outside the classroom looking for different shapes around the school grounds. They have made some rubbings of these 2D shapes. The following day we ventured into our wildlife area and used natural materials to make shapes and photograph them. The children have been naming the shapes and describing them using super vocabulary such as sides, corners, curved, straight and opposite. We have also talked about how to keep safe in different environments.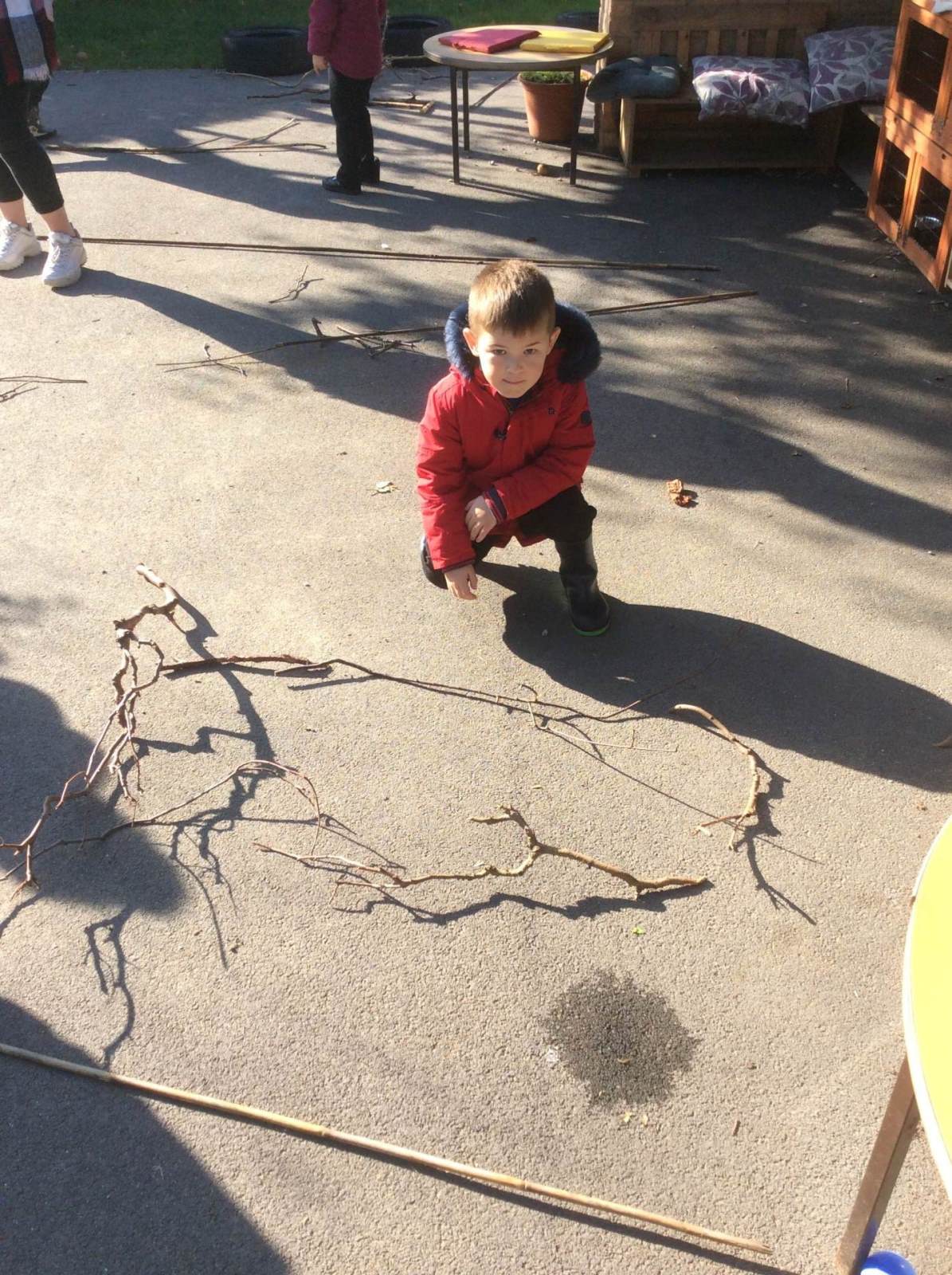 The children have been putting the finishing touches to their self portraits ready for our parent event on Wednesday 23rd October. If you are able to come along from 2pm it would be great to see you. It will allow the children to share their learning with you from Term 1 and also let them show you around the classroom, meet Fred Frog and learn more about our gem powers.
Another wet week doesn't stop the learning! The children will continue to access both indoor and outdoor activities whatever the weather. This will enable them to have different experiences and be able to talk about some of the things they have observed, looking closely at similarities, differences, patterns and change in the world around them. If you don't yet have any wellies in school it would be helpful if you could bring some in ready for Term 2.
Starfish Class were invited to Westbury Junior School on Friday afternoon to watch The Bird Show. The children enjoyed watching this live performance and listened well to the story. This was based around our environment, how we should look after it, think about what we throw away and how to look after creatures. The performers used bird props made from recycled objects which the children now want to make back in class.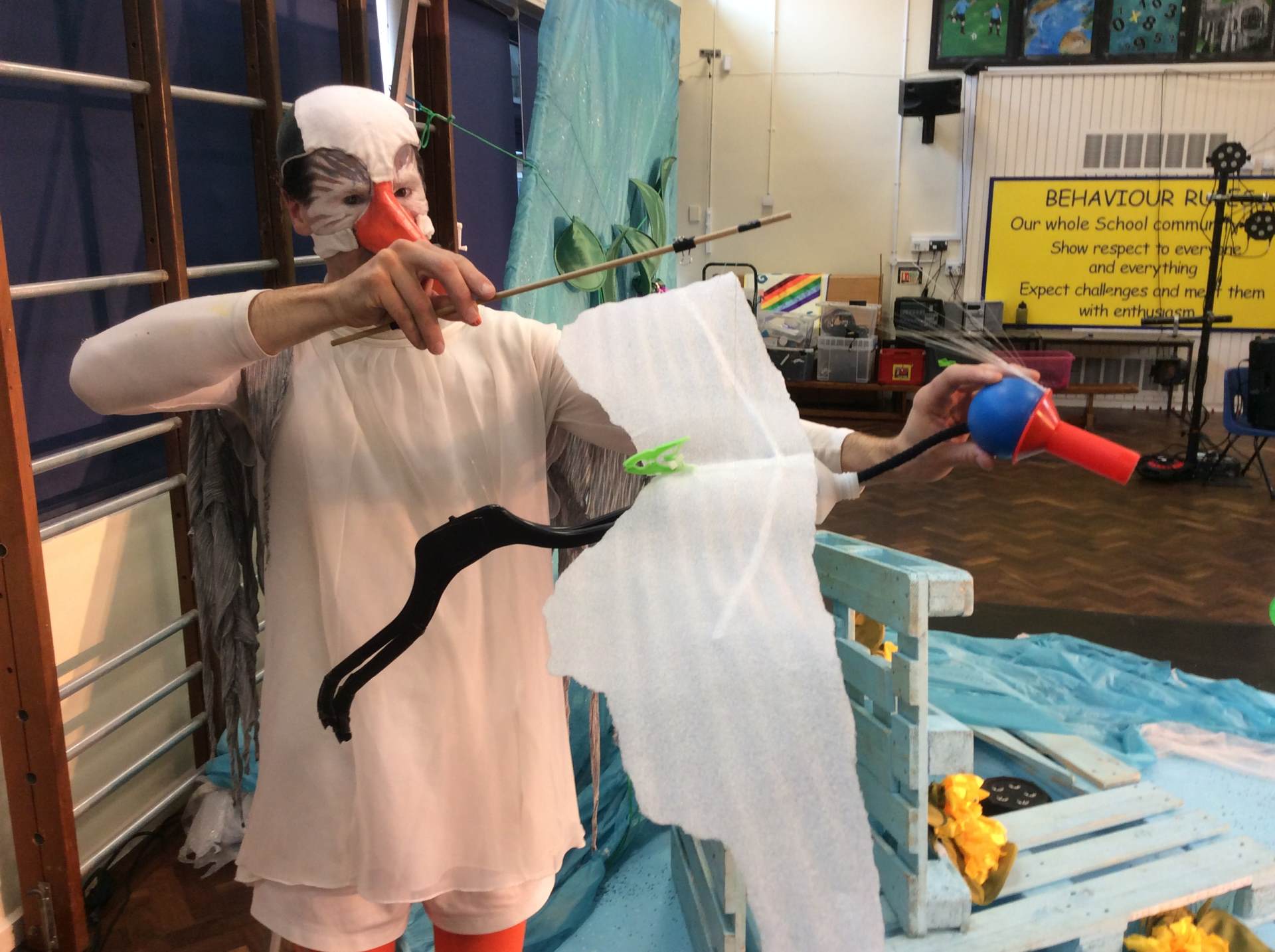 It was great to see that Starfish Class were the 'Reading Heroes' this week. Thank you to all who read with the children and for updating the reading records. They have all been trying really hard learning new sounds, writing the letters and orally blending the sounds to make a word. We have tried hard to look at the lips of the person stating the sounds. Those that do this regularly are picking up oral blending very quickly. If you would like to have a go at home that would be great. The children were introduced to our first 'special friends' sound this week. Special friends are two letters that make one sound. The 19 sounds taught so far are: m, a, s, d, t, i, n, p, g, o, c, k, u, b, f, e, l, h and sh.
September 2019
This week we have been reinforcing class rules and showing that we can and should have super manners at all times. The children have been introduced to further learning 'gems'. These aim to develop their ability to 'stick with it' when they encounter problems, solve their own problems and encourage their friends. The gems can be gained at any point during the school day and are counted up at the end of each week. If they gain more than the teachers they receive an additional treat. Winning 84-60, Starfish Class had extra time on our adventure playground where they showed off their climbing and balancing skills.
The children had a great day in Bath on our first trip of the year. We visited Henrietta Park to have an early lunch, climb a tree and roll down slopes before walking back to the Victoria Art gallery. On the way we watched the climate change protest which was full of children, banners, chanting and music. At the gallery the children looked closely at the portraits, answering questions about each one, with some having the chance to dress up. Starfish class then had a go at their own self portraits which will be on display in class soon. Thank you to our parent helpers, without you the trip would not take place.
Starfish Class has two new school council members who now proudly wear their school council badges. You can find out more about the school council under the 'teaching and learning' tab on the website.
The childrens' first full week of school has allowed them to meet Fred the Frog in our Read, Write, Inc sessions. They have now been taught the first five sounds, m, a, s, d and t. The children have also had a great go at writing these letters in a variety of activities. We look forward to seeing photos of each family, the children have already been talking about themselves. It was very pleasing to see so many children reading. It is already obvious how much they all enjoy a story!
All the children have settled in well, getting used to the routines of school life. They have had an explanation of our behaviour system, how to earn special 'gems' and have been allocated a 'talk partner' which we will use at different times of the day. You will also find in book bags a reading record. Please would you record in these records each time your child reads to you at home. At first this will include making up a story based on the pictures in the books. Those children who read at home (and are read to) invariably make far greater progress than those that do not. If you have any questions, or wish to help out on our trip to Bath, please do come and see us. Below are a few photos of the children having their first school lunch.
2018-19
July 2019
It was wonderful to see so many grandparents visit the class and spend time with the children. The children thoroughly enjoyed sharing their amazing artwork and lighthouses . They also had a lovely time playing games and showing grans and grandads around the class. Thank you to all the grandparents for your positive comments about the children, class and the school. It is much appreciated.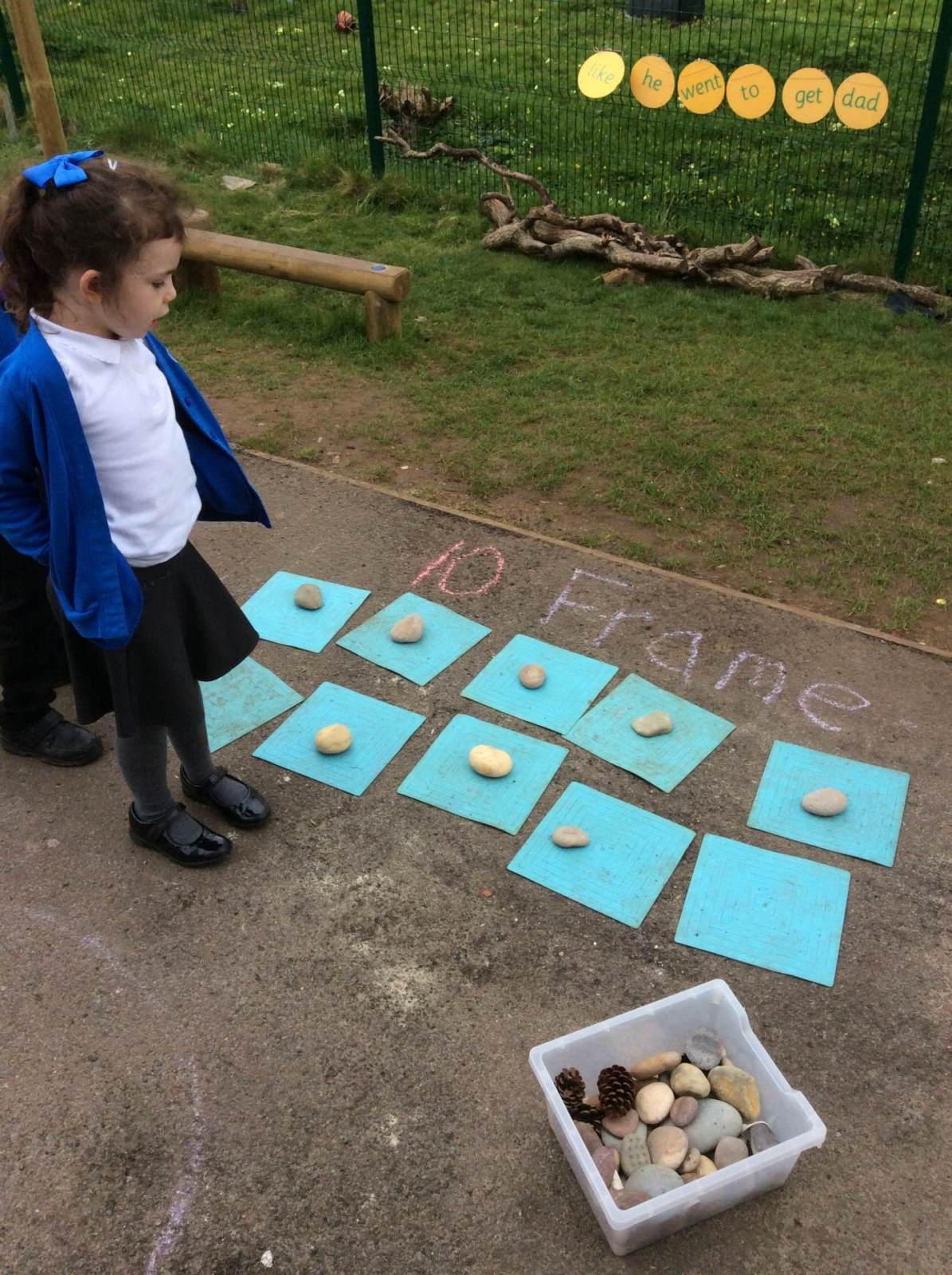 Today, we have been learning about the sculptor Andy Goldsworthy and how he made his art work outdoors using natural materials. We saw examples of his sculptures of icicles, twigs, pebbles, leaves, rocks and stones. We talked about why some of his sculptures had a black middle, the children decided that it looked like a black hole. As a class, we made a large version using sand and pebbles (ours had a black hole middle as well). Then the children made individual ones using smaller pebbles, shells and stones. We were very pleased with them and hope you enjoy looking at our efforts.
Yet another vistitor, Heather, from the Maritime and Coastguard Agency came to speak to the children about how they keep boats and people safe both at sea and along the coastline. The children asked and answered questions. They also watched some video clips of the coastguards in action.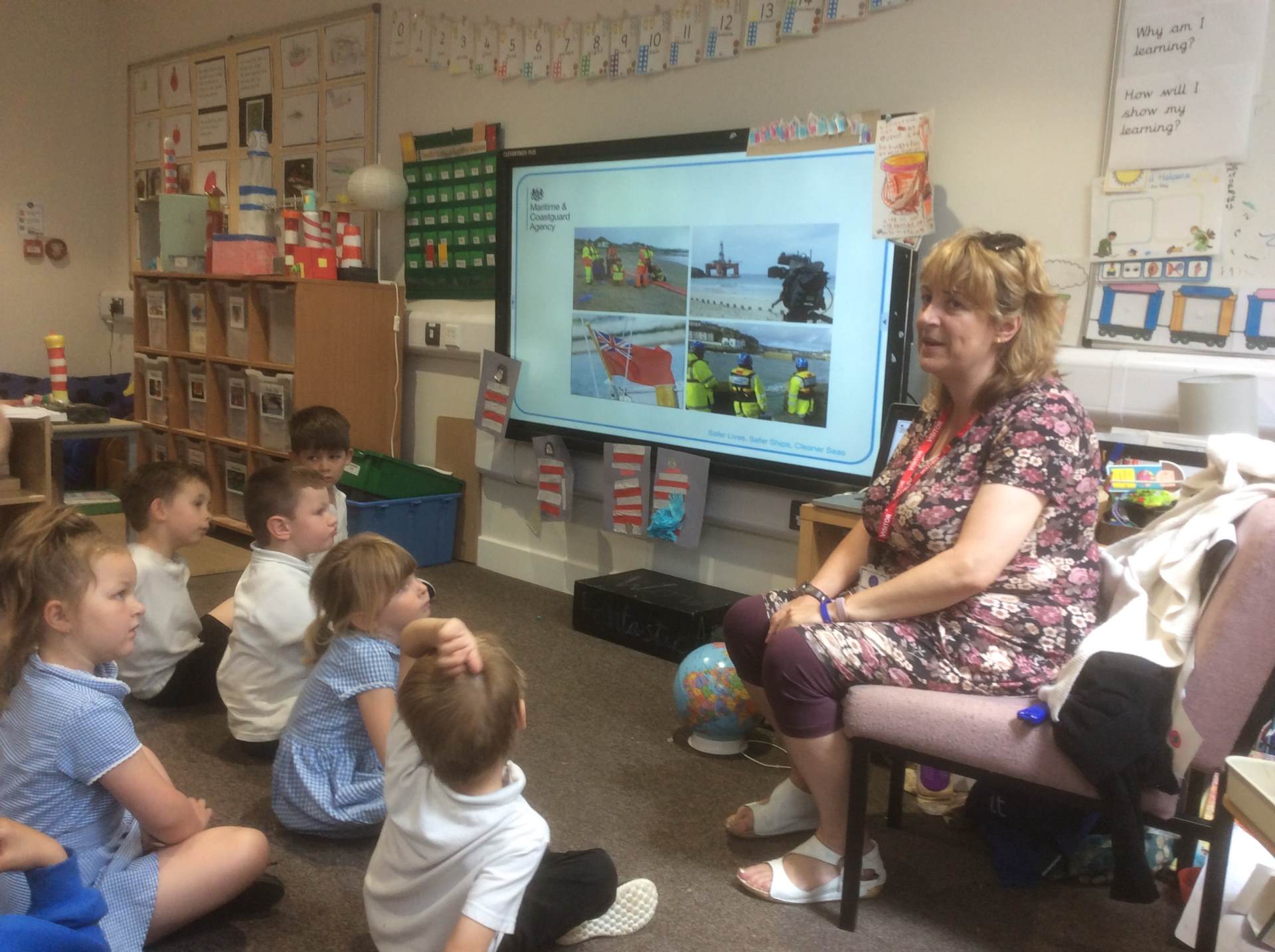 June 2019
The final lighthouse gallery! Just as with the castles earlier in the year, the lighthouses are amazing. All the children showed them off in 'good work' assembly on Friday.
It has been great to see the lighthouse home learning coming into school for the children to share. They have talked about how they made the lighthouses, fixed lights and what materials they have used. We look forward to seeing more this week!
Starfish class again won the gem challenge this week. Additional time was spent on either the adventure playground or playing games with the huge parachute.
We started the week with an obstacle course challenge in PE. The children had to move in different ways and also complete a variety of jumps, landing with control. The children then used ideas from this course to set up their own course outside the classroom, writing different instructions for friends to read and follow, at different points on the course.
Over the following few weeks the children will be completing artwork based on our trip to Boscombe. They have started with a base wash and some have also gone on to build up other features of the seaside to create a textured piece of art. These will be ready in time for grandparents afternoon next month.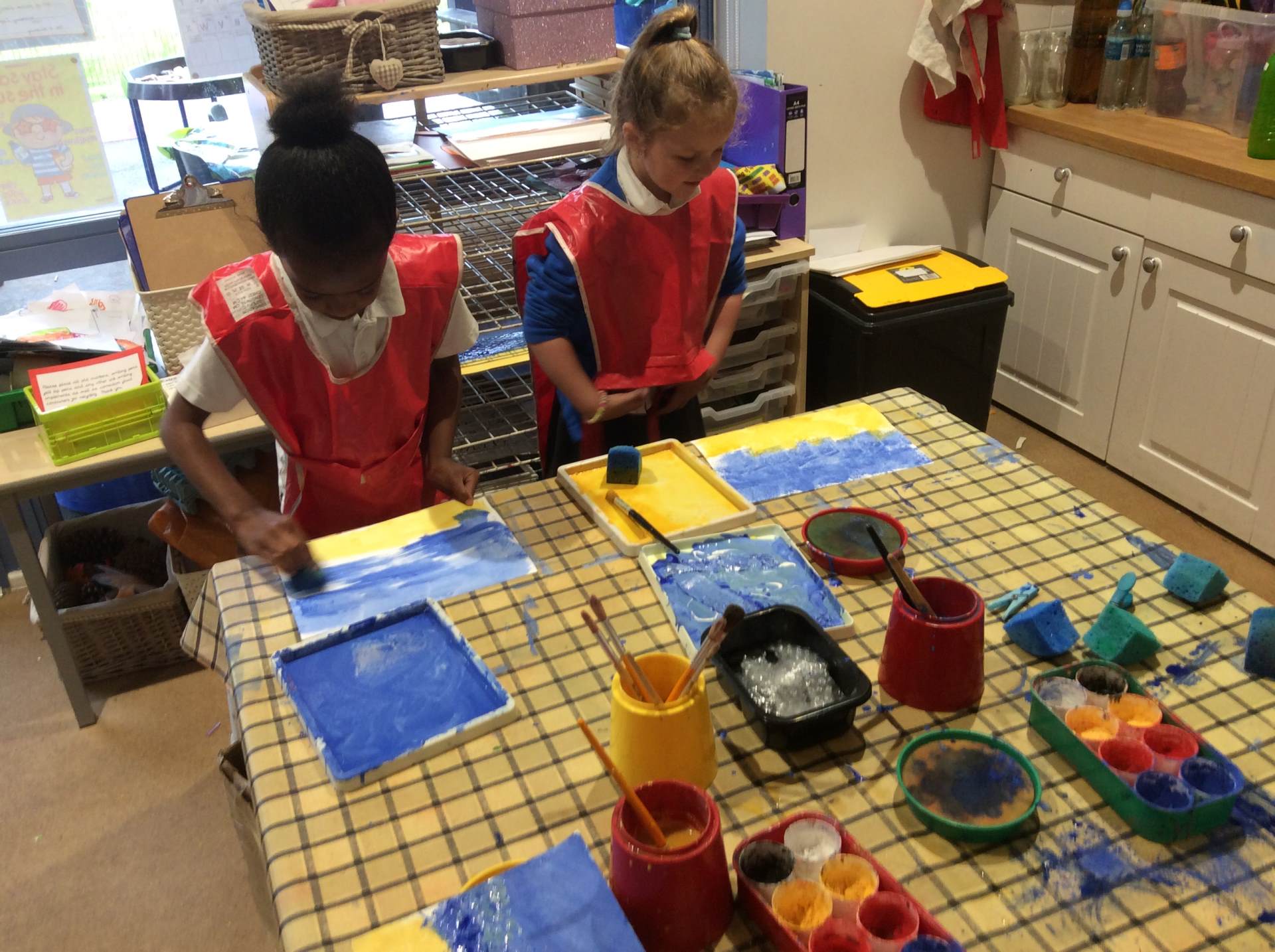 Our new topic is 'Oh, I do like to be beside the seaside!' so we set off to Boscombe beach in the pouring rain! The coaches had 'Sunseekers' written on the side and within minutes of reaching the coast the sun made a very welcome appearance. The children had great fun paddling in the sea, building sandcastles, playing games, blowing bubbles and nearly taking off with our enormous parachute. They also had a talk from the RNLI lifeguards about how to keep safe at the seaside. A great day made possible by all our helpers.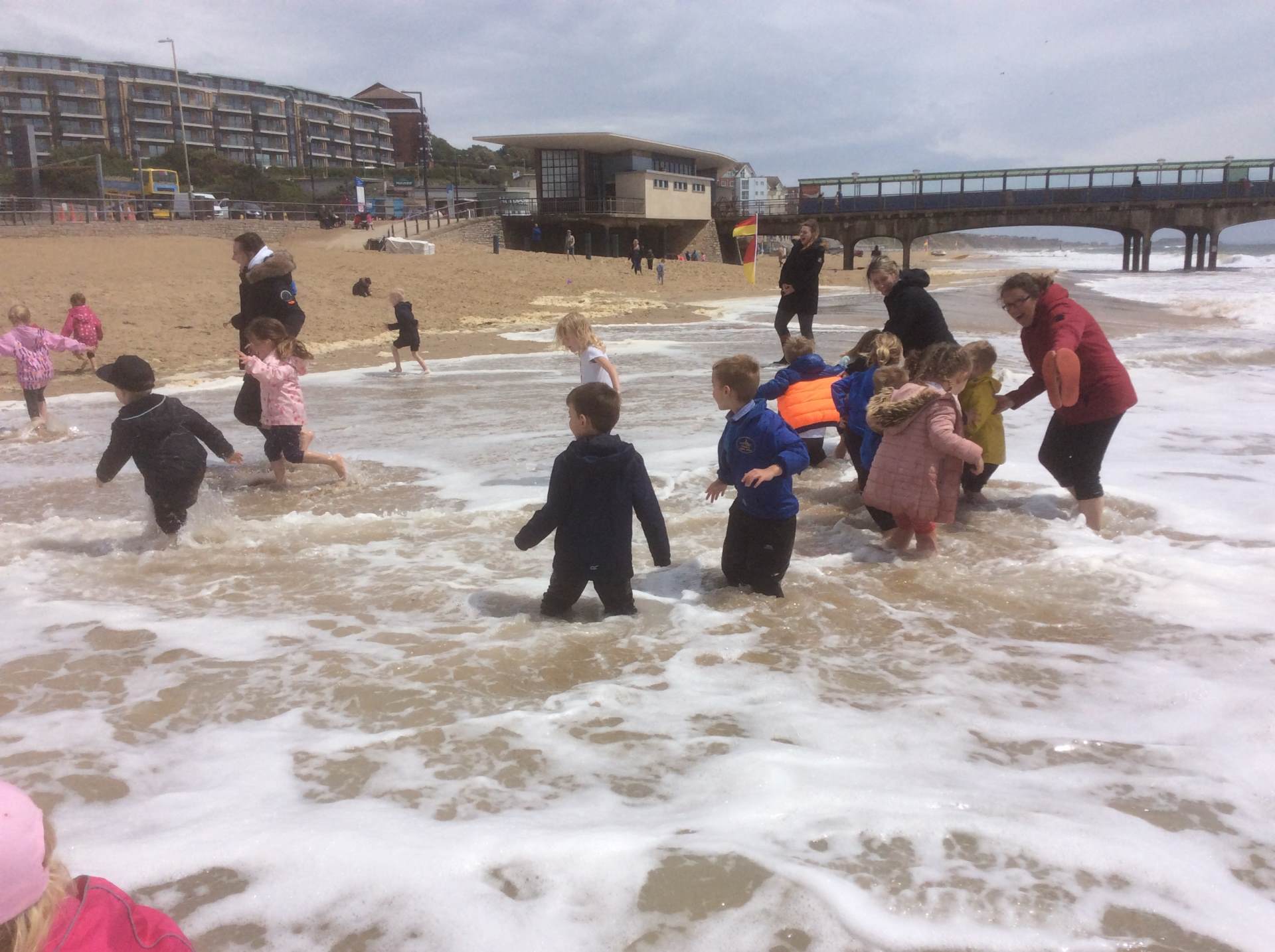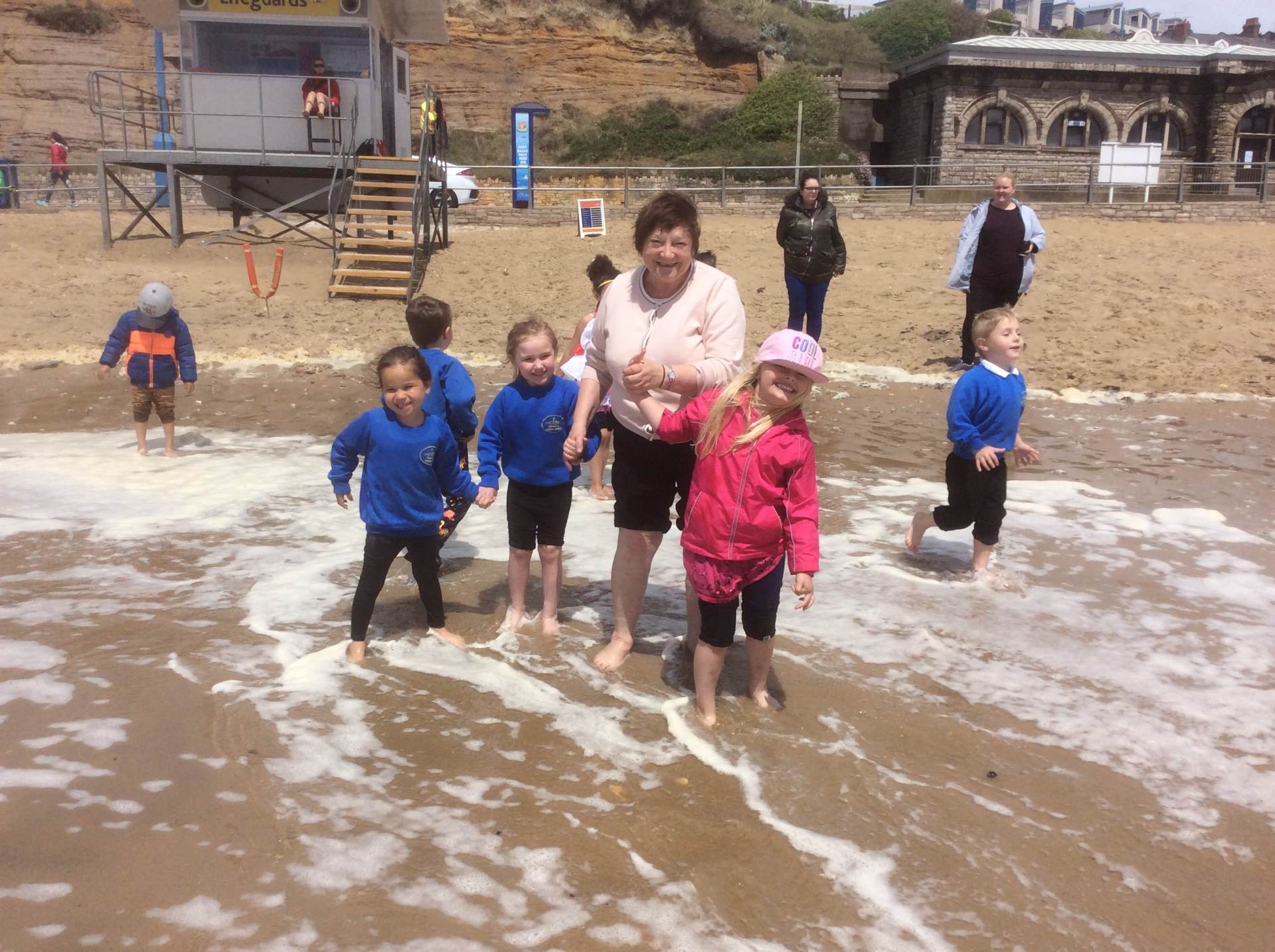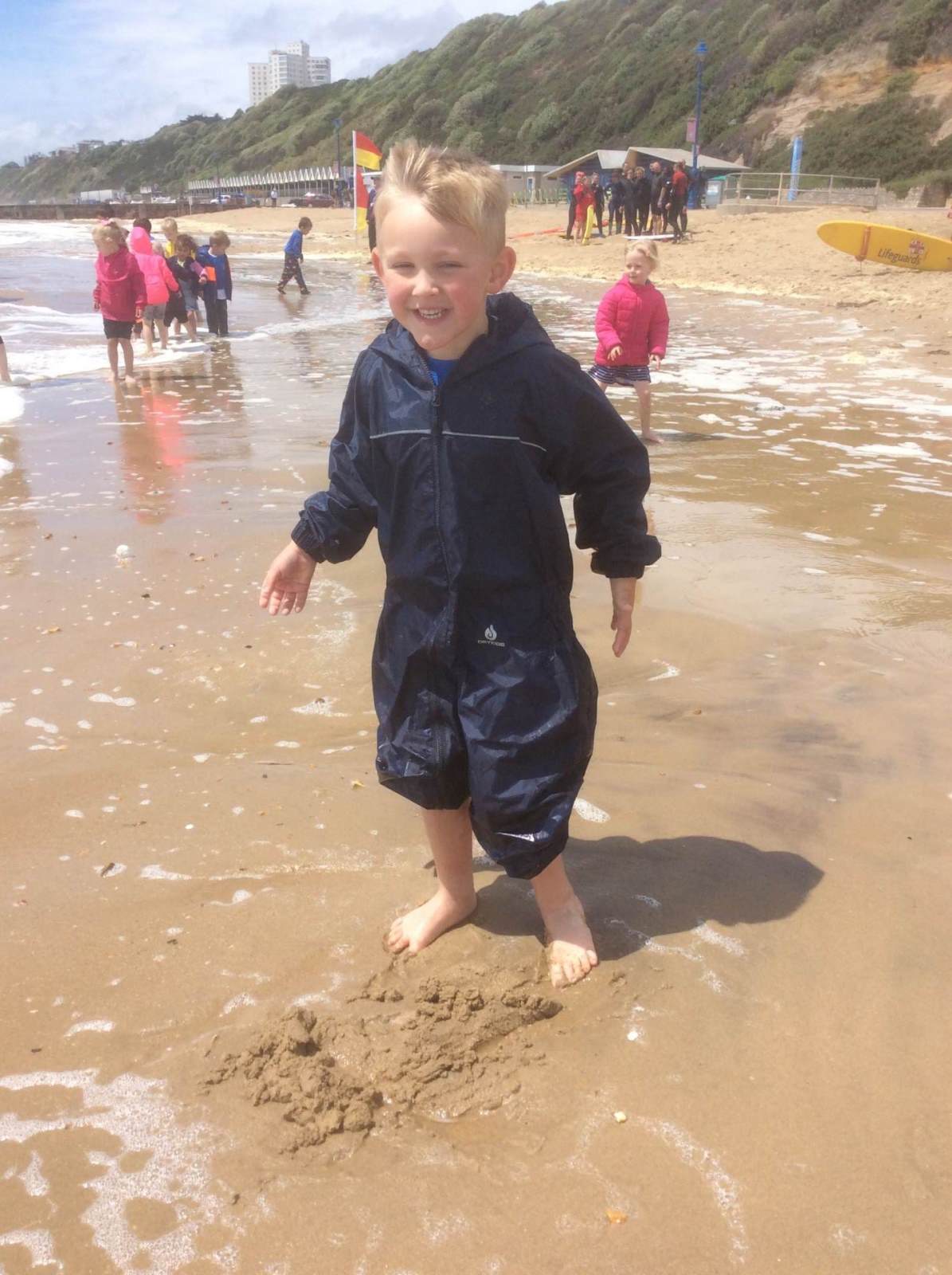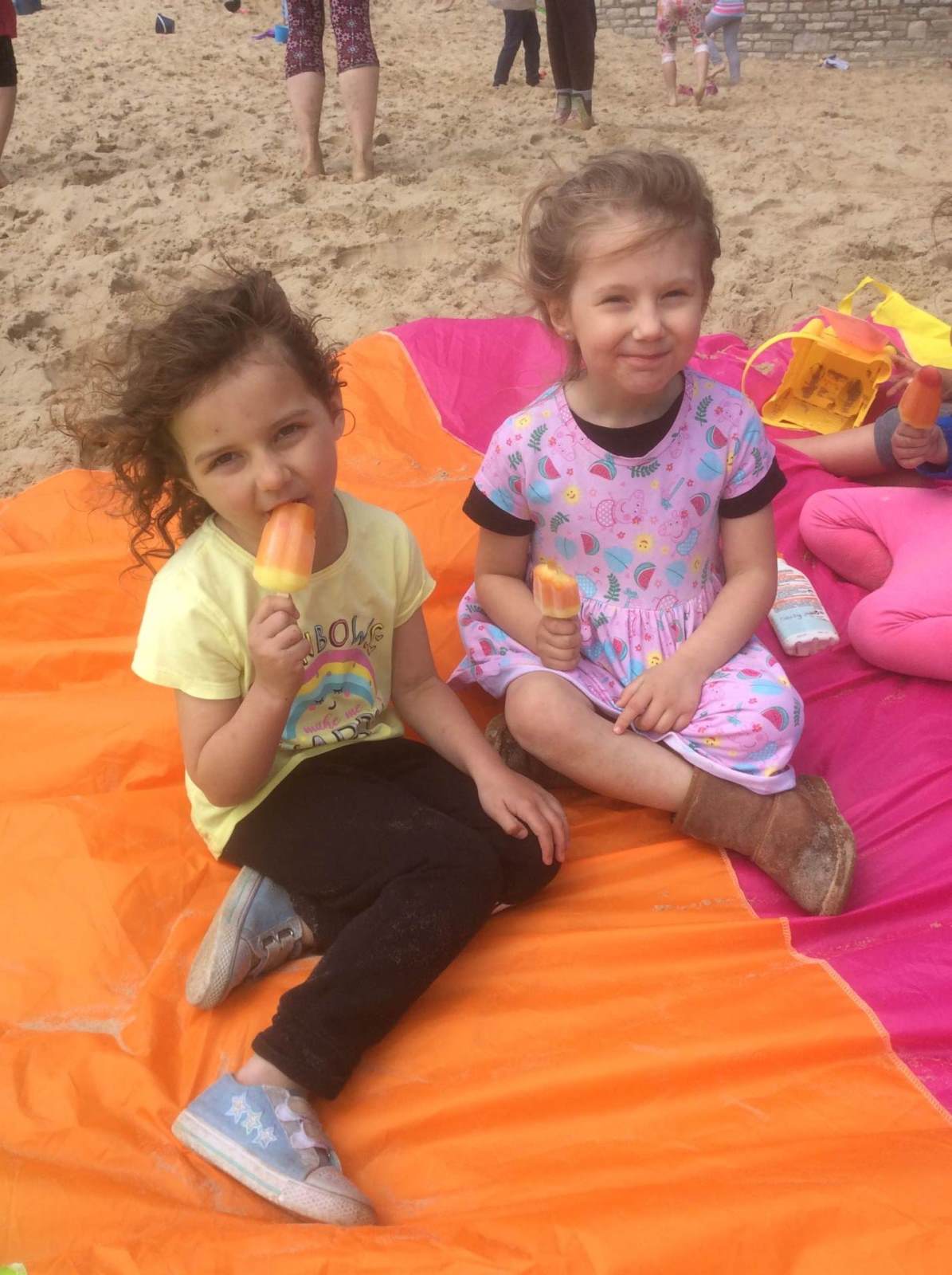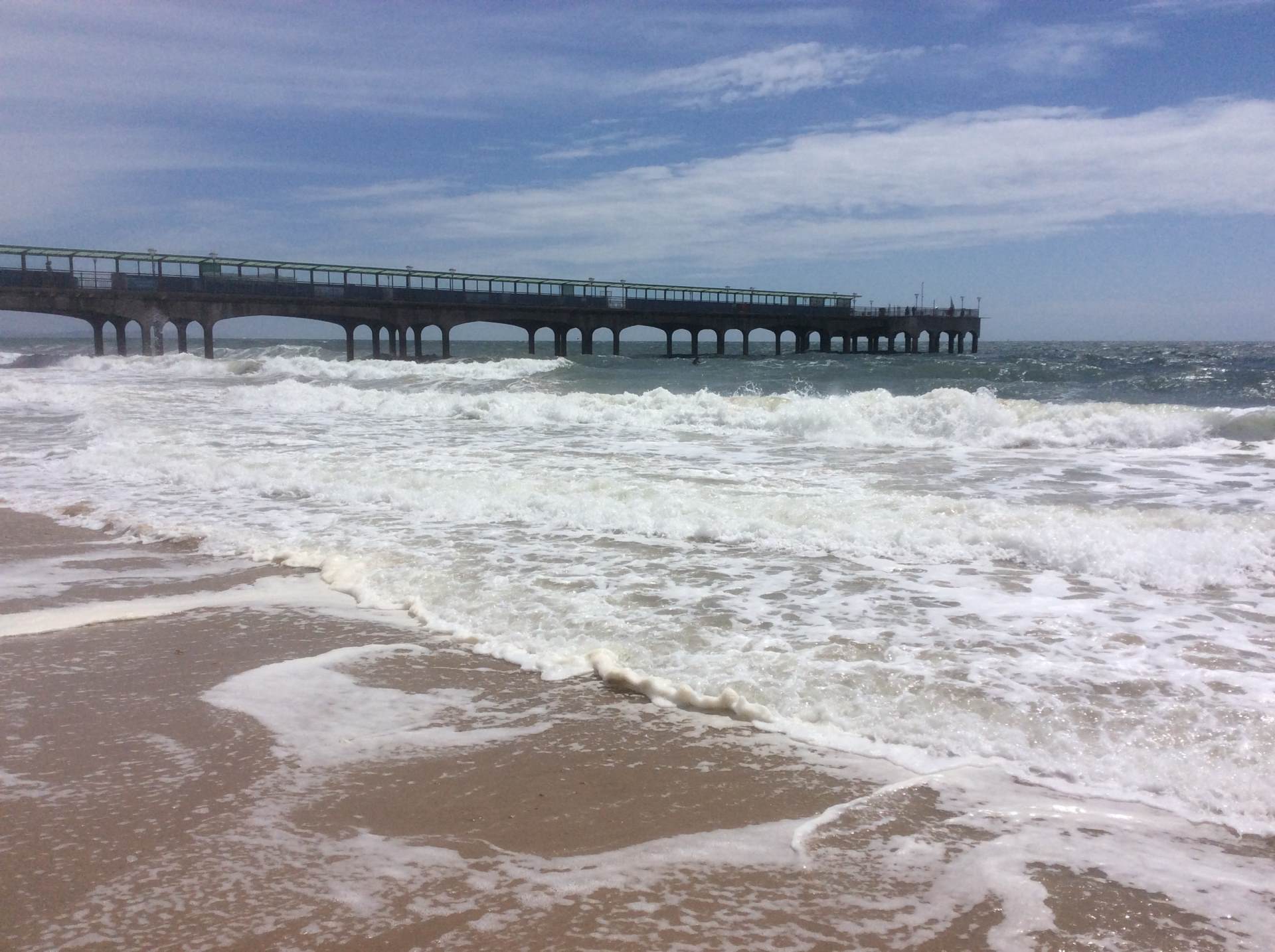 May 2019
We have been looking at 3D shapes and the different shaped faces they have. The children have also investigated the different properties of the shapes and had a great go at making some using straws and plasticine.
Starfish Class been reading Eric Carle's 'The Very Hungry Caterpillar'. We have looked at the different foods the caterpillar ate and talked about which ones were healthy. The children have also completed some writing about the story.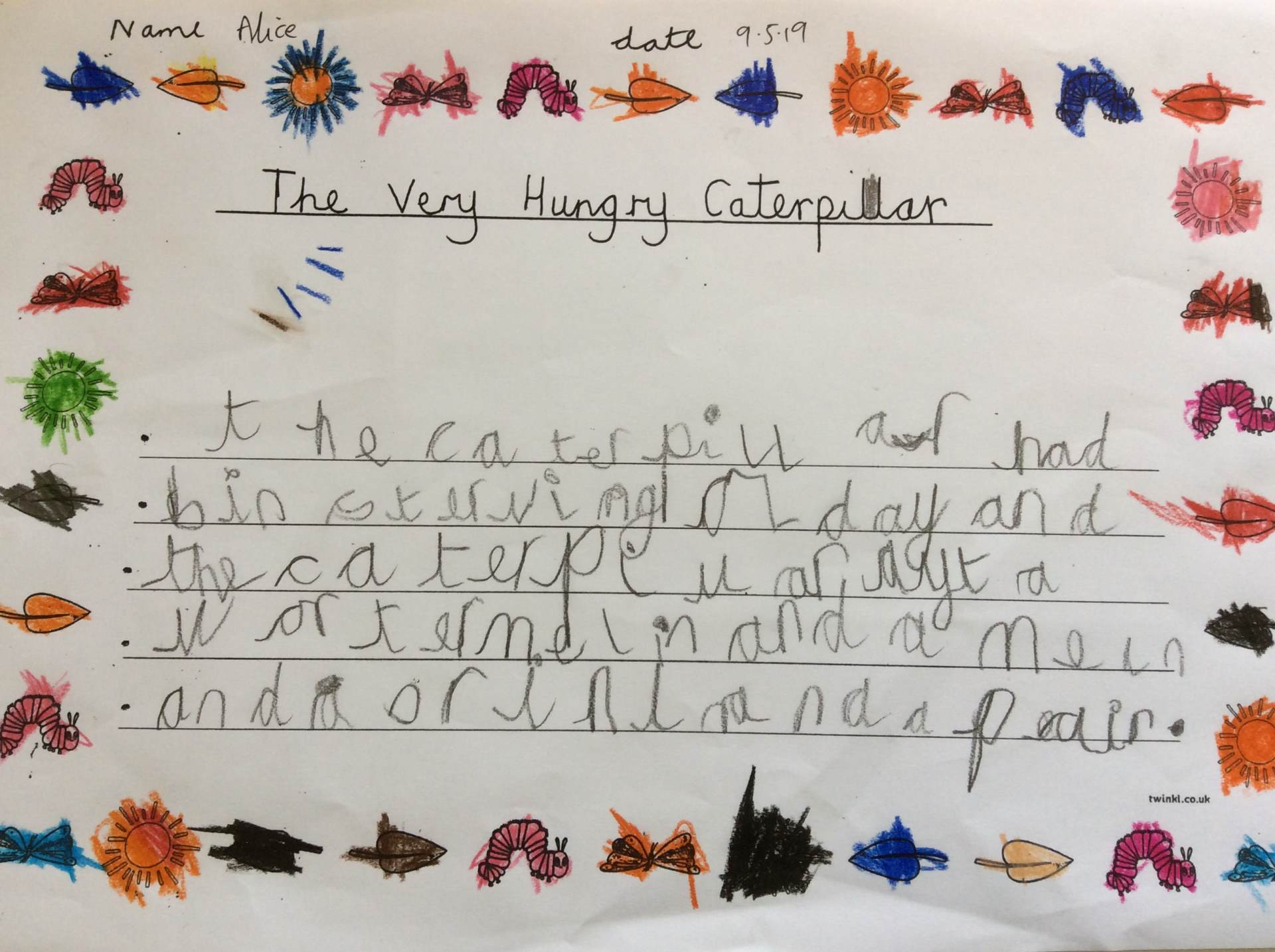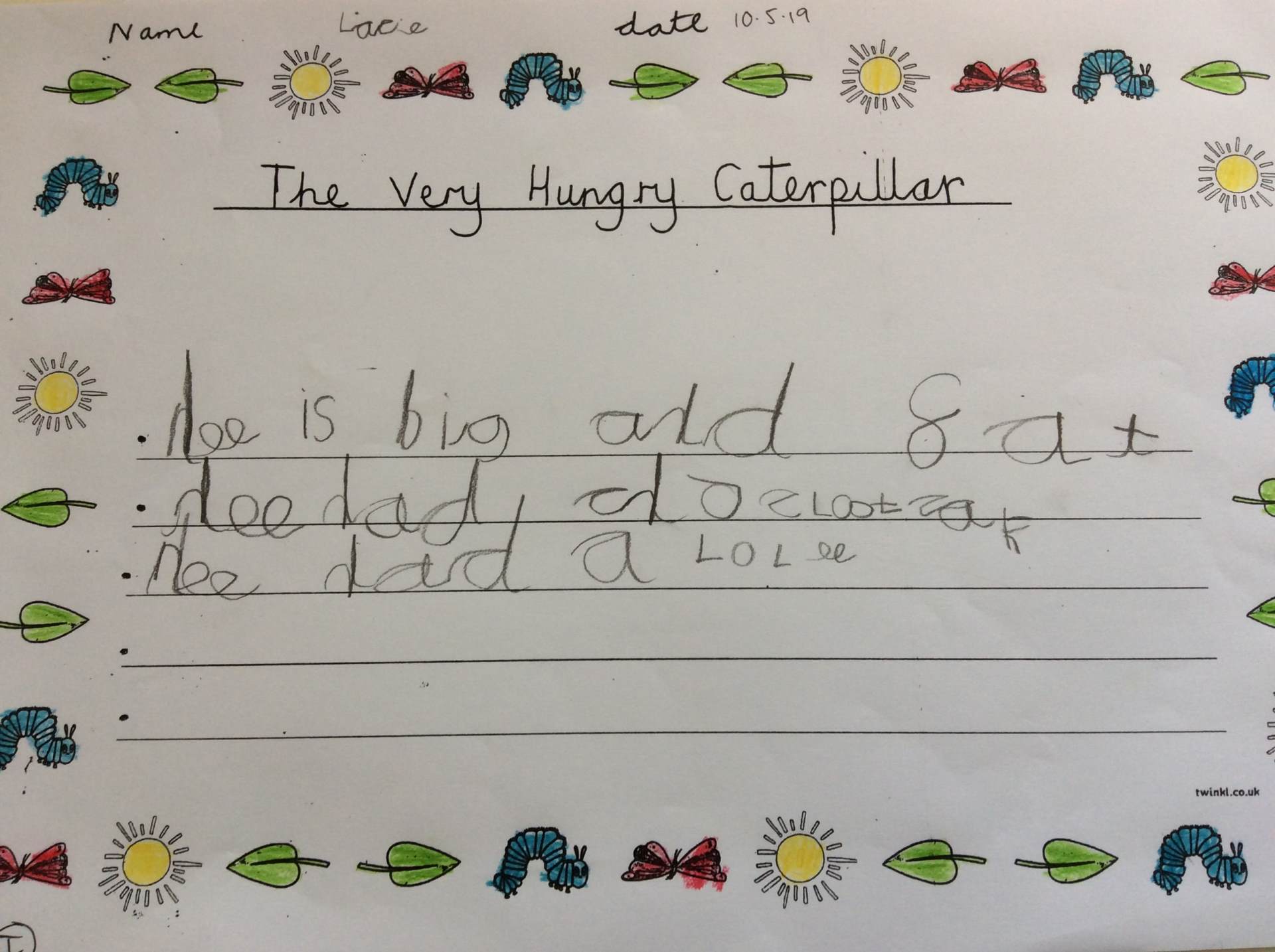 The children listened and smiled brilliantly at our class photo shoot. We look forward to seeing the final result shortly!
Sam from NSPCC came back into school this week for a follow up assembly and to collect the money the children had raised. Starfish Class won a certificate for the greatest amount of children to return their sponsor money. Thank you to our different 'Chief Daily Naggers' who made sure we didn't forget! The school raised over £1200!
Our art this term is based on Vincent Van Gogh's painting 'Still Life with Mackerels, Lemons and Tomatoes'. The children have started by looking in detail at some Mackerel and Sea Bass from the fishmonger and sketching them. This then helped the children when using pastels.
April 2019
Our new topic is 'Food Glorious Food' and we have already written shopping lists, talked about healthy foods, been shopping and made mini pizzas and fruit salads. The children walked up to Aldi and behaved excellently as we walked around the shop and bought a selection of goods to use at school later in the day. Thank you to all the adults who helped with this trip, it would not be possible to give the children these experiences without you.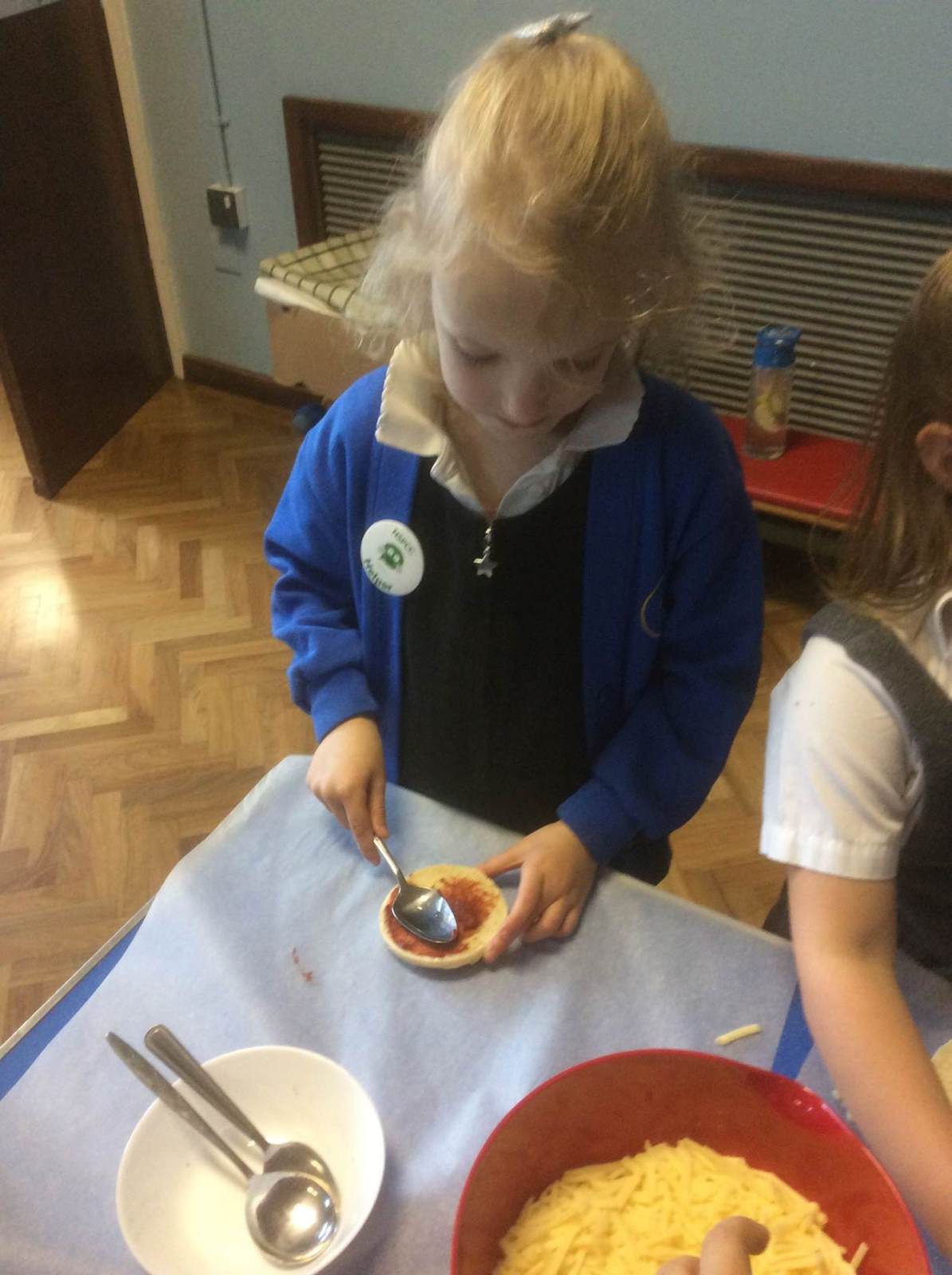 The Easter bunny visited the school and kindly gave each child a delicious Easter egg. They had designed different patterns on their eggs which the Easter bunny hid in the hall for the children to find.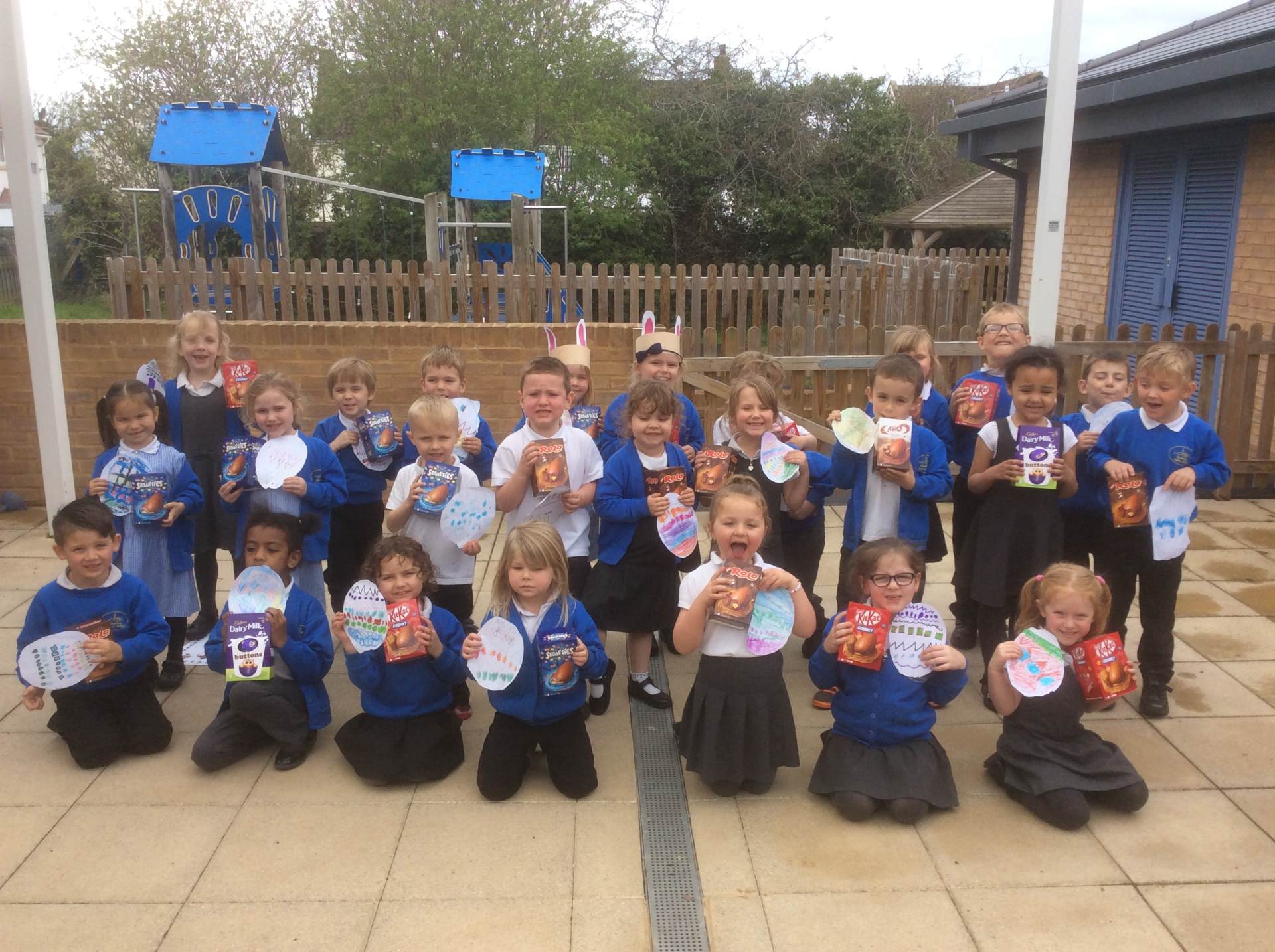 Just a few of the brilliant decorated eggs that Starfish class entered for the competition.
It was lovely to see so many parents come to our end of term parent event. The children made some super puppets of members of their family and also had a chance to beat the adults in a number of different games.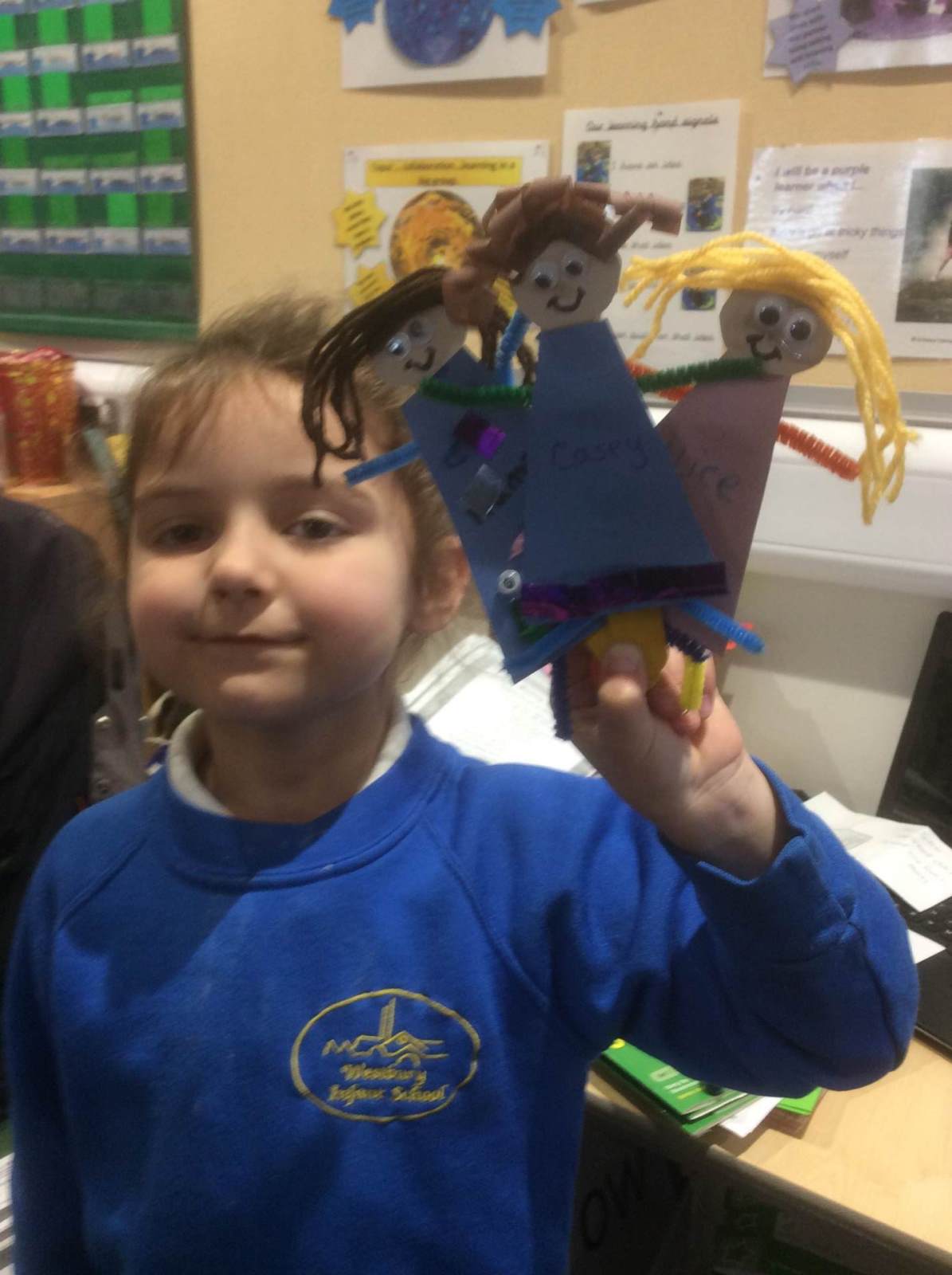 March 2019
Our final batch of Sock Puppet videos have been completed, all the children had a go using the app, some were very keen to record their own puppet show, some were a little shy but everyone enjoyed moving the characters, choosing the scenery and changing their voices. This topic has been excellent at encouraging the children to retell familiar stories or to make up their own versions. They can often be hear saying these stories in the role play area (which is a puppet show) as well.
The children enjoyed our visit to the Egg Theatre to watch 'How To Catch A Star'. They have talked about the performance, what they liked best and also how it was slightly different to the story. Some of the children have used their writing skills to write a sentence about the story.
The busy month concluded with our special assembly. We do hope you enjoyed reading their writing about why mums are special along with the singing, paintings, flowers and cards. I am sure the children will spoil you all on Sunday!
A few more super Sock Puppet videos from this week - the children are really trying hard to summarise their story telling - with great results! Well done, Starfish!
Every Tuesday afternoon, Mrs Newbury teaches music and computing. This term we are making puppet show videos using a lovely app called Sock Puppets. Here are a few of the videos we have made so far, more will be put here on the blog as we complete them. The children have loved the way the app changes their voices into different characters and that they can choose the puppets they use as well as the backgrounds and props.
The children have been working hard completing portraits of their mums. These will be shown in greater detail at our special assembly on 29th March. Below is a little taster of the super artwork - can you spot who these mums are?!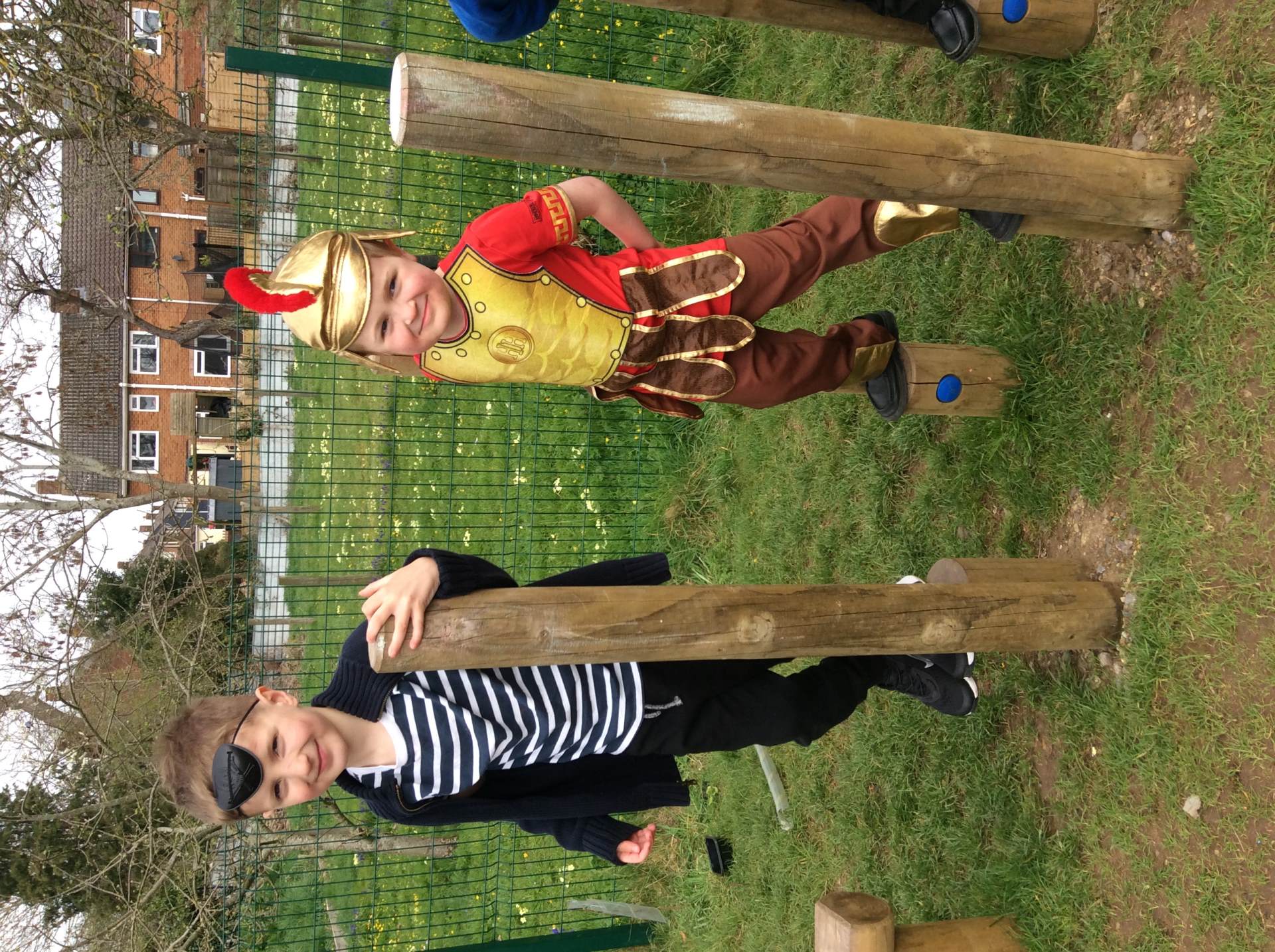 Becky from Salisbury Playhouse came into school to talk to the children about the theatre. She showed the children some different props used and some children dressed up in costumes worn by the actors and actresses. The children especially liked having the fake blood put on their hands, which some allowed to trickle down their arms.
The children enjoyed dressing up as a book character for World Book Day. The author Mike Brownlow visited the school and read some of his books. He also showed the children how to draw a robot using different 2D shapes!
It has been a pleasure seeing the progress that the children are making with their tricky red words. Your support in helping the children is essential if they are to continue making rapid progress. They continue to independently change their reading books. In Read, Write, Inc the children will be used to having the story read to them at first before reading the story a second time, being encouraged to sound out unfamiliar words or use picture clues, then a third time for fluency. They are also asked questions about each story. This method would also work very well at home. This term is a time when independence in writing really starts coming together. It has been lovely to see many bringing in writing from home and sharing it with the class.
February 2019
On the last day of term, the children enjoyed a less crowded opportunity to visit our 'Around the World' exhibition. Thank you to all those who attended and for your support in the home learning aspects of your child's education.
On Tuesday afternoons, Mrs Newbury teaches Starfish music, computing and art. This term we have been learning about the children's book illustrator Quentin Blake. We took his story Angelica Sprocket's Pockets and illustrated a class book of our very own. Mrs Newbury showed the children how to use the iPad app Draw with Carl to draw pictures that went with the text from the original. We then used different colours, tools and textures to create our wonderful IT drawings which were then added to our class book to make a final version for our book corner. We are very proud of ourselves as our drawings look as good as Quentin Blake!
Starfish Class have been adding captions to go with their super home learning castle models. These, along with other work, can be seen at our Around the World exhibition which starts at 2pm on Thursday 14th February.
Two children have also made a castle with wooden blocks and the class have been working hard comparing lengths of different objects in our maths sessions as well as adding the final touches to our Scottish dance that was introduced to them at the start of term in our dance workshop.
January 2019
It has been lovely to see how the children continue to build relationships and work together. They earn different coloured 'gems' depending on which gem power they have been using. Ruby is for supporting others, Diamond is for solving their own problems, Emerald is for sticking with it, even when it gets tough, Sapphire is for keeping focus, Topaz is for learning in a big group and Amethyst is for cooperating with a partner, sharing and adding ideas. Below is a lovely example of Amethyst gem power where two members of Starfish Class worked for long time on this picture before adding some writing which included 'I am wearing a blue tee shirt'.
Starfish Class walked up to Westbury Library and listened to some stories read by the librarian. Their knowledge about the library was superb and it was very pleasing that the librarian noted some familiar faces. We have taken out a picture atlas of Great Britain and Ireland which we shall look at in greater detail next week.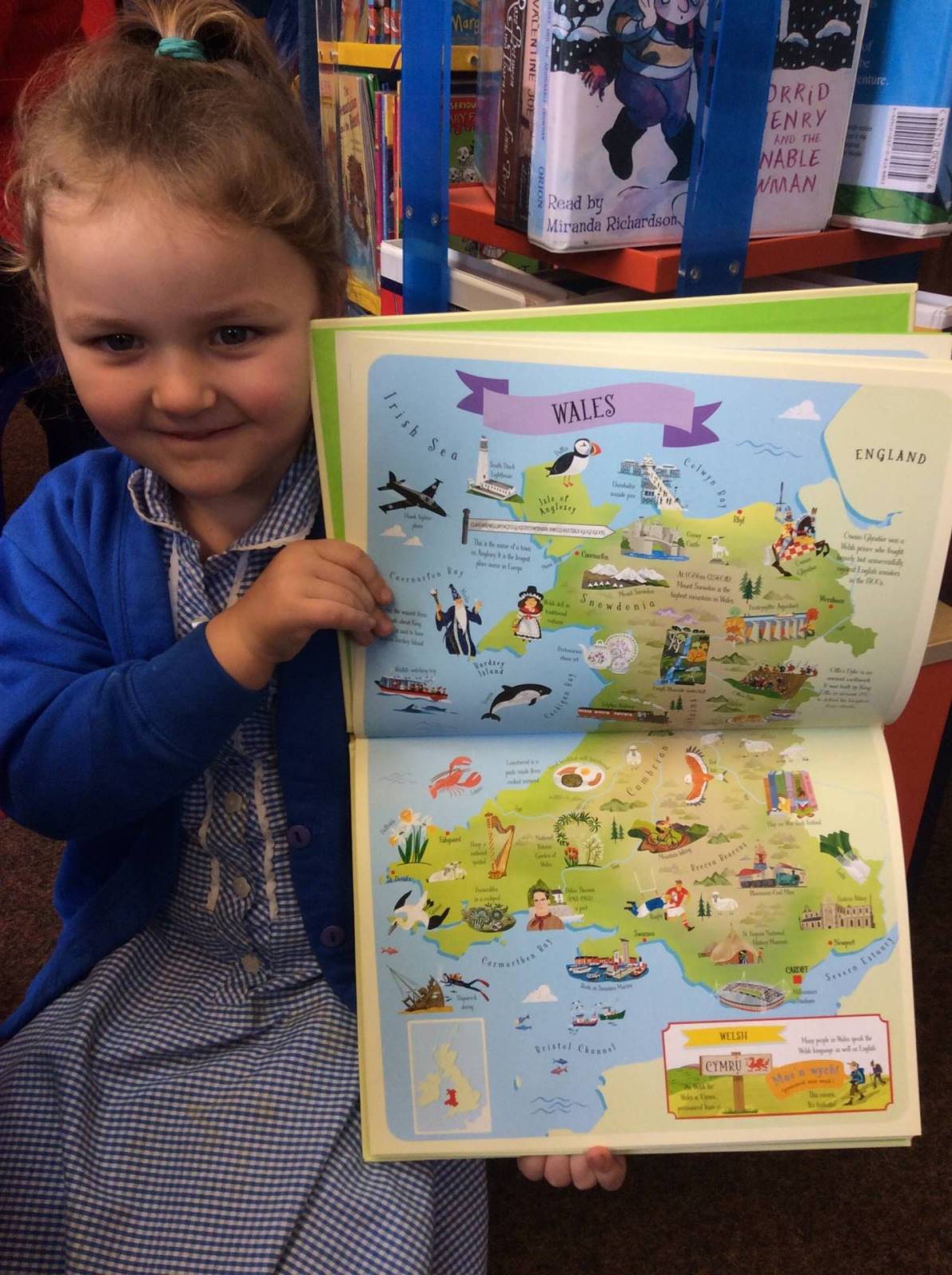 The children continue to work hard with their writing and are using skills taught in Read, Write, Inc at other times during the day. They use 'Fred Fingers' to help sound out words and use the sound mats when required. The children are also stating sentences before they begin to write and can build upon their ideas. Lacie, William and Riley's writing shows how they would get to different parts of Great Britain.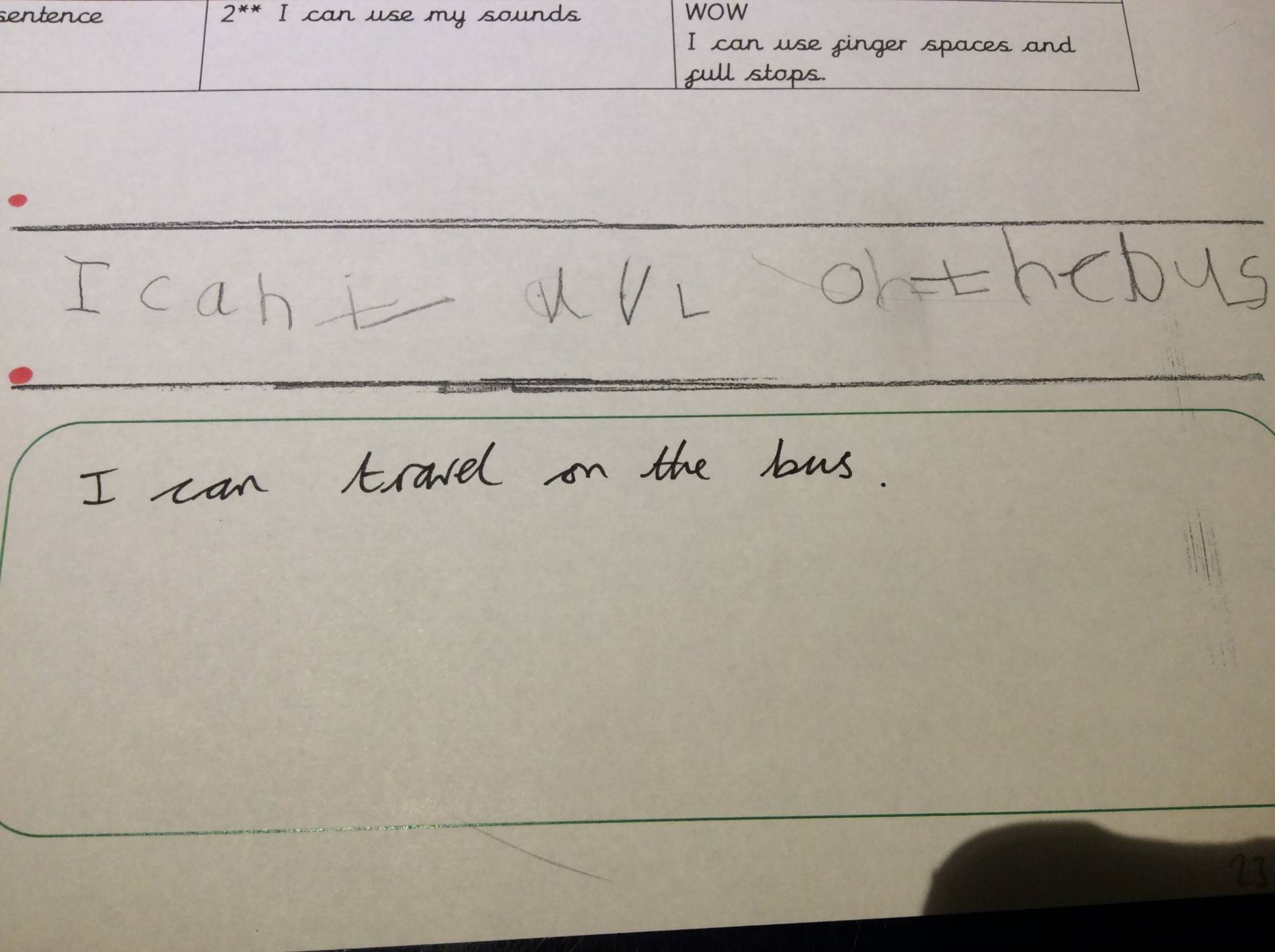 Starfish Class had a visitor all the way from Wales via Westbury Junior School. Mr Hatt kindly allowed Mrs Caldwell to come and speak to the class all about Wales. She taught the class how to say 'good morning' and 'good afternoon' in Welsh and they also tried hard to sing a song as well! The children looked at daffodils and leeks, the Welsh flag and were introduced to 'Jones the Steam' and 'Idris the Dragon' from Ivor the Engine. Dressing up in a traditional Welsh costume and a story in Welsh about caterpillars was also included in this informative session.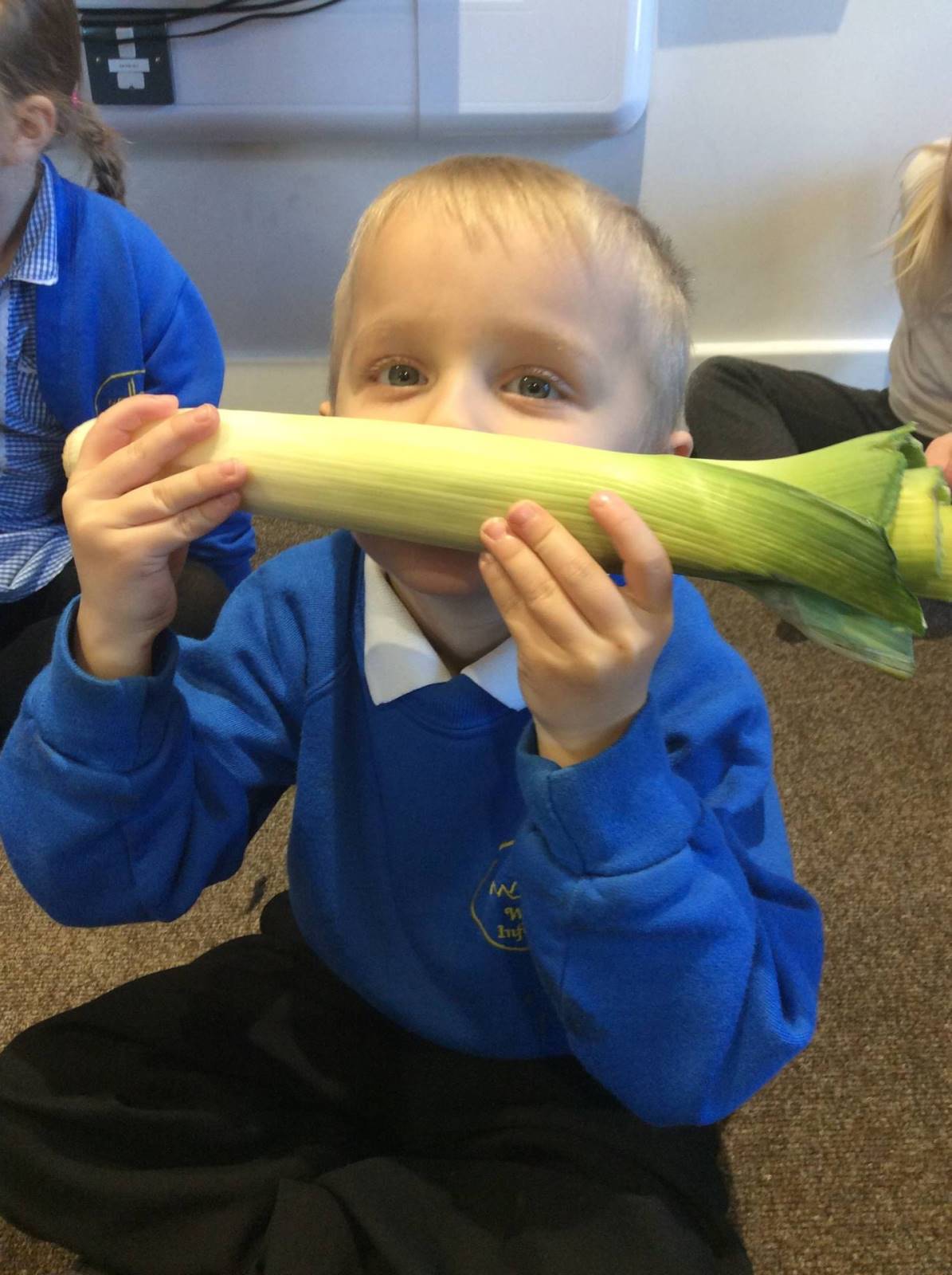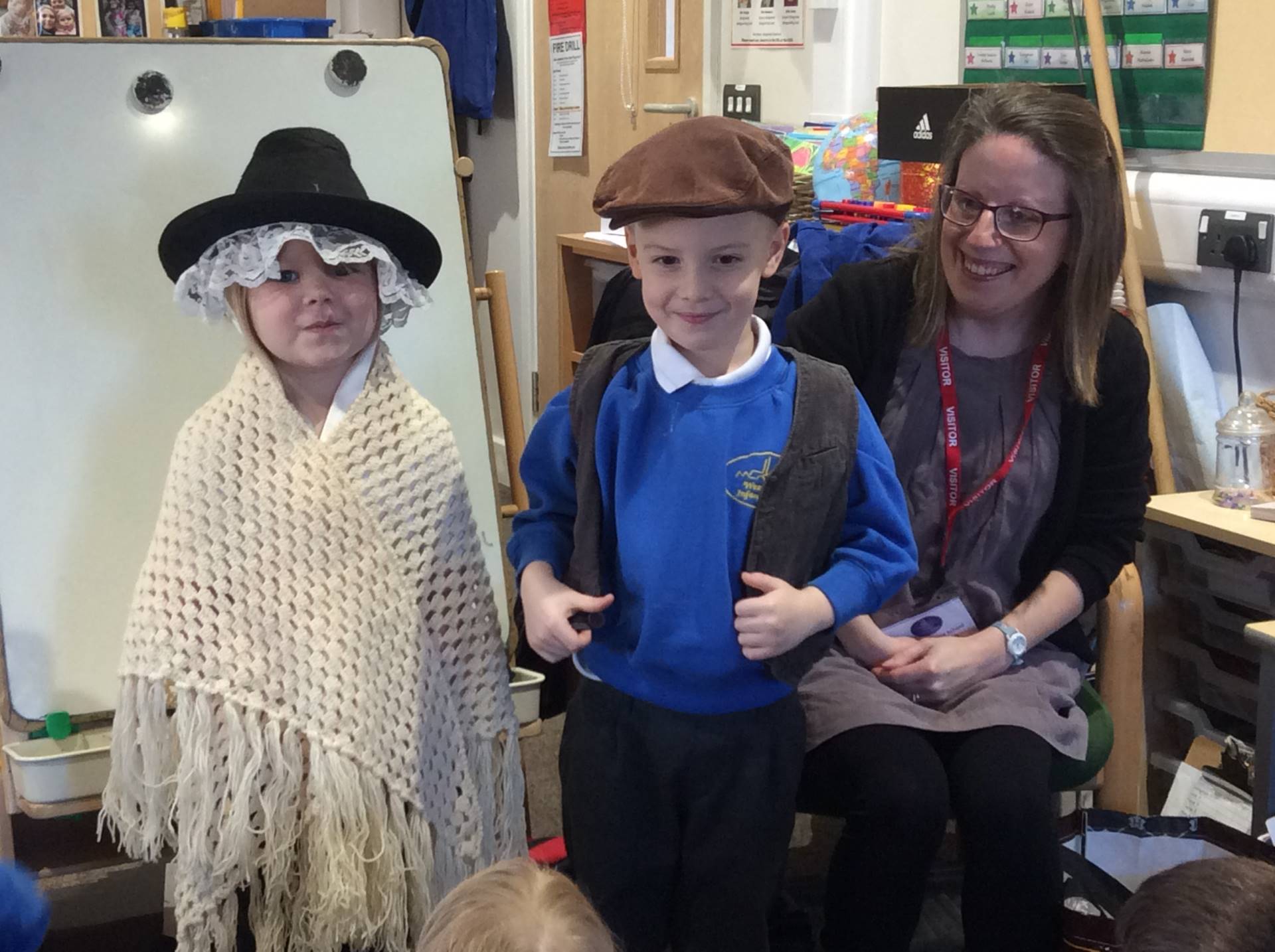 The children have had great fun throwing two bean bags at our targets. They decided on the scores for each target and then they have been counting on to find their totals.
Our new 'Castle' role play has been used a great deal. The children have been making stories and performing them to their friends.
The new mini adventure trail has been unwrapped and already the children have been designing courses and trying them out. They have been exploring different ways of moving along the course and have encouraged each other when it got a little tricky!
December 2018
Starfish Class have had a visitor this month. An elf, who the children named 'Marshmallow', has been leaving them letters each day with a variety of challenges. Marshmallow has been a little mischievous and hid from the class on one morning, leaving the children to follow the clues left. Marshmallow was eventually found high up on the Christmas tree.
Our lucky winners of the super reader and super writer prizes. Each term the children work hard to earn raffle tickets to go in the end of term draw to win a prize. The greater the effort the better chance they have of winning!
The children have been enjoying using the new building materials that the school has invested in. They have worked together and listened to each other, taking on ideas and developing their negotiating skills!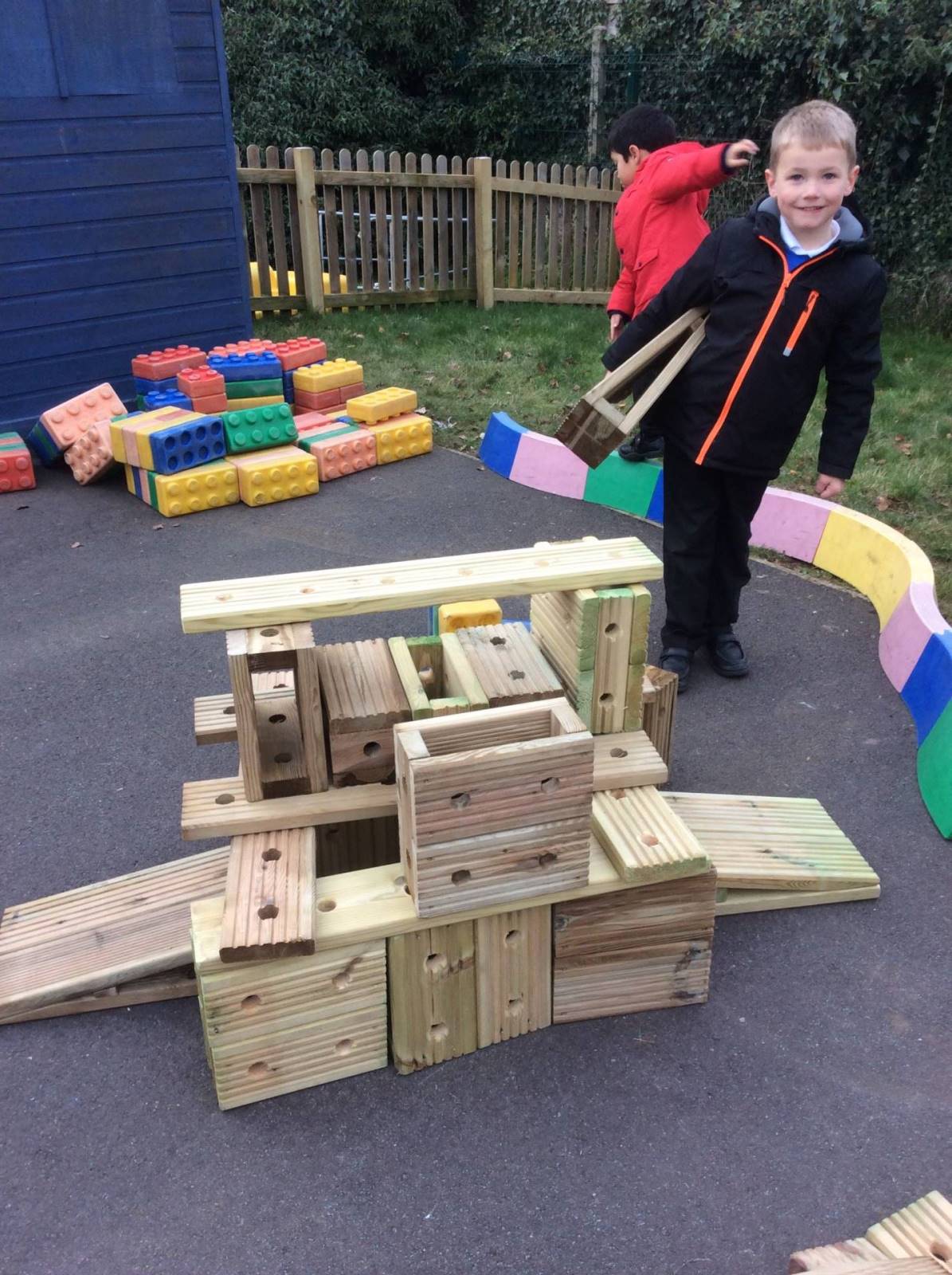 November 2018
We have been thinking about Remembrance Day this week watching 'Poppies' on CBeebies. This is a beautiful animation which follows a young rabbit through the poppy fields. You can view it on www.bbc.co.uk/cbeebies/watch/poppies
Our visit to Brokerswood was a great success. The children had great fun building dens. They showed super teamwork and perseverance in making two large dens that allowed the whole class to take cover from the elements. In the afternoon the children looked at some of the creatures that live in the woodland environment along with some that had been taken out of the nearby lake. The children also matched up fallen leaves with the trees they were originally on, before throwing some in the air trying hard to catch one!
Back in school the children have been writing lists of woodland animals. They have been trying hard to sound out the words using 'Fred Fingers' and used the Read, Write, Inc board if they needed reminding how to form the letters.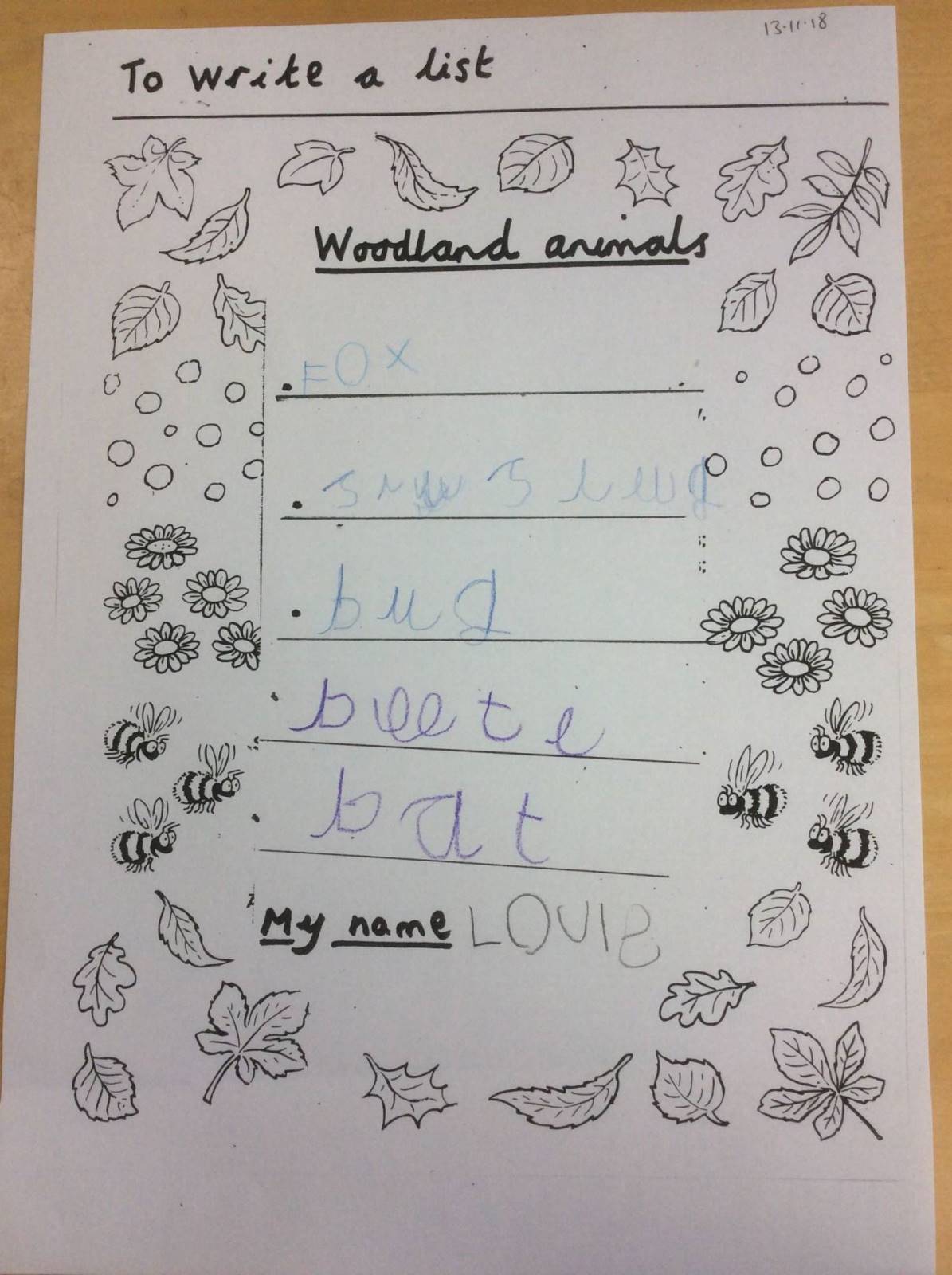 The children have been measuring leaves using cubes. They have been comparing them as well, using words such as shorter and longer. The children have also been ordering leaves by size along with the odd dinosaur!
On Thursday and Friday this week we welcomed staff from Bright Stars Pre-school and Daisy Chain Pre-school. The children were very excited meeting all the adults and showed them around the classroom. They also talked in detail about what they have been learning since starting school in September.
Thank you to all the parents who attended our Read, Write, Inc session this week. It was great to see so many of you there. The children enjoyed showing off how much they have learnt since September and how they use 'Fred fingers' and 'Fred in your head' when blending sounds. A repeat of this session is planned for this Wednesday (28th) where again we will finish off with a sounds bingo game, so if you couldn't make the first session, we hope you will be able to visit then.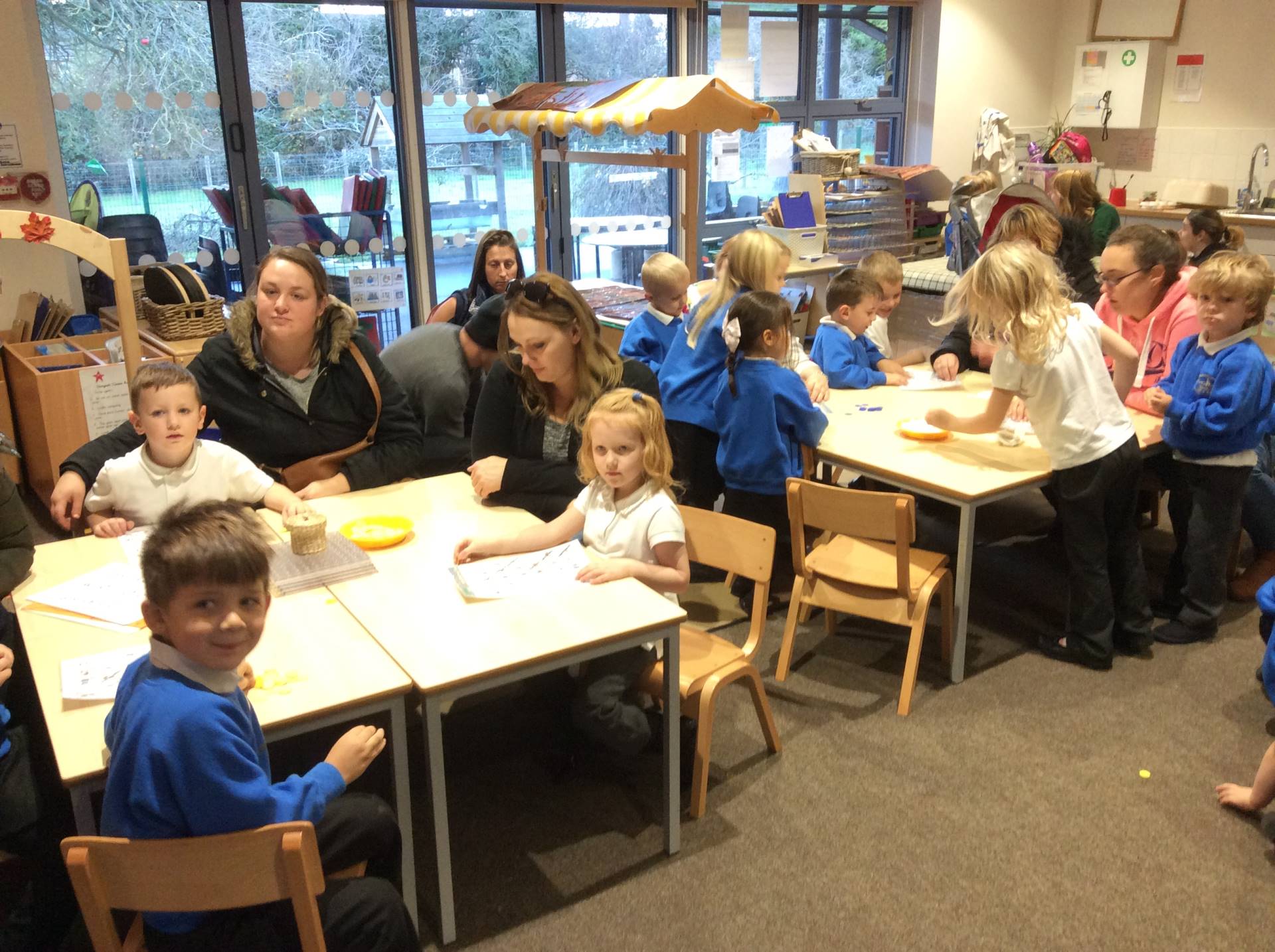 Throughout the term the children in both classes have been working on a piece of collaborative art based on David Hockney's Woldgate Woods. They started with a sponged wash for the sky and ground before adding on the trunks of the trees. Next they added painted leaves. Finally leaves and twigs collected from our trip to Brokerswood were carefully glued into place. The final artwork is on display in the hall for all to see.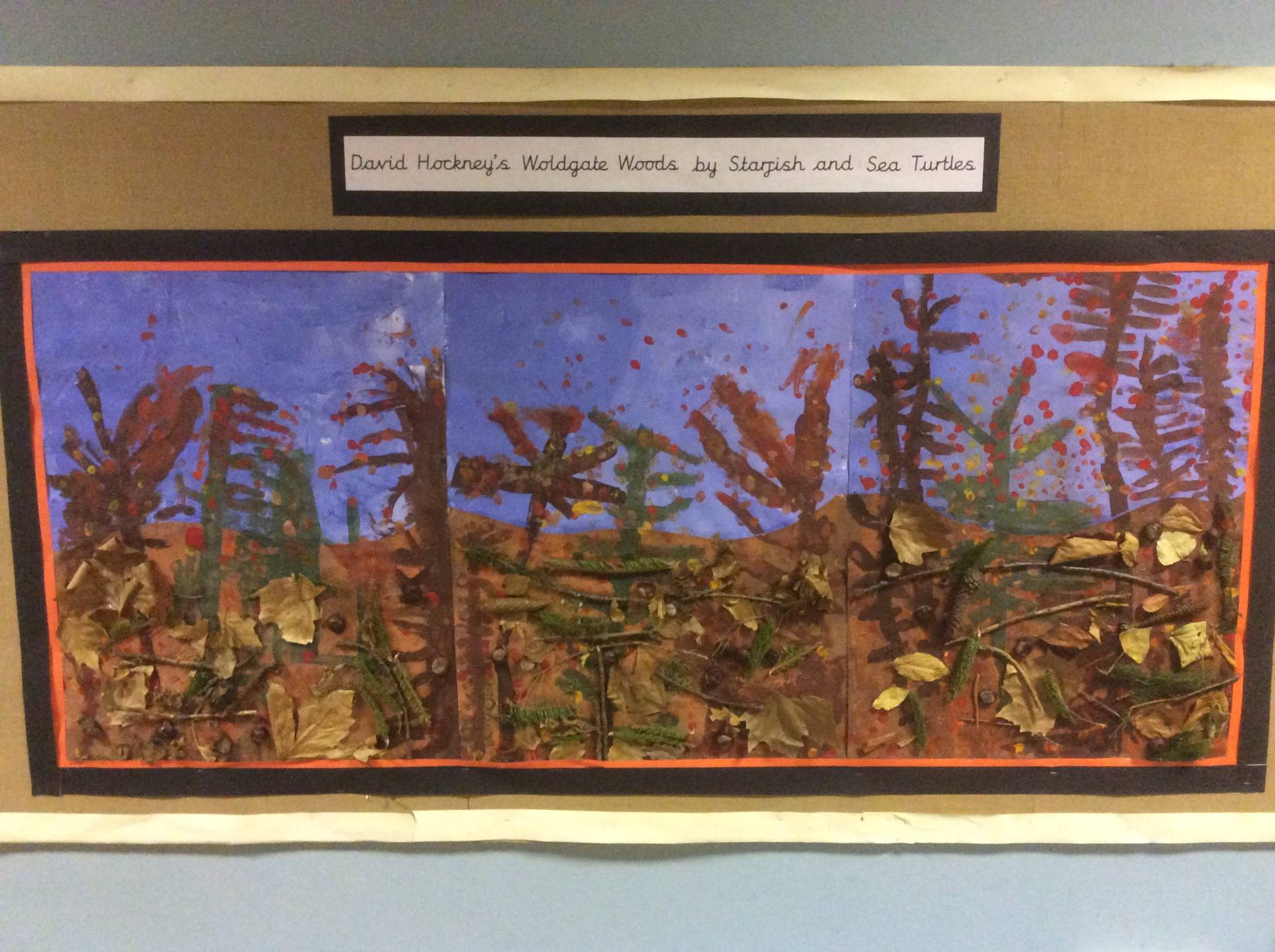 We finished the month with a visit from the Life Education Bus. The session was 'All About Me', where the children met Harold the giraffe. Harold was excited about going to his grandparents' house and the children helped him check he had everything in his bag, including items in his wash-bag. They also learnt about the functions of some major organs. Harold got the children joining in with some exercises after visiting the park. When he was at his grandparents' house he became a bit fed up so he called the Life Education Bus for ideas from Starfish Class to cheer him up. Harold finished with a song about being happy and healthy.
October 2018
A dental health nurse visited the class to talk to the children about how to clean their teeth to a high standard. They showed off their knowledge about what foods were good and bad for their teeth. All the children were given a sticker along with a new toothbrush and toothpaste. After the talk they went outside for a photoshoot for the Wiltshire Times where the children dazzled the camera with gorgeous smiles!
The children have been using their 'talk partners' in a variety of activities, including learning the key scientific skill of questioning. They are great at answering questions and although asking questions has been much trickier the children have not given up. They have been looking at the baby photos of themselves, asking questions about babies and thinking about what they can now do that they couldn't do a few years ago.
The children have visited our brand new library which was opened by Eileen Browne. She read some of her stories, including Handa's Surprise and showed them how to draw a chicken.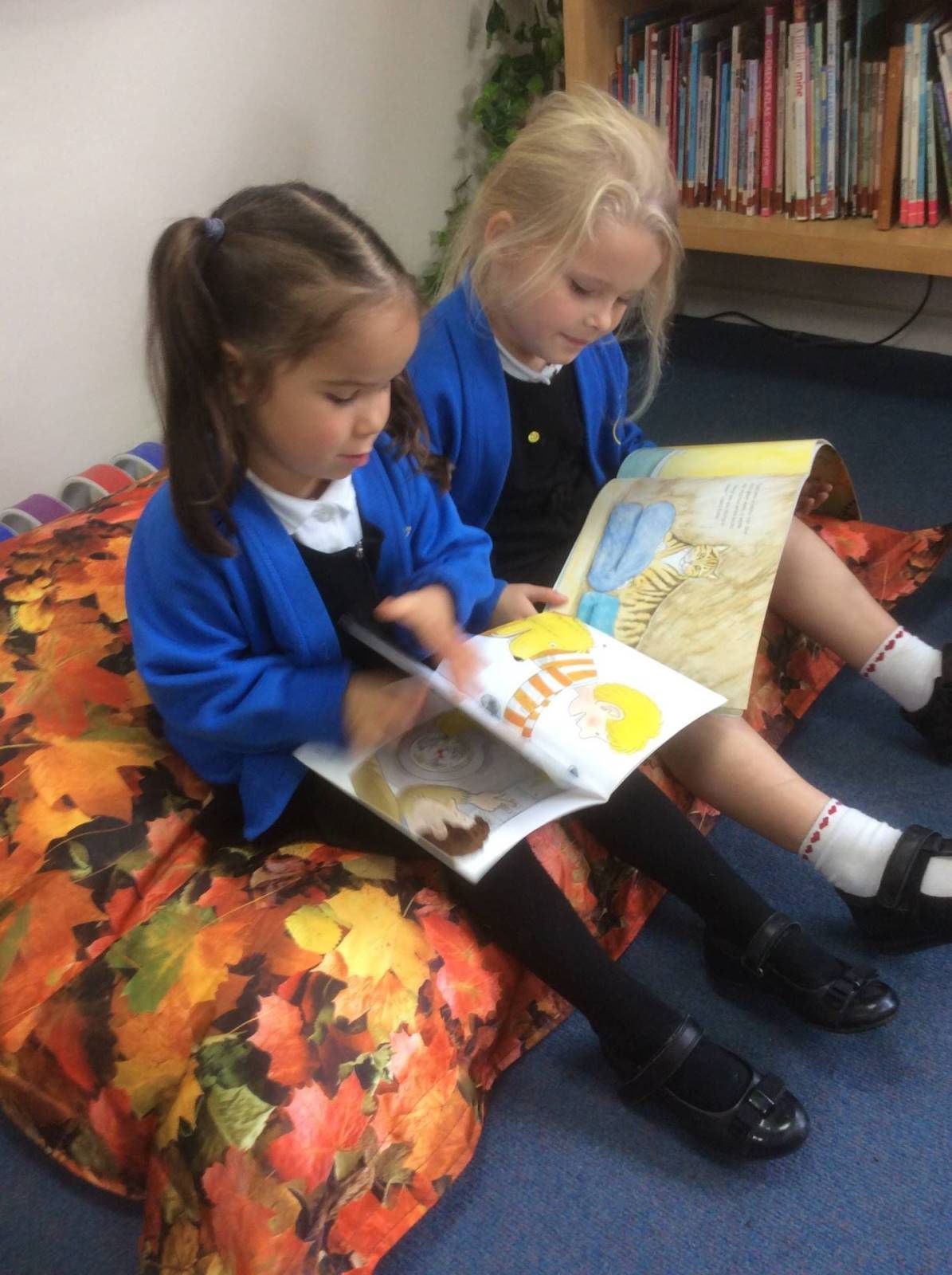 Starfish class have also been learning about our senses and what part of our body is used for each one. They particularly enjoyed using all their senses when exploring different fruits such as mango, passion fruit and pineapple.
September 2018
Welcome to our class blog. The children have settled very quickly to school life. They have already decided class rules for us all to follow.
Victoria Art Gallery visit
The class recently visited the Victoria Art Gallery in Bath. We looked at different pictures and some children got to dress up so they matched the portraits. The children then used different materials for their own portraits which are now on display in school. Before our session in the gallery, the children walked around Parade Gardens and had lunch outside Bath Abbey. They were all very well behaved and a credit to the school.
The children have been looking at the work of Pablo Picasso. They have shown great control in painting irregular shapes with vibrant colours. The next step in our process art will be to introduce powder paints. The children will learn how to mix colours to achieve a fabulous piece of work that will be on show at our parent event at the end of term.