Zebras Blog (Y2)
Welcome to our blog! We hope to share all the wonderful things that we are learning about in Year 2.

Our Class Teachers are Mrs Rockey and Mrs Channon and our Teaching Assistant is Mrs Tilsley. Click here to see our topic bubbles for each term.
October 2018
Our weekly round-up
What have we been learning?
In English this week, we have continued to look at the features of recount writing and have tried hard to extend our sentences, using conjunctions such as, 'but' or 'because'. We have also been working hard to join our handwriting neatly. This is something you could practise at home if you would like to. We are aspiring to have a pen, so hopefully many of us will achieve this goal very soon!
In Maths, we have been comparing 2 digit numbers, deciding which number is greater and why. We have used the symbols, < > and = to write sentences such as, 67 > 32. We have even started to comapre mathematical calculations with these symbols. For example:
39 + 4 > 12 + 4
In our Topic sessions, we have been looking at old photographs of Westbury and have talked about how Westbury was different a long time ago. We were very interested to see that the roads did not have painted markings, zebra crossings or cats eyes. In fact, there were not any cars at all and in some of the old photographs we spotted a horse and carriage instead. Next Tuesday afternoon, we have planned to go on a walk around the town to look more closely at some of the old buildings, such as Westbury Swimming Pool. We are also expecting a visit from somebody who works at Westbury Heritage Centre to tell us even more facts about what Westbury was like in the past. We have prepared questions for our visitor.
What a busy Week!!
We have had a very busy but knowledge filled week. It started off with our walk around Westbury town. We looked at lots of the buildings and talked about how they had changed compared to the old pictures we looked at in the classroom last week. It was really good to actually see the buildings in real life!! We thought the swimming pool was really interesting and we could still see the entrances to the old girls and boys changing rooms even though they are not used anymore.
later on in the week we got to carry out an investigation and use our scientific knowledge to answer questions. We were finding out what a bulb was and what it needed to grow. We have set up an experiment and will be observing our test pots to see if our predictions were right.
We have also been busy thinking about our parent event and cant wait for you to join us on the 23rd October at 2pm to come and see what we have been up to this term.
Library grand opening
This week we were really excited as it was the grand opening of our wonderful new library. We had a famous author come to open it and sign her book Handas Surprise. The library is amazing with incredible murals on the walls, a large wooden story chair, a tree house, outside Hansel and Gretel house and hundreds of exciting books to read.
We have spent some time exploring our new library and have enjoyed extra special story times sat on the soft cushions. We said a big thank you to Mrs Rylands for helping create such a lovely space, we are all really lucky!
We have also been finishing off our amazing art work with Mrs Newbury based on Lowry. We have spent the last few weeks learning about Lowry's love of painting industrial scenes with factories, houses and people. We began by painting our backgrounds and mixing colours to create the right effects. This was the first time we had used powder paints properly. While the backgrounds were drying we began the detailed drawings of houses and factories. We painted the buildings carefully making sure we didn't loose all the features we had drawn in - this was really difficult!! The final touch was to add the match stick people just like Lowry did to bring his pictures to life. We loved creating our pictures and hope you do too!
September 2018
Our first week in Year 2
New Routines
We have enjoyed settling into our new class and learning some of the Year 2 routines. We have practised finding our 'talk partners' first thing in the morning. This is the person that we need to sit next to during learning time to discuss our ideas with. We have also practised getting into our Maths groups and our English groups. We look forward to seeing you this Friday (14th September) at our 'Meet The Teacher' session, which begins at 2.30pm. We would like to share a little more information with you about the exciting year ahead.
Westbury White Horse Trip
The children have returned from a very windy trip to the White horse but still fun was had by all. The children were able to make observations from the top and look at the amazing view across Westbury. There were lots of discussions about where they lived and places they recognised from so far away. The children also went on a scavenger hunt and found lots of interesting things.
We returned to school early and had a picnic in our classrooms followed by a mass flying kite adventure on the playground. The kites were amazing and flew really well. I expect all the children will be sleeping well tonight!!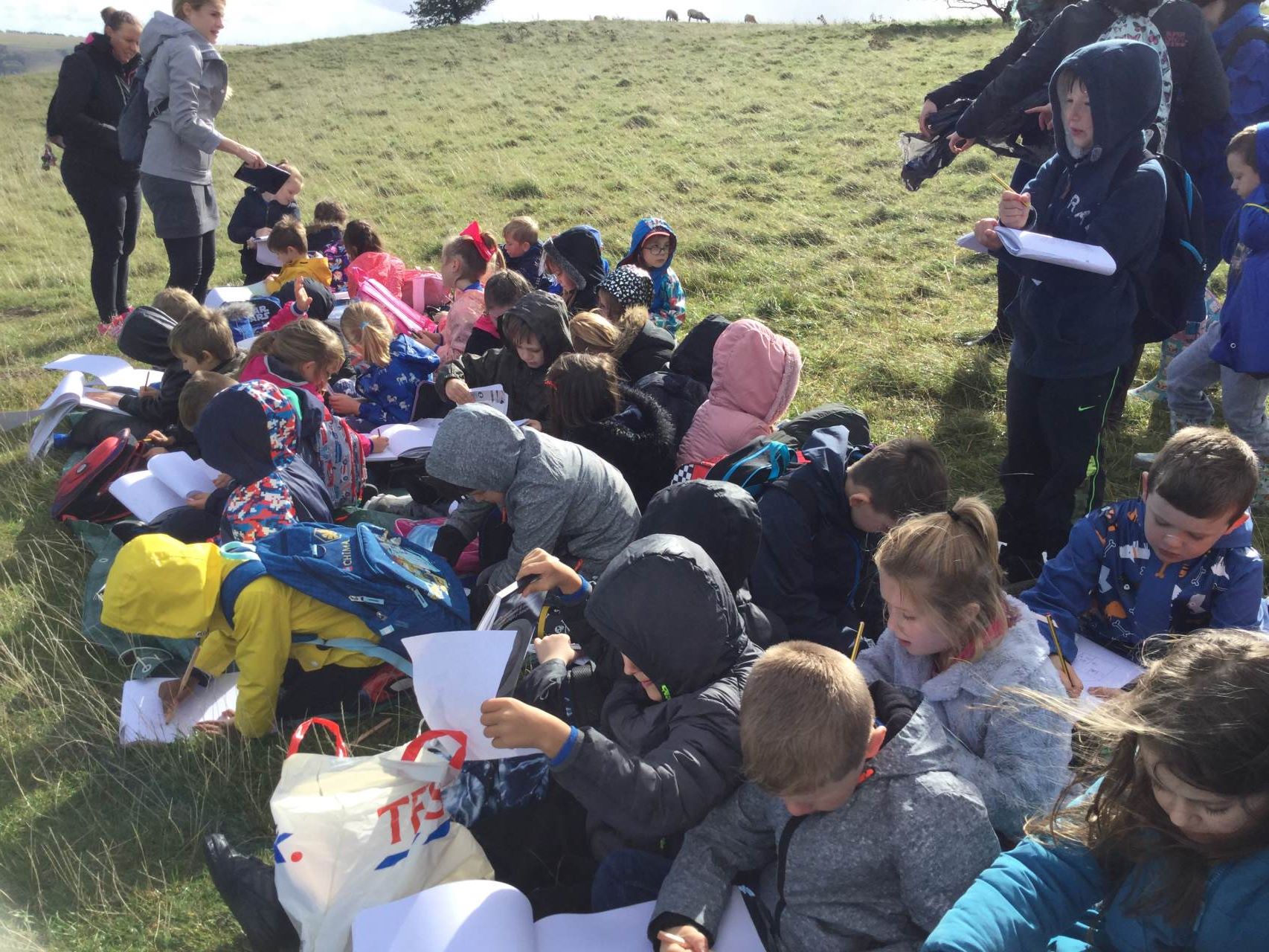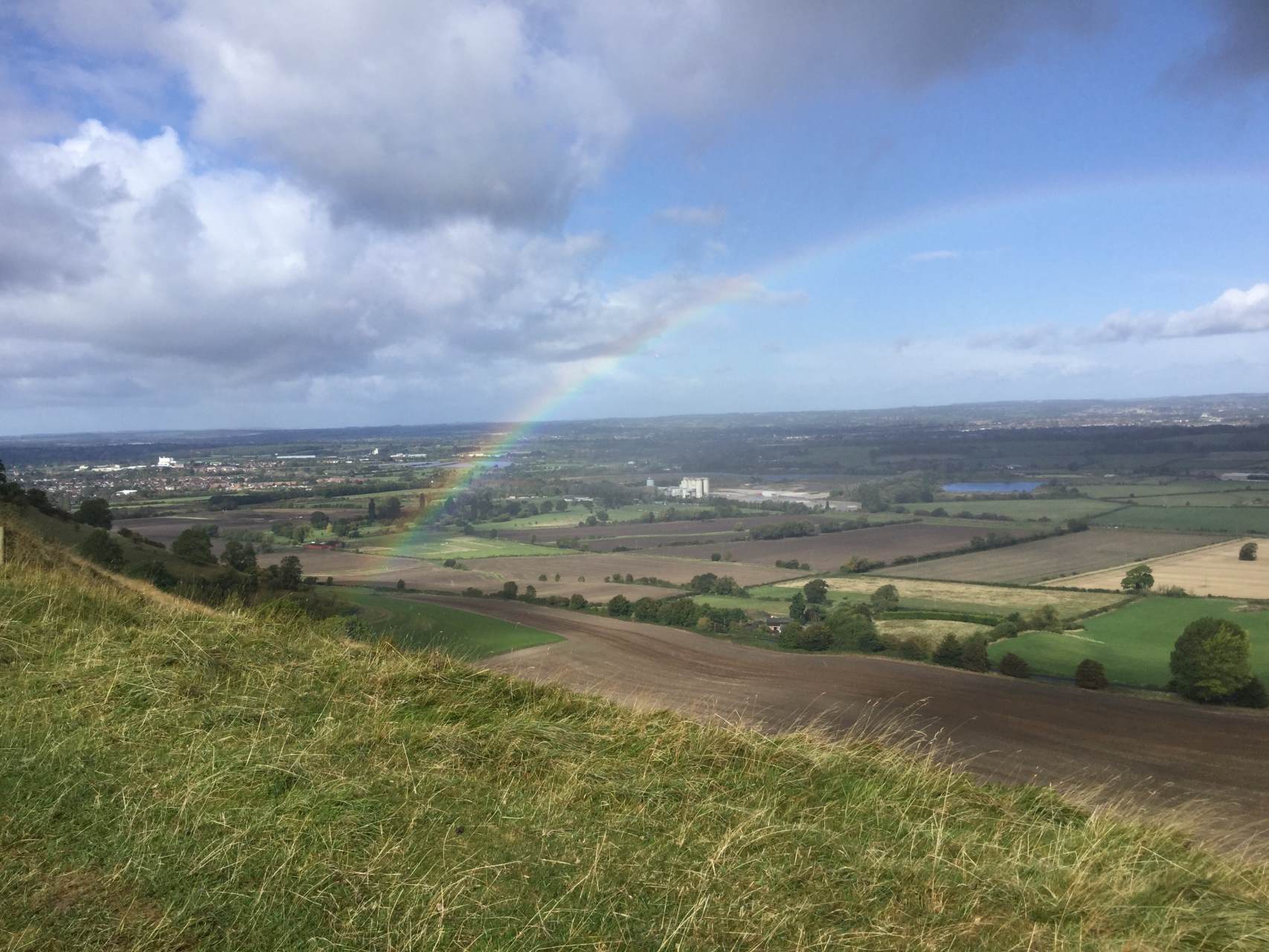 Author Visit to Year 2
Today has been really exciting as we had a real author in school reading us stories from her book. Karin Celestine writes books with themes of kindness and trust where she creates felt characters and then takes them out to the countryside where she takes photos of them to illustrate her stories. She brought in a range of the characters she has made o show the children. We all then made paper boats which we will take home to decorate and test in the bath.