Zebras Blog (Y2)
Welcome to our blog! We hope to share all the wonderful things that we are learning about in Year 2.

Our Class Teachers are Mrs Rockey and Mrs Channon and our Teaching Assistant is Mrs Airey.
Here is our exciting CURRICULUM MAP FOR 2020-21
If this bubble has to self-isolate or we have to go into a school lockdown, click the orange button below to access the appropriate remote learning.
Spring Term 1- January /February 2021
Archie's Crossroads Maths
Today, Archie has tackled the 'Crossroads' Maths challenge. Can you see how he has managed to make each direction total 10?
Well done, Archie! :-)
Workout Wednesday!
We would like to say such a HUGE well done to Dylan for completing his 'personal best' fitness challenges this week. Amazing! Remember to log on to Jasmine PE each week. We will be awarding some special certificates to those children who do! Fitness is so important, now more than ever, and it really helps our wellbeing.
India's Home Learning
India has been very busy this evening, completing all of her home learning tasks. Great motivation, India!
Busy Bella!
Bella has been a very busy little bee today completing all of her home-learning tasks.
Lillie-Louise's Learning
Lillie-Louise has a big, happy smile on her face because she is completing her favourite kind of home-learning.....Maths! She has worked hard on her money tasks today.
Elliott's Home-Learning
Elliott has used real money today to help him find all the possible ways of making 45p and 50p with only silver coins. He has done a fantastic job! He has also worked hard on his 'food chain' work in Science.

Bethany's gem powers!
Bethany has been on fire this morning, completing lots of her work already! She has demonstrated 'sapphire' power, keeping focused, motivated and she has definitely avoided those monster distractions that we can all face. Bethany has also used some of her 'ruby' powers, helping her brother with his handwriting. How kind, Bethany! Keep up the great attitude to learning :-)
Moments from Monday
Hello Zebras!
We hope that you have had a lovely weekend. Hasn't it got chilly all of a sudden!? You might have even seen some flakes of snow falling today. Make sure you wrap up warm if you venture outside. We have received some fantastic work from you already today, which includes a lovely video from Caleb about the 'disgusting sandwich' he made last week. Some children have even received a special 'gem' certificate for their efforts and hard work.
Take a look at some of the wonderful work below :-) Well done for your continued hard work, everybody. Zebra Class really are FANTASTIC!

Fantastic Friday
Can you believe another week has gone, its been lovely to see some of you at our assemblies and its been great playing some fun games with you all!
Its also been great looking at all the work you have been sending in. It looks like you are enjoying our new science topic thinking about animals.
I've also seen some disgusting sandwich ideas which some of you really made. They looked horrid!!
From next week we will be giving out our gem certificates which we usually would do at school. This is for children who are being responsible, supporting others, sticking at it when it gets hard and keeping focused. We are also going to give certificates to children for accessing their P.E log ins. You have all been sent an email today with them so please give it ago.
Have a wonderful weekend, Mrs Rockey informs me we should be having some more snow!! watch this space.....
Mrs Channon
P.E Superstar!!
A big well done to Louie for accessing the P.E this week. I hope you enjoyed exploring the different activities Louie and trying out the different challenges. Gold cup to you!!
Rockstars!
Bethany has been such a star today and has helped her brother with his music lesson. In fact, even Mummy joined the band. Check out their fantastic video below- and some brilliant instrument playing! Great job everyone! :-)
Tremendous Tuesday!
Good afternoon Zebras,
I hope that you are all having a wonderful day. Mrs Channon and I are hoping to see some of you at our class get together tomorrow afternoon at 2pm if you can make it. We will have a chat and perhaps play some games, too.
I have received some more super photographs of your excellent learning at home, so I thought I would share them below. Lots of children have been building and hunting for sculptures, there has been some super handwriting happening (don't forget about the Year 2 pen license which you can have when your writing is neat enough) and I have also enjoyed hearing some expressive, fluent reading.
Keep up the great effort everyone.
Mrs Rockey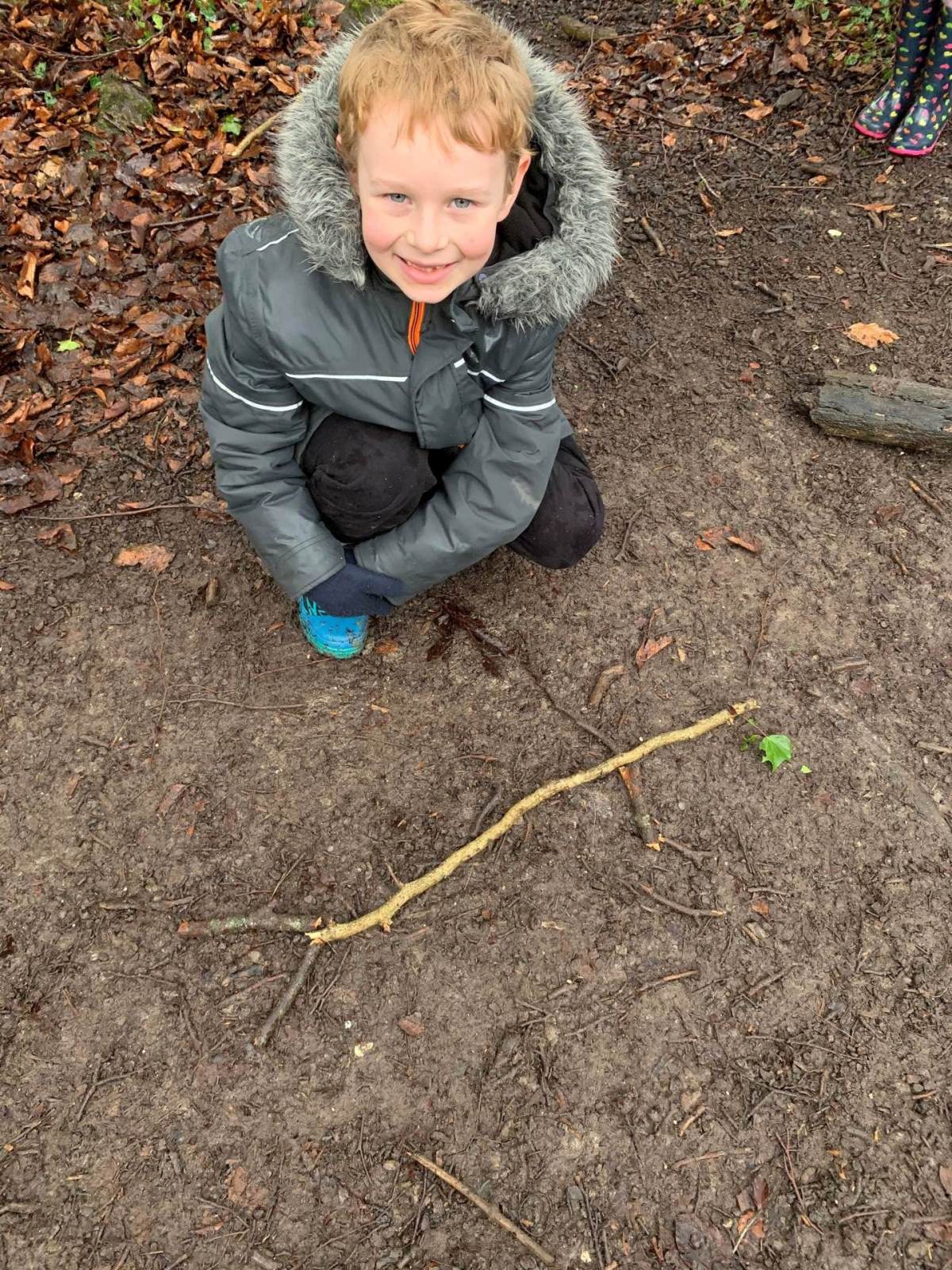 Sebi- a star speller!
Today, Sebi tackled the 'wow' challenge for English and worked out which of the spellings were spelt correctly or incorrectly. Here he is in action! Well done, Sebi.
Florrie's Work
Florrie has worked so hard today and would like to share her best piece of work with you all. I am not surprised she feels proud! :-)
Elliot's Work
Hello Zebras,
Happy Monday to you all. Did you have a wonderful weekend? It was so exciting to see some snow again wasn't it. Even though we didn't have quite as much as last weekend, I loved watching it fall.
Elliott has been a busy little Zebra today and has completed some home learning tasks. Have a look at his wonderful work below.
We are looking forward to catching up with you all this week at our drop in class assemblies at 2pm on Mondays, Wednesdays and Thursdays.
Mrs Rockey :-)
P.E Reminder
Please can I remind you to log on to our amazing P.E resource. I have just checked our classes participation and only 2 children have accessed it. I'm going to discuss the idea with Mrs Russam about having a competition to see which class can have the most children log in and do the activities. P.E is a really important part of your learning and its a fun thing to do. It's good for our bodies and helps our minds think better. It also makes us feel happy and is a good thing for the whole family to join in with. Please try and give it a go!!
Another activity we want you to have a go at are your personal best challenge. How many can you do in 30 seconds? don't forget to write it down and send the information to us!
I will be checking who has been on next week!
Pictures
We only need to see photos of your wonderful work once a week and you don't need to be in it. We obviously love seeing your smiley faces but if you don't want to be in the picture that is absolutely fine!
What a lot of work!!
Wow, what a lot of work we have seen this week, its been fantastic to see all your hard work. I love the Sculpture walks you have all been on and its surprising how many sculptures there are around Westbury. I also thought the sculptures you made from natural materials were fab.
It looked like lots of you had fun in the snow too, I have added in the picture of our family snowman we made although Evie is the only one in the picture, see if you can spot it in the pictures below.
Have a wonderful weekend everyone, I know Mrs Rockey is hoping for more snow, we will see...
Elliot has been practicing his quick recall of doubles and halves.
Mylee has been reading too!

Holly's expressive reading!
Bella's expressive reading!
Bella has practised reading one of our postcards aloud....isn't her expression fantastic!
Isla's fantastic flower sculpture and hard work!

Sebi's bird feeder sculpture!
Sebi has been working hard to make a different kind of sculpture....a bird feeder! He has used lard and seeds to create a bird-shaped feeder. In winter time, it is much harder for the birds to find food due to the frozen ground. They will be very thankful to you Sebi- what a great job you have done!
Jamie's sculpture video and snow fun!
Jack's incredible sculpture!
Happy Birthday, Florrie!
I am sure you will all join me in wishing Florrie-Lee a HUGE happy 7th birthday today. I am sorry we cannot sing to you, like we would in class, but if we all sing loudly enough from home, you might just hear us! Have a wonderfully special day, full of fun :-)
Daisy's snowy fun!
Bethany's snow fun!
Bethany (and her puppy Douglas) had so much fun in the snow. Here are some of her wonderful photos that I thought you would all like to see!
Sculpture Evaluation
Please take a look at Mylee's amazing video and evaluation of his incredible sculpture :-)
Melting Monday
Good afternoon everyone!
I hope that everybody had such a fun time in the snow yesterday. Do you have any snow left in Westbury? It is definitely starting to melt where I live, but I have heard that we might even have some more snow on Sunday? Fingers crossed as I LOVE snow! I think we all needed the excitement and fun to lift our moods. It was the first time that Rosie has ever seen snow...but she loved it! She did not want to come inside! Here is a little photograph of her. I am sure you are missing her very much. She cannot wait to see you all in your classrooms again soon :-)
I have received so many photographs of your fun in the snow, as well as your super home learning and sculptures. Here is a little selection for you to enjoy. Keep up the great work everybody!
Mrs Rockey :-)
What a busy week!!
Well another week has passed and it has been lovely to see your work coming in. I saw lots of pictures of you going for walks. Did you find many sculptures? where were your favourites? I also saw some amazing sculptures being created out of lego, paper, rocks, playdoh and junk. From the smiles on your faces it looked like you were enjoying yourselves.
Here are some pictures of your work.
The children have also been working hard in school. Here are some of their pictures.
Reminder
Can we just remind you that we would like you to access the music and P.E online resources. These are lovely quick activities you can do either independently or with someone in your family. Singing and exercise can make us all feel a little bit happier, energized and motivated. Give it a try!!
We also need your Personal best scores in to see if you have improved.
Can you do more star jumps now?? lets find out...
William's Work
William has been working hard today and would like to share some of his work with you :-)
Archie's Anglo-Saxon Pots
Archie has been so inspired by our King Alfred topic that he has made his own Anglo-Saxon pots at home. Aren't they beautiful! Well done Archie :-)
Monday's Learning
I have received some more fabulous work this afternoon, which I just had to share! Bella also has a new addition to her family. Can you spot who it is?
Mrs Rockey :-)
Theodore has also been very busy making different kinds of sculptures today. Fantastic job, Theodore!
Good afternoon everyone,
I hope that you have had a successful day doing your home learning. I have received some lovely work from some of you, which I thought you would love to see :-)
I know that it can be hard to get motivated sometimes- but do keep trying hard. Take plenty of breaks as this can really help.
Keep safe everyone,
Mrs Rockey :-)
Happy Birthday, Ivy
Good morning Zebras!
I hope that you all had a super weekend. You definitely deserved a rest :-)
I have some lovely news to share with you all....Ivy is now 7! I am sure you will all join me in wishing her a very big happy birthday! Here she is with lots of gorgeous, pink balloons!
Fantastic Friday
Well what another amazing week full of wonderful work. Lots of you seem to be enjoying the King Alfred topic and I have seen some great examples of work. I've seen battles being re-enacted, Lego battles, battles outside with home made swords! it looks like you have been very creative with your ideas and learning. I'ts wonderful to see how many different ways you can represent your learning.
You have also been doing some super writing about the Worst Princess and it was great to read your book reviews!
I also popped inti school this week to see the children working in class and they were all doing a fantastic job with their learning so a big well done to everyone.
Remember to keep doing the reading egg and mathseed challenges, I am keeping an eye on who is doing these :-)
See if you can spot your work below.
In school work
Wonderful Wednesday
Good afternoon to you all,
Thank you so much for the fantastic work that you have been sending through to us this week. It is clear that you are working so hard at home. It is also really wonderful to hear how much the new King Alfred topic has interested and inspired so many of you.
If you have been completing any of the 'Personal Best' challenges in PE, don't forget to send your results to us as we would love to see how you have been getting on.
As promised, here is a selection of photographs to showcase some of the work from this week's home learning. I hope you enjoy seeing what your friends have been doing at home.
Have a lovely evening!
Mrs Rockey :-)
Good morning Zebra Class!
I have just received a lovely letter from Riley. I think he has summed up how we are all feeling- but hopefully we will be back together again soon. Well done for joining your writing so beautifully, Riley :-)
I will post some photographs of more fantastic work later today.
Mrs Rockey
Happy Birthday!
A little birdie has informed us that another one of our special Zebras also celebrated a birthday at the weekend.....Jack!
Happy birthday to you, Jack! We hope that you had the most amazing day and you enjoyed spending time with your family. I am sure all of the Zebras will be singing to you right now....so listen out and see if you can hear them!
Mrs Rockey :-)
Hello Zebras!
Good afternoon to you all,
Welcome to another week of remote learning. We hope that you enjoy the tasks set this week. We will be thinking about King Alfred in a little more detail and it is clear that some of you have already enjoyed finding out some facts about his life. Archie was interested to discover that King Alfred made and burnt some oat cakes whilst he was in hiding, so Archie had a go at making some of his own today (see photos below)- and I am pleased to say that he definitely did not bun them!
It is hard not being together and we cannot celebrate special occasions in the usual way. So, I would like to use this Blog to say a HUGE happy birthday to Lillie-Louise, who turned 7 on Saturday. If we all sing 'Happy Birthday' to her from our houses, you never know, she might just hear us! Lillie-Louise, we hope that you had a very special day indeed.
Here are some photographs from today's home learning. I hope that you enjoy them!
Have a lovely evening everybody and a good rest.
Mrs Rockey :-)
Week 1 done!!
In School
The children in school have also been working extremely hard and following the same planning under the guidance of Miss Jellife and Mrs Maloney our new TA. They have used paints to create pictures of King Alfred and have been thinking about the same story describing the different characters. Next week we are hoping to have a sharing assembly so we might all get to see each other. Have a wonderful weekend every one.
At home
Wow, what a week!! Well done everyone that has sent in pictures of the work they have been doing at home. Its been fantastic to see so many of you working so hard and focusing at home on your work. It was also lovely to see your smiley faces too. I was really looking forward to seeing you all and hearing your Christmas news but at least i get to see what you are up too. Well done to those of you completing the Reading eggs and Mathseed activities. I will be checking to see who is doing these so please try and have a go.
Here are some of my favourite pictures from this week. Keep up the good work everyone!!
Mrs Channon
Here is some more fantastic work from today....
Hello Zebra Class!
We hope that you are all well and keeping safe. Well done to all of you for the fantastic start you have made to your home learning over the past few days. We are immensely proud of you all. We have received some wonderful photographs of your work, so here is just a little taster for you to enjoy:
Remember, we are here to help you in any way that we can, so if you are having any difficulties please get in touch via our chat tool or class email.
Keep up the great work everybody :-)
Mrs Rockey and Mrs Channon
Autumn Term 2 2020
Santa Dash
Today the children have had great fun taking part in the Santa Dash. All the children took part and showed great perseverance even when it got tough. The children had to run 10 times around the playground which was the same as running a mile. We talked about how to pace ourselves and not to run too fast straight away. They all succeeded and supported each other with lots of positive comments to each other and clapping to keep motivation going. Well done Zebras!!
Christmas Performance
11.12.20 This year's Christmas performance has had to be different at WIS as with many other schools far and wide but we have made it as special as we can and the children's faces show just how much they have enjoyed singing the songs and doing the actions. Although we can't all be together in the hall, we have managed to make it just as special but in a different way. Today, all the children thoroughly enjoyed watching each other's Christmas performance videos during our virtual celebration assembly. We hope you enjoy watching them at home as much as we enjoyed making them for you. Plus the beauty of this is that you can watch them over and over again! Fantastic!
Money
The children have been learning a lot about money over the last couple of weeks and they are trying really hard to understand what each of the coins look like and represents. It is a really hard concept and as we are not going to the shops as much as we would normally be and because the children are not handling money in the same way as in the past, we wondered if you could make up a pretend shop at home to help them recognise the coins and make small amounts. This extra practise will really help them! The use of real coins will also make it quite fun. Let us know how you get on.
DT- Hand Puppets
This week, the children have all practised their sewing skills to make wonderful hand puppets. They have absolutely loved doing this and have demonstrated great resilience- especially when their thread tangled or their needle became unthreaded! I think you will agree, the finished results are absolutely superb. We hope you enjoy looking at the puppets in the video below:
Kindness Elf- 1st December
We had such a surprise when we arrived at school today......a kindness elf had appeared in our classroom. She left us a letter asking us to think of a name for her that would make her feel warm and special inside. After sharing lots of name suggestions, we voted on 'Candy Cane' (because she has got stripy tights!). We were instructed by the elf to sprinkle some magic elf dust over her whilst saying her name to bring her magic alive! Some of us thought we saw Candy Cane wink as the magic dust was scattered over her.
I wonder what she will get up to in our classroom? We will keep you posted!
Treat time
Today the children all got to have a wonderful treat. They had worked so hard during our first remote learning session and we were so pleased with all their efforts we felt this had to be rewarded! It was wonderful looking through their books to see what they had done and looking at the regular emails from home during the time at home. All the children got to go into the hall and use the bars and soft play equipment we rarely get to use. We just felt all the hard work needed to be recognised and praised. Thank you to all the grown ups too for your hard work end effort.
Day 6- Last day of Remote Learning
Good afternoon Zebras,
I hope that you are all well and have had a very restful and relaxing weekend. You definitely deserved it! Today, we have reached the very last day of remote learning. I am so excited about seeing you all back in school tomorrow and I bet you are looking forward to seeing your friends too. Don't forget to bring your blue home learning books with you so that I can have a look at all of your fantastic work :-)
Here are some photographs from today's learning. Noah has been working very hard all morning and has also included some photographs of his PE balancing on Friday. Elliott has also been a very busy bee. His life cycle drawings (caterpillar to butterfly) are beautiful! Bethany has also been working very hard, especially on all of the money challenges today. Fantastic!
See you in the morning!
Mrs Rockey (and Rosie!) :-)

Day 5- Today's Work
Good afternoon Zebras,
I thought I would add some more fantastic work from today's home learning. I have even got an amazing video for you to watch/listen to, which showcases Holly's fantastic singing with her Mum. They really enjoyed the Charanga music session this afternoon :-)
I have also added some photograph's of Bethany's amazing puppet that she has been making....as well as a gigantic sandwich! (You definitely need lots of food energy when you are doing remote learning!)
You have all worked so hard this week and we cannot stress how proud of you all we are!
Only one more day of remote learning to go....so see you again on Monday!
Mrs Rockey

Almost the weekend!
Good morning Zebras,
I hope that you are all enjoying today's home learning tasks :-) It is almost the weekend, so one final push is needed....you are almost there!
Noah has got off to a brilliant start today. Here is his beautiful handwriting :-)
Day 4
Pets Corner
Good afternoon Zebras!
Thank you for sharing even more fantastic work with us this afternoon. I think some of your pets have known that you have been thinking about animals in your Topic work today as they have wanted to help out! See if you can spot some lovely animals in the photographs below :-)
Good morning Zebra Class,
Isla has been very busy with her home learning, so I promised to share some examples of her work. Get ready for some beautiful handwriting! I will post some more work later today as I receive it.
Mrs Rockey :-)


Here is some of Archie's learning, too. He has loved the money work today! :-)
Daisy has also shared her fabulous Read,Write,Inc work :-)
Day 3 - More fantastic work!
Hi Zebras!
Following on from this morning's post, I would just like to add some more fantastic work from today's home learning!


Finally, to make you smile, once Jack had finished his work today, he decided to do his own Science investigation and find out what happens to a dishwasher tablet when it dissolves in water. Here are the results:

Day 3-This morning's work
Good morning Zebra Class,
Wow! It is only 11.30am and already I have received some fantastic photographs and videos of your home learning tasks. Take a look at what these superstars have been up to so far today. I have included Noah's fantastic videos for you to see, too!

Day 2 -Home Learning
Hello Zebra Class,
How are you all? From the amount of fantastic home learning I have received today, I would imagine that you are feeling very proud of yourselves- and quite right, too! It has been wonderful to see how committed each and every one of you has been to completing the daily activities, but most of all you are maintaining excellent presentation skills when recording your work. Keep this up!
It seems as if you are getting into the swing of remote learning now and have found the work quickly and easily on our website. Yesterday's technical glitches, which a few of you experienced, have now been resolved so thank you to Mrs Newbury for her magic and workarounds!
We are missing seeing you at school, but I know that we will have lots to talk about and share when we return next week.
I have attached a few examples of today's superb work, but there really were so many more photographs I could have shared with you.
Take care everybody and have a well-deserved rest this evening.
Mrs Rockey :-)
Day 1 Home Learning
Good afternoon Zebra Class!
Wow! What a busy day we have all had trying remote learning for the first time. We are so proud of you all for trying your best. We have received so many photographs of your learning and even a video of Noah practising his sounds!
Even though this way of working is very different and a little bit strange, you have risen to the challenge. Well done to your grown ups too for supporting you today.
Take a look at just a snapshot of the work completed today.
Mrs Rockey
Bouncing and balancing
This week we have started using our new P.E lessons and have really enjoyed exploring travelling in different ways and thinking about how to jump. We practised jumping and maintaining a balance and then made up a sequence using our favourite 3 jumps. We talked about how we can praise each other and support each other with our learning by using positive comments towards each other and top tips. We are hoping to share our learning with you at home through the web site, we are just waiting for the log ons.
Continents and Oceans
Welcome back Zebra Class! We hope that you all had a very safe, restful half term holiday. Thank you for all of my beautiful birthday cards and home-made pictures. I had a lovely day and I know that Bethany did, too (we share a birthday!)
The children have returned eager to work and this week they have enjoyed learning about the seven continents of the world. They are now able to find each continent on maps and globes. They can describe the location of each continent in terms of its proximity to the equator. The children have also found out facts and information about what each continent is like and have written some super sentences to describe each one.
To help us remember the continents, we have learnt a very catchy song. If you would like to have a listen, follow the link below:
https://www.youtube.com/watch?v=K6DSMZ8b3LE
This week, we will be finding out about the five oceans on planet Earth. We will look forward to sharing our work with you.
Mrs Rockey
Autumn Term 1 2020
Getting arty and e-books!
We have had a very arty week in Zebra class! We have loved creating our pictures in the style of Georgia O'Keefe and experimenting with the pastels and charcoal. We loved using the rubbers on the charcoal and exploring how we can create different textures to our work. We also enjoyed smudging and blending the pastels to create different shades. The display looks beautiful with all the art work!
Zebras have also contributed amazingly to the drawing competition with 28 entries. Thank you so much for supporting this fundraising activity. It is wonderful to see all the different Zebras on display and the amount of hard work and creativity that has gone into creating them. They are all amazing and it was very tricky to choose a winner as they were all amazing.
We also finished the term in a cross-curricular way by creating e-books on the iPads about Georgia O'Keeffe. First, we planned our e-books, with a contents page and headings for each subsequent page and then we experimented with the font/ text features to create some fabulous information books. Here are some photographs of us in action!
Teamwork challenge!
Today, in PSHE, we were learning about cooperation and working as a team. We were given a challenge by Mrs Newbury to build a marshmallow and spaghetti tower, as high as we possibly could! We were trying to listen to each other, work together and share the building of the tower. Some of us were better at giving ideas while others were better at the actual building, as it was quite fiddly. The important thing was that we all contributed and cooperated in the task - it was a lot of fun and we reflected on what we were good at and what we could be better at.
Georgia O'Keeffe
This week, we have been learning about the American artist, Georgia O'Keeffe who was 98 years old when she died! Georgia was inspired by nature and used pastels to draw flowers, shells, leaves, animal bones, mountains- and many other natural objects. She liked to draw things big to show the detail and textures in the natural world around her. Take a look at some of her art work:
We used our sketch books to emulate the work of Georgia O'Keeffe. We used magnifying glasses to help us capture the detail and we experimented with art techinques, sych as shading and cross-hatching. We had an art gallery at the end of the session, where we enjoyed looking at each other's work and appraising what we liked about it.
Friendship Flowers in PSHE
We have been thinking a lot about friendships and the qualities we look for in a good friend and how we behave as a good friend. Friendship can be tricky at times but we thought about how we can show each other we care. We had lots of discussions about the qualities of a good friend, these are a few ideas we came up with:
Honesty, showing you care, taking time to be kind, saying sorry, kind words and hands, being there when your friend is sad, upset or hurt, making each other laugh, being a good listener.
We then added the qualities to a class friendship flower and then made our own.
Geography- Hot or cold continents?
In our topic sessions this week, we have been thinking about the equator. This is an imaginary band around the centre of the earth, which is very hot! Countries on or near the equator have the hottest climates.
We worked in pairs to identify the 7 continents of the world and decide whether they are near or far away from the equator. Africa, for example, is situated on the equator so is a very hot continent with lots of desert land. Antarctica, by contrast, is at the bottom of the world in the southern hemisphere and is freezing cold, snowy and icy with temperatures reaching minus 55 degrees!
We used pictures of each continent and coloured the hottest ones red and the coldest continents blue . We then stuck them onto a blue balloon (which represented our planet) to show their proximity to the equator.
We had great fun doing this activity and by the end of the session, we could name all 7 continents and discuss and compare their climates and their proximity to the equator.
Computing Route Masters
Our knowledge objective was to know what an algorithm was - a set or sequence of instructions. We used Fix My Factory again but this time we made an algorithm on our whiteboards and then tested it using the app. We now know how to debug effectively to control the robot accurately. As we progressed up the levels, the algorithm became more complicated and we had to debug more. We have learnt a lot of new vocabulary over the past few weeks eg algorithm, debug, programming, sequence, repetition etc which we hope to make a poster of to show our understanding.
Zebra's musicians
Mrs Newbury has been teaching us music and we have been concentrating hard on learning a song as well as playing the glockenspiel to accompany the music. We have learnt how to recognise the beat or pulse of the song and have had a lot of fun doing different movements to show we understand such as clapping, clicking, shoulder raising and tapping our knees. This really helps us to make sure we play the glockenspiel in time to the music. It's very tricky to sing, play an instrument and keep in time all at once!
Computing - programming whizzes
We explored a new app on the iPads called Lego Fix My Factory, which involves programming a robot to move places on different levels of the app. You can't move on until you have completed each level correctly. We are learning to debug, which means to find and fix errors. Mrs Newbury gave us instructions to do things and when it didn't work out, she debugged until it did! We had soem rules to follow which were - not to give up and not to ask the teacher! This made us learn from each other to find a solution. Some of us were super whizzy at programming and were able to help other children be successful too.
Weather Around Us
This week we have started our new theme thinking about the weather around us. The children have really enjoyed thinking about the different weather patterns around the UK and how they can vary from inland areas to more coastal parts. They have had lots of ideas about how the seasons affect our weather and have enjoyed looking out of the window to see what weather we have experienced this week. They have been surprised to see sunshine, light rain, heavy rain, mist, cold and hot days in such a short space of time.
Our Cress Experiment
The children have really enjoyed our first Year 2 topic, 'Plants'. We have found out about different types of plants, where they prefer to grow and also how useful plants are for food, animal habitats and providing oxygen for us humans.
All plants need a set of vital ingredients to enable them to grow successfully:
- Light (from the sun)
-Water
-The right temperature (most plants like warmth, although some plants can still grow in very hot or extremely cold climates)
-Time to grow
We decided to experiment with growing our own cress. We set up four cress pots, but only gave the right ingredients to one of the pots (water , light, the right temperature). The other three pots were denied water and light. One pot, for example, has been kept in a very dark cupboard and has not been watered. The children made some super predictions about which cress pots will, or will not, grow. They thought that the pot in the dark cupboard (with water) would still grow at first, but would end up with brown leaves as plants need sunlight to make their leaves nice and green!
This week, we are going to incorporate our mathematical skills into our science lessons by measuring the height of the cress in each of our four pots. We will compare how well the cress has grown in the four different conditions and will try to suggest reasons why this might have happened.
Hopefully, we will manage to grow some lovely, green cress and we might even have enough to enjoy some egg and cress sandwiches !
Skipping Fun
The children have had a wonderful opportunity this afternoon, being taught how to skip. We learnt how good skipping is for our health and well being and just by doing 2 minutes skipping a day can really help with our health. The children each had a skipping rope and were taught how to hold and use it properly.
Skipping is our new school initiative which we are launching to help improve the health and stamina of the children. In a couple of weeks time each child will be given a skipping rope to keep in their drawer and then will have time to use it each day to improve their skipping technique. Our aim is to have everyone skipping confidently with a rope by the end of the year.
The children had great fun and there were smiles all around. They enjoyed watching the teachers have a go too!!
First Day!
Hello Zebra Class!
What a wonderful first day we have had together. I am so proud of you all for the way in which you came into school so calmly and bravely this morning (despite those butterflies in your tummies) after almost 6 months away from the classroom. I have loved getting to know you today and finding out a little bit more about you through some art and story activities. I can tell already that we have a class of superstars and Mrs Channon is in for such a treat tomorrow!
We started the day by sharing the book, The Colour Monster, which is a lovely story about a monster whose feelings have become all mixed up. We agreed that we all had a mixture of feelings this morning upon our arrival to school. Some of us felt happy and excited to be back with our friends and teachers, whilst others felt nervous, anxious and even a little bit scared. We illustrated our own monsters, using colours to depict the feelings inside of us. (For example, yellow for happiness, red for anger and blue for sadness.) I have added a few of our monsters below for you to see. Can you guess which emotion each colour represents?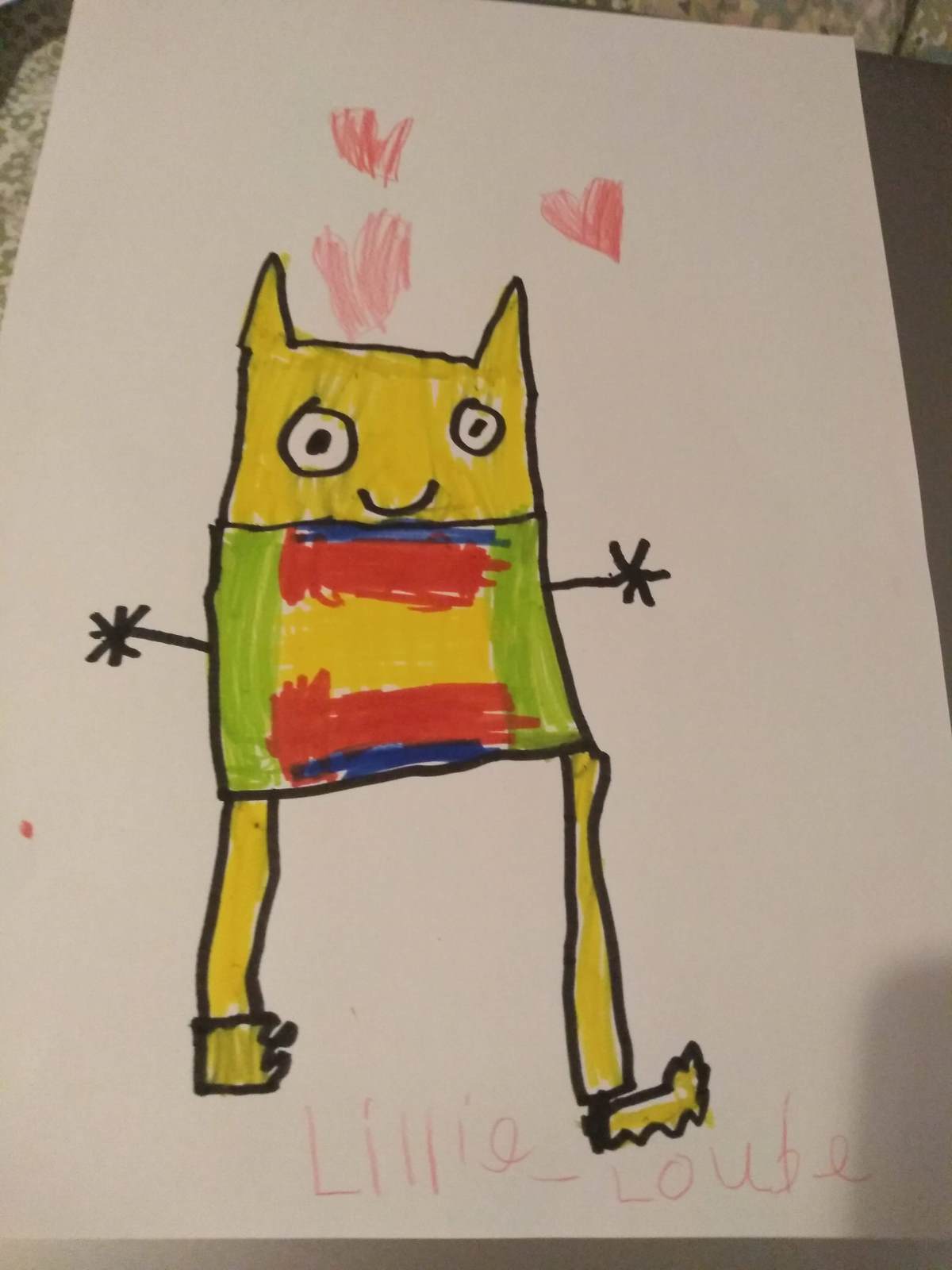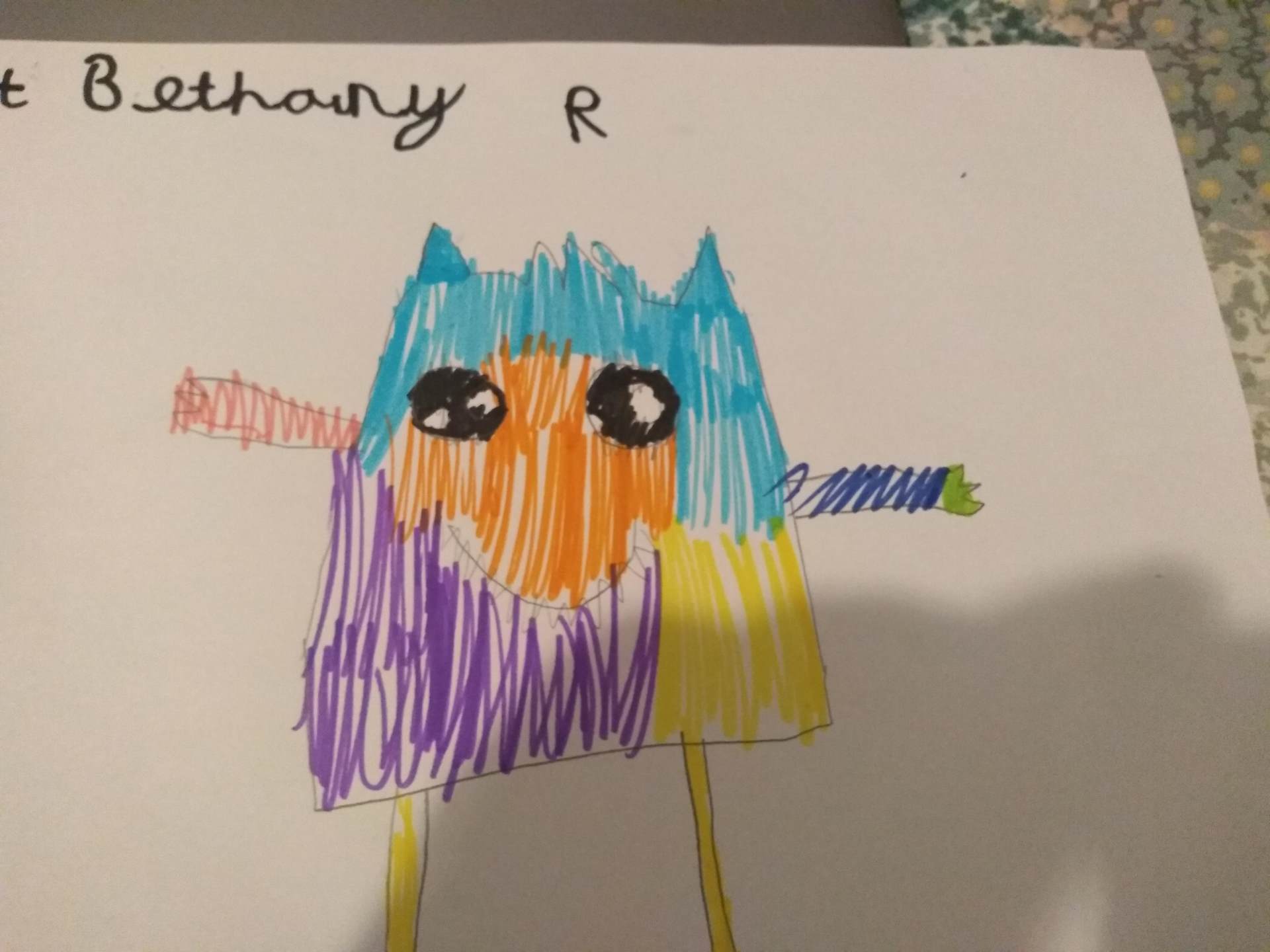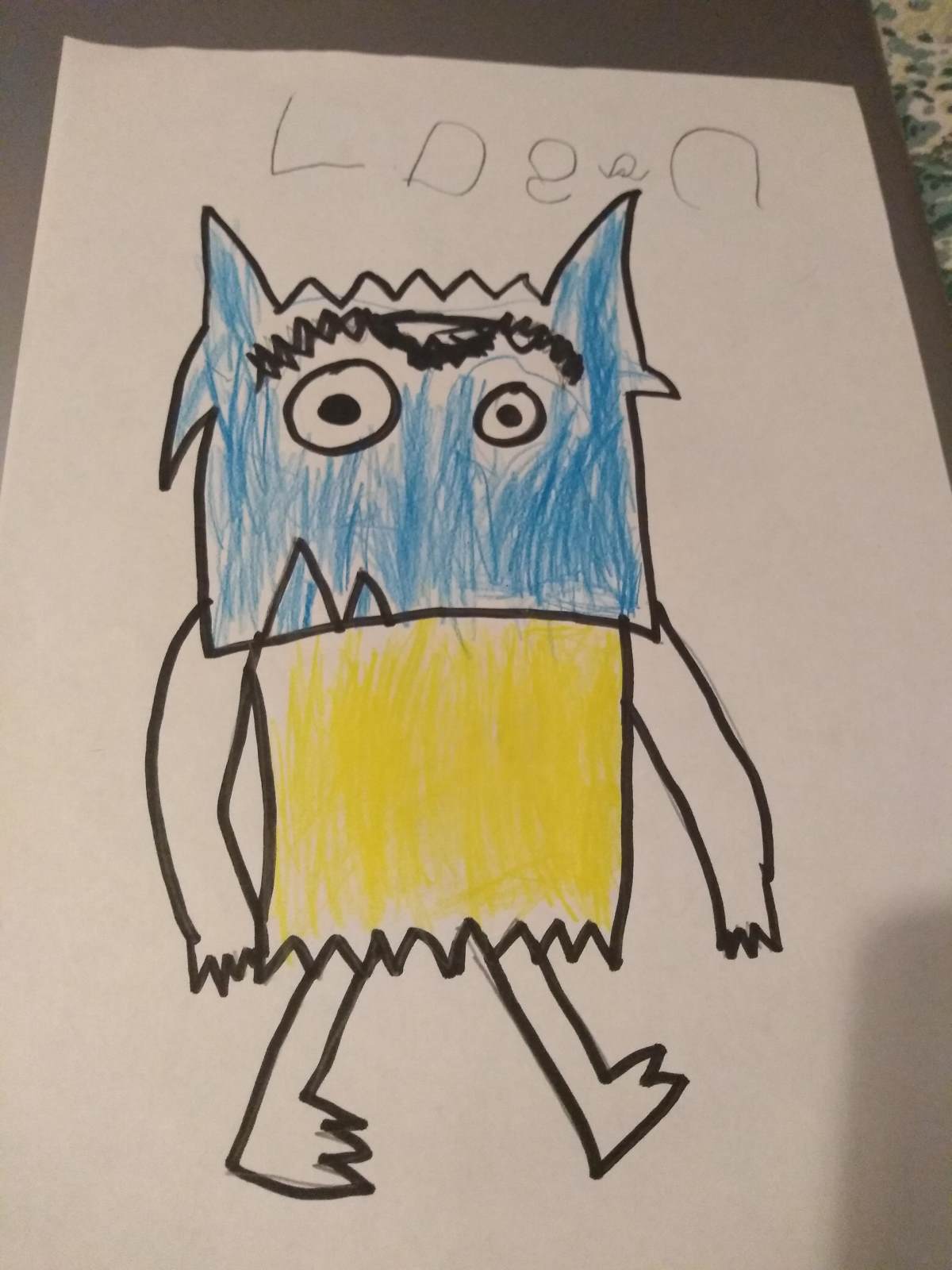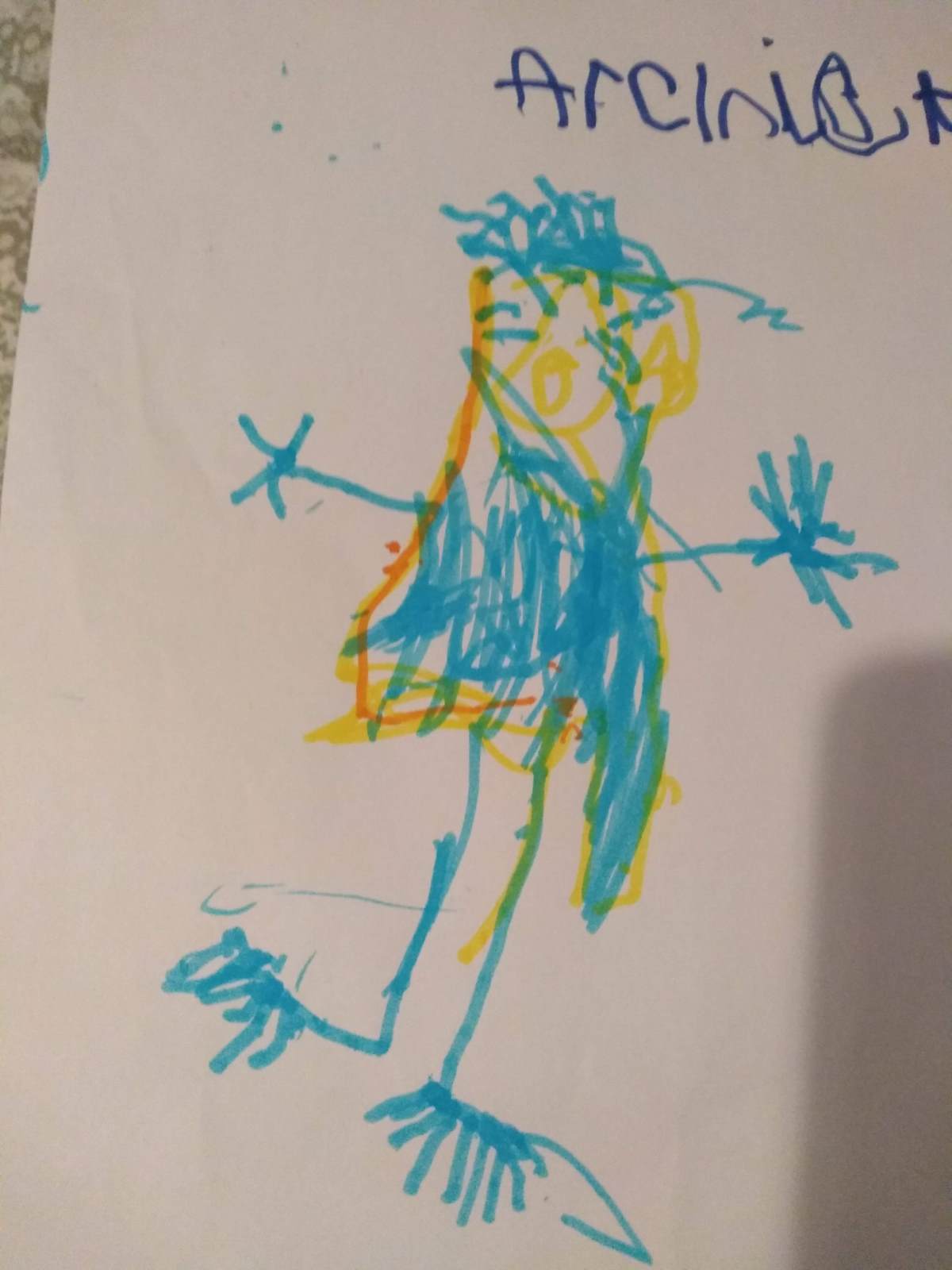 We also spent some time working together to generate our class rules. It was important to us to create the rules together so that we could have ownership over them, which in turn would help us to adhere to them! We played some games where the rules kept changing, which helped us to understand the importance of having consistent rules. Once our class rules display is finished, we will post a photo for you to see.
We also created some wonderful 'all about me' cloud rainbows. We had to practise our colouring, cutting and writing skills for this art activity. Again, once our display is finished, we will share our amazing work with you on this blog.
What a busy day!
Finally, can I just take this opportunity to remind you all that our PE day will be on a Friday so please could you ensure that the children have their kit in school on this day.
Also, our teaching arrangement is as follows:
Mrs Rockey: Mondays, Tuesdays and alternate Wednesdays
Mrs Channon: Alternate Wednesdays, Thursdays and Fridays
Drop off: 9am (main gate at the bottom of the drive) Pick up: 3pm
Have a lovely rest of the week and I will see you on Monday.
Mrs Rockey :-)
Virtual Tour of Westbury Junior School
Mr Percy and Mrs Toogood thoroughly enjoyed seeing their new class for September 2020 today via Zoom. During the session, Mr Percy promised them a virtual tour of the Westbury Junior School and here it is. Monty certainly has lots of exciting adventures to share with the children. Enjoy!
Singing Make a Wish Videos
Story Time with Mrs Rockey , Mrs Channon and Mrs Airey
Hello
Hello Zebras
It was so lovely to see some of you last week and to play some crazy games with you on our Zoom meeting! It has also been lovely to see some of you tuning in to the daily assembly sessions on zoom. There were some lovely pictures of lots of worry monsters today and I loved everyone singing happy birthday to me at the end, that was a new and memorable experience. If you want to join in with the assemblies they are on every day from 9.40 to 9.50 the code is 87647081139 password WIS2020 if you want to join in it would be lovely to see you just logon using your name and class name.
I hope you are all still doing well with your home learning, it has been going on a lot longer than any of us thought it would but i'm sure you are all doing an amazing job. Remember Mrs Rockey and i would love to see what you have been up to so don't forget to send us your pictures.
Have a wonderful weekend, I left Evie at home with her Daddy today making my birthday cake, its a BIG surprise and she has gone to a lot of effort planning the flavour and design so i'm looking forward to that tomorrow.
Stay Safe
Mrs Channon
Zoom Zoom Zoom!!
Good afternoon Zebras
I hope you are well and have had a good week. The weather has not been that great so I hope you have been using this inside time to do some lovely home learning. Evie and Henry have been busy baking more delicious things and have painted some pebbles to start a pebble snake along our road. Evie named it Lucy and shes getting quite long now with everyone in the road adding their stones to it. Maybe you could have a go at making your own pebble snake?
We have been busy at school with our theme of wizards and princesses. We have made wands and hats, magic couldrons and have been thinking of our own wishes we could make.
I'm really looking forward to next week as I have (hopefully if I've done it right) set up some Zoom meetings so that Mrs Rockey and myself can actually see and speak to you all. You should all have received an email with the code and password so please have a little look for it so you can join us. It will be lovely to see you and I hope you can all make it. Can you please bring a pen and piece of paper, we have going to have a go at playing some games.
Have a wonderful weekend and I look forward to seeing you next week.
Mrs Channon
Jessica and Louis meet Rosie
Hello Zebras!
I hope that you are all OK. Have you been listening to the thunder storm? It has been very loud hasn't it! I hope you were safe inside during those big flashes of lightening.
I have had another lovely day in school and was joined by Jessica and Louis. They felt very honoured to be the first two children from Zebra class to meet Rosie and they looked after her and played with her so well. I was very proud of them and all of the keyworker children, who have been helping her to feel settled at school. I cannot wait for the rest of you to meet her!
On a different note, Mrs Channon and I are trying to set up some Zoom meetings (in small groups) so that we can see all of your lovely faces and have a little chat with you. We may even be able to play some games together! Please ask your parents to keep an eye on their email inbox for an invitation which we will be sending out very soon.
Mrs Rockey :-)
Happy Birthday Maisy!
Hello Zebras,
I hope that you are all keeping well. I am missing you all so much! I have been in school this week looking after the keyworker children. Guess what.....Rosie (the puppy) has also been in our bubble with us and everyone has loved looking after her. She has been very well behaved and seems to really like her school days! She has to have lots of special training to be our school therapy dog, but she has started some already and is doing well.
Louis and Jessica are in our bubble and it has been really lovely to have some Zebras with us!
I also have some more exciting news. Maisy is now 7 years old! She had a fantastic LOL birthday cake and a lovely BBQ with her family. Here is a photograph of her on her special day. Happy birthday Maisy!
Mrs Rockey :-)
Hello Everyone
I hope you are all well! Such exciting news from Mrs Rockey, Rosie looks lovely and I can not wait to meet her!!I hope you have all been getting on well with your online learning. Have any of you tried Carol Vordermans Maths Factor yet? Evie and Henry are really enjoying it and are in competition to see who can get the most marbles.
We have also been doing lots of baking as they have had a food topic this week. I'm not complaining though, as you all know I do like a bit of cake :-) We have also made a butterfly bar to attract some butterflies into the garden and have made a presentation about different foods in Spain. I remember our Chinese topic and all the different foods we learnt about there. What was your favourite?
Well stay safe everyone, keep an eye out for more stories and have a good week.
Mrs Channon
My exciting news........Welcome Rosie!
Hello Zebras!
I hope that you are all staying well and safe and have been working hard at home. I have some exciting news to share with you. I have a new member of my family......a puppy!!! Her name is Rosie and she is a little cockapoo (just like Betsy, Mrs Budge's dog!) This means that she has a cocker-spaniel mummy and a toy poodle daddy. She is only 9 weeks old at the moment and has been living with us for just over a week now. She really is an absolute delight and has brought us much fun and joy already. Rosie even came into school with me last week, which the children in my 'bubble' loved! I cannot wait for you all to meet her, but for now, here are some photographs of her for you to enjoy!
Take care everyone and look out for Rosie who may pop up to say hello in my next story video!
Mrs Rockey
Daizi's super work
Hello wonderful Zebras,
Guess who has been in touch today- Daizi! Would you like to see what she has been doing at home? Here are some photographs of her superb work: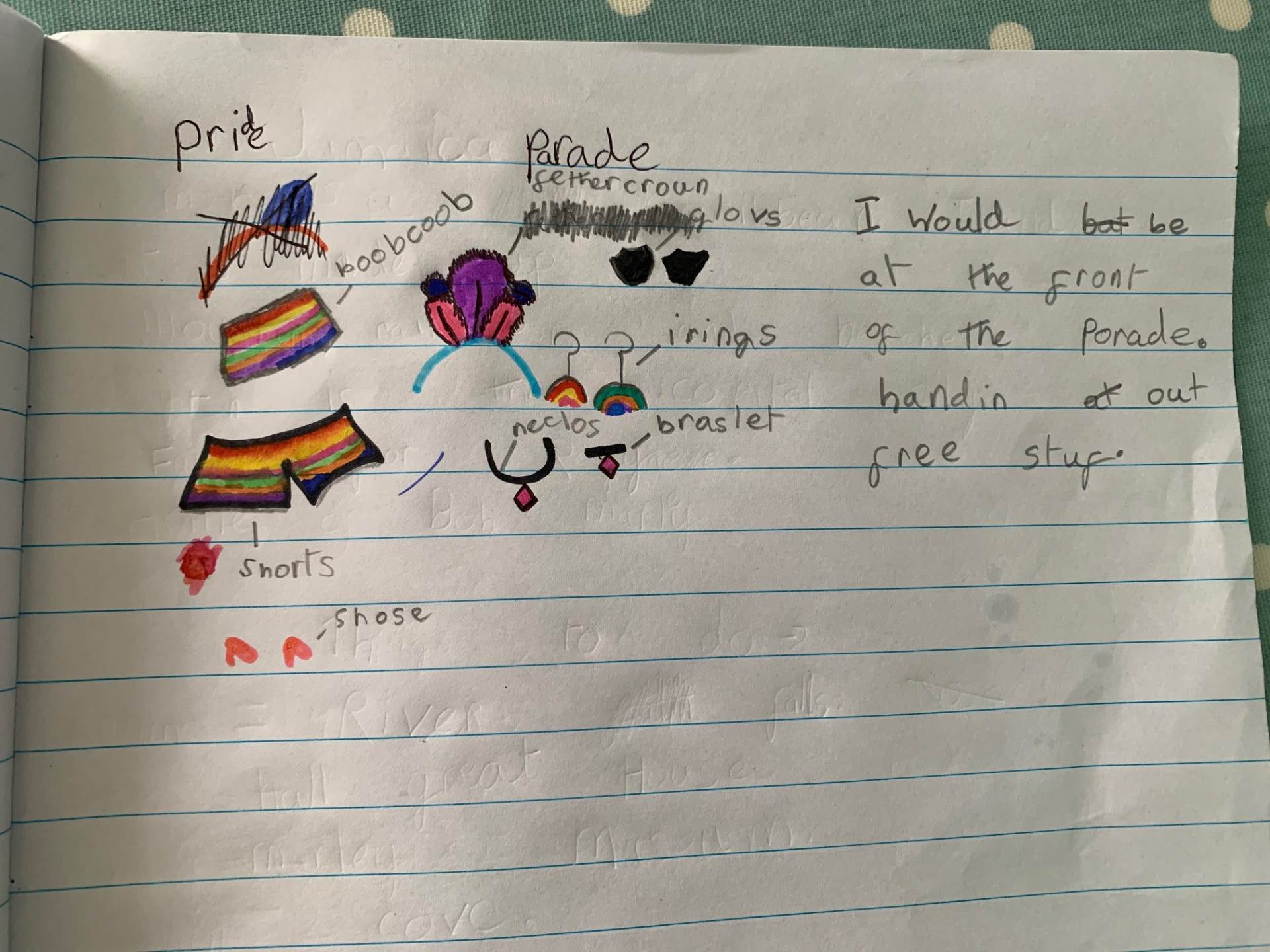 Daizi, I especially love your story, 'Dogs Don't Do Ballet'. This reminds me of the story I read to you all recently, 'Some Dogs Do'. Thank you for your lovely work and keep up the great learning at home.
Keep your eyes on our class blog for some more exciting dog news soon! Have wonderful weekend everyone. Please keep sending us your emails.
Mrs Rockey x
Bubbles, bubbles everywhere!
Hello lovely Zebras
I hope you are all well and are enjoying the start of term 6 at home. Can you believe how quickly the time is going? I have been in school this week, working with the children in our new bubble. We have been very busy thinking about bubbles and creating some lovely art work using this as a theme. We have painted pictures using bubble wrap, bottle tops and balloons. We have listened to stories all about bubbles and have even learnt some new songs all about them.
We have also been thinking about the colours you see in a bubble when you blow one and have created stained glass windows using these colours, which we have displayed on our window.
I hope you all have a wonderful weekend.
Mrs Channon
Happy Birthday Amelia!
Hello Zebras!
How are you all? I hope you have been enjoying this glorious weather! I have been in school this week, looking after our key-worker children in our little "bubble" family! I am of course missing our lovely zebra family hugely.
I had a great surprise earlier today when I checked my emails. Amelia had got in touch to let us know that she is now 7 years old!
HAPPY BIRTHDAY AMELIA!
We hope that you had a wonderful day. I am sorry we could not sing to you or give you birthday claps like we usually do in our class....so, instead, here is a very special little picture just for you!
Amelia sent us some fantastic photos of her special day. I absolutely love the look of your unicorn cake, Amelia. Did it taste good? I hope you remembered to make a very big wish when you blew out your candles!
We hope to hear from more of our lovely Zebras really soon!
Mrs Rockey :-)
Jacob's gardening
Good afternoon Zebra Class,
How are you all and are you having the most wonderful half term? I do hope so. The weather has been beautiful for us all hasn't it!
I had an email from Jacob this afternoon, which was such a lovely surprise. You can see from Jacob's photos that not only has he been finding out about the human body (great labelling!) but he has also been tending to his vegetable plants. Haven't they grown! Do you remember the photos Jacob sent us at the beginning of this lockdown period when the plants were tiny? Now look at them! I hope they taste good, Jacob. They will certainly be very healthy and full of vitamins.
Jacob also told me that his cat has been a bit cheeky and has been leaving him presents.......rabbits!! Yes, rabbits!!! I was very surprised!
I hope you enjoy Jacob's photos and please do get in touch with your news too.
Take care everyone, missing you lots and lots!
Mrs Rockey :-)
Chef Beau and Maria's message!
Hello Zebras!
I hope you have enjoyed reading all of Mrs Channon's lovely updates (below) about our time in school this week. Mrs Channon and I have enjoyed being in school together as usually we do not get this chance.
I had a lovely surprise this evening- an email from Beau. He has turned into quite a chef and has found a wonderful new love for cooking. Well done, Beau! When our school chickens finally lay some eggs in August, we will ask Beau what we can bake as I think he will have lots of fantastic ideas.
We also had a lovely email from Maria, who has this message for you all. A picture certainly speaks a thousand words.
Please keep sending in your photographs and emails as we love hearing from you all.
Have a great long weekend when it comes.
Mrs Rockey
Another busy week
Well, what another lovely, busy week we have had! I have been working in school this week and we have been doing lots of different things with the children here. We were exploring the outside area and found a slow worm slithering around in the damp log pile. It made me jump!! I'm not to keen on creatures that remind me of snakes but the children were fascinated by it. We used the idea of the slow worm to create our own, so today we folded paper to create our own examples of slow worms adding eyes, tails, bows and hats. We have also collected natural materials from outside and have done some printing with the objects, creating some lovely pictures.
The children have also enjoyed talking to the chickens and have given them a little bit of bread as a treat. The chickens are looking very big now and are enjoying their new home. Unfortunately, they wont be laying us any eggs until late August, so we will have to wait a while to see what the eggs taste like. Hopefully, Mrs Rush will be able to use them in a cake for us all to eat.
We love seeing what you have been up to at home, so remember to send us your pictures. I have set some new problems on Reading Eggs and Maths Seeds so if you get a chance have a look at that too. Evie and Henry have started trying the Maths Factor activities online at home and they are really enjoying them, so if you have a computer at home you can join for free.
Have a good week.
Mrs Channon
Maisy's wonderful weaving!
Hello Zebra Class!
I hope that you have had a wonderful day enjoying the lovely sunshine. I was in school today and the children, Mrs Mould and I spent lots of time outside. We kept an eye on the chickens, who also enjoyed being out in their run to enjoy some warmth!
Maisy has been in touch with some lovely photos to share with us all. She has been very clever and has created her own weaving board to display the beautiful flowers that she picked on her walk today. I think this is a fantastic idea and maybe one you might like to try at home. You just need some cardboard and wool for the weaving part. You could display anything from flowers like Maisy, to feathers, leaves or other interesting objects.
Enjoy the rest of the sunshine this week- I think it is meant to be warm one!
Mrs Rockey :-)
Holiday
Mrs Rockey and Mrs Channon are on holiday from next week Mon 11th - Fri 15th (as they did not get their Easter holiday) so they will not be replying to your emails or messages straight away. If you need to get in touch with us do not hesitate to contact the school office or deputyhead@westbury-inf.wilts.sch.uk
Daizi's news
Daizi has been doing a lot of work this week about VE day. We did research using internet, books and newspapers. D even spoke to her Great Nan who was there and we wrote down what she remembered. D worked really hard on this. We also made a victoria sponge to celebrate tomorrow using a recipe that her great nan used during the ww2.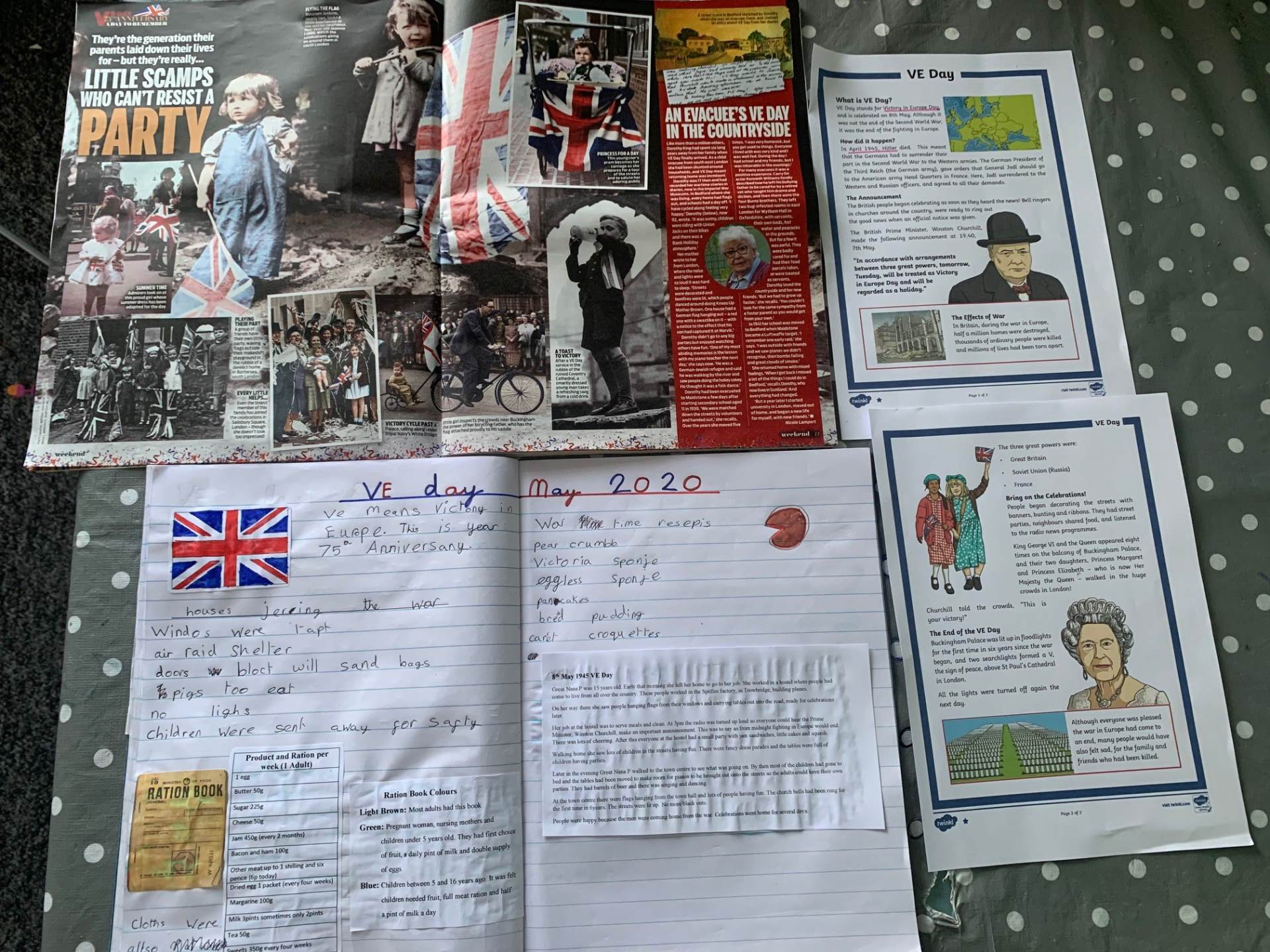 Maisy's News
Good afternoon everyone,
What a lovely surprise I have had today- an email from Maisy!
Maisy has been missing her friends very much but has been doing some lovely things at home to keep herself busy. She has been on a puddle walk with her family, which looked like so much fun. Maisy has also been practising her ballet skills. We obviously have lots of ballerinas in Zebra Class :-)
Thank you for getting in touch, Maisy!
I hope you all have a wonderful bank holiday weekend. Stay safe and as Mrs Channon said, enjoy celebrating VE day tomorrow.
Mrs Rockey :-)
Keep Smiling
Hi Zebras
What amazing work we have been sent, its lovely to see what you are all getting up to!! I'm so glad you had a wonderful birthday Mila, it looks like you had a fantastic time!
Mrs Rockey's butterflies also look amazing, what a wonderful experience to watch them emerge from their chrysalis.
Our neighbours have hatched more chicks which Henry and Evie went to visit the other day, they look so tiny and fluffy compared to the chicks we hatched at school. I've put a picture at the bottom so you can see how big they are getting.
It's a bank holiday tomorrow and some of you may be celebrating VE day with your families at home. This is an important day to celebrate Victory in Europe day when Germany surrendered its army and ended the second world war. You might be colouring or making the Union Jack Flag to wave out your window like the one below. You might be eating a British classic of tea and cake or clotted cream on scones with jam. If you are celebrating enjoy and stay safe.
Enjoy the sunshine Mrs Channon
Beautiful Butterflies
Something very amazing happened in Mrs Rockey's house today! Take a look at our video below!
As you can see, our caterpillars have finally emerged from their chrysalides and they are now beautiful painted lady butterflies. We had to feed them with a sugary solution, fruit and flowers for a few days until they built up enough strength to spread their wings and fly away into the big, wide world. They were very tame and sat on May and Alice's fingers for a very long time before they said goodbye. I think they really liked us and didn't want to go!
Look out for our butterflies in your garden. You never know, they might flutter all the way to see you and say hello!
Goodbye beautiful butterflies xx
Mrs Rockey :-)
Connor's super VE Day work
Hello Zebras!
How are you all and have you had a super day? Connor certainly has! He has been very busy finding out about VE Day and has made his own special flag ready for the celebrations on Friday. In case you didn't know, VE Day stands for "Victory in Europe Day" and marks the end of World War 2. Isn't Connor's flag fantastic! I wonder if any of you will be having your own VE Day celebrations on Friday? If so, we would love to hear all about them.
Please keep sending us your emails. It really does make our day when we hear from you.
Take care everybody and stay safe,
Mrs Rockey :-)
Mila's wonderful experiences
Good afternoon Zebra class,
I hope that you are having a really lovely day. Isn't it wonderful to have some sunshine again.
Guess who has been in touch today......Mila! What a wonderful surprise! Mila has been doing the most amazing things at home, so I wanted to share her experiences with you all.
Mila is now 8 years old and had a wonderful birthday. She played Toy Story Monopoly, had a pinata, lots of wonderful presents and a superb leopard print cake.
Not only has Mila learnt to ride her motorcross bike, but she has also been practising her balance on her new rollerskates. In fact, Mila's whole family had some new skates, so they are learning this skill together, which I think is lovely.
On Saturday evening, Mila had a very special glow disco. She taped lots of glowsticks to her body and then danced around in the dark like a stick man!
Mila has also got a new pet. It is a gecko called Arlo. Now he knows that Mila and her family are not a threat, he has started to come out of his shell a little more. Mila is also looking after a family member's snake at the moment and his name is Norbit. I have to say, Mila is very brave to hold a snake (I am very scared of them as you know!)
I hope you enjoy Mila's photos and videos as much as I have.
Take care everyone and please keep sending your emails!
Mrs Rockey :-)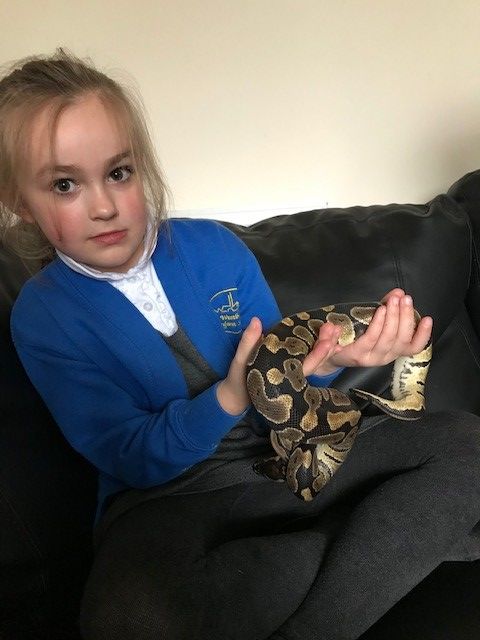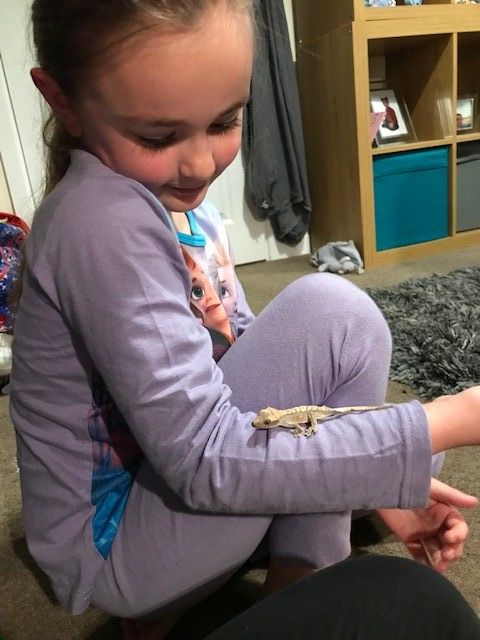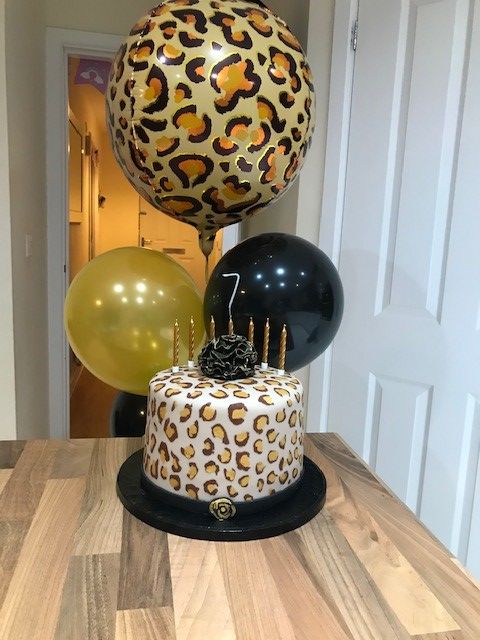 Friday already
Hello Zebras
Well another week has passed, it was lovely talking to the majority of you this week. If I didn't get to chat to you this week Mrs Rockey did and next time we ring you we will swap so that we both get to have a chat with all of you. It was lovely to hear what you have all been up to. I hope Mila had a wonderful birthday yesterday, and got lots of wonderful presents, Ollie enjoyed playing in the garden and Amelia enjoyed taking her dog for a walk. It sounds like you are all staying very busy!!
As well as coming into school this week I have also had a busy week at home. It was Evie's birthday on Thursday and we wanted to make it special for her so we turned our lounge into the Odeon Cinema and surprised her with a viewing of the new Trolls film which she really enjoyed watching with her tub of popcorn and pick'n'mix. We also had a princess pamper room and I painted Evie's nails, played relaxing music and relaxed with the scented candles.
We made pizza for tea and had an ice cream factory for pudding. I also made Evie a cake based on our class name Zebras which we shared (at a distance) with our neighbours after we all clapped for the NHS at 8pm outside our houses. They surprised Evie by singing her Happy Birthday which was a wonderful end to a fun filled day.
I hope you have all had a good wee with the home learning and have had a go at some of the Reading eggs and Mathseed challenges I set you last week.
Enjoy the weekend, I look forward to seeing what you have been up to over the weekend.
Mrs Channon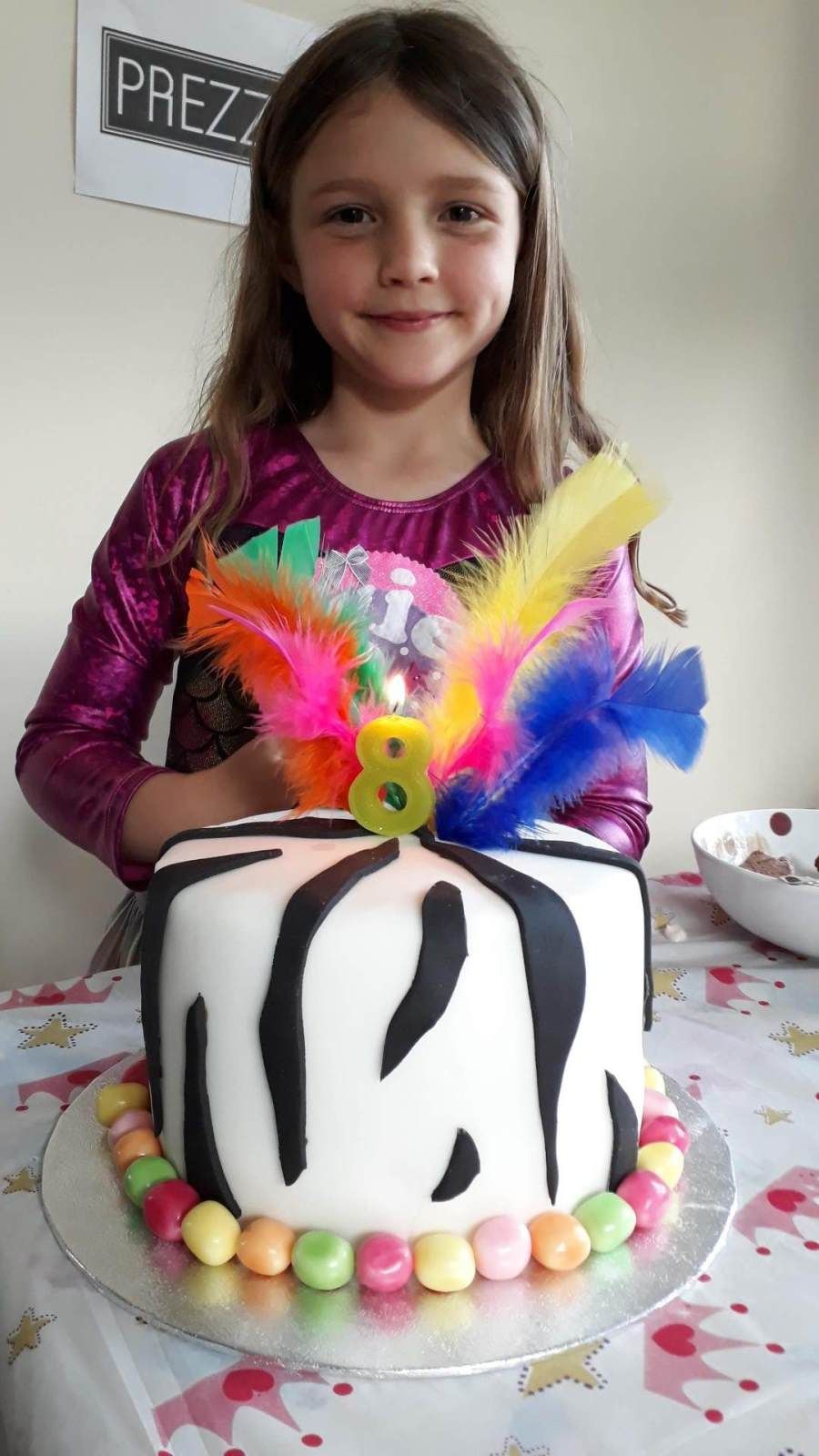 Daizi's amazing salt dough and life cycle work
Good afternoon everybody!
How are you all and are you having a good day? It was so lovely to talk to you all this week on the phone. Mrs Channon and I loved hearing your voices and it made our week. I was lucky enough to see and wave to Daizi too, which was a real bonus. Also, Jessica spent a day with us in school on Tuesday, which was wonderful. She painted a fantastic rainbow which hopefully she might stick on her window at home.
Today, I have some wonderful work from Daizi to share with you all. She has spent a very long time making a salt dough heart, which she has carefully painted in rainbow colours. Isn't it beautiful?! I suggested she finds somewhere to display it at home so that everyone can enjoy looking at it.
Daizi has also been finding out about different life cycles and has written a very detailed piece about a wasp's journey from a tiny baby through to adulthood.
Thank you to you, Daizi, for all your hard work. I have really enjoyed looking at it all.
Please keep sending us your fantastic emails, everybody.
I hope you enjoy Mrs Airey's story video. How lovely to see her and Ellen!
Have a great weeekend,
Mrs Rockey :-)
Casey's rainy day painting fun!
Good afternoon Zebras!
Where has the sunshine gone? At least all of the plants will have a really good drink today. I have recently planted some sunflowers in my garden, so hopefully the rain will really help them to grow. (I am not very good at remembering to water my plants!)
I have received a lovely email from Casey this afternoon. She has been finding things to do to keep her busy on this rainy day and she has painted a wonderful picture of a police house. I especially love the way in which she has used her paintbrush so carefully to add details on the windows. It must have taken you a very long time, Casey, but I know how much care and attention you give to your work to make it look wonderful. Well done! Maybe Casey has inspired you to paint some buildings too? Please send us your wonderful work and we will share it with everybody on our class blog.
Mrs Rockey :-)
Hello from Connor and Georgia !
Good evening Zebras!
How are you all and have you had a good day? I was in school today with just a few children who are coming to school still as their parents are key workers. It was very quiet but we still had lots of fun and we played outside a great deal....until the rain came this afternoon!
I started to work down my list to call each of you today to say hello, although I only had a tiny bit of time so Mrs Channon and I will carry on with this during the rest of the week. I had a wonderful chat though with Katie and Georgia and it was so lovely to hear their voices. They are both missing all of their friends in Zebra Class very much. Katie has managed a few chats with Jessica and Erin. It is lovely that you are finding ways to keep in touch with one another. May and Alice have been writing letters to their friends and have posted these, which is also another nice way to keep in touch which perhaps you could try?
When I got home from school, I found two very wonderful surprises in my inbox. Firstly, Georgia had sent me some photographs of her outstanding artwork. She has made an NHS balloon to support our frontline workers (can you spot the teddies in the basket?) and has also worked hard to draw an incredible giraffe (Mrs Russam will be very impressed with this, Georgia.) Georgia also has a message for you all:
"I'm really missing school and seeing all of my friends. I hope to see you all soon xx"
I am sure many of you feel the same as Georgia. Here are her lovely creations which I said I would share with you:
Kay
As if this fantastic work wasn't enough to make me feel proud, I then opened my second email which was from.....
Connor!
Connor has been working his socks off at home and has produced the most incredible piece of writing. I can see why your family are so proud of you, Connor. Not only is your story beautifully presented, you have also written a whole page which is full of adjectives, adverbs and some accurate punctuation, such as your use of commas . In our class, we have all been trying really hard to increase our writing stamina and write a little more, whilst also remembering our presentation and punctuation skills- not easy! Connor has managed to show that he can do ALL of this in his piece of writing- wow! Connor has also been working hard on his Maths and has been developing his understanding of money, working in pounds and pence. Here are the photographs of his outstanding work:
Thank you to Connor and Georgia for sharing a glimpse of your home learning with us all.
Please keep sending in your messages and beautiful work to our class email address:
class2@westbury-inf.wiilts.sch.uk
We love hearing from you all.
Take care and keep safe and well,
Mrs Rockey :-)
Kayla's super work!
Hello Zebras!
I hope you have all had a wonderful day in the sunshine. We have been so lucky with the weather, haven't we!
I had another wonderful surprise today from another Zebra member. Kayla has been busy writing a story and creating a super picture of a squirrel. Wow- it is beautiful, Kayla. Well done to you! I love the fact you have been practising a range of skills.
Thank you so much for getting in touch, Kayla. Please say a big hello to Casey, too! We love hearing from our wonderful Zebras so keep your emails coming and we will add your photos to the blog to share with all of your friends.
Take care everyone!
Mrs Rockey :-)
Ballet, Rainbows and Home Learning
Good evening to you Zebras!
I hope that you are having a wonderful weekend with your families.
I have just opened my email inbox and have found a lovely surprise.....an email from Daizi with lots of amazing photos attached showing all of the fantastic things she has been doing at home.
I am so pleased to see that you have found a way to keep practising your ballet, Daizi, as you are so talented at it! I still remember the day you brought your ballet exam certificate into class and we were all very proud of you.
I am also incredibly proud of you, Daizi, for earning a rainbow certificate for your window. You have been keeping safe by staying home- which in turn helps others and protects our NHS. I think if you were in school , I would definitely put you on our class rainbow! I am sure many other children in Zebra Class have been doing exactly the same as you- well done, everybody.
Daizi has been doing lots of great writing at home, including some zebra facts, information about Georgia O'Keefe and a letter to Mrs Channon and I. She has also created a flower in the style of Georgia O'Keefe, which is beautiful.
Thank you so much for getting in touch, Daizi. We hope to hear from some more members of Zebra Class really soon. I have added Daizi's photographs below so that you can all enjoy seeing what she has been up to.
Take care,
Mrs Rockey :-)
Caterpillar Update
Good afternoon, Zebras!
I hope that you are all well and you are enjoying this beautiful sunshine. I am sat in my garden at the moment watching May and Alice play on their water slide. We have put plenty of sun cream on as it is so warm. Earlier, we went for a lovely long walk to have some daily exercise and we found a huge field, full of dandelion clocks. We collected some and made a huge bouquet. It didn't last long though as the temptation to blow the little seeds became too much for the girls!
I thought I would update you on our caterpillars. I have now transferred them into the butterfly net as they are all in their chrysalides. I think they might be 'Painted Lady' butterflies when they finally emerge (in 7- 14 days time). Painted Lady butterflies have beautiful colours, just like the one in the photograph below. Isn't it pretty! Two of the caterpillars chose not to hang in their chrysalis, so you may notice these are on some kitchen towel on the floor of the net. I have my fingers crossed that these will still grow as normal into butterflies.
I will be in school next week, so I am looking forward to hopefully catching up with each of you during the course of the week., perhaps with a quick phone call? It would be so lovely to say hello as Mrs Channon, Mrs Airey and I miss you lots.
Please keep sending us your emails and photos. We would love to hear from some of you.
Mrs Rockey xx
Thank you, Amelia!
Good afternoon everybody!
Mrs Channon and I are enjoying a belated Easter holiday this week, but earlier I had a little check of my emails and noticed a huge surprise in our class inbox....a message from Amelia with some gorgeous photographs of what she has been up to at home! I just had to post them on here as I know how much you would all love to see them too. I expect you are really missing all of your friends. Amelia has been making the most of the sunshine by playing in her paddling pool with her little sister. She has also been getting plenty of important exercise out on her bike. I especially love your Easter bonnet, Amelia- well done to you and thank you so much for getting in touch. It has made my day! :-)
Take care everybody. I will send another message soon with a caterpillar update. Three of them have started building their cocoons already ....exciting!
Love Mrs Rockey :-)
Holiday
Just to say Mrs Rockey and myself are on holiday from today as we have worked through the official Easter holiday so we will not be about to respond to emails for the week. If you need anything please email the school or deputyhead@westbury-inf.wilts.sch.uk we look forward to hearing about everything you have got up to over the week next week.
Stay safe
Mrs Channon
Rain, rain, go away
Well hello everybody,
Where has this rain come from?? I guess at least the flowers and the plants are getting to have a nice drink some of them in the garden were beginning to wilt.
We have spent a lot of time in the garden this last week and I do enjoy a bit of gardening, I find it very relaxing! Evie and Henry have also been showing some interest and have sewn their own seeds which are now growing into lovely plants which we will be able to plant out once its a bit warmer.
We have also been doing our daily exercise playing tennis in the garden and making up obstacle courses to run around. Evie and Henry have a mud kitchen too so I have been testing out the daily specials in their cafe. We have also enjoyed going for a daily bike ride. Evie is so much quicker than me I think I need a new bike with a battery attached to it. I know some of you have got electric scooters, maybe I should get one of them :-)
I hope you all had a lovely Easter and have enjoyed listening to the song we sang you. Keep smiling and trying out new things.
Mrs Channon
P.S I've been checking who has been doing the activities on reading eggs, Well done Ayaan and Edward for having a go. It would be nice to see some more Zebras having a go if you can.
P.P.S. Evie and Henry are very impressed they have a caterpillar named after them and cant wait to see what the butterflies look like. Evie thinks she will be red and black and Henry thinks he will be rainbow coloured. We wait to see ........
Caterpillars!
Hello Zebras,
I know that I only posted yesterday, but I had to send you another message as something VERY exciting happened today. These five little friends arrived at the Rockey household .....little baby caterpillars!
I am not sure if you have looked at Mrs Watts' post, but she has also got some baby caterpillars at her house at the moment. We are really looking forward to caring for our caterpillars and watching their amazing transformation into beautiful butterflies. They will need to go through various stages first, including losing their exoskeleton, forming a chrysalis around themselves, before finally emerging as a beautiful butterfly. We cannot keep the butterflies as pets and will need to set them free into the world. I wonder what colour each butterfly will be? At the moment, the butterflies are eating..... and eating....... and eating.......and eating! They need to become nice and plump to help them burst out of their exoskeleton. Once they have formed their chrysalis around themselves, they will hang from the lid of the container that they are in and then when we notice this happening, we must carefully transfer them into this butterfly house: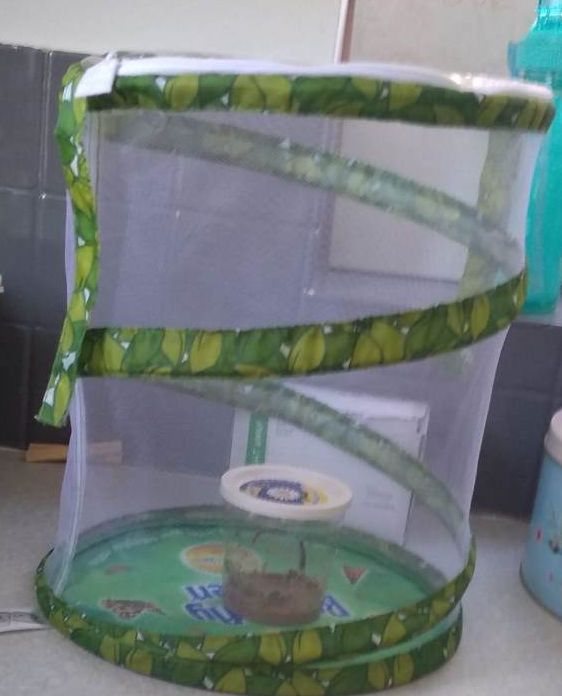 May and Alice have already chosen names for our five little caterpillars. They are called: Frank, Catherine, Moss, Evie and Henry! (Mrs Channon will be pleased about the names Evie and Henry!) I will keep you updated with their progress and post some more photos soon.
Have you been doing anything new and exciting at home? We would love to hear all about it so don't forget you can email us on our class email address:
class2@westbury-inf.wilts.sch.uk
Love Mrs Rockey xx
Easter Weekend Fun
Hello Zebras!
How are you all and have you had a wonderful Easter weekend? I wonder how much chocolate you have managed to eat? The Easter bunny visited our house and left an egg hunt in our back garden. I don't think we will be running out of chocolate eggs anytime soon! Did he manage to visit you this year?
We have been busy doing lots of Easter things in my house this weekend. May and Alice have made Easter biscuits, made decorations for their Easter tree and even had a go at making their own Easter gardens . Yesterday, we had our padding pool out all day- but today it has been much chillier hasn't it, so we did some more baking indoors instead and played lots of games.
I would love to know what fun you have been having so please send an email if you are able to.
class2@westbury-inf.wilts.sch.uk
We are missing you all very much and cannot wait to see you again soon.
Love Mrs Rockey xx
Here are some photographs to show you what we have been up to this weekend!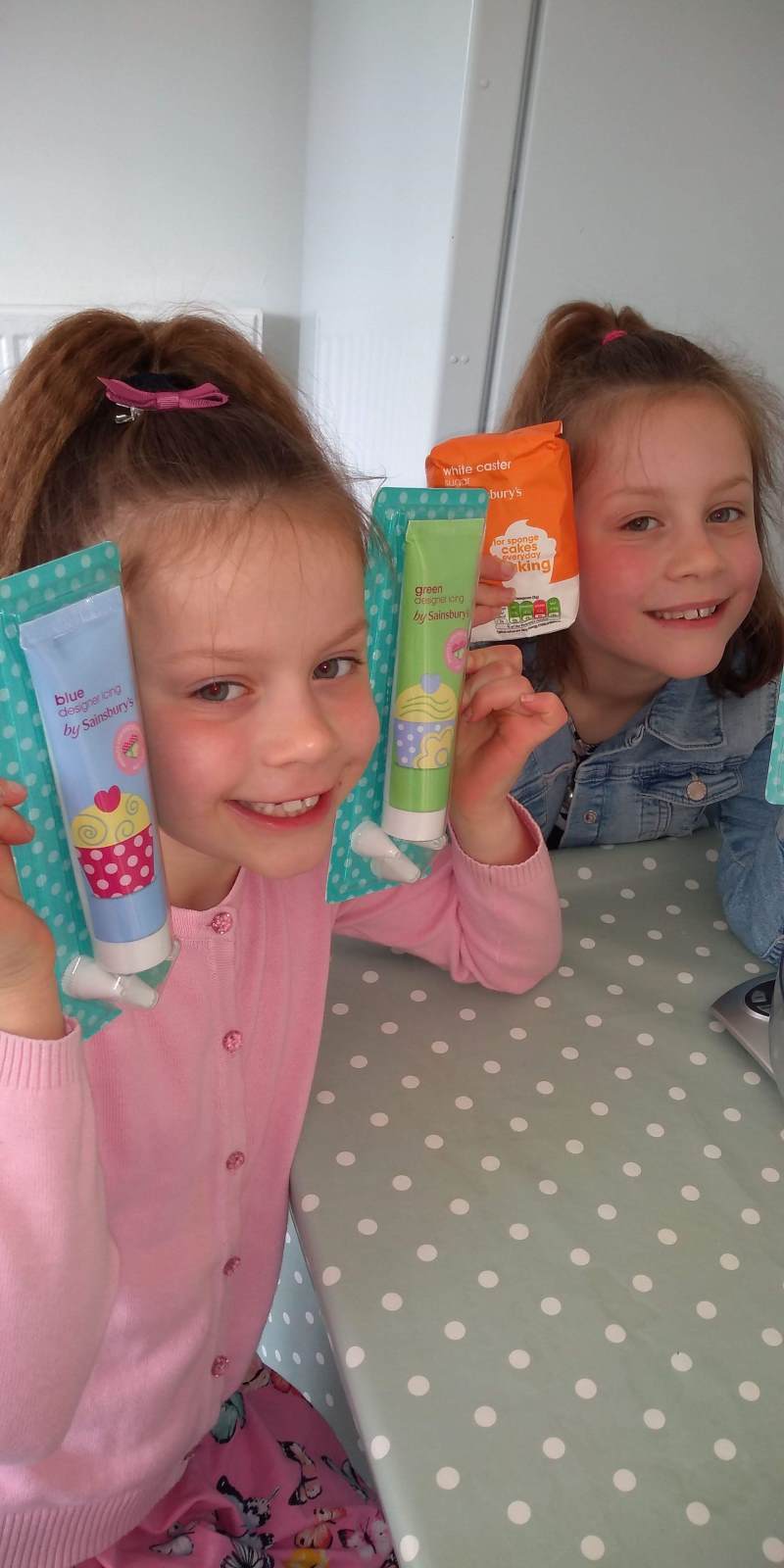 Happy Easter
Hello everybody, how are you all? I hope you have all been enjoying the start of your Easter holidays. I have been in school today with Mrs Watts and we have been busy making Easter cards with the children. I have attached some images of ideas if you want to have a go at home. You could make one for your brother or sister or a grown up that lives with you. I'm sure it will make them smile. I helped Evie and Henry make Easter cards using their finger print to create a chick. We then delivered them to the neighbours along our road to spread a little bit of Easter cheer.
We have been very busy making lots of things at home actually, we made salt dough and put our hand prints into it which we then painted. We also made salt dough rainbows and painted them once they were hard enough. I've done lots of baking at home too, we made rainbow cupcakes yesterday and Easter nests. They were delicious!!
We hope you have an amazing Easter and have enjoyed listening to our stories, keep checking the blog as there are more to come!!
Stay safe! Mrs Channon
Happy Monday!
Hello Zebras and how are you all? We hope that you are staying well. Have you had chance to listen to the story below? Keep your eyes peeled this week as Mrs Channon will be posting a story, too. We hope you enjoy them and they put smiles on your faces.
I have been in school today with Miss Jones, Mr Mould and Mrs Mould. It was very quiet without you all and we missed you terribly. Some children joined us and we kept very busy and especially enjoyed learning outside of the classroom in the sunshine.....and in the rain showers, too!
We hope you have managed to try some of the assignments we have set for your on Reading Eggs and Maths Seeds. You are all doing really well with your home learning. Your next home learning tasks are on our website now, but you do not need to begin these until April 13th. It is lovely to see that you are combining your home learning with so many other valuable and important skills- baking, creativity, physical learning, caring for pets, helping around the home....and much more. Please keep your photos and emails coming in!
Take care everyone and we will be in touch again soon!
Mrs Rockey :-)
Term 4 2020.
More amazing photos!
Thank you so much to another one of our lovely Zebras for sending in your photographs of all the arts and crafts you have been doing at home. I hear you have even converted your garage into a classroom...what a fantastic idea! Keep up the great work :-)

Bread Baking Skills
It is so lovely to see what you have all been up to at home. As well as completing the tasks set in your home learning packs, many of you have demonstrated that you have been trying out so many other skills too.Look at this amazing bread that two of our Zebras have baked at home today, which has been shaped into a bunny and a panda. Fantastic work! I thought I could smell something delicious wafting through the air today...this must have been it! Thank you to those of you that have been in touch via the class email to say hello or to just let us know how you are. We look forward to receiving your emails very much so please keep them coming.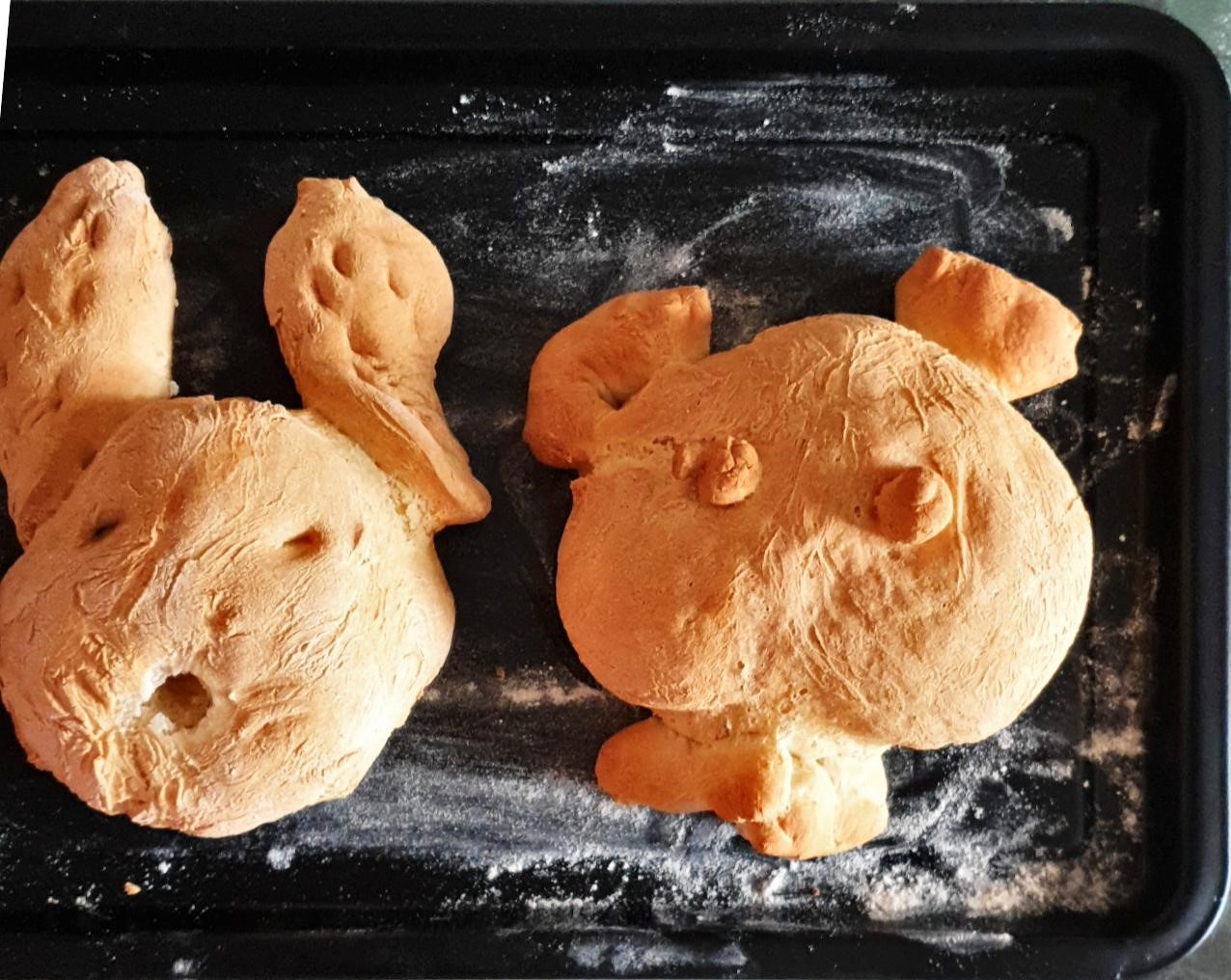 Photos
Thank you to one of our lovely members of Zebra Class for your wonderful photos today. It looks as if you and your sister have been very busy doing Easter crafts. Your dogs look interested to see what is going on, too! We would love to hear from many more of you, so please keep in touch via our class email address:
class2@westbury-inf.wilts.sch.uk
Or send your photos directly to Mrs Newbury:
deputyhead@westbury-inf.wilts.sch.uk

Reading Eggs and Maths Seeds
From tomorrow, you should find some new, additional assignments to try on Reading Eggs and Maths Seeds when you log in. These will last until Friday. Good luck- we hope you enjoy them :-)
End of Week 1
Good afternoon Zebra Class!
How are you all? We are missing you so much and cannot wait until we are back together again. We have loved receiving so many photographs of you working at home (see the 'Home Learning Gallery' on the website) and in so many varied ways. Your pictures have brought huge smiles to our faces. I love the photo of your giant Easter egg , Amelia.... and Connor, your photographs show how busy you are being at home. Jacob and Daizi- perhaps you could come and do some gardening for me as you clearly have green fingers- well done! Keep sending your pictures to Mrs Newbury at:
deputyhead@westbury-inf.wilts.sch.uk
Thank you to all of you for working so hard on your home learning tasks throughout this first week. We can see from Reading Eggs and Maths Seeds that many of you have had a go, which is fantastic! Over the next few days, we will try and set some extra tasks for you to try. Don't forget, you can send us an email if you are not sure about anything at all. Either myself or Mrs Channon will respond within 24 hours. Just to remind you, our class email address is:
class2@westbury-inf.wilts.sch.uk
Hopefully, you are managing to find some time to keep yourselves fit and healthy. It has helped that the weather has been kind to us and we have had some sunny days. In my house, we have spent lots of time in the garden and May and Alice have enjoyed some short walks with me too. Have you tried some of Joe Wicks' activities, or the 'Go Noodle' videos, which we use in class? If you would like any extra ideas, look on our school website under 'Curriculum' and 'PE'. Mrs Kerbey has created a new keep fit challenge for us all to try, called 'Westbury Infant School Personal Best (PB)'. The idea is that you count how many different keep fit moves you can manage in 30 seconds....and then each day you try to improve your score and beat your personal best. If you head over to 'Badger's class blog, there are some videos of Mrs Kerbey and her family demonstrating some of these moves for you.
We hope that you continue to stay safe and well. Keep smiling everybody!
Mrs Rockey and Mrs Channon
Home Schooling
Well everyone, what a different week we have all had. It's very quiet in school with none of you here and I am especially missing your lovely singing in assemblies.
We hope you are all well and staying safe. Some of you have been sending in your pictures of your home schooling which has been fantastic, it is lovely to see you working so hard and enjoying your learning at home. Keep up the good work and we look forward to seeing some more pictures of your learning next week. Please send them to deputyhead@westbury-inf.wilts.sch.uk
Have you all got your rainbows up in your windows? Evie and Henry had a go at painting one with their daddy while I was in school and they have put it in our window as a sign of hope in these strange times.
Remember if you have any questions please contact us on our class emails.
Have a good week and enjoy this wonderful weather we have Mrs Channon and Mrs Rockey
White Horse
Today the children have had a wonderful experience visiting the Westbury White Horse. Many of the children had been before with families but to visit with your friends gave us all a very different experience. We talked about the battle of Ethandun and thought about how the vikings would have tried to attack King Alfred. We re-enacted the battle and thought about how tired they would have been climbing up the steep hills in their armour and carrying their weapons. The trip really bought our learning to life and to look at the setting in which it all happened proved a great learning experience.
The Battle of Ethandun
What a busy week we have had. On Tuesday we had an amazing experience. We were visited by the real King Alfred and he talked to us about the battle and how important it was in history. He told us lots of the things that has made England the way it is today because of that battle.
On Thursday we had a visit from Jo at the Fairy Cupcake Cakery and she helped us decorate a cake with the Westbury White Horse on it. This was a lovely experience for the children and it was a good opportunity for children to be creative in a different way. A big thank you to Jo for spending the time with us.
This week also saw book day and as usual the outfits did not disappoint. We had some super book characters old and new.
King Alfred
This week we have started our new topic on the Battle of Ethandun. It has been very interesting learning all about this as it actually happened right here in Westbury. We have started off by thinking about Anglo-Saxon villages and what they were like to live in. We then thought about King Alfred and why he was an important King. We spent time sketching and painting him which the children have really enjoyed. We are looking forward to our trip to the White Horse in a couple of weeks when we will be able to imagine the battle and think about what happe
Term 3 2020
Around The World
The children have worked so hard this term and have created so many wonderful things we ran out of room trying to display it all at our Around The World exhibition this week. It was wonderful to see the progression across the school and to see what all the year groups had been up to this term. The Zebras loved trying the shortbread made by Year 1 and were amazed at the 3D models made by Reception. We hope all the parents that came to look at our hard work enjoyed what they saw.
After we looked around the exhibition with our passports and filled in the questions we had to find the answers to we went into the ICT room and practised our keyboard skills and mouse control on the computer. It was quite clear the children are very used to using tablets and the touch screen when they tried to control the computer in the same way. We soon learnt how to control the mouse and produced some great drawings. We will continue to develop our skills on the keyboard.
Have a wonderful half term everyone and a good rest
Super Sewing
We are so proud of all the children. This week they have mastered sewing and have created their own panda hand puppet. The children developed their skills over two days and by the end of the second afternoon some of them were able to thread their own needle, use a running stitch and even unpick when faced with a tangle! All of the puppets look different, yet every single one is fantastic. We could not have completed the sewing project without the help of so many wonderful parents, nannies, grannies, aunties, MDSAs and other friends of the school. Thank you to every single person who gave up their time to come in and support the children. You are welcome any time!
You can see our panda hand puppets at our "Around the World" exhibition next Thursday afternoon (13th February) so do come along and have a look.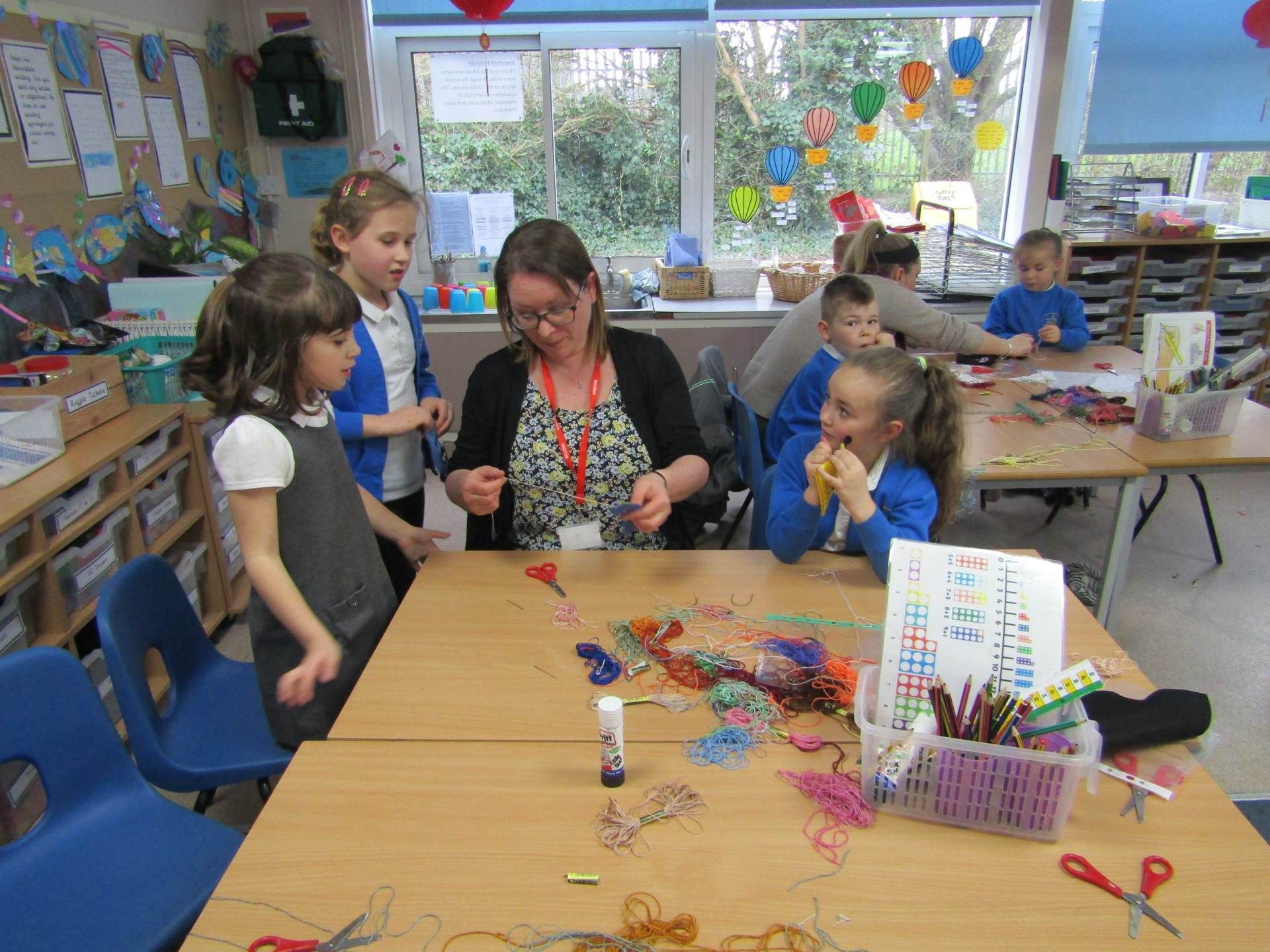 Chinese New Year
This week we have been learning the story of the Chinese New Year. We have thought about how people prepare for the Chinese New Year and how they decorate their houses like we do at Christmas. We learnt the story about how all the animals decided which animal should be selected for the first new year. Mrs Rush made us a delicious Chinese meal for us all to enjoy at lunch time and we practised writing our names in Chinese. We also made puppets of the different animals and acted out the story to practise using story language and expression as the characters spoke
Baby Animals
This week we have been looking at animals and their babies. We have learnt the names of all the baby animals and thought about what they need to survive. We had great fun designing a home for a hamster and thinking about all the things it would need to grow up healthy and happily. The children had some wonderful ideas and their designs looked lots of fun for the hamster but most importantly they remembered that all animals and humans need food, water and oxygen to stay alive.
In maths we have been exploring statistics and learning about collecting information in a tally then recording it in a pictogram. Maybe you could have a go at collecting some information in a tally at home as a bit of fun?
Thank you to everyone that has volunteered to help us with our sewing, however, we are still in need of some extra helpers. If there is a parent or grandparent, auntie or uncle out there who would like to support the children with this activity on the 3rd or 4th February at 1.30 please let us know. Thank you in advance Mrs Channon and Mrs Rockey.
Please can we also remind you to have a go at pracising the spellings with your children for their test on Friday and try to hear them read at least 4 times a week acknowledging it in their reading diary. We have lots of children that have reached 50 reads but we would really like everyone to get there.
Chinese Dance
Today the children have had an amazing experience learning some Chinese dance moves from a trained dancer. As we have been learning about China we thought it would be appropriate to learn a dance from that country. The children listened really well and followed the instructor really well so we were able to put the movements together and by the end perform a short Chinese dance routine which you will be able to watch at our exhibition at the end of the term.
We hope you have enjoyed learning about the 7 continents and the 5 oceans, the children have amazed us with how much they have remembered. Thank you for your support learning these at home.
Happy New Year
A very Happy New Year to everyone and welcome back! We hope you all had a lovely Christmas and enjoyed your time together. Thank you so much for all the lovely gifts you gave us they were very much appreciated.
We have started the new year back with our topic Around the World. We have been thinking about where we live this week and learning to name the 5 oceans and 7 continents. All this information is on the knowledge organiser the children have bought home today so if you could read through this with them and ask them questions about the information that would be lovely. They have found remembering all this information quite a challenge so some extra practise at home would help.
On the 3rd and 4th of February we are starting a sewing project and we are in need of some adult help!! If you are free on either or both of these afternoons your help would be gratefully received. If you could let us know if you would like to help that would be lovely. We look forward to posting the amazing finished results which will also be shown at our end of topic parent event on the 13th February.
Term 2 2019
The Sleepy Shepherd
Wow and well done to all the Year 2 children for their amazing effort and performance of the sleepy shepherd. They have tried really hard to learn all the songs and the words to the play in a very short time and delivered a great performance to everyone that came. We hope you enjoyed watching it.
In our lessons we have continued our busy learning and have been thinking about multiplication. We have been learning lots of ways we can work out a multiplication question and have even been writing some of our own questions for each other to answer and work out. We have been trying really hard to learn our 2, 5 and 10 times table so any help with this at hope would be great.
Gingerbread Men
This week we have been thinking about Victorian Christmas traditions which led us to think about how they used to use gingerbread not only to eat as a treat but as decorations to fill their houses. We decided to investigate the best way to make a gingerbread using playdough. Some of us squished and rolled it others pushed and twisted it. After lots of investigating we then planned and designed our own gingerbread which we will sell at our Christmas market after the Year 2 performance. We hope you can all make it.
Christmas Costumes
Hopefully, you will now know what your child's part is in our forthcoming Christmas play, The Sleepy Shepherd. The children were given a character slip last week, with information about their required costume. Some children also have some words to learn and were given a highlighted script.
Please could you ensure that all costumes are brought into school in a clearly named bag by FRIDAY 6th DECEMBER. If you are struggling to source your child's costume, please come and see us as we have lots of clothing in our resources cupboard that we can let your child borrow.
Exercise
Today the children have been thinking about exercise and what we can do to keep our bodies healthy. We carried out an experiment to see what happens to our bodies when we do different types of exercise and how our bodies change. We had some really good discussions about our heart rate, muscles, breathing in oxygen and aching body parts. All the children went home enthusiastic about getting fit and trying out new exercise activities. We cant wait to hear what some of them have been trying out at home.
Sevington School Trip
Today the children have returned from an amazing school trip to the Victorian School in Sevington. We had a wonderful day full of new experiences and were able to participate in activities we had only up till now read about.
The children were split into gender groups for their activities and the boys were led off to learn about how honey was collected and was made into candles which they all had a go at. The girls were taught how they would of had to clean things and made lavender bags to keep their clothes smelling fresh.
The children took part in handwriting lessons using an ink pen and wrote on a slate to practise their numbers.
There was time allowed outside when the children got to have a play with authentic Victorian toys but again they were split into gender groups and were not aloud to mix or play with each other.
Overall we had an amazing day which i'm sure the children will remember for a long time to come. Thank you for all the amazing costumes which just made the day so remarkable.
Welcome to Term 2!
This term, we will be learning about the life of The Victorians and the very famous monarch, Queen Victoria (1837-1901). We have already found out some interesting facts about Queen Victoria's life, such as the fact that she was very tiny- only a metre and a half tall!
Thank you to all those children who have clearly spent time over the half-term holiday researching their own information about the Victorian era and learning information from their Knowledge Organiser.
In our English lessons this week, we have used this fantastic book by Shirley Hughes to find out a little more about the differences between the rich and the poor in the Victorian times. In the story, Daisy is sent away to work for a rich family as a scullery maid. It was often the case that poor children could not go to school and instead had to work to earn money for their family.
We are very much looking forward to experiencing Victorian school life when we visit Sevington School this coming Friday (November 15th). Keep your eyes peeled for some photographs on the blog!
Term 1 2019
Investigators
Today, in Science, we have been investigating which material is the most suitable for making a car tyre. The children made some super predictions about the materials they selected to test, using great scientific reasoning and vocabulary. The children took their learning outside and tested their materials by wrapping each one in turn around a rock before scraping it along the concrete exactly 10 times (to ensure that the test was fair). The children loved doing the experiment and discussing the results with each other. At the end of the experiment the children concluded, as predicted, that rubber was the best material because it was strong, durable and didn't get any holes or tears in it. It was also waterproof and had grip to create plenty of helpful friction whilst driving along.
The Bird Show Performance
This afternoon, we were invited to Westbury Juniors to watch a fantastic performance of The Bird Show, performed by The last Baguette. The theatre group came to the school free of charge as part of the Westbury Arts Festival. The children were mesmerised by the story. They laughed and clapped along with the actors and especially loved the use of puppets to tell part of the story. It was a wonderful experience for the children and hopefully the show will inspire some to follow their dreams of becoming an actor or actress.
Our Materials Hunt
This week we have been thinking about different materials. We have named common and more unusual materials and thought about what certain objects are made from and why. We also went on a materials hunt around the school to see what the school building is actually made from. We found lots of different materials during our hunt.
Making Cars
We have had a wonderfully busy start to the week, using our D.T designs to make moving cars. We used a cardboard box as the chassis for our car and attached axles (dowel rods) and wheels. We had to ensure that the dowel was positioned at the correct height so that the wheels could touch the ground and therefore roll along easily. We also had to make sure that we positioned the dowel in a straight line in order to prevent our cars from veering left or right as they travelled along. It was quite a challenge to find an effective way to keep the wheels on the dowel. Some of us used blue-tak as stopper on the end of the dowel, whilst others experimented with plasticene or foil. We had great fun decorating our cars. Interestingly, some of us stuck to our original design ideas where as others let their imagination run free and their finished vehicle had really evolved from the original plans. We even had a police car and an ice-cream van amongst our finished models. Take a look at our photographs below to see us in action. You can also pop into our classroom for a closer look as we have displayed some of our vehicles for everyone to enjoy.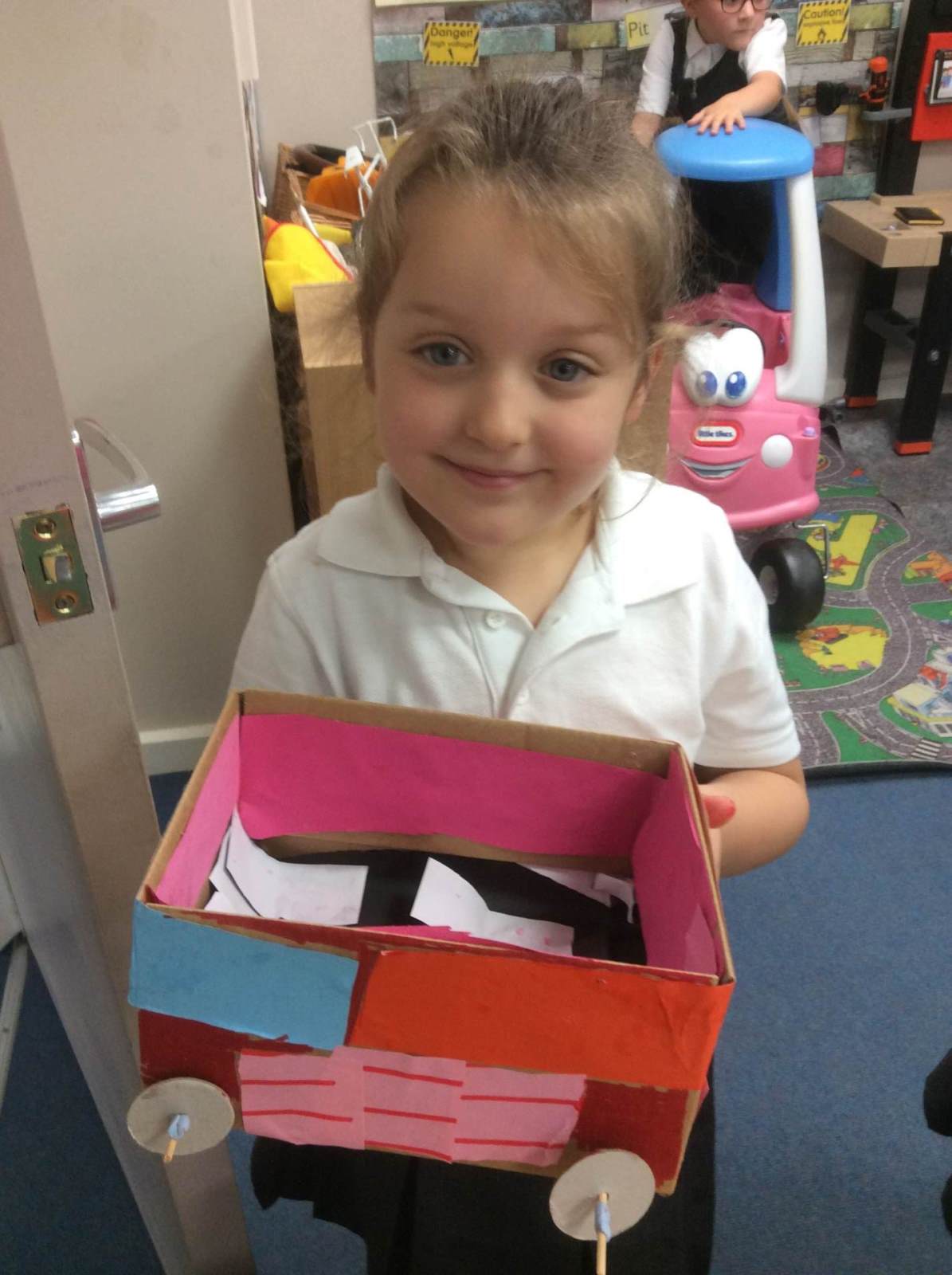 Maths outside the classroom
We have had lots of fun drawing empty number lines with chalk on the playground. We used dice to generate two digit numbers and then had to decide where to write these on our number line. This helped us to understand more about place value and how numbers are ordered. Take a look at our photographs to see us in action.
Haynes Motor Museum
Today the children had a wonderful experience visiting the motor museum. We have been learning and thinking a lot about cars from the past and how they have changed so for the children to actually see these old cars was amazing and the children found it fascinating to look at them all. It was also wonderful to see how much they had remembered and could tell us about the different cars. We saw the first car invented and created by Mr Benz and Mrs Channon got to dress up like Mrs Benz and pretend to drive it. Edwards mummy got to sit in a racing car and we had a competition to see how many children would fit in a Cadilac. What a busy day we have had by all.
Car Wash
As an opener to our topic on transport the children had the opportunity to run their own car wash cleaning members of staff cars today. The children asked for donations from staff which will be used to be benefit and enhance our topic. The children organised themselves into groups and promptly scrubbed, rubbed and soaked the cars. We hope all the members of staff that agreed for their car to be cleaned are happy with the results. While we cleaned the cars it gave us a good opportunity to look at all the parts up close and see how many components we could name. We are all looking forward to finding out more about this.
Changes to transport
This week we have been finding out about how transport has changed over time and what it might look like in the future. We looked at lots of interesting pictures showing us what cars used to be like and how they worked. Ask your child about the omnibus! We then got very interested and excited thinking about the types of cars they may be driving when they are older. It has been a great start to our topic and we are all looking forward to our trip next week to the motor museum where we will be able to see some of these cars up close.
2018-19
July 2019
W Fest!!
Due to the bad weather this morning the M Fest was sadly cancelled. We had some very upset and disappointed children which just wouldn't do so the Teachers and T.A's rallied together to organise a very impromptu W Fest. We had music, colouring, word searches, face paints, tattoos and circus skills. The children ended up having a wonderful afternoon full of fun and festivities. Just what they deserved after the very long term and the excellent effort they have put in this year.
Marvellous Maths
We have had a super practical maths week learning about shapes. we have made 2d shapes on the geo boards which helped us identify their properties and we have made 3d shapes using cocktail sticks and blue tak. The children loved these activities and it really showed how much they have learnt about the properties of shapes. We talked about edges. vertices, corners, sides, irregular and regular shapes.
Sports day practise
We have had a lovely week practising for our up coming sports day. We have got lots of fun races to take part in and we hope you can all join us for this event on the 16th July on the Junior field. Please can we make sure all the children have their P.E kits in school and daps that fit correctly so they can feel comfortable taking part.
June 2019
Animal Research
What a busy week we have had in Zebra class! We have been using the iPads to find out as much information as possible about the different sorts of animals you might find in both hot and cold regions of the world. We enjoyed focusing on the desert and found out some interesting facts, such as tarantulas live in the desert in burrows as it is cool and safe for them. Also, we discovered that most desert animals are nocturnal as the temperature drops significantly in the evenings and it is much cooler for them to come out and hunt. We were also fascinated to discover that Mr Tilsley spent some time living in the desert and whilst he was there he actually came face to face with a scorpion. What a brave man! We are looking forward to seeing some of his photographs.
Treasure Hunt Transition
Today we went over to the juniors for a treasure hunt around the school. This was to help us with our transition. We had to find different characters from a film or book in different areas of the school. This meant we got to find out where the library, hall, computer room, playground, sensory garden and staff room were. Some of the characters were quite tricky to identify especially the Harry Potter ones. Haydon said he enjoyed it because 'I got to try out some of the play equipment at the juniors'. Skye enjoyed it because 'I got to explore the school and find out different areas'.
Wild Place Trip
Welcome back to school and the start of term 6. It has started with a wonderful but wet trip to The Wild Place Project in Bristol. Despite the wet weather the children loved seeing all the animals that we had been learning about in class this week. We had a great talk all about the giraffes and Lemurs and were able to ask lots of questions finding out all about them.
May 2019
Pirate Celebration- Our End Point
Thank you to all of the adults who came into school to celebrate the end of our pirate topic this term. We had so much fun completing a treasure hunt, using our orienteering skills to find letters which we ultimately unscrambled to make the name of a famous Bristolian pirate (Blackbeard). We also spent time designing our own pirate flags, which were rather terrifying indeed! We ended the day with one of our favourite pirate stories from this term, The Pirate Cruncher.
We are looking forward to starting our new topic in Term 6, which is called 'Fierce and Wild'.
Car Creations!
In Science/DT this week, we have spent two afternoons creating cars that can actually move! We were instructed to ensure that our cars had axles and wheels and could travel in a straight line without veering! We used materials such as shoe boxes, dowel, cardboard wheels, a hacksaw, a strong hole puncher and even a glue gun! We had to measure accurately to ensure that our wheels were balanced and equally spaced away from the body of the car. We enjoyed going into the hall with Giraffe Class and Mr Brewer (head of Science) to roll our cars down a ramp and to see if they could travel in a straight line along our masking tape pathway! Next week, Mr Brewer will be taking some of the best cars (and children!) to a Science show where other schools will also talk about how they made their cars. Please enjoy looking at our photographs.












DT
We have been learning a lot about boats this term, especially pirate boats. We have been looking at the parts of boats and their designs.
Today we designed our own boats and had a go at making them. We have made some wonderful boats and hopefully you can have a go at floating them at home.
April 2019
Colour run
Today we did our charity colour run around the Trim Trail. It was lovely to see so many bright colours and the children running so enthusiastically to raise money for the NSPCC. Thank you to everyone who has brought their sponsor form back in already. You still have until Tuesday to return your forms. Your funds are going to help the NSPCC give children a voice.
Blackbeard
This week in class we have continued to find out even more about the most villainous, corrupt and feared pirate of them all....Blackbeard. It is hard to believe that Blackbeard's treasure supposedly still exists somewhere, undiscovered, as he did not tell anyone where he buried his loot. We imagined that we had travelled back in time 300 years ago to The Golden Age of Piracy, when pirates roamed the Caribbean Seas looking for booty! We offered our services to The British Navy by creating 'wanted posters' to help them with their mission to capture Blackbeard. We described his appearance using expanded noun phrases and we warned others not to approach such a dangerous, menacing character. We published our writing by creating a 'final draft' on aged paper. If you would like to read some, do pop into class or take a look in the school hall.

Pirates- Ahoy!
In order to launch this term's pirate topic, we enjoyed a fantastic trip to The Matthew and The M-Shed in Bristol We were able to sail around the Bristol Channel on board The Matthew ship, whilst dressed as pirates to really help us get into character. We were told lots of interesting facts about Blackbeard, who is without question the most feared pirate in history. We were also able to share some of our own knowledge about Blackbeard, including the fact that he had fourteen wives but treated them all very badly! We found out that despite his name, Blackbeard's beard was in fact red, but he covered it in charcoal to make it look black and then set it alight so that he looked terrifying! We were able to explore beneath the deck and enjoyed trying out some of the bunks. We then went into the M-Shed to learn more about Bristol and its transport systems over the years.
Thank you to our parent helpers who accompanied us on the trip. We hope that you did not feel too sea-sick! Here are some of the moments we captured during the day.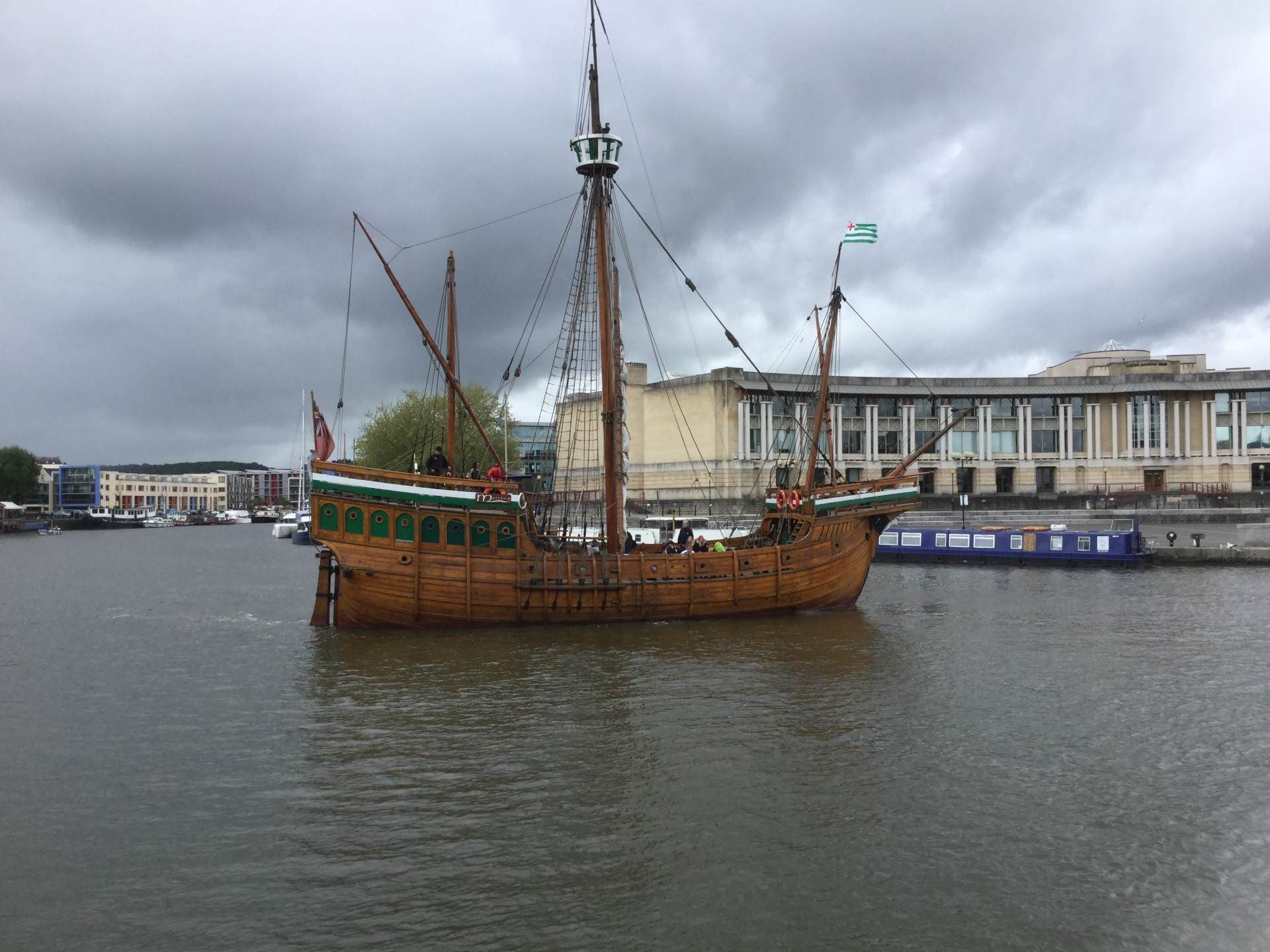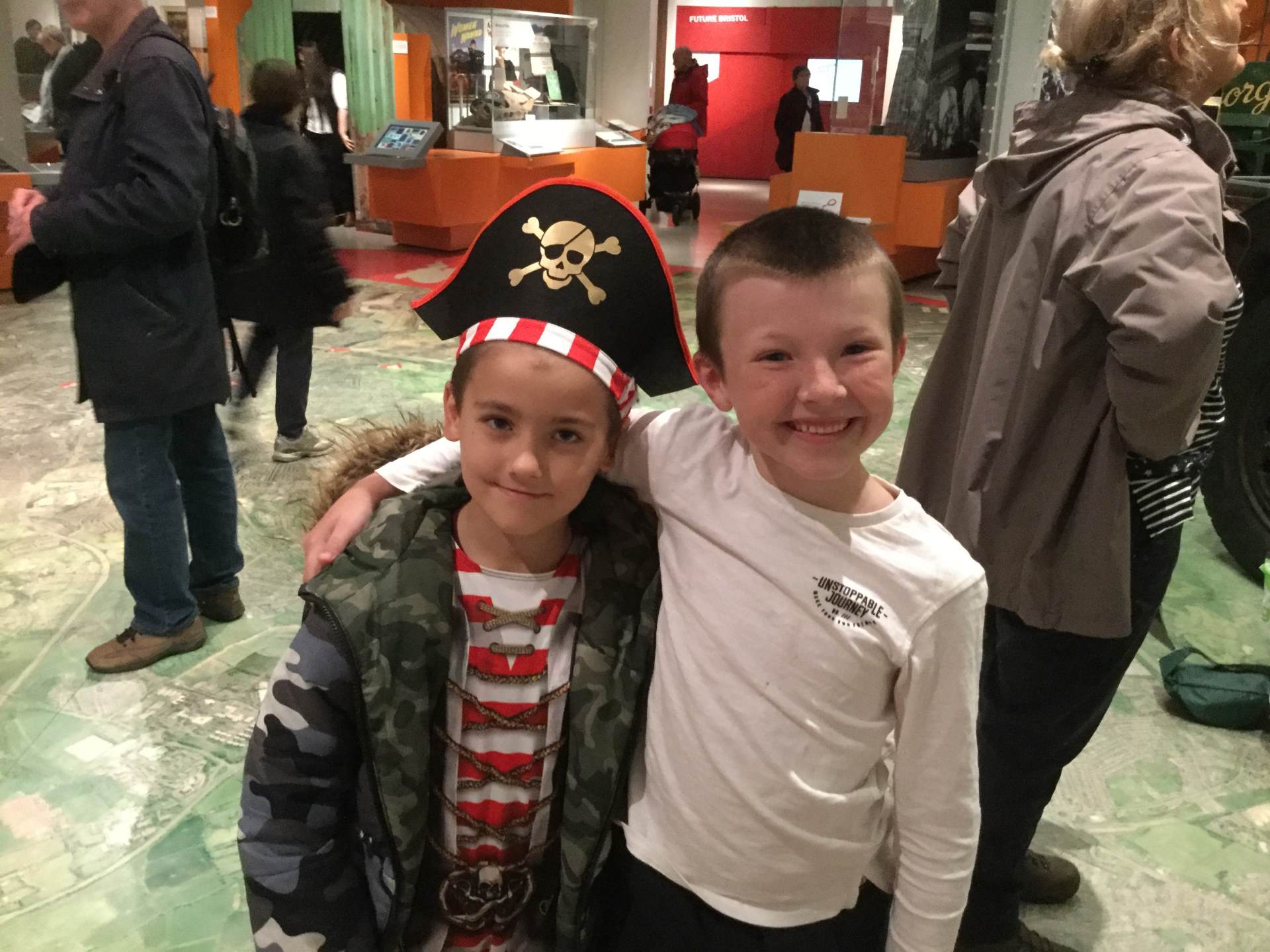 March 2019
Ugly Bug Café Parent Event
Thank you to everyone who came to our ugly bug café today, we hope you enjoyed tasting our delicious bug snacks, although, I have to say the bug juice looked a bit suspicious.
The children had a wonderful time singing to you and serving you our snacks we had made in the morning.
The plant pots were beautifully decorated and I hope the pansies all grow well. Everytime you look at it you can remember the fun you had at our parent event.
Multi - skills at Matravers
The Year 2 children were invited to Matravers to take part in a multi-skills workshop led by their pupils. We were joined by other Key Stage 1 children from other Westbury Schools and in total there must have been over 200 children enjoying and learning form the experience. The children had an amazing time learning new sports games and working on co-ordination, agility and speed. They were able to use a variety of resources we don't have at the infants and work in teams building on communication skills. The children had a great time and we are going to incorporate some of the learning into our P.E lessons back at school.
Gorgeous Georgia O'Keeffe flowers
Our artist this term with Mrs Newbury, has been the American artist, Georgia 'Keeffe. Zebra class have learnt all about her long life (she lived until she was 98!), her techniques and her art work. We began by using magnifying glasses to really observe the details of a flower, we then decided what part of the flower we were going to draw in detail and then made sure that we didn't draw the whole of the flower just like Georgia O'Keeffe. She didn't think people would pay to see her draw small whole flowers so she drew part of a flower on enormous canvases - they were amazing! We have also learnt some different pastel techniques like cross hatching and blending to make new or muted colours. We decided to add our own colour ideas to make them even more special!
Microhabitats
This week, we went on a hunt around the school to find microhabitats. A habitat is where an animal lives and a microhabitat is a smaller, more localised version of the habitat. This could be something like a rock pool, under a log or even just a clump of grass. It has its own temperature and light conditions and certain animals prefer to live there for different reasons.
We split into small groups and explored the following microhabitats:
On tree bark
Under a stone
On the grass
On plants
Under a log
We used the iPads to photograph what we found in the microhabitat (e.g. spiders, snails, caterpillars, millipedes...and lots of worms!) and ticked off the minibeasts we saw on a special recording sheet. Some of us were brave enough to hold the minibeasts but we were very careful to return them exactly where we found them. We talked about how we would feel if a giant snatched us from our beds and dropped us in a completely different, brand new home!
Take a look at some of our best iPad photos, as well as our amazing writing about the microhabitats, what we found in them and suggestions as to why the minibeasts like to live there.
Bark
Grass
Under a stone. Can you see the worms?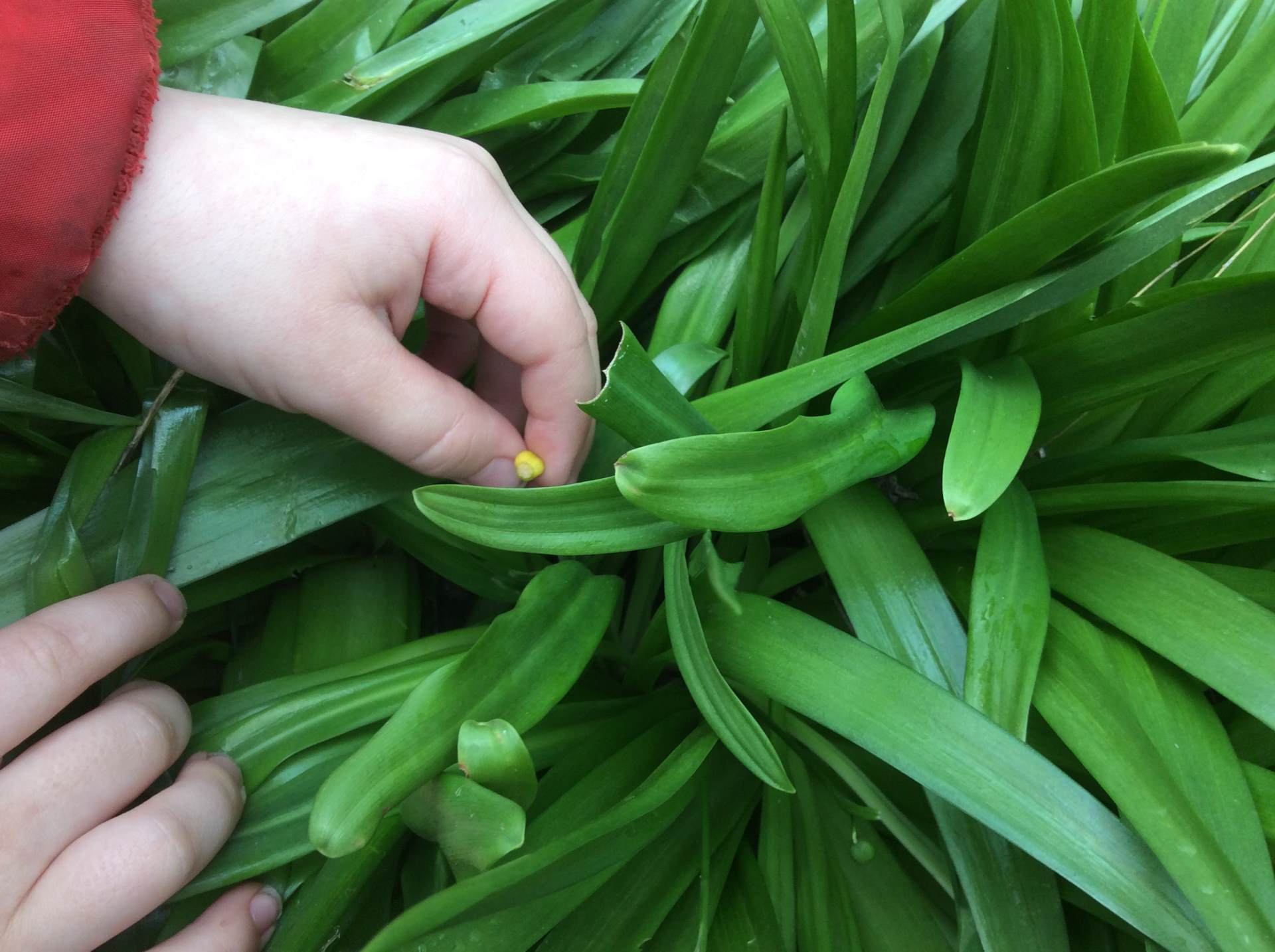 On plants
Under a log
Here is some of our super writing, too:
Weather Watch!
This week, we have transformed ourselves into weather forecasters! We paid very close attention to the changes in weather outside and were especially excited by the drama of Storm Gareth. Who would have thought we could experience almost every kind of weather in a short space of time: heavy rain, light rain, wind, gales, hailstones and even snow! We looked at real weather reports online to inspire us to create our own written weather forecasts in our topic sessions.
We also looked closely at the kinds of weather symbols used by meteorologists and had a go at recording some of them in our books. We talked about how temperature and wind speed and direction are recorded. Have a look at the symbols below. Do you think you can identify what they mean?
World Book Day
Wow!! What a busy day we have had and what wonderful book character costumes we have enjoyed! They were absolutely amazing and clearly a huge amount of effort went into making them and putting them together, so thank you grown-ups. This has to be the best year yet!!
We have had a wonderful time celebrating World Book Day with many different book related activities. We were lucky enough to meet the author Mike Brownlow, who is famous for writing 'Ten Little Pirates', which is just one of the many books in his 'Ten Little....' series. He led a really interesting assembly about the inspiration behind his new book, 'Ten Little Cave Men' and then he delivered a workshop about the importance of mark-making and the use of drawing to represent an idea. He taught us how to draw pirates and robots based on the characters in his stories.
In Maths, we linked our learning to different book characters to help us solve problems involving money. We had some really tricky problems to solve!
In the afternoon, we spent some time talking about our favourite book characters and why we had chosen to come dressed as them. Overall we had a fantastic day!
Perfect Pancakes!
We have had so much fun this week making our own pancakes to celebrate Shrove Tuesday. We not only made the batter by ordering and then following a set of instructions, but we also put our chopping skills to the test and chopped up banana, strawberries and wedges of lemon to ensure that we had plenty of delicious pancake toppings to choose from.
Take a look at our photographs to see us in action!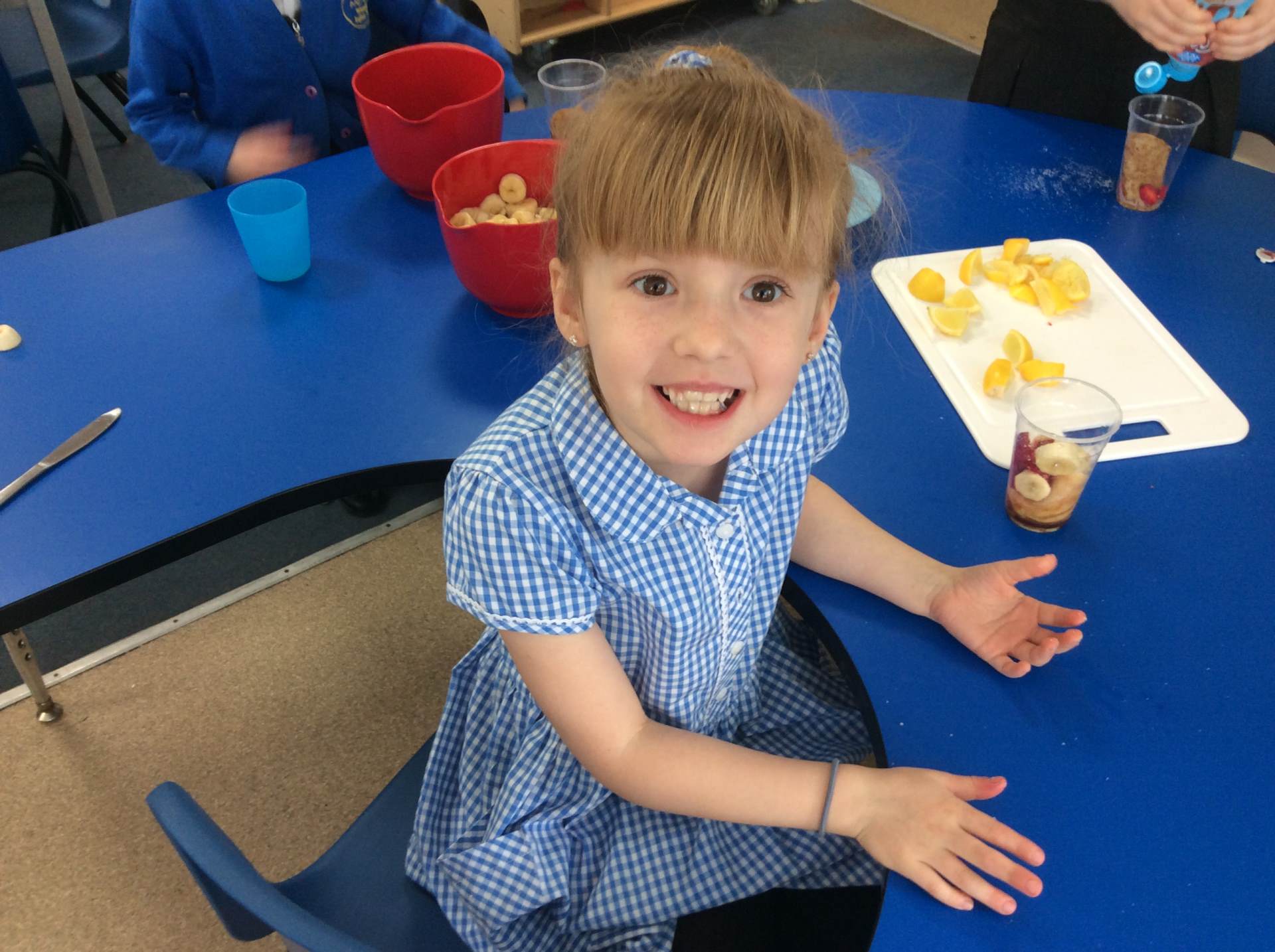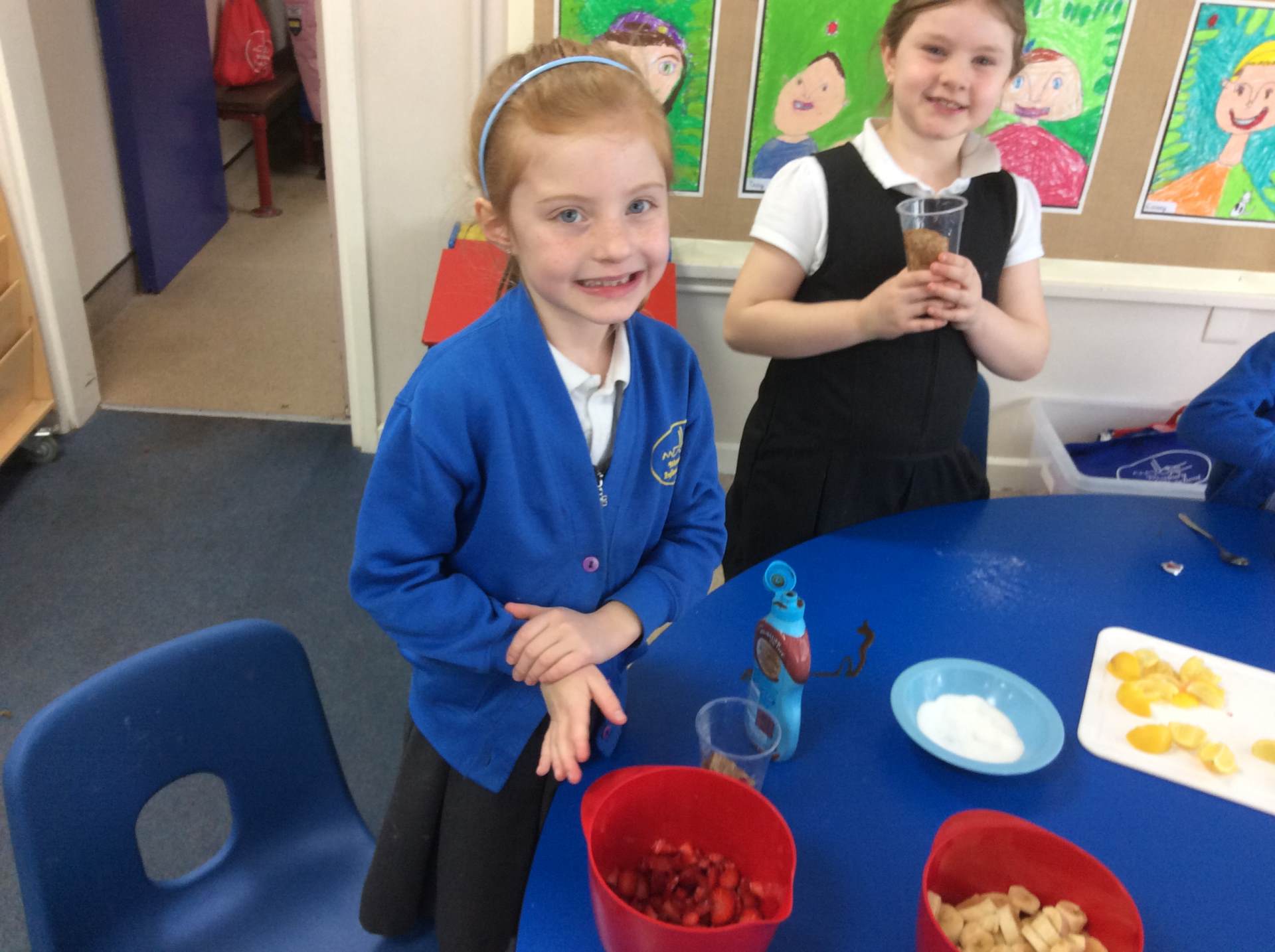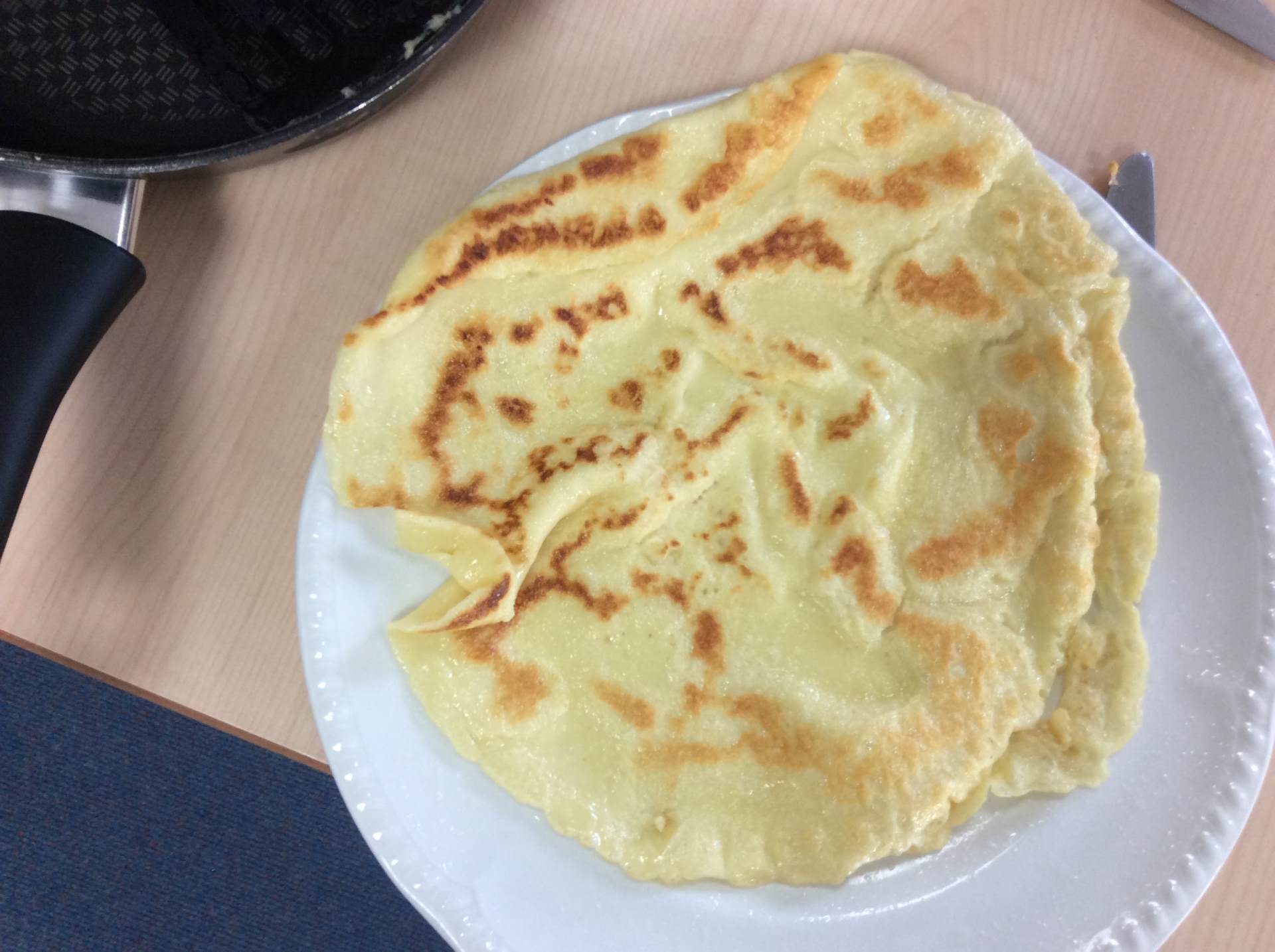 Exploring Westbury in Spring
Today we have been on an adventure around Westbury. We went for a walk to the 'secret sunken garden' behind the church and on the way observed all the wonderful signs of spring around us. We found trees in blossom and bud. We spotted bulbs emerging from the soil and some in full bloom. Even though we couldn't enter the garden itself today we were still able to look dawn and draw the landscape we could see. We even saw a squirrel and birds making their nests.
On our way back to school we stopped at the park to make collages of animals and flowers using the natural resources we could find in the park. We had a wonderful time.
In the afternoon a lady from the Wiltshire Wildlife trust came to visit and we learnt all about how to make compost and how we can make our own. We learnt how lots of the things we throw in the rubbish bin could actually be put in a compost which would help reduce waste and help our planet too. We have made our own compost containers and will add our used fruit peelings etc to it to make our own compost which should be ready to use by July. Just in time for us to use for growing our own plants.
February 2019
Fantastic Frida Kahlo inspired self-portraits!
On Tuesday, Mrs Newbury explored our artist Friday Kahlo with Zebra Class. The children learnt about her (short) life and looked at many of her self portraits.
Frida Kahlo was a Mexican artist who painted many self-portraits. She had a very bad accident when she was 18, which left her bedridden for most of her life. She loved painting nature, pets and things that meant a lot to her. In her paintings you can see all she things she loved the most.
Zebra Class used the rules of painting self-portraits to design their own Frida Khalo inspired piece of art. We chose leaves to frame the portraits, drawing them carefully and some of us included our loved pets and a flower just like Frida did in her portraits.
Mrs Newbury explained how to use oil pastels and pen to create these wonderful pictures. We are proud of them and we hope to include them in our Around the World Exhibition as we are learning about Asia and the wider world.
Chinese Food Tasting
We were very excited to have the opportunity to sample a variety of Chinese foods this week. We were given our own set of chopsticks to use and had great fun trying to use them to eat egg fried rice, egg noodles, rice noodles, seaweed, vegetable spring rolls and a range of prawn crackers and Chinese dips. Some of us surprised ourselves and really enjoyed some of the new tastes, such as the crispy, salty seaweed. We used a recording sheet to describe the flavours and then rate them out of 5.
We also made Asian sweets, called Barfi Snowballs. We mixed together condensed milk, icing sugar and desiccated coconut before rolling the mixture into 'snowballs'. We then placed them in the fridge to dry. They tasted delicious...and definitely very sweet!
Take a look at our photographs and please look carefully at our facial expressions to help you decide whether or not we are enjoying the tastes!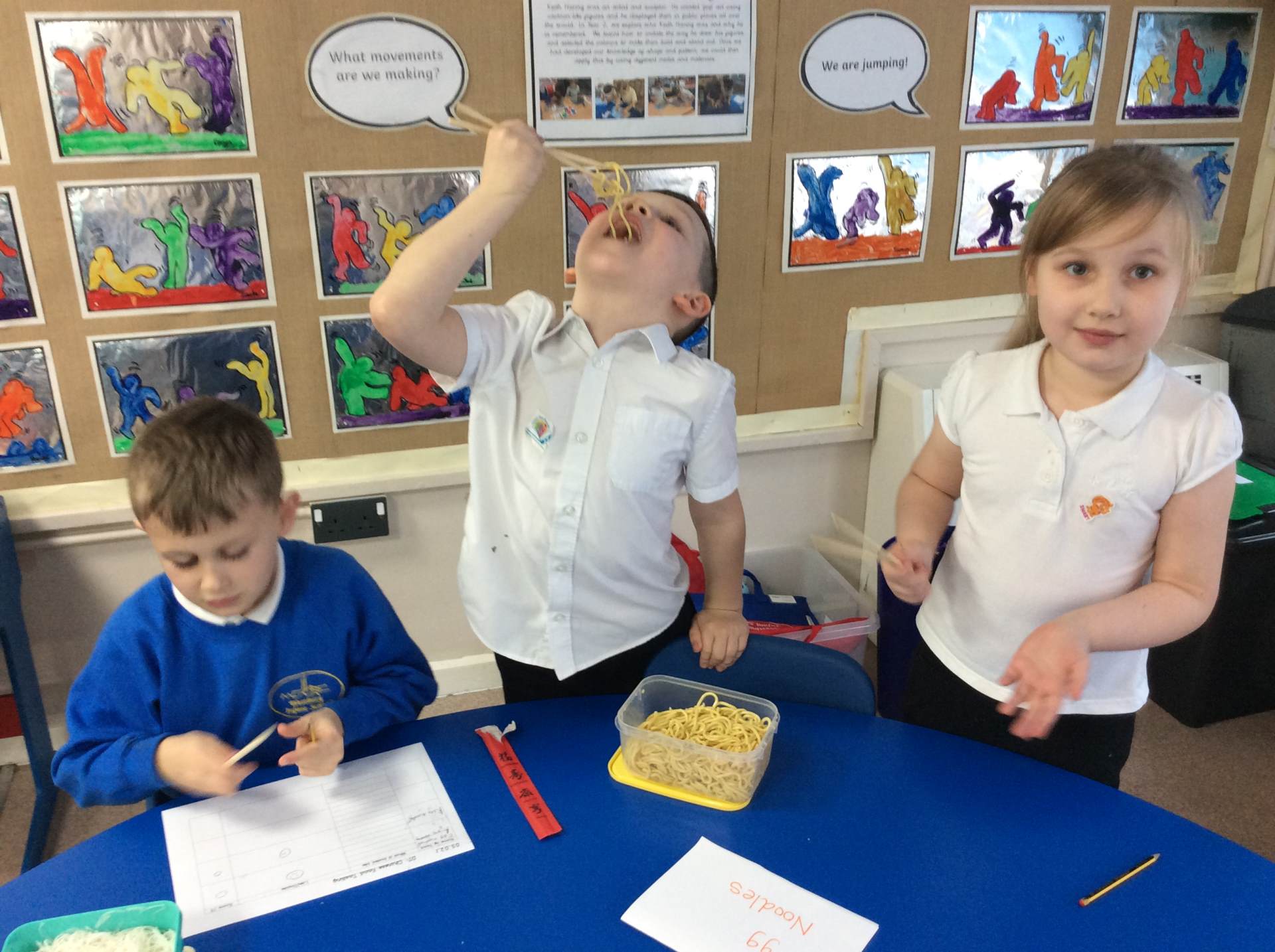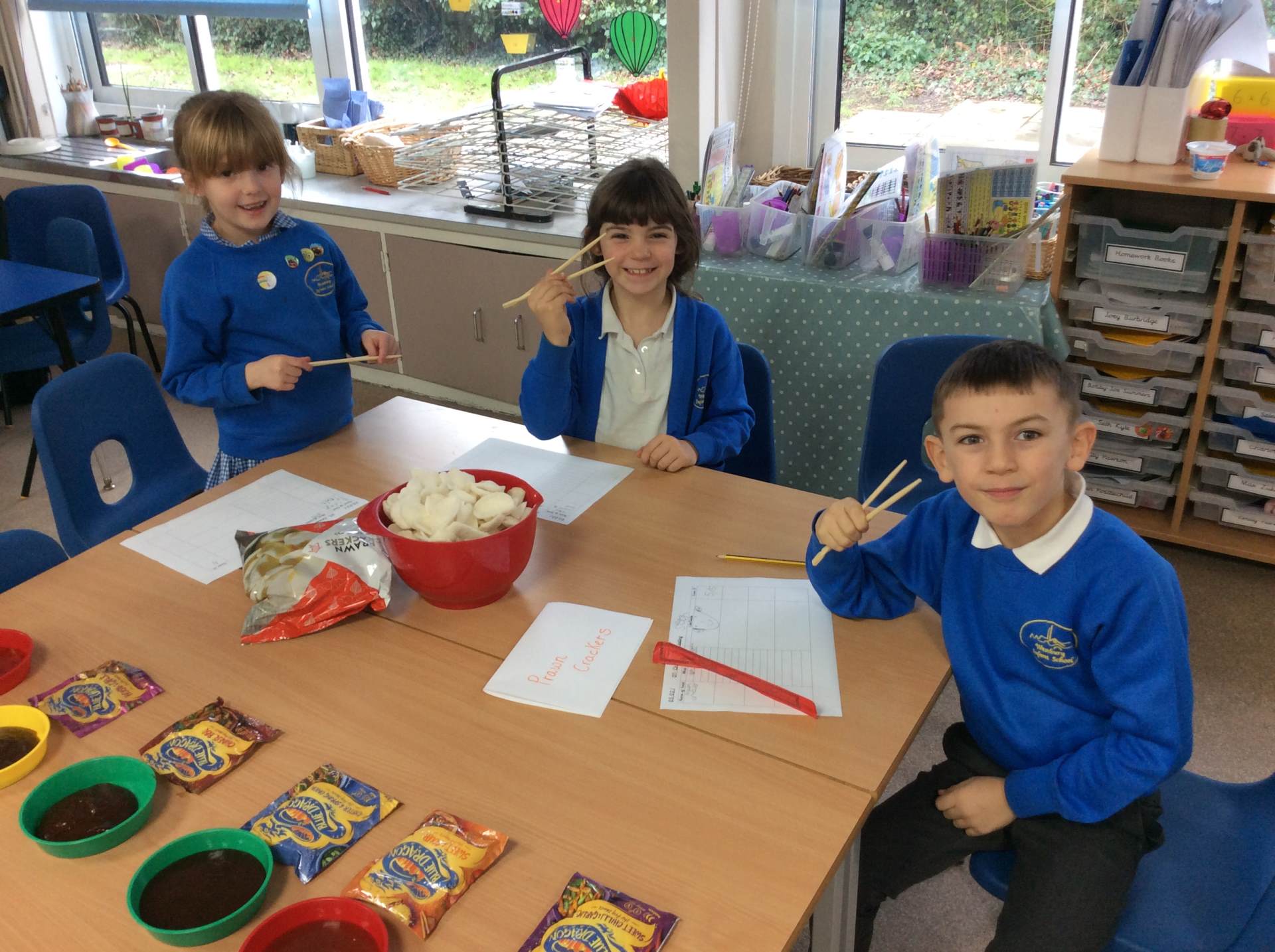 January 2019
Life Cycles
This week, we have been looking a different life cycles. First, we looked at the life cycle of a human and wrote about the changes that take place at each of the following stages of growth:
Baby Toddler Child Teenager (adolescent) Adult Elderly
We then compared the human life cycle to a panda's and discovered how these two mammalian life cycles are similar but also different.We were surprised to learn that when baby pandas are born, they are blind but are quickly able to crawl by the age of just 3 months. Pandas are fully weaned onto bamboo at 8 months. Female pandas become adults at 4 years old and male pandas become adults at 6 years old. This means, if we were pandas, we would already be grown ups!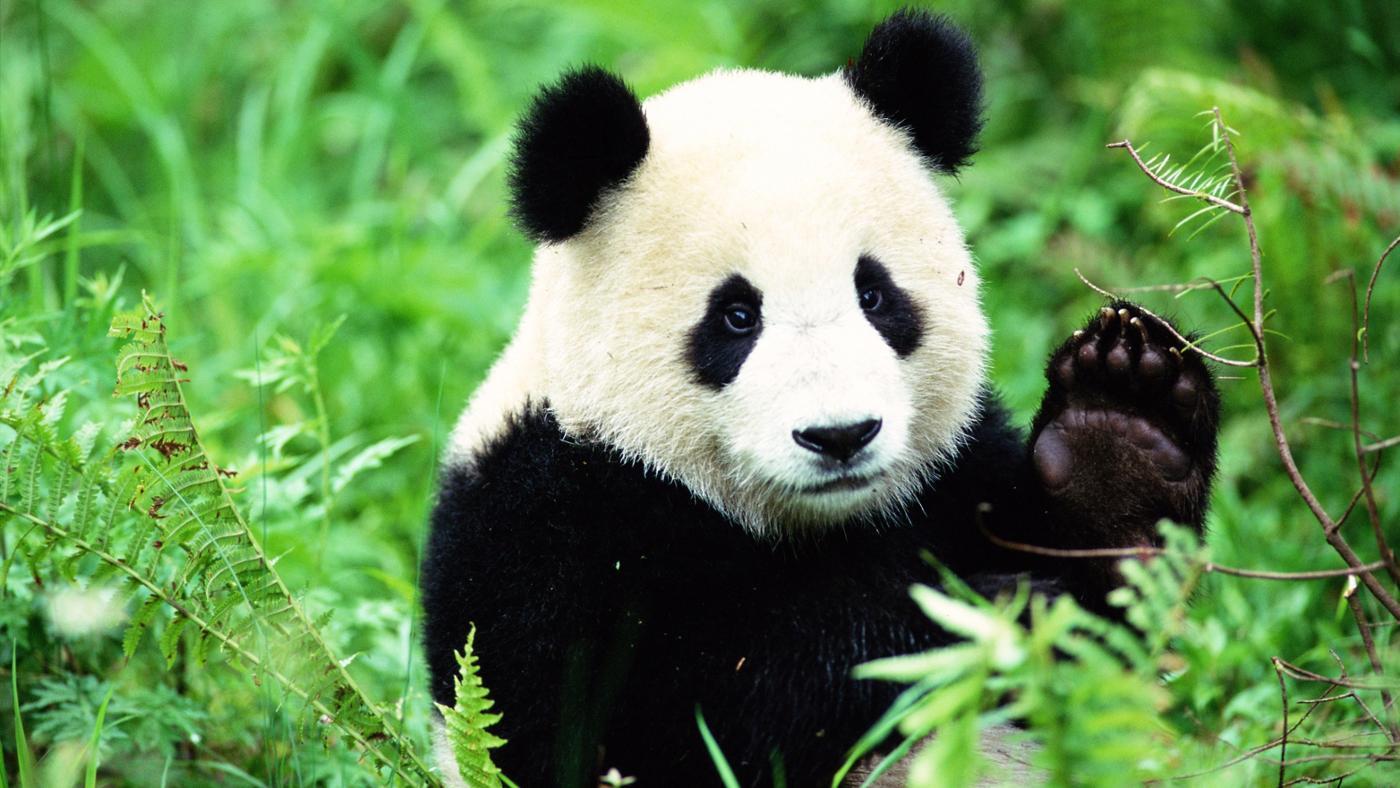 Fantastic Writing!
This week, we have been thinking about some of the ways in which we can challenge ourselves to extend our writing. We have been using expanded noun phrases to make our sentences appealing and interesting to read. An expanded noun phrase includes at least two adjectives and a noun. For example:
The huge, fierce giant.
The terrifying, menacing, wicked witch cast a shocking spell.
We read the story, 'Each, Peach, Pear, Plum' and practised writing our own sentences to describe the final picture. We used some amazing expanded noun phrases , such as 'I spy the witch's cursed, green tea.' Some of us used some conjunctions, too, such as, 'because', 'but', 'if' and 'so'. Many of us have now received our pen license because our writing is neat, well-space, joined and well presented.
Take a look at a sample of our writing. How many expanded noun phrases can you spot?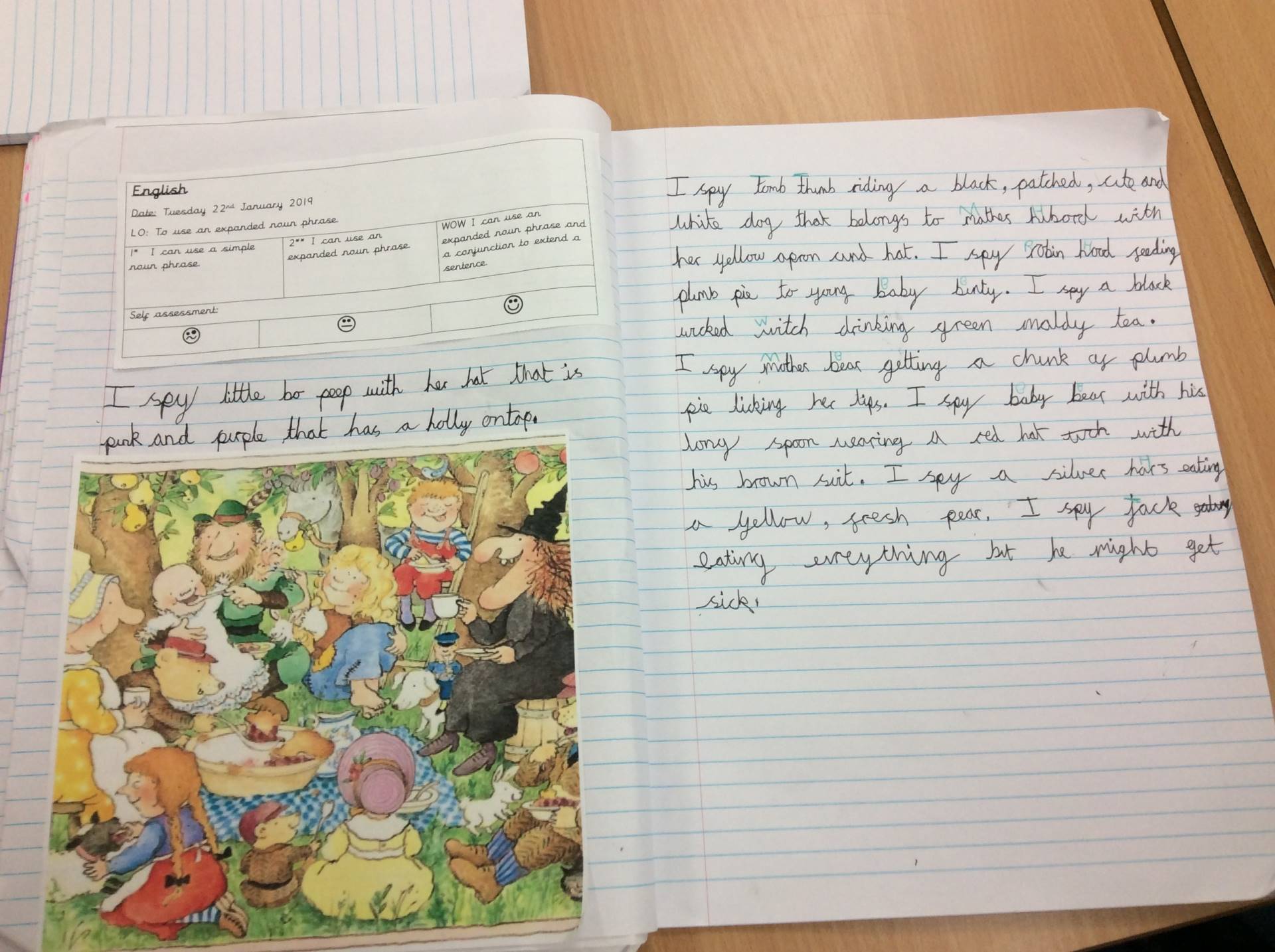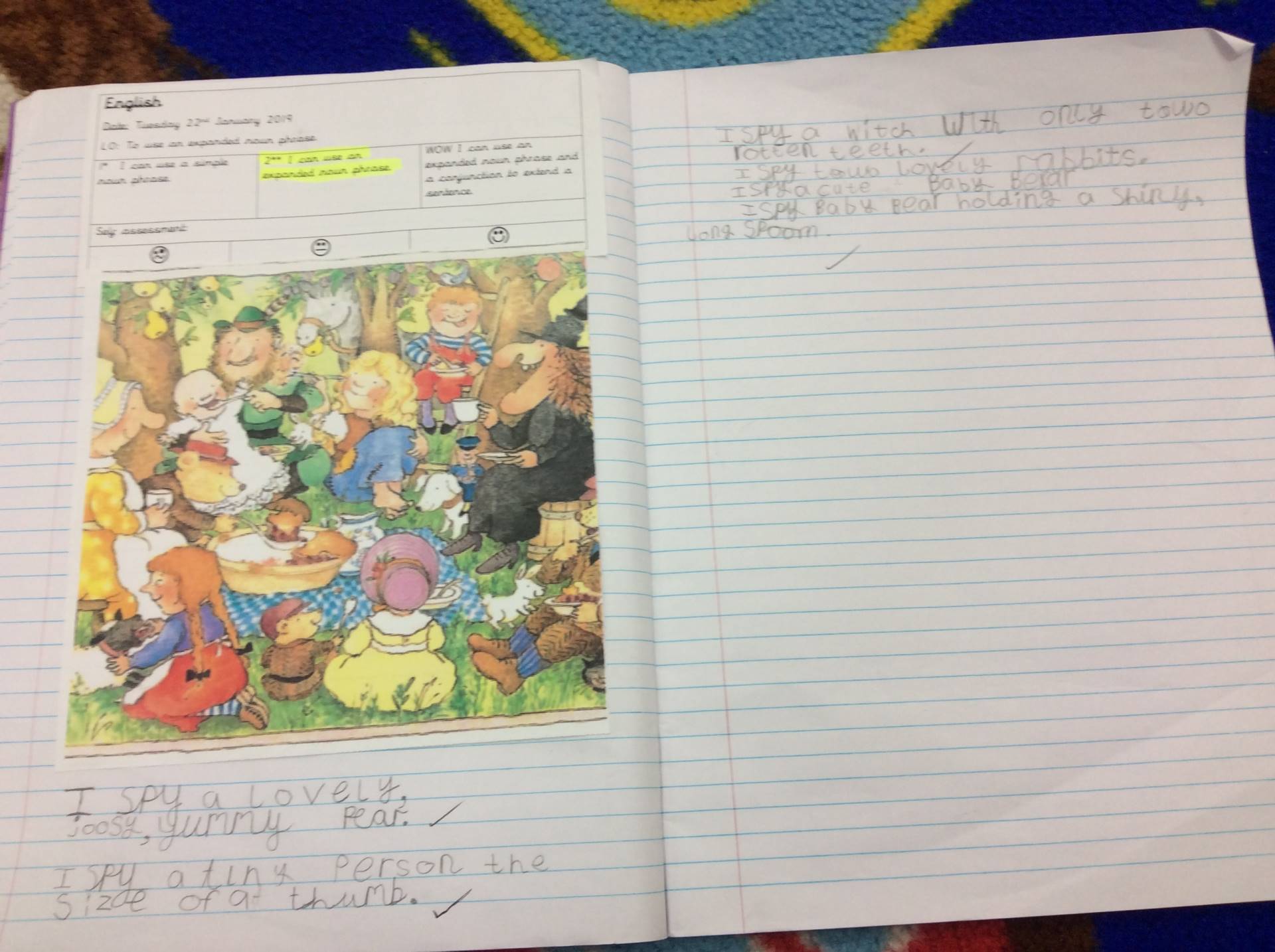 Pandas
Who would have thought there was so much to learn about Pandas!! This week we have been thinking about China and the special Panda bear that lives there. We have learnt lots of different facts about the Panda and I'm sure the children will fascinate you with their knowledge if you ask them some questions about them.
We have also been practising our Chinese dance which we started to learn with the dance specialist last week. It was a lot harder than we thought to remember all the steps but it is coming together and we cant wait to show you a snippet on screen at our parent event at the end of the term.
Keep up the excellent reading, we have a lot of children getting prizes for reaching their 30 reads so well done if that includes you.
Welcome back!!
Welcome to the Spring Term, 2019. We hope that you all had a fantastic Christmas break and enjoyed time with your families. Thank you for our lovely gifts and cards- we are incredibly grateful for your thoughtfulness.
This term, we are looking forward to a whole school topic called 'Around The World'. In Zebra Class, our study country will be China. In particular, we will be focusing on Chinese homes and how they differ to homes in the UK and in other parts of the world. This Friday, a dance specialist will be joining us to teach us some special movements linked to the Chinese New Year. We are very much looking forward to this!
We have kick started our topic by finding out what we know already about China. We have created 'mind maps' to share our existing knowledge and we have uploaded a sample to this blog post for you to see. We knew an impressive amount already, including information such as the name of the capital city (Beijing), examples of Chinese food and also facts about the Chinese New Year.
In our Computer session on Monday, we found out how to 'copy' and 'paste' an image from the Internet into a word processing document. We searched for images of China and added our own text. Please see some of our work below.
Also, we have been busy in English and have been comparing the stories of Cinderella and Prince Cinders. We retold the story of Cinderella, ensuring that our sentences were as detailed as possible and included conjunctions, such as 'and', 'but', 'because', 'so', 'if' and 'when'. Please have a look at some of our story retells.
Later in the week, we will be painting our names in Chinese writing, using careful brush strokes. We will share this work with you when it is finished :-)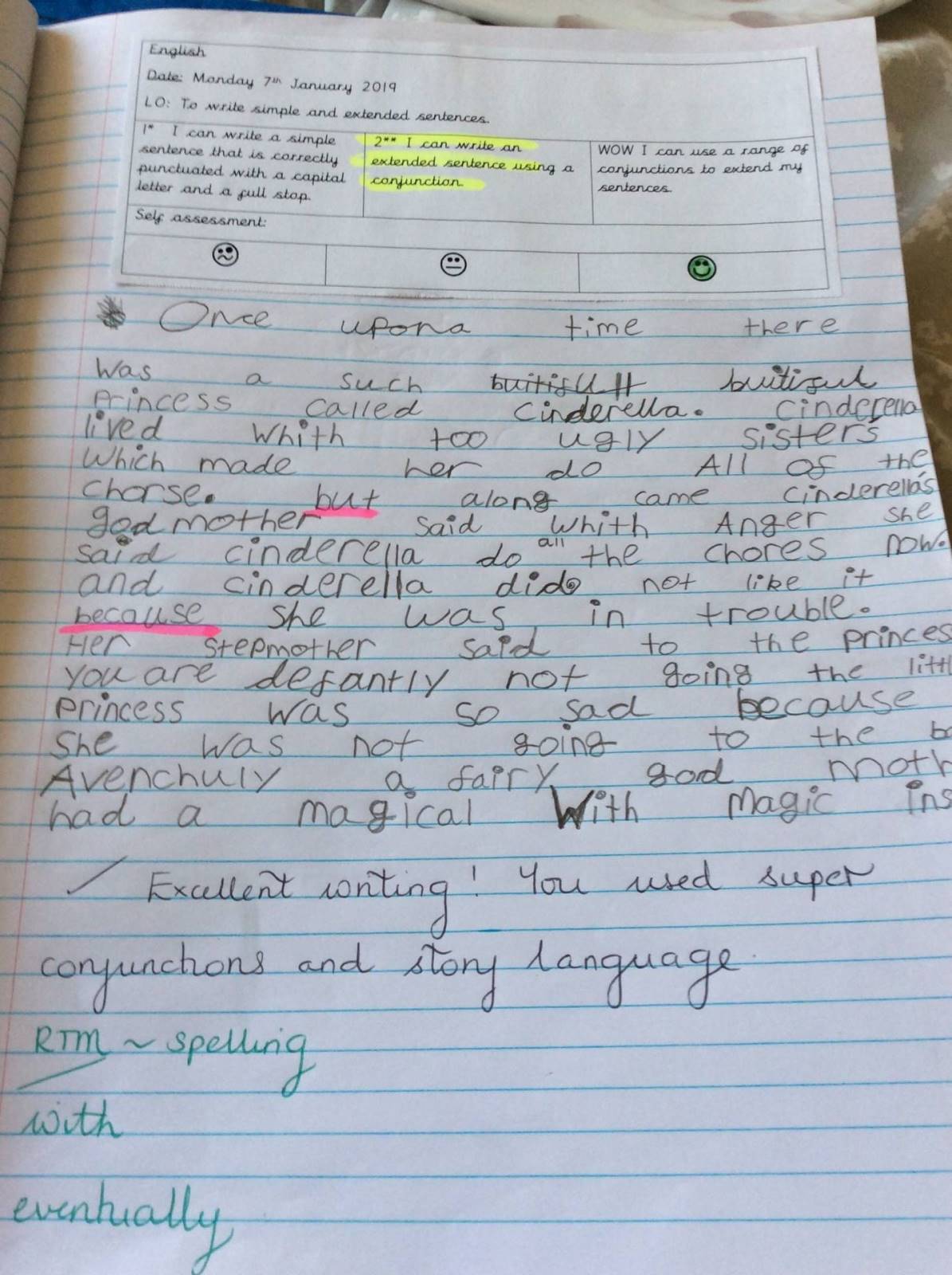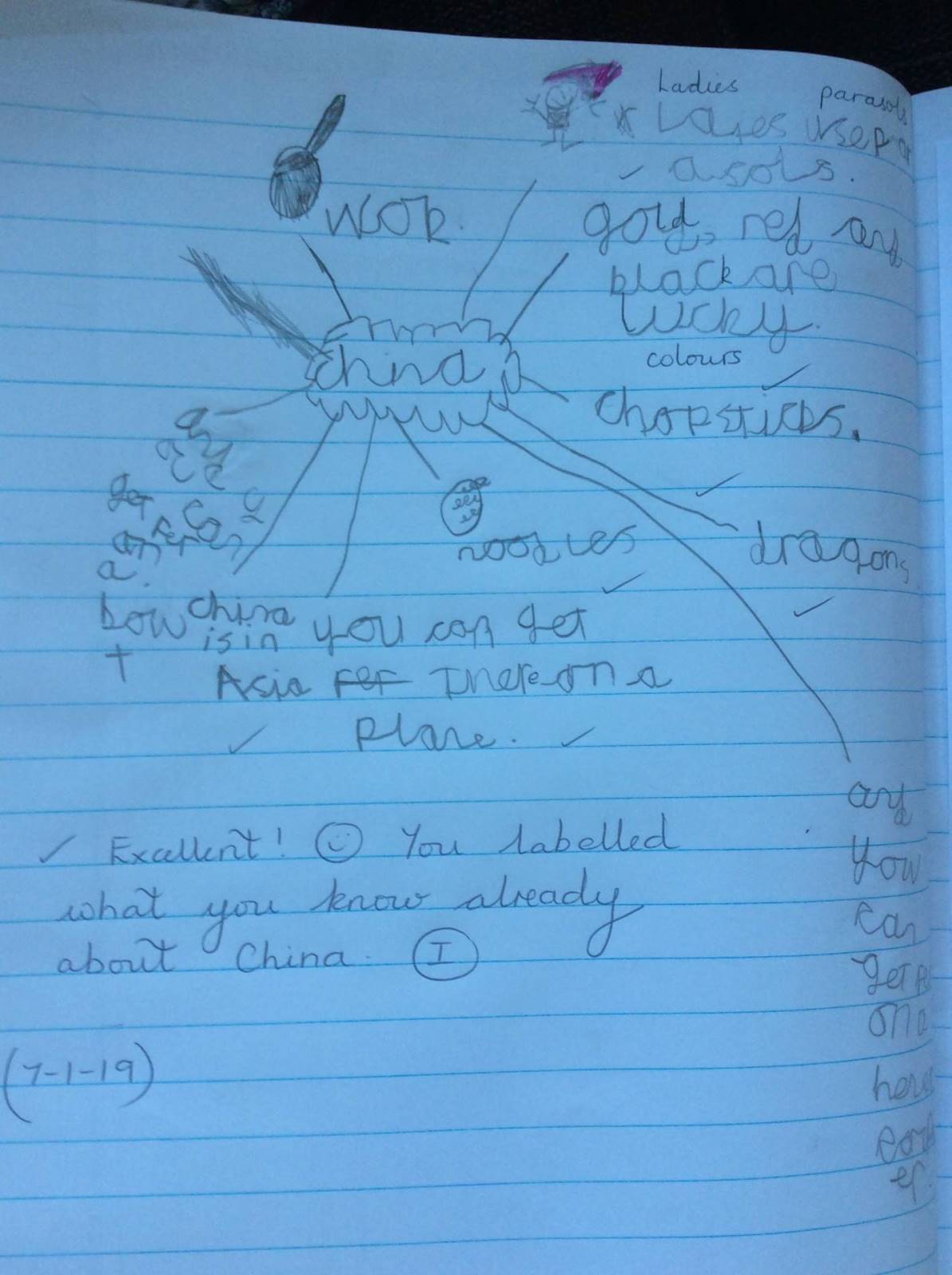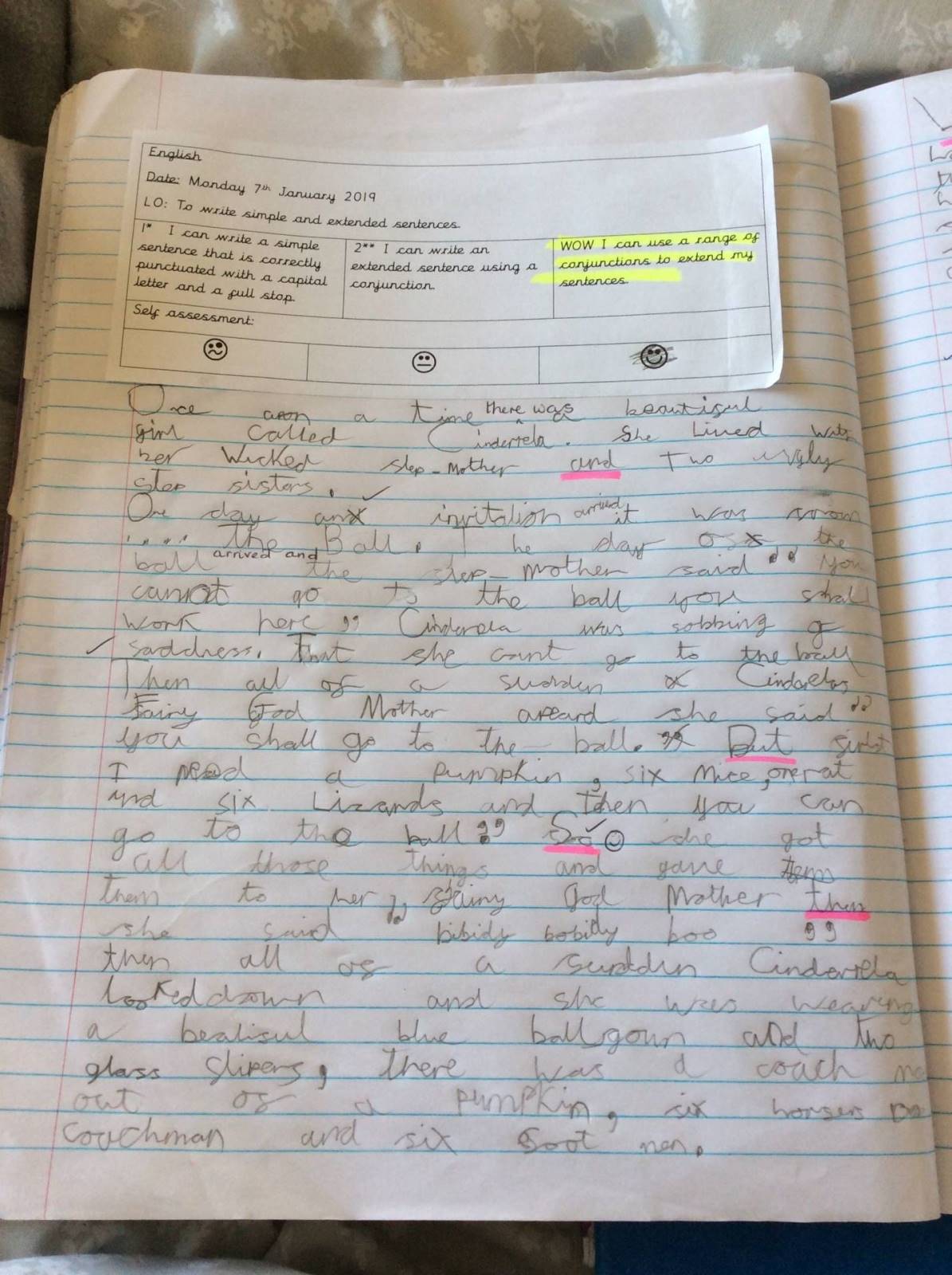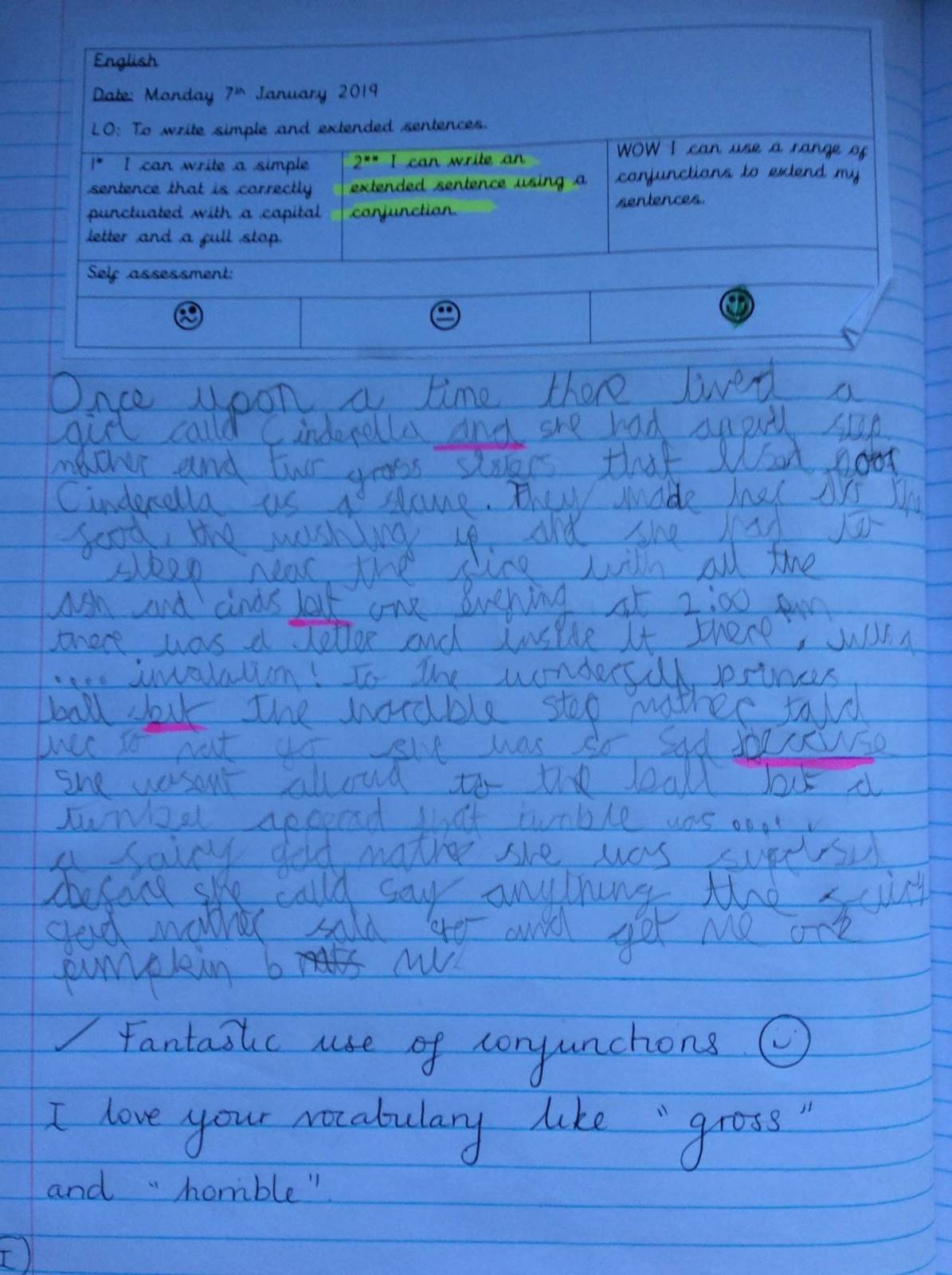 December 2018
Christmas Plays
The children have been fantastic this week and delivered 2 amazing performances of our Christmas show 'lights, camel, action'. The children loved learning the songs and dancing to the tunes. Considering we had fewer practises than we hoped the show went ahead and fun was had by all. Well done Year 2.
November 2018
The Life bus
Today we have been extremely lucky to go on the Life Bus. Becky and Harold the giraffe came to visit us and we were able to sit on the life bus to learn about our feelings, body and how we can look after ourselves. We met Harold the Giraffe and he taught us about how our bodies work and the special parts that keep us alive. We then thought about what we can do to look after our bodies to keep us healthy and fit. We talked about the 5 things our body needs to be healthy and why spending a lot of time on just one thing like computer games can be bad for us because we are not experiencing the other areas of our life.
It was fun listening to Becky and having time to think about what we can do to keep ourselves healthy.
Instruction Writing
We have had a super week writing our own instructions this week. We have talked about why we need instructions and the main features we see in instruction writing. We wrote instructions for making a sandwich and thought carefully about the words we used. Once we wrote our instructions we got to make our sandwich. I have to say there were some very unusual combinations but there were lots of empty plates so they must have gone down well.
We the curious trip
We have had a wonderful trip today in Bristol visiting the science museum. We have explored lots of different things and had the opportunity to experiment with different materials and objects. We really enjoyed making the parachutes fly and experimenting with the different water ways. Thank you to all the parents who came along to help.
This term our topic is the Mr Men and in science we will be focusing on materials. To launch this exciting topic, we spent an afternoon exploring real materials and shared what we know already about them and what we would like to find out. We took the opportunity to record ourselves describing the different types of materials. Click play below to listen to our excellent science discussion:
October 2018
Our weekly round-up
What have we been learning?
In English this week, we have continued to look at the features of recount writing and have tried hard to extend our sentences, using conjunctions such as, 'but' or 'because'. We have also been working hard to join our handwriting neatly. This is something you could practise at home if you would like to. We are aspiring to have a pen, so hopefully many of us will achieve this goal very soon!
In Maths, we have been comparing 2 digit numbers, deciding which number is greater and why. We have used the symbols, < > and = to write sentences such as, 67 > 32. We have even started to compare mathematical calculations with these symbols. For example:
39 + 4 > 12 + 4
In our Topic sessions, we have been looking at old photographs of Westbury and have talked about how Westbury was different a long time ago. We were very interested to see that the roads did not have painted markings, zebra crossings or cats eyes. In fact, there were not any cars at all and in some of the old photographs we spotted a horse and carriage instead. Next Tuesday afternoon, we have planned to go on a walk around the town to look more closely at some of the old buildings, such as Westbury Swimming Pool. We are also expecting a visit from somebody who works at Westbury Heritage Centre to tell us even more facts about what Westbury was like in the past. We have prepared questions for our visitor.
What a busy Week!!
We have had a very busy but knowledge filled week. It started off with our walk around Westbury town. We looked at lots of the buildings and talked about how they had changed compared to the old pictures we looked at in the classroom last week. It was really good to actually see the buildings in real life!! We thought the swimming pool was really interesting and we could still see the entrances to the old girls and boys changing rooms even though they are not used anymore.
later on in the week we got to carry out an investigation and use our scientific knowledge to answer questions. We were finding out what a bulb was and what it needed to grow. We have set up an experiment and will be observing our test pots to see if our predictions were right.
We have also been busy thinking about our parent event and cant wait for you to join us on the 23rd October at 2pm to come and see what we have been up to this term.
Library grand opening
This week we were really excited as it was the grand opening of our wonderful new library. We had a famous author come to open it and sign her book Handas Surprise. The library is amazing with incredible murals on the walls, a large wooden story chair, a tree house, outside Hansel and Gretel house and hundreds of exciting books to read.
We have spent some time exploring our new library and have enjoyed extra special story times sat on the soft cushions. We said a big thank you to Mrs Rylands for helping create such a lovely space, we are all really lucky!
We have also been finishing off our amazing art work with Mrs Newbury based on Lowry. We have spent the last few weeks learning about Lowry's love of painting industrial scenes with factories, houses and people. We began by painting our backgrounds and mixing colours to create the right effects. This was the first time we had used powder paints properly. While the backgrounds were drying we began the detailed drawings of houses and factories. We painted the buildings carefully making sure we didn't loose all the features we had drawn in - this was really difficult!! The final touch was to add the match stick people just like Lowry did to bring his pictures to life. We loved creating our pictures and hope you do too!
September 2018
Our first week in Year 2
New Routines
We have enjoyed settling into our new class and learning some of the Year 2 routines. We have practised finding our 'talk partners' first thing in the morning. This is the person that we need to sit next to during learning time to discuss our ideas with. We have also practised getting into our Maths groups and our English groups. We look forward to seeing you this Friday (14th September) at our 'Meet The Teacher' session, which begins at 2.30pm. We would like to share a little more information with you about the exciting year ahead.
Westbury White Horse Trip
The children have returned from a very windy trip to the White horse but still fun was had by all. The children were able to make observations from the top and look at the amazing view across Westbury. There were lots of discussions about where they lived and places they recognised from so far away. The children also went on a scavenger hunt and found lots of interesting things.
We returned to school early and had a picnic in our classrooms followed by a mass flying kite adventure on the playground. The kites were amazing and flew really well. I expect all the children will be sleeping well tonight!!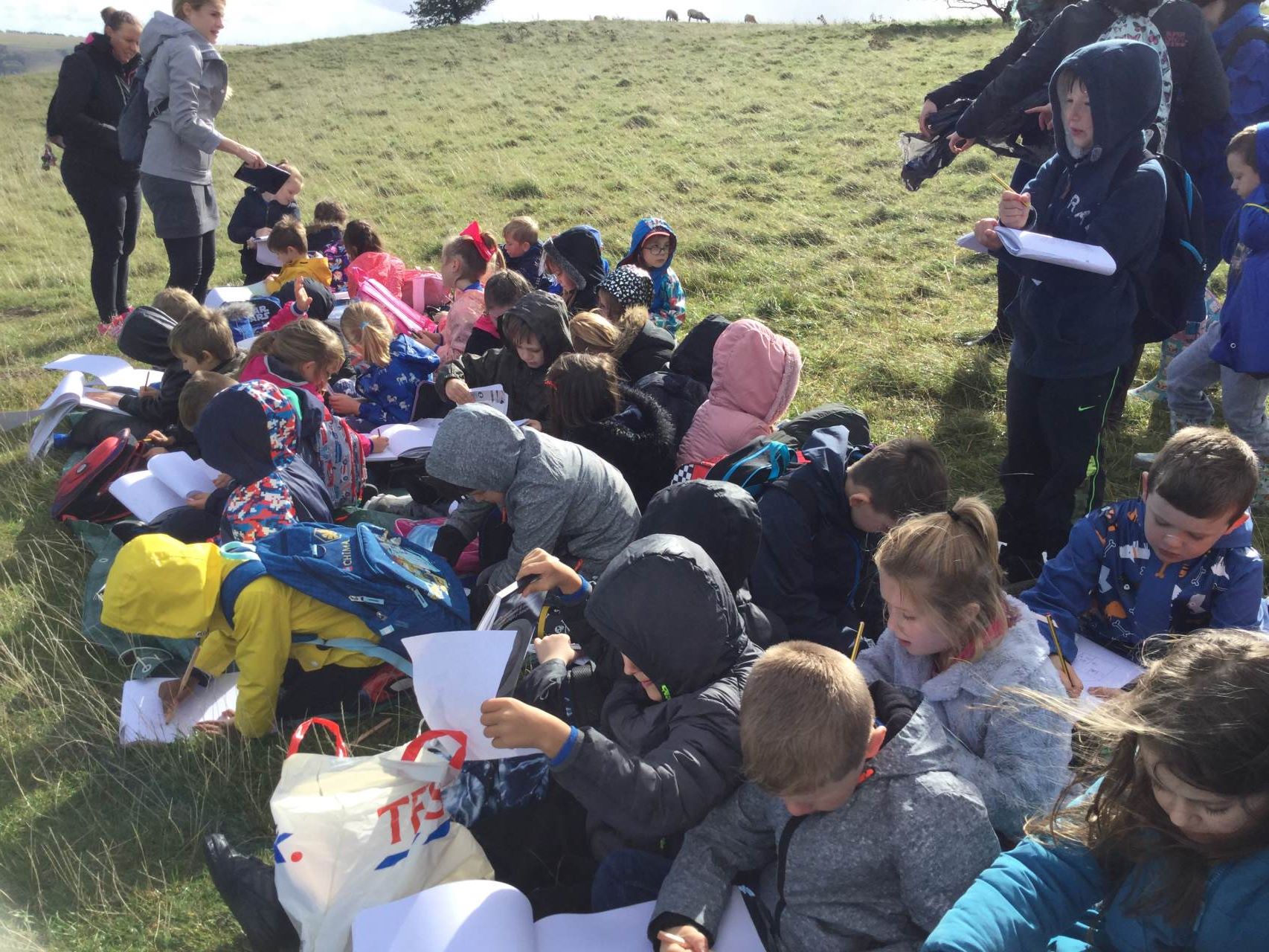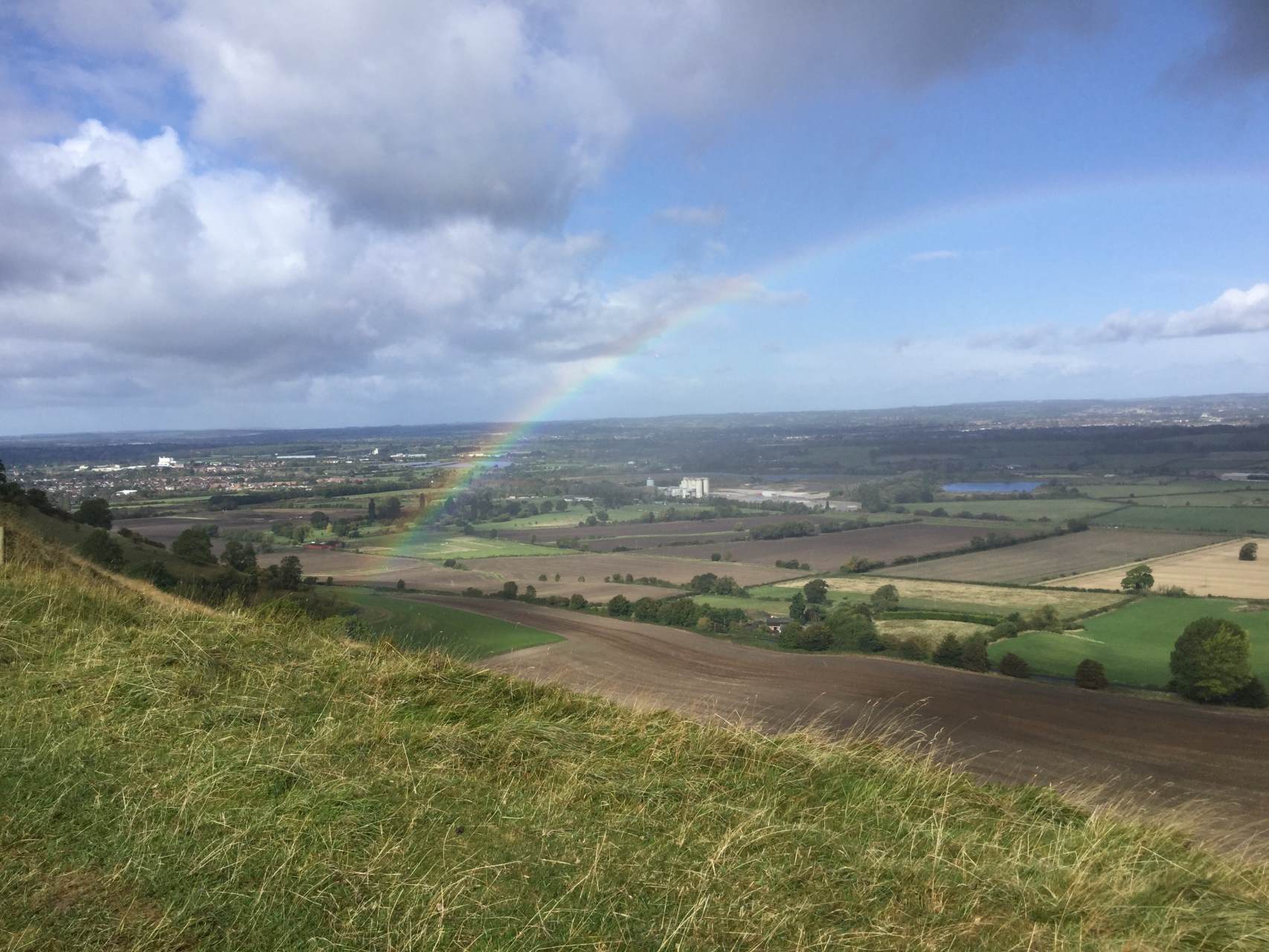 Author Visit to Year 2
Today has been really exciting as we had a real author in school reading us stories from her book. Karin Celestine writes books with themes of kindness and trust where she creates felt characters and then takes them out to the countryside where she takes photos of them to illustrate her stories. She brought in a range of the characters she has made o show the children. We all then made paper boats which we will take home to decorate and test in the bath.