Here is our exciting CURRICULUM MAP FOR 2020-21If this bubble has to self-isolate or we have to go into a school lockdown, click the orange button below to access the appropriate remote learning.Remote Learning - Y1
Spring 2021
Creative week 6
Wonderful Welcome Wednesday treats!
Today we have seen lots of lovely examples of our DT topic work- Food from countries of the UK. Lots of you have been busy baking some mouthwatering recipes; using the skills of chopping, mixing, rolling and cutting. You have been talking about if the recipe is sweet or savoury and having (hopefully) tasted your delicious bakes you were able to evaluate them. This means to talk about how you would improve them next time. After having looked at some of your shortbread bakes, I have evaluated my cooking and decided that next time I will add some different flavours and maybe use different shaped cutters.
Marvelous Monday Moments
Well done Badgers for all of your hard work over the past 5 weeks. One week to go and them you can relax and recharge your batteries. You have had lots of fun drawing with Rob. Here are some beautiful examples of peacocks. Keep sending in your wonderful pictures.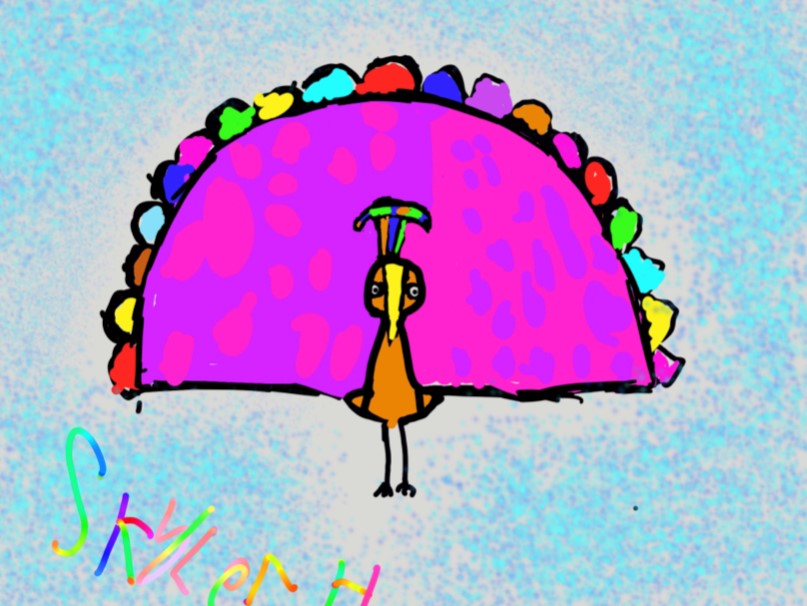 Whizzy Week 5 learning
Fantastic Formidable Friday
Well done Skyler!. You are this weeks winner of Badger classes virtual cup for the most uses of Jasmine PE!
I know there is someone hot on Skyler's heels - could it be YOU? Make sure you use your log in and have a go to receive one of our super Jasmine certificates.
What about those PB challenges? They are only 30 seconds each so easily achievable for those with a growth mindset. Is that you? Make sure you send in your results to be in with a chance of winning..... watch this space.
I have chosen 2 stars of the week, this week, as both are worthy of the honour of the title for their outstanding home learning. Well done Sophie (2nd week in a row) and F. Mead.
well done to all Badgers who have really tried to improve your learning this week. Some have been practicing counting in groups of 10 to help you read and understand your numbers to 50. Others have tried really hard to use a lead in and keep your writing on the line. Some pf you have tried to extend your writing using adjectives (describing words) and conjunctions, which are words like and that we use to join 2 ideas together in a sentence. Still others have worked hard at remembering to use finger spaces between words. You have not always got it right BUT all of you have shown determination, resilience and perseverance and are making the right steps to be amazing learners. You are brave and courageous because you have not taken the easy option of running away from the things you are not good at. I am very proud of your effort and determination. Here are some of your wonderful steps to becoming great learners.
A lovely piece of writing to end our topic on Counties of the UK. Well done Dylan you are star writer this week!
Wonderful Wednesday
How lovely it was to see some of your beautiful, happy smiling faces yesterday at our class catch up assembly. We had a lovely time sharing news, listening to poems and playing scavenger hunt. Definitely the highlight of my week!
Tooth fairy delight!
Skyler sent in a great photo of her lovely sparkly teeth and her first one missing. The tooth fairy will be pleased to get such a well looked after little gem! I can tell you clean your teeth twice a day. Great job!

Magnificent Math's
Well done Joseph, Sophie and Isaac for having already completed the assignments set on Maths Seeds this week. You really are showing your Emerald powers, being brave enough to have a go and sticking with it even when it gets tough!
A gold gem is awarded to Imogen this week for being so creative when counting in groups of 10s. She really has thought about the best way to create groups to help her counting. You are amazing Imogen!

Fabulous Finn McCool
I can see that you have really enjoyed learning about the legend of Finn McCool and here is a lovely picture of him and a sentence about him too.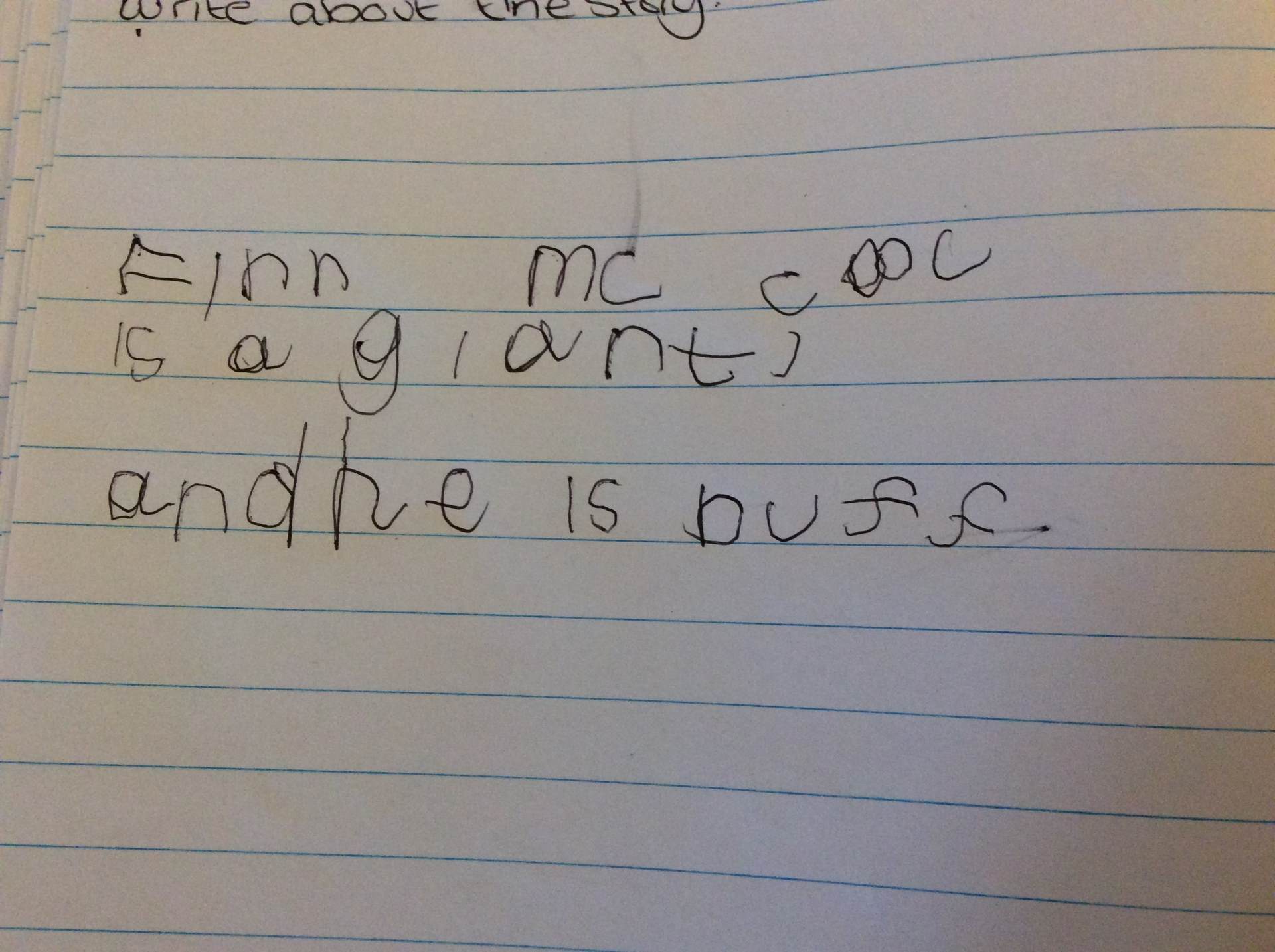 Marvelous Monday
Hi Badgers, what a super start you have made to this weeks learning. Thank you to those children who have completed their Personal Best (PB) challenges. I can see you have a great attitude to learning and know what a difference keeping your body active can have on your mental health and your other learning too.
Well done Imogen, Mylo, Dylan, Florence Thea and AJ. You have all made improvements to your PBs especially in the number of star jumps you can do in 30 seconds. I wonder how many more you will be able to do the next time we check?
Most improved PB's this week goes to Thea. Well done champion!
Who will get my champions cup for most number of times logged on to Jasmine PE? You can use it every day if you wish.
Congratulations too to Imogen last week for extending her learning about Wales by making her own dragon out our of play dough. Its fantastic!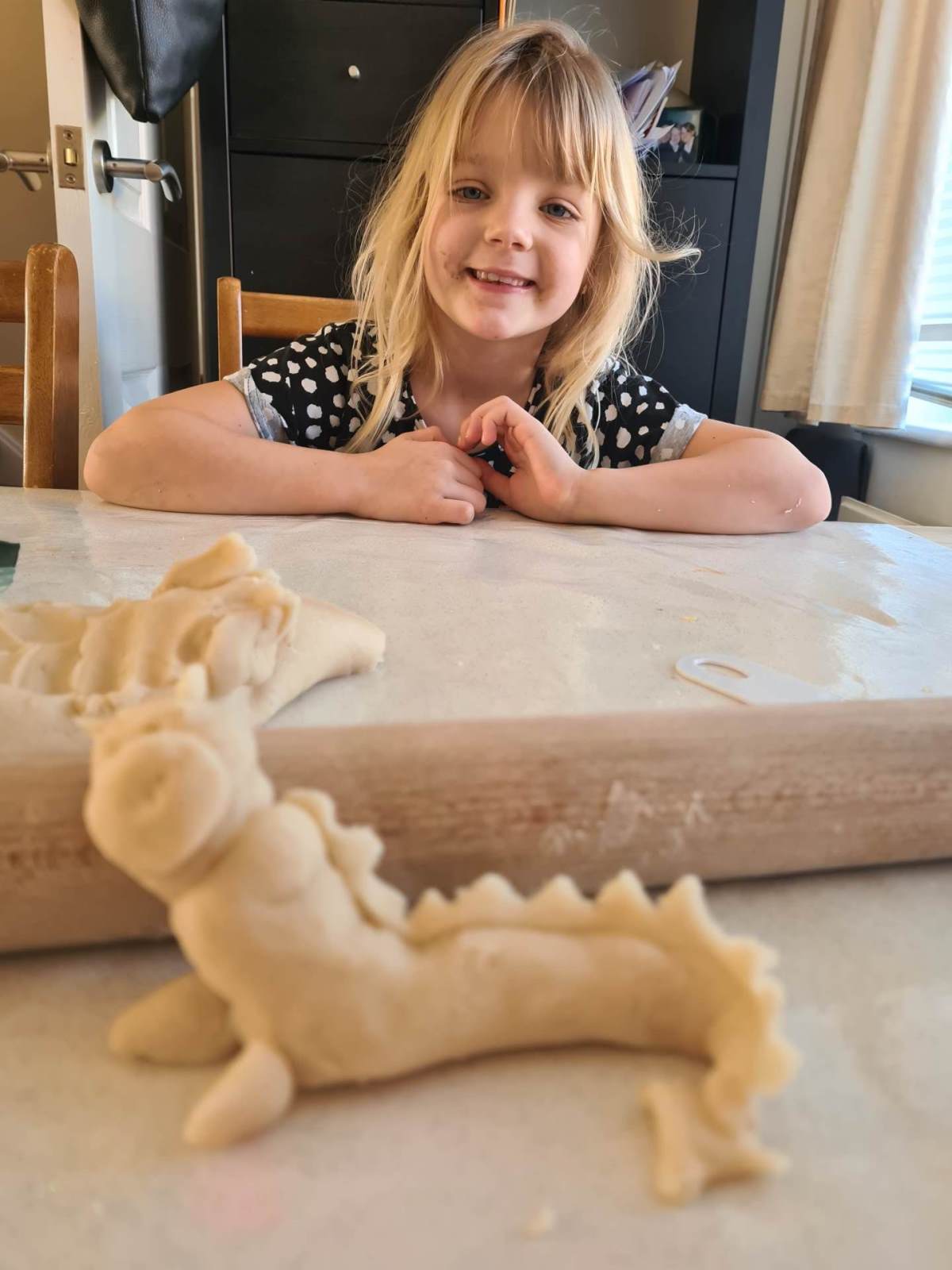 Here are some more fabulous examples of Badger classes home learning from last week. Well done everyone who sent in their work.
Wonderful Week 4 learning
Farewell Friday
Today we need to say farewell to one of our super teachers Miss Killah. We have missed seeing and being in touch with Miss Killah over the last few weeks as she has not been very well. But as she begins her maternity we are sending her all of our love and best wishes and look forward to seeing some pictures of her beautiful baby when it arrives in the spring. A MASSIVE THANK YOU too. to Miss Salmon who has supported Badger class over the past few weeks in Miss Killah's absence and until I could begin full time teaching. We have really appreciated everything you have done to help support Badger class with their remote learning. Miss Salmon will still be making those Friday phone calls if we haven't seen any of your lovely learning so she will still be part of our year 1 team which we are very glad about.
Captivating castles and dangerous dragons
Well done Sophie. She has had such fun learning about the 4 countries of the United Kingdom and has been awarded Star of the Week.
She enjoyed celebrating Burns night on Monday with Haggis, Scottish music and dancing and has sent in a wonderful match box creation of a Welsh castle and dragon. Great work Sophie!
Keep sending in all of your lovely work, it really is the highlight of my day and I will always send a reply to let you know how proud I am of how hard you are trying with your learning. Have a fantastic weekend x
Heroic Handwriting
Congratulations Emillie for your super handwriting. All of your hard work and determination has paid off. It is beautiful!
Can you see how she has stated all of her letters on the line?Can you see how each letter has a lead in or a 'here we go'?Can you see how each letter is carefully spaced out?
Magnificent Maps
Top marks go to Skyler this week for colouring in Wales carefully on a map of the UK and labelling it.
Amazing home learning
Thank you all for sending in examples of your super home Learning. I am so proud of how hard you are working at home and showing such resilience (not giving up even when it's hard or you don't feel like doing it).
Snowy Sunday
How excited did you feel waking up on Sunday morning? The streets were quiet, the sky was bright white and everything looked liked it had been covered in soft powdery icing. It really was the little boost we all needed to help us feel refreshed and recharged again. And what fun you all had looking at the photos. We went for a lovely early morning walk and then we too built some snowmen. Here are some fabulous pictures of your lovely smiling faces, enjoying the snow.
Working hard Week 3 Work
Fabulous Friday
Give yourself a high 5!, jump up and down and shout I am amazing! Because you are! Well done Badgers for working so hard on your home learning this week. You have shown great determination, resilience and perseverance this week. Thank you for sharing lots of wonderful pictures of your learning. I was so impressed with how well you were using your number lines to help you count backwards and the tartan kilt designs are amazing.
Wild, Wet Wednesday!
HI Badgers, What a wild, wet, Wednesday it has been today. A fantastic opportunity to have put on your Wellies, waterproof coat and gone out and jumped in some muddy puddles. I hope you had fun! I'm going out for my wet welly walk in a short while as I know that fresh air and exercise will make me feel happier. I'll make sure I splash in some puddles for you all!Thank you to all of you who are sending in examples of your fantastic learning for me to look at and give you some feedback on. A special congratulations to Kobe, for persevering with his handwriting, Junior for his very carefully coloured in map of the UK, Skyler for her super drawing of the guards at Buckingham Palace, Romeo for a wonderful picture of the Loch Ness Monster and Elliott and Jack for great effort with handwriting and number formation.
PLEASE REMEMBER to log in to JASMINE PE. It is really important that you are accessing ALL areas of home learning. PE is just as important as reading and writing. It helps you to build core strength, fine motor control, balance and flexibility. It will help you to feel happier and relaxed and look after your health and well being. Well done Skyler and Tyler, you have already earned your
for using Jasmine PE already this week!
Whizzy Week 2 Work!
Fabulous Friday!
Hi Lovely Badgers. What a fantastic week of home learning. Thank you SO much for all of your wonderful photos of you and your completed home learning. We are very proud of you. Give yourself a marshmallow clap!I have had a few requests for the Personal Best grid to record your score onto. So here it is. Keep sending in your results- it doesn't matter if you score 0 10 or 50, what matters is that you give it your best shot and then you work on trying to improve on something you find difficult so that you can see progress next time. DO YOU HAVE A GROWTH MINDSET?
I hope you enjoy looking at our end of the week showcase of learning:
Well done especially to the following children for :
Completing PB's
Mylo, Dylan, Florence, Thea and AJ
Logging into Jasmine PE
Isacc, Skyer
Completing assignment tasks on Reading eggs
Dylan, Isaac, Joseph,Junior, Kendrix Starr, Niamh, Peyton, Skyler, Sonny, Sophie, Tyler
Completing assignment tasks on Maths seeds
Sophie, Young Mr Mead, Junior, Kendrix Starr, Peyton, Sophie.
Congratulations to Romeo for loosing his first tooth!

Wednesday's Wonderful Work!
Hi Badgers, I hope you are having a wonderful week and managing to access all areas of home learning. Remember we are here for you if you need us. You can either send an email or use the chat facility if you have any questions or a problem with your remote learning. Parents and careers, we know how hard you are working to support your children with their learning and we understand that its not always easy when you are trying to support other siblings and continue to work from home too. So please remember you do not need to send photos daily. Twice a week is absolutely fine but please do keep sending them in. If you are having problems with sending them please get in touch and we will see what we can do to help. Please remember too that we are setting 1* 2* and WOW targets of learning. ALL children must complete 1* most should be able to complete 2* But the WOW is for those who want to extend their learning, need a challenge, want to be stretched. So please do not feel overwhelmed with the number of tasks. We need to set work that supports all abilities. Here are some examples of your wonderful work children. Thank you for sharing it with us and well done!
Badgers, Can we be top of the leader board this week with the greatest number of children who have used Jasmine PE, Charanga music, Reading eggs and Maths seeds. Some of you have done an awesome job of having a go at all areas of learning. WELL DONE!
Healthy Mind, Healthy Body!
Hello Badgers. A BIG HIGH FIVE to Imogen, Skyler, Sophie, Tyler and Joseph for accessing JASMINE PE! What a great attitude to learning you have. It is SO important at this time to keep ourselves active. I hope by the end of the week I will be able to say a BIG HIGH FIVE to the whole of Badger class for logging on to Jasmine, our online PE platform. It is very easy, just type in your login and password details and away you go. Have fun. Remember too to send in your PB scores and let me know how the skipping is going.
More fantastic home learning!
Thank you to everyone who has completed some home learning this week and has sent in some wonderful examples of what you have been doing. It is really lovely to see how you are getting on and be able to support you in ways you can improve. Keep sending them in. How are you getting on with your Personal Best Challenges? We have a few weeks to complete all 6. Once you have got your scores please send them in so that we can track them on our grid. Can we be the FIRST CLASS to get ALL of our RESULTS in? Come on Badgers, I know we can do this!
Wonderful Week 1 Work!
Well done Badgers. We are super impressed with the work you have done so far. I can see you have come back to virtual school with a very determined attitude, showing great resilience and a fantastic attitude to learning. I can see you are going to achieve great things! Well done all of the Badgers who have had a go at using Reading eggs, Maths Seeds, Charanga and Jasmine for PE. There are some fantastic activities for you to try and next week I will give a special mention to those of you who I can see have had a go. Did you know that I can even see how long you have spent on your activities? Thank you Mylo for the video you sent of you enjoying doing go noodle! If was fabulous.Here are some examples of your wonderful home learning.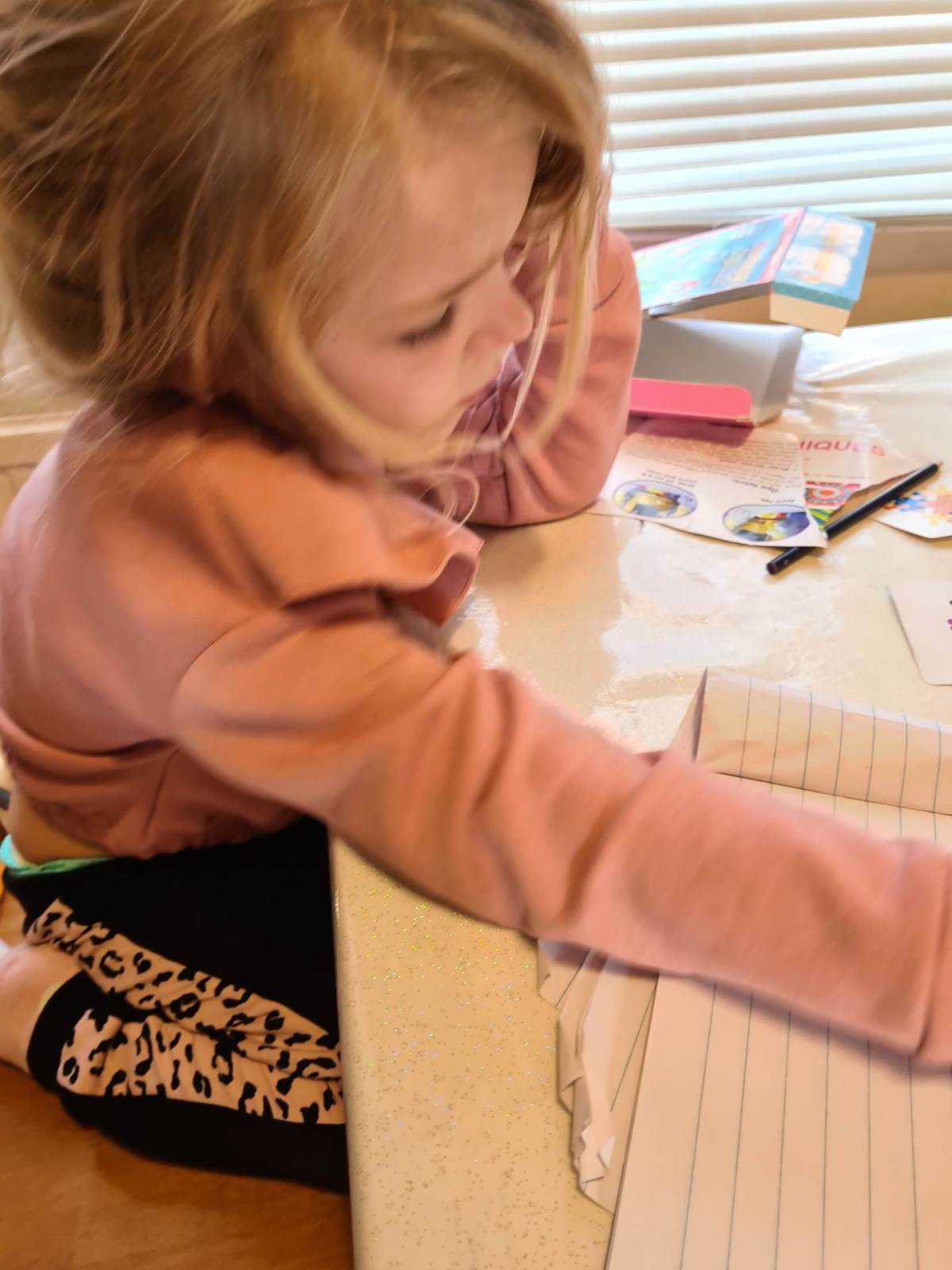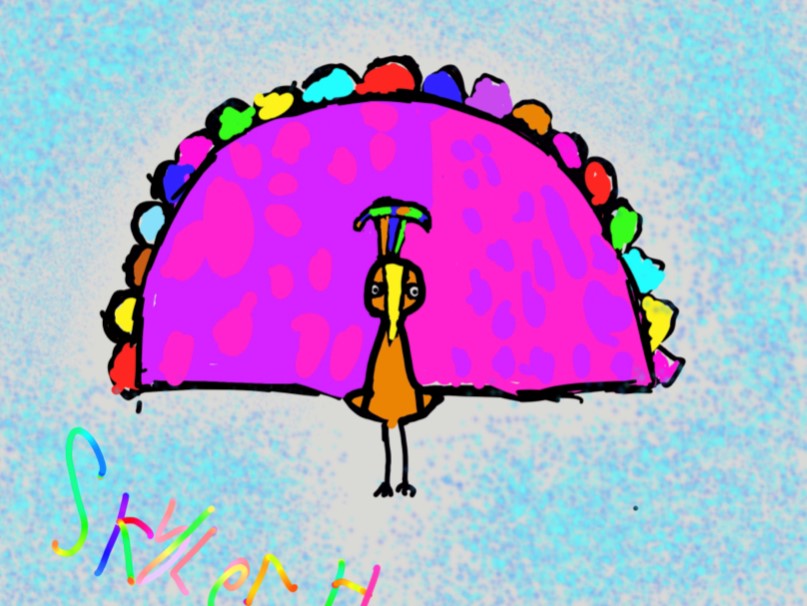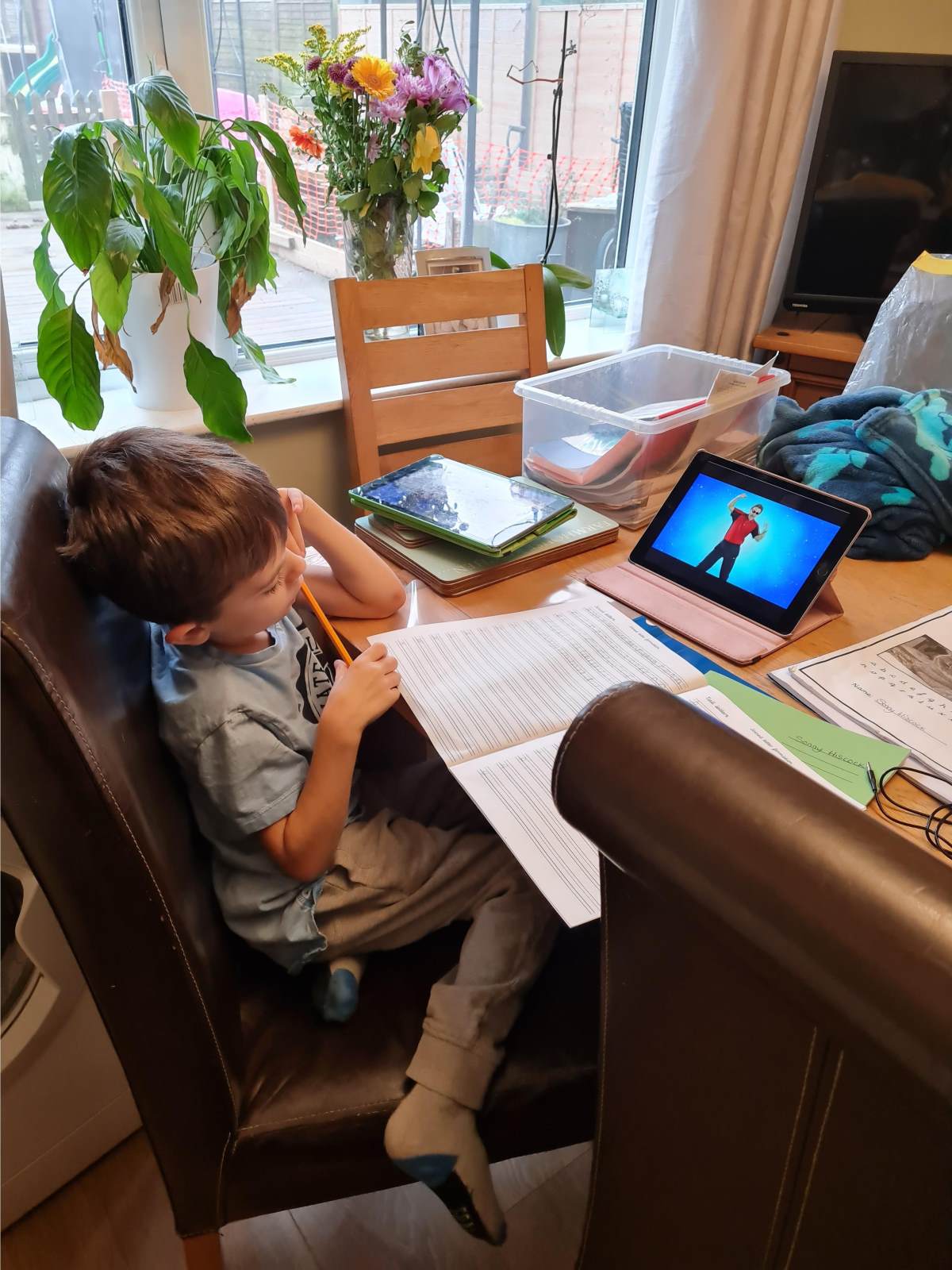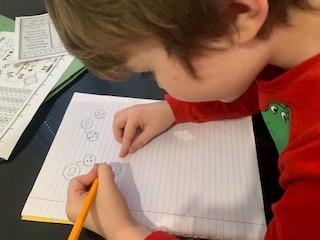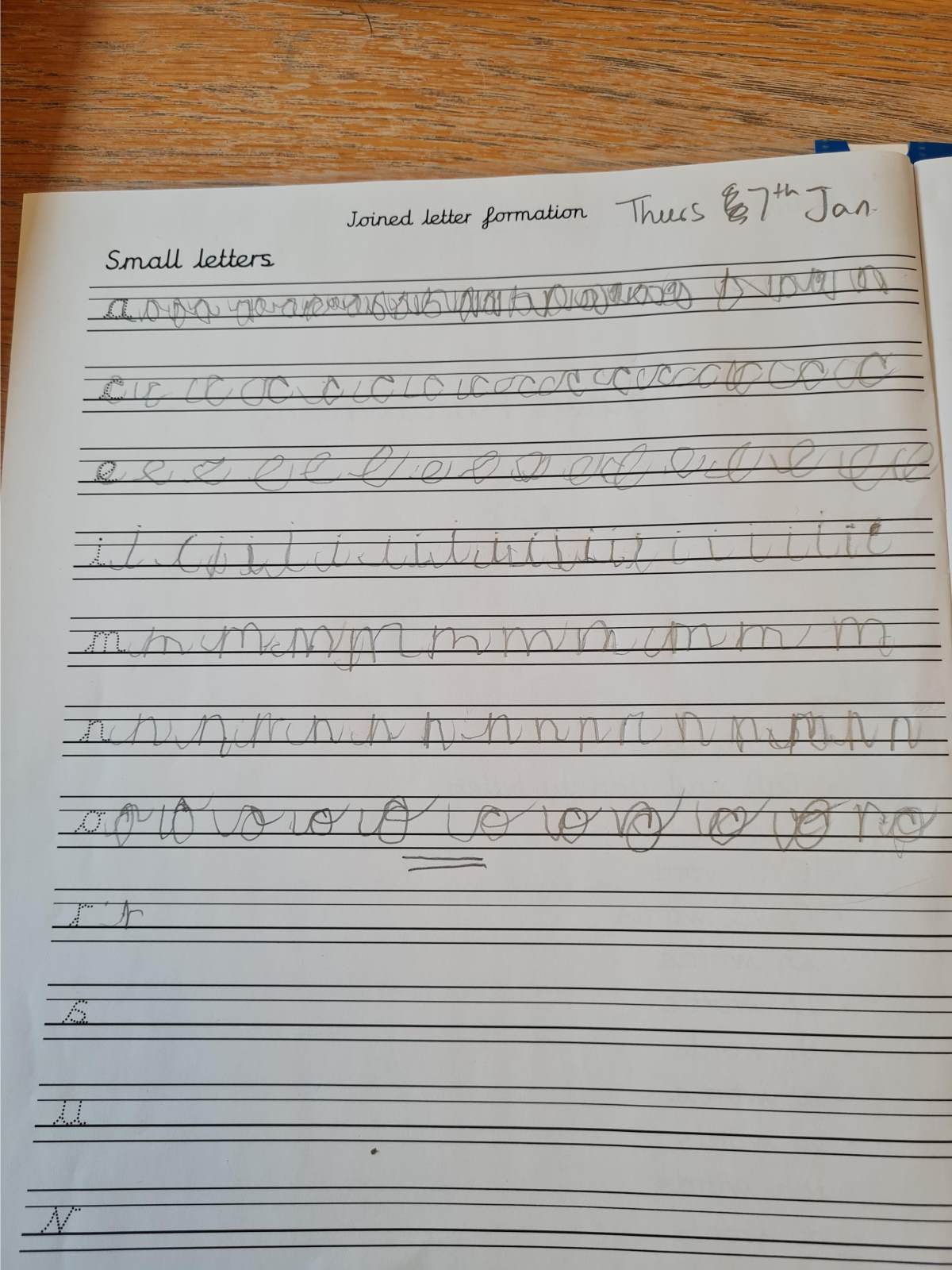 Welcome Back Remotely!
Happy New year everyone! We hope you all enjoyed the Christmas holidays and are now feeling refreshed and determined to face the challenges that 2021 brings. Although it is not how we would have liked to start the new term it has been lovely to hear from some of you today and hopefully we have been able to support you with your child's home learning. A message to home grown ups, please remember to e-mail us photos of your little person doing their home learning, whether it is RWI, Maths, Topic, PE or watching the story. And any pictures you send us of their work or them doing their work we can share on our blog and celebrate their learning. Please also use the e-mail as well as the chat facility to ask any questions if you are unsure of what to do.Little people, please remember it is not a race to get through the work as quickly as possible but to complete it to the best of your ability. Remember if you do finish it quickly there are lots of ways to improve your learning. You have phonics cards at home to support your RWI work, books to read, a skipping rope to keep your mind and body healthy, maths seeds, Reading egg challenges and lots lots more. Please send in some of your wonderful learning so that I can upload it to the blog tomorrow.Happy belated Birthday to Sienna Rose. We would have sung happy belated birthday to you today had we been in school and your card is on my chair ready for you. We hope you had a lovely day. It is my daughters birthday today and one of her sisters made her an amazing cake. If you enjoy cooking then get ready because our next topic after seasons is all about foods from around the uk.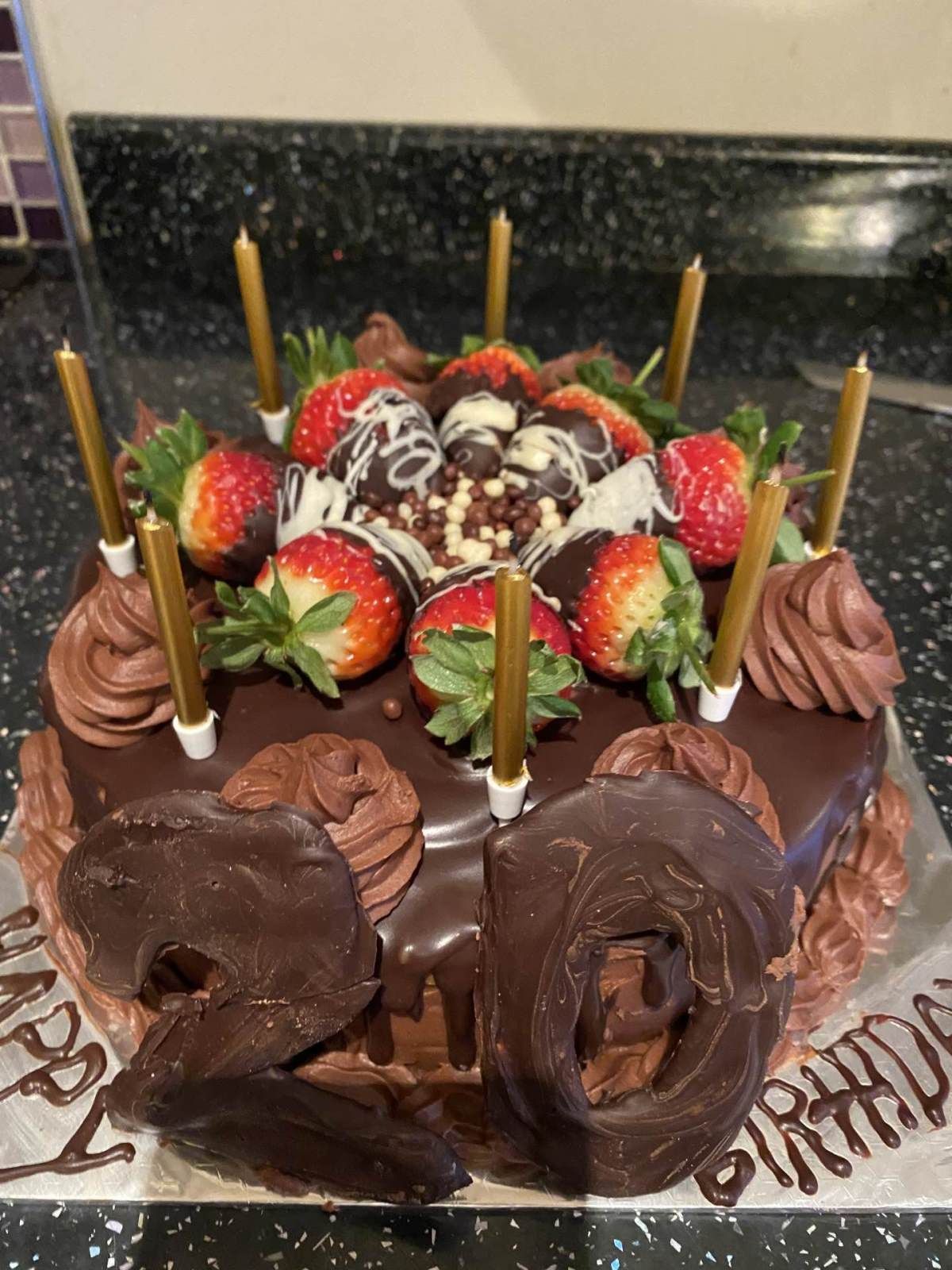 Autumn Term 2 2020
Merry Christmas Everyone!
We have had such a lot of fun this week making Christmas cards, Jingle Bells, Candy cane reindeers, party hats and calendars. We especially enjoyed our Christmas dinner today where we were delighted tp wear our party hats and have crackers. In the afternoon we had lots of fun at our Christmas party. We said goodbye to Diamond our elf who now has returned to Lapland ready to help Santa prepare the presents. We hope you all have a really happy Christmas time and even though we may not be able to spend it with all of the people we love, keeping them well and safe is the best present we can all ask for. Where ever our family are, they are always in our hearts and minds so, keep smiling, keep laughing, and have a really merry Christmas full of fun, joy and peace. We look forward to starting a new year with fresh hope, enthusiasm and with renewed determination. x
End of Year Crafts
We have been getting practical this week and having lots of fun making various crafts which you will get to see soon. We really loved using the water colours to paint these beautiful calendars - we can't wait for you to see!
11.12.20 This year's Christmas performance has had to be different at WIS as with many other schools far and wide but we have made it as special as we can and the children's faces show just how much they have enjoyed singing the songs and doing the actions. Although we can't all be together in the hall, we have managed to make it just as special but in a different way. Today, all the children thoroughly enjoyed watching each other's Christmas performance videos during our virtual celebration assembly. We hope you enjoy watching them at home as much as we enjoyed making them for you. Plus the beauty of this is that you can watch them over and over again! Fantastic!
Dazzling Designers
This week we began our new topic about the structures in playgrounds. We practiced using different joining techniques that we have previously learnt about and built on this knowledge to find out how to make our models more sturdy. It was quite tricky making our models stand up but we learnt that if we add supports and corner supports as well as working together to help each other, if was a lot easier.
Next we designed our own models, thinking about what materials we would use and the best way to fix them together. We tried to annotate our designs to add more detail. We are really excited about making them next week!
Tens and Ones
During Maths this week we have started to look at teen numbers. We have made them using 10s and 1s and we have represented them using a variety of manipulatives (resources). Have a look and see if you can guess what numbers the children have made.
Christmas Teaser...
Here is a sneaky teaser for something very exciting we have been busy filming today.All to be revealed soon...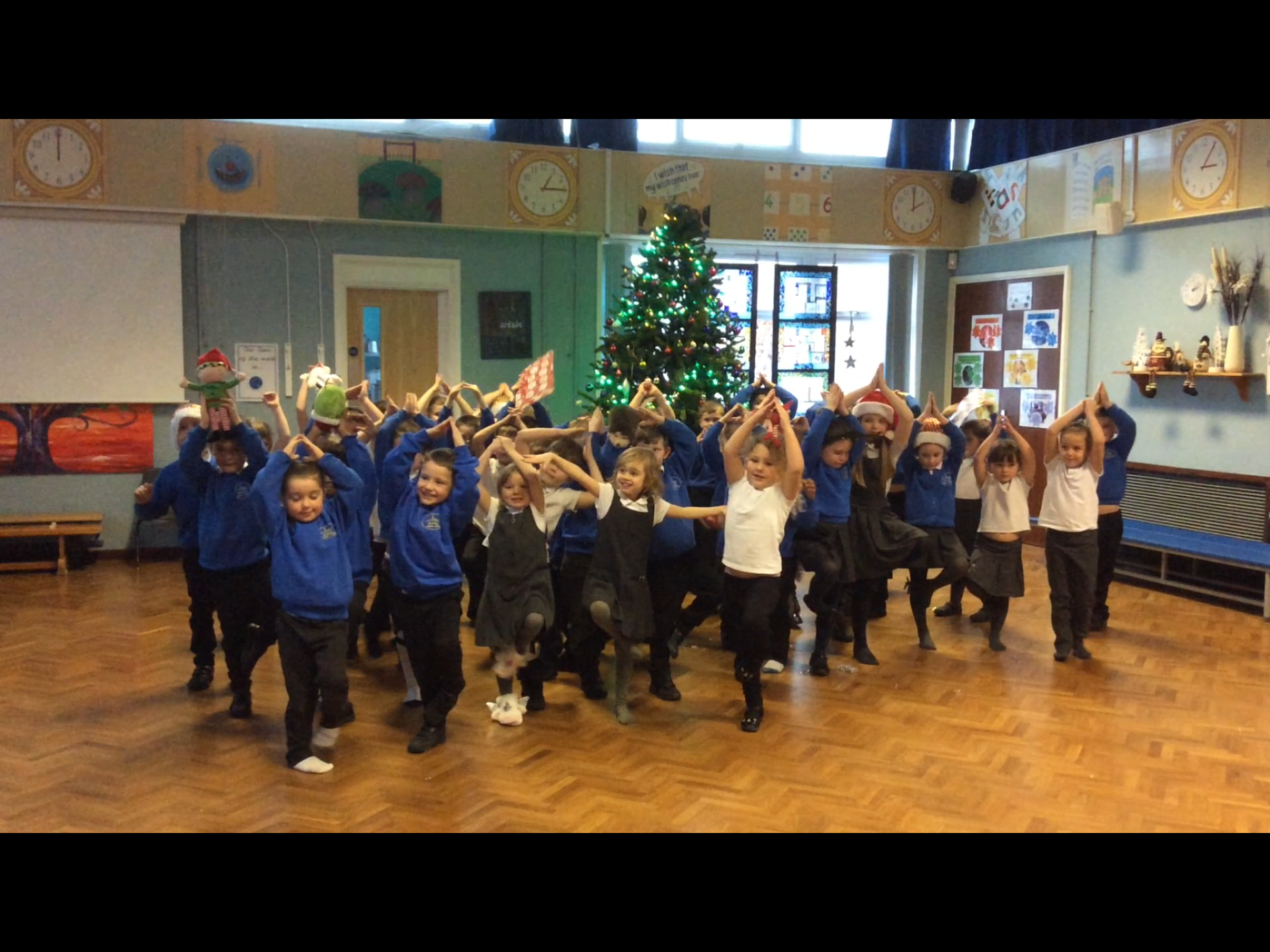 Mad about Maps!
This week we have been looking at maps and using keys for symbols. We even had a go at designing our own maps. Take a look at some of our maps below: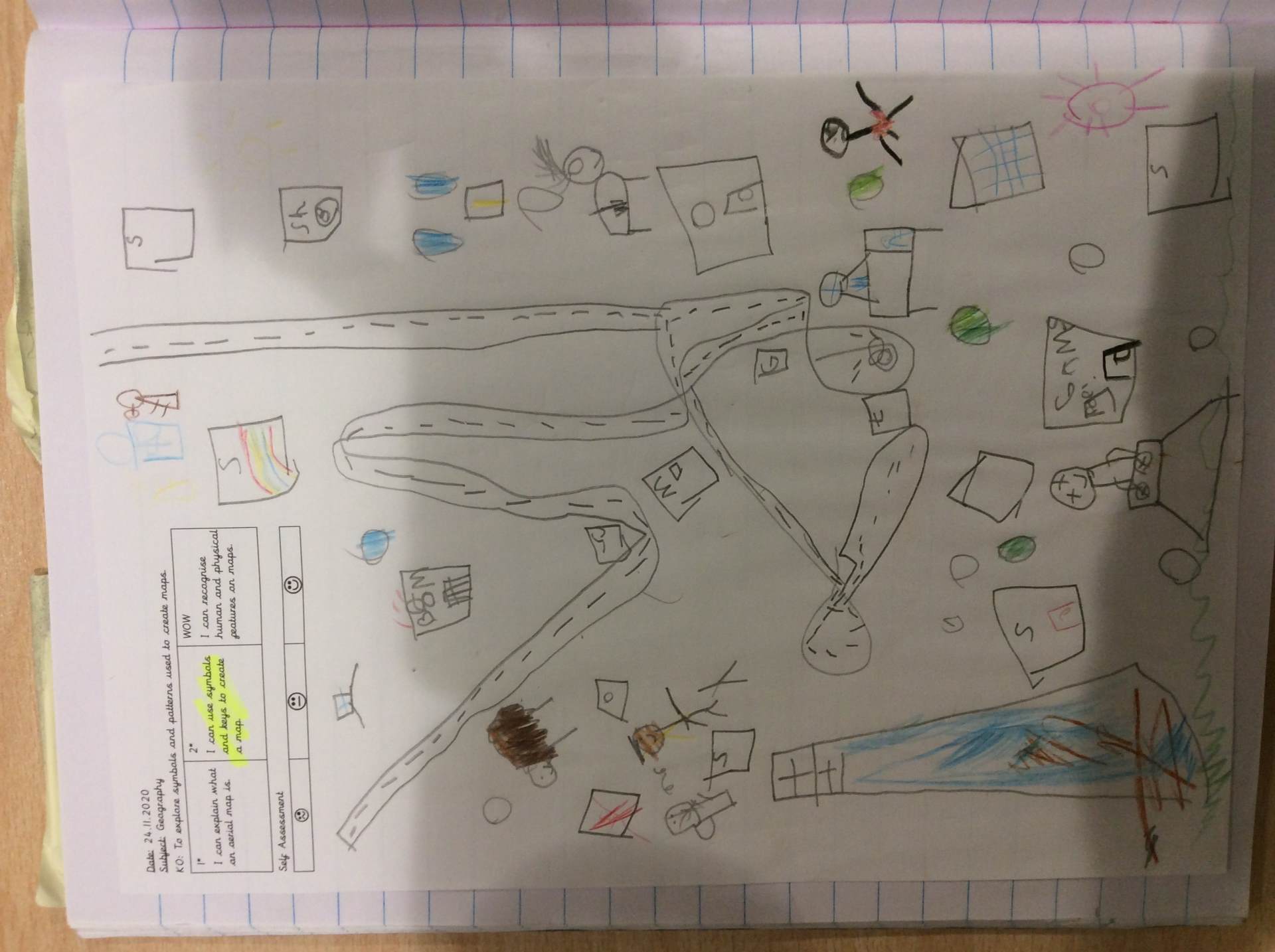 What is a City?
This week we have started our new, exciting topic (see our knowledge organiser below).We have looked at lots of different cities around the world and talked about their features. We discussed what's the same and what's different between Westbury and a large city. We also did some brilliant sentences writing about what we could see when we looked at photos of cities.

We will remember them
This week we spent some time thinking about our memories, both happy and sad. We talked about how people along time ago fought in the war and sacrificed their lives so that we can live in peace. We thought about why we wear poppies and then we created some of our own using water colours.
Subtraction Superstars!
This week we have also been starting to learn how to subtract. We began by telling number stories using the language First Then and Now- First there were 6 sheep. 5 ran away. Now there is 1. Then we thought about how we would record this as a number sentence using the symbol - for take away. Then we made towers of 10, broke them into 2 parts and used these to explain our subtraction sums . Look at the photos below. They started with 10, Can you see how many they took away and how many are left?
Alien Invasion!
This week we have been focussing on finishing our Alien DT projects. We have been experimenting with attaching different materials to each other using sewing, glue, staples and sellotape.After carefully planning what we wanted our final alien designs to look like, we used a range of materials and fastening to create our final look.Here is a few examples , aren't they great!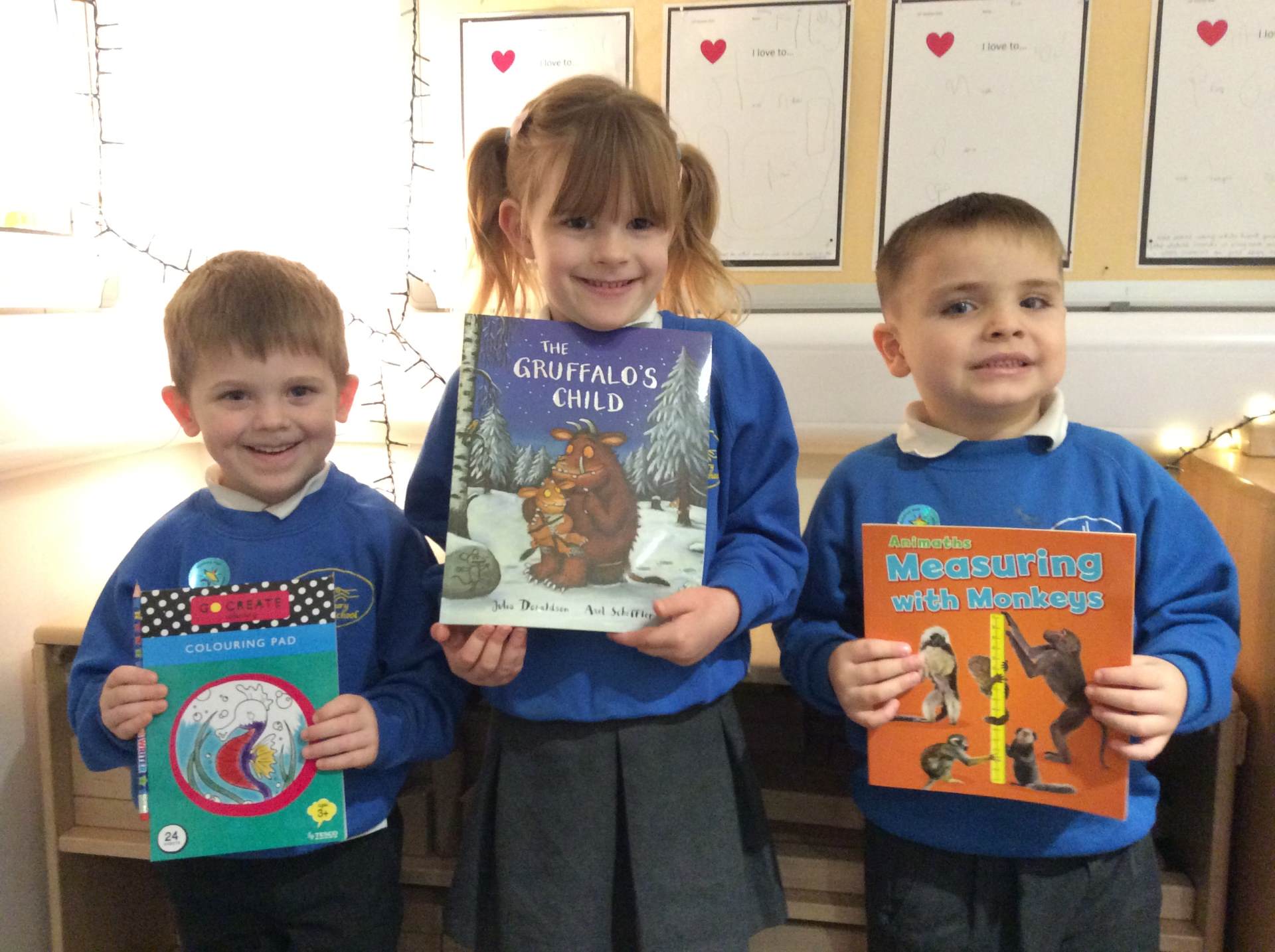 Autumn Term 1 2020
Addition Superstars!
This week we have been using lots of resources such as part part whole models and tens frames to make addition sentences. Using 10 double sided counters on a tens frame, we turned some over leaving some yellow and some red. We then used the sentence "this part is ___ , this part is ___. My whole is ___". The real challenge was then turning this into an addition sentence. So if there were 4 yellow counters and 6 red counters we would need to write 4+6=10.The children really enjoyed this challenge and using the resources.
Successful scientists and Positive Pals
Badger class have been learning over the past few weeks about different materials and their properties. We have learnt that some materials like wood are natural and others like plastic are man-made. We have looked at how different materials are useful for different things such as glass is great for windows as it is transparent. This means that you can see through it. Other materials like wood and metal are very strong. They are good materials for making tables, cupboards and doors. Plastic can be hard and rigid or thin and bendy. It can be used to make chairs or bags. We then did an experiment to find out which materials are waterproof. First we got 6 different materials to test- foil, fabric, paper, felt, tissue paper and polythene. Next we poured a small cup of water on each and waited 10 seconds to see what happened. We needed to make the test fair so we used the same size cups, the same amount of water and waited the same amount of time.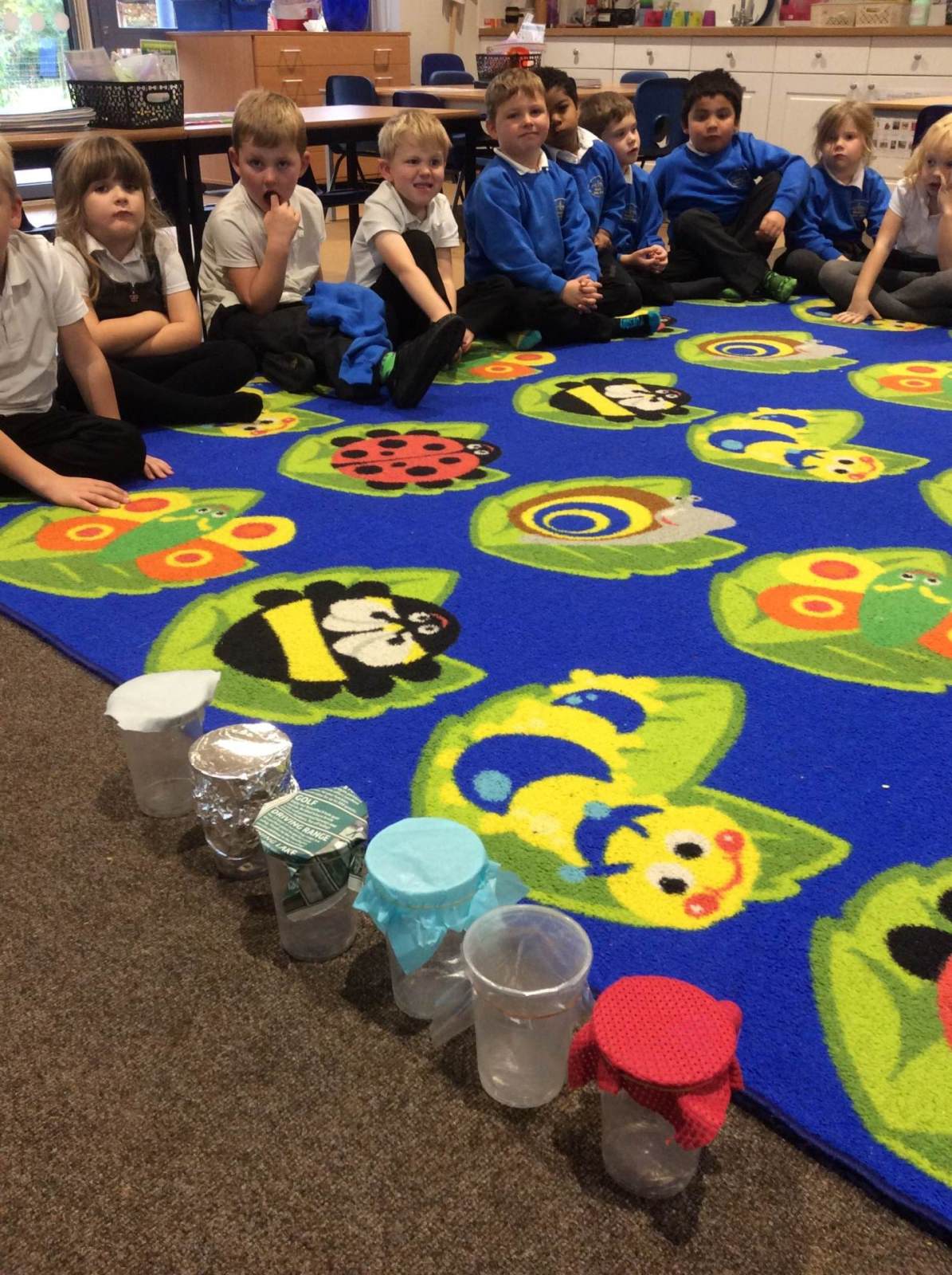 We found out that the polythene and the foil were waterproof but all of the other materials were not.During PSHE this week we have been thinking about what makes a successful learner. We thought really hard about what things we can do when we find our learning difficult. We began to realise that the best way to be successful is to have a growth mindset and think positively. If we think like Positive Pal instead of Negative Nag, we would learn to achieve and feel more in control when our learning becomes a bit difficult. We now know to stop listening to Negative Nag in our heads and try and only listen to Positive Pal instead.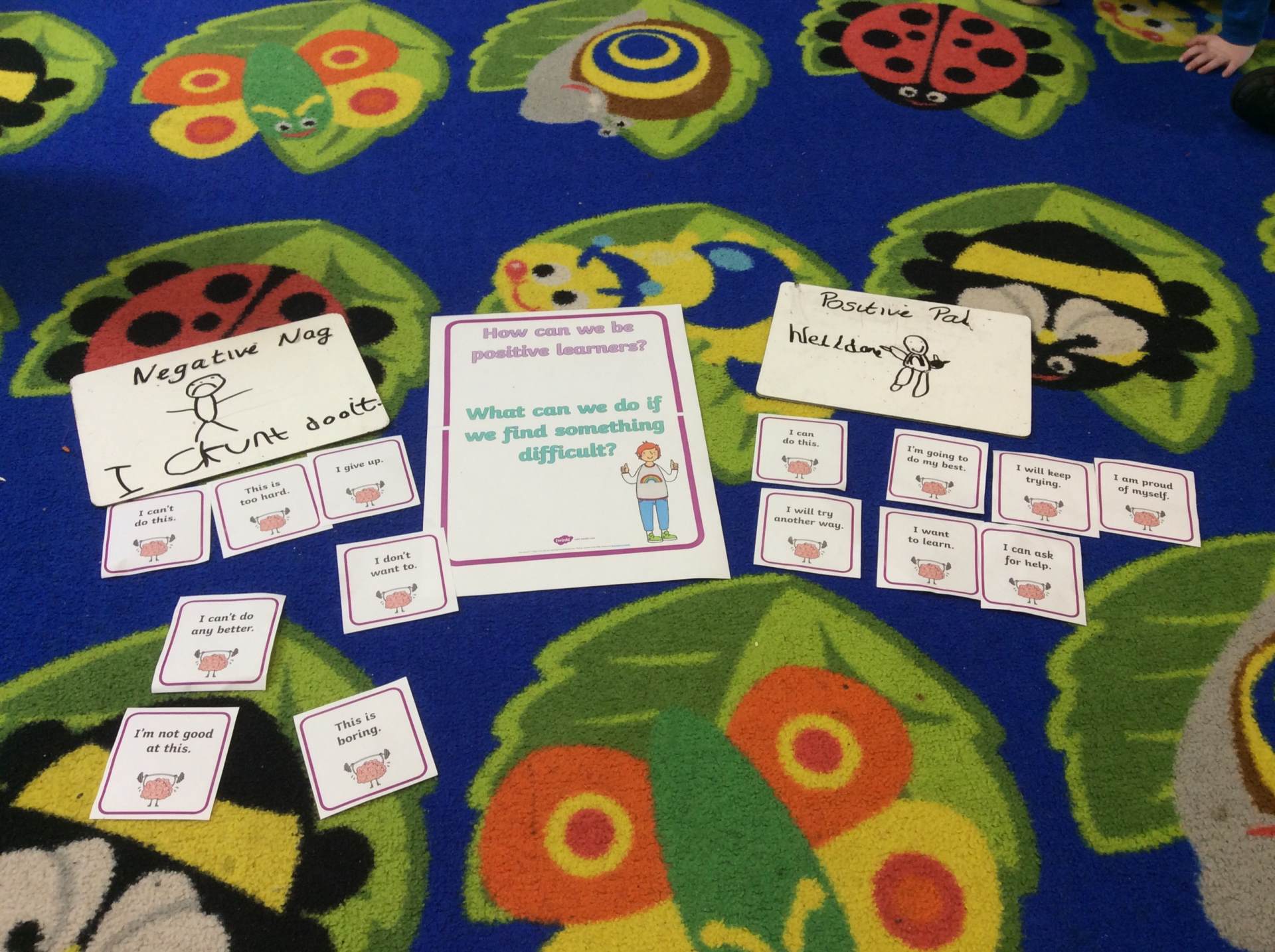 Musicians and mathematicians
This week Badger class have been working really hard to compare numbers. They have learnt to use the sign <>= and then to use the words greater than and less than when comparing different quantities of objects. Today they had some fun playing a maths game which reinforced their understanding of which is the biggest number. You could try playing at home together. All you need is a dice and some counters or pen and paper. Each take turns to role the dice (once or twice depending on if you want a larger number or not). Who ever has the greatest number takes a counter. First player to collect 10 counters wins!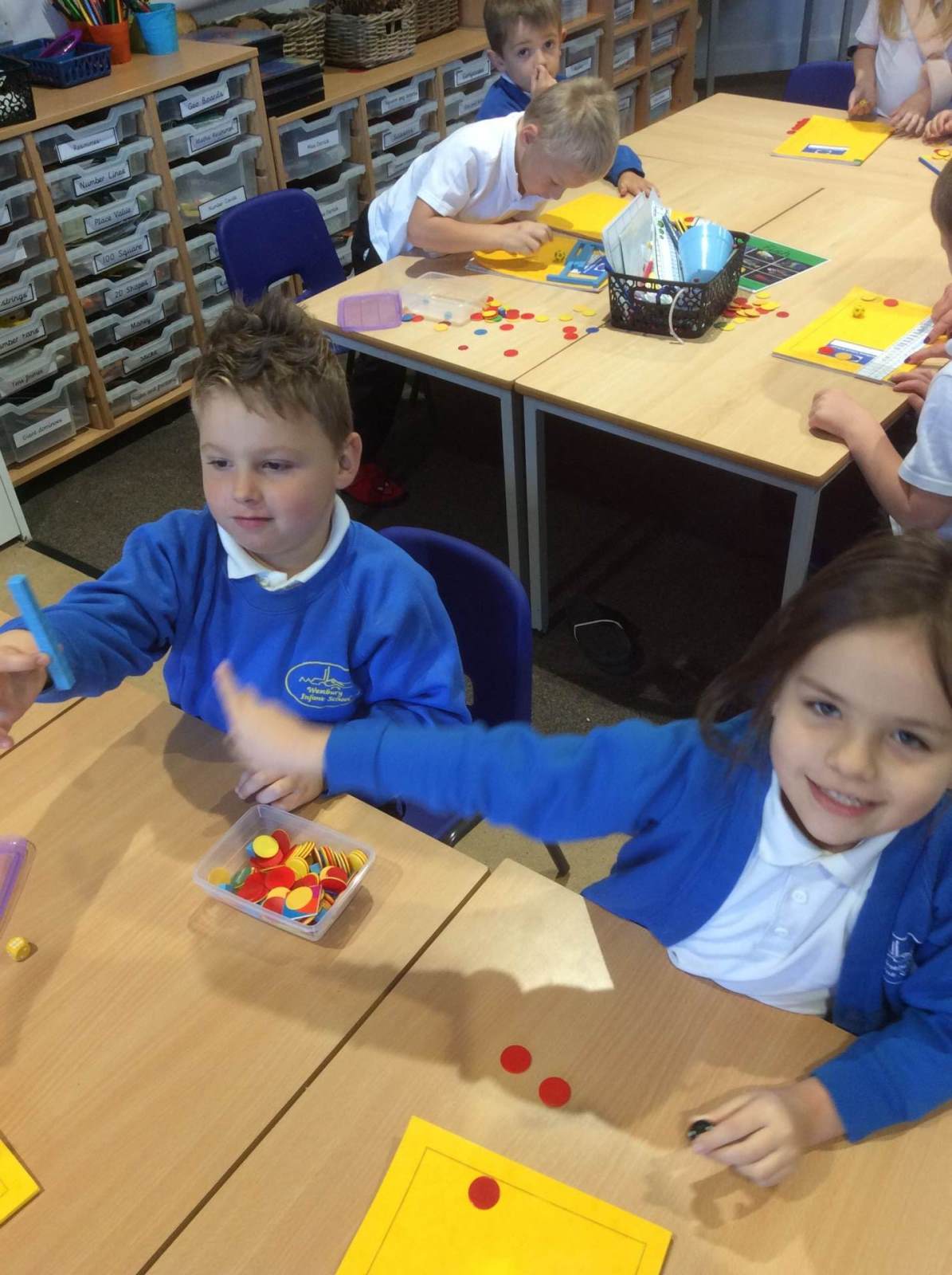 Badger class also had fun using the glockenspiels this week to try and keep a beat. They had lots of fun trying but found it quite hard to follow the notes and play at the same time. We will keep practicing and in time will become amazing musicians!
Super Skippers!
This week we were very excited to launch our school focus on skipping. We are aware of the impact skipping can have on improving our health, stamina and well being. So on Thursday we were fortunate to have a visitor called George from Skippping 4 schools. He showed the children how to bounce on the balls of their feet, how to look up and jump when the rope comes into view and most importantly to be determined, never give up and keep trying because in the end you will succeed. Some of the children were also fortunate to have a go and Double Dutch skipping and as it was greeted with such enjoyment and enthusiasm we have purchased a set of double dutch ropes for each class to enjoy using at break times.
First few days!
Welcome back to school after such a long break. What a lovely new class of Badgers you are! Miss Killah was very pleased to meet you all on Wednesday and I ( Mrs Kerbey) was really fortunate to get to spend 2 days getting to know you all on Thursday and Friday. I can tell what a wonderful class of such polite, kind and hardworking children we have. On your first day you worked really hard with Miss Killah to create some really sensible class rules and she showed me your lovely writing about the holidays. We then spent a few days learning about our class animal. We did some amazing writing about what badgers look like and found out some interesting facts about them.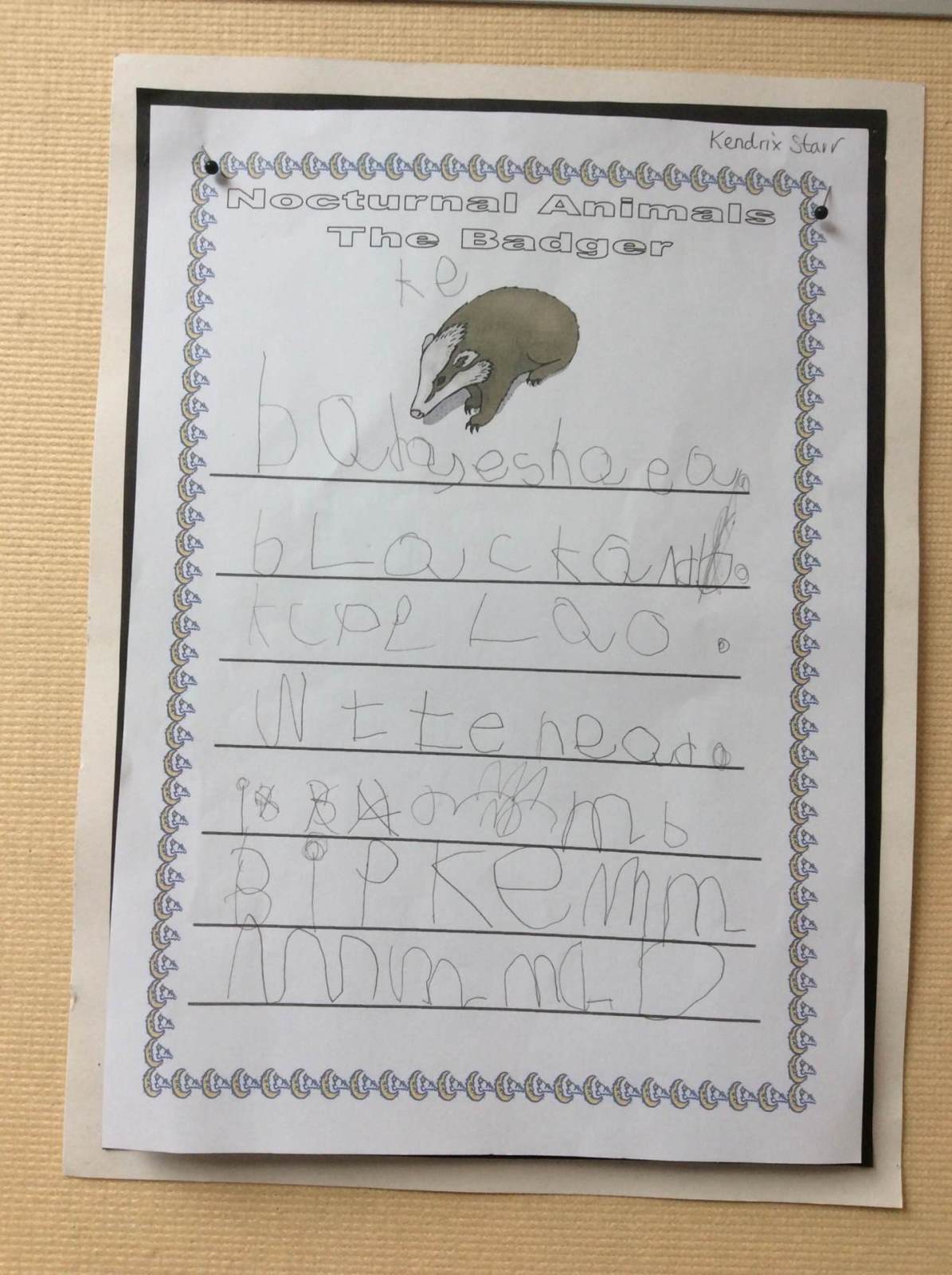 Finally, we had some fun trying to follow carefully some instruction on how to draw an astronaut because next week we are going to be finding out about the first astronauts who landed on the moon. What incredible artist we have in Badger class. Take a look at some of their fantastic pictures.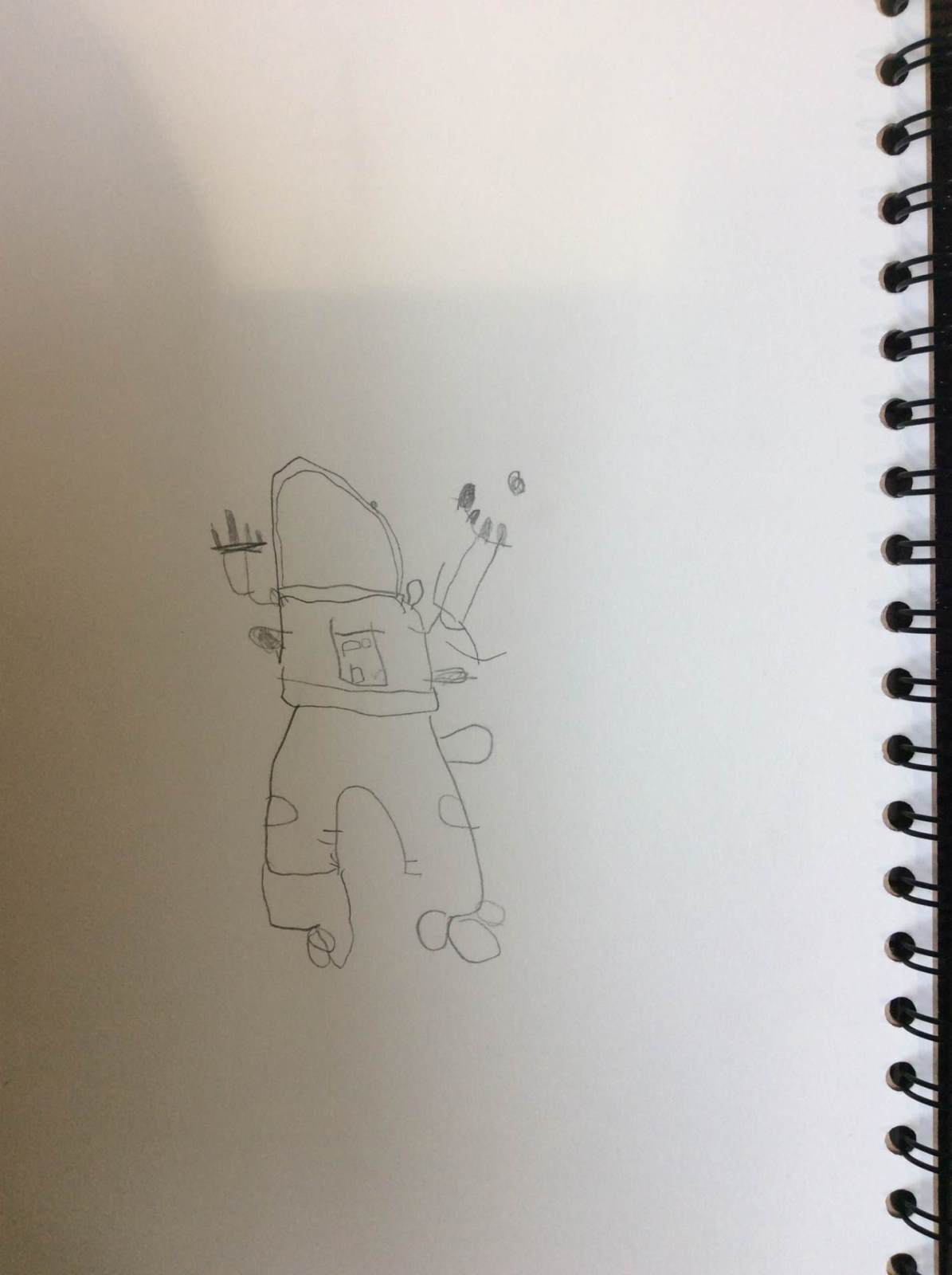 Singing Make a Wish Videos
Story Time with Mrs Newbury, Mrs Kerbey, Mrs Tilsley & Mrs White
Term 4 2020
July
Virtual sports day!!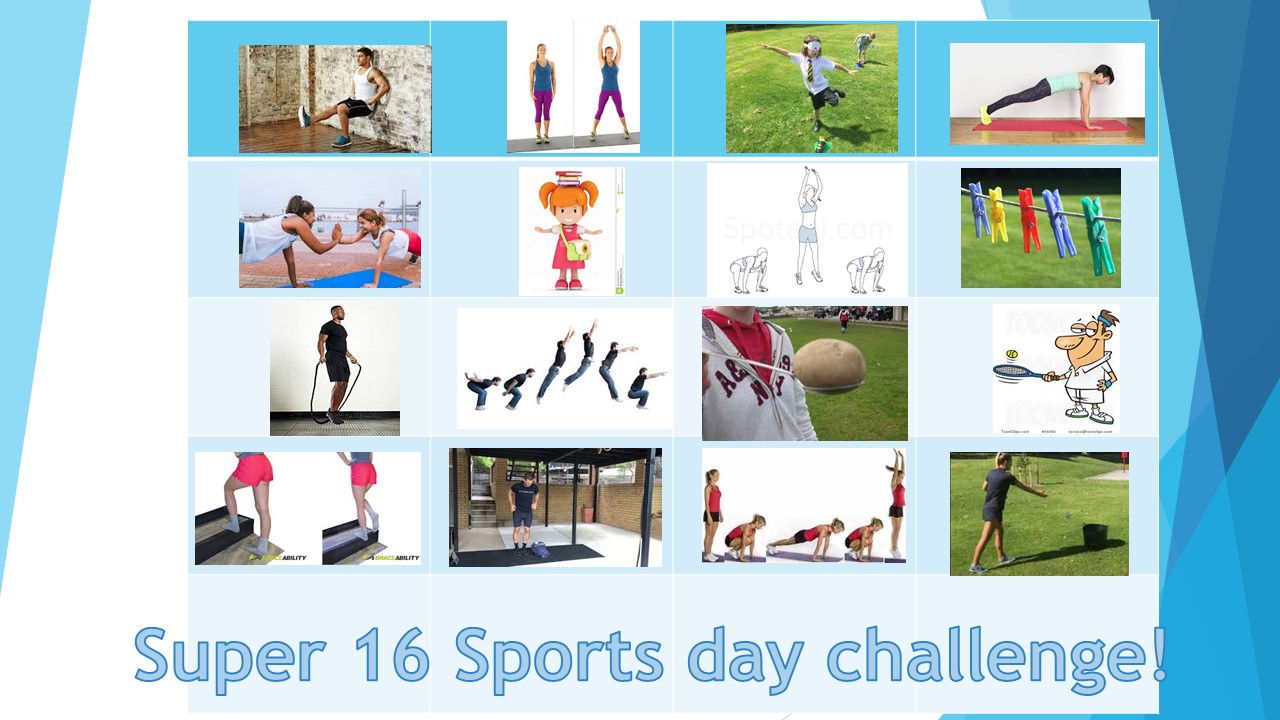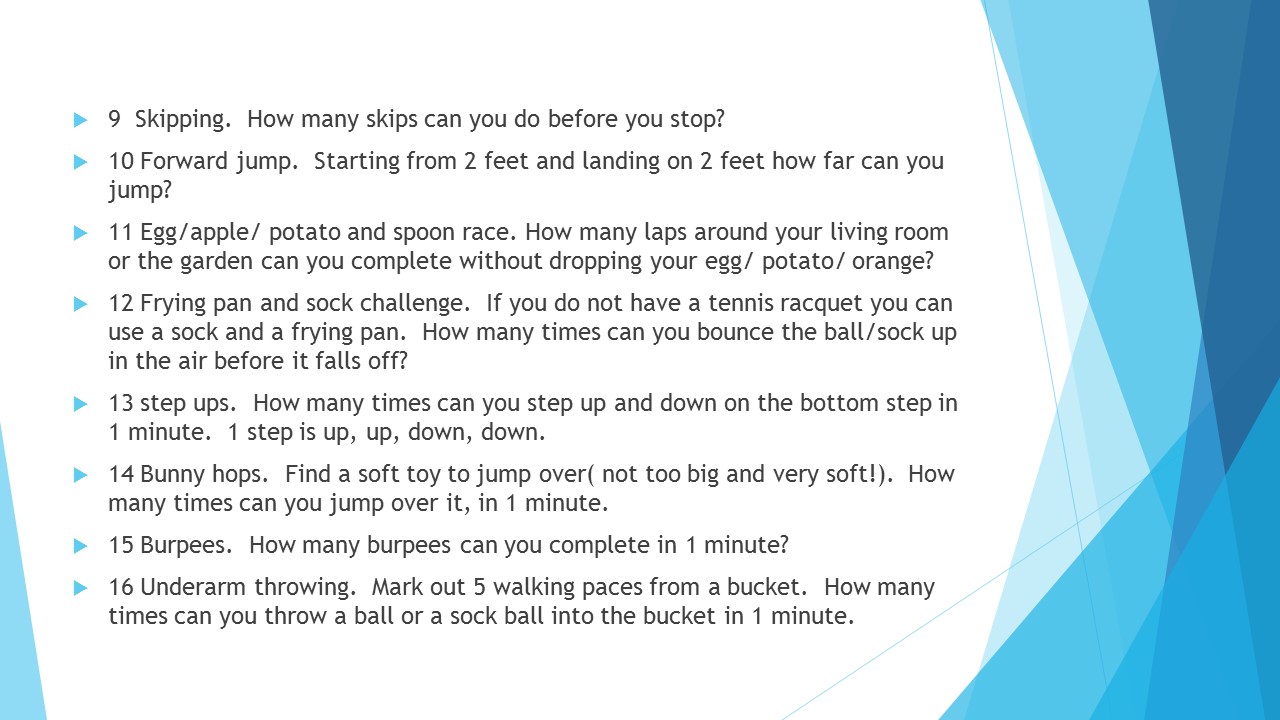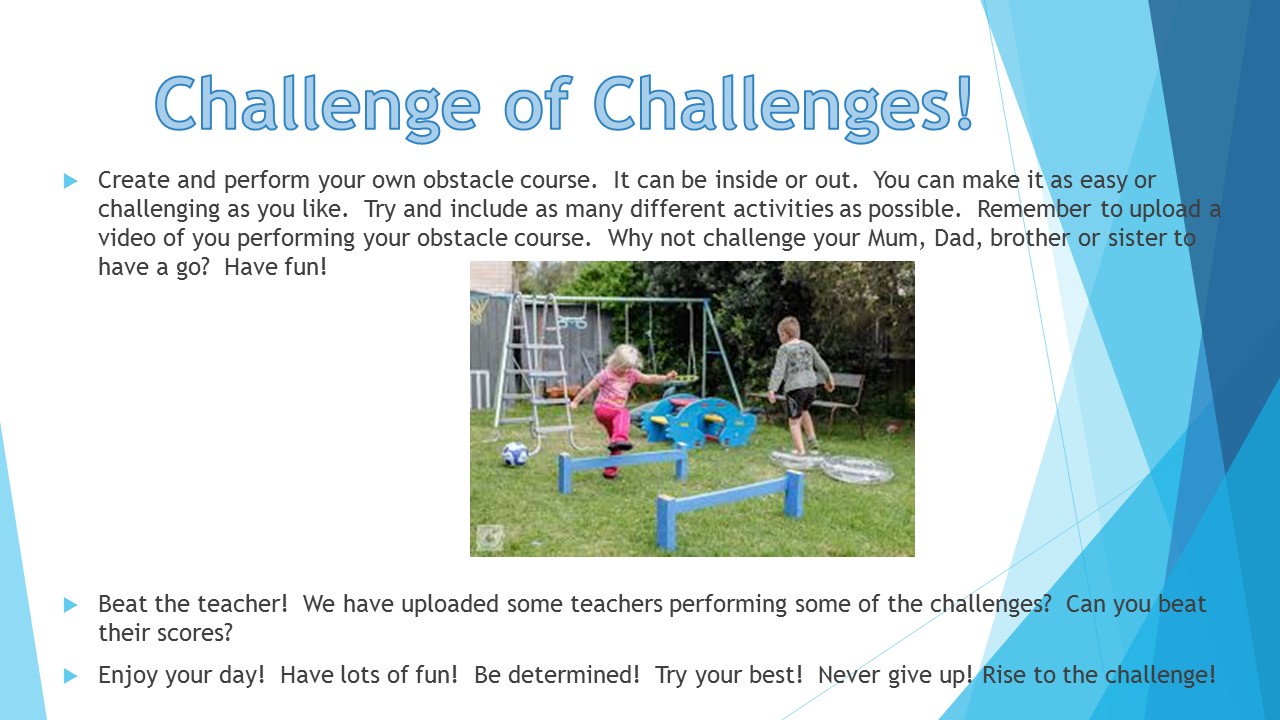 Jellyfish, Jackals and Jumping spiders!
Hi Badgers, we have missed being able to do our zoom chats this week but hope you are all having a lovely week. This term we were going to be thinking all about Zoos and animal and today we were due to be visiting Bristol Zoo. Whilst it it very disappointing not being able to be be there, why not have some fun creating your own imaginary zoo. You could visit Bristol zoo on the web and then create your own animal enclosures at home by using soft toy animals or drawing pictures of all of the animals you may have seen at the zoo. You could then draw a map, marking on all of your animal enclosures and find North East South and West. You could try making a game of Top Trumps all about the animals , finding out how tall, how heavy, how fast they can run, if they can fly or swim. Then you could play it with your family. Can you write a story about an escaped animal from the zoo? Don't forget to send in any of your pictures or stories so that we can share them on our class blog. Who has completed their personal best sheet? Remember to take a picture of it and send it in. Keeping fit and active is especially important at the moment. It helps to improve our mental health and well being. Have you logged into Jasmine?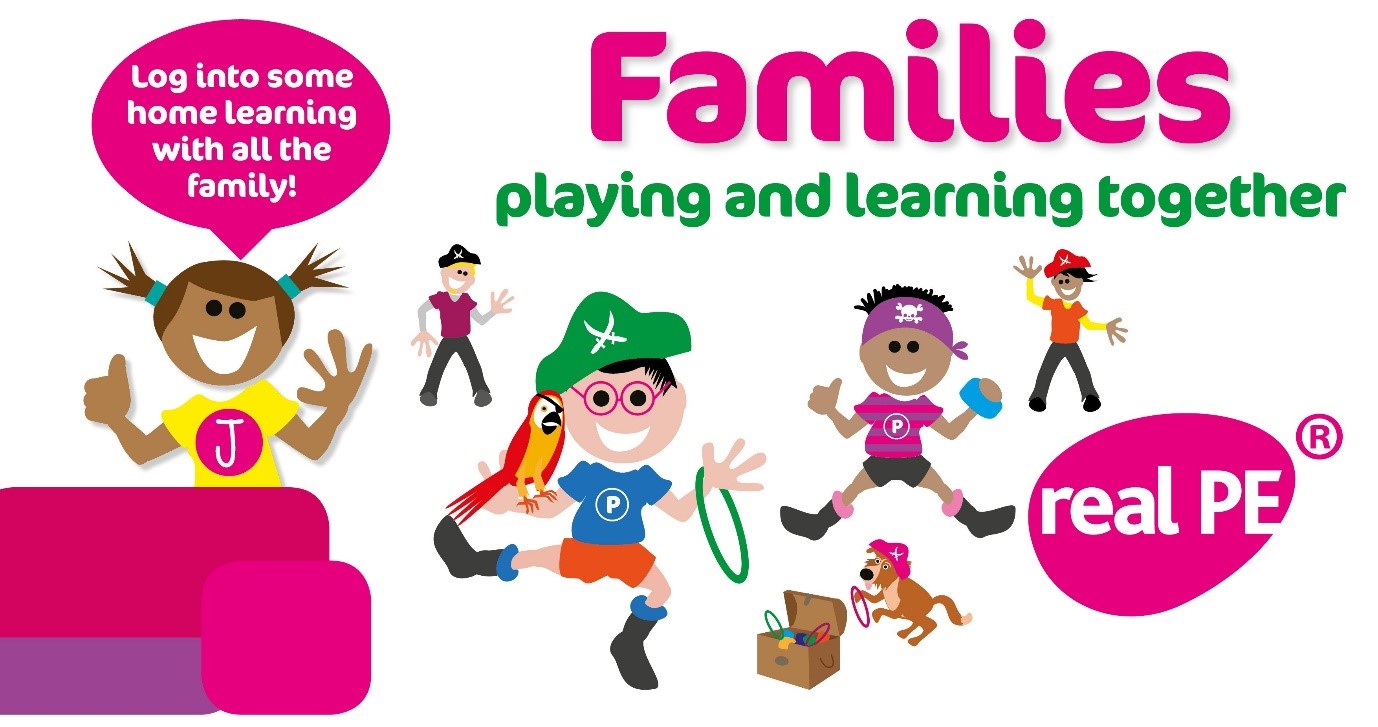 Here are your log in details if you haven't had a look. It is full of fun activities for you to try at home and will be available for you to use for the whole of the summer too!www.home.jasmineactive.com and enter the following detailsemail parent@westburyin-2.compassword:westburyinHave fun and keep moving.
June
Beautiful Butterflies and Bright Badgers
Thank you to all of Badgers ( and parents) who have been able to join in with zoom this week, despite some challenging connection issues. We have enjoyed sharing stories, played some bingo games, have seen some super creative projects and enjoyed listening to each others news. We almost got eaten by Jamie's fire breathing dragon, sped along in one of Harvy's many vehicles and was entertained by plenty of dancing, spinning and moving soft toys. Lillie Louise has been learning to tell time, Bethany has begun writing a story about her Pig soft toy, Jamie has been practicing his number bonds , Archie has been practicing keeping his writing on the line and Harvy too has been develping his letter formation. Keep up the good work everyone.
Louie has been enjoying watching caterpillars change into beautiful butterflies and setting them free after caring for them and nurturing them for a number of weeks. Dylan has been busy creating a jungle. Maybe Louie's butterflies will discover the fantastic jungle created by Dylan on their new adventures.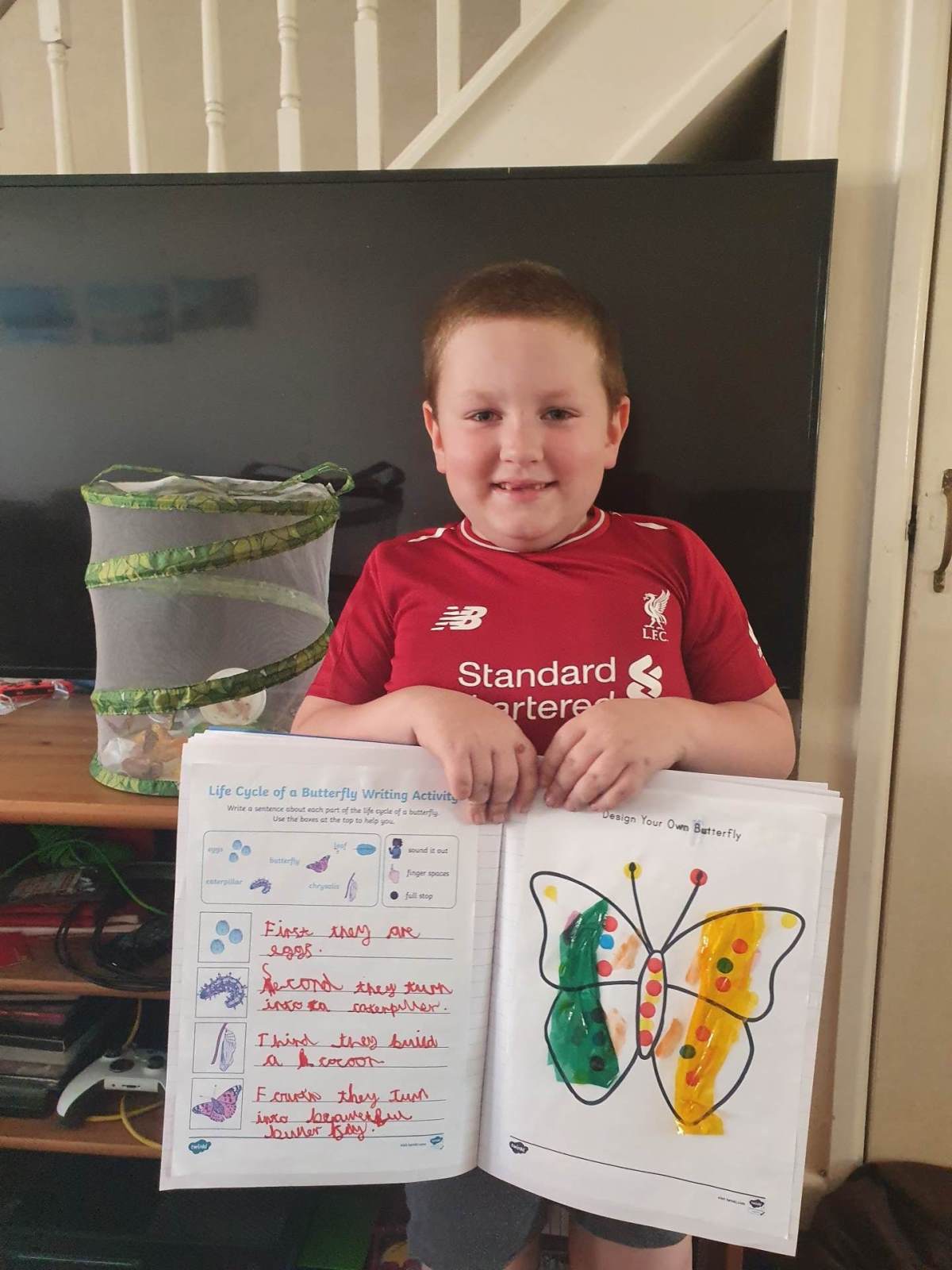 Congratulations, Bella and Jamie!
Bella has been concentrating hard and practising on her bike and now she can ride it without stabilisers - well done, Bella! That big smile on her face tells us just how proud she is!Jamie has been inspired by reading The Paper Dolls by Julia Donaldson and has made his own paper dolls. How lovely! Have you ever been inspired to do something after reading a book?
Zoomtastic!
We are really enjoying our zoom meetings with you. Today, we had a dressing up zoom and Bethany came as Cinderella complete with make-up, tiara and a wonderful up-do, Lillie-Louise dressed up as a lovely Goldilocks, and Jamie as a soldier (although he didn't know we were dressing-up, he came in camouflage top so we said he was a soldier). Sabelle showed us her super drawing of a butterfly and a sparkly picture and Poppy showed us her very fluffy and snuggly toys, one was a beautiful bear called Germany. Harvy did a gorgeous picture of a Paddington train - it was fab!! During our meetings we have been having scavenger hunts which have been great fun and the children are so creative. Today we played Hangman, which Mrs Newbury thought she was going to win, but didn't! Tomorrow's meeting is a pyjama party - looking forward to that!! Mummies can join in too! Here are some fun photos of our meeting today.
A special guest appearance from Bethany who wanted to read a story to you all. We can see that she has picked up some tips from the teacher's videos. What a pleasure to include it on the blog,Bethany. Well done!
Bethany and Jamie have sent in some videos. Jamie decided to read us a story this time which is so lovely as he has enjoyed our stories so much. Your reading has come on such a lot and I know how much you love The Gruffalo. Keep practising, Jamie, by the time we see you next you will be amazing!
Bethany has been very busy making videos too. They are very professional and easy to follow if you would like to have a go at making crispy cakes or do some fantastic Captain America subtraction. Have a go! Thank you for sending them in, we hope they have inspired you to do some cooking, maths or reading. Fabulous effort children!
Together again!
What a lovely week we have been having meeting up virtually again. Our daily Zoom chats are a really lovely way of re-connecting with each other again. It has been super seeing so many of our lovely Badgers and we are very grateful to all the parents who have enabled this to happen. Thank you!Ivy showed us her lovely little black fluffy kitten, Riley a rather splendid Tortoise and we even got to see a moving Lioness who displayed their scary teeth! We were a bit fearful that Bethany may have been eaten by the Lioness but mum assures us she is still there safe and well! HEE HEE!Fantastic favourite books were shared by some of the children who enjoyed reading out extracts from their chosen stories. Jamie likes the Smartest Giant in town, Mrs Kerbey read Hairy Maclary's Showbusiness and some of the girls particularly like reading the series of Fairy books. Harvy loves to play with different cars and has enjoyed showing us, transformers, remote control and some lego cars, Ivy and Louie have been doing some beautiful colour by number pictures, Poppy made a wonderful glitter globe and we have seen lots of interesting drawings, paintings, cuddly toys, story writing, factual writing, practicing of adverbs, adjectives, spellings and a few PB challenge cards started, to list just a few. Below are a few examples of the lovely things the children have shared with us. Fantastic effort and determination you have shown Congratulations!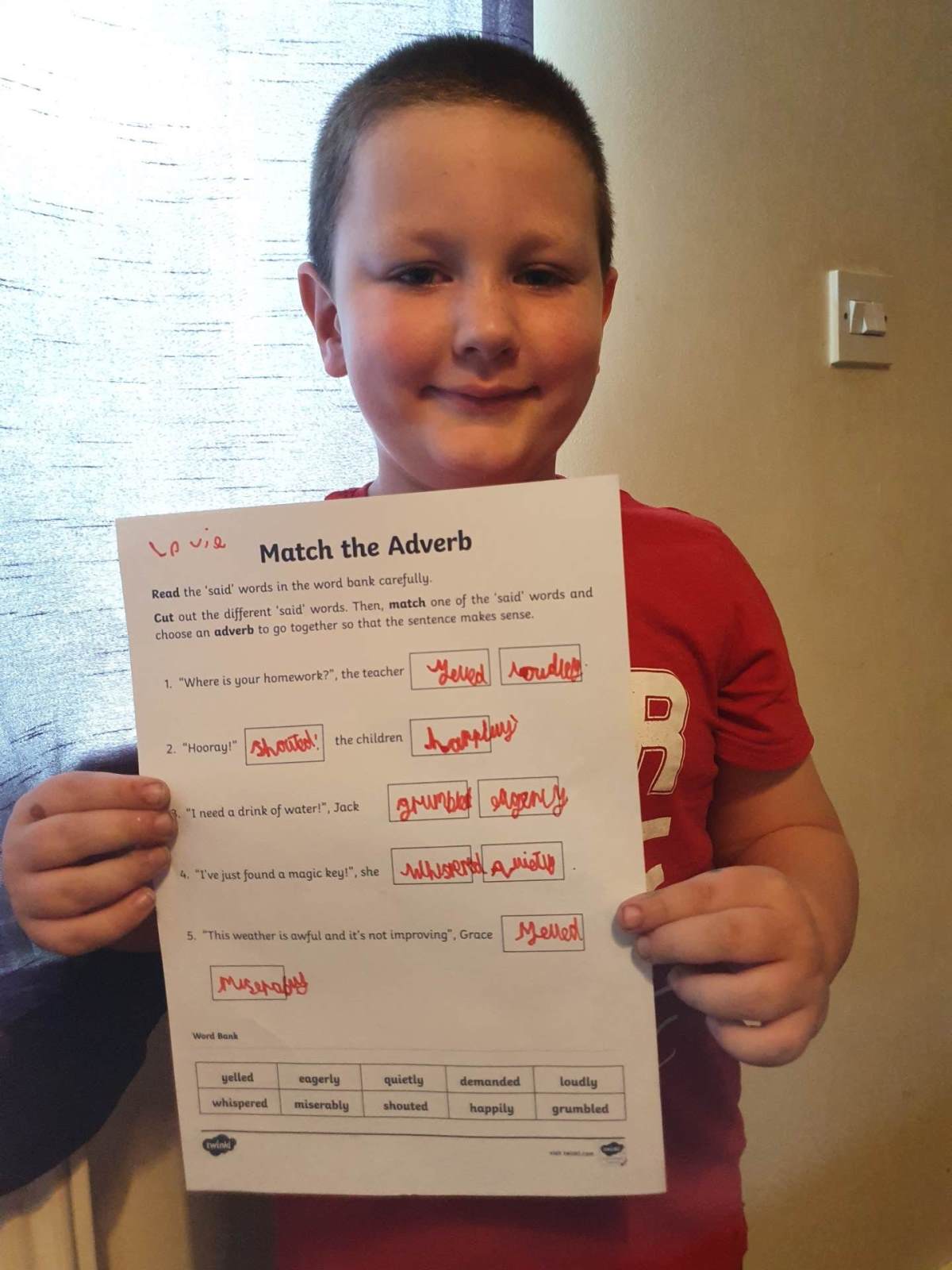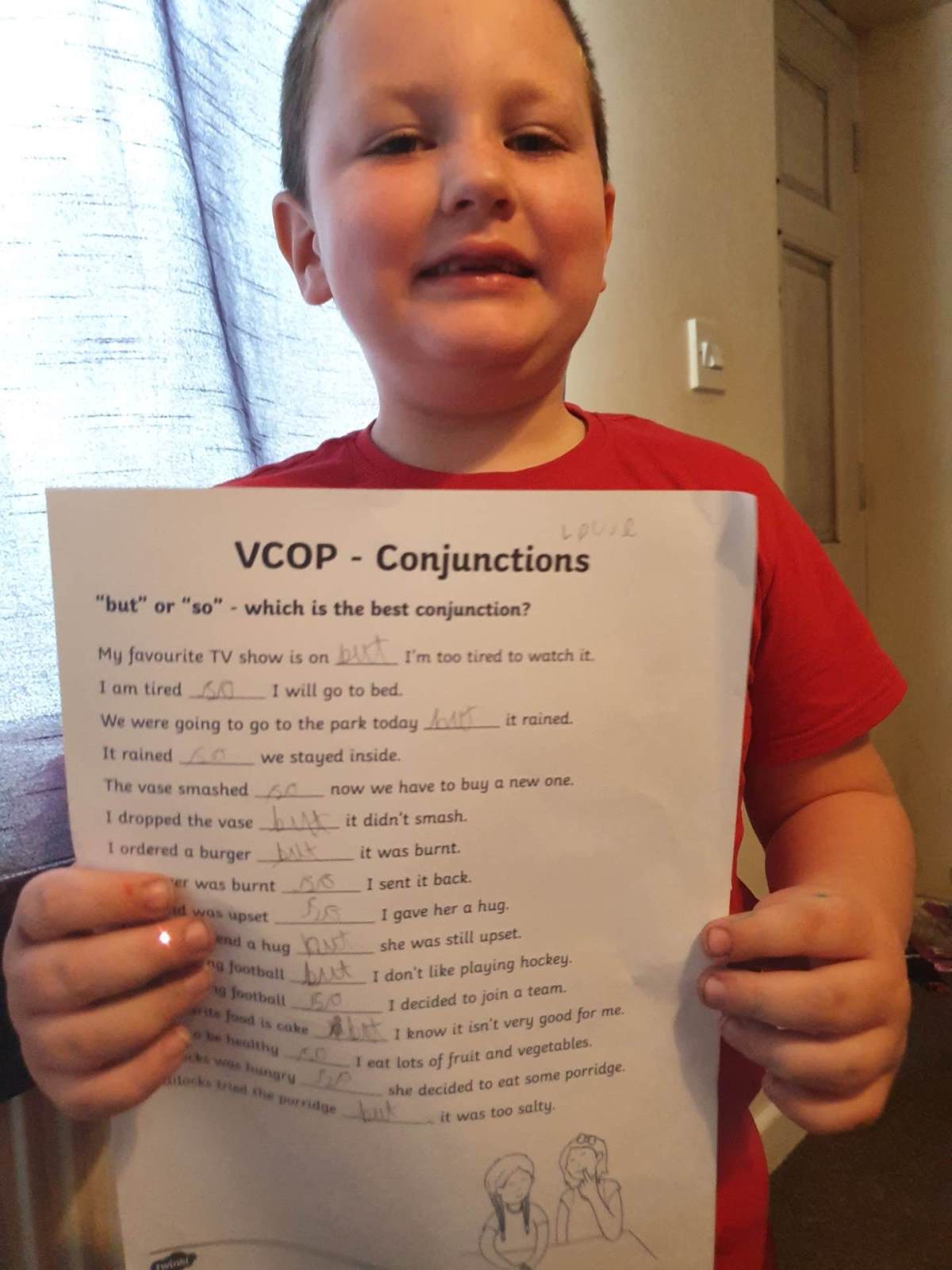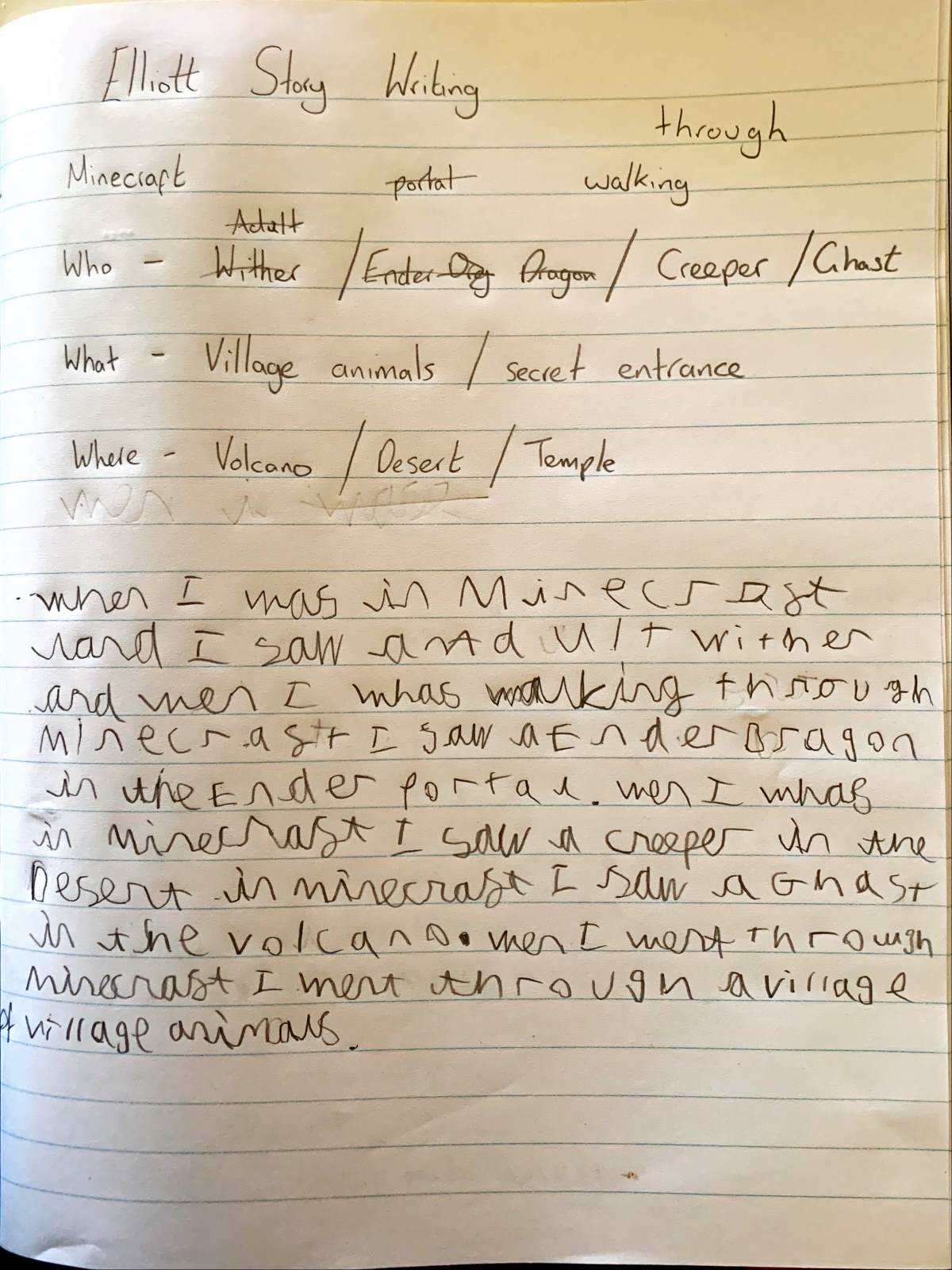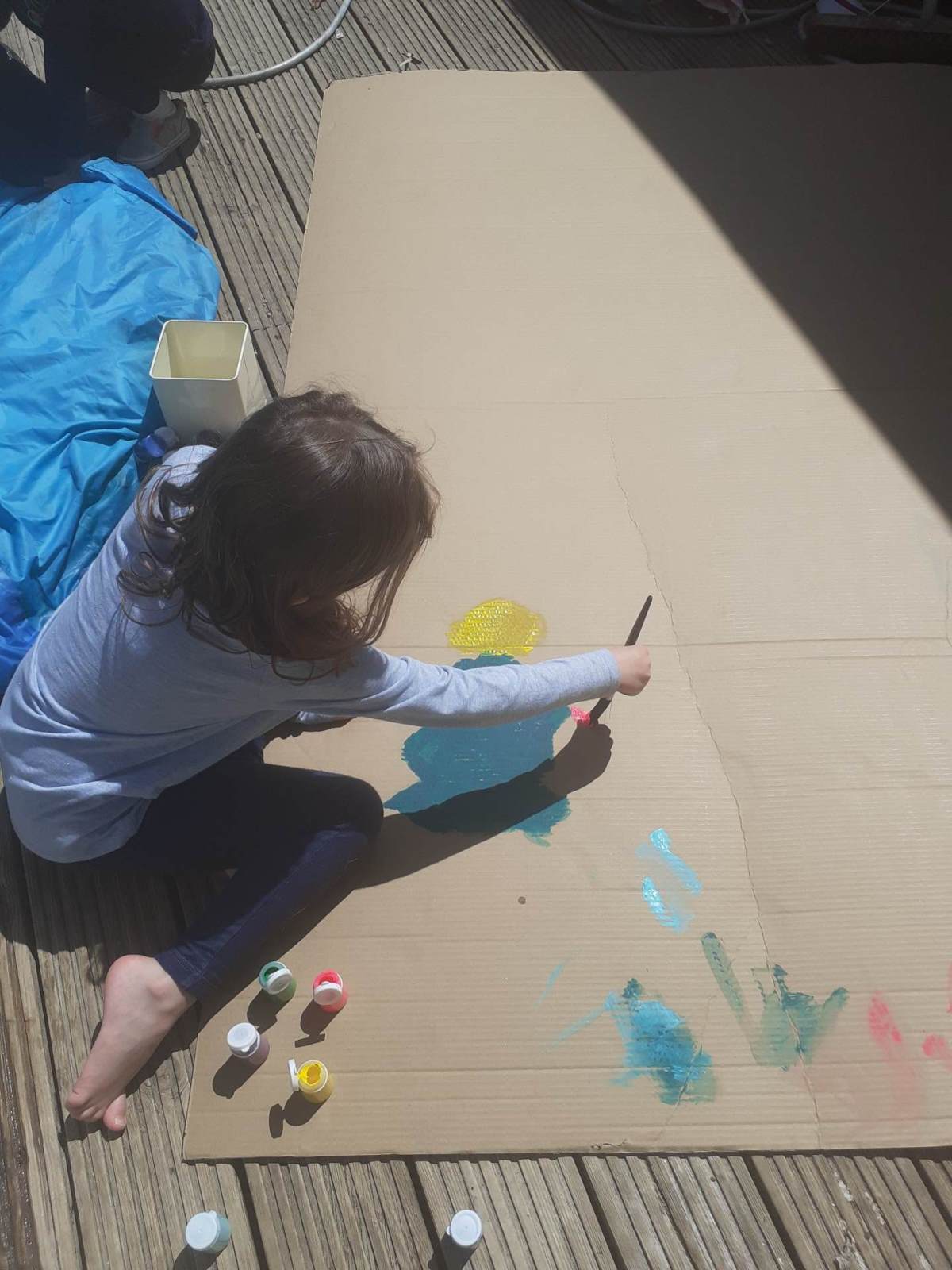 And if you want to make some mouthwatering marshmallow crispy cakes, Bethany has written out the recipe and made a video showing you how. I think one day you might become a blogger Bethany and have your own channel, it's that good.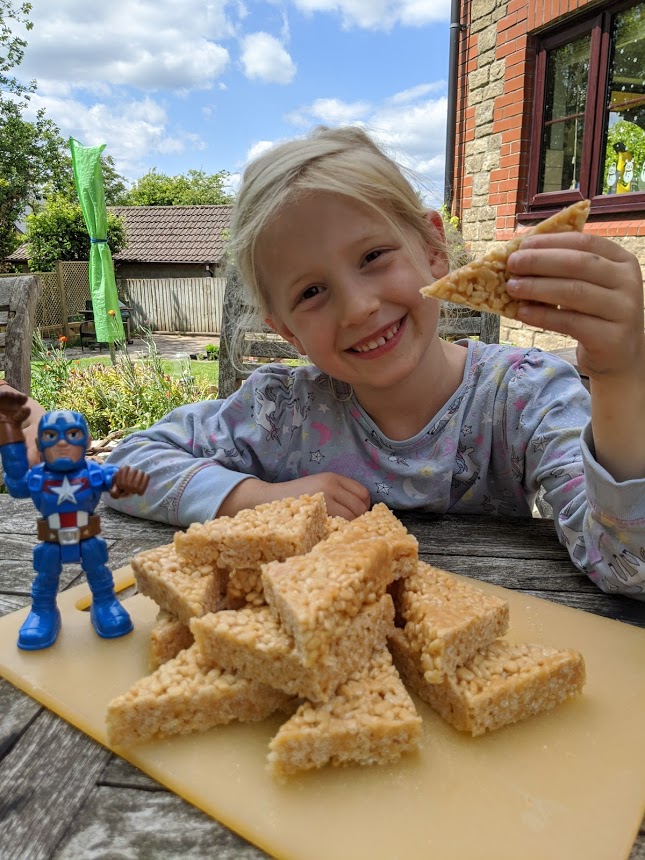 May
Zoom loveliness
A very big thank you to all the mums and dads who have helped Badgers to connect with their teachers - we really couldn't have done it without you. It certainly has been lovely seeing and talking to you in person. You all have been so busy during lockdown. Several of you have camped out in your gardens - Archie, Bella and Daisy (who now has bright pink hair) to name a few. Harvy has been doing his home learning at his mummy's desk and looking very grown up with his new haircut from mum. Theodore is missing his friends but was very excited when we told him we would be having a group zoom catch up. Poppy has been going for long bikes rides up to the White Horse - such a lovely view from there! It was lovely to see Dylan who is finding lockdown ok at the moment. He was a little shy but I'm sure will be able to tell me more about what he has been up to next time. Jack showed me all the board games he has and took me on a whistle stop tour of his house - very quickly!! I got to see Chester, so that was fab! Caleb E. told me he was busy learning about the planets, he's drawn them and could tell me lots of facts about them. When I spoke to Elliott, he had just finished watching a documentary on plants and is a real expert now! He has drawn around his body and can label many of his body parts - fantastic! Ivy didn't stop smiling from beginning to the end of the zoom catch up. Her and her family had been very busy making decorations to celebrate VE day and sent a lovely picture of her standing at her front door. Bethany has been making lots of things and doing her home learning. She now has her own email address and has learnt to email. Jamie has even dressed up as a certain Prime Minister and made his own podium to speak at - can you guess who he is?
Super Catch ups and a special Congratulations to Jamie!
Mrs Newbury and I have really enjoyed catching up with nearly everyone on Zoom or the telephone. It has been lovely seeing your smiling faces, hearing your voices and finding out and seeing all the wonderful things you have been busy doing at home. Your parents must be feeling exhausted! I had a lovely chat with Louie and found out all about his dog called Daisy and how much he enjoys playing on the Wii. Lillie-Lousie has been very busy cooking all sorts of things from burgers to making delicious fudge. She has also been learning to tell the time and practicing her spellings too, Well done Lillie-Louise. Maisie must have a sore hand as she hasn't stopped writing since being home. She showed me all of her fantastic writing from spellings, to writing about cooking. She has been learning about 3D shapes, enjoying going on her scooter and has plenty of cats to look after too. I had a lovely catch up with Tori who is doing a fantastic job of looking after Barry the Badger. I can't wait to hear all about the adventures he has been on. Sabelle-Sabrine has been busy playing with her sisiters, ccoking giant cupcakes and pancakes and having fun in the beautiful sunshine riding her scooter. She has been especially creative by designing her own top by sticking on gems. It looks fantastic Sabelle!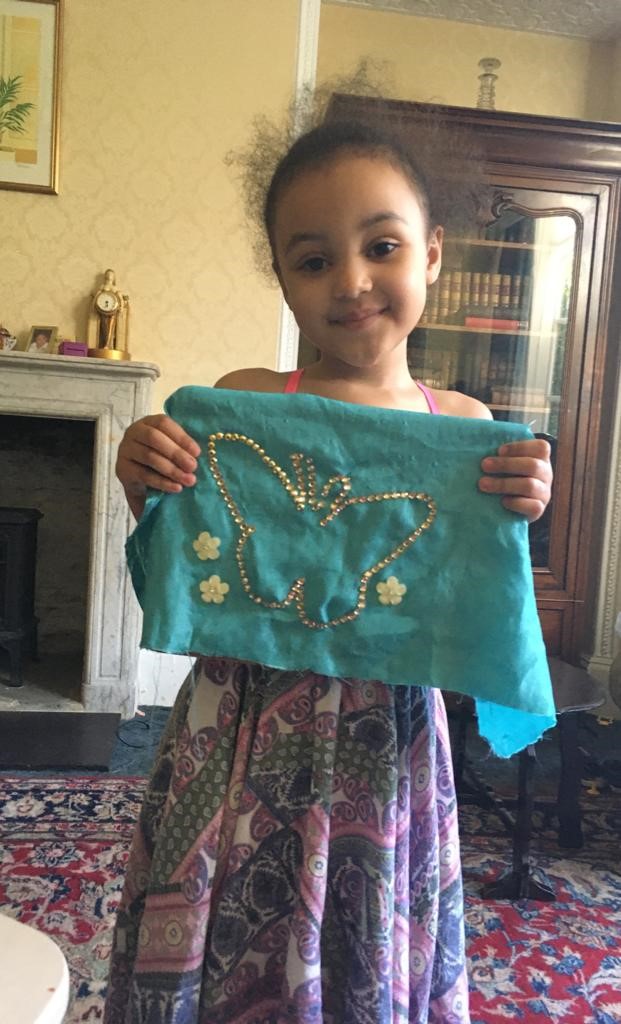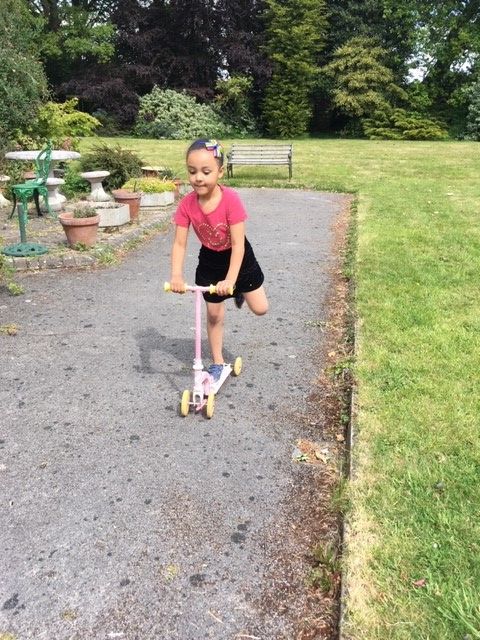 I was very inspired by Bethany's fruit mice a few weeks ago that I had a go at making some myself and another creature too. Can you guess what it is?
Finally I want to say a big congratulations to Jamie who has mastered riding his bike this week WITHOUT stabilizers. Well done Jamie.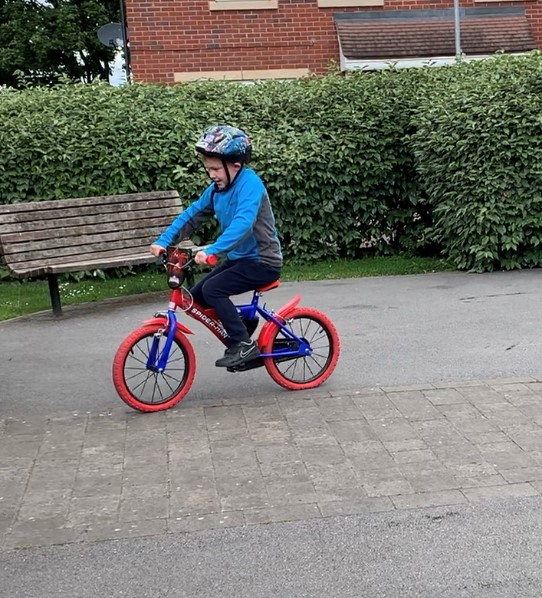 VE Day celebrations
Today is the 75th Anniversary of VE Day and all this week, the children onsite have been learning about this special day and what it means. They made cards that were delivered to the care home in Westbury. This week Mrs Newbury and Mrs Kerbey have been contacting children via zoom or phone to have a quick catch up and many of you have said that you are celebrating VE Day too. Here are a few photographs (and we will add more as they come in) of the many different ways you are celebrating. Such a wonderful thing to do for all our young people to appreciate what our older generation did for us.
Harvy is top-notch with his home learning
It was so lovely hearing from Harvy today and finding out what he has been up to over the past few weeks. Harvy has been working really hard with his reading, maths and helping around the house with baking, grass cutting etc... however he misses his friends and teachers. We certainly miss you and your super smile too! You look very professional at your desk and comfy office chair to do your home learning. We are also very pleased to see you getting outside and enjoying your garden. Fantastic!
Daisy - spot the difference!
Daisy has also been up to lots of adventures while at home. She has camped out in her garden, been swimming in her pool and lots more. Then she did a little science/art experiment. She got some very bright pink tissue paper, soaked it in water, then dipped her hair into it and look what happened?
Bella has been busy
We have had lots of photos that Bella has been sending in. She has been very busy with her home learning,baking, doing PE with Joe Wicks.
April
Three from Theodore
Theodore has sent in three photos of different things he has been doing over the past few weeks. He has been persevering with his handwriting which is improving all of the time so keep up the good work!
He has been having fun doing some baking. I wonder what he is making? You could e-mail us your guesses. And finally he has been putting his creative skills to good use, by beautifully decorating an Easter egg. It looks amazing Theodore. Well done.
WOW writing from Archie
You will notice several new things about Archie over the last few weeks: one, he has fewer teeth (new ones just coming through) and two, his incredible writing. He has been writing two sentences every day about what he and his family have been doing. It has been great to see Archie's 'green fingers', he has done lots of planting and look at his sunflower plant - it certainly has been the very best weather for growing. Well done, Archie, keep going!
An update from Jack
Jack has been very creative at home as you can see in the photographs. He has made an Easter hat and drawn a rainbow of hope. He has also been playing badminton in his garden. We especially like to photo where he is reading to his dog, Chester (I bet Tyler is missing us reading to him at school). We are missing you Jack but it's lovely to see you smiling so much in the pictures. Keep practising your handwriting, we can already see the improvements!
News from Jamie
Jamie has been
very busy creating his own zoo scenes with fuzzy felt. I wonder if you can find out some facts about the animals you are playing with? Where do they come from? What do they like eating? Have you seen any of these animals in this country?Super concentration can be seen in both photos.
I remember when I was a little girl, I loved Fuzzy Felts - especially the hospital one. I remember it very well. He has been doing lots of lovely writing and enjoying going outside. I can see that you have a super costume on as well, Jamie.
Messages from Alfie for Bethany and Bella
Alfie has had a bit of fan mail from a few badgers - he's very happy about it all! Bethany and Bella have written about their pets and he has been busy writing replies to them. It takes him a while because his paws are so big that he presses all the wrong letters!!
Click on Alfie's pictures and then on the white arrows to play messages.
Easter Enjoyment
HI Everyone, I hope you are all enjoying the beautiful sunshine we have been having and have had a lovely Easter time. We are really missing seeing all of your beautiful faces, chatting to you and teaching you, but we know that we need to stay home to protect the NHS and save lives. It wont be forever so until we can be together again please e-mail us a short message, send some lovely photos or a little video recordings or questions about home learning etc to stay in touch. WE would lOVE to here from as many of you as possible.class9@westbury-inf.wilts.sch.ukBethany has been very busy cooking this week and has sent in her recipes for shortbread and strawberry mice. Bethany, the strawberry mice look SO cute and I'm sure will be delicious. I will definitely be buying some strawberries next week and making some of my own!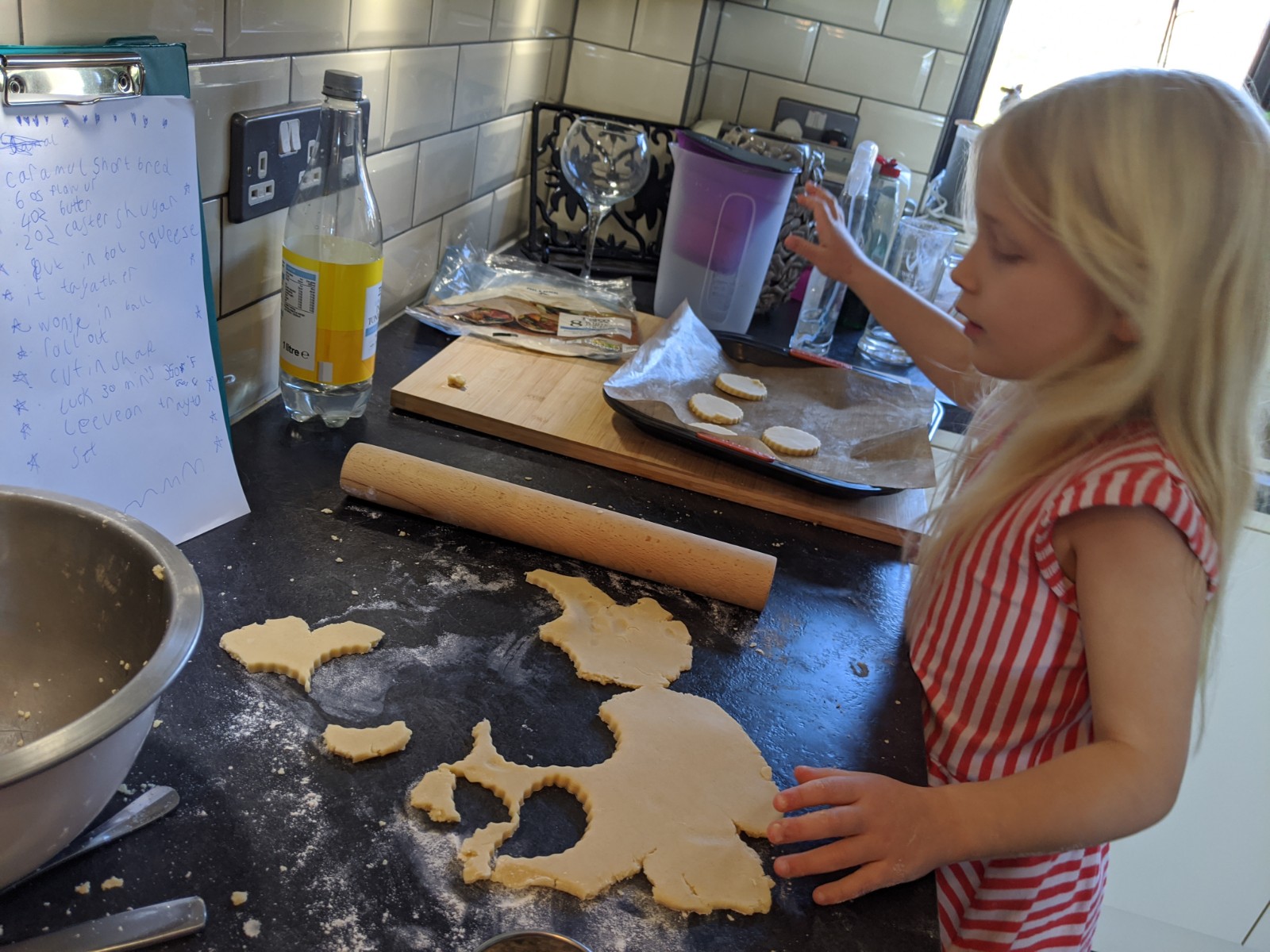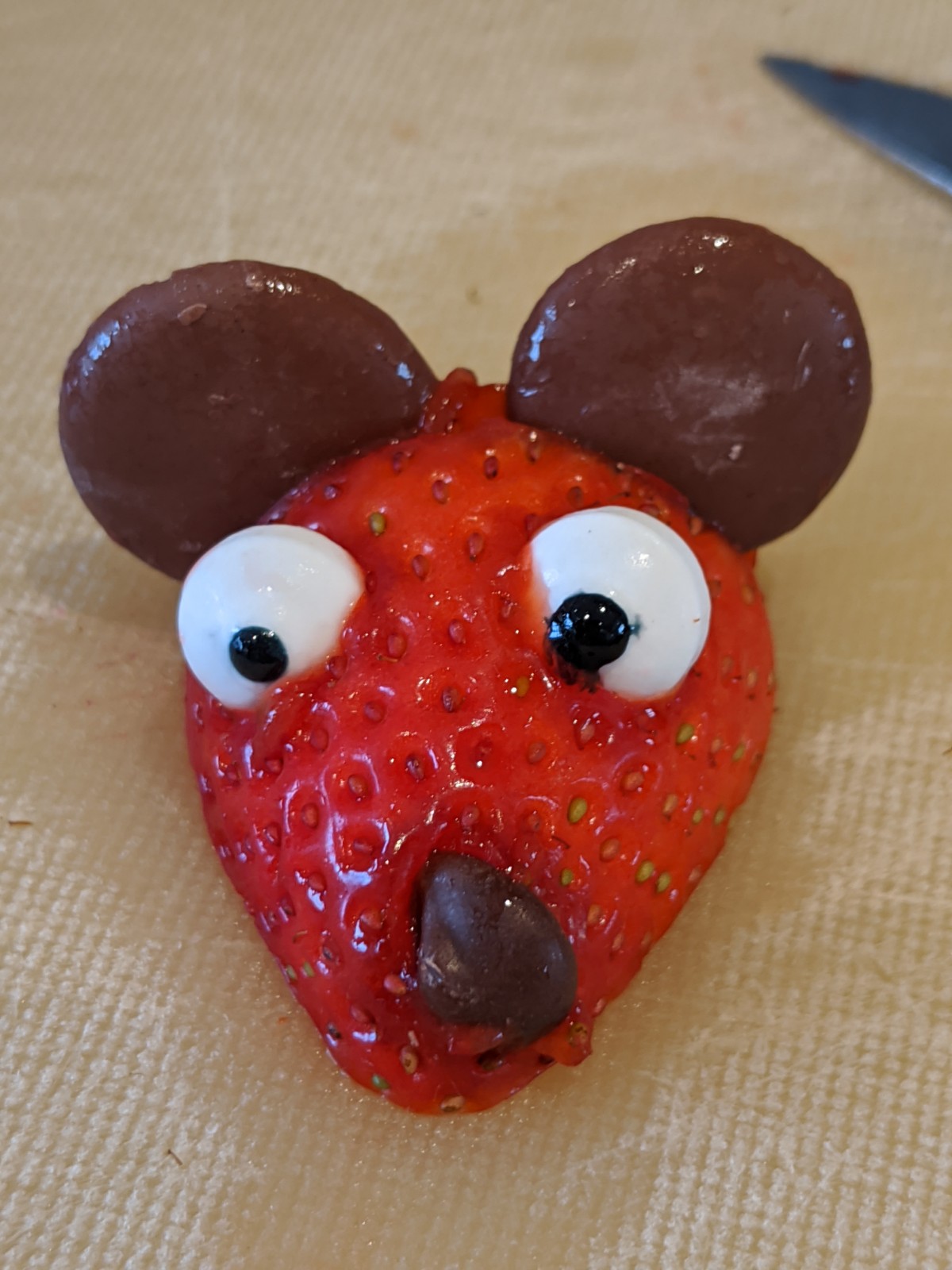 My children have all been busy cooking this week; making hot cross buns, cooking a BBQ, making a Hawaii themed birthday cake and today I can smell some lovely chocolate brownies cooking.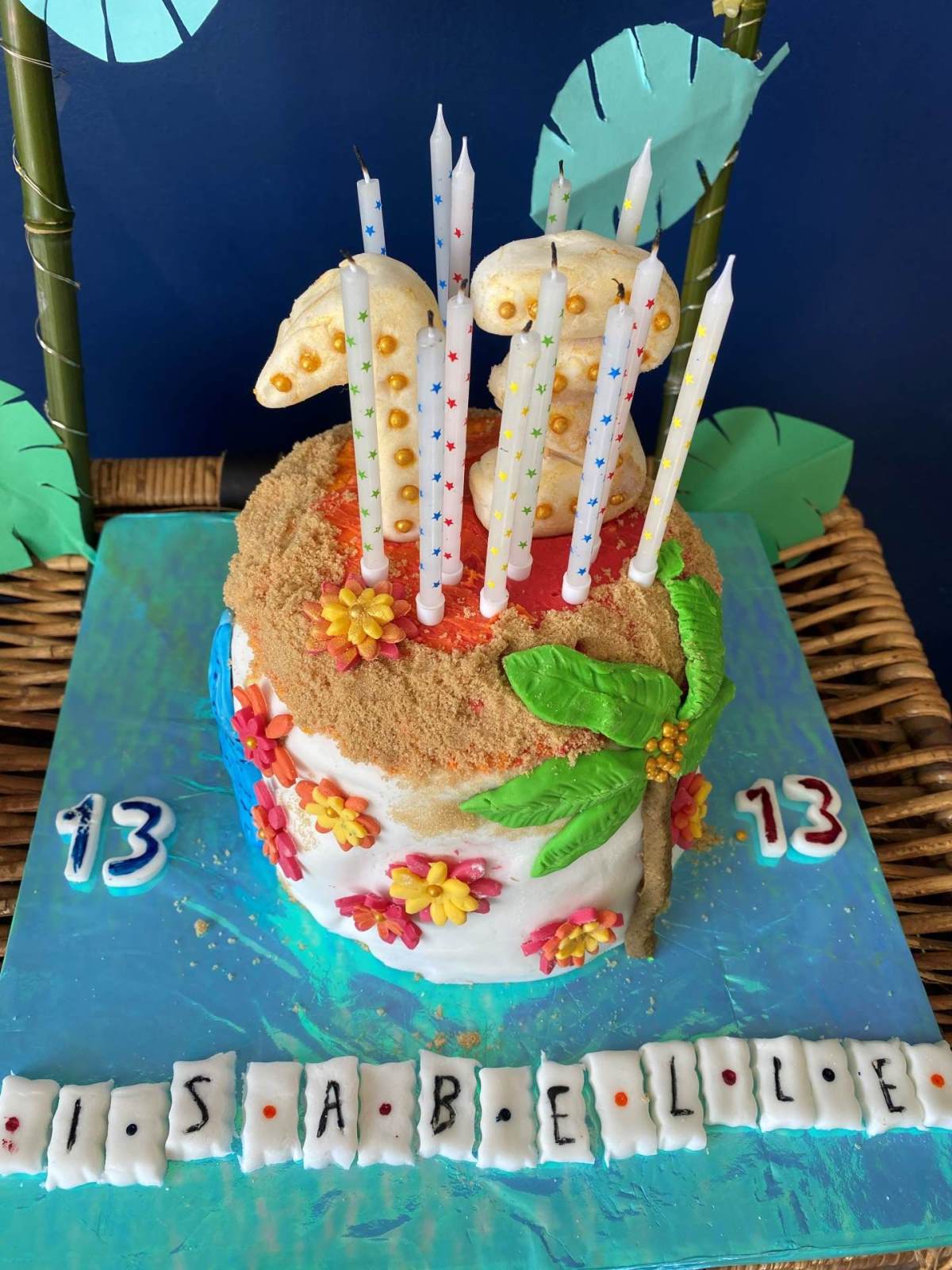 I have been busy making my daughters birthday card, planting some seeds, reading some books and resting my leg, after doing too much exercise and pulling my calf muscle! I love being active so it has been really frustrating this past week sitting resting it, putting ice on it, compressing it and elevating it. However I can now walk on it again so hopefully next week I might be able to do a little more. My children have been keeping up with their PB challenges. Have you? Remember to send me in your score cards so I can see how well you are doing. Our rabbit Ronnie loves to roam the garden and one of his favourite places to hid is in the middle of our rosemary plant. Can you spot him?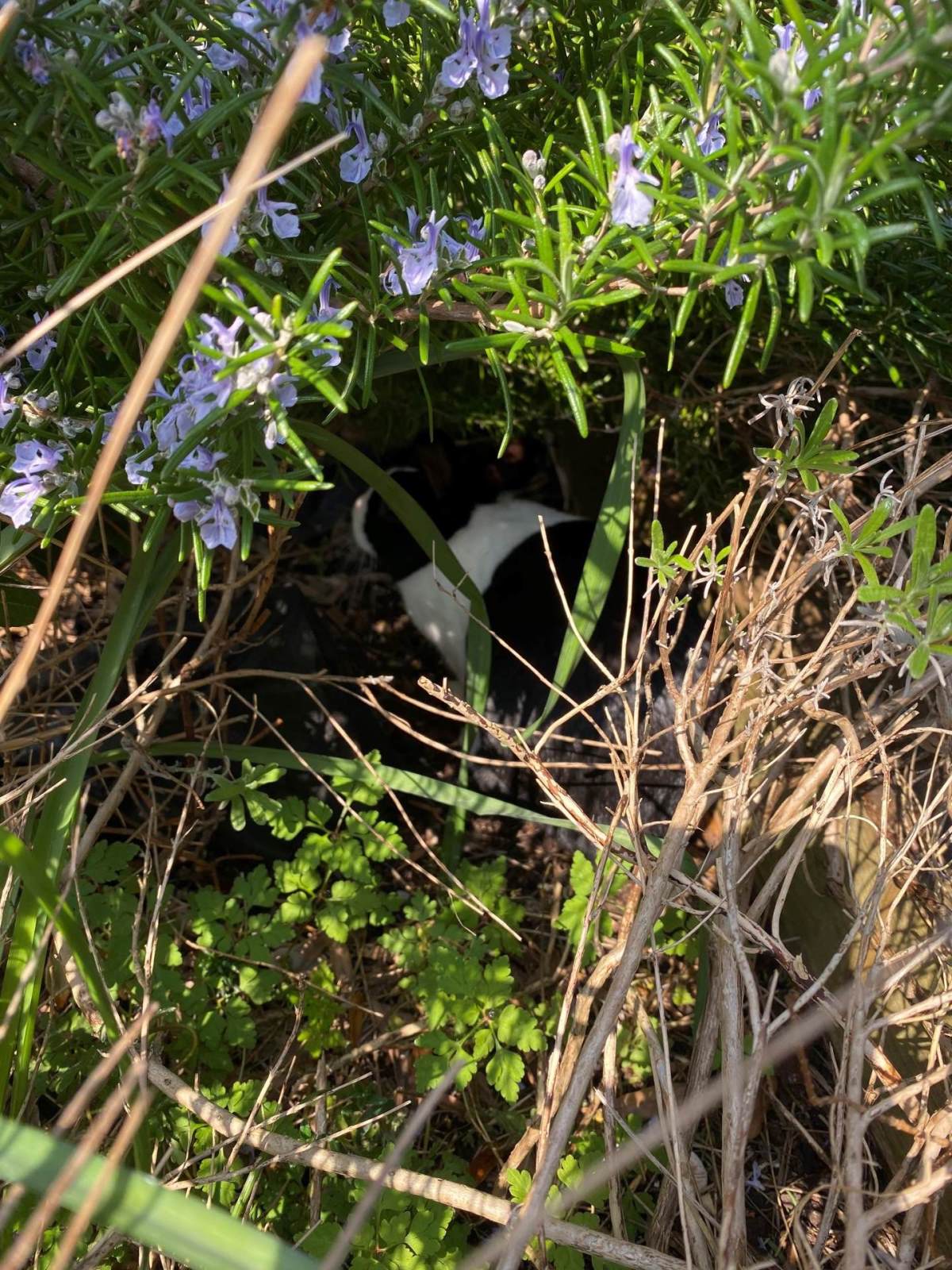 Ronnie is very good at jumping and leaping around the garden. So I thought he might be able to help us with our skip counting. We have had a few messages from parents who were feeling anxious about counting in 2's 5's and 10's. Please remember we are only learning to skip count as this is what we do before we learn our times tables. Only help your child to skip count, nothing more. Below is an 100 Square.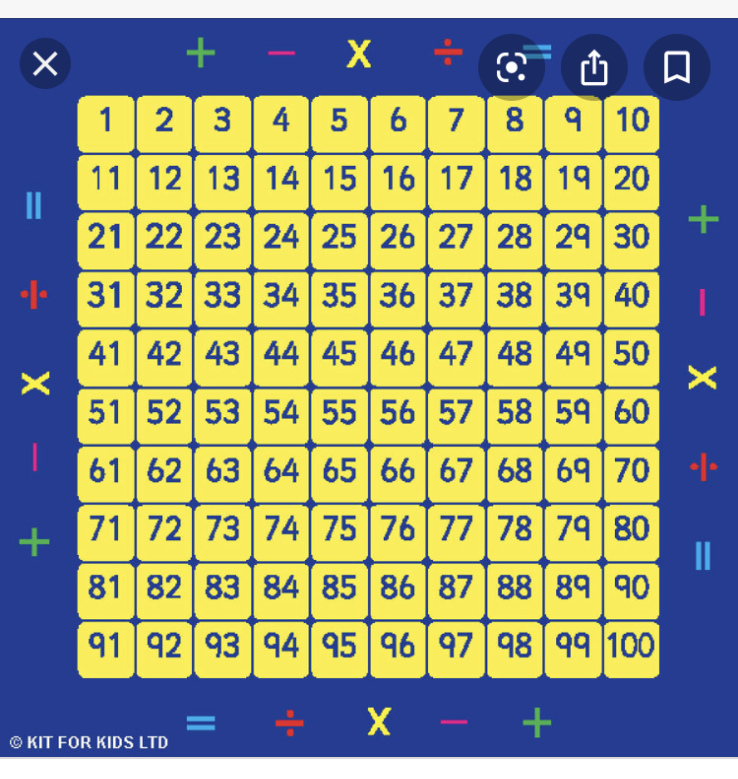 Ronnie my rabbit is so good at jumping and he lands on every 10th number. Can you colour in all of the numbers he lands on? If you are helping your child, help them by showing them how to count quietly (1,2,3,4,5,6,7,8,9) and say 10 LOUDLY. Repeat for the next 10 and gradually they will see that all of the 10's will be coloured. Then use this each day just to say the numbers coloured in; 10, 20, 30, 40, 50 etc. Show 10 fingers each time they say the numbers. Say the numbers forwards and backwards. You say 10, 20, 30 and pause and they say the next missing number. This activity can be repeated skip counting in 2's and then in 5's but only when they are confident at counting in 10's. There is no rush. There is no pressure. But the more they practise the better they will get. Little and often is best. Have fun relaxing, have fun learning, have fun practising and have fun playing. xx
So lovely to see - keep it up!
Bethany has been very busy doing her home learning, painting, arts and crafts to name a few. It has been lovely to see through all the fab photos that have been sent in, especially as Bethany has been finding it very different at home - something we have all found tricky to some extent. Mrs Kerbey and myself are 'pleased as punch' that she is finding new ways to revise her knowledge and hope that she keeps it up as by the looks of the photos, she is doing brilliantly at home. We are also looking forward to the exciting recipe book that she is creating for us all to make some yummy treats - can't wait!!
Alfie, Mrs Newbury's dog has a message for you - click the picture to hear it.
Wait for the link to load and then click the arrow to play.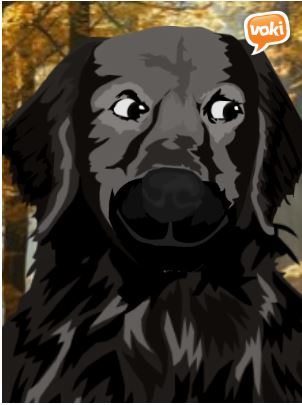 What a little star!!
Archie has been trying really hard with his writing and we are really proud of what improvements he has been making since being at home. He is sometimes worried that he is not as good as other children BUT Mrs Kerbey and myself think he is amazing because he always tries his very best which is all we can ever ask. You should be proud of what you have achieved and continue to achieve - we are! Keep going, Archie, we can really see that your handwriting is so much better. We miss seeing that fabulous smile but your photos are a lovely reminder of just how hard you are trying. You are a star!!!
Happy Monday!
Hi Badgers, it's been lovely see how everyone is doing through the photos you are sending in and that are being put on the Home Learning gallery. It's been such beautiful weather hasn't it? We were in school last week and it felt very strange not seeing all your smiley faces and it's SO quiet! We hope the home learning is going well - there are lots of great ideas to do with or without the internet which means everyone can continue to learn. Mrs Kerbey and myself are learning lots of new things too like trying to record story videos with our pets. Mrs Kerbey has been more successful with her rabbit Ronnie than I have as my dog Alfie seems to move just when I start filming. But don't worry, I'm not going to give up just yet! Here's some pictures of him just before we brought him home for the first time when he was 8 weeks old and now he is 8 years old until I can convince to keep still for my stories.

Alfie is a very big, black labrador retriever - we call him Alfie Bear sometimes because he is like a cuddly black bear as he tries to cuddle up to us on the sofa.
Bonjour Badgers!
Hi Badgers, I hope you are all having a great week and are practising all of the wonderful things you have been learning about since you started in Badger class. Remember the more you practise the better you will become. Thomas Edison invented the light bulb but it took 1000 attempts before he was successful. So persevere, even when it feels tricky because you WILL ACHIEVE as long as you keep trying. Have you remembered to use the Reading Eggs and, once logged on, you can also access Maths Seeds too?Grown ups, we are just an e-mail away. Please remember to use it to let us know how our wonderful badgers are getting on, if there is anything your little ones are finding challenging, enjoyable, too easy etc. We are here to support you in anyway we can. Have you downloaded your Personal Best Challenges yet? I have and am pleased to say I have improved after a week of Joe Wick's workouts in the morning. Remember exercise is good for your body, great for improving your concentration and excellent for helping us to stay clam and happy so please give it a go and e-mail me your results.
March
High Spirited Home Learning Week 1
Hi Badgers, we hope you have been able to get out and enjoy the beautiful sunshine this week - observing the 1 walk a day rule and social distancing of course! Even if you haven't managed to get out, how much happier a little bit of blue sky and sunshine can make us all feel. Thank you everyone who has sent in some wonderful pictures of your home learning. Bethany you have been very creative and Daisy it was lovely to see you making good use of the home learning packs that we gave everyone. Keep up the good work and please keep letting us know how you are getting on. Lots of you have been using Reading Eggs ; Casey May, William, Lillie Louise, Dylan, Caleb, Isla, Ivy and Jack so well done everyone. If you haven't been on Reading Eggs yet please do take a look. There are lots of different activities to do.Remember to keep yourselves fit and healthy by doing some regular exercise every day. If you look on our school web site under curriculum, PE, you will find lots of different websites that we have used in class. There is also Joe Wicks Daily PE session on Youtube at 9 'clock in the morning which I have been giving a go and feeling the muscle ache after!! Its a great work out for all of the family so let me know how you get on together.Finally there will be a WIS 30 second PB Challenge card which you can try together at home and we would love you to e-mail us your weekly achievements. I have made a start with my family at having a go and will let you see some of our efforts. Remember we all begin at different levels of ability and the idea is that you beat YOUR score. Competition between each other is an extra. Have lots of fun.
Talented Turner and Marvelous Mums!
This week we have enjoyed learning about the famous painter JW Turner who was know as the painter of light. The children had lots of fun using different painting and drawing techniques to try and recreate their own versions of the Fighting Temeraire.We have also enjoyed looking at beautiful spring flowers and observing the different shapes of a daffodil and a primrose. We used pastels and water colours to do observational drawings of these flowers.
It has been an unusual week at school this week with all activities that require us to spend time together being stopped. We were especially disappointed not to be able to share our mothers day assemblies together to let our Mum's know how much we love them and appreciate all that they do for us. So without much practice here is our special Mothers day song to all of our Mothers to say a BIG THANK YOU and that WE LOVE YOU!!
Our final message is to everyone who is to say that in these difficult times there is hope, faith and Love so hang in there. The children have painted some beautiful rainbows to display in your window to remind everyone that after the storm there is always a rainbow to remind us of hope for a brighter future. We are here for each other. Take care. Have a wonderful Easter, use your home learning packs as you are making such great progress! Lots of love xxxx
Super SS Great Britain Trip!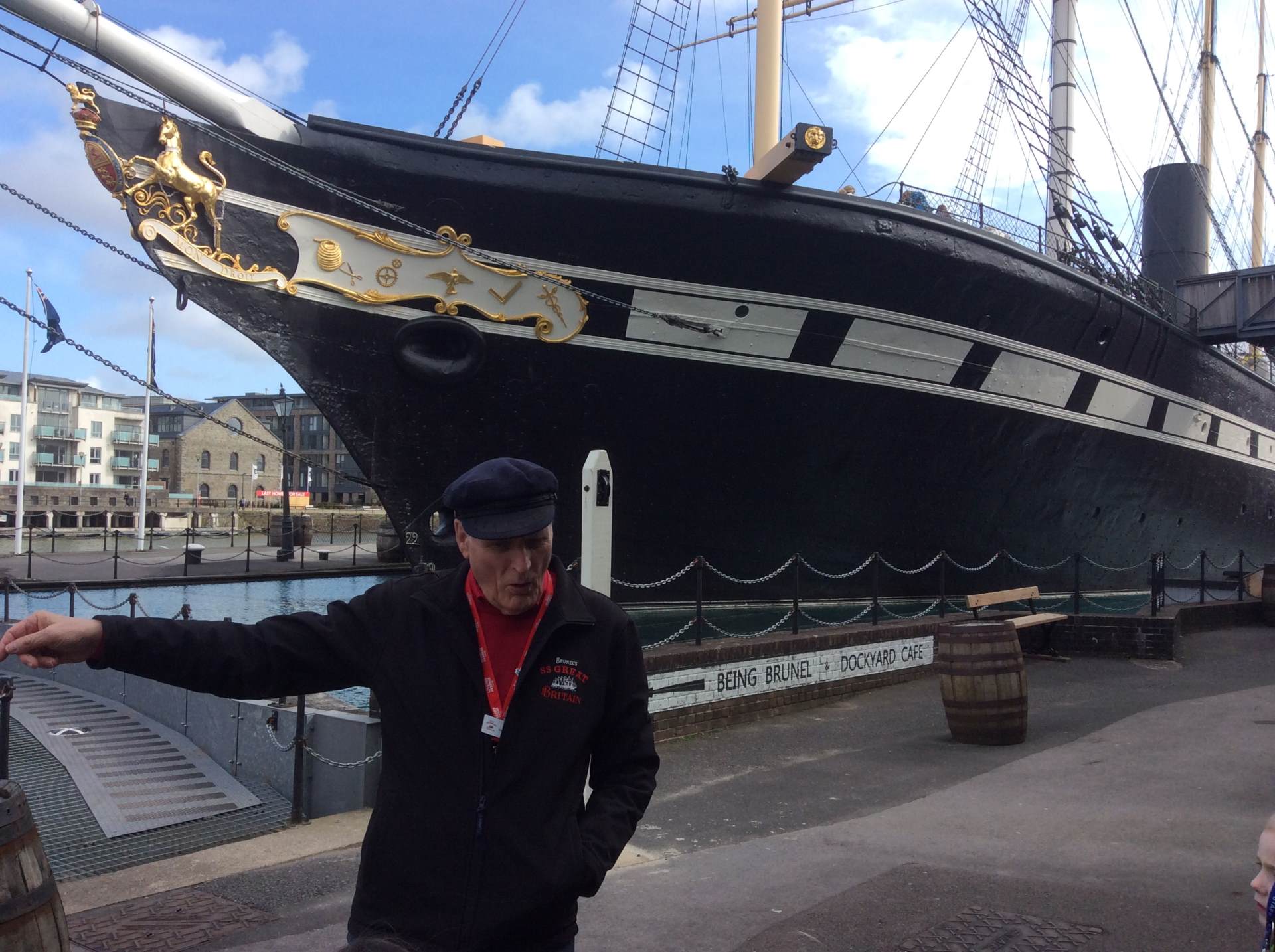 What a fantastic day we had visiting the SS Great Britain. We had a lovely guided tour on deck and found out how they needed to keep live cattle on the top of the ship as they didn't have fridges and freezers to keep food fresh. We had fun exploring the cabins and saw the difference between first class accommodation and the cabins where the rest of the passengers stayed. Lots of passengers would bring their musical instruments to entertain themselves and each other as the voyages were very long. I K Brunel was sitting in the dining area of the first class lounge wearing his stovepipe hat to make him look taller as he was a very short man. They had 1 doctor on board for over 800 people and only 2 baths!! How smelly it must have been. We then got to see the amazing steam engine, the large cog that helped to pump the steam and the propeller that would have powered the boat through the water. Finally we tried to lift the anchor. It was far too heavy, even when we all tried to lift it together. What an amazing engineer he was to have created such a great ship all those years ago and all of his other amazing creations too.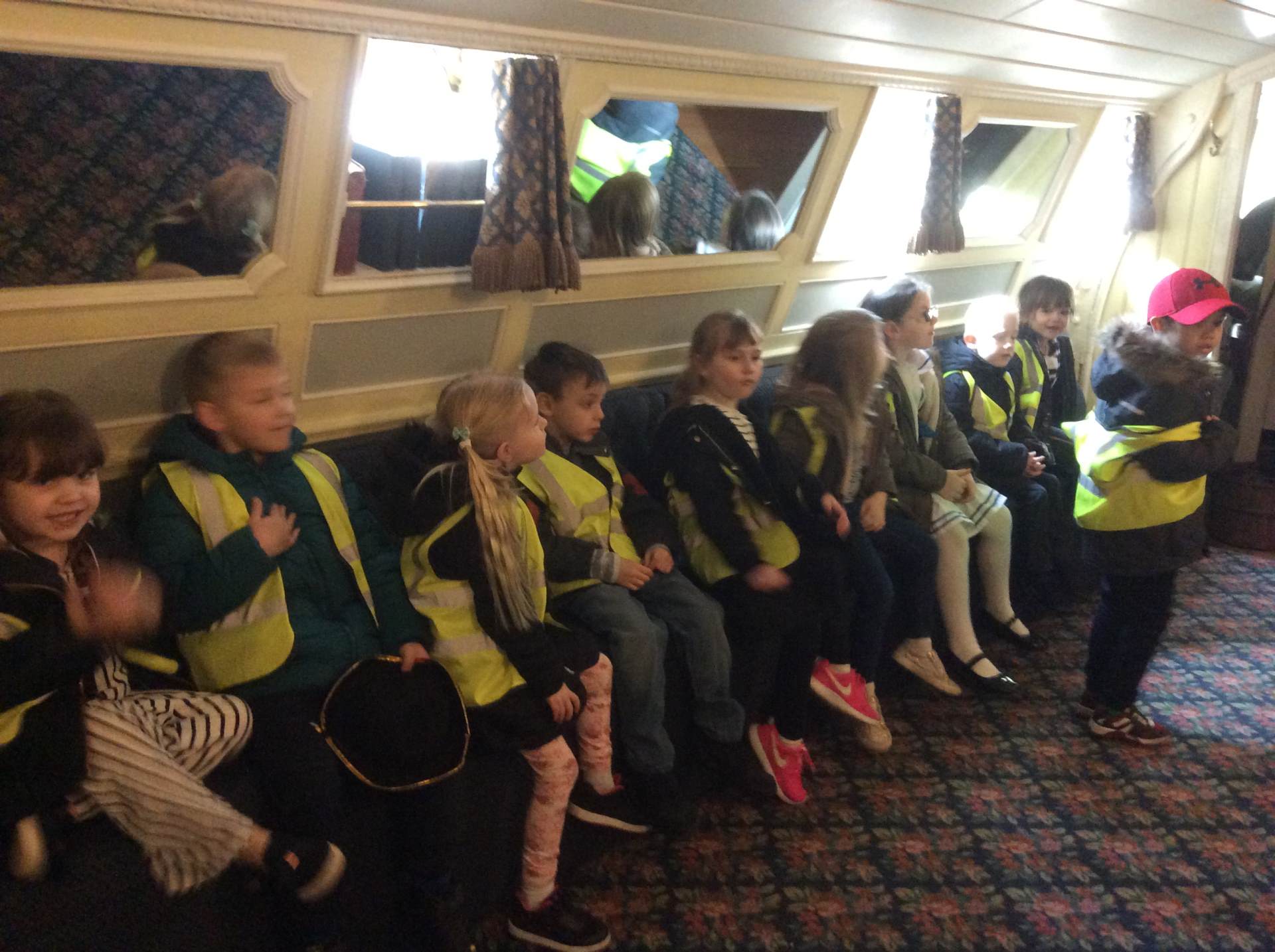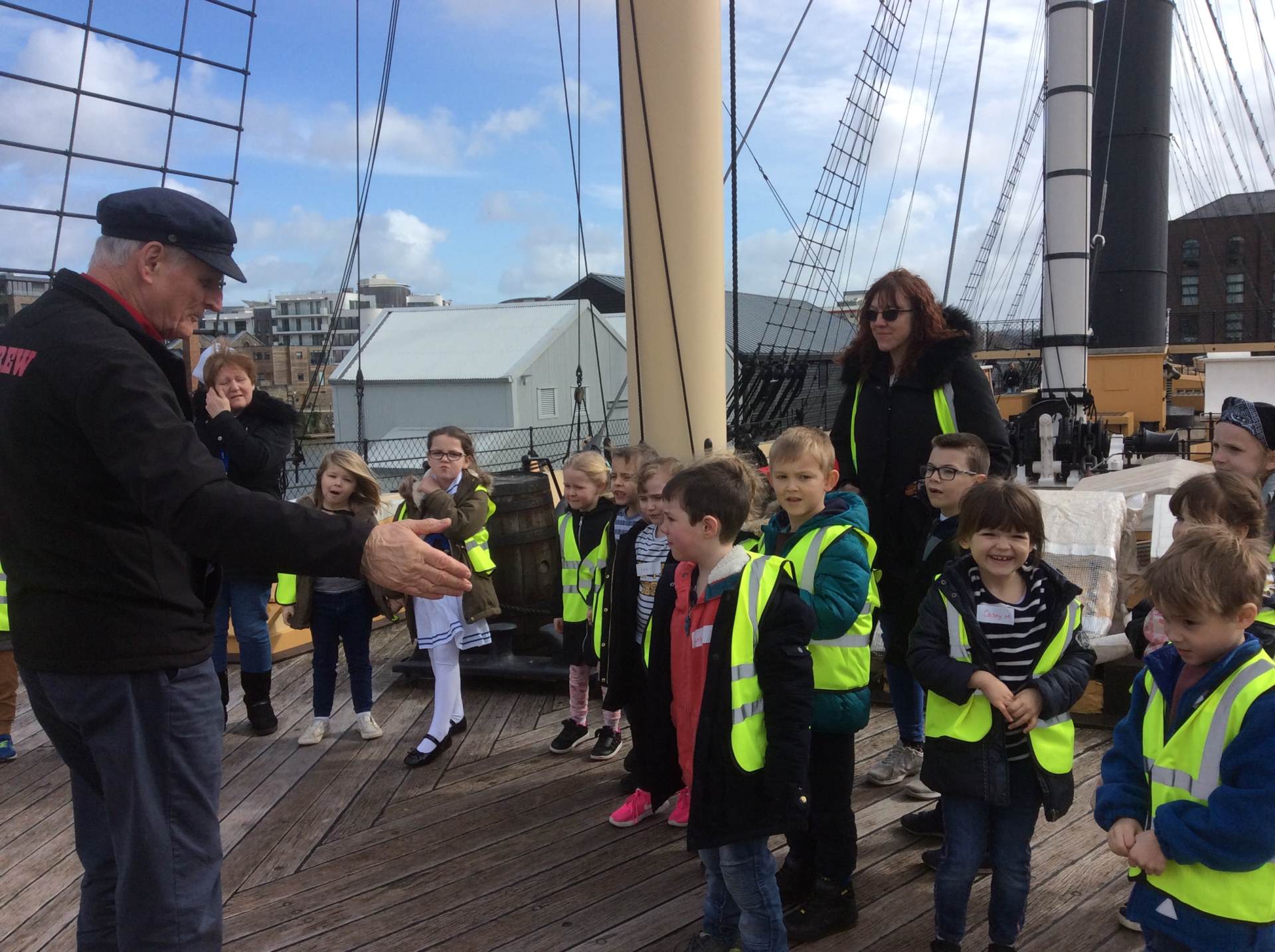 Wonderful World Book day characters and xciting Engineers!
This week we have really enjoyed dressing up as a character from our favourite book and have loved reading lots of books on world book day. As a special treat Mrs Kerbey bought us a selection of `traditional tales' to keep in our book corner so that we can enjoy reading them ourselves. We have got 3 different versions of Little Red Riding Hood so that we can compare the stories and see how they are similar or different from each other.
We have also started our really interesting new topic this week, on Who was Isambard Kingdom Brunel? We have learnt that he was an amazing engineer who designed the Clifton Suspension Bridge in Bristol, the Themes Tunnel in London, the Great Western Railway, the Box Tunnel, Bristol Temple Mead station and the SS Great Britain. He wanted to be an engineer ever since he was a little boy when his dad taught him how to draw circle after circle after circle until he could draw them perfectly. We have found out about how boats have changed over the years and are really excited to be going on the SS Great Britain next week!
February
Place Value Practise and Perfect Pancakes!
This week we had great fun learning about Shrove Tuesday, practicing tossing a pancake, chopping strawberries and bananas and then finally getting to eat delicious pancakes with our favourite toppings on top.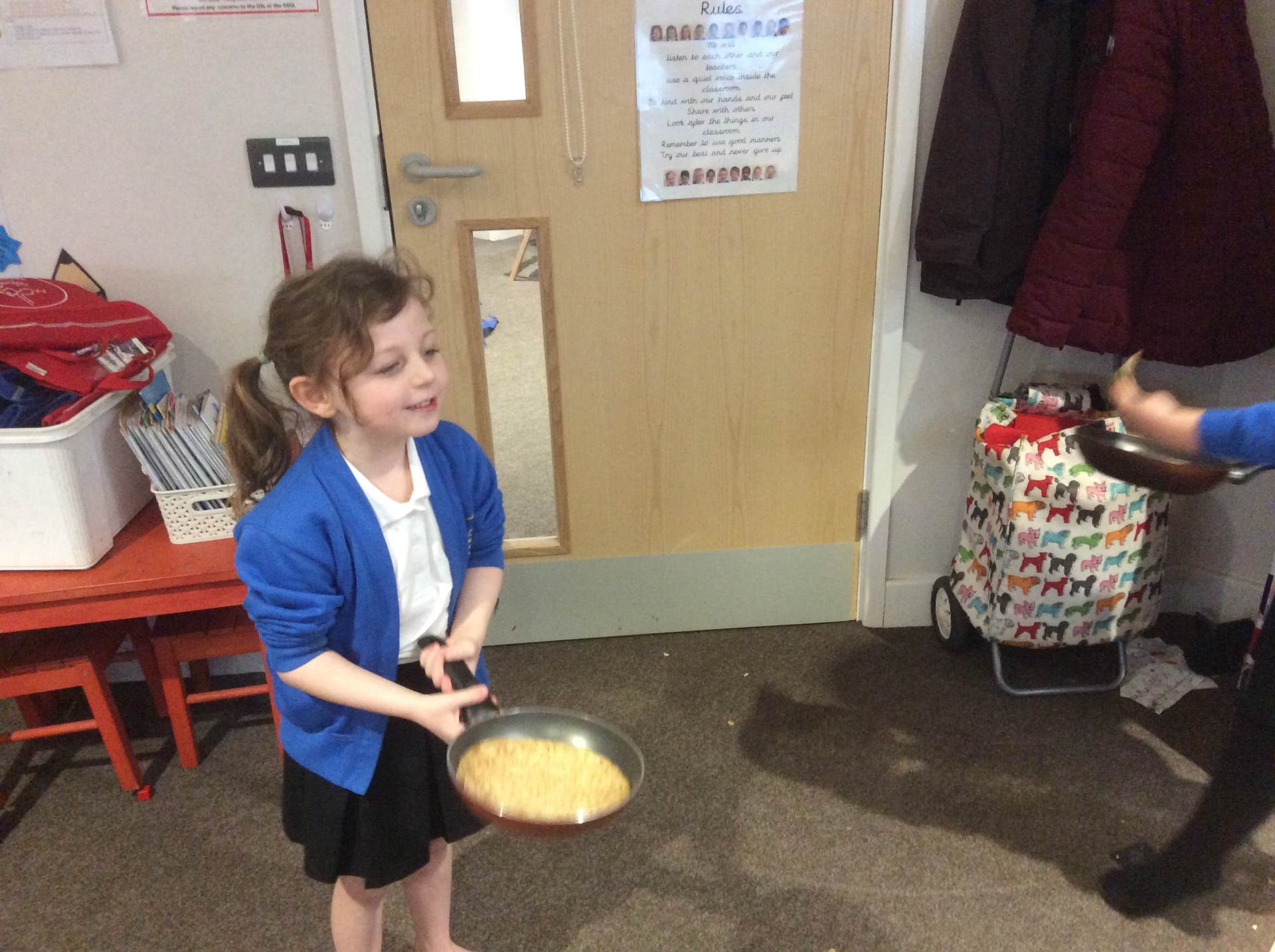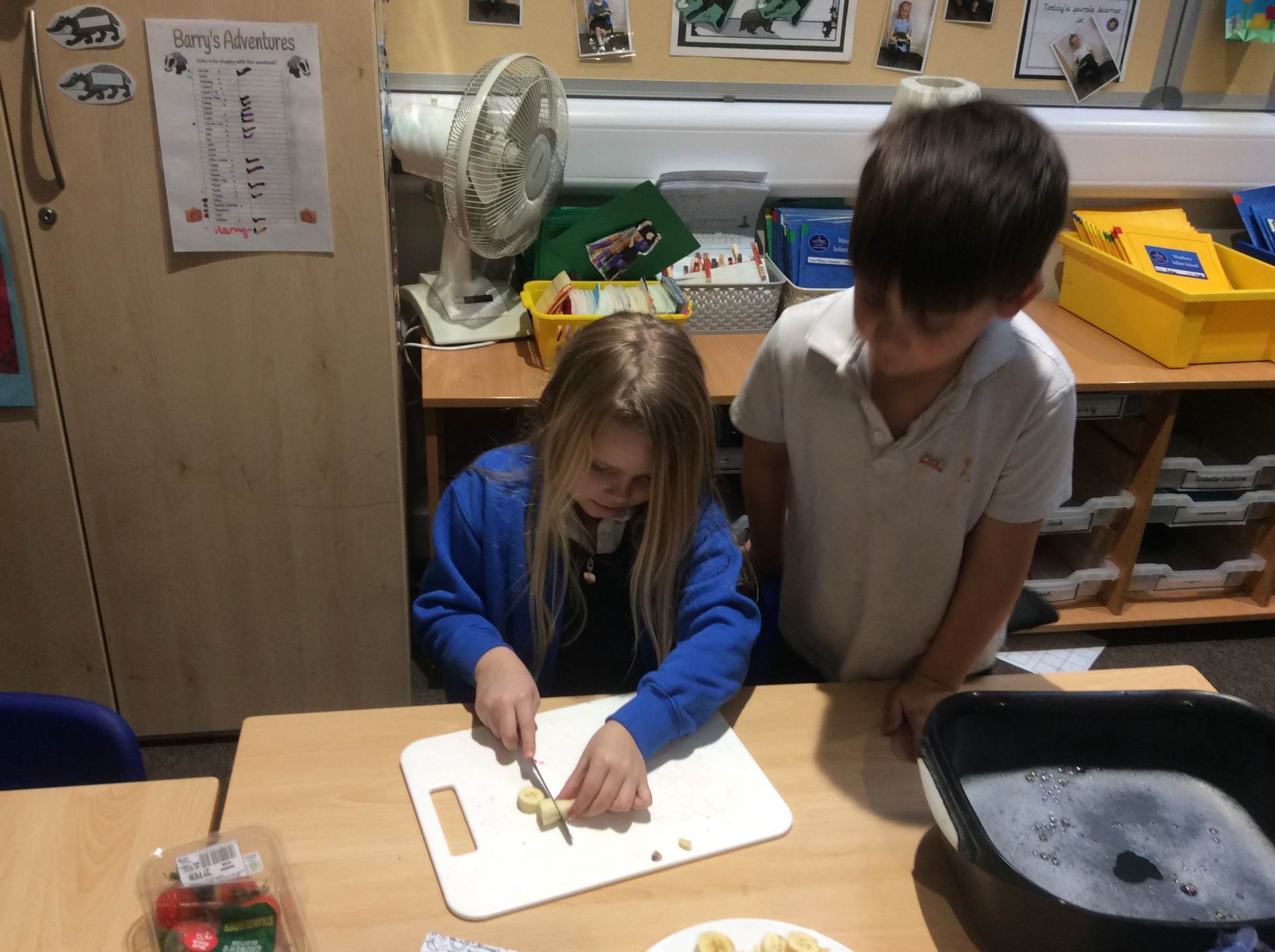 In Maths we have been developing our understanding of place value- knowing that in the number 35, the 3 represents 3 tens which are 30 and the 5 is 5 ones. 30 + 5 = 35. We soon realised that in order to count large groups of objects it was much easier, quicker and more accurate if we grouped them into tens first. We used straws to make bundles of 10's and ones. We then created our our 2 digit number using the bundles and single straws. We also practised counting different groups of objects by organising them into groups of 10's and 1's too.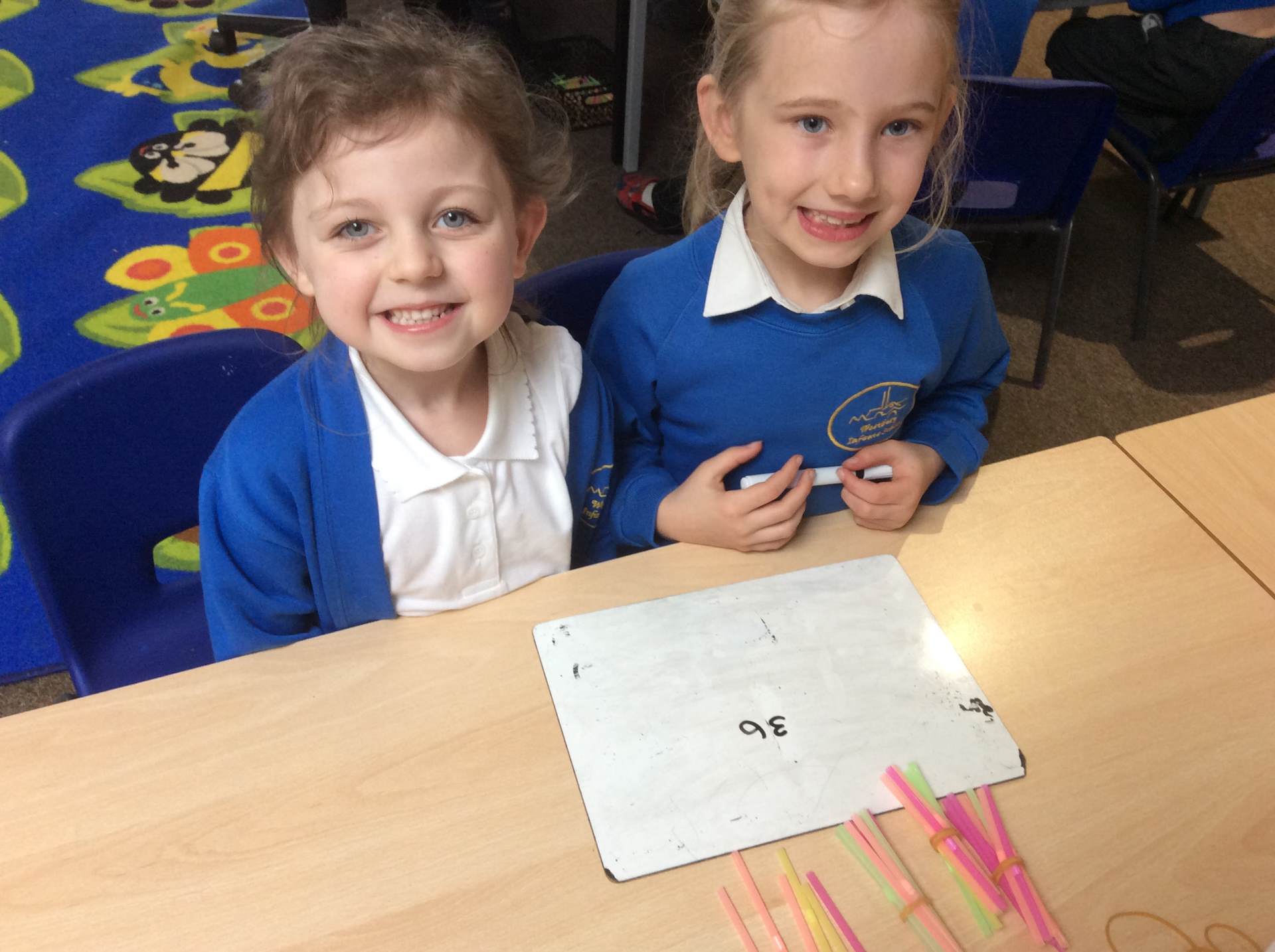 Term 3 2020
Around the world exhibition!
What an amazing celebration of all our learning! The hall was packed with parents and children who were excited to see what each year had been learning about. Each family had a passport with questions to answers during their visit to each of the exhibits. Year 1 have been finding out about the four countries of the UK and the food from each of those countries. Samples of the food we have cooked and baked in DT were displayed for all to try. A very big thank you to the TA's for doing the fabulous displays - they all looked incredible!


Children in Badger class have also made fabulous e-books of their learning using an app on the ipads called Book Creator. We think they are amazing - here a couple of examples.

Ready Steady Cook UK!
This week we have had great fun learning how to cook some recipes from around the UK. We have cooked tasty English scones, delicious sweet Scottish shortbread and yummy cheese and leek Welsh muffins. We will complete our tour of the UK foods next week by making some lovely Irish soda bread. As we were cooking we were thinking about how some ingredients are weighed in grams and others are measured in ml. We made comparisons using the language of heavier than or lighter than and noticed that when things are heavier the scales tip down or the numbers get larger. We also used different techniques to make the recipes including folding, stirring, chopping, grating, rolling and cutting. We finally finished with tasting and evaluating each recipe. They were delicious!
Sad news, good news!
Badger Class have enjoyed learning about the four countries of the UK and our class display shows the wonderful artwork they have produced for this geography unit - the sad news is that it has come to an end! However, the good news is that our new DT unit - Where in the UK do these tasty treats come from? will mean that we will be baking traditional fare from the four countries we already know so much about. Junior Bake Off better watch out!


Incredible Northern Ireland is next
We found out about some famous landmarks in Northern Ireland: The Giant's Causeway, Titanic Museum, C.S. Lewis Square (where they have the most superb sculptures) and the Carrick-A-Rede rope bridge. Our writing shows just how many facts we discovered. Today, we explored the legend of Finn McCool who was a giant who challenged another giant from Scotland. Both giants thought they were the best bust when the Scottish giant came across to Ireland, Finn McCool was scared and asked his wife what to do. She dressed him as a baby so that when the Scottish giant saw how huge the baby was, he would assume that the dad was enormous! It worked! The Scottish giant fled back to Scotland, crashing the rocks and breaking the causeway! We drew and painted what we thought Finn McCool looked like.
Designing our own tartan to make wee kilts!
We've flown via our magic bus and dashboard to Scotland where we have written fact files. We learnt about the Loch Ness monster, bagpipes, the thistle, the flag and kilts. This led us to design our own tartan which we folded into kilts. Some children wished they could be big enough to wear! It was tricky to think of colour patterns but we are very proud of them.
Beautiful Buckingham Palaces
This week in badger class we have been learning about England and it's capital city - London. Paddington Bear has flown us in his magical bus to one of the most splendid capital cities in the world. Badgers were amazed to learn that there are over 1500 doors, 760 windows and over 700 room in Buckingham Palace! We looked at the palace in more detail when we drew it, paying great attention to designing our guards to keep the Queen and her family safe! Mrs Newbury told us that her dad was a Grenadier Guard who wore a Busby hat and uniform to guard the queen at the palace.
Postcards from the UK
Our learning today has been to identify all four countries of the United Kingdom; England, Scotland, Northern Ireland and Wales. We also labelled the capital cities of each country by using atlases. Mrs Newbury read Paddington's Grand Tour and explained that we were going to explore all four countries in detail beginning with England. We looked at landmarks around England and designed a postcard for Paddington to send to his Aunt Lucy in deepest, darkest Peru! Here they all are:
Brilliant bonds - now to 20!
We have moved on to using our knowledge of number bonds to 10 to learn our number bonds to 20. We have used numicon to help us and worked in pairs or threes to investigate further.


January
Welcome back! Happy New Year to everyone. We hope you had a lovely Christmas time and had lots of fun together.We have begun our new term with a short focus on the seasons, building on from our previous work on Autumn. This week we have been looking at Winter, finding out about how some animals adapt their behaviour according to the season. We now know that in Winter the days are shorter and the nights are longer; some animals hibernate; we wear thicker, warmer clothes to keep ourselves warm and we sometimes adapt our hobbies to suit the changing weather of the season. We really enjoyed creating some impressive 3D pictures of winter scenes which look amazing on our classroom wall.
In Maths this week we have been learning to hold the largest number in our heads and count on, to help us to count more quickly. We have also learnt that addition is commutative which means it can be done in any order. Finally we looked again at number bonds to 10 to see if we could find all of them and put them in a systematic order.
Term 2 2019
December
Snowman Christmas Cards
Way back at the beginning of the Autumn term, we were thinking about Christmas designs for cards to be printed and sent off. We were blown away by how wonderful they looked so then decided to photocopy the design and give them a bit more Christmas glittery cheer and use them as our design for home. We are so very creative in Badger Class and love art and painting especially. More to come in the New Year!!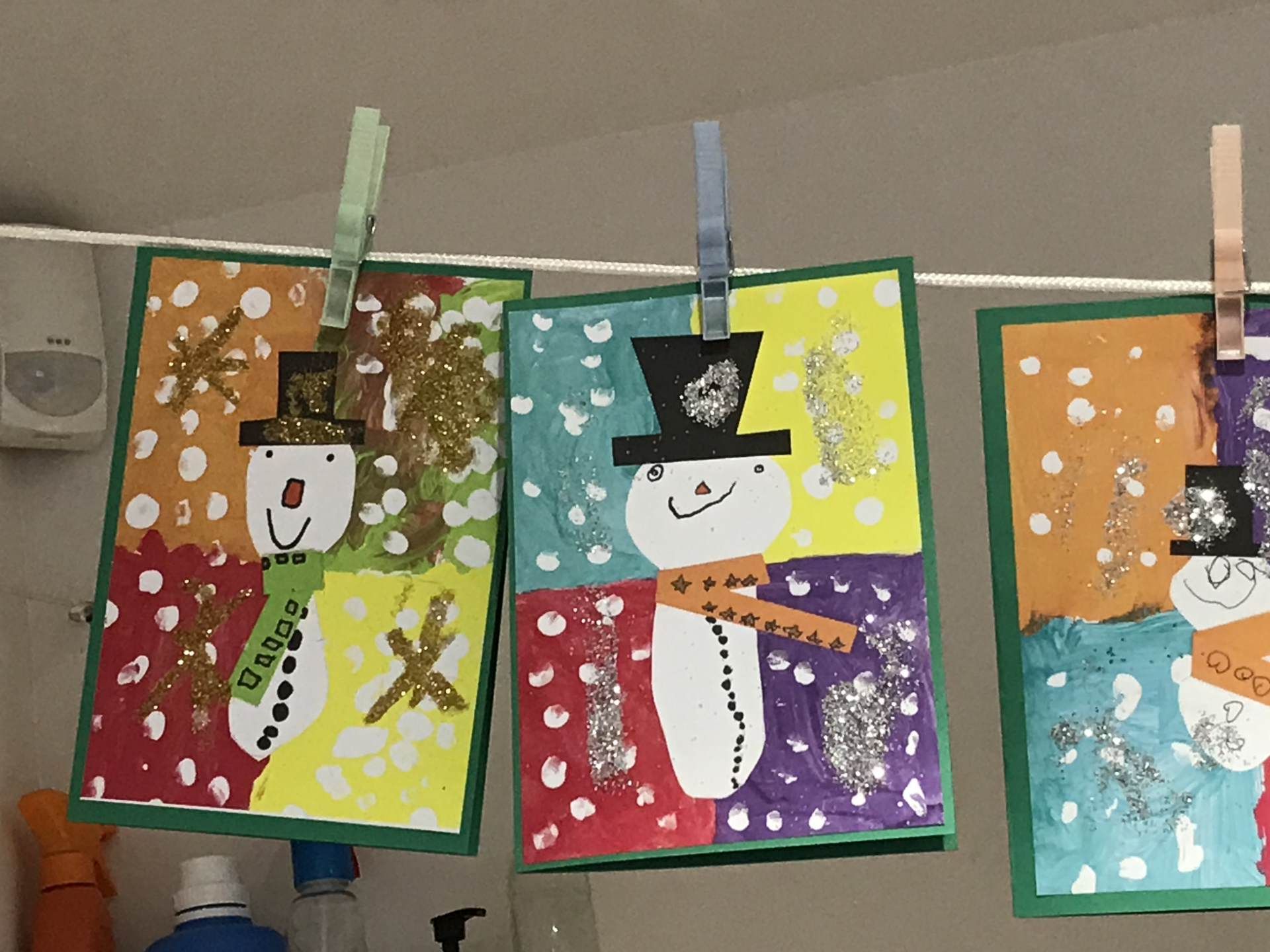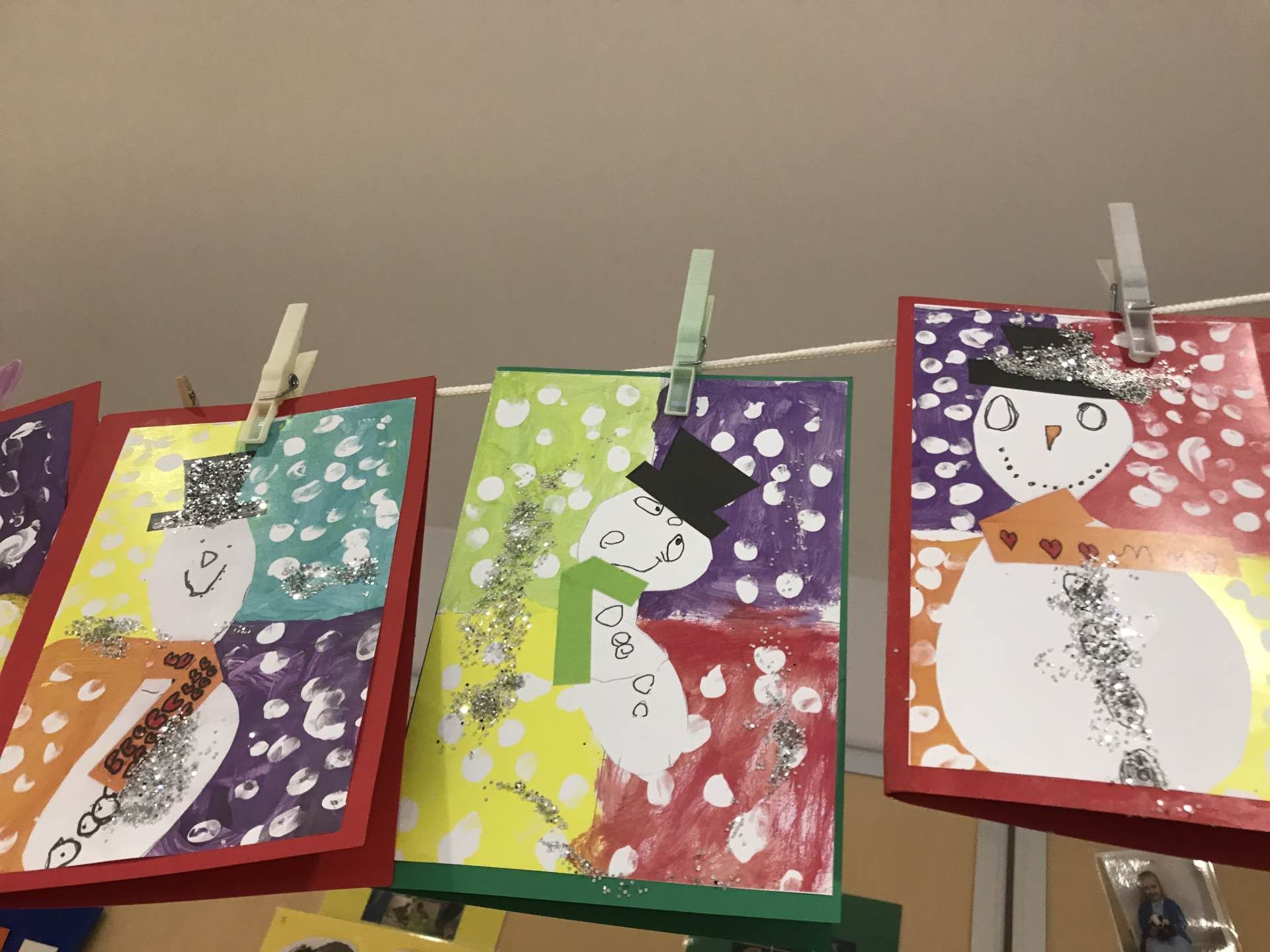 Final Performance to the school
Today we performed It's a baby! to the rest of the school and staff for them to enjoy. Everyone was blown away with the singing, acting and the dancing! We enjoyed learning this play and our costumes really made the performance amazing. Can't wait until next year!!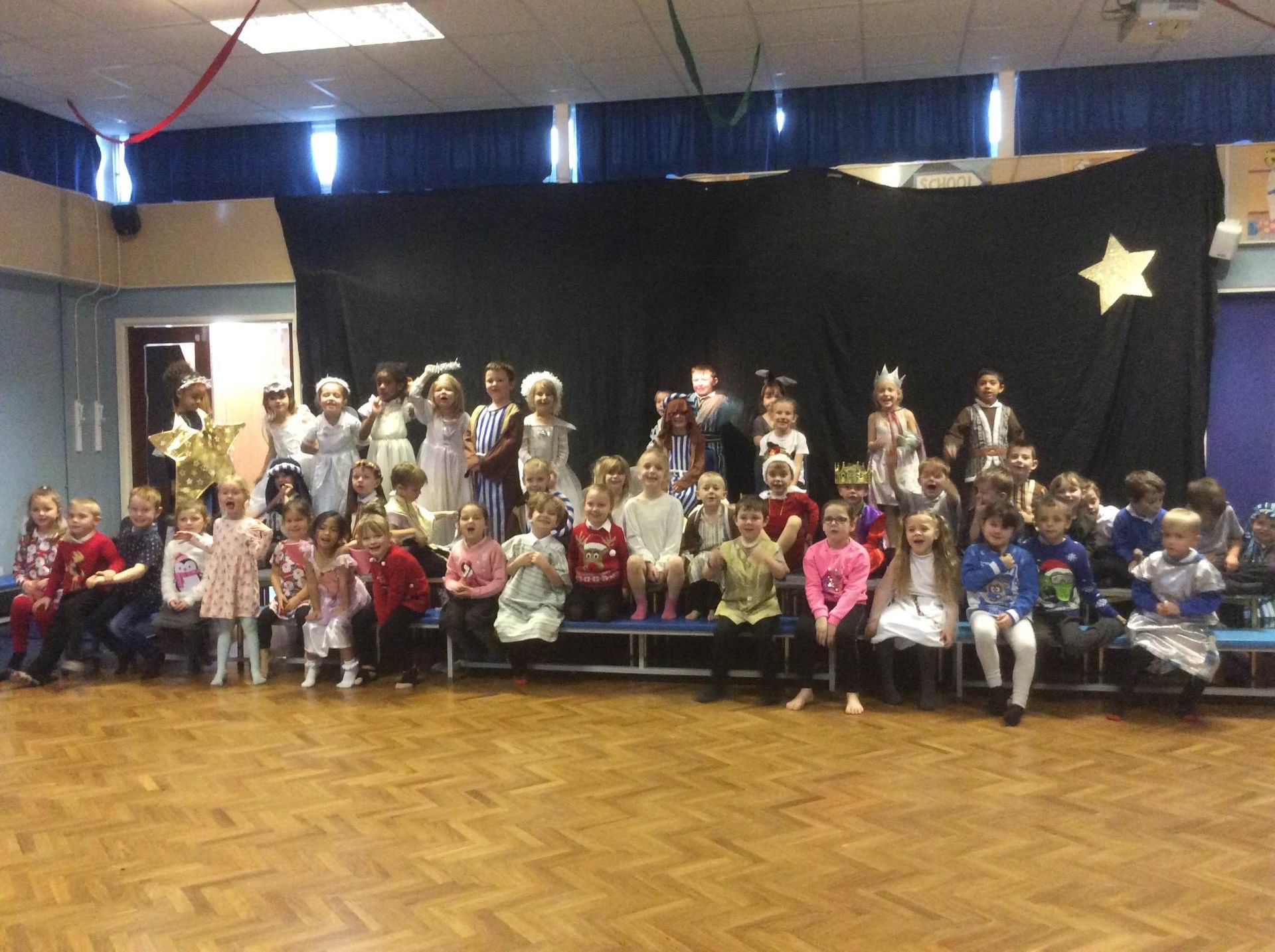 Crafty Crafters
Badgers have been completing their crafts this afternoon. We have learnt many new skills and have enjoyed every minute. We are very proud of our final efforts and hope that our Christmas lovelies last for many years to come.
It's a baby!
The play has been chosen, parts have been allocated, lines are being learnt, songs
are being practised. This can only mean one thing - Christmas! The children (and the adults) have been really working hard to make the performance the best that it can be. Some quieter children have really surprised us by showing great courage in standing on the stage and saying their lines - which is wonderful! The practices so far have been busy and full of preparations for the dress rehearsal and final performances this week. We hope parents and carers enjoy it as much as we have learning it!
November
Playground model making
Following a very successful trip to Warminster park, the children are now very knowledgable about playground structures. In geography, we learnt that they are human features of the landscape because they have been built by humans and are not natural. The focus of this DT lesson was to strengthen and fix effectively. It was fiddly but we all found ways to attach and make sure our models were strong and did not fall apart. Some ideas were very adventurous and we wish they could be made full size!
Park keepers in the making!
The children had a wonderful day despite the weather, visiting Warminster Town park. The day began with a walk to the train station, followed by a walk to the park. At the park the children had lots of fun spotting the signs of autumn, following a tree trail around the lake and taking up the challenge of being the park keeper by planting winter flowers. The children showed real determination and resilience as they planted in the cold and spotted in the rain. We were all very appreciative of being able to eat our lunch in the warmth and comfort of the civic centre. The final leg of the trip was a walk back to the station and a walk back to school. Well done Badgers, Mrs Kerbey is very proud of you all and your fantastic attitude . You walked about 20.000 steps with very little grumbling and behaved beautifully throughout.
Autumn watch
Welcome back to term 2. We started the term with a focus on Autumn. We began by being autumn detectives, looking for clues outside that would tell us the season had changed. We spotted apples on the trees, blackberries on bushes, fallen leaves on the ground and bare branches on the trees. We then thought about how we wear different clothes in autumn as the days start to get colder. Finally we used our knowledge of autumn to write some amazing poems about the season.
Term 1 2019
Exciting Exit Event!
WOW! A huge thank you to all the parents and friends that came to our end of topic parent event. It was fantastic to see so many of you enjoying the activities with your children. We had rocket races, ordinal jigsaw hunt, Eagle drive game, matching properties/materials, making split pin astronauts and creating superb collages of rockets. If you ever wondered how many parents, children, siblings and pushchairs we could fit into Badger Class then look no further than the photos below. The afternoon was filled with smiles, concentration, laughter and glitter!!!!
Making our Alien faces
We designed what we wanted our alien faces t look like and we chose materials and colours to match our designs as closely as we could. Some materials were harder to fix and attach than others, but this was part of the learning. We are very proud of the end results and would like to share them with you.
Exploring fixings in our DT unit - Alien Faces
The children have been really engrossed in fixing a variety of materials to their piece of binca. We explored glueing, sewing, and stapling. I was blown away by how beautifully some of the children could sew - at 5 years old! The concentration on their little faces was a real picture. We attached, ribbon, felt, buttons, binca, fabric and wool. The samplers are themselves like little works of art. Well done Badgers!
Come to our Hair salon
This week we have begun our new DT topic on Alien faces and have really enjoyed looking at different ways hair is used on dolls, the materials used, styles created and evaluating our likes and dislikes. We have thought about different styles, colours, textures and enjoyed creating fringing using hessian. We then had lots of fun giving our own photos a revamp!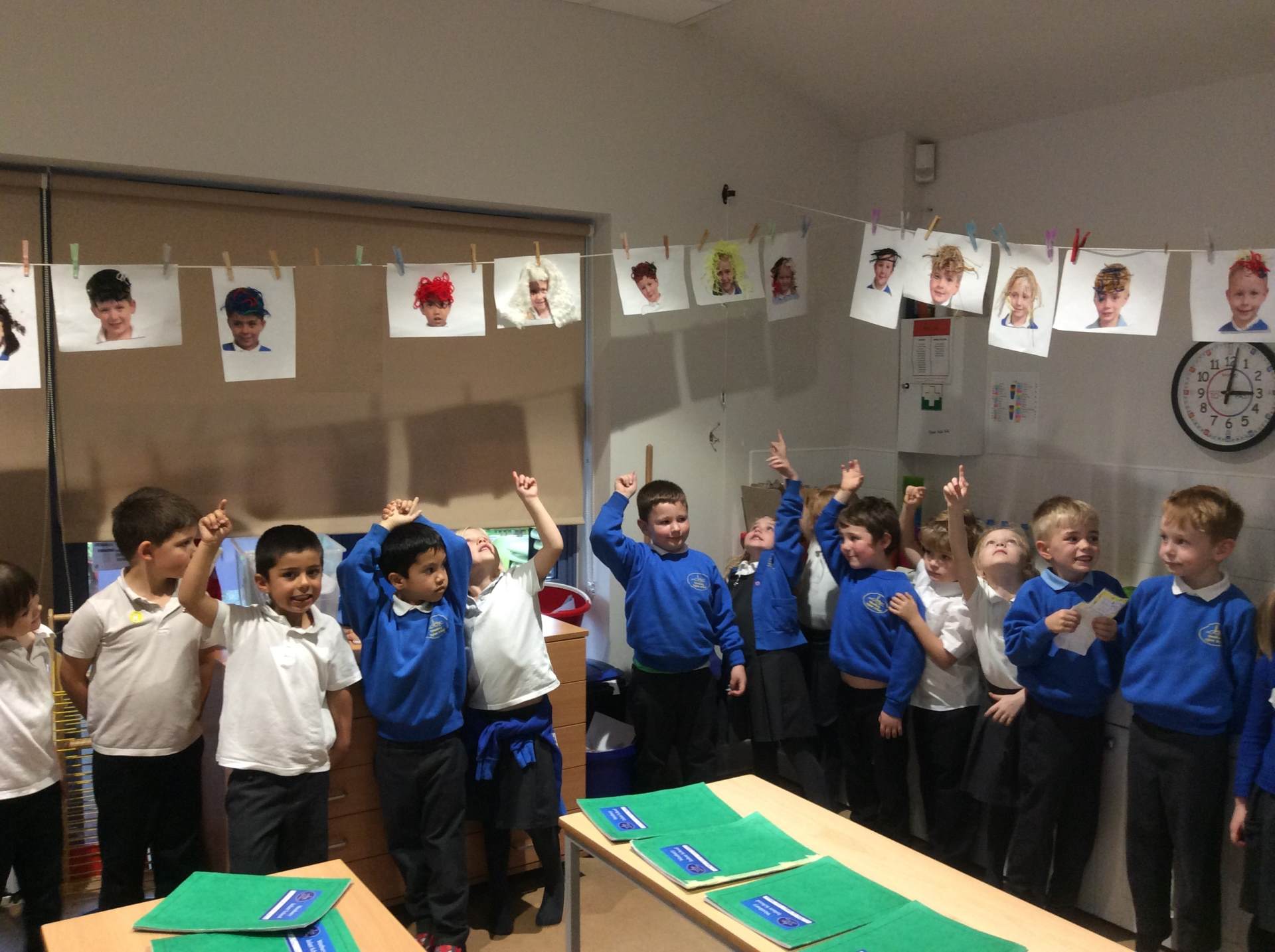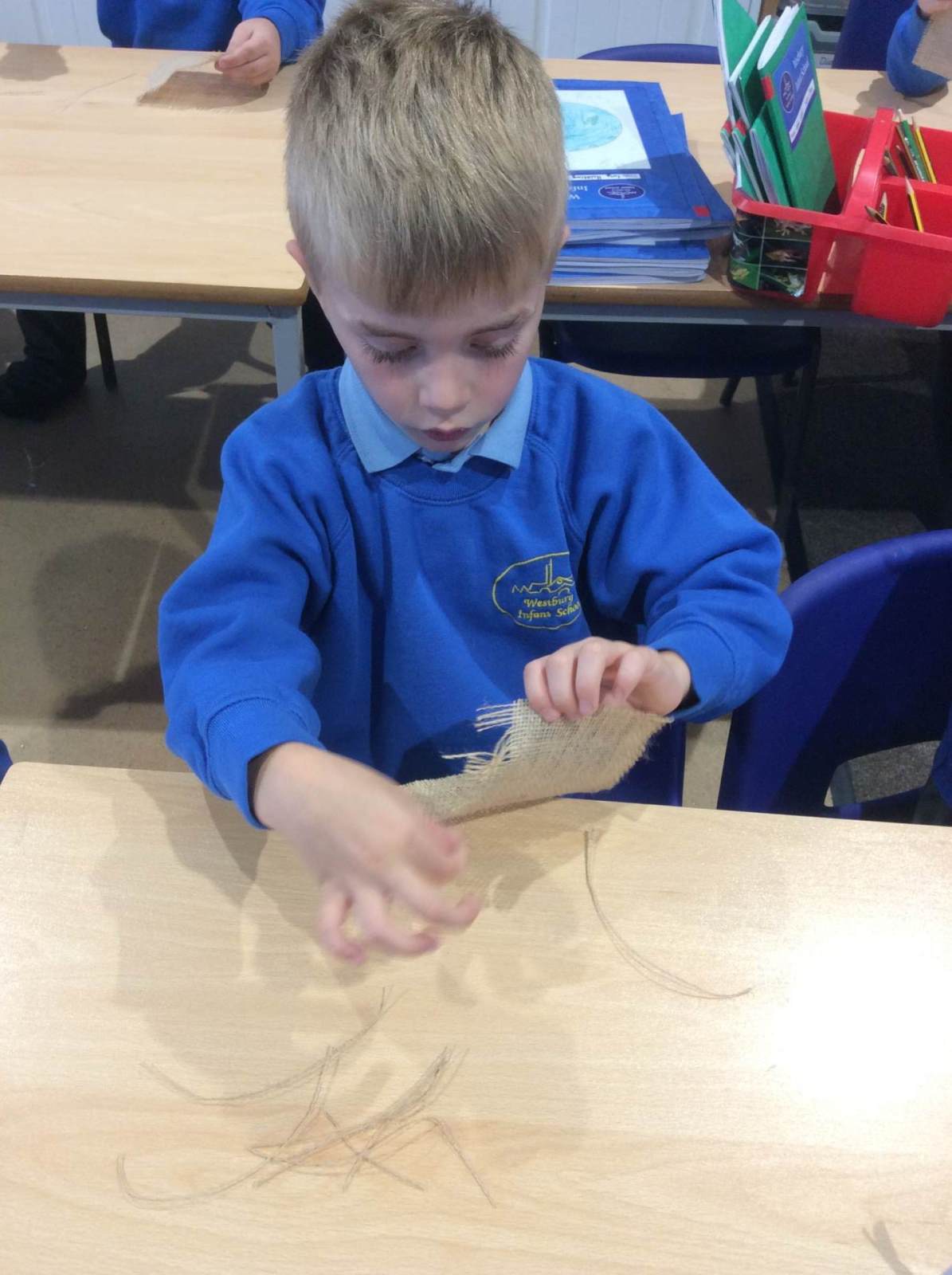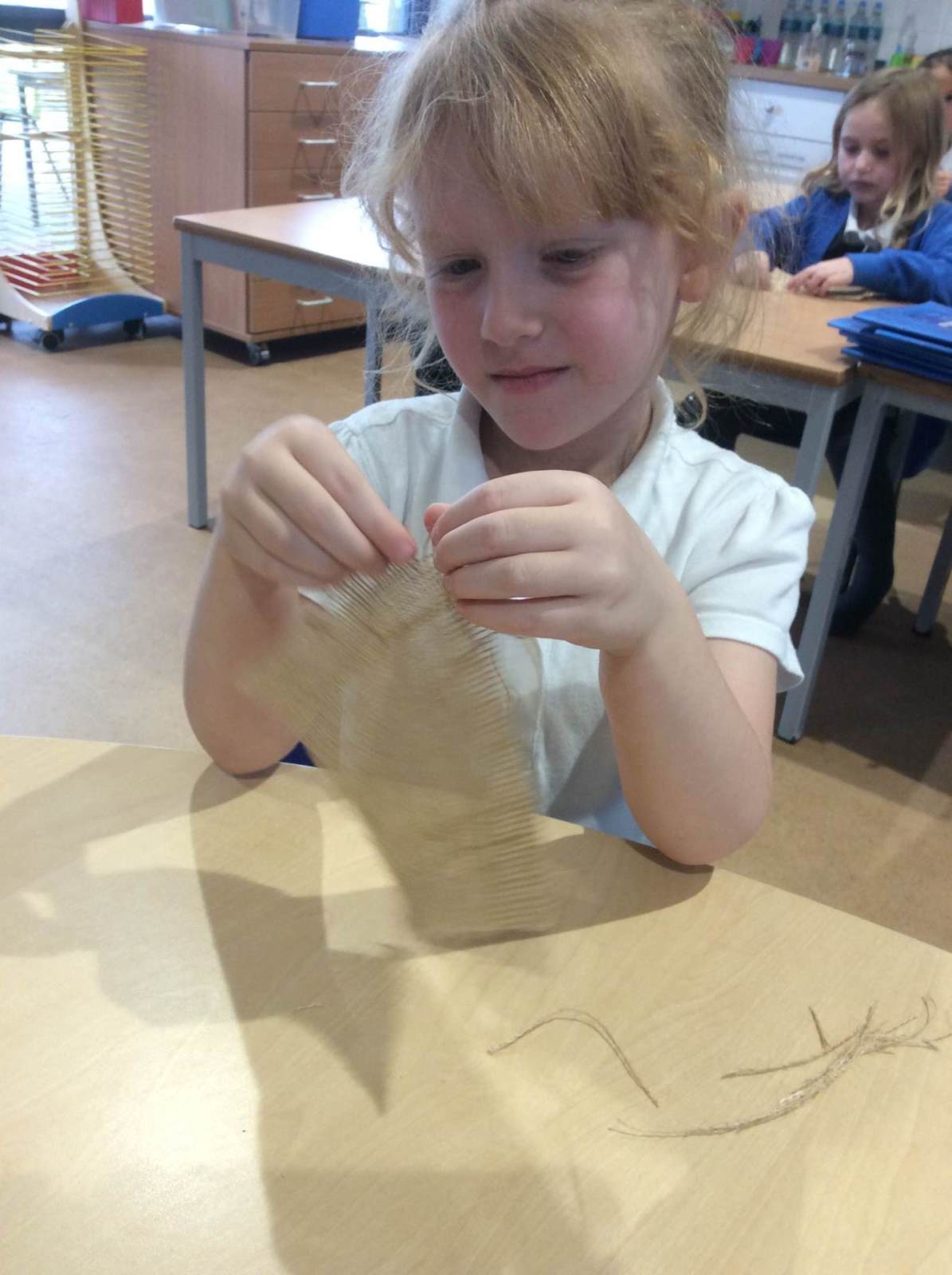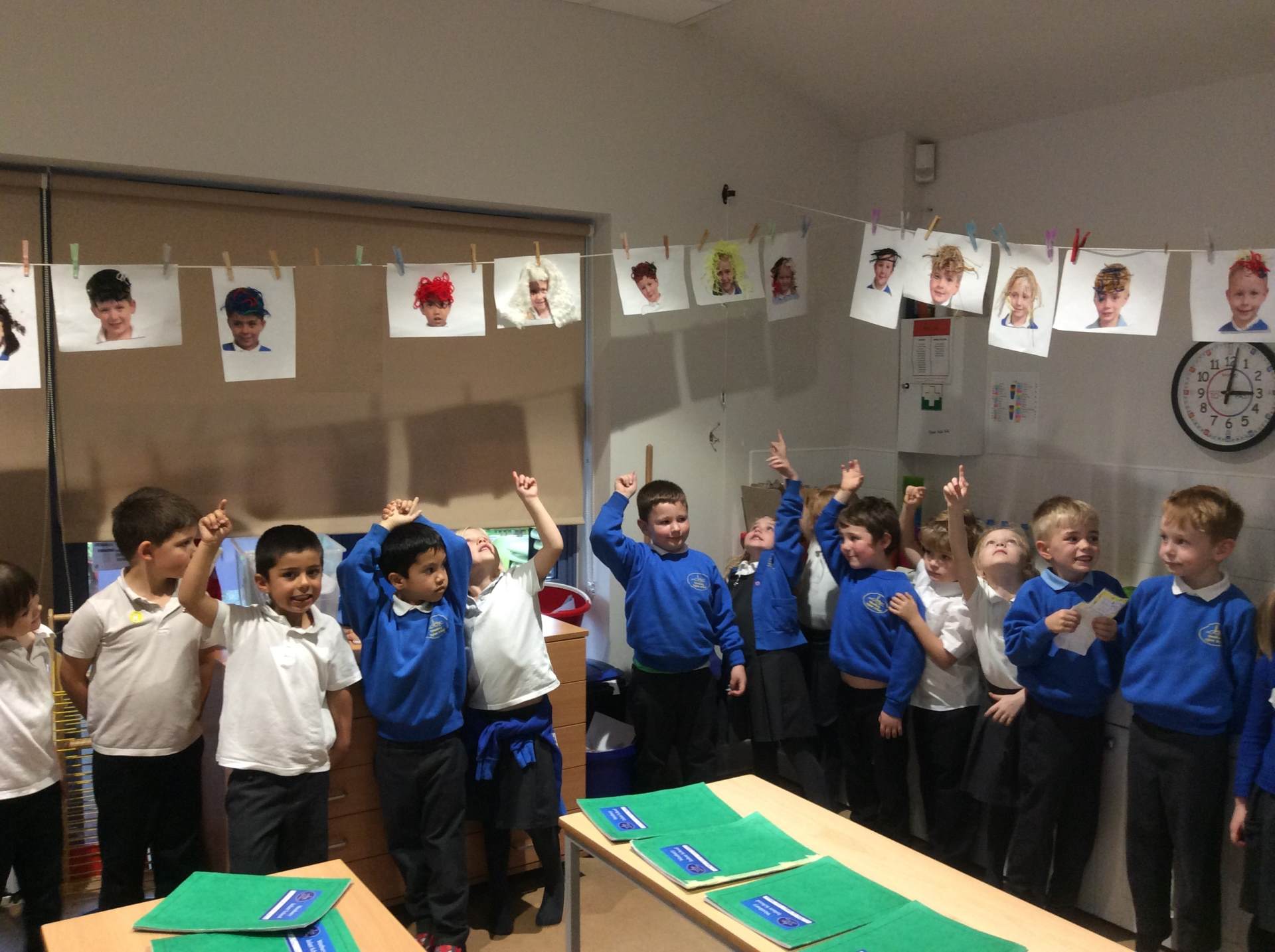 Waterproof Investigation
Today we went outside to investigate which materials were waterproof so we could decide which one would be best for a survival suit for Neil Armstrong when he landed in the ocean after coming back to Earth. We worked in small groups to test fairly which mean we used the same amount of water, waited for the same amount of time and kept the conditions the same for each test as best we could. We predicted which materials we thought would be waterproof and most of us were right! We love science in Badger Class and our questioning is getting better and better.
Huff and Puff Science
Badger class had a lot of fun this afternoon making houses from different materials such as straw, lego bricks and wooden sticks. They were in small groups and really problem solved well to find a good way to build a house as a team. The whole afternoon was filled with purposeful talk about how the materials behaved and what their specific properties were - which was great to hear! Once built, we had a visit from the Big bad Wolf (or Mrs Newbury's hairdryer) who provided the huff and puff to test our houses. As you will see from the photos and videos we had an amazing science filled afternoon.
Straw House No. 1

Straw House No. 2
Sticks House No. 1
Stick House No. 2
Brick House No.1
Brick House No. 2
Marvellous Maths!
Today, we have been exploring part, part, whole models - this is where we combine two parts to make a whole: part- whole model eg 4 + 3 = 7. This is a new concept for us especially drawing them for ourselves. First, we manipulated counters to complete the part, part, whole model. Once we are confident with this, we will then move on to finding a missing number using this pictorial representation. It took a lot of concentration as you can see!
Exploring everyday materials
This week we began our next block of learning all about materials and their properties. Make sure you refer to your next knowledge Organiser to improve your understanding of scientific words such as absorbent and transparent. The children enjoyed exploring their classroom to find objects made of wood, plastic, glass, metal and fabric. They then sorted objects according to their properties such as hard, rigid, soft, smooth, bumpy, cold, squishy, rough and stretchy. In Maths we have been thinking about ordinal numbers. The children took turns to make a tower of 4 different coloured cubes and they then described the order to their partner in order to create an identical tower- using 1st 2nd 3rd 4th.
Use the QR code below to play the game to practice using ordinal numbers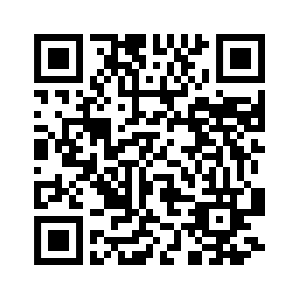 Superb Space Writing!
Badgers have had a very busy week continuing learning about what it is like to live in space and do all those things on Earth that we find easy such as cleaning our teeth, sleeping and eating to name a few. We watched mini videos of Chris Hadfield on the International Space Station who explained all the challenges of living in zero gravity and how astronauts have to adapt everyday tasks.We then did some writing about these challenges and Mrs Newbury was proud of each and every one of us for trying our best and writing some excellent sentences. Here are lots of exciting examples of why she thinks we were so great!!
Augmented Reality - Amazing!
Badger Class have been exploring a special book called Space Race which has 3D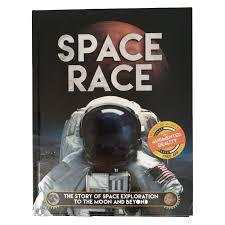 models that 'pop' out of it using an app on the iPad. Augmented Reality books are amazing because you hover over an image and then the image appears to come out of the book. The children watched this on the interactive whiteboard - you can see by their faces how excited they were.
Making the Headlines!
What a fantastic start the children have made to their writing in year 1. They have enjoyed learning about the space race and have tried to use this information when writing a newspaper article. They have created some super headlines for their newspapers and tried to use big bold writing to make it stand out. Here are a few examples of their fabulous work.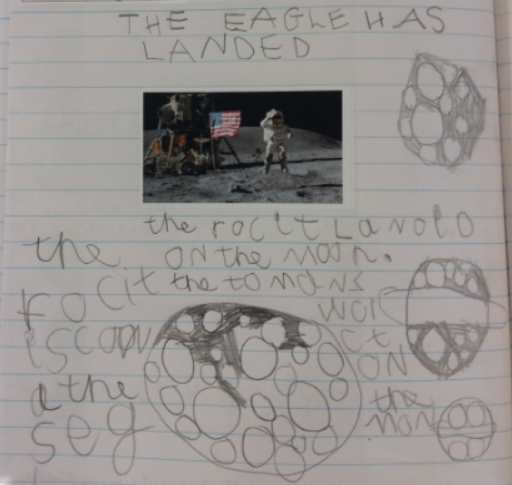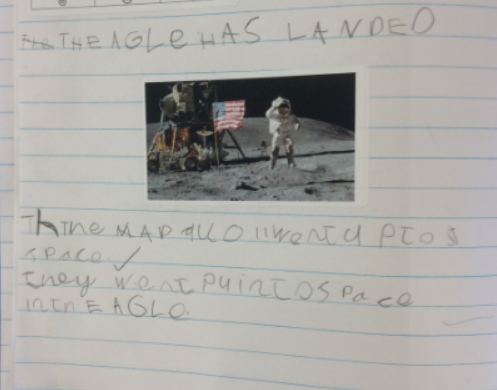 Caught on CCTV over the holidays!
What an exciting shock the school had over the holidays! A satellite became faulty and crashed in the wild life area in school! Luckily nobody was hurt as the satellite is like a robot and nobody flies in it. It was quite a mess everywhere as you can see by the video. We have managed to clear it all up by the beginning of term but how lucky are we? Y1 are just about to learn about the first man on the moon and a satellite crashes and is captured by the CCTV for us to see. Quite a BANG to our new and exciting topic!
A Race for Space
Badger class learnt about the race to space in the 1950s and 1960s today. To understand more, we were in teams of five and one person at a time from each team went into the role play to look at a special plan photo of the new Apollo 11 space rocket. We had to remember details of it and them go back to our team and draw what we could see. We worked well as a team in trying to add more details just in case it helped us to design a rocket that could take men into space just like the real thing back in the 1950s and 1960s. Here are our joint designs - we think they are fab!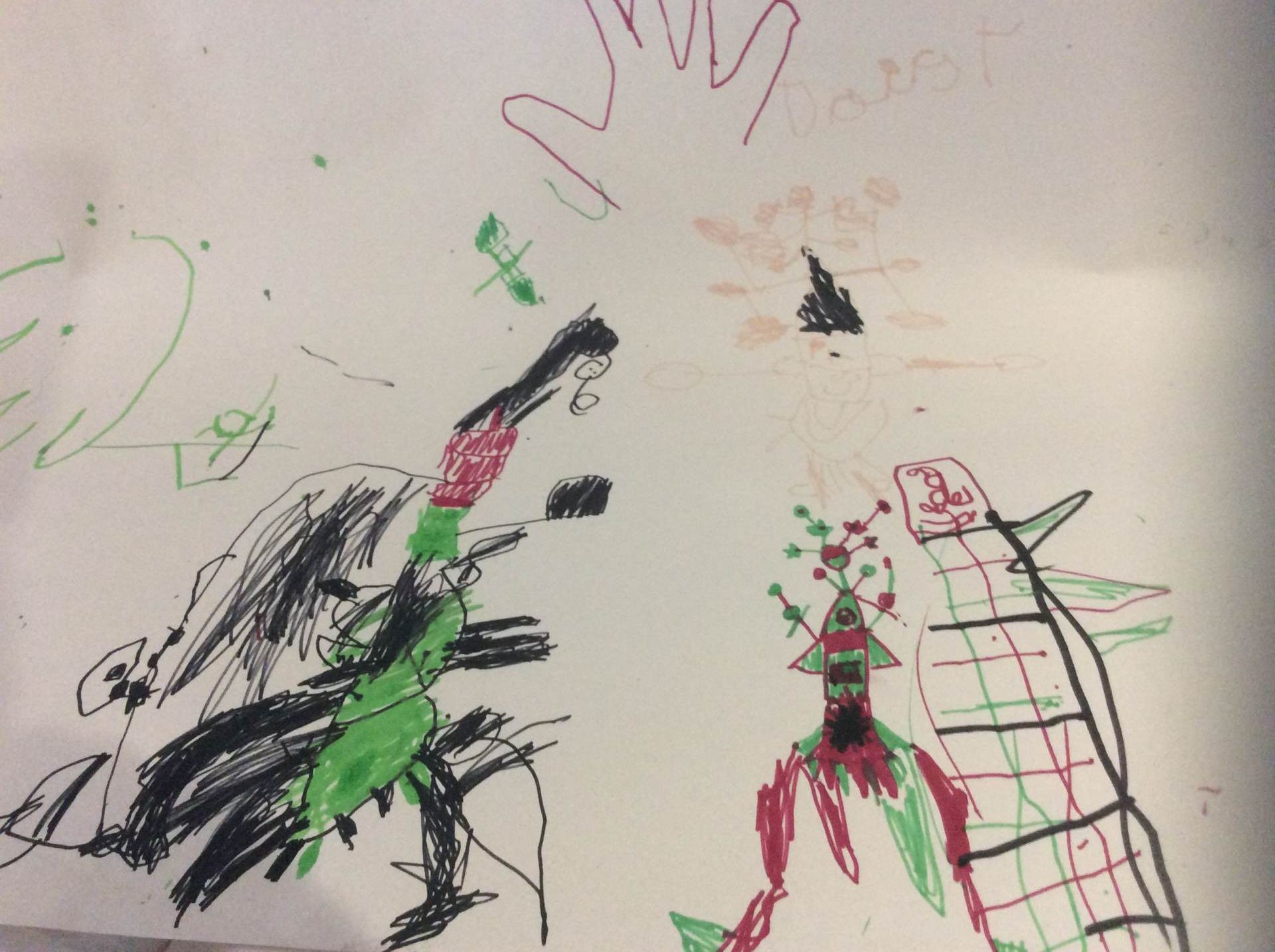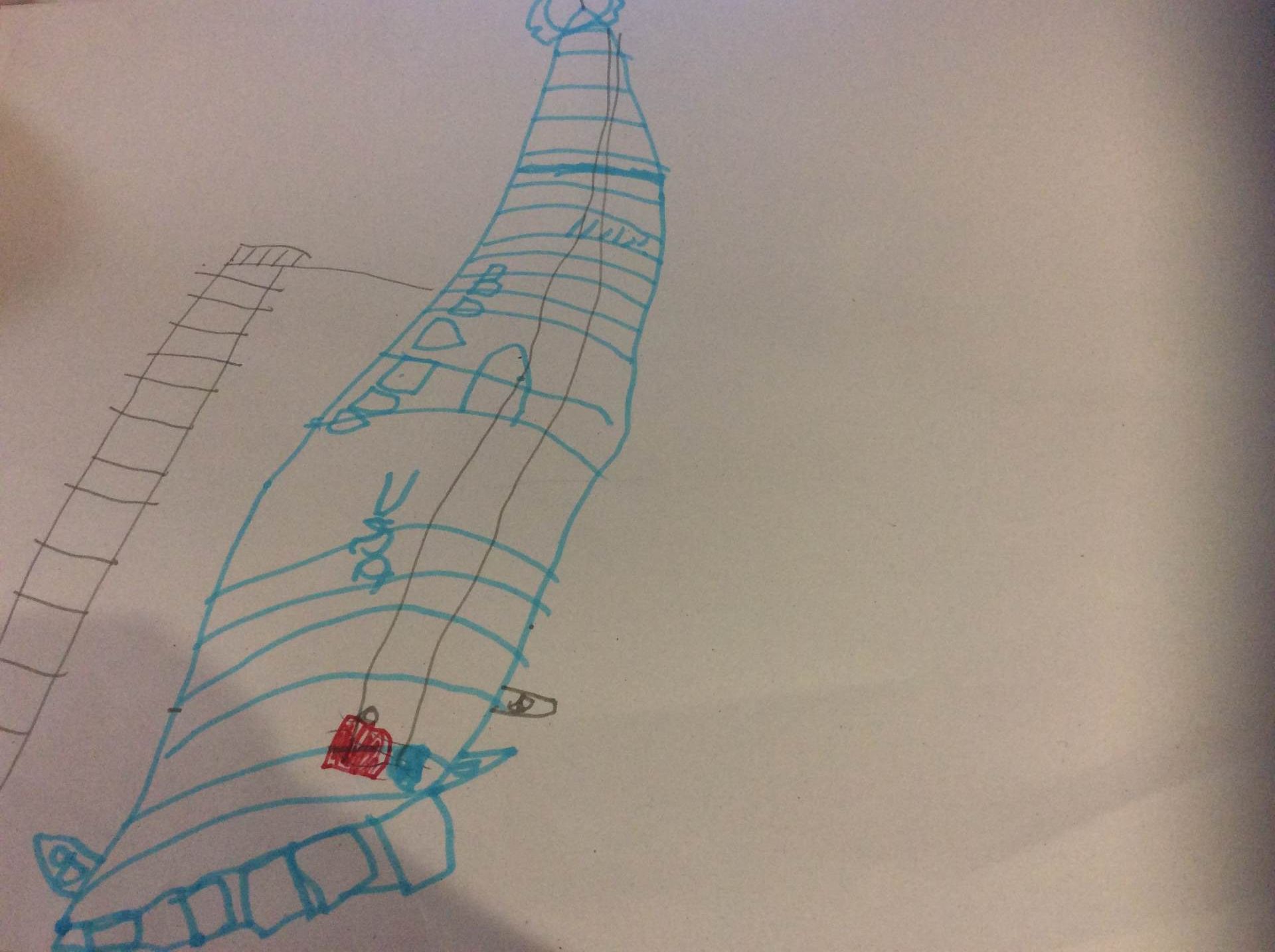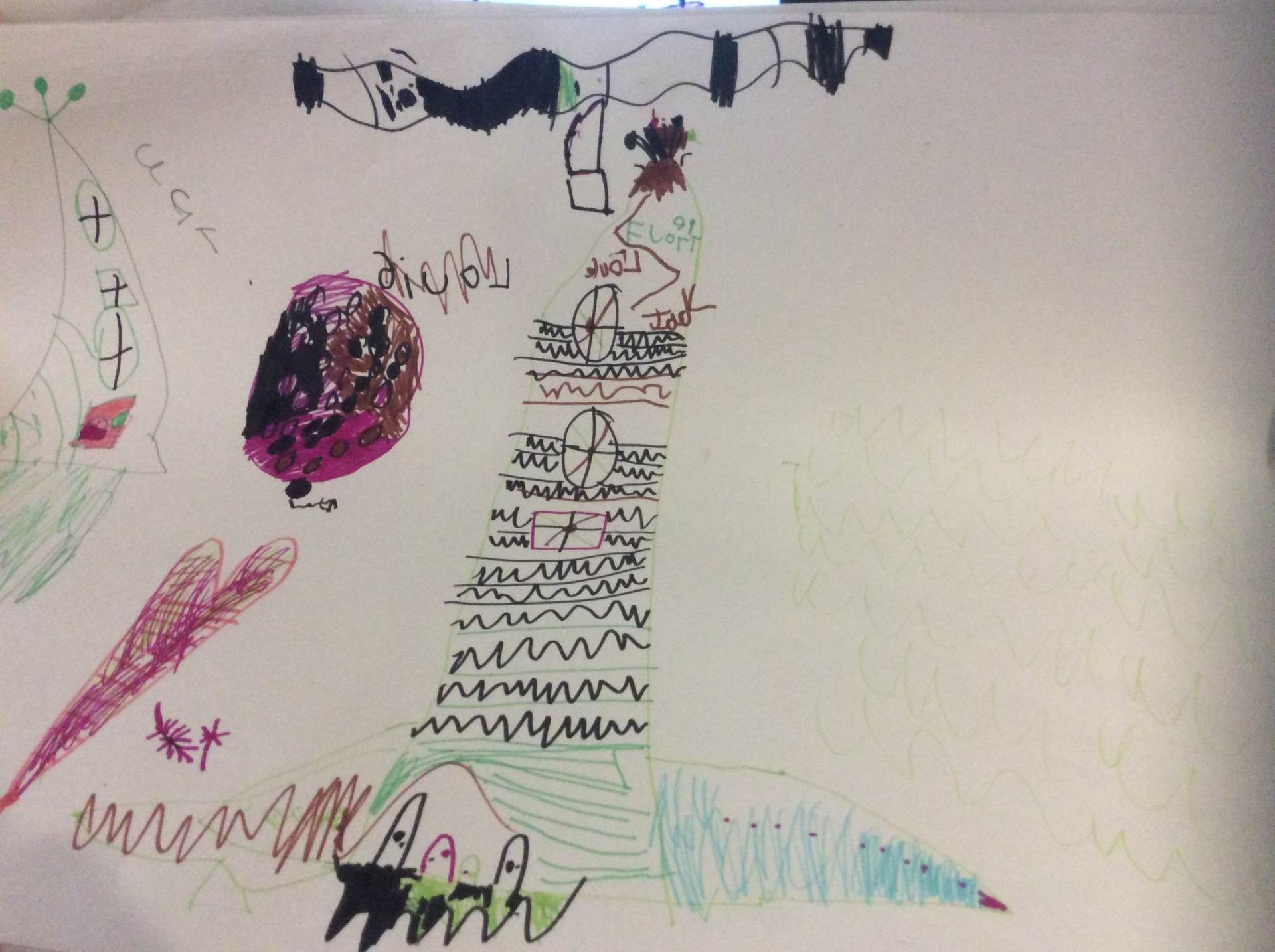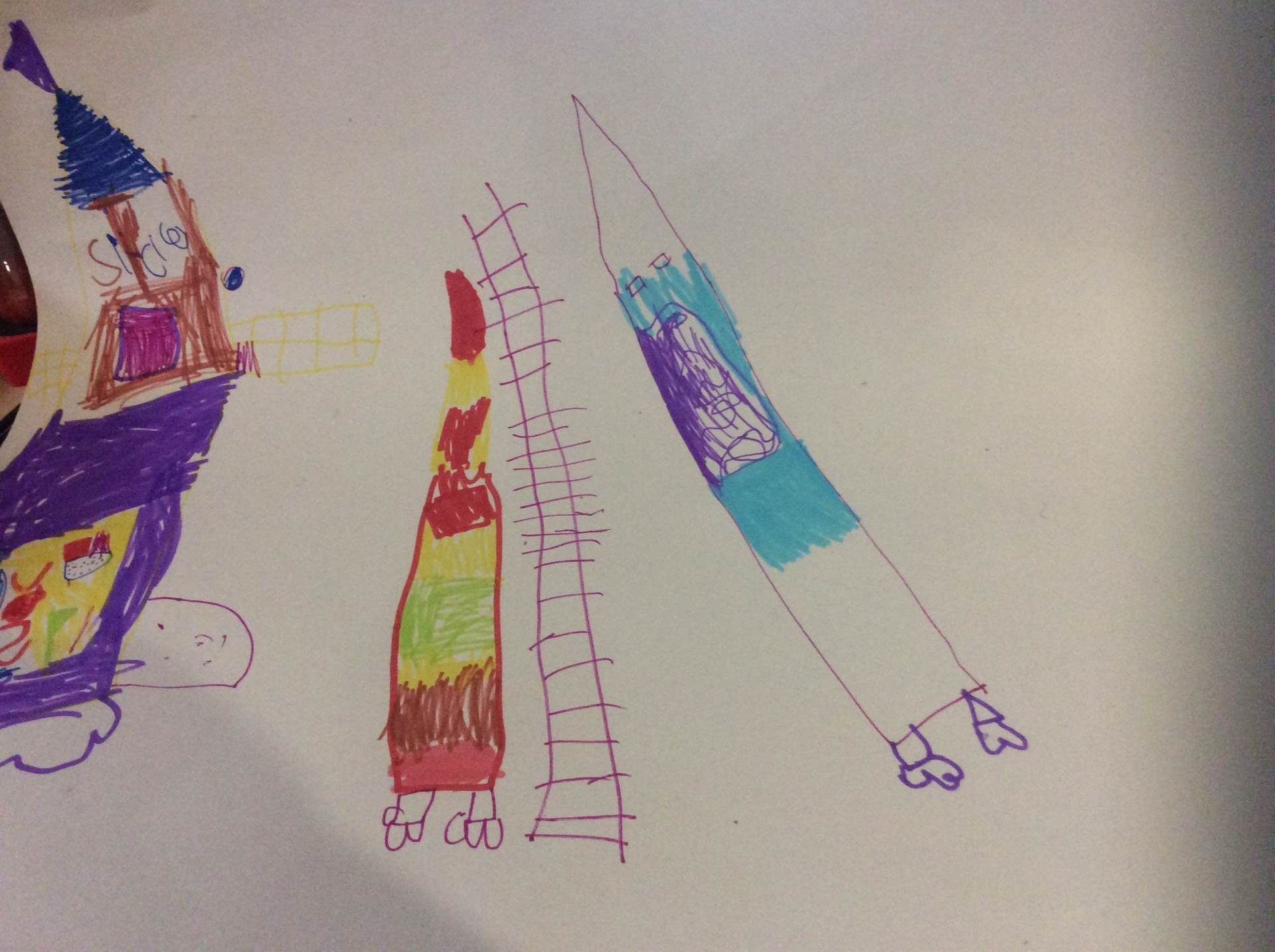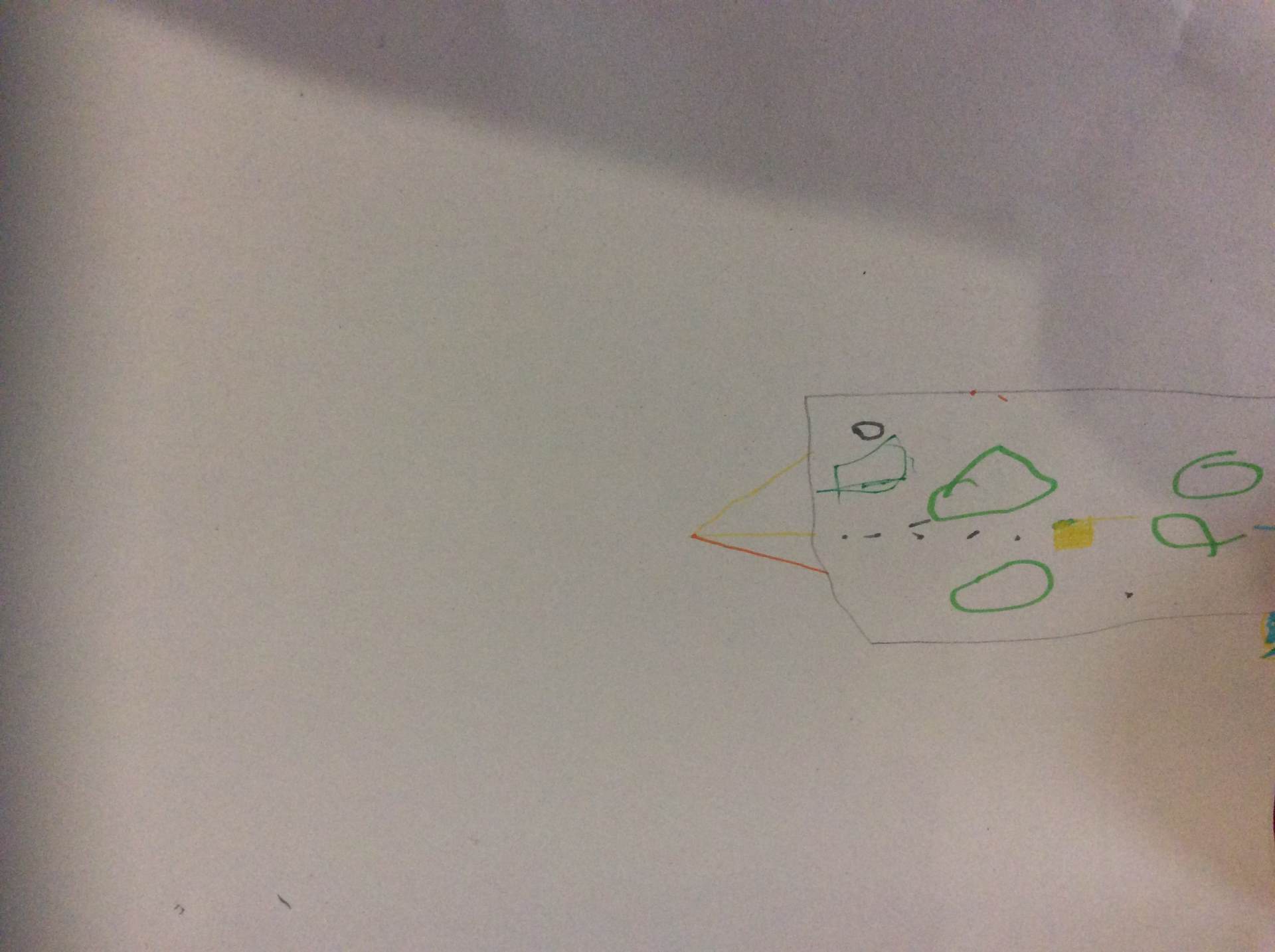 Spellings for Term 1
Here are each week's spellings which will be tested on Thursday (trip week) or Fridays:
What an amazing start!
All the children have started as they mean to carry on and have already shown the adults some of their skills, talents and attitudes to learning as well as adapting to a very different way of learning with a brand new curriculum! Well done everyone!
Programming robots (Beebots)
We have been exploring what happens when we press the different buttons on a robot. It was quite tricky because we had to keep remembering to clear our last command so that the robot would know what to do next and not just repeat the last command.We used the Beebot app on the iPad and worked in pairs by giving instructions to our partner for them to follow. Some of us managed to complete several different levels of difficulty. The photos show just how much we were concentrating on getting it right.
2018-19
July 2019
Floating and Sinking
This week we were scientists and tested our floating and sinking knowledge. We were asked to make a vessel out of foil which would carry a small bear. We discovered that it didn't really matter what shape we made the vessel as the foil always floated. We then extended our investigation to see if we could make the foil sink. This was much harder but we discovered that if we squeezed it into a very small ball and squashed all the air out then we could get it to sink. We were amazed to find out that if you wrap the foil tightly around an object that sinks then the foil will also sink but it you put the same object on a flat piece of foil then neither the foil nor the object will sink. We discovered that this was because the flat piece of foil had a larger surface area and spread the weight of the object on top of it, helping it to float. It was a really interesting lesson and we asked lots of questions to extend our learning.
June 2019
Safer Internet Day
As part of our Safer Internet Day today we have looked at how we can keep ourselves safe online. We talked about the importance of keeping our personal information safe and discussed the different choices we might have to make when working or playing online. The rest of this blog has been written by the children in order to encourage them to make choices about the content and photographs that should be included..."We have been working out o'clock times in Maths and have been ordering the days of the week. We also wrote algorithms about getting ready for school and had to spot and debug mistakes in instructions.We have been on the Ipads learning about the race to the Pole and finding out where Scott could be. We have been learning about floating and sinking and we tested some different objects. We found out that the stone sank because it was heavy and the plastic domino floated because it was light. In DT, we have been making fish pictures using wax crayons and paint. When you paint over wax it doesn't soak through. We used the Ipads to find out interesting facts about fishes.Some of us have been sewing fishes to make a cuddly toy fish."Gosh, what a busy week!
Is it waterproof?
This week we have been investigating whether materials are waterproof or not so that we can help teddy to make a new umbrella. On Monday, we looked at and felt the different materials and then we made predictions as to which ones would be waterproof. We were given a choice of felt, foil, webbing, clear plastic, opaque plastic, kitchen towel, paper towel and grease proof paper. We talked about how we could make the test fair and decided to add the same amount of water to each material and also to leave the water on the material for the same amount of time. On Friday, we got to test out our ideas. We put a compare bear into a cup and then covered the cup with different materials each time. We added a pipette full of water to each material and left the water to sit on the material for one minute. Then we shook off any excess water and carefully removed the material to find out if teddy was dry or not. We found that the foil, grease proof paper, opaque plastic and clear plastic kept teddy dry but the felt, webbing, kitchen towel and paper towel let the water soak through and made teddy wet.
Awesome Archery
In our PE lessons for the past couple of weeks we have been learning how to do archery. We have had great fun using the bows and arrows to aim at the targets and some of us have even hit the target a few times! It is quite challenging remembering to hold your arm out straight, look at the target, pull the bow string back to your cheek and let go at just the right time but we all did better than Mrs Watts who managed only to hit the floor!
Materials and Monet
In science this week we have been looking at materials and their properties. We worked in groups to sort the materials according to whether they were shiny or dull, transparent or opaque, hard or soft, bendy or stretchy and magnetic or non-magnetic. We were introduced to some new properties which we will be testing over the coming weeks. Take a look at how we sorted the different materials.
In art, we have been studying the artist Claude Monet, a French Impressionist painter who was famous for his Water Lily Pond painting. We used different techniques to create texture, used stippling to make our paintings look watery and then added collage materials to create our own Water Lily pictures. Take a look at our lovely work below.
A wonderful fishy day at Bristol Aquarium
We had the most amazing day at Bristol Aquarium. The children were brilliantly behaved both on the coach and going around the aquarium, they really did the school proud!There are so many highlights that it is difficult to choose a few, but there were some fishy facts that we all found fascinating... When Starfish loose a limb, they grow a new one, but more amazing than that, the lost limb grows a new Starfish! Lobsters wee from their eyes! Octopus have 9 brains and three hearts!Have a look at our fishy adventures.
May 2019
Picnic Time
On Monday we tasted, evaluated and made biscuits in preparation for our end of term celebration picnic. We tried ginger biscuits, shortbread, rich tea, chocolate chip cookies and digestives and then decided which we preferred most. We then made biscuits which we added different flavours to depending on our preferred choice. This afternoon (Wednesday) we invited our home grown-ups in to celebrate with us. We shared our park models with them and explained how we made the different parts. We then moved into the hall to set up for our picnic.Having made the biscuits on Monday, the children enjoyed decorating them with icing, sprinkles and marshmallows. They also had the opportunity to make jam, ham or cheese spread sandwiches which were then shared at our family picnic. The children did a great job of making their sandwiches and decorating their biscuits and we hope that the grown-ups who came in enjoyed the picnic as much as we did.
Park Fun
We have had a very busy week! On Monday we finished our Georges Seurat pointillism style paintings. The children worked very hard on them and produced some lovely pictures.We have also been busy creating models of a park. We started by discussing what should be included in our park models and drew a rough plan on paper. We had to make sure we were working together and listening to the ideas of everyone in the group. We then used straws, paper and masking tape to make swings, slides, monkey bars, ponds, trees and flowers for our parks. We are hoping to share them with you all at our parent event on Wednesday 22nd May.
Spots, spots and more spots!
This week, in art, we have been learning about the artist Georges Seurat who was a French painter famous for his pointillism style of painting during the impressionist period. Pointillism painting is created using lots of tiny dots of primary colours, placed in close proximity to each other. When viewed at a distance, the human eye mixes the individual dots together into areas of solid colour to form an image but up close you can see the individual tiny dots of colour. It's a bit like magic! We have looked at one of his most famous paintings called, 'Sunday afternoon on the Grande Jatte,' which took Georges Seurat 2 years to paint! We couldn't believe it. That really is a lot of dots! During the week we had a go at using pointillism techniques of combining the coloured dots to make new colours, blending and shading.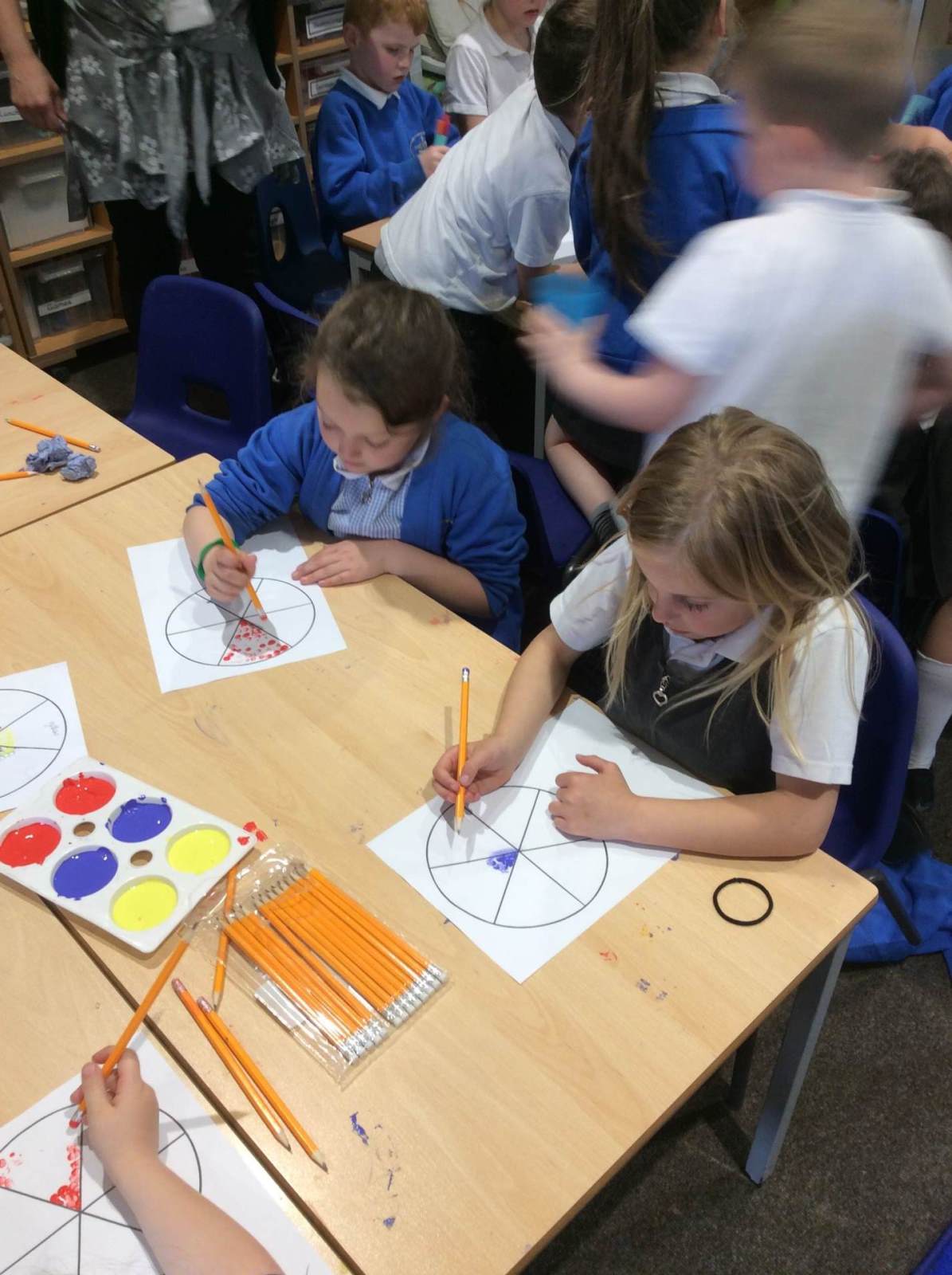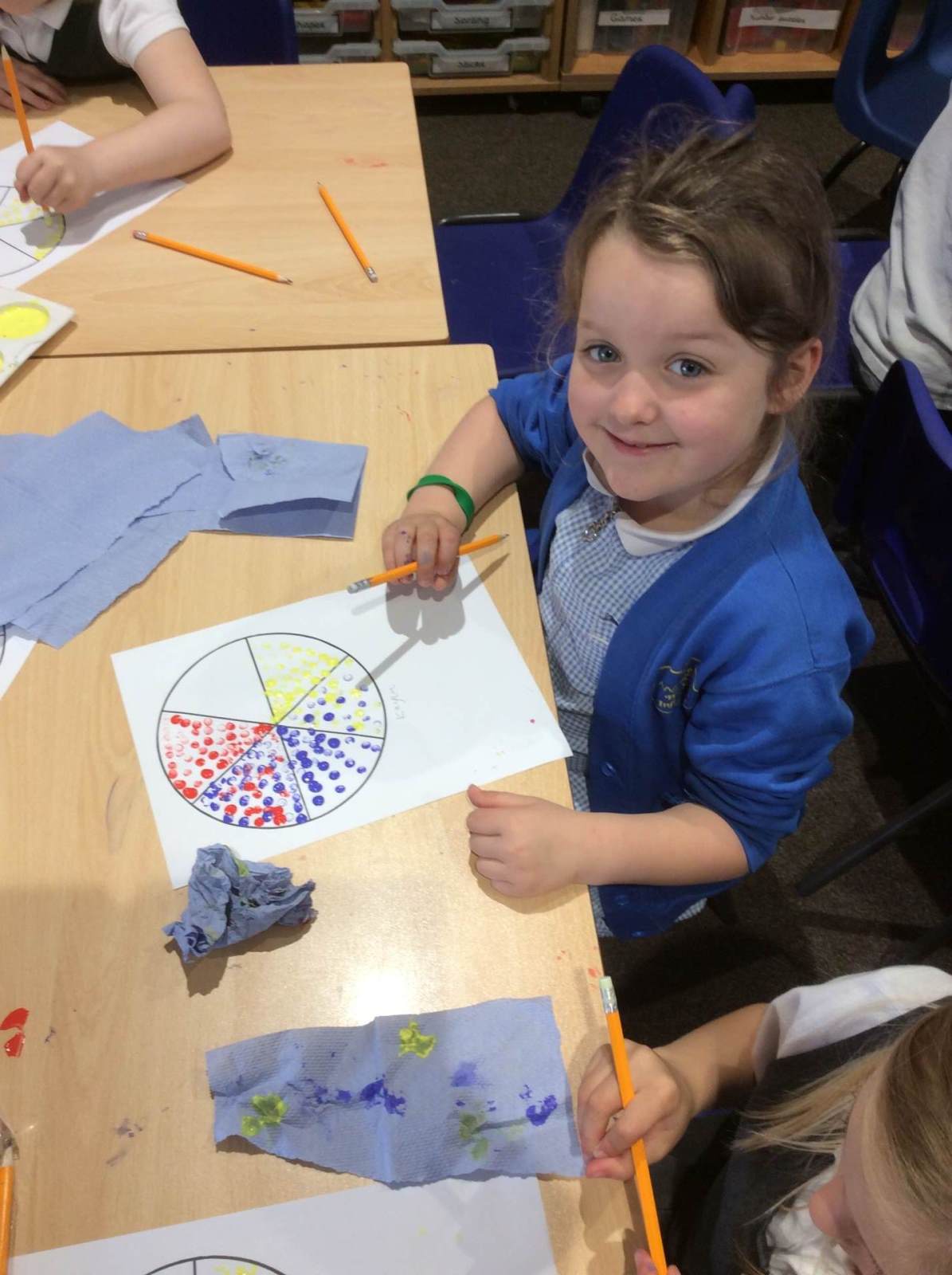 On Friday, we started to make our own pointillism pictures of a pond in a park but they are not quite finished yet. It takes a long time to fill a pictures with tiny dots!
April 2019
Super Science
This week we have been busy learning about plants. We used the magnifying glasses to look closely at a range of different seeds and identified the similarities and differences between them. Some seeds were small and round, like the mustard and cress seeds, and some were much bigger and ovoid in shape, like the broad and runner bean. We found out that plants need water, soil and sunlight to help them to grow and we decided to see if we could grow our own sunflowers or broad bean plants. We also decided to conduct an experiment to find out what happens to the plants if we remove one of the three elements needed for growth. We have put one of our plants in the cupboard to see what happens if we remove sunlight; we put one in an empty pot to see what happens if we remove soil; and we decided not to water one to see what happens if we remove water. We then made predictions about what we think will happen and we will test these ideas at the end of term once our plants have started to grow.We looked carefully at the different parts of a plant and worked together in groups to create a labelled diagram.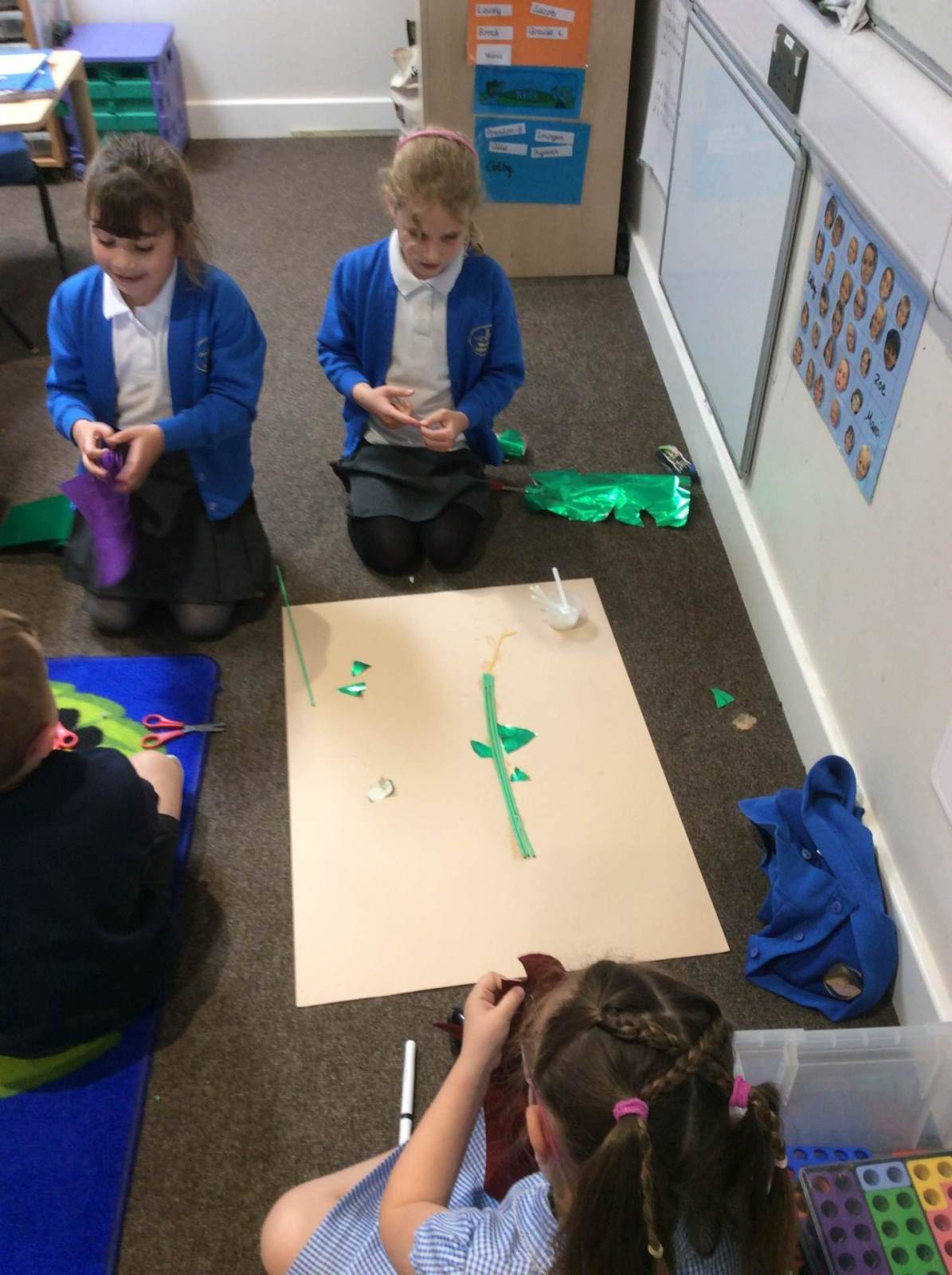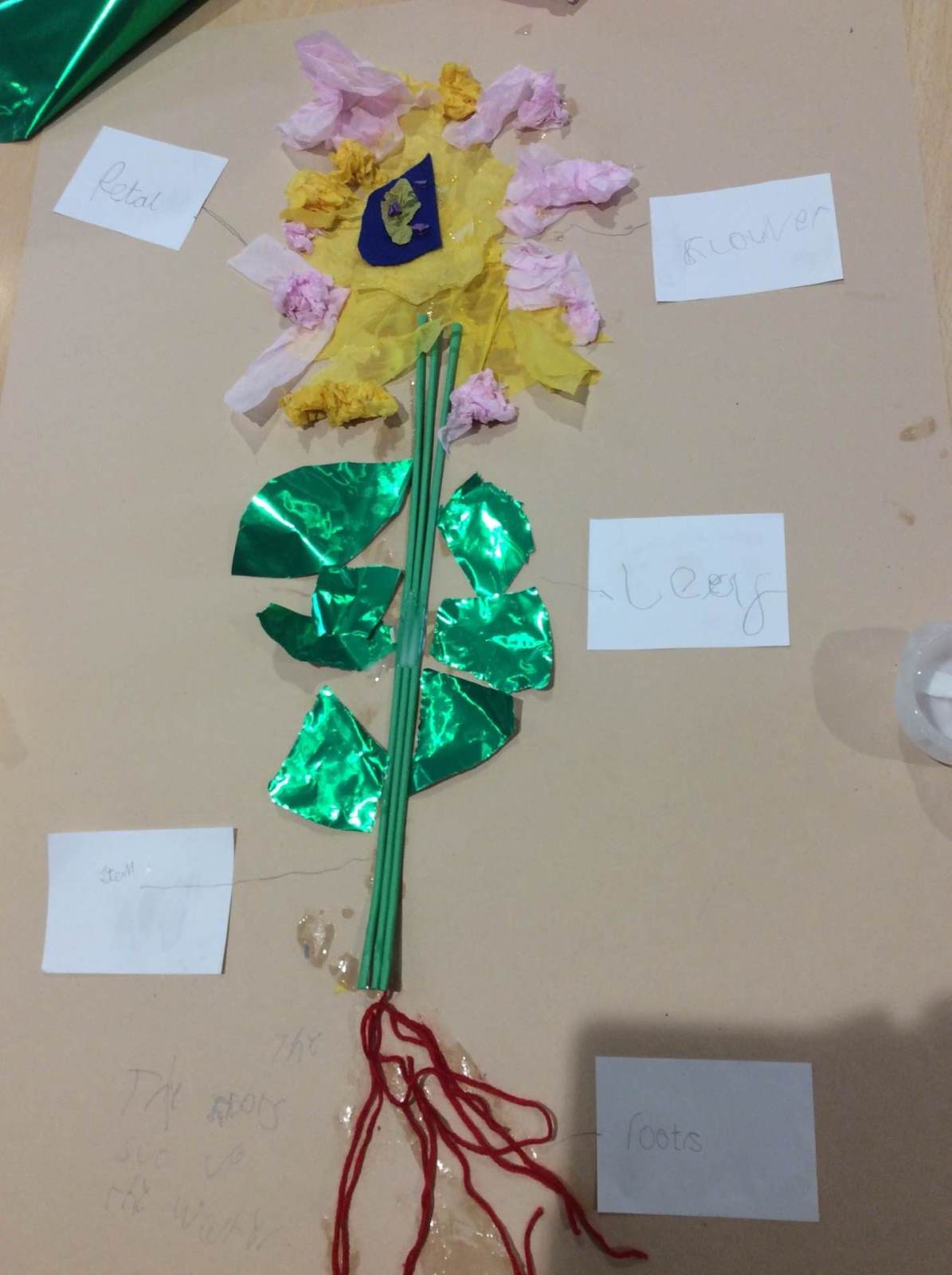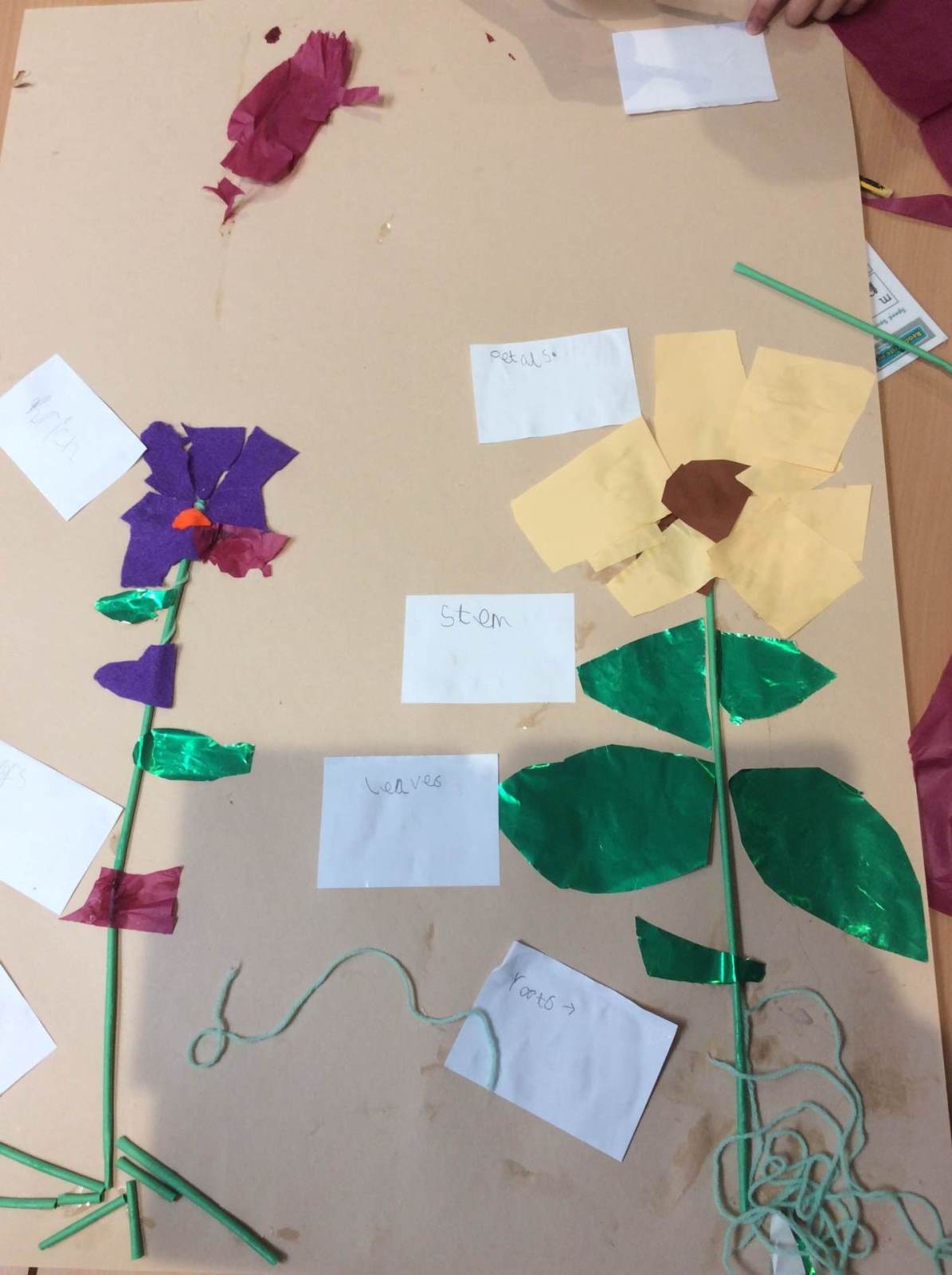 Towards the end of the week we compared wild plants to garden plants and we were given eight pictures of different plants which we had to sort and classify. We worked collaboratively again to create our own branching databases to classify the plants.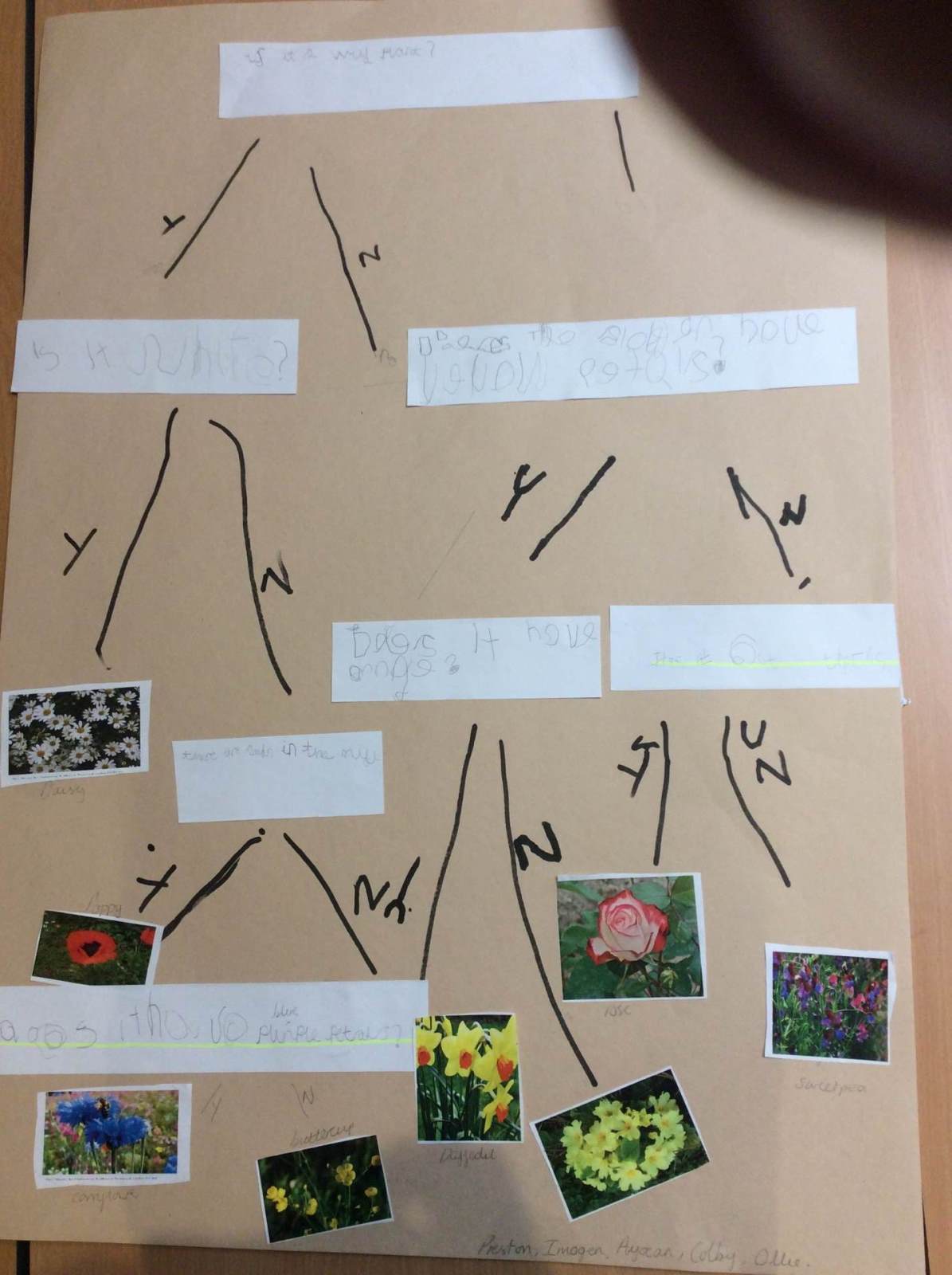 To end our busy week, we all took part in the colour run. It was great fun but also very tiring as we had to run around the trim trail several times!
Park Keepers for the day!
On Friday we took the train to Warminster, walked to the local park and became park keepers for the day. We had a lovely time finding out about the work of a park keeper and pulling up the weeds and dead flowers from the flower beds so that new flowers can be planted. After lunch we went on a tree trail and found out about deciduous and evergreen trees. Deciduous trees shed their leaves in the autumn and are completely bare over winter. They then grow new leaves in the spring. Evergreen trees have leaves throughout the year that are always green. There were lots of different variety of trees at the park including a very old oak tree which had once been struck by lightning! We finished our trip off at the play park on the swings and slides. It was lots of fun!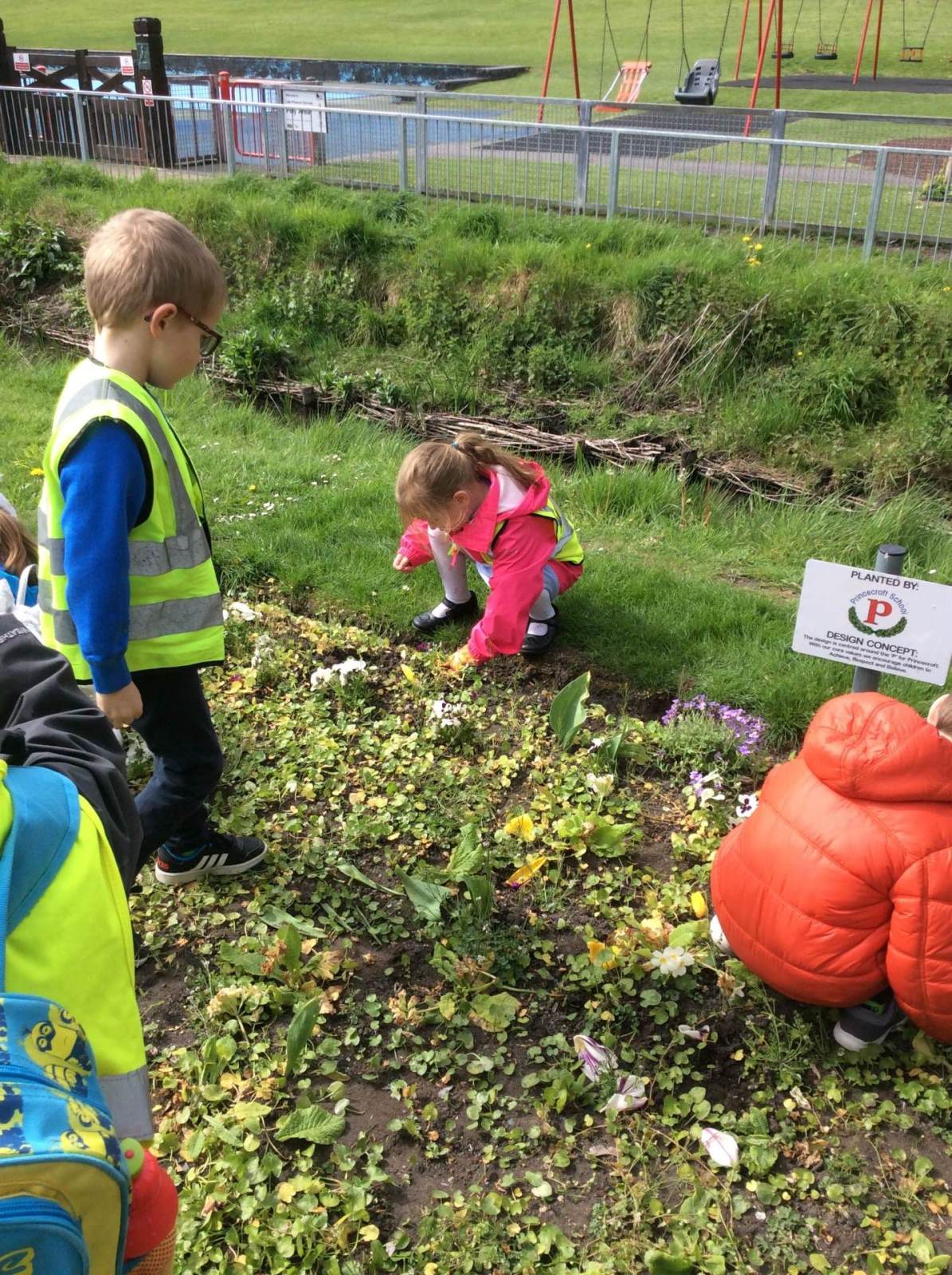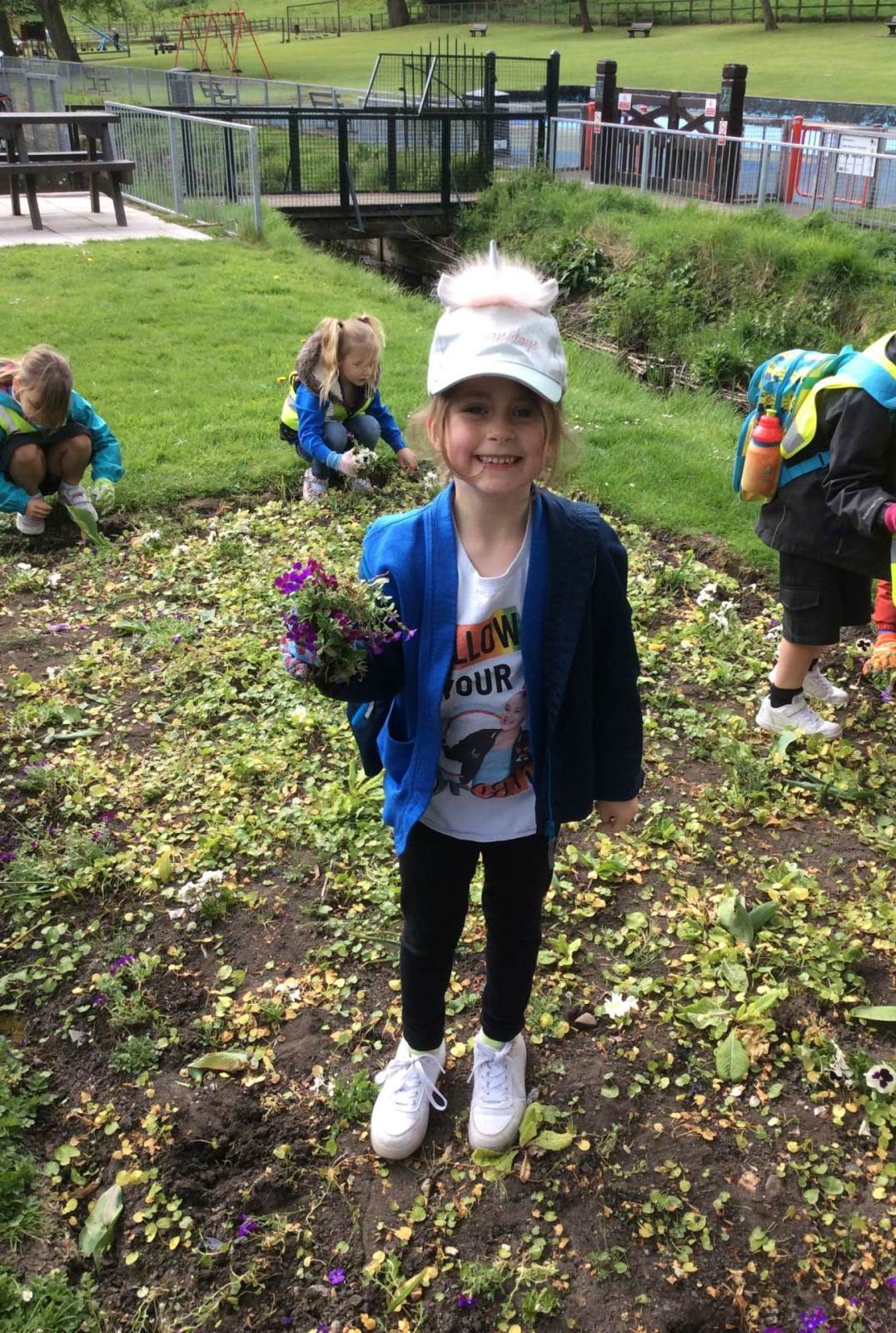 Superheroes
We had an incredible Superhero event to which a large number of parents came. It was fantastic to see so many people measuring, describing, reading about and making Superheroes with their children. Please see pictures below.
Finally I would like to wish all Badger Class children, parents and staff all the best for the future. It has been an absolute pleasure to be involved with this incredible class and I know that all the children will have a super end to the year. Thank you for a great year,Mr P.
March 2019
Moving pictures!
This week we completed our DT project to create moving pictures of a superhero flying across the sky to the rescue. We used our designs from the previous week to draw and cut to make this magical scenes. The most exciting thing is that the superhero flying to the rescue is us! We used photos of ourselves taken on our wow day to complete the image of us flying to save the day.Please see our stupendous superhero moving pictures below.
Magical maths.
This term we have been concentrating on measuring length and weight. The children have really enjoyed some of the more practical sides but have risen to the challenge of problem solving and reasoning as well. It has been a great opportunity to introduce centimeters when measuring length and to use a range of non-standard units within weighing. We are all really looking forward to looking at capacity in the coming week. Please see photos of us measuring different weights below.
Red Nose Day.
We wore our own clothes into school on Friday. We also brought in a pound to raise money for this great cause which helps charities and organisations around the UK.We have also completed our learning on how to measure heights and lengths. We have moved from using cubes and other non- standard measures to using a ruler to measure objects around the class. All the staff have been very impressed with how accurately the children have used all of the equipment across the last three weeks. Next week we are moving onto measuring weight and if we show the same accuracy we have done so far it is going to be a fantastic end to the term.
World Book Day.
There were so many incredible costume on World Book Day everybody from Mary Poppins to Burglar Bill came to visit. We undertook a range of activities including a special maths lesson in which we had some huge footprints around the class. These had been left by the Giant from Jack and the Beanstalk. We also were very lucky to have a special visit from a famous author, Mike Brownlow, who taught us how important different, exciting characters are in our stories.Everybody involved had a really enjoyable and enriching day.Please see our photos below.
Superheroes have arrived in Badgers Class!
The teachers and TAs had a really exciting surprise on Friday morning when we opened the door to see that so many incredible superheroes had come to visit for the day. It created an amazing start to our topic of superheroes this term and was enjoyed by adults and children alike. Activities included writing to the story of brave Supertato who saved all of the vegetables in the supermarket, making cards for the real superheroes in our lives and making a vegetable version of our superhero. Please see these sensational superhero recreations below.
February 2019
The recipe for success!
We cooked some incredible Spanish Omelettes to go with our round the world exhibition.We all had a go at whisking the eggs and carefully cutting and adding the vegetables to the mixture. It was really enjoyable and the omelettes were delicious. Everybody who wanted was able to try some and there were other options available who didn't. It certainly gave us a real taste of Spain.Please see some of our exciting cooking photos below.
Creating a fabulous flag backdrop!
We used the music of Spain as inspiration for an incredible piece of performance art. Combining the the energy of flamenco, the excitement of the paso doble and the incredible fun and happiness of the fandango. The dances of Spain are truly world famous and we used them to create a fantastic backdrop for our Spanish display at the round the world event next Thursday. The children used paint brushes to flick small amounts of powder onto the wetted paper in time to the music. It created a piece of performance art that reflected the magic of these dances and of Spain itself.
Hot and dry Australia!
We wrote postcards from Australia describing what can be seen in this incredibly hot and dry land.We are really enjoying our topic of all around the world and the chance it has given us to see life in a number of different countries as well as our main country of study, Spain.Please see a selection of our incredible postcards below.
January 2019
Gorgeous Gaudi Lizards!
Over the past couple of weeks, Badger Class have been very creative with Mrs Newbury. We've been learning about Antonio Gaudi and his amazing architecture, especially his mosaic lizard fountain in Parc Guell in Barcelona, Spain. He designed some spectacular buildin
g in Barcelona which were inspired by nature and the outdoors. We all thought he was a brilliant architect, even though he preferred to make models of his ideas rather than draw them. First we designed our lizard while practising forming and shaping using plastercine. Then, we used clay to sculpt our very own lizard using Gaudi's as inspiration. We managed to get some super detail in our models while keeping true to the original.
The nest stage once the sculptures had dried was to create and apply mosaic tiles which were actually cut out of wrapping paper! Using lots of PPA glue to stick the tiles, we then gave a generous covering of glue to seal them and when they have dried completely, it will make them really shiny and gorgeous.
Here are our finished Gaudi inspired sculptures which we will be showing in our Around the World exhibition on the 14th February where parents and carers are invited to share all our fabulous learning on this exciting topic.
Spanish Writing!
This week Badger Class have produced some incredible writing all about what can be seen and done in our country of study this term, Spain. We will put up a selection of this work on the blog and even more will be able to be viewed at our exciting round the world parents event at the end of term. There will be food and many enthralling exhibitions from a variety of countries from all around the world.
Gaudi's Lizard Fountain art!
This week Badger Class made some lovely recreations of Gaudi's Lizard Fountain using plasticine. We carefully observed the original and have used key features to produce our own take on this unique work. This is in preparation to start to reproduce this iconic piece of art in clay over the coming weeks.Please see some of the incredible work that we were able to make below.
On Friday all the children in Badgers Class were extremely lucky to be able to do a Spanish themed dance with professional dance coach, Hollie. It was full of fun while challenging and everyone in Badger Class worked outstandingly hard to master the routine.Please see the gallery below to see what a fantastic experience it was and how much work everyone put in.
We had an very good start to the school year and all enjoyed the incredible events that we were able to do around Christmas and our topic.The teachers, TAs and students are all really looking forward to the New Year and all the incredible opportunities that it will bring.
December 2018
Christmas!
This week we have been enjoying a variety of Christmas writing, maths and crafts.It has been lovely to show off what we can do with setting and character descriptions. We have really tried hard with our sounds throughout the Autumn term and we can now write some really wonderful sentences.We used lots of sequins and glitter to make our Christmas crafts. A lovely sparkly way to finish off the term.Have a very happy Christmas everyone and see you in January for more fun and learning!
November 2018
Yoga!
This week year 1 have all been trying yoga to practise our static balances. We worked incredibly hard and a number of us were able to come to the front to demonstrate our incredible yoga positions in front of all of the year.
Magnificent materials!
This week we have been learning all about different materials and their properties.We did several experiments to see if we could describe the materials to each other. It was enjoyable and also helped us to learn about the properties of those different materials.Look at the gallery below to see the fun that we had exploring the material world.
9.11.18
We had an incredible visit to the fire station today.We all really enjoyed finding out about what life is like for real firefighters. We saw all of the equipment that allows them to do their incredible job and we all got to use the hose to squirt water. It was so exciting and an incredible experience to have had. It will allow us to really be able to think about fire and what it is like when we are doing our history topic of the great fire of London.We also went to the town park where we studied what materials we could find there. This was for our science which is going to be all about materials this term.
October 2018
29.10.18
We ended the term with another fantastic parent event. It was a chance for all of the parents to experience and share the excitement of rainbow challenges with us. We were able to show our adults the incredible tasks that we undertake at the end of the day and that have enabled us to make such a fabulous transition from Reception to Year 1.Please see pictures below to relive some of the excitement of the day and we look forward to seeing you all at our next stunning parents event!We hope that you have and continue to have a restful half term and we are all looking forward to an amazing start to our new topic with the trip to Trowbridge Fire Station on Friday evening.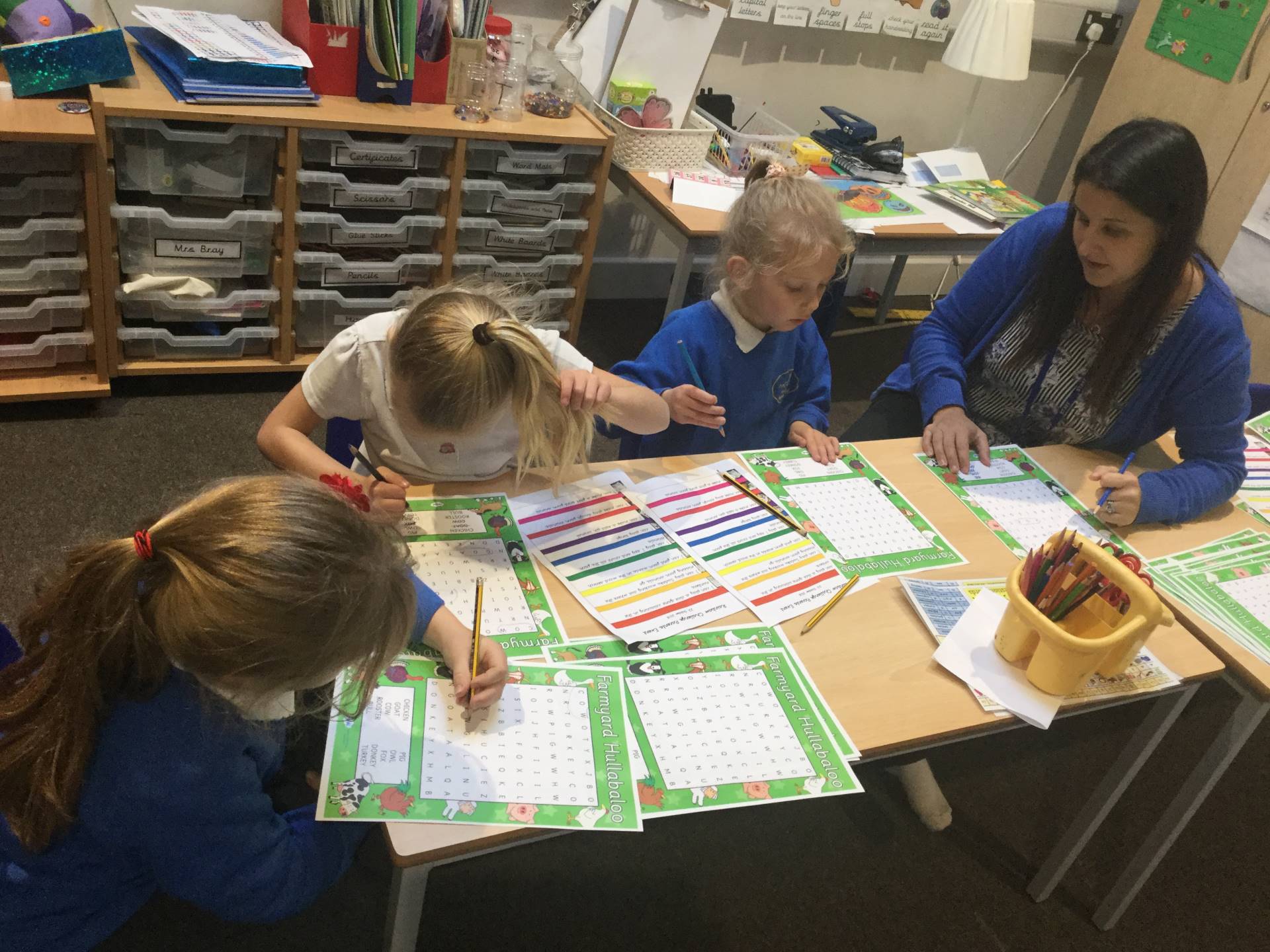 19.10.18
This week saw an incredible event in the life of the school, the opening of the new school library. The culmination of many hours of hard work has created a fantastic space for children to appreciate the magic and wonder that can come from reading. We really want all children to be ale to appreciate how exciting reading can be and we feel that a space like the new library should be an incredible resource in fostering this feeling. We were incredibly lucky to have a very famous author open our new library. EIleen Browne also gave us a workshop on how she writes her exciting books and we got a sneaky peak at a book that hadn't even been published yet. What an exciting day!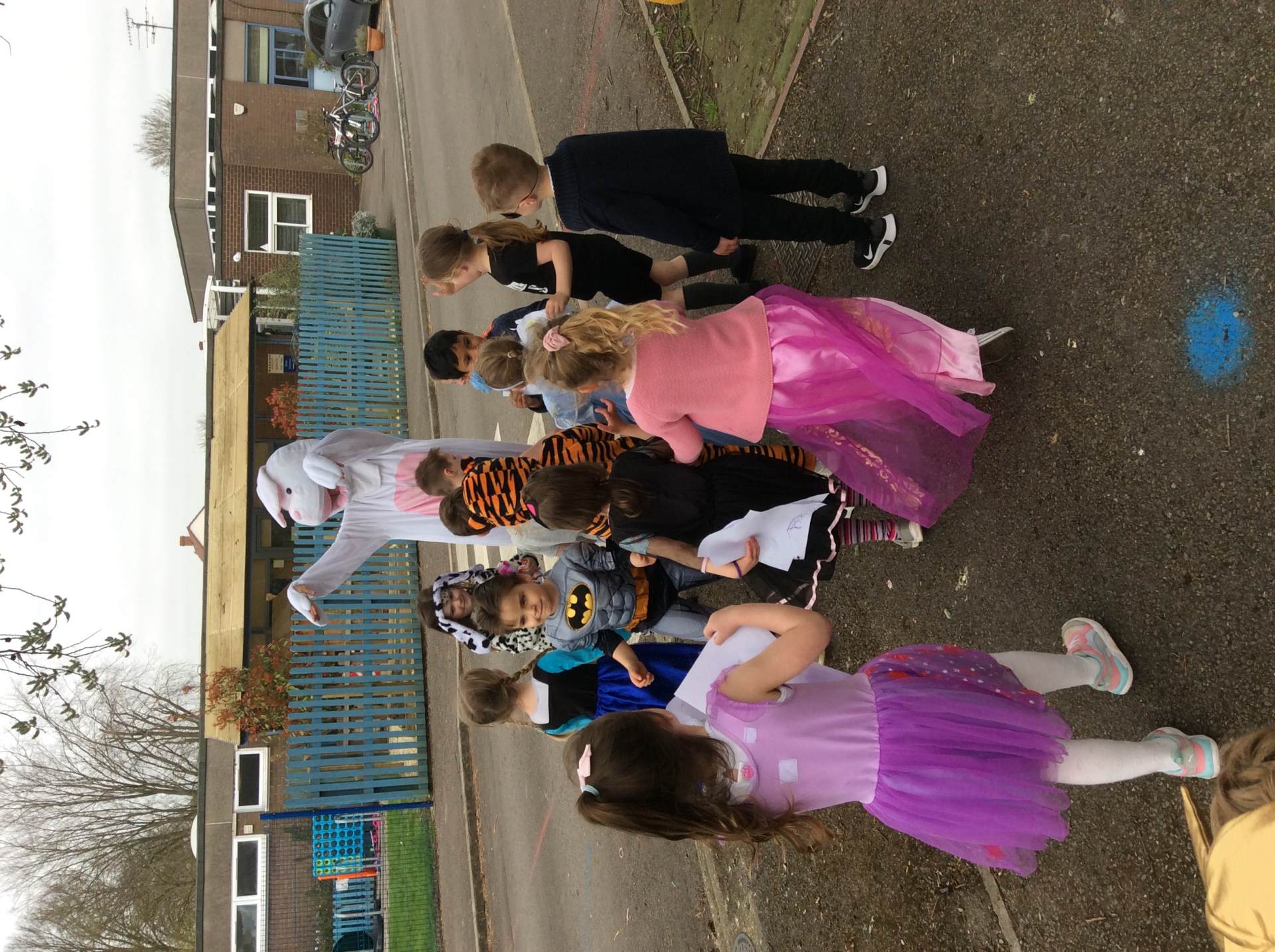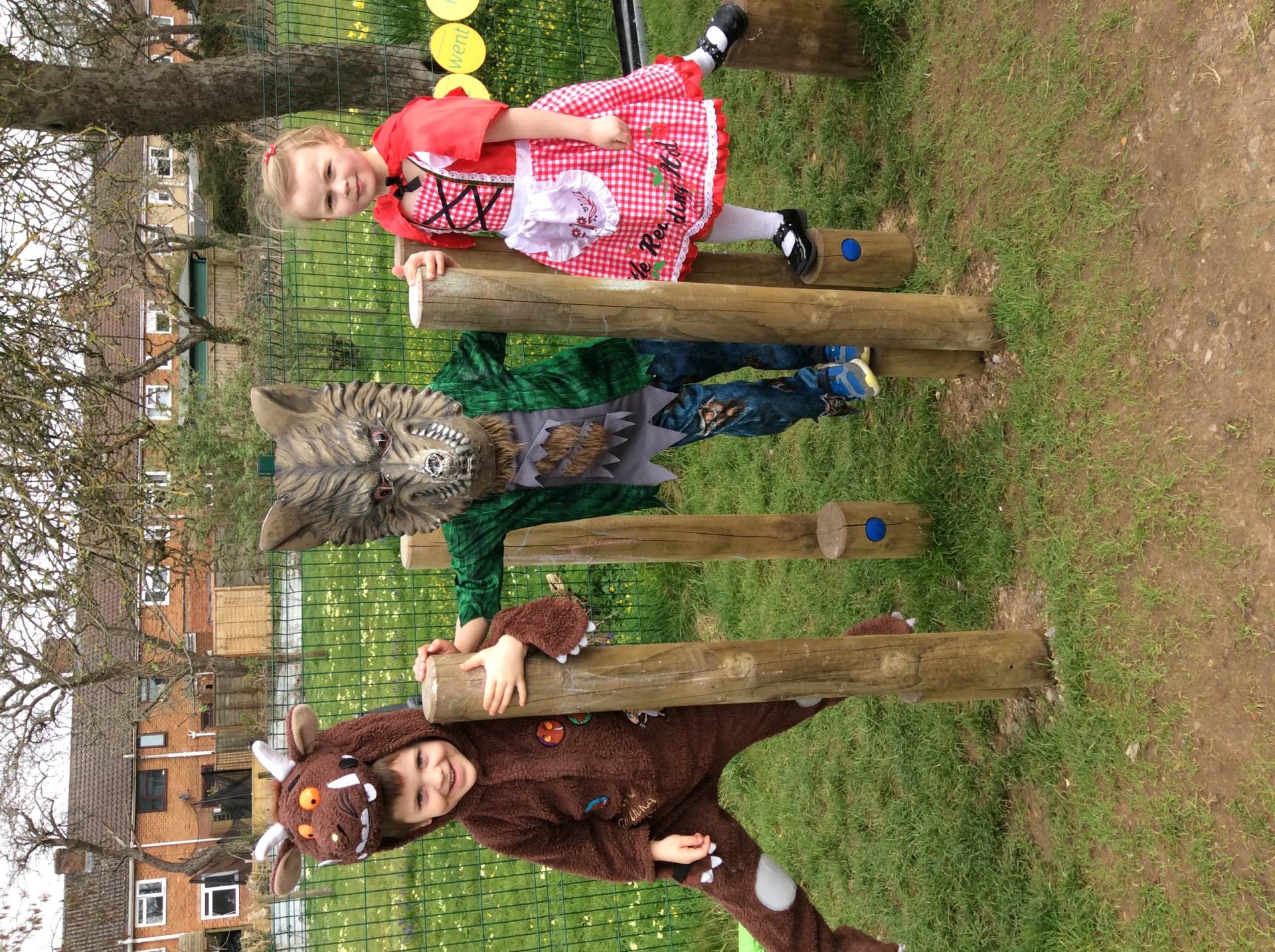 12.10.18
This week Badger Class have been working extremely hard on continuing our fantastic artwork using the inspiration of Giuseppe Arcimboldo. We have used lots of different kinds of fruit and vegetables to recreate our own faces. We have really enjoyed the process of making this exciting art and really look forward to you being able to see many of our outstanding pieces of artwork when you come to the parents evening in the hall next week.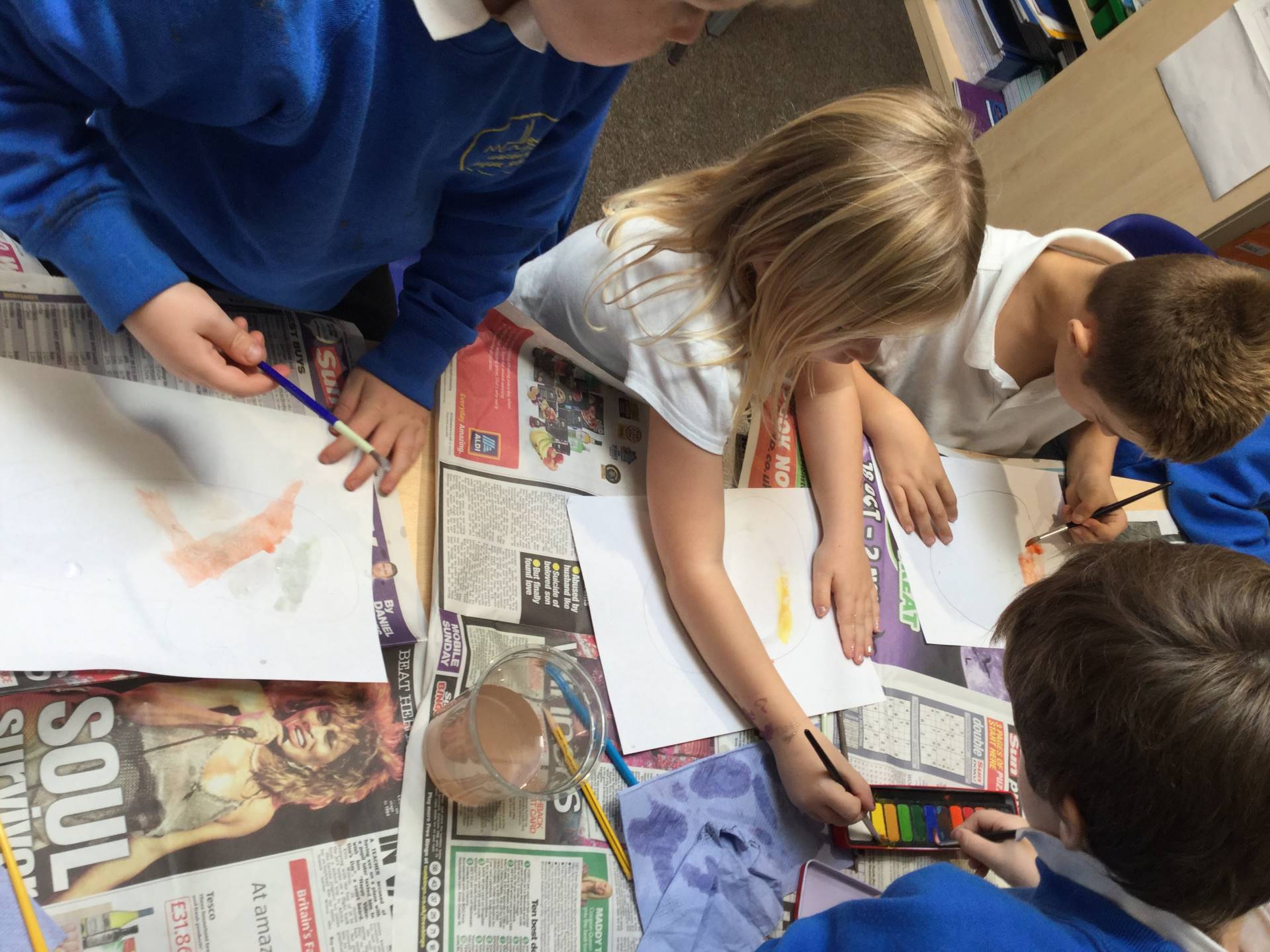 5.10.10
We have had a fantastic time this week recreating our own version of Giuseppe Arcimboldo's famous vegetable face paintings using a variety of different fruits and vegetables. The children really concentrated on looking at all the different vegetables and talking about the shapes, colours and textures. We discussed what part of the face each vegetable would make best. We are very proud of the end products. Well done Badger Class!
September 2018
We have had a super start to the term and have really enjoyed our new class room. We are really looking forward to our first trip to The Farm to go with our topic this term.
28th September
We have had another fantastic week. On Tuesday we got to meet Harold on the life education bus. It was an incredible experience and all of the children really enjoyed it.
Harold taught us all about looking after and caring for our bodies.It was an incredible experience and we all learnt so much.