Zebras Blog (Y2)
Welcome to our blog! We hope to share all the wonderful things that we are learning about in Year 2.

Our Class Teachers are Mrs Rockey and Mrs Channon and our Teaching Assistant is Mrs Airey.
Term 4 2020.
Home Schooling
Well everyone, what a different week we have all had. Its very quite in school with none of you hear and I am especially missing your lovely singing in assemblies.
We hope you are all well and staying safe. Some of you have been sending in your pictures of your home schooling which has been fantastic, it is lovely to see you working so hard and enjoying your learning at home. Keep up the good work and we look forward to seeing some more pictures of your learning next week. Please send them to deputyhead@westbury-inf.wilts.sch.uk
Have you all got your rainbows up in your windows? Evie and Henry had a go at painting one with their daddy while I was in school and they have put in our window as a sign of hope in these strange times.
Remember if you have any questions please contact us on our class emails.
Have a good week and enjoy this wonderful weather we have Mrs Channon and Mrs Rockey
White Horse
Today the children have had a wonderful experience visiting the Westbury White Horse. Many of the children had been before with families but to visit with your friends gave us all a very different experience. We talked about the battle of Ethandun and thought about how the vikings would have tried to attack King Alfred. We re-enacted the battle and thought about how tired they would have been climbing up the steep hills in their armour and carrying their weapons. The trip really bought our learning to life and to look at the setting in which it all happened proved a great learning experience.
The Battle of Ethandun
What a busy week we have had. On Tuesday we had an amazing experience. We were visited by the real King Alfred and he talked to us about the battle and how important it was in history. He told us lots of the things that has made England the way it is today because of that battle.
On Thursday we had a visit from Jo at the Fairy Cupcake Cakery and she helped us decorate a cake with the Westbury White Horse on it. This was a lovely experience for the children and it was a good opportunity for children to be creative in a different way. A big thank you to Jo for spending the time with us.
This week also saw book day and as usual the outfits did not disappoint. We had some super book characters old and new.
King Alfred
This week we have started our new topic on the Battle of Ethandun. It has been very interesting learning all about this as it actually happened right here in Westbury. We have started off by thinking about Anglo-Saxon villages and what they were like to live in. We then thought about King Alfred and why he was an important King. We spent time sketching and painting him which the children have really enjoyed. We are looking forward to our trip to the White Horse in a couple of weeks when we will be able to imagine the battle and think about what happened.
Term 3 2020
Around The World
The children have worked so hard this term and have created so many wonderful things we ran out of room trying to display it all at our Around The World exhibition this week. It was wonderful to see the progression across the school and to see what all the year groups had been up to this term. The Zebras loved trying the shortbread made by Year 1 and were amazed at the 3D models made by Reception. We hope all the parents that came to look at our hard work enjoyed what they saw.
After we looked around the exhibition with our passports and filled in the questions we had to find the answers to we went into the ICT room and practised our keyboard skills and mouse control on the computer. It was quite clear the children are very used to using tablets and the touch screen when they tried to control the computer in the same way. We soon learnt how to control the mouse and produced some great drawings. We will continue to develop our skills on the keyboard.
Have a wonderful half term everyone and a good rest!
Super Sewing
We are so proud of all the children. This week they have mastered sewing and have created their own panda hand puppet. The children developed their skills over two days and by the end of the second afternoon some of them were able to thread their own needle, use a running stitch and even unpick when faced with a tangle! All of the puppets look different, yet every single one is fantastic. We could not have completed the sewing project without the help of so many wonderful parents, nannies, grannies, aunties, MDSAs and other friends of the school. Thank you to every single person who gave up their time to come in and support the children. You are welcome any time!
You can see our panda hand puppets at our "Around the World" exhibition next Thursday afternoon (13th February) so do come along and have a look.

Chinese New Year
This week we have been learning the story of the Chinese New Year. We have thought about how people prepare for the Chinese New Year and how they decorate their houses like we do at Christmas. We learnt the story about how all the animals decided which animal should be selected for the first new year. Mrs Rush made us a delicious Chinese meal for us all to enjoy at lunch time and we practised writing our names in Chinese. We also made puppets of the different animals and acted out the story to practise using story language and expression as the characters spoke.
Baby Animals
This week we have been looking at animals and their babies. We have learnt the names of all the baby animals and thought about what they need to survive. We had great fun designing a home for a hamster and thinking about all the things it would need to grow up healthy and happily. The children had some wonderful ideas and their designs looked lots of fun for the hamster but most importantly they remembered that all animals and humans need food, water and oxygen to stay alive.
In maths we have been exploring statistics and learning about collecting information in a tally then recording it in a pictogram. Maybe you could have a go at collecting some information in a tally at home as a bit of fun?
Thank you to everyone that has volunteered to help us with our sewing, however, we are still in need of some extra helpers. If there is a parent or grandparent, auntie or uncle out there who would like to support the children with this activity on the 3rd or 4th February at 1.30 please let us know. Thank you in advance Mrs Channon and Mrs Rockey.
Please can we also remind you to have a go at pracising the spellings with your children for their test on Friday and try to hear them read at least 4 times a week acknowledging it in their reading diary. We have lots of children that have reached 50 reads but we would really like everyone to get there.
Chinese Dance
Today the children have had an amazing experience learning some Chinese dance moves from a trained dancer. As we have been learning about China we thought it would be appropriate to learn a dance from that country. The children listened really well and followed the instructor really well so we were able to put the movements together and by the end perform a short Chinese dance routine which you will be able to watch at our exhibition at the end of the term.
We hope you have enjoyed learning about the 7 continents and the 5 oceans, the children have amazed us with how much they have remembered. Thank you for your support learning these at home.
Happy New Year
A very Happy New Year to everyone and welcome back! We hope you all had a lovely Christmas and enjoyed your time together. Thank you so much for all the lovely gifts you gave us they were very much appreciated.
We have started the new year back with our topic Around the World. We have been thinking about where we live this week and learning to name the 5 oceans and 7 continents. All this information is on the knowledge organiser the children have bought home today so if you could read through this with them and ask them questions about the information that would be lovely. They have found remembering all this information quite a challenge so some extra practise at home would help.
On the 3rd and 4th of February we are starting a sewing project and we are in need of some adult help!! If you are free on either or both of these afternoons your help would be gratefully received. If you could let us know if you would like to help that would be lovely. We look forward to posting the amazing finished results which will also be shown at our end of topic parent event on the 13th February.
Term 2 2019
The Sleepy Shepherd
Wow and well done to all the Year 2 children for their amazing effort and performance of the sleepy shepherd. They have tried really hard to learn all the songs and the words to the play in a very short time and delivered a great performance to everyone that came. We hope you enjoyed watching it.
In our lessons we have continued our busy learning and have been thinking about multiplication. We have been learning lots of ways we can work out a multiplication question and have even been writing some of our own questions for each other to answer and work out. We have been trying really hard to learn our 2, 5 and 10 times table so any help with this at hope would be great.
Gingerbread Men
This week we have been thinking about Victorian Christmas traditions which led us to think about how they used to use gingerbread not only to eat as a treat but as decorations to fill their houses. We decided to investigate the best way to make a gingerbread using playdough. Some of us squished and rolled it others pushed and twisted it. After lots of investigating we then planned and designed our own gingerbread which we will sell at our Christmas market after the Year 2 performance. We hope you can all make it.
Christmas Costumes
Hopefully, you will now know what your child's part is in our forthcoming Christmas play, The Sleepy Shepherd. The children were given a character slip last week, with information about their required costume. Some children also have some words to learn and were given a highlighted script.
Please could you ensure that all costumes are brought into school in a clearly named bag by FRIDAY 6th DECEMBER. If you are struggling to source your child's costume, please come and see us as we have lots of clothing in our resources cupboard that we can let your child borrow.
Exercise
Today the children have been thinking about exercise and what we can do to keep our bodies healthy. We carried out an experiment to see what happens to our bodies when we do different types of exercise and how our bodies change. We had some really good discussions about our heart rate, muscles, breathing in oxygen and aching body parts. All the children went home enthusiastic about getting fit and trying out new exercise activities. We cant wait to hear what some of them have been trying out at home.
Sevington School Trip
Today the children have returned from an amazing school trip to the Victorian School in Sevington. We had a wonderful day full of new experiences and were able to participate in activities we had only up till now read about.
The children were split into gender groups for their activities and the boys were led off to learn about how honey was collected and was made into candles which they all had a go at. The girls were taught how they would of had to clean things and made lavender bags to keep their clothes smelling fresh.
The children took part in handwriting lessons using an ink pen and wrote on a slate to practise their numbers.
There was time allowed outside when the children got to have a play with authentic Victorian toys but again they were split into gender groups and were not aloud to mix or play with each other.
Overall we had an amazing day which i'm sure the children will remember for a long time to come. Thank you for all the amazing costumes which just made the day so remarkable.
Welcome to Term 2!
This term, we will be learning about the life of The Victorians and the very famous monarch, Queen Victoria (1837-1901). We have already found out some interesting facts about Queen Victoria's life, such as the fact that she was very tiny- only a metre and a half tall!
Thank you to all those children who have clearly spent time over the half-term holiday researching their own information about the Victorian era and learning information from their Knowledge Organiser.
In our English lessons this week, we have used this fantastic book by Shirley Hughes to find out a little more about the differences between the rich and the poor in the Victorian times. In the story, Daisy is sent away to work for a rich family as a scullery maid. It was often the case that poor children could not go to school and instead had to work to earn money for their family.
We are very much looking forward to experiencing Victorian school life when we visit Sevington School this coming Friday (November 15th). Keep your eyes peeled for some photographs on the blog!
Term 1 2019
Investigators
Today, in Science, we have been investigating which material is the most suitable for making a car tyre. The children made some super predictions about the materials they selected to test, using great scientific reasoning and vocabulary. The children took their learning outside and tested their materials by wrapping each one in turn around a rock before scraping it along the concrete exactly 10 times (to ensure that the test was fair). The children loved doing the experiment and discussing the results with each other. At the end of the experiment the children concluded, as predicted, that rubber was the best material because it was strong, durable and didn't get any holes or tears in it. It was also waterproof and had grip to create plenty of helpful friction whilst driving along.
The Bird Show Performance
This afternoon, we were invited to Westbury Juniors to watch a fantastic performance of The Bird Show, performed by The last Baguette. The theatre group came to the school free of charge as part of the Westbury Arts Festival. The children were mesmerised by the story. They laughed and clapped along with the actors and especially loved the use of puppets to tell part of the story. It was a wonderful experience for the children and hopefully the show will inspire some to follow their dreams of becoming an actor or actress.
Our Materials Hunt
This week we have been thinking about different materials. We have named common and more unusual materials and thought about what certain objects are made from and why. We also went on a materials hunt around the school to see what the school building is actually made from. We found lots of different materials during our hunt.
Making Cars
We have had a wonderfully busy start to the week, using our D.T designs to make moving cars. We used a cardboard box as the chassis for our car and attached axles (dowel rods) and wheels. We had to ensure that the dowel was positioned at the correct height so that the wheels could touch the ground and therefore roll along easily. We also had to make sure that we positioned the dowel in a straight line in order to prevent our cars from veering left or right as they travelled along. It was quite a challenge to find an effective way to keep the wheels on the dowel. Some of us used blue-tak as stopper on the end of the dowel, whilst others experimented with plasticene or foil. We had great fun decorating our cars. Interestingly, some of us stuck to our original design ideas where as others let their imagination run free and their finished vehicle had really evolved from the original plans. We even had a police car and an ice-cream van amongst our finished models. Take a look at our photographs below to see us in action. You can also pop into our classroom for a closer look as we have displayed some of our vehicles for everyone to enjoy.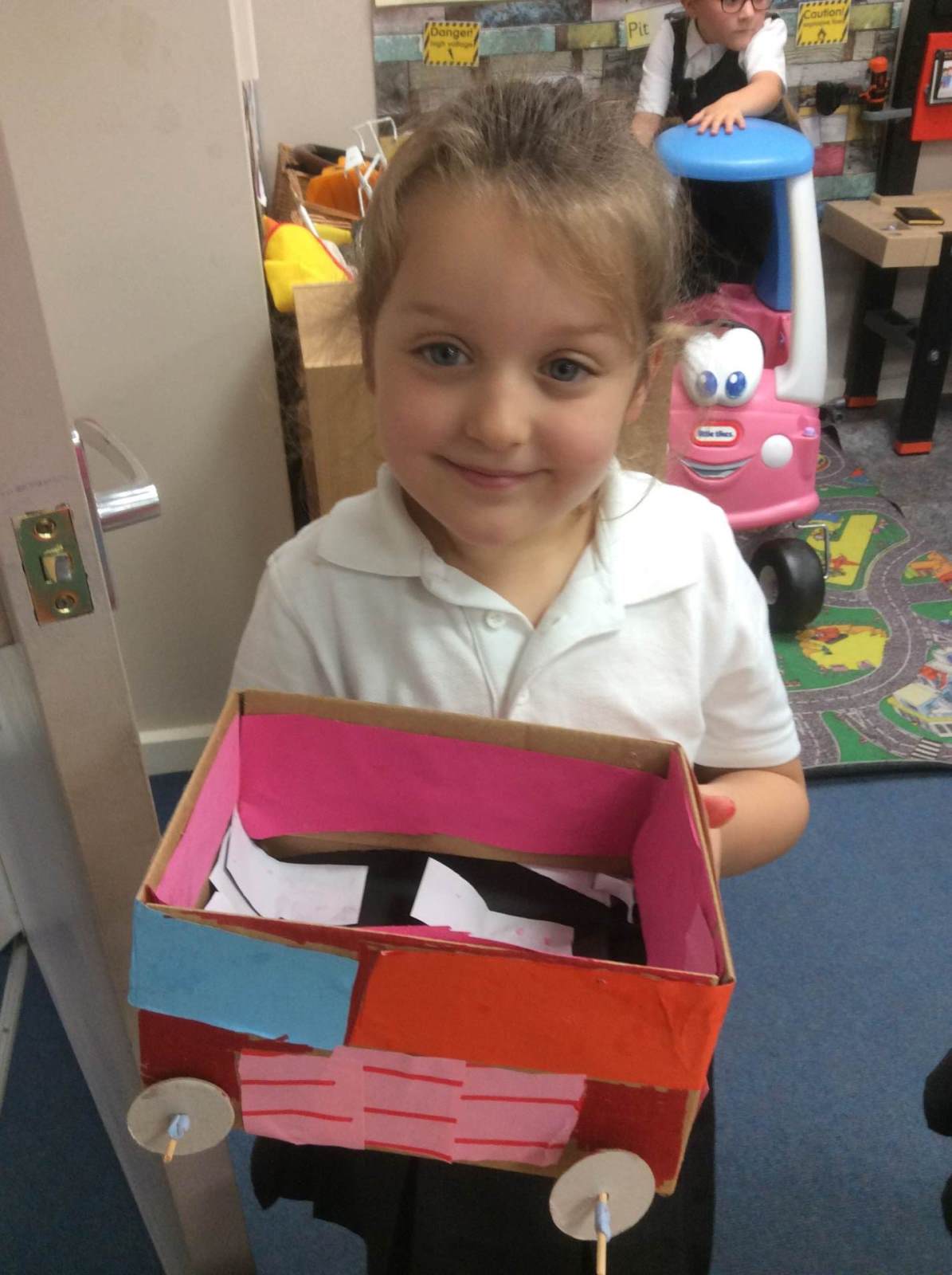 Maths outside the classroom
We have had lots of fun drawing empty number lines with chalk on the playground. We used dice to generate two digit numbers and then had to decide where to write these on our number line. This helped us to understand more about place value and how numbers are ordered. Take a look at our photographs to see us in action.
Haynes Motor Museum
Today the children had a wonderful experience visiting the motor museum. We have been learning and thinking a lot about cars from the past and how they have changed so for the children to actually see these old cars was amazing and the children found it fascinating to look at them all. It was also wonderful to see how much they had remembered and could tell us about the different cars. We saw the first car invented and created by Mr Benz and Mrs Channon got to dress up like Mrs Benz and pretend to drive it. Edwards mummy got to sit in a racing car and we had a competition to see how many children would fit in a Cadilac. What a busy day we have had by all.
Car Wash
As an opener to our topic on transport the children had the opportunity to run their own car wash cleaning members of staff cars today. The children asked for donations from staff which will be used to be benefit and enhance our topic. The children organised themselves into groups and promptly scrubbed, rubbed and soaked the cars. We hope all the members of staff that agreed for their car to be cleaned are happy with the results. While we cleaned the cars it gave us a good opportunity to look at all the parts up close and see how many components we could name. We are all looking forward to finding out more about this.
Changes to transport
This week we have been finding out about how transport has changed over time and what it might look like in the future. We looked at lots of interesting pictures showing us what cars used to be like and how they worked. Ask your child about the omnibus! We then got very interested and excited thinking about the types of cars they may be driving when they are older. It has been a great start to our topic and we are all looking forward to our trip next week to the motor museum where we will be able to see some of these cars up close.
2018-19
July 2019
W Fest!!
Due to the bad weather this morning the M Fest was sadly cancelled. We had some very upset and disappointed children which just wouldn't do so the Teachers and T.A's rallied together to organise a very impromptu W Fest. We had music, colouring, word searches, face paints, tattoos and circus skills. The children ended up having a wonderful afternoon full of fun and festivities. Just what they deserved after the very long term and the excellent effort they have put in this year.
Marvellous Maths
We have had a super practical maths week learning about shapes. we have made 2d shapes on the geo boards which helped us identify their properties and we have made 3d shapes using cocktail sticks and blue tak. The children loved these activities and it really showed how much they have learnt about the properties of shapes. We talked about edges. vertices, corners, sides, irregular and regular shapes.
Sports day practise
We have had a lovely week practising for our up coming sports day. We have got lots of fun races to take part in and we hope you can all join us for this event on the 16th July on the Junior field. Please can we make sure all the children have their P.E kits in school and daps that fit correctly so they can feel comfortable taking part.
June 2019
Animal Research
What a busy week we have had in Zebra class! We have been using the iPads to find out as much information as possible about the different sorts of animals you might find in both hot and cold regions of the world. We enjoyed focusing on the desert and found out some interesting facts, such as tarantulas live in the desert in burrows as it is cool and safe for them. Also, we discovered that most desert animals are nocturnal as the temperature drops significantly in the evenings and it is much cooler for them to come out and hunt. We were also fascinated to discover that Mr Tilsley spent some time living in the desert and whilst he was there he actually came face to face with a scorpion. What a brave man! We are looking forward to seeing some of his photographs.
Treasure Hunt Transition
Today we went over to the juniors for a treasure hunt around the school. This was to help us with our transition. We had to find different characters from a film or book in different areas of the school. This meant we got to find out where the library, hall, computer room, playground, sensory garden and staff room were. Some of the characters were quite tricky to identify especially the Harry Potter ones. Haydon said he enjoyed it because 'I got to try out some of the play equipment at the juniors'. Skye enjoyed it because 'I got to explore the school and find out different areas'.
Wild Place Trip
Welcome back to school and the start of term 6. It has started with a wonderful but wet trip to The Wild Place Project in Bristol. Despite the wet weather the children loved seeing all the animals that we had been learning about in class this week. We had a great talk all about the giraffes and Lemurs and were able to ask lots of questions finding out all about them.
May 2019
Pirate Celebration- Our End Point
Thank you to all of the adults who came into school to celebrate the end of our pirate topic this term. We had so much fun completing a treasure hunt, using our orienteering skills to find letters which we ultimately unscrambled to make the name of a famous Bristolian pirate (Blackbeard). We also spent time designing our own pirate flags, which were rather terrifying indeed! We ended the day with one of our favourite pirate stories from this term, The Pirate Cruncher.
We are looking forward to starting our new topic in Term 6, which is called 'Fierce and Wild'.
Car Creations!
In Science/DT this week, we have spent two afternoons creating cars that can actually move! We were instructed to ensure that our cars had axles and wheels and could travel in a straight line without veering! We used materials such as shoe boxes, dowel, cardboard wheels, a hacksaw, a strong hole puncher and even a glue gun! We had to measure accurately to ensure that our wheels were balanced and equally spaced away from the body of the car. We enjoyed going into the hall with Giraffe Class and Mr Brewer (head of Science) to roll our cars down a ramp and to see if they could travel in a straight line along our masking tape pathway! Next week, Mr Brewer will be taking some of the best cars (and children!) to a Science show where other schools will also talk about how they made their cars. Please enjoy looking at our photographs.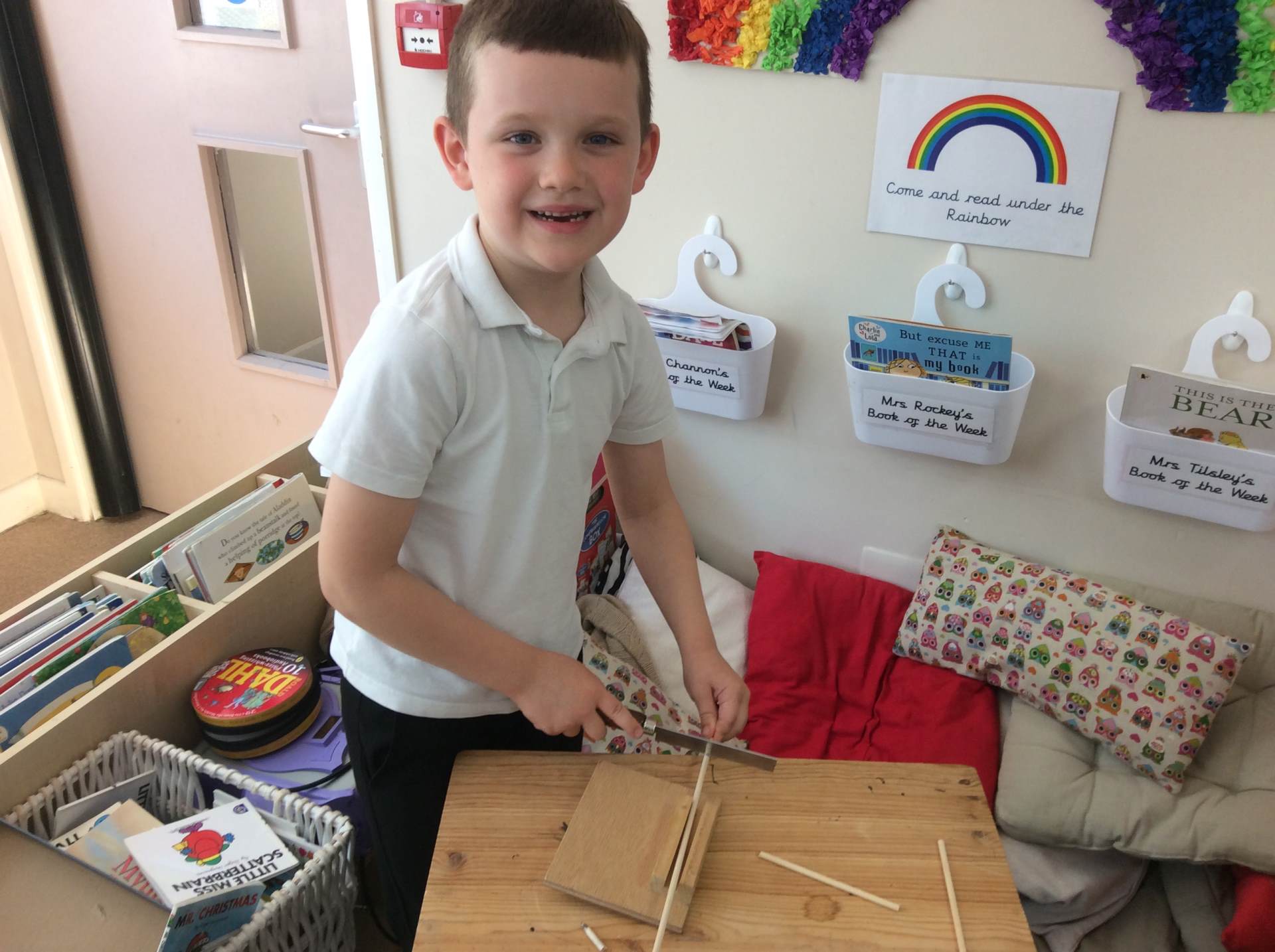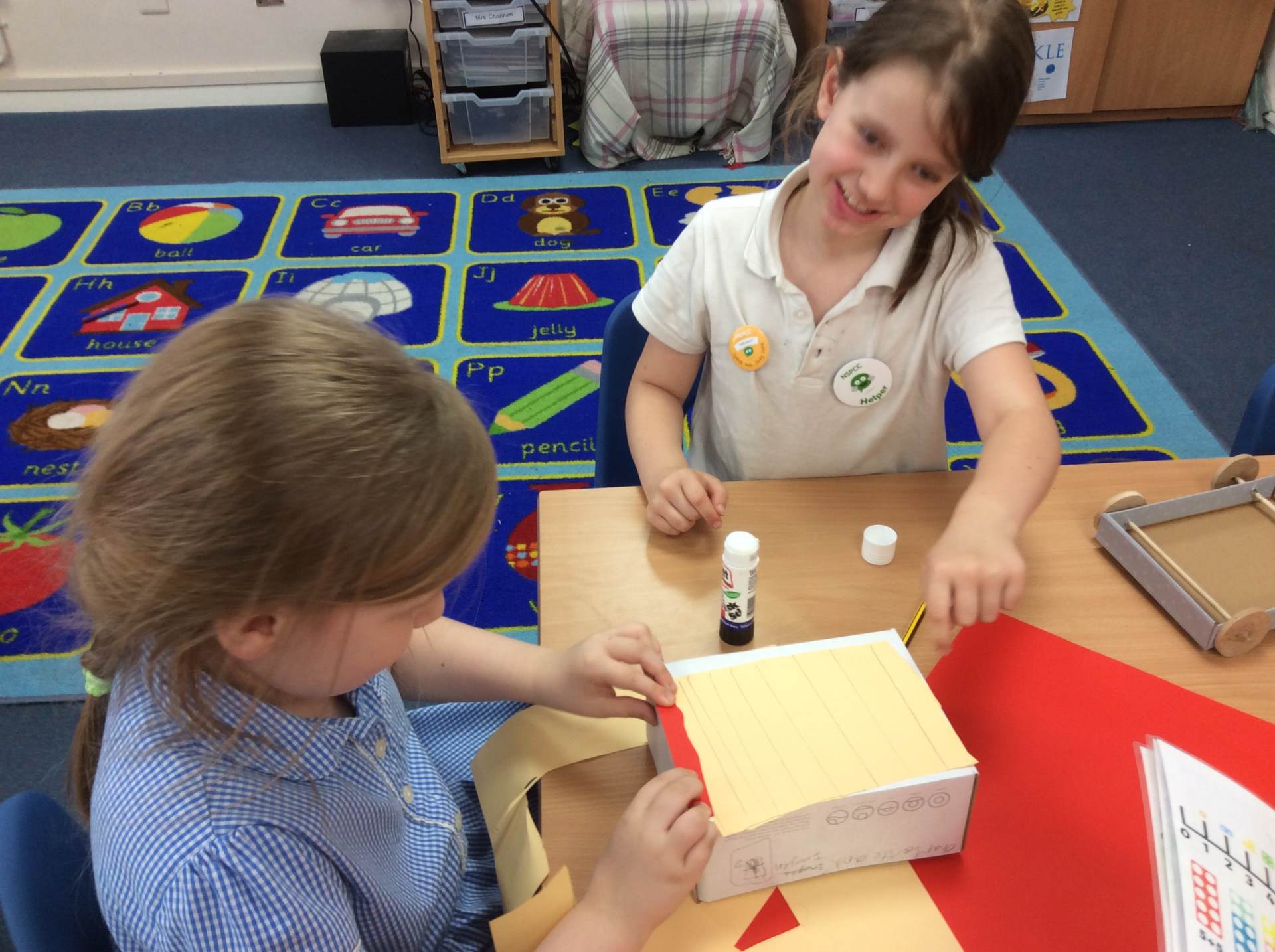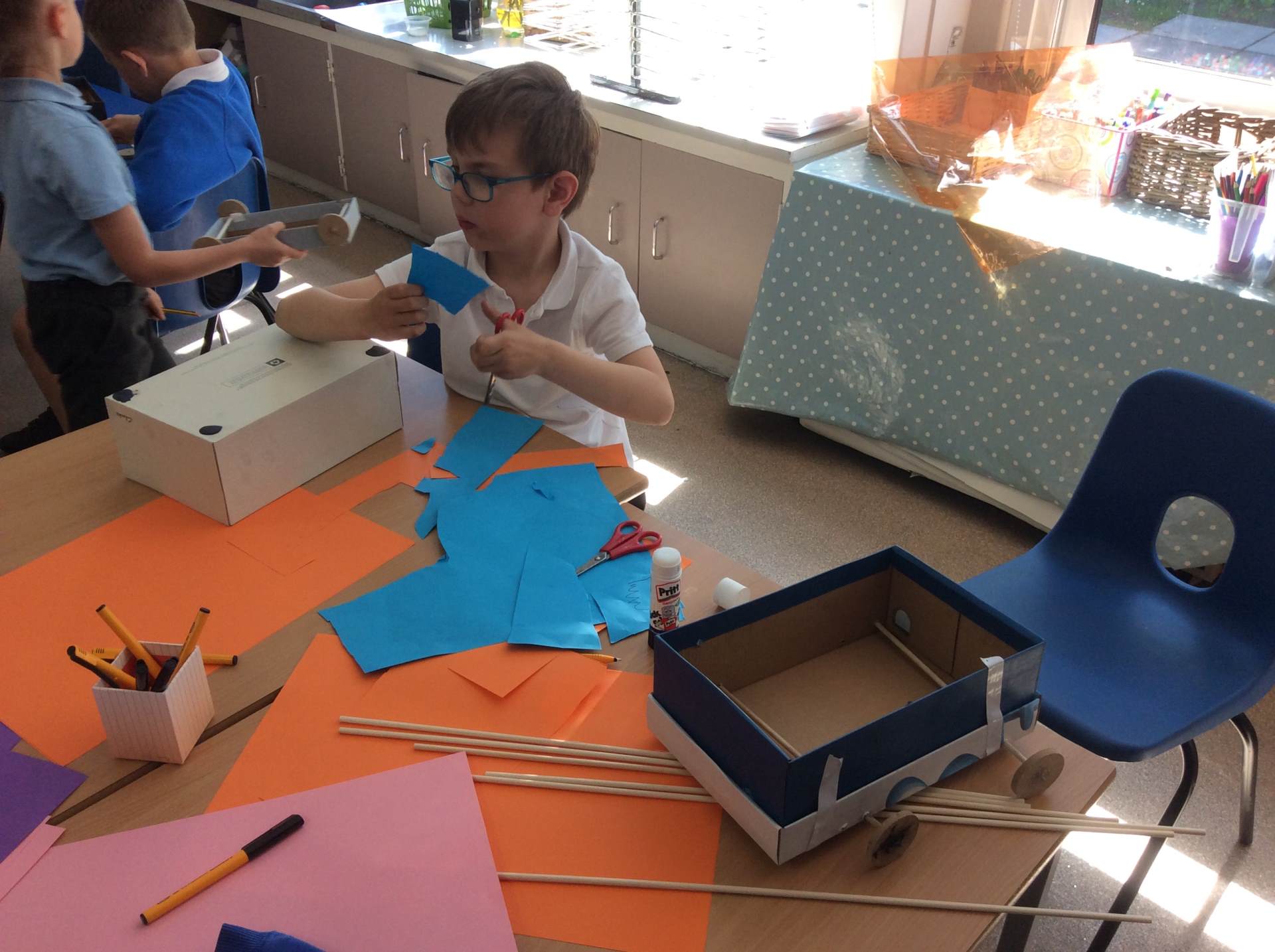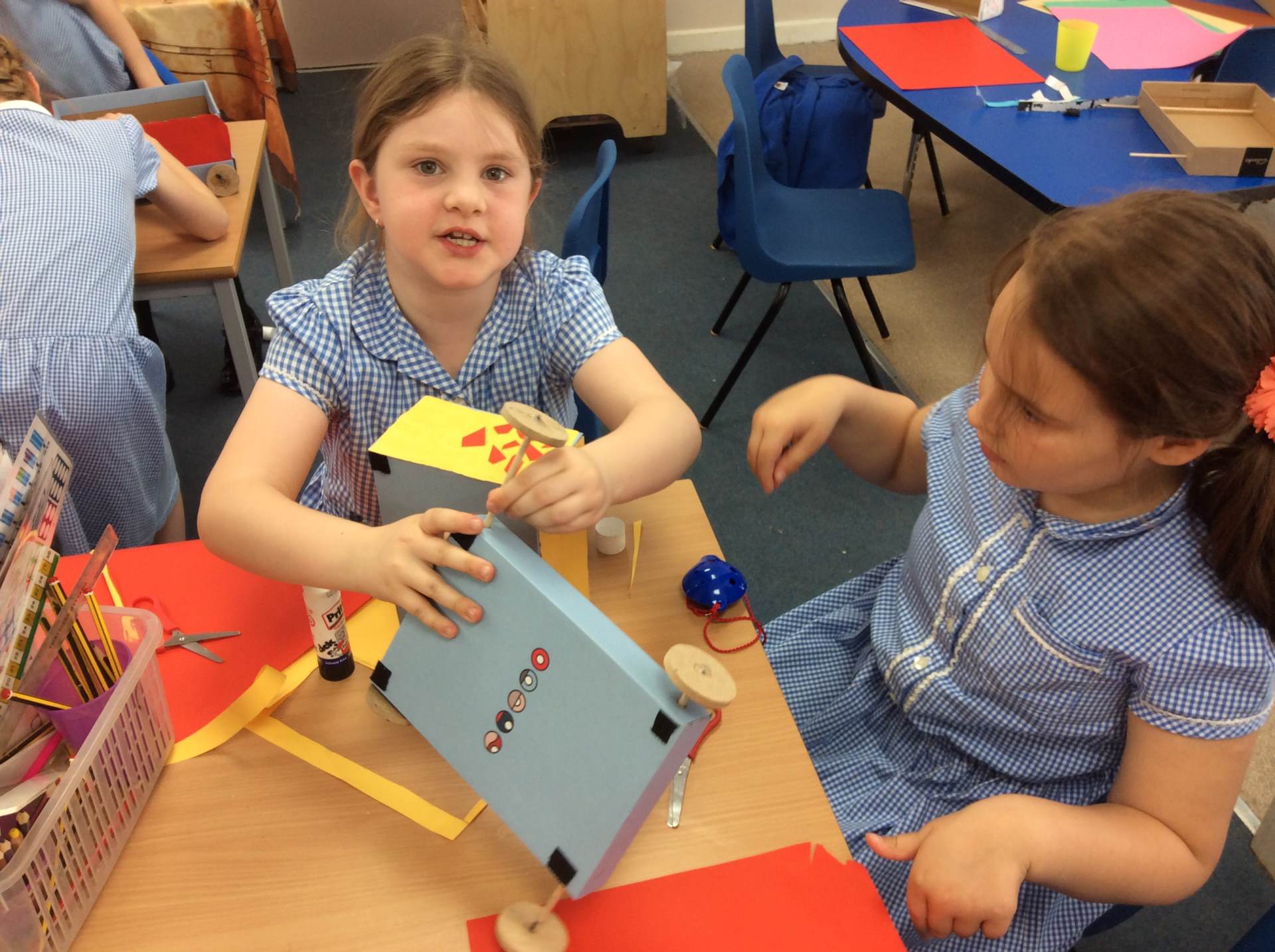 DT
We have been learning a lot about boats this term, especially pirate boats. We have been looking at the parts of boats and their designs.
Today we designed our own boats and had a go at making them. We have made some wonderful boats and hopefully you can have a go at floating them at home.
April 2019
Colour run
Today we did our charity colour run around the Trim Trail. It was lovely to see so many bright colours and the children running so enthusiastically to raise money for the NSPCC. Thank you to everyone who has brought their sponsor form back in already. You still have until Tuesday to return your forms. Your funds are going to help the NSPCC give children a voice.
Blackbeard
This week in class we have continued to find out even more about the most villainous, corrupt and feared pirate of them all....Blackbeard. It is hard to believe that Blackbeard's treasure supposedly still exists somewhere, undiscovered, as he did not tell anyone where he buried his loot. We imagined that we had travelled back in time 300 years ago to The Golden Age of Piracy, when pirates roamed the Caribbean Seas looking for booty! We offered our services to The British Navy by creating 'wanted posters' to help them with their mission to capture Blackbeard. We described his appearance using expanded noun phrases and we warned others not to approach such a dangerous, menacing character. We published our writing by creating a 'final draft' on aged paper. If you would like to read some, do pop into class or take a look in the school hall.

Pirates- Ahoy!
In order to launch this term's pirate topic, we enjoyed a fantastic trip to The Matthew and The M-Shed in Bristol We were able to sail around the Bristol Channel on board The Matthew ship, whilst dressed as pirates to really help us get into character. We were told lots of interesting facts about Blackbeard, who is without question the most feared pirate in history. We were also able to share some of our own knowledge about Blackbeard, including the fact that he had fourteen wives but treated them all very badly! We found out that despite his name, Blackbeard's beard was in fact red, but he covered it in charcoal to make it look black and then set it alight so that he looked terrifying! We were able to explore beneath the deck and enjoyed trying out some of the bunks. We then went into the M-Shed to learn more about Bristol and its transport systems over the years.
Thank you to our parent helpers who accompanied us on the trip. We hope that you did not feel too sea-sick! Here are some of the moments we captured during the day.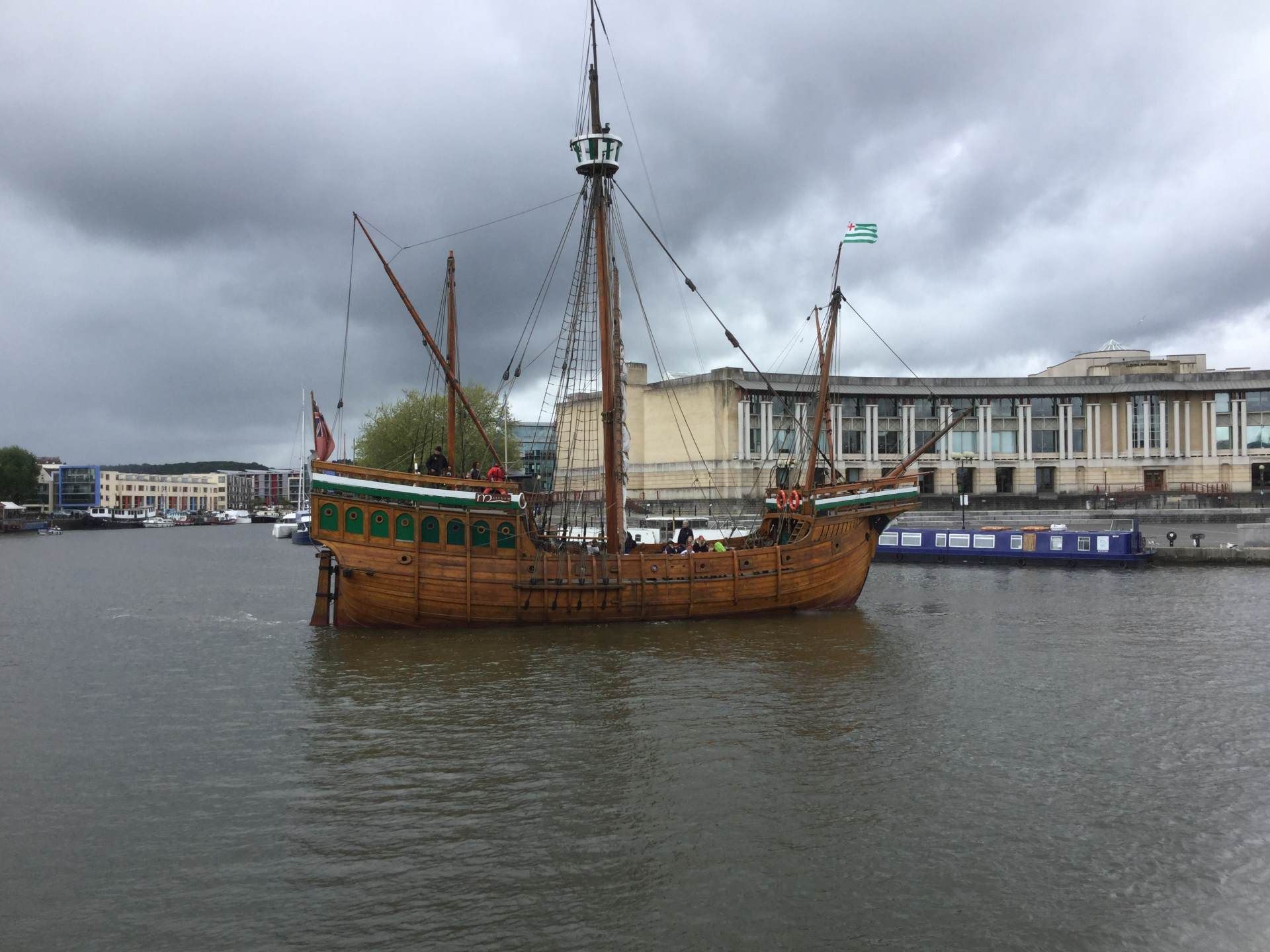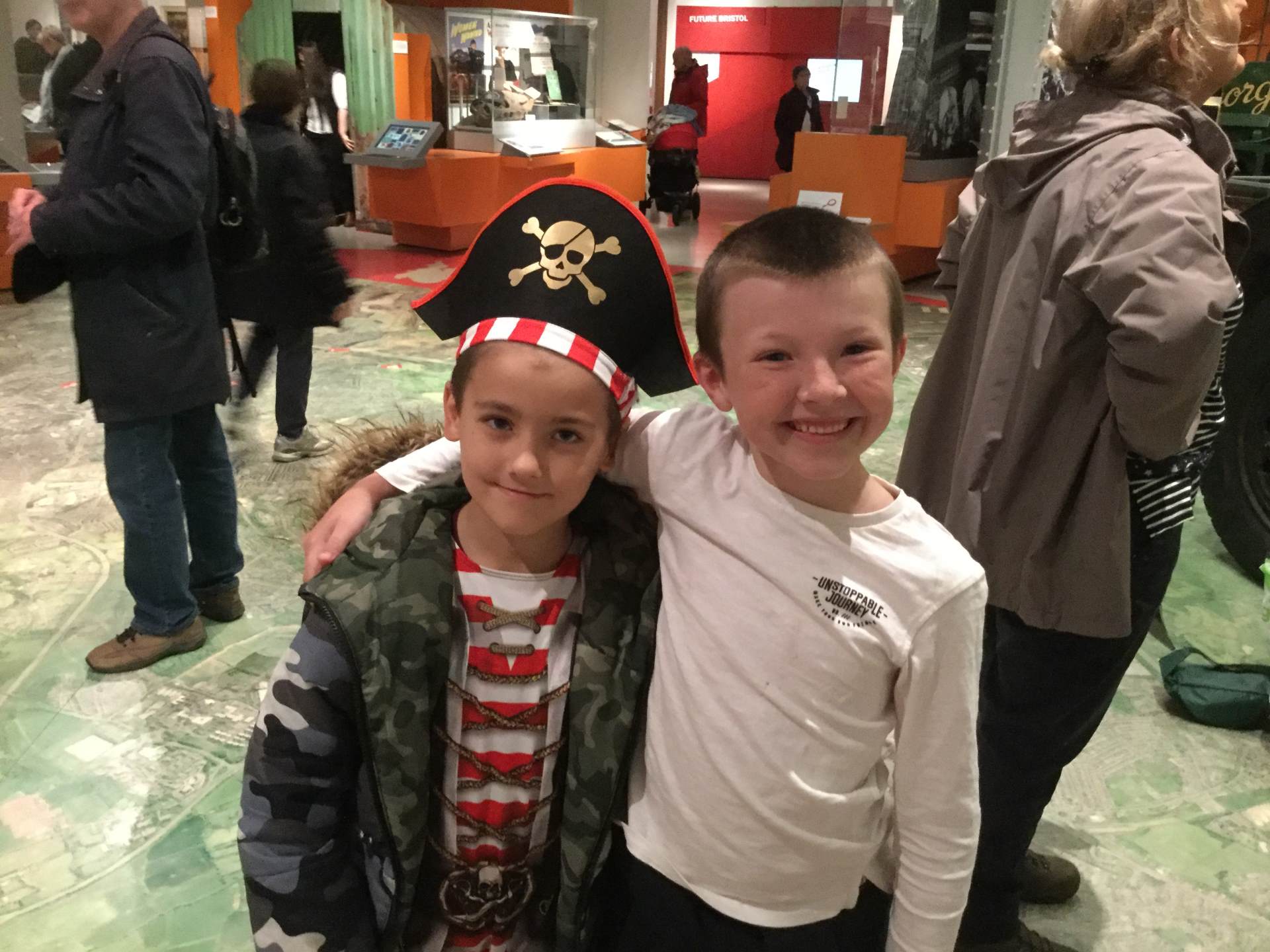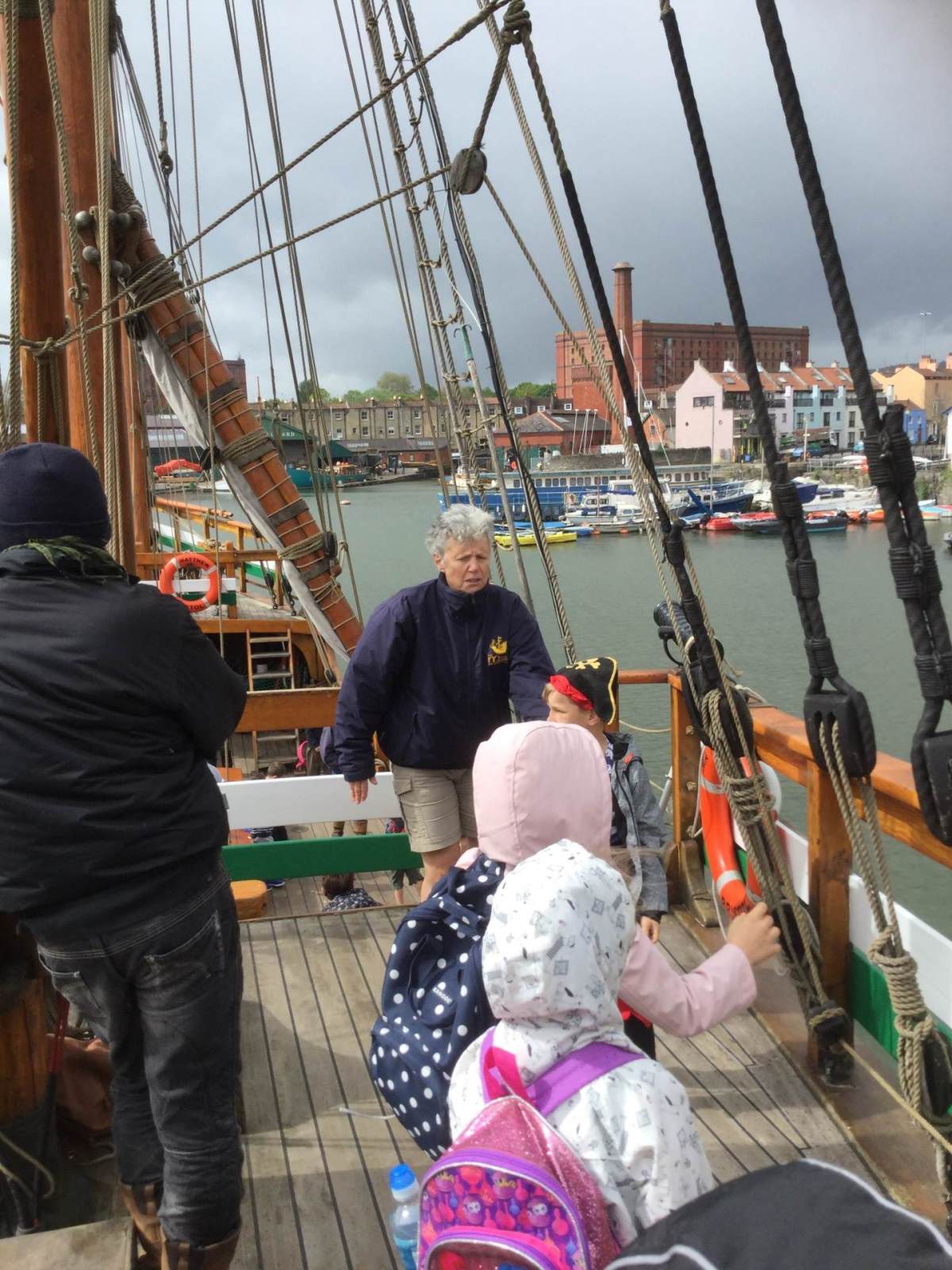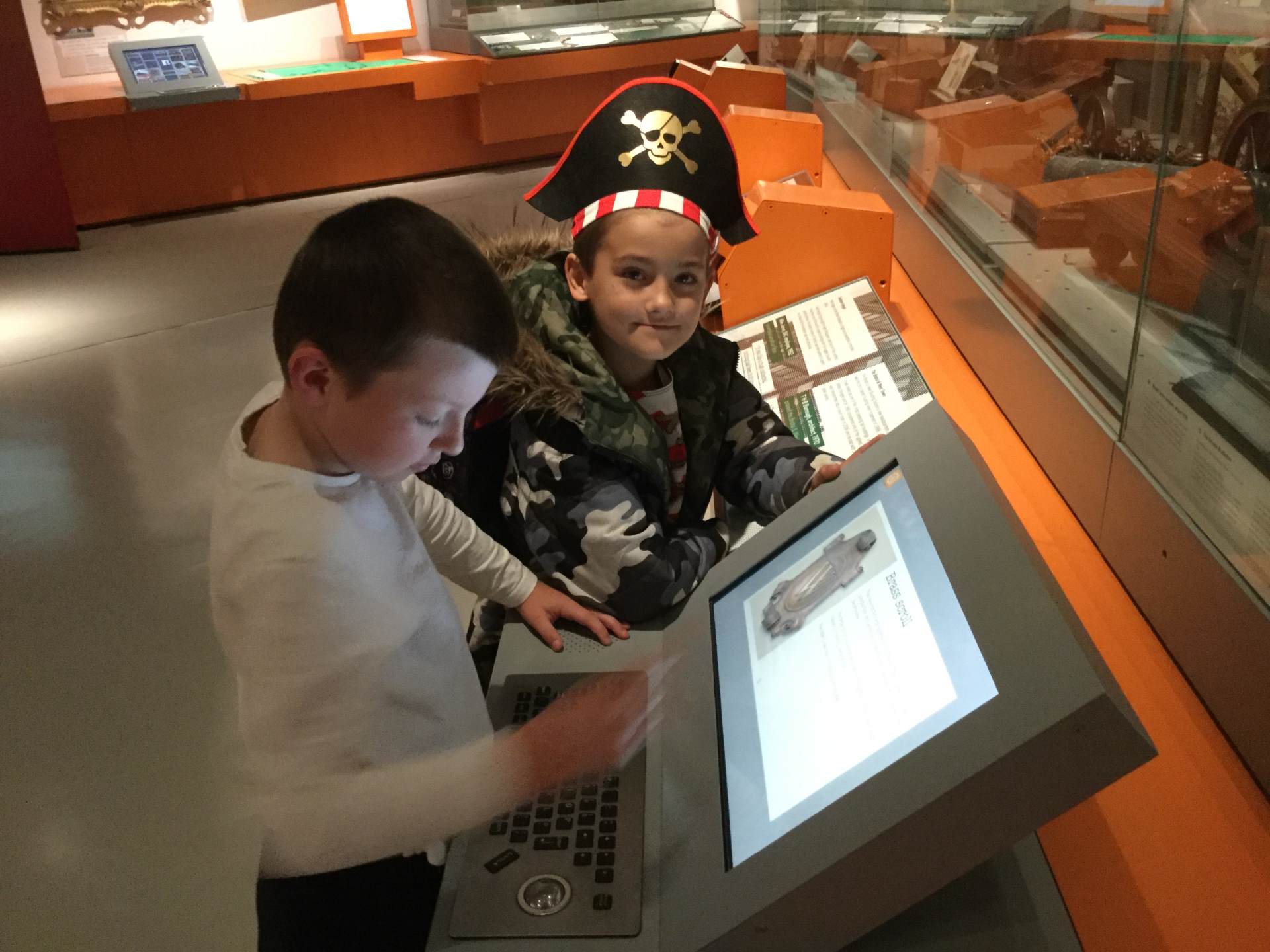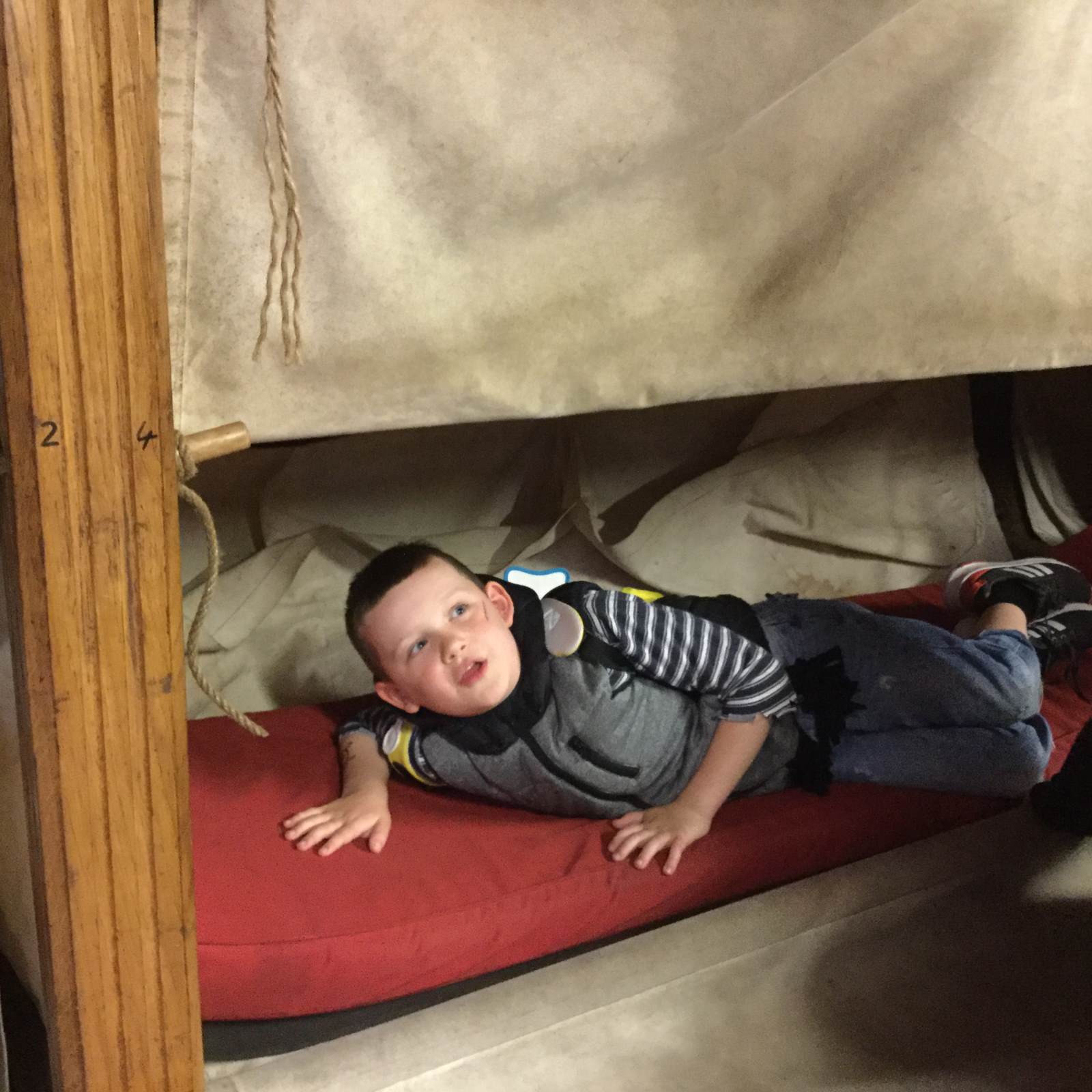 March 2019
Ugly Bug Café Parent Event
Thank you to everyone who came to our ugly bug café today, we hope you enjoyed tasting our delicious bug snacks, although, I have to say the bug juice looked a bit suspicious.
The children had a wonderful time singing to you and serving you our snacks we had made in the morning.
The plant pots were beautifully decorated and I hope the pansies all grow well. Everytime you look at it you can remember the fun you had at our parent event.
Multi - skills at Matravers
The Year 2 children were invited to Matravers to take part in a multi-skills workshop led by their pupils. We were joined by other Key Stage 1 children from other Westbury Schools and in total there must have been over 200 children enjoying and learning form the experience. The children had an amazing time learning new sports games and working on co-ordination, agility and speed. They were able to use a variety of resources we don't have at the infants and work in teams building on communication skills. The children had a great time and we are going to incorporate some of the learning into our P.E lessons back at school.
Gorgeous Georgia O'Keeffe flowers
Our artist this term with Mrs Newbury, has been the American artist, Georgia 'Keeffe. Zebra class have learnt all about her long life (she lived until she was 98!), her techniques and her art work. We began by using magnifying glasses to really observe the details of a flower, we then decided what part of the flower we were going to draw in detail and then made sure that we didn't draw the whole of the flower just like Georgia O'Keeffe. She didn't think people would pay to see her draw small whole flowers so she drew part of a flower on enormous canvases - they were amazing! We have also learnt some different pastel techniques like cross hatching and blending to make new or muted colours. We decided to add our own colour ideas to make them even more special!
Microhabitats
This week, we went on a hunt around the school to find microhabitats. A habitat is where an animal lives and a microhabitat is a smaller, more localised version of the habitat. This could be something like a rock pool, under a log or even just a clump of grass. It has its own temperature and light conditions and certain animals prefer to live there for different reasons.
We split into small groups and explored the following microhabitats:
On tree bark
Under a stone
On the grass
On plants
Under a log
We used the iPads to photograph what we found in the microhabitat (e.g. spiders, snails, caterpillars, millipedes...and lots of worms!) and ticked off the minibeasts we saw on a special recording sheet. Some of us were brave enough to hold the minibeasts but we were very careful to return them exactly where we found them. We talked about how we would feel if a giant snatched us from our beds and dropped us in a completely different, brand new home!
Take a look at some of our best iPad photos, as well as our amazing writing about the microhabitats, what we found in them and suggestions as to why the minibeasts like to live there.
Bark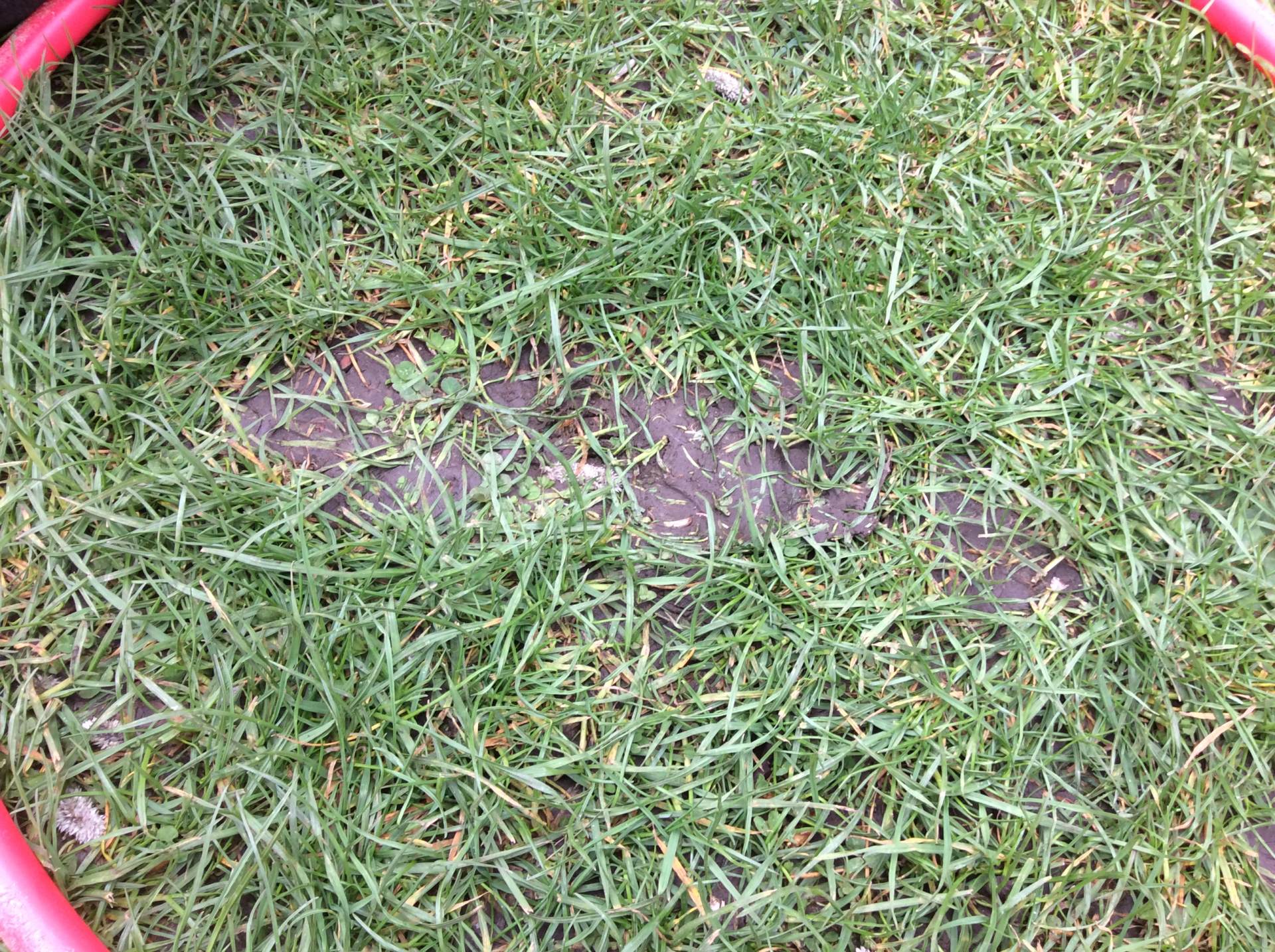 Grass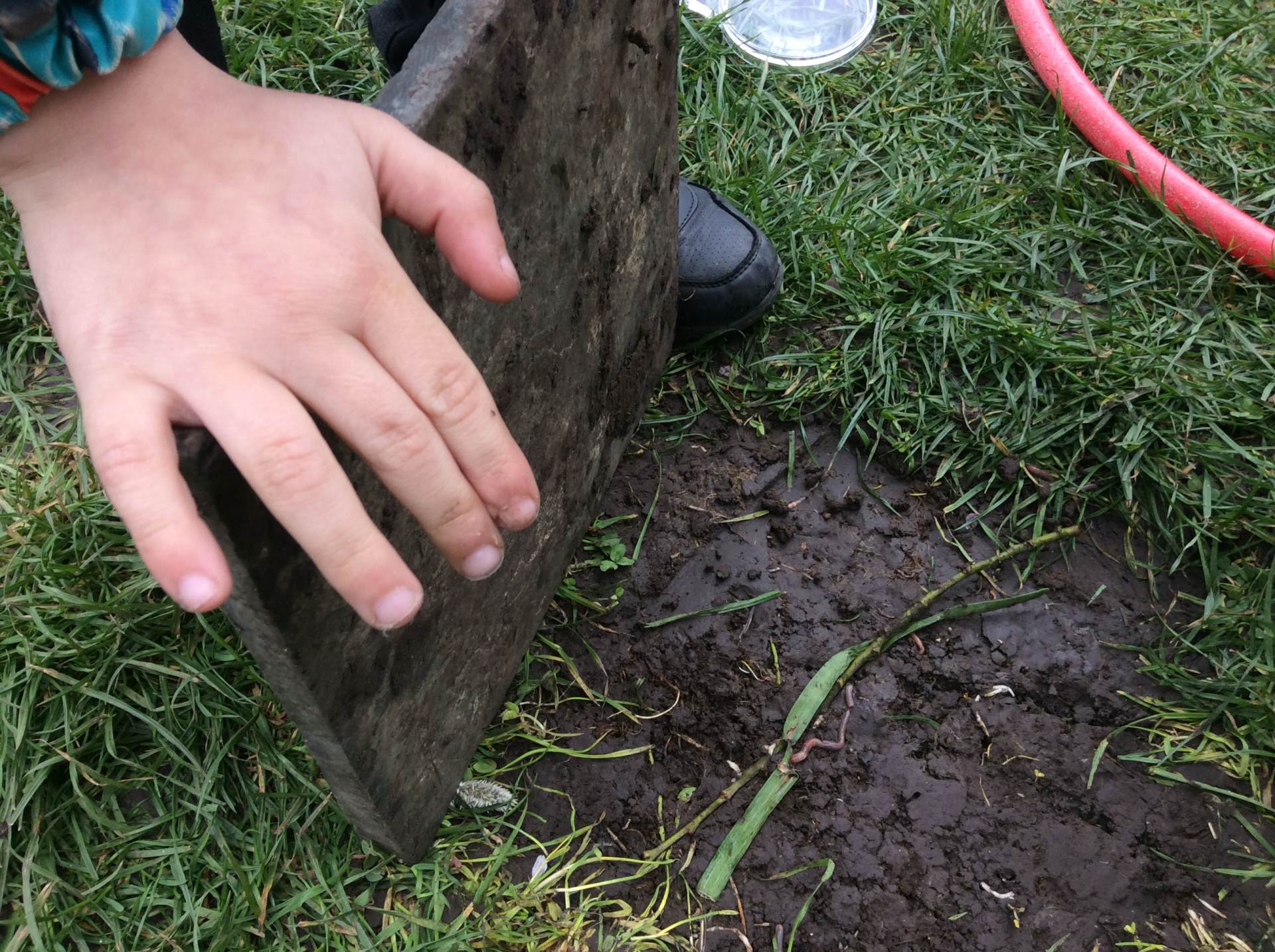 Under a stone. Can you see the worms?
On plants
Under a log
Here is some of our super writing, too: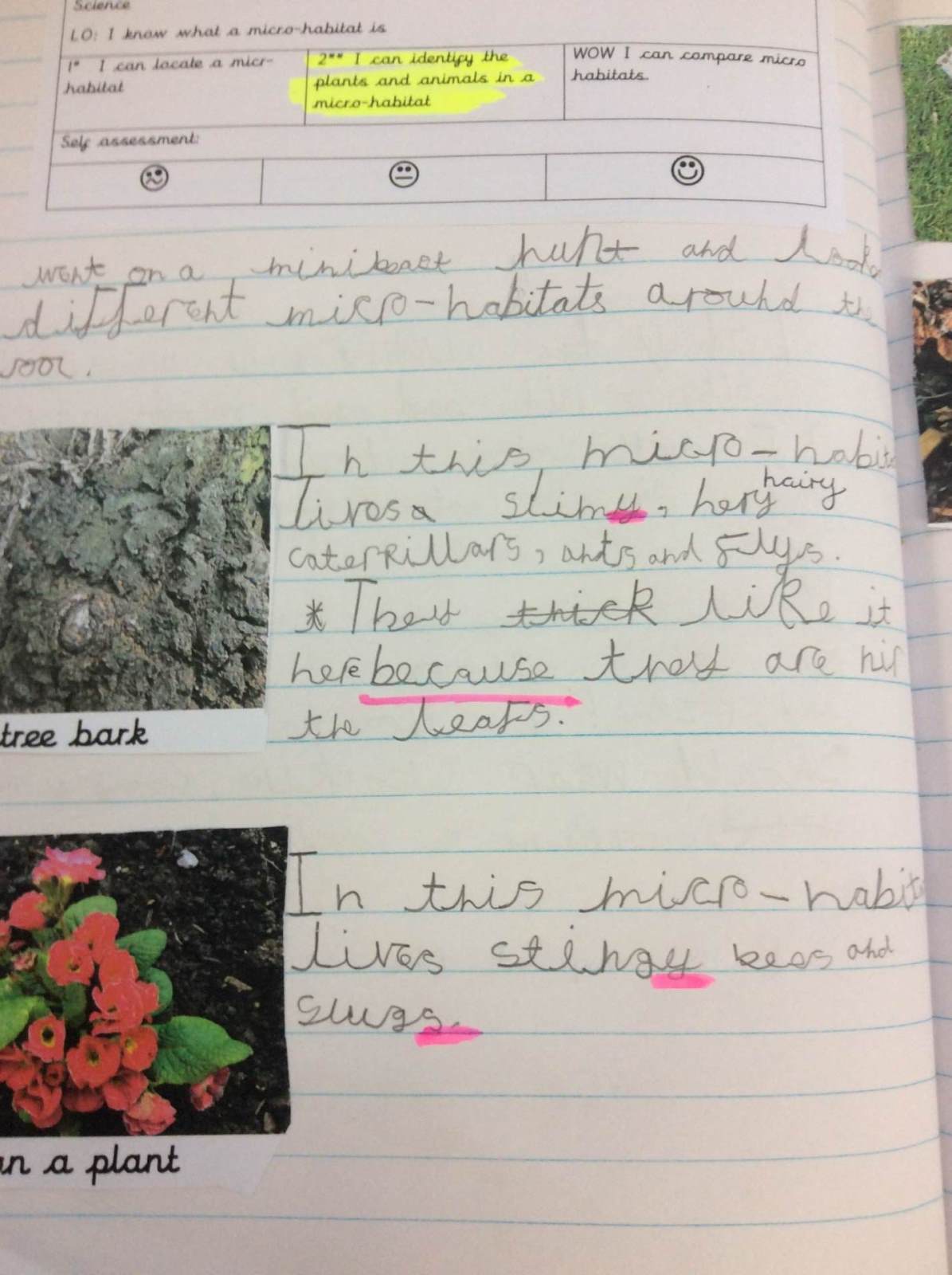 Weather Watch!
This week, we have transformed ourselves into weather forecasters! We paid very close attention to the changes in weather outside and were especially excited by the drama of Storm Gareth. Who would have thought we could experience almost every kind of weather in a short space of time: heavy rain, light rain, wind, gales, hailstones and even snow! We looked at real weather reports online to inspire us to create our own written weather forecasts in our topic sessions.
We also looked closely at the kinds of weather symbols used by meteorologists and had a go at recording some of them in our books. We talked about how temperature and wind speed and direction are recorded. Have a look at the symbols below. Do you think you can identify what they mean?
World Book Day
Wow!! What a busy day we have had and what wonderful book character costumes we have enjoyed! They were absolutely amazing and clearly a huge amount of effort went into making them and putting them together, so thank you grown-ups. This has to be the best year yet!!
We have had a wonderful time celebrating World Book Day with many different book related activities. We were lucky enough to meet the author Mike Brownlow, who is famous for writing 'Ten Little Pirates', which is just one of the many books in his 'Ten Little....' series. He led a really interesting assembly about the inspiration behind his new book, 'Ten Little Cave Men' and then he delivered a workshop about the importance of mark-making and the use of drawing to represent an idea. He taught us how to draw pirates and robots based on the characters in his stories.
In Maths, we linked our learning to different book characters to help us solve problems involving money. We had some really tricky problems to solve!
In the afternoon, we spent some time talking about our favourite book characters and why we had chosen to come dressed as them. Overall we had a fantastic day!
Perfect Pancakes!
We have had so much fun this week making our own pancakes to celebrate Shrove Tuesday. We not only made the batter by ordering and then following a set of instructions, but we also put our chopping skills to the test and chopped up banana, strawberries and wedges of lemon to ensure that we had plenty of delicious pancake toppings to choose from.
Take a look at our photographs to see us in action!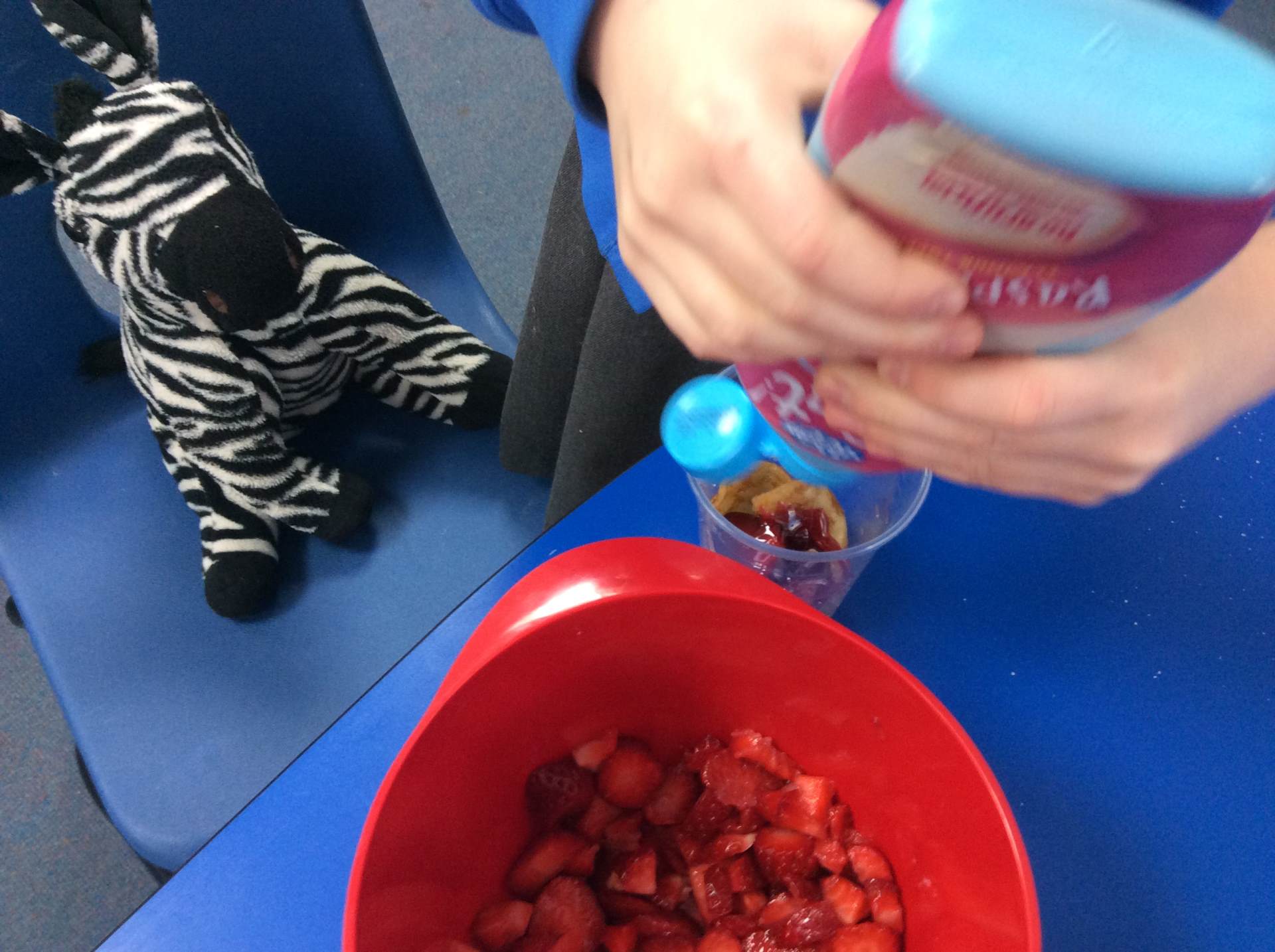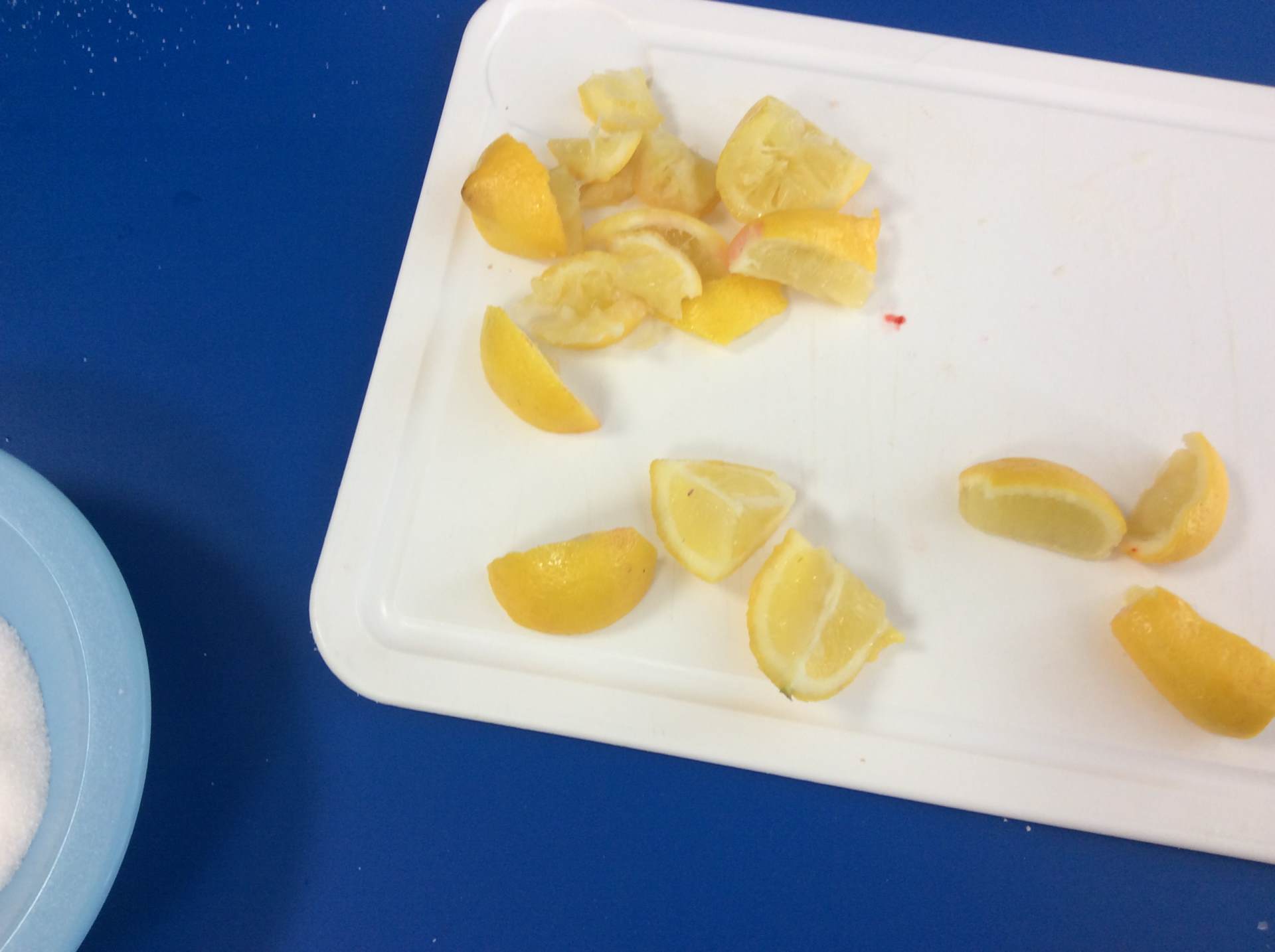 Exploring Westbury in Spring
Today we have been on an adventure around Westbury. We went for a walk to the 'secret sunken garden' behind the church and on the way observed all the wonderful signs of spring around us. We found trees in blossom and bud. We spotted bulbs emerging from the soil and some in full bloom. Even though we couldn't enter the garden itself today we were still able to look dawn and draw the landscape we could see. We even saw a squirrel and birds making their nests.
On our way back to school we stopped at the park to make collages of animals and flowers using the natural resources we could find in the park. We had a wonderful time.
In the afternoon a lady from the Wiltshire Wildlife trust came to visit and we learnt all about how to make compost and how we can make our own. We learnt how lots of the things we throw in the rubbish bin could actually be put in a compost which would help reduce waste and help our planet too. We have made our own compost containers and will add our used fruit peelings etc to it to make our own compost which should be ready to use by July. Just in time for us to use for growing our own plants.
February 2019
Fantastic Frida Kahlo inspired self-portraits!
On Tuesday, Mrs Newbury explored our artist Friday Kahlo with Zebra Class. The children learnt about her (short) life and looked at many of her self portraits.
Frida Kahlo was a Mexican artist who painted many self-portraits. She had a very bad accident when she was 18, which left her bedridden for most of her life. She loved painting nature, pets and things that meant a lot to her. In her paintings you can see all she things she loved the most.
Zebra Class used the rules of painting self-portraits to design their own Frida Khalo inspired piece of art. We chose leaves to frame the portraits, drawing them carefully and some of us included our loved pets and a flower just like Frida did in her portraits.
Mrs Newbury explained how to use oil pastels and pen to create these wonderful pictures. We are proud of them and we hope to include them in our Around the World Exhibition as we are learning about Asia and the wider world.
Chinese Food Tasting
We were very excited to have the opportunity to sample a variety of Chinese foods this week. We were given our own set of chopsticks to use and had great fun trying to use them to eat egg fried rice, egg noodles, rice noodles, seaweed, vegetable spring rolls and a range of prawn crackers and Chinese dips. Some of us surprised ourselves and really enjoyed some of the new tastes, such as the crispy, salty seaweed. We used a recording sheet to describe the flavours and then rate them out of 5.
We also made Asian sweets, called Barfi Snowballs. We mixed together condensed milk, icing sugar and desiccated coconut before rolling the mixture into 'snowballs'. We then placed them in the fridge to dry. They tasted delicious...and definitely very sweet!
Take a look at our photographs and please look carefully at our facial expressions to help you decide whether or not we are enjoying the tastes!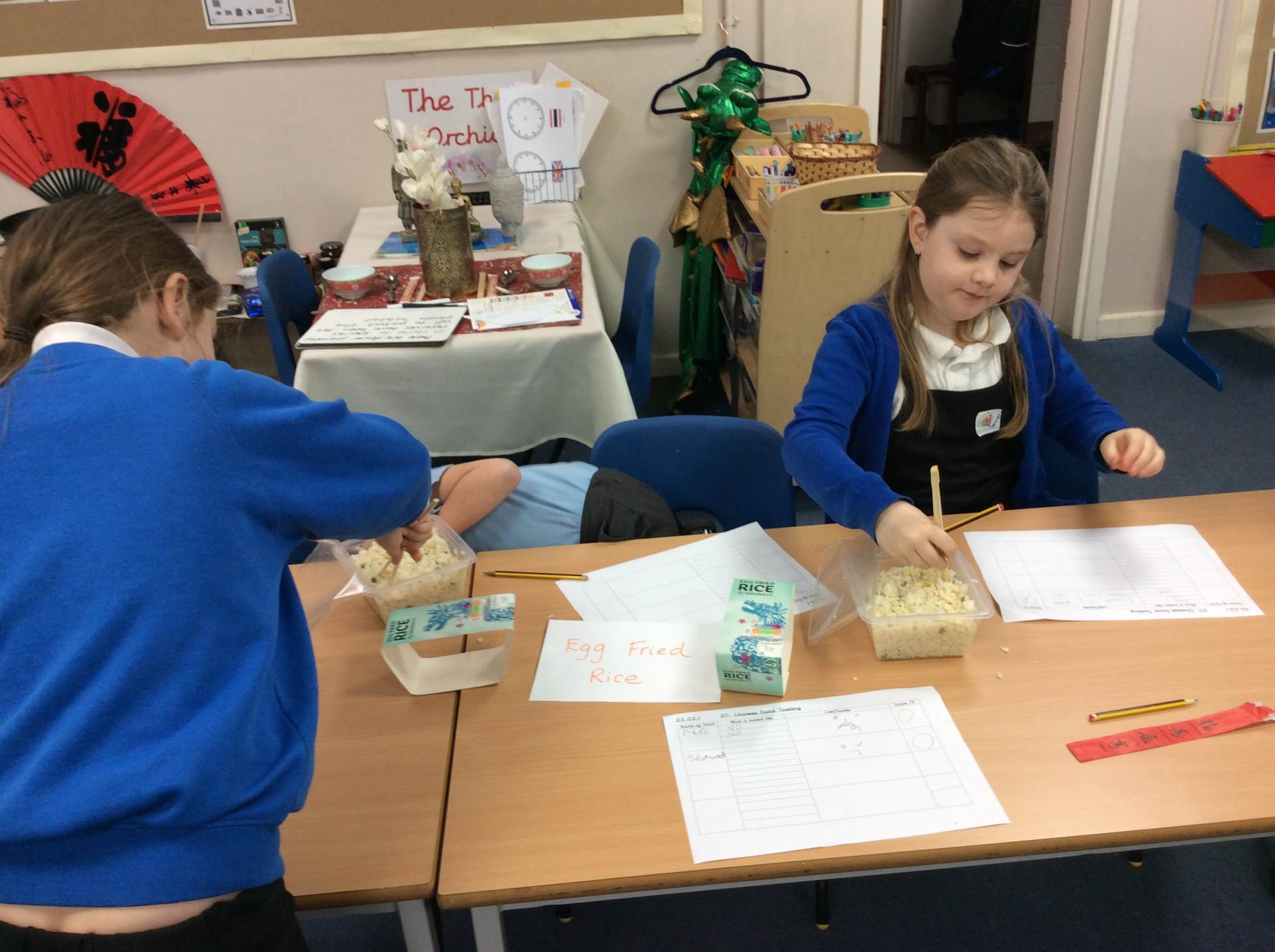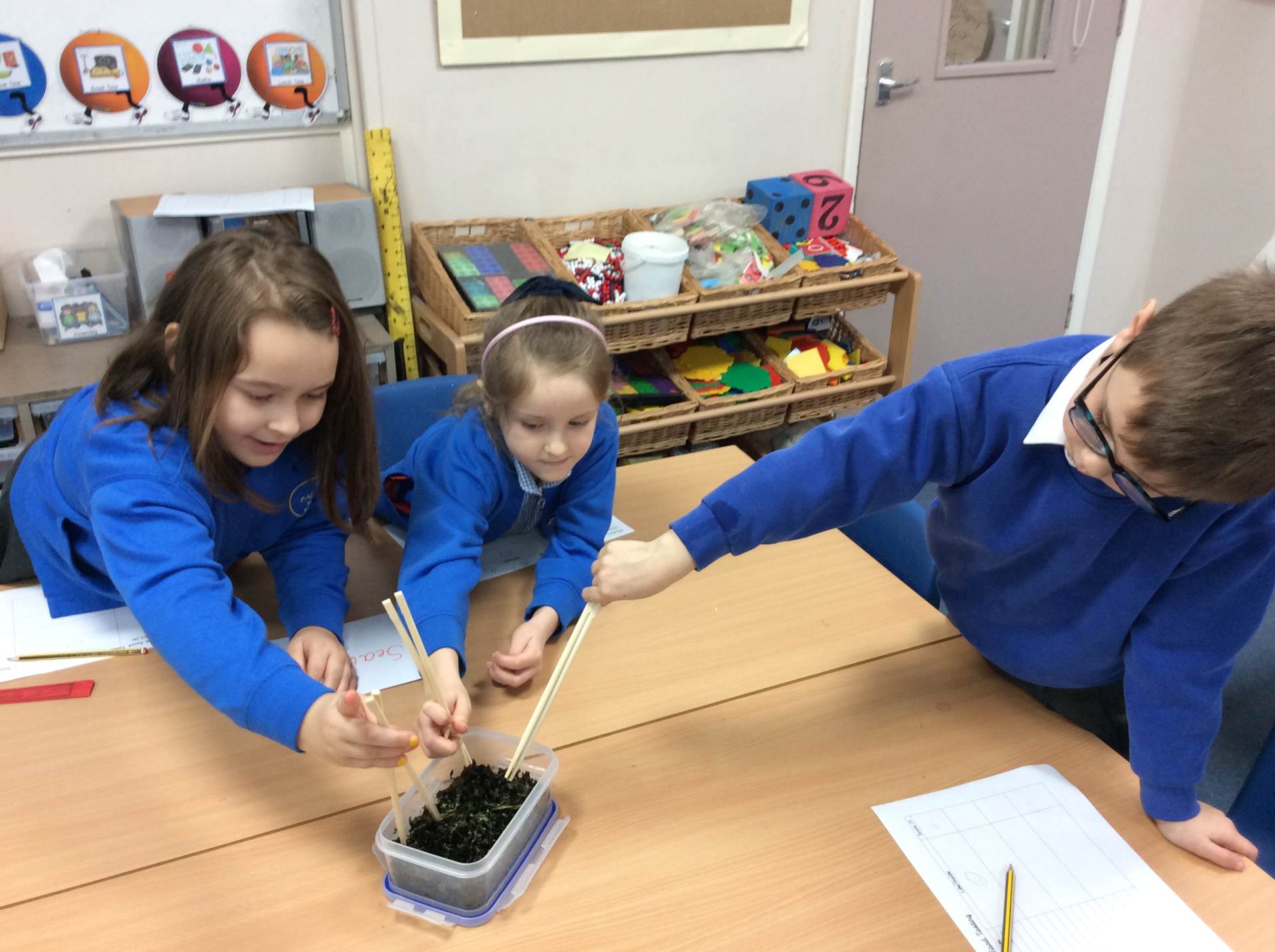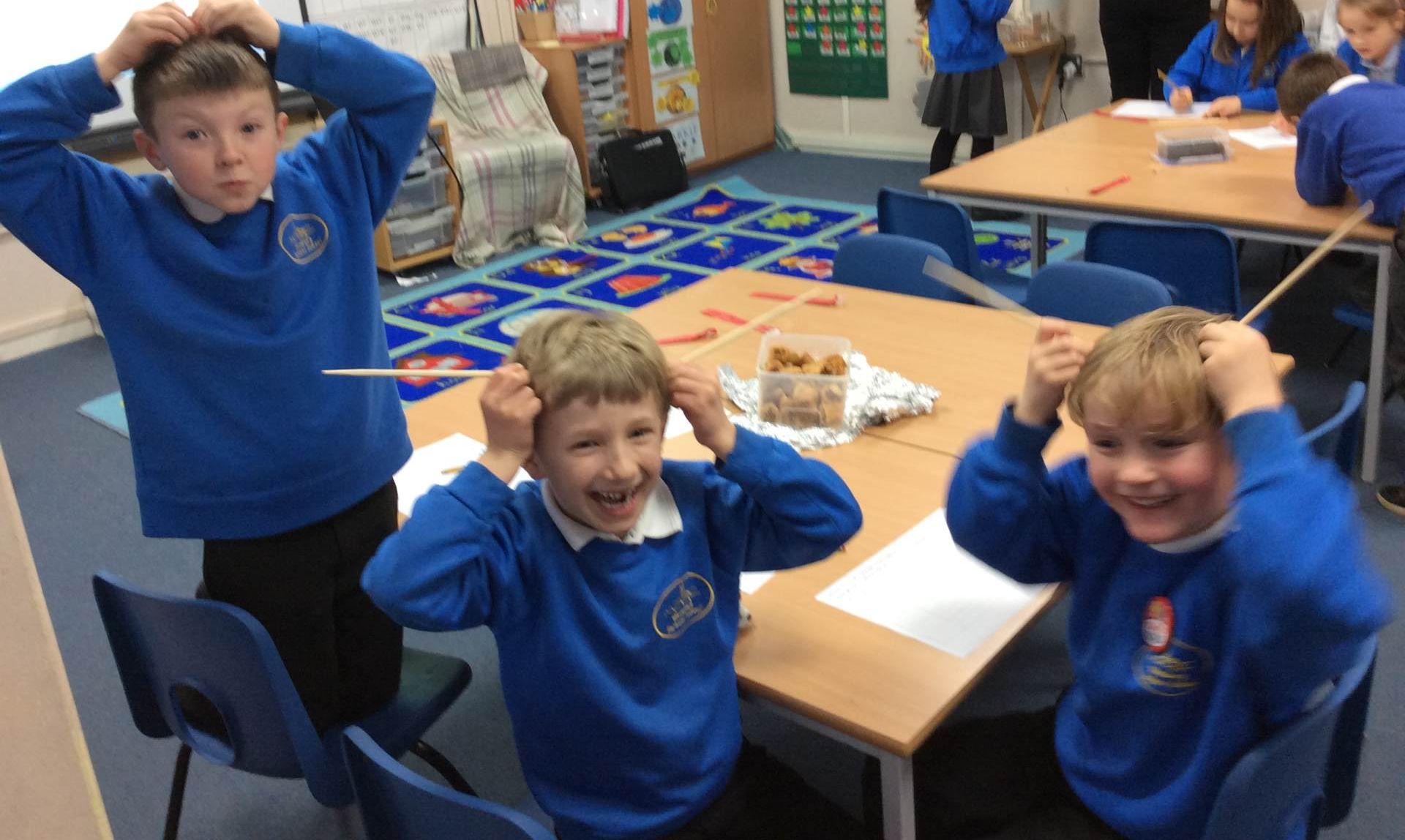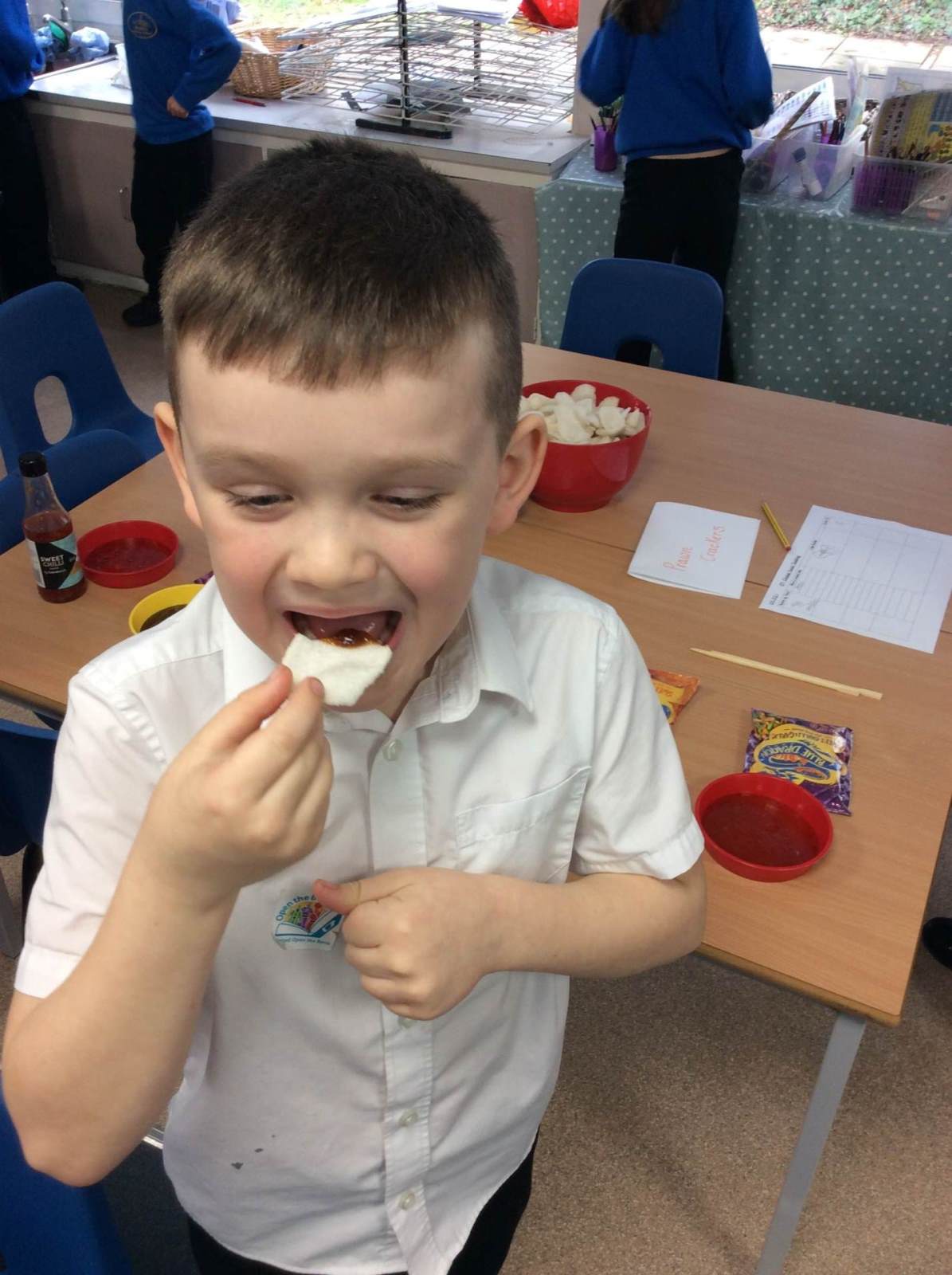 January 2019
Life Cycles
This week, we have been looking a different life cycles. First, we looked at the life cycle of a human and wrote about the changes that take place at each of the following stages of growth:
Baby Toddler Child Teenager (adolescent) Adult Elderly
We then compared the human life cycle to a panda's and discovered how these two mammalian life cycles are similar but also different.We were surprised to learn that when baby pandas are born, they are blind but are quickly able to crawl by the age of just 3 months. Pandas are fully weaned onto bamboo at 8 months. Female pandas become adults at 4 years old and male pandas become adults at 6 years old. This means, if we were pandas, we would already be grown ups!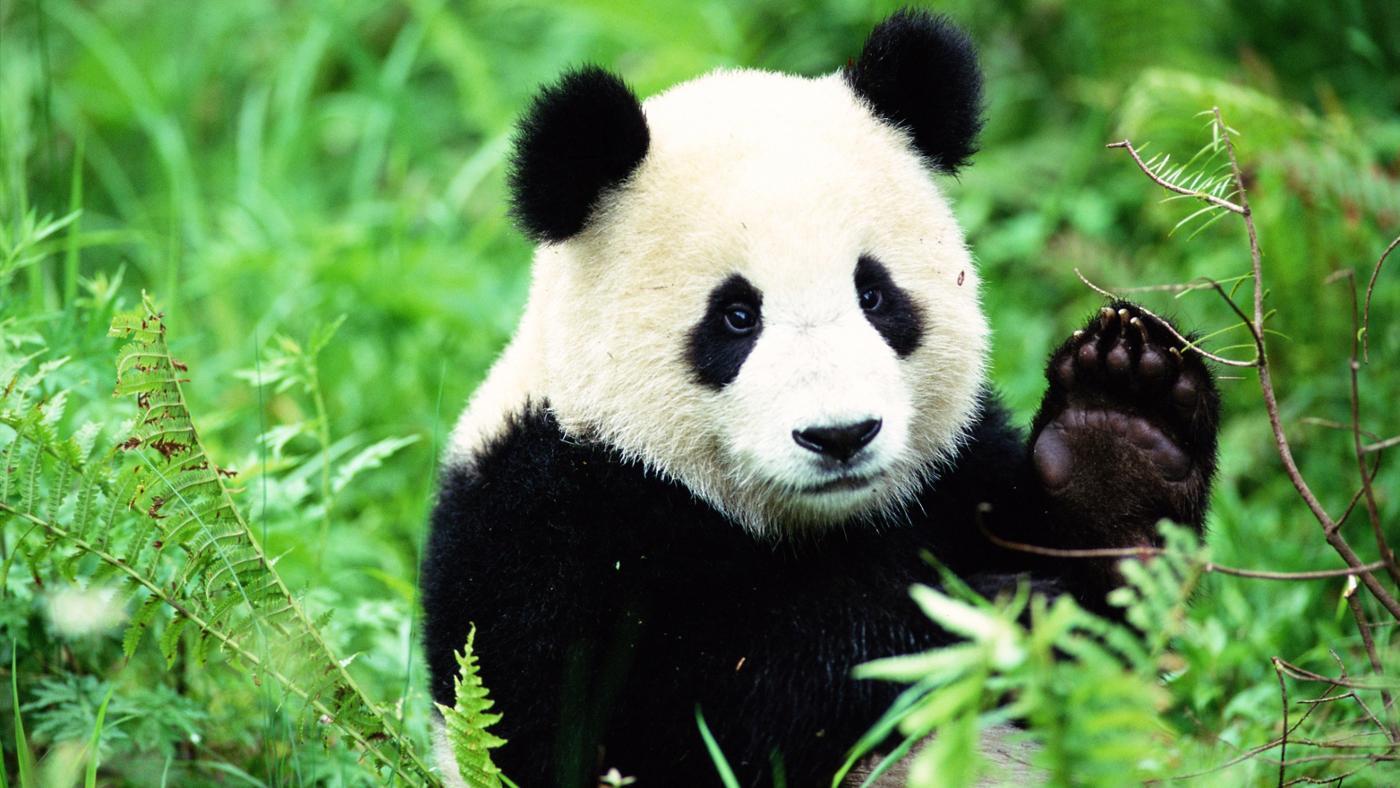 Fantastic Writing!
This week, we have been thinking about some of the ways in which we can challenge ourselves to extend our writing. We have been using expanded noun phrases to make our sentences appealing and interesting to read. An expanded noun phrase includes at least two adjectives and a noun. For example:
The huge, fierce giant.
The terrifying, menacing, wicked witch cast a shocking spell.
We read the story, 'Each, Peach, Pear, Plum' and practised writing our own sentences to describe the final picture. We used some amazing expanded noun phrases , such as 'I spy the witch's cursed, green tea.' Some of us used some conjunctions, too, such as, 'because', 'but', 'if' and 'so'. Many of us have now received our pen license because our writing is neat, well-space, joined and well presented.
Take a look at a sample of our writing. How many expanded noun phrases can you spot?

Pandas
Who would have thought there was so much to learn about Pandas!! This week we have been thinking about China and the special Panda bear that lives there. We have learnt lots of different facts about the Panda and I'm sure the children will fascinate you with their knowledge if you ask them some questions about them.
We have also been practising our Chinese dance which we started to learn with the dance specialist last week. It was a lot harder than we thought to remember all the steps but it is coming together and we cant wait to show you a snippet on screen at our parent event at the end of the term.
Keep up the excellent reading, we have a lot of children getting prizes for reaching their 30 reads so well done if that includes you.
Welcome back!!
Welcome to the Spring Term, 2019. We hope that you all had a fantastic Christmas break and enjoyed time with your families. Thank you for our lovely gifts and cards- we are incredibly grateful for your thoughtfulness.
This term, we are looking forward to a whole school topic called 'Around The World'. In Zebra Class, our study country will be China. In particular, we will be focusing on Chinese homes and how they differ to homes in the UK and in other parts of the world. This Friday, a dance specialist will be joining us to teach us some special movements linked to the Chinese New Year. We are very much looking forward to this!
We have kick started our topic by finding out what we know already about China. We have created 'mind maps' to share our existing knowledge and we have uploaded a sample to this blog post for you to see. We knew an impressive amount already, including information such as the name of the capital city (Beijing), examples of Chinese food and also facts about the Chinese New Year.
In our Computer session on Monday, we found out how to 'copy' and 'paste' an image from the Internet into a word processing document. We searched for images of China and added our own text. Please see some of our work below.
Also, we have been busy in English and have been comparing the stories of Cinderella and Prince Cinders. We retold the story of Cinderella, ensuring that our sentences were as detailed as possible and included conjunctions, such as 'and', 'but', 'because', 'so', 'if' and 'when'. Please have a look at some of our story retells.
Later in the week, we will be painting our names in Chinese writing, using careful brush strokes. We will share this work with you when it is finished :-)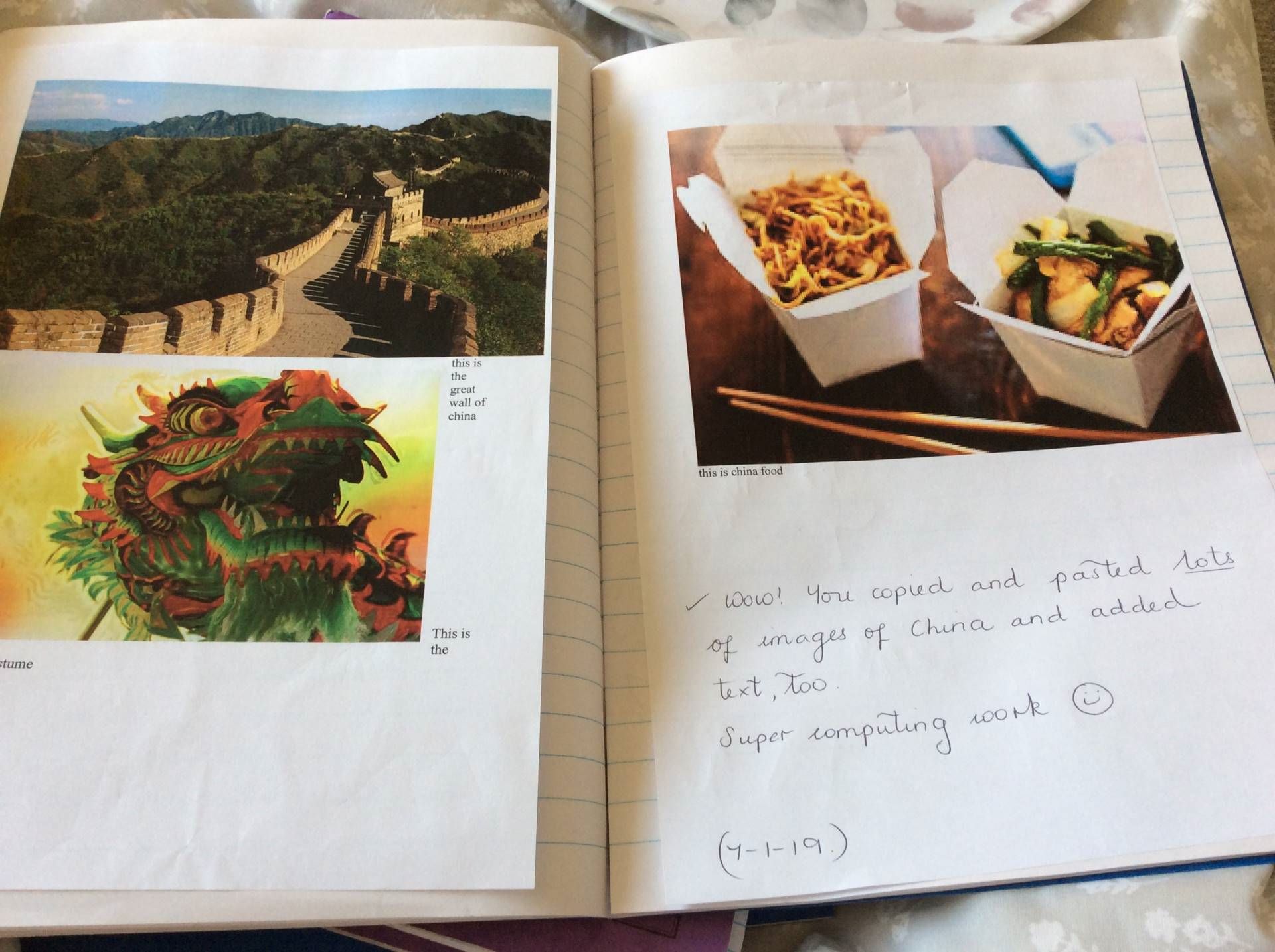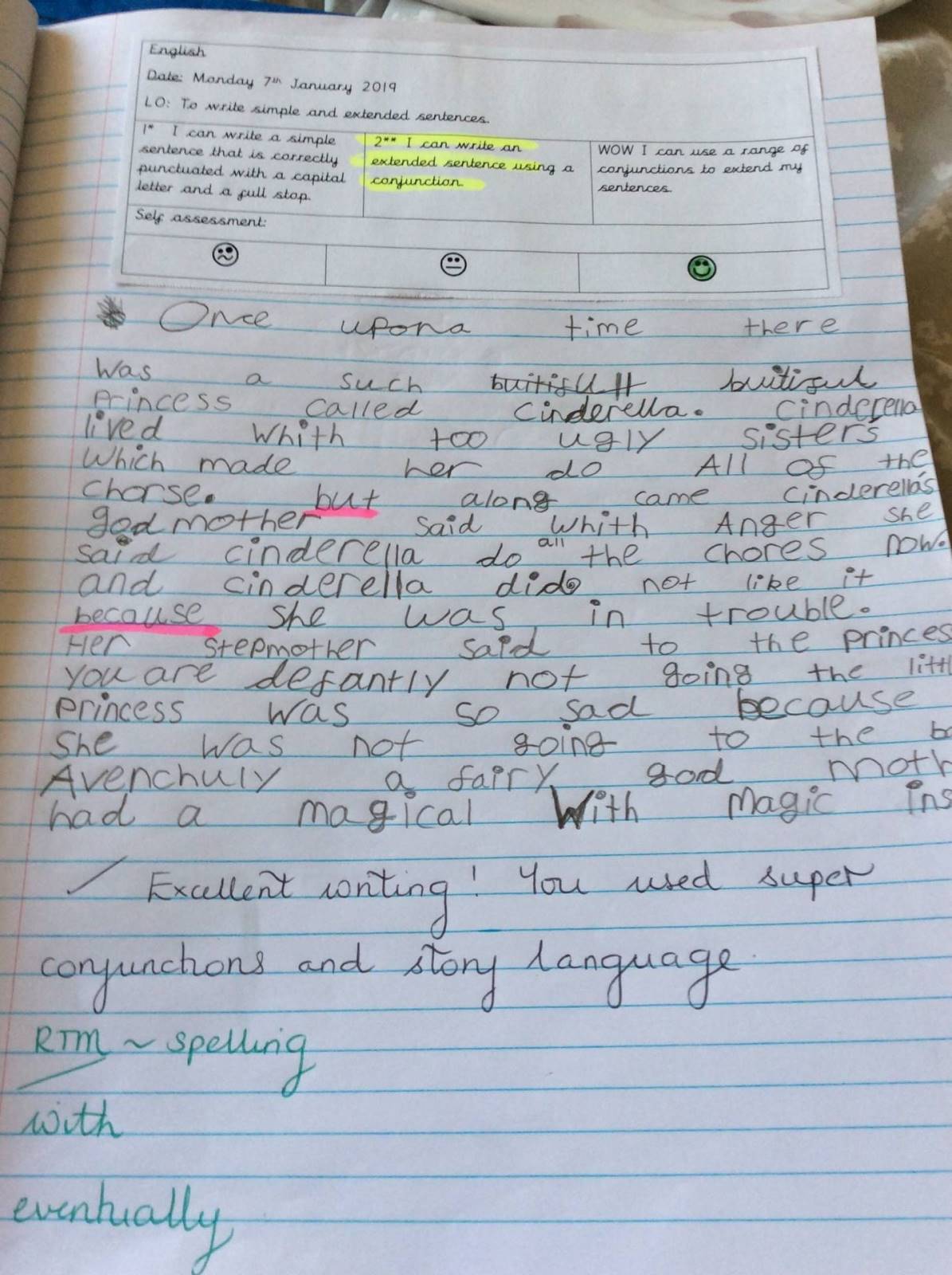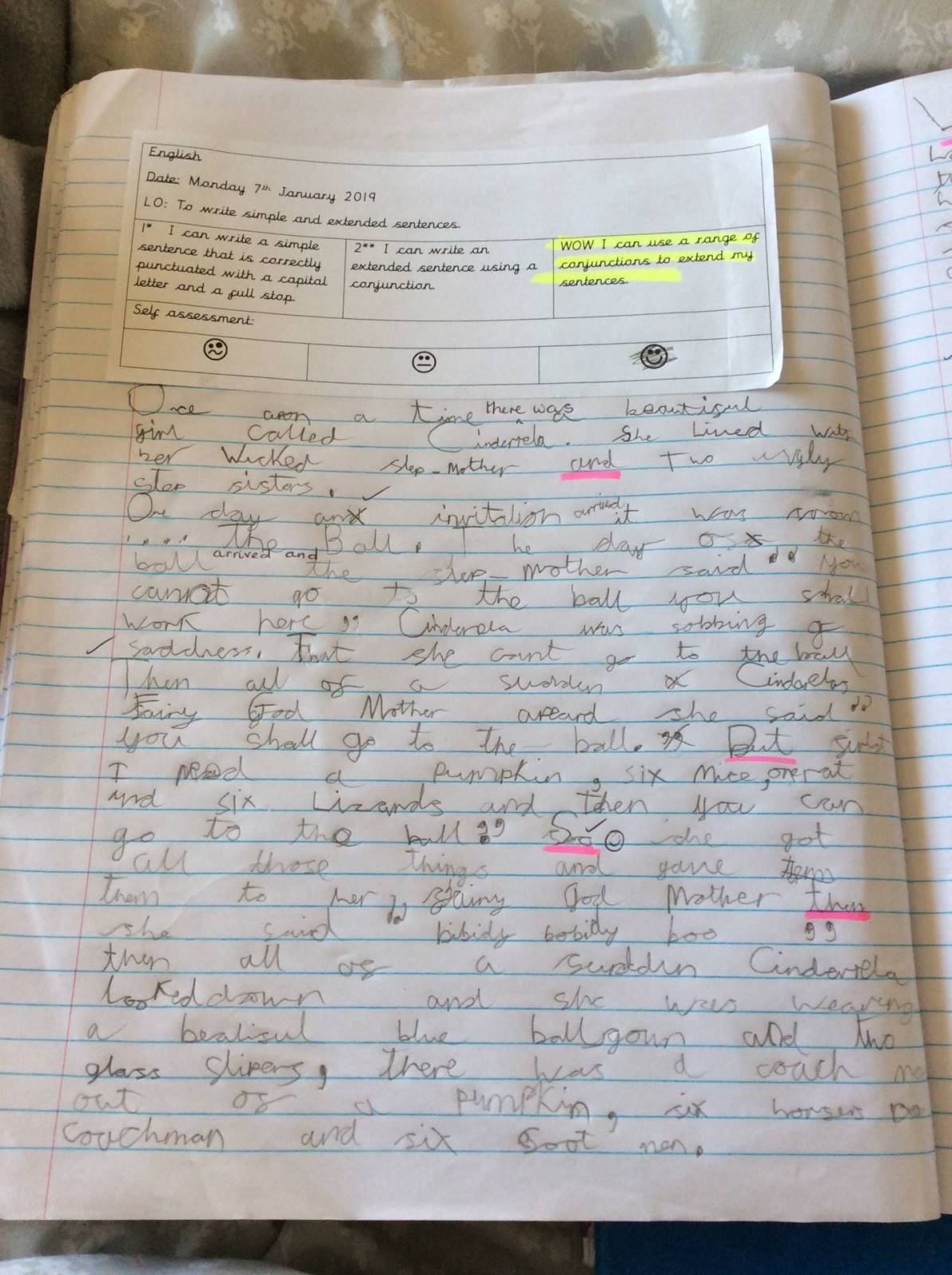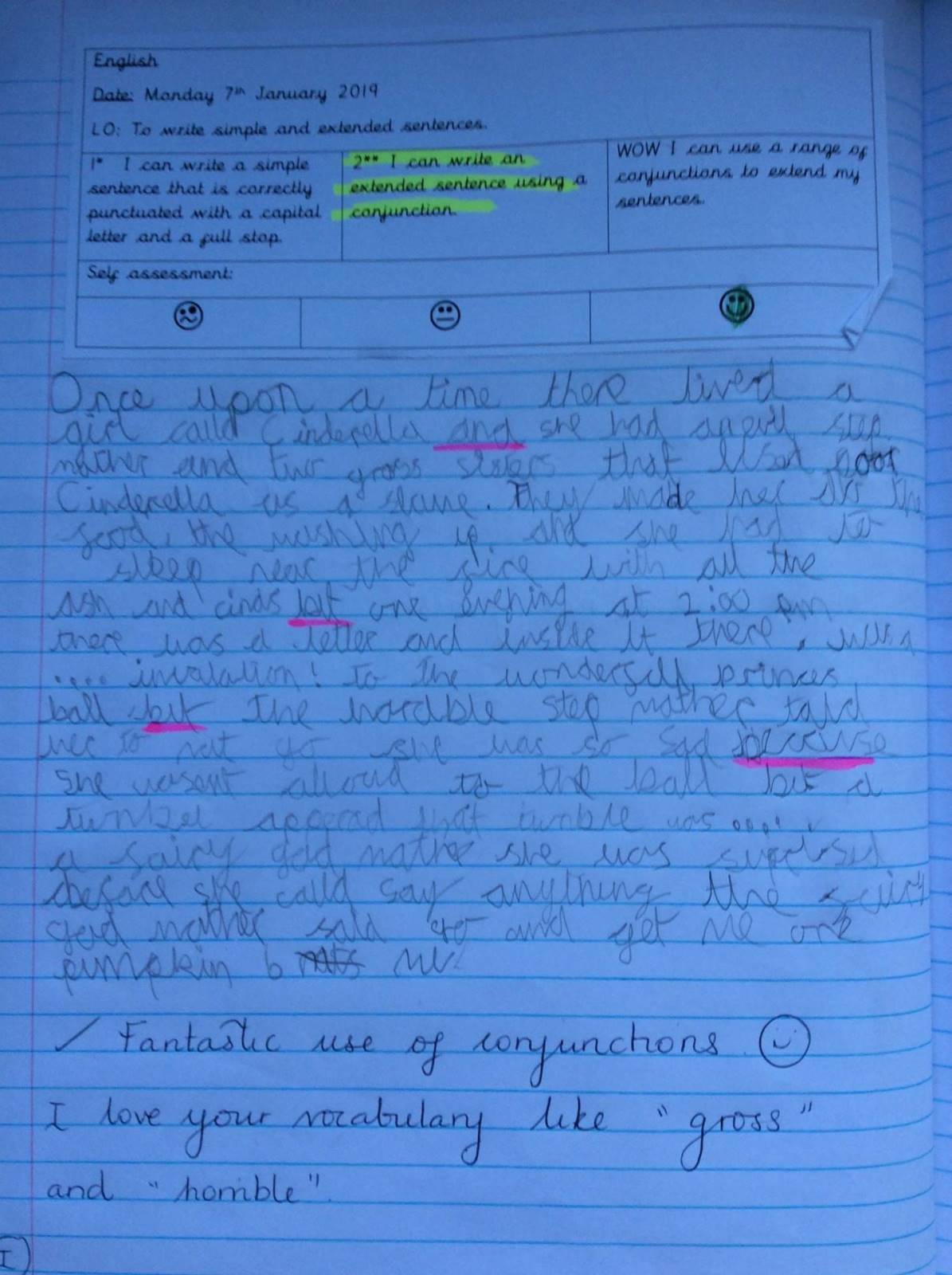 December 2018
Christmas Plays
The children have been fantastic this week and delivered 2 amazing performances of our Christmas show 'lights, camel, action'. The children loved learning the songs and dancing to the tunes. Considering we had fewer practises than we hoped the show went ahead and fun was had by all. Well done Year 2.
November 2018
The Life bus
Today we have been extremely lucky to go on the Life Bus. Becky and Harold the giraffe came to visit us and we were able to sit on the life bus to learn about our feelings, body and how we can look after ourselves. We met Harold the Giraffe and he taught us about how our bodies work and the special parts that keep us alive. We then thought about what we can do to look after our bodies to keep us healthy and fit. We talked about the 5 things our body needs to be healthy and why spending a lot of time on just one thing like computer games can be bad for us because we are not experiencing the other areas of our life.
It was fun listening to Becky and having time to think about what we can do to keep ourselves healthy.
Instruction Writing
We have had a super week writing our own instructions this week. We have talked about why we need instructions and the main features we see in instruction writing. We wrote instructions for making a sandwich and thought carefully about the words we used. Once we wrote our instructions we got to make our sandwich. I have to say there were some very unusual combinations but there were lots of empty plates so they must have gone down well.
We the curious trip
We have had a wonderful trip today in Bristol visiting the science museum. We have explored lots of different things and had the opportunity to experiment with different materials and objects. We really enjoyed making the parachutes fly and experimenting with the different water ways. Thank you to all the parents who came along to help.
This term our topic is the Mr Men and in science we will be focusing on materials. To launch this exciting topic, we spent an afternoon exploring real materials and shared what we know already about them and what we would like to find out. We took the opportunity to record ourselves describing the different types of materials. Click play below to listen to our excellent science discussion:
October 2018
Our weekly round-up
What have we been learning?
In English this week, we have continued to look at the features of recount writing and have tried hard to extend our sentences, using conjunctions such as, 'but' or 'because'. We have also been working hard to join our handwriting neatly. This is something you could practise at home if you would like to. We are aspiring to have a pen, so hopefully many of us will achieve this goal very soon!
In Maths, we have been comparing 2 digit numbers, deciding which number is greater and why. We have used the symbols, < > and = to write sentences such as, 67 > 32. We have even started to compare mathematical calculations with these symbols. For example:
39 + 4 > 12 + 4
In our Topic sessions, we have been looking at old photographs of Westbury and have talked about how Westbury was different a long time ago. We were very interested to see that the roads did not have painted markings, zebra crossings or cats eyes. In fact, there were not any cars at all and in some of the old photographs we spotted a horse and carriage instead. Next Tuesday afternoon, we have planned to go on a walk around the town to look more closely at some of the old buildings, such as Westbury Swimming Pool. We are also expecting a visit from somebody who works at Westbury Heritage Centre to tell us even more facts about what Westbury was like in the past. We have prepared questions for our visitor.
What a busy Week!!
We have had a very busy but knowledge filled week. It started off with our walk around Westbury town. We looked at lots of the buildings and talked about how they had changed compared to the old pictures we looked at in the classroom last week. It was really good to actually see the buildings in real life!! We thought the swimming pool was really interesting and we could still see the entrances to the old girls and boys changing rooms even though they are not used anymore.
later on in the week we got to carry out an investigation and use our scientific knowledge to answer questions. We were finding out what a bulb was and what it needed to grow. We have set up an experiment and will be observing our test pots to see if our predictions were right.
We have also been busy thinking about our parent event and cant wait for you to join us on the 23rd October at 2pm to come and see what we have been up to this term.
Library grand opening
This week we were really excited as it was the grand opening of our wonderful new library. We had a famous author come to open it and sign her book Handas Surprise. The library is amazing with incredible murals on the walls, a large wooden story chair, a tree house, outside Hansel and Gretel house and hundreds of exciting books to read.
We have spent some time exploring our new library and have enjoyed extra special story times sat on the soft cushions. We said a big thank you to Mrs Rylands for helping create such a lovely space, we are all really lucky!
We have also been finishing off our amazing art work with Mrs Newbury based on Lowry. We have spent the last few weeks learning about Lowry's love of painting industrial scenes with factories, houses and people. We began by painting our backgrounds and mixing colours to create the right effects. This was the first time we had used powder paints properly. While the backgrounds were drying we began the detailed drawings of houses and factories. We painted the buildings carefully making sure we didn't loose all the features we had drawn in - this was really difficult!! The final touch was to add the match stick people just like Lowry did to bring his pictures to life. We loved creating our pictures and hope you do too!
September 2018
Our first week in Year 2
New Routines
We have enjoyed settling into our new class and learning some of the Year 2 routines. We have practised finding our 'talk partners' first thing in the morning. This is the person that we need to sit next to during learning time to discuss our ideas with. We have also practised getting into our Maths groups and our English groups. We look forward to seeing you this Friday (14th September) at our 'Meet The Teacher' session, which begins at 2.30pm. We would like to share a little more information with you about the exciting year ahead.
Westbury White Horse Trip
The children have returned from a very windy trip to the White horse but still fun was had by all. The children were able to make observations from the top and look at the amazing view across Westbury. There were lots of discussions about where they lived and places they recognised from so far away. The children also went on a scavenger hunt and found lots of interesting things.
We returned to school early and had a picnic in our classrooms followed by a mass flying kite adventure on the playground. The kites were amazing and flew really well. I expect all the children will be sleeping well tonight!!
Author Visit to Year 2
Today has been really exciting as we had a real author in school reading us stories from her book. Karin Celestine writes books with themes of kindness and trust where she creates felt characters and then takes them out to the countryside where she takes photos of them to illustrate her stories. She brought in a range of the characters she has made o show the children. We all then made paper boats which we will take home to decorate and test in the bath.