Story time with Mrs Budge

I hope you will continue to enjoy the stories I recorded during lockdown. We love telling stories at Westbury Infant school, as well as listening to them.
Tuesday 16th June 2020
Birthdays!
Hi Everyone,
How are you? I hope you are well.
Since I last saw lots of you, we have had some birthdays at my house.
First it was Joe's birthday. He was 17. Here is his cake.
Then last week it was Charlie's birthday. Here is his cake.
Here are his decorations.
Can you guess how old Charlie is now?
I thought you might like to see some photos when Prince Pretzel and Captain Pancake had their 1st Birthday. They had a party. You can see that Bertie, Betsy and Tabitha were invited. There were presents, cards, party food on part plates and decorations.
There was even a cat birthday cake- it was a tower of cat food with cheese sprinkles and edible glitter on top. Of course they had to blow out the candle when we sang Happy Birthday!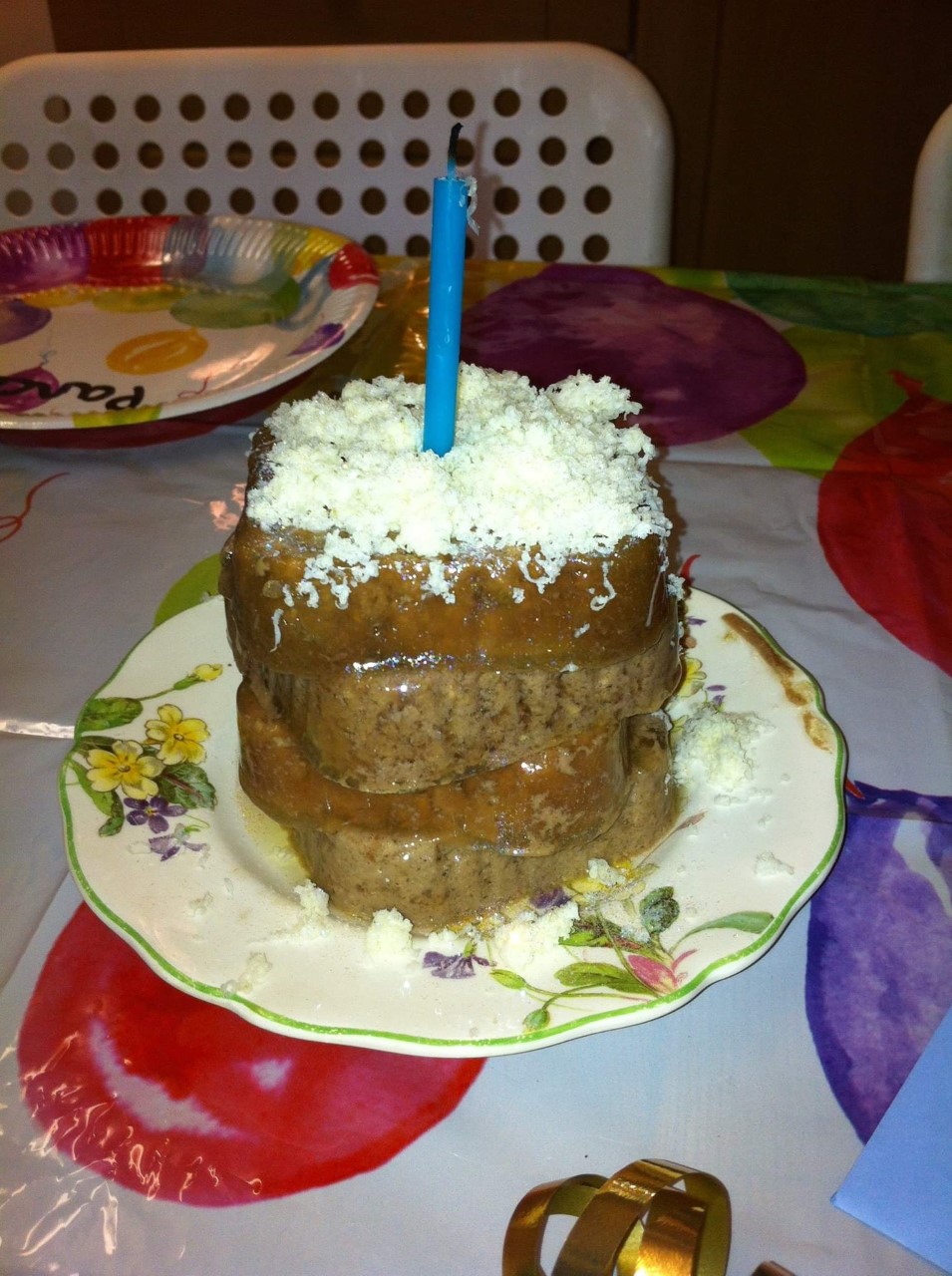 Thursday 28th May 2020
Rascal Alert!
I repeat.....Rascal Alert!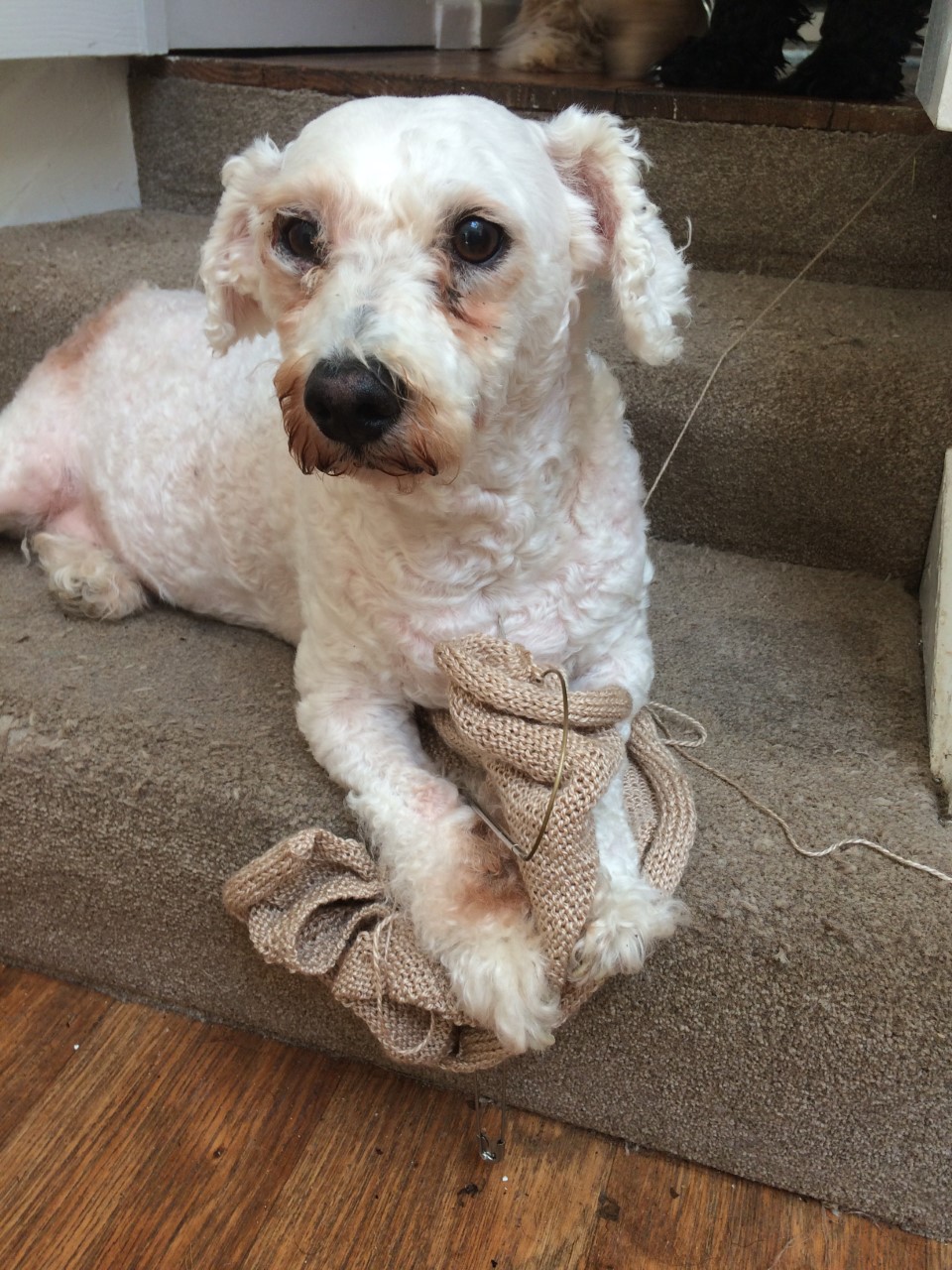 Now, I am sure you recognise Bertie Budge. But can you see what he's got? My knitting!!!!! He stole it from my knitting basket when I popped out of the room. The only way I could get it back was to give him a cookie and then take the knitting when he was distracted. Luckily, the knitting was not harmed. Oooooh he's such a rascal that Bertie Budge x
Monday 25th May 2020
Hi Everyone!
Long time, no see! Have you heard that saying before? I have been sooooooo busy getting everything ready so that some of you can come back to school next week. I am super excited about seeing you.
I went out in the garden this morning to film my story video and the lovely hot weather has helped all my flowers grow. Here is a picture to show you.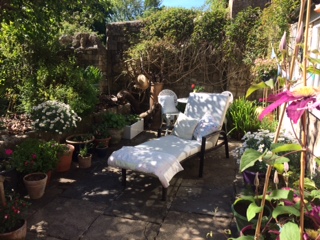 Sometimes I get to sit on that comfy chair, but sometimes the animals get there first! If I do manage a turn, I always have to share with Bertie Budge. Betsy Budge usually sits underneath the chair as she gets too hot. Here is a view the other way. You can see the corner of Lucy's hutch on the right.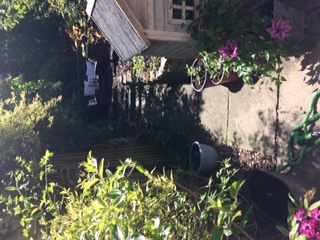 Here are some photos of Prince Pretzel talking to Lucy. I wonder what they are talking about?????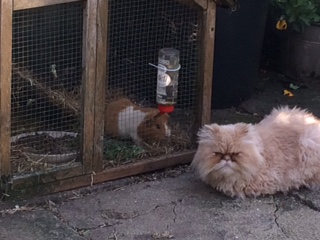 As I am sitting inside now, writing to you on my computer, look who has popped his head through the skylight to say hello.....Captain Pancake!

Hope you have a great day, I can't wait to see you all soon.
Lots of love, Mrs Budge x
Friday 8th May 2020
Happy VE 75th Anniversary everyone!
Although none of us are able to celebrate in quite the way we might have planned, now more than ever, I think we can all appreciate and give thanks for all those who made sacrifices to bring peace to our Country.
Although today is a Bank Holiday, the staff of Westbury Infants are still at work, whether that is onsite, or working at home. I hope you have a lovely day, whatever you are doing.
When I read 'Six Dinner Sid', I said that Prince Pretzel and Captain Pancake sit in a basket like the one in the picture. Here is a photo of them in their baskets.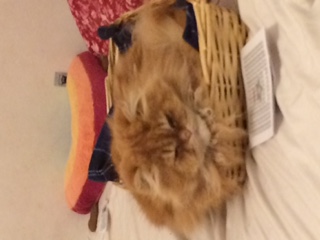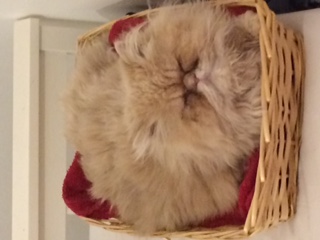 These baskets aren't actually pet baskets, they were given to us at Christmas as food hampers. As soon as they were emptied, the cats jumped in and so they kept them ever since! They now have a fleecy blanket (an old pair of the boys pyjamas) on the bottom to make it a comfy and cosy place to sleep. The baskets are on the end of our dining table, so that the dogs don't bother them. Pesky woofers.
However, Pretzel, doesn't just sit in his own basket. Lots of you know that I like to knit, some of you came to knitting club too. I keep my knitting in a basket and sometimes, Pretzel sits in my basket. On top of my knitting!!! What a rascal....but I can't get cross with him because he looks so cute.
Have a great day everyone and a super weekend.

Mrs Budge xxx
Thursday 7th May 2020
Hi Everyone,
Gosh, it's been a week since my last blog post. Sorry about that. I'll do another one tomorrow to make up for it. I've been really busy this week and I've also spent lots of time watching the WISH video! I hope you have all seen it and enjoyed it. All the grown ups wanted to make you smile and I hope that's what we did.
Today Mrs Newbury (our web wizard) is going to post all the individual videos that the staff sent to Miss Jones, who arranged for a special friend of hers to put it all together. My video has gaps in it because I had to retrieve and wrestle the cats! My favourite one is Mr Brewer's- did you guess who it was under the costume?!
If you watched my last story video, you will know that Bertie Budge has had a haircut and isn't very happy about it! Because he doesn't like having it done, I have to do it in phases. Here are some photos of him halfway through. Oh dear what a sight!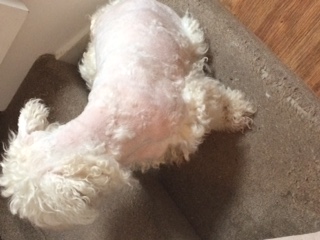 Now it is finished, he is still grumpy but in a couple of weeks when it has grown a bit he will look like and behave like a puppy again!
Without his big thick knotty coat, Sam was worried he would be cold so wrapped him up on the sofa. When we went to bed, he came under the covers with me so he was nice and warm. He's like a real life hot water bottle, lovely in the Winter but not so much in the Summer!
I know some of you have spoken to your teachers this week, on the phone or on zoom. I hope you have enjoyed this, I know the teachers loved seeing and hearing you. We are all missing you lots and are looking forward to when we can all be together again.
Have a fab day xxx

Thursday 30th April 2020
Hi Everyone,
I am missing you all lots but I hope you are all ok and busy learning and playing at home. Are you being helpful for your grown ups? I hope so.
Today I am going to share some photos from the weekend, when it was sunny. I was working in my garden. I have an old sink in my garden (yes really) that the previous owner put on the patio to use as a large plant pot.
It needed clearing out and re planting for the summer, so I dug out all the old plants and got rid of any roots and stones from the soil. By this time, the sink/pot was only half full so it needed more compost.
When I back from getting the compost, look what I found!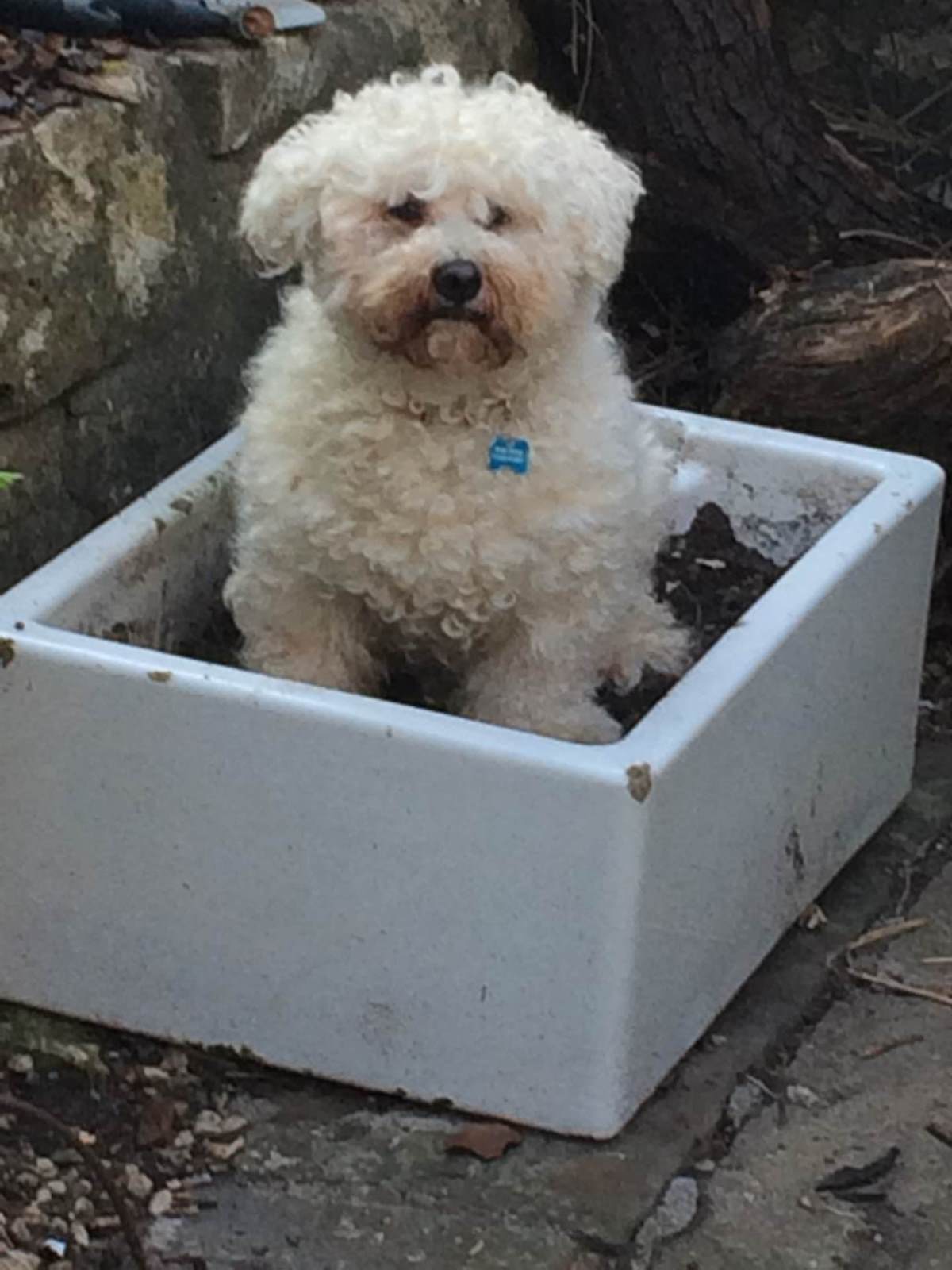 What a rascal Bertie Budge is!
I told him to get out, and then look what he did.....
Yes, he lay down in it and went to sleep! So I had to wait to finish my planting...
That was at the weekend and Bertie Budge isn't speaking to me at the moment, because I have given him a haircut. He is very cross about it, but it needed to be done because when his fur gets too long it gets very knotty and he gets too hot. I haven't finished it yet, I have to do it in stages so he doesn't get too cross. When I have finished, I will show you a picture- he looks like a different dog!
Have a lovely day everyone xxx

Monday 27th April 2020
Hello Everyone,
How are you today?
I have seen some super home learning photos from lots of you recently. I especially liked the lovely chalk rainbows on the pavement outside school. What a lovely way to greet the staff this morning!
Today I am wearing my favourite socks. Can you see who the picture is of?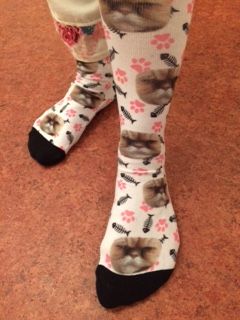 That's right.....Prince Pretzel! Sam had these made for me at Christmas, it was a very special surprise.

Please keep sharing your activities and photos with us, we love hearing from you.
Love from Mrs Budge and my furry friends x
Saturday 25th April 2020
Hi Everyone,

On Thursday it was my Mummy's birthday. It was a special one as she was 70 years old. As we can't see each other at the moment, I had to leave her cake on the door step and then we did Zoom with my boys, my Dad and my brother and his family to sing Happy Birthday and she blew out the candles.
The cake is a lemon cake, and on the top are some real sugared primroses, which you can eat. I picked them from the wildlife area at school. The clematis flowers around the edge are not edible though, they are just for decoration.
Sam helped to make the cake, but in the second photo you can see we had another helper too! What a rascal........
Wednesday 22nd April 2020
Hi Everyone,
I hope you enjoyed my story video yesterday with Prince Pretzel and Captain Pancake.
They are 5 years old and I thought you might like to see a picture of when they were teeny tiny cute kittens.
Pancake is first...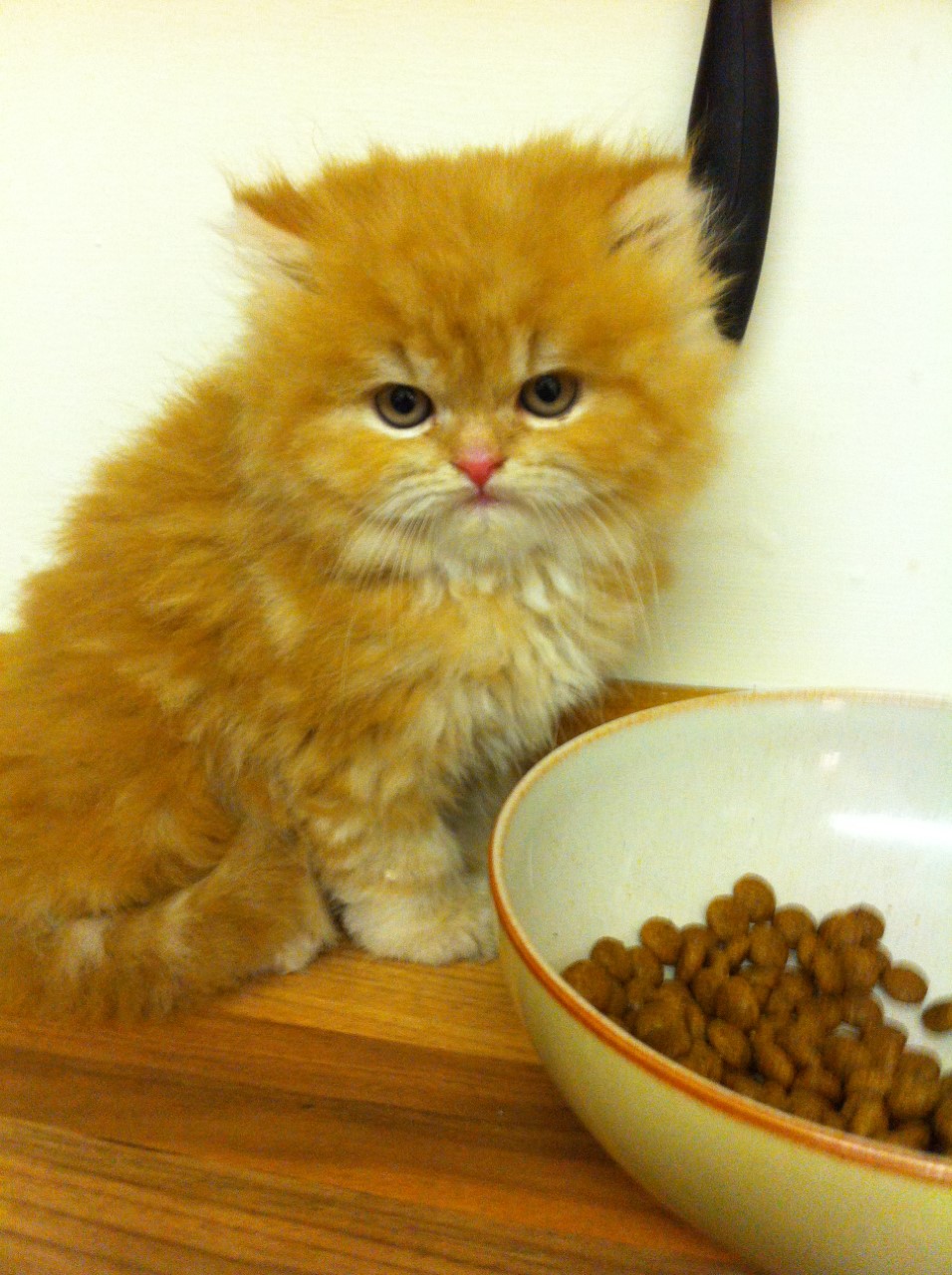 And here is Pretzel.....
They were the only 2 kittens in their litter so even though I only went to buy one, I couldn't split them up and came home with them both!
However, when we got them, the lady that owned their parents told us that Pancake was a boy and Pretzel was a girl. So Prince Pretzel was actually named Princess Aurora at first. It was a few weeks later when they went to the vet that I got a phone call saying that he was really a boy! That's when we changed his name to Prince Pretzel.
I am trying very hard to convince Bertie Budge to take part in a story video and to wear a costume, but he is being rather grumpy about it. I have tried to bribe him with treats but it didn't work. This morning he pinched Pretzel's feather boa and was trying to chew it up! I will keep trying though and using my gem powers to persevere.
Take care and stay safe.
Mrs Budge x
Monday 20th April 2020
Hello Everyone!
What a lovely sunny Monday it is today. I hope you are busy with your home learning and that you are showing fantastic behaviour and manners to your grown ups.
Over the past couple of weeks, I have introduced you to most of my pets. But there are still 2 that you haven't met yet.
Introducing Tabitha......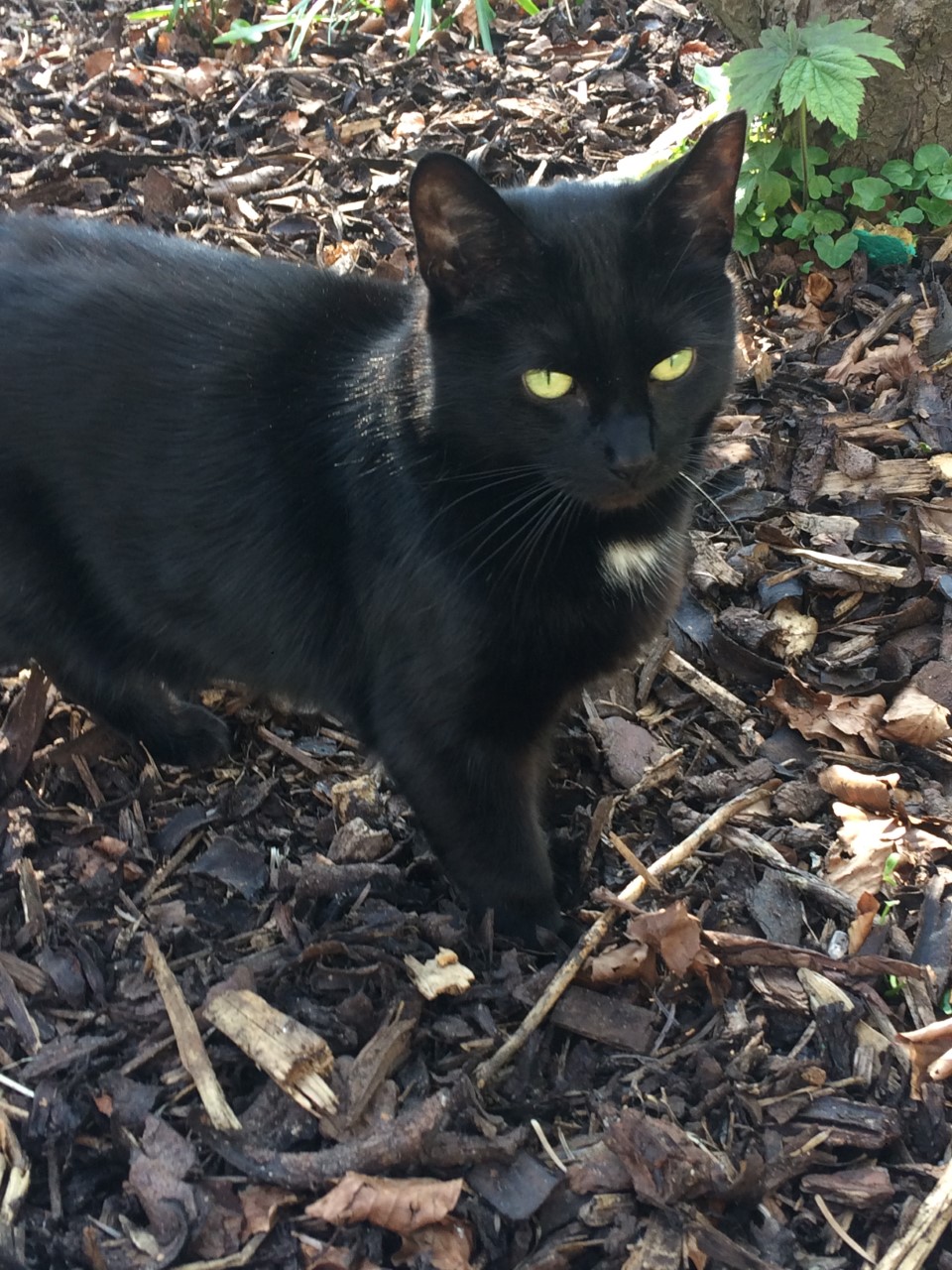 Tabitha is a lovely little black cat with shiny fur and a tiny white bib. She is very quiet but likes a cuddle and sitting in the sunshine. She is also a very competent hunter and when we lived in the countryside in Devon, she used to hunt rabbits!
Tabitha was a stray cat, who didn't have a home. She started coming into the school I taught at in Devon and Sam and I started to feed her as we could tell she was hungry. Someone was going to take her to the RSPCA but instead we wrapped her up in a blanket and took her home.
Tabitha doesn't always live at our house. Sometimes we don't see her for days or even weeks at a time. She must be getting fed at another house, or maybe a few! But she always turns back up sooner or later.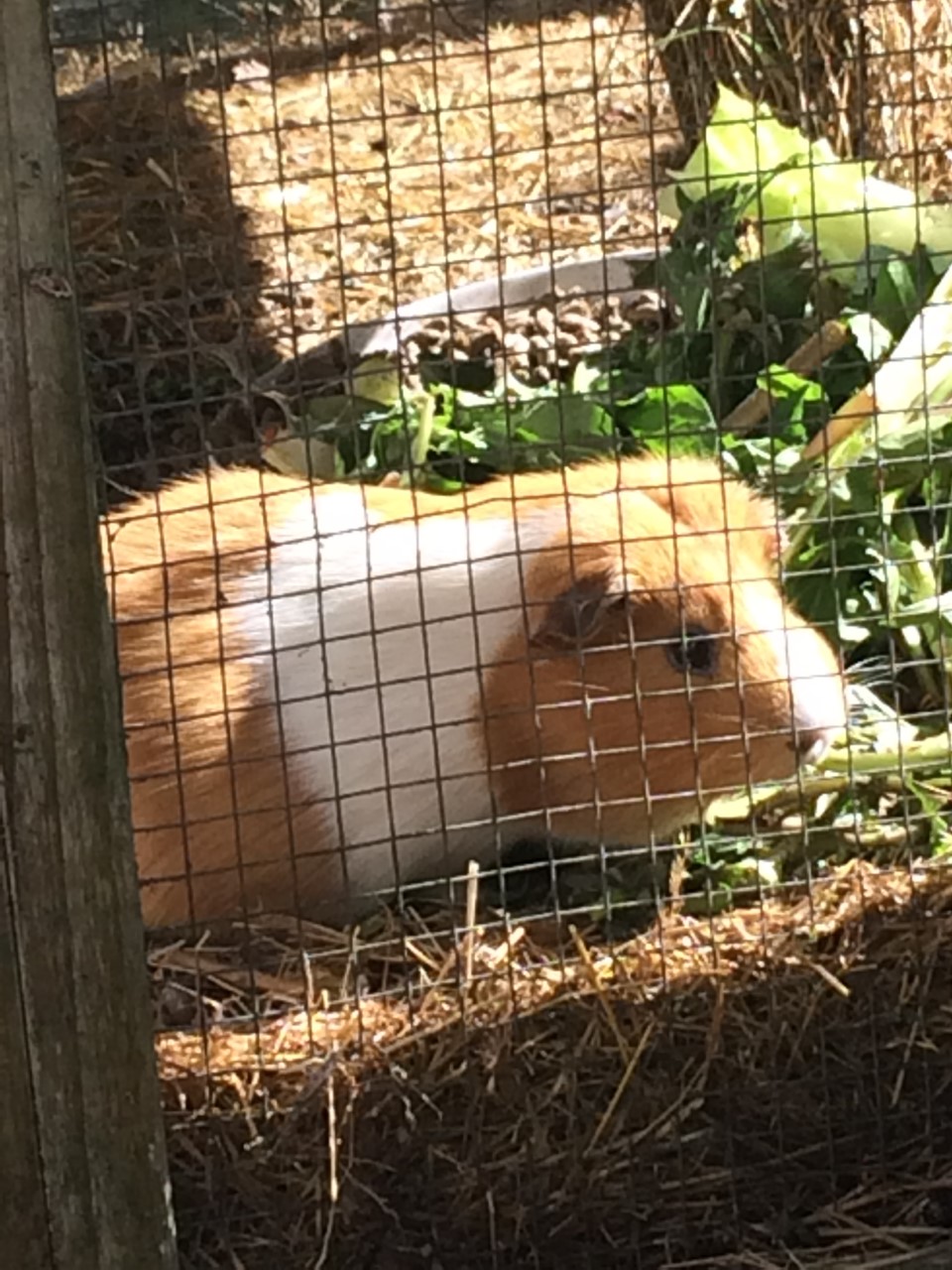 Introducing Lucy.......
Lucy is a Guinea Pig and she lives in a hutch in our garden. She used to have a friend who lived with her called Honey, but sadly she died last year. We were worried that Lucy would be lonely on her own, but actually she seems very happy and doesn't have to share her food anymore! Lucy loves to eat dandelions and if she is hungry she squeaks REALLY loudly!
And to finish my post today, here is a cute photo of Betsy and Pancake having a cuddle on the sofa. This is an old photo, just after Captain Pancake had had his haircut. If you look closely you can see the fur on his body is shorter than the fur on his head. I think he looks a bit like a lion!
Have a super day everyone,
Love from Mrs Budge x
Wednesday 15th April 2020
Hello Westbury Infants!
I hope you had a lovely Easter weekend and The Easter Bunny brought you a yummy chocolate egg.
As the weekend was beautifully sunny, Prince Pretzel decided it was time to wear his favourite t-shirt. Would you like to see it?
I thought you would. Here it is......
Isn't he handsome?

Sam bought this t-shirt for him when it was Mother's Day, so it was a present for me really but Pretzel does love it too.
Have a great day and I'll be back with more tales from The Budges soon xxx
Thursday 9th April 2020
Hello Everyone,
Today I want to share the most beautiful Easter Tree with you. I'm sure you all know about Christmas Trees, but have you heard of Easter Trees?
The tradition in Germany to decorate the branches of trees and bushes with eggs for Easter is centuries old, but its origins have been lost. The egg is an ancient symbol of life all over the world. Eggs are hung on branches of outdoor trees and bushes and on cut branches inside.
This is an apple tree in the garden of Volker Kraft in Saalfeld, Thuringia. Kraft and his family have been decorating the tree since 1965, starting with just 18 plastic eggs.This had been a childhood dream of Volker Kraft since he saw his first Easter "tree", a lilac bush which he passed on the way to school as a little boy in 1945.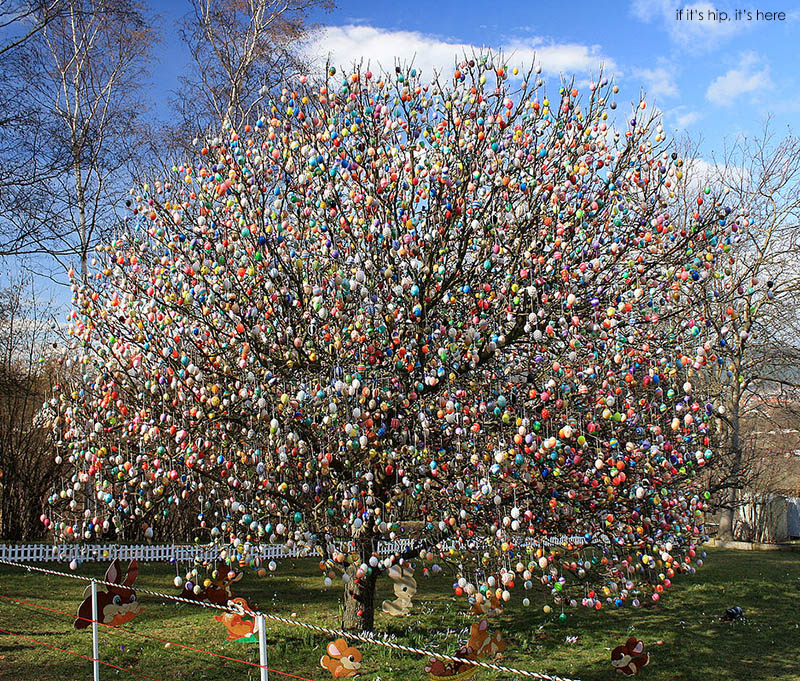 By 1994 the Krafts had increased the number of eggs to about 350 pieces. As the tree grew, they needed more eggs for decorating. The Krafts blew out almost all the eggs used in their household during the year and reused the eggs each year.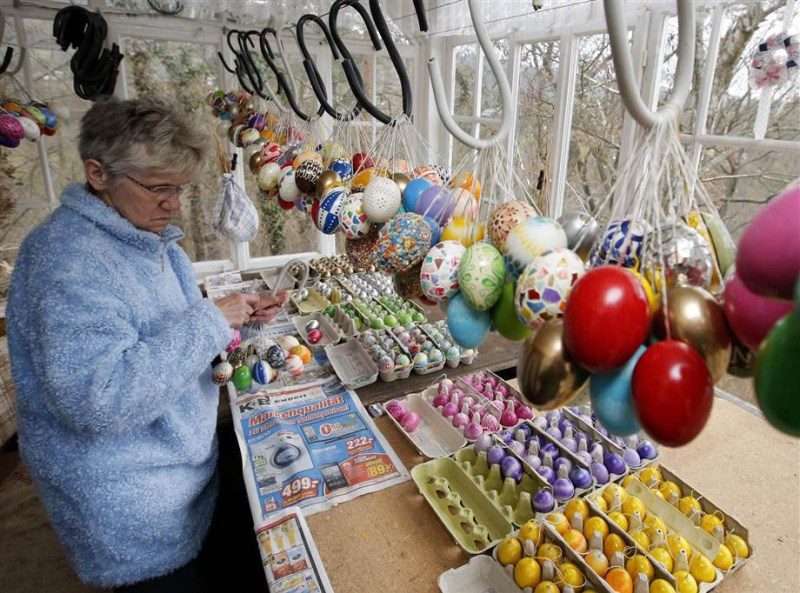 Between 1994 and 2009, the family hung an annual average of 700 new Easter eggs on the tree. In 2012 there were over 10,000 eggs on the Easter egg tree, and Kraft said that he would not try to hang more.
Isn't that beautiful?
Inspired by Kraft's tree I have had my own Easter Tree and decorations at Home. Those of you in Y1 and Y2 might remember the little one I put in the entrance hall at school last year.
Here are my Easter decorations. I made the wreath on my front door using scraps of fabric leftover from my sewing.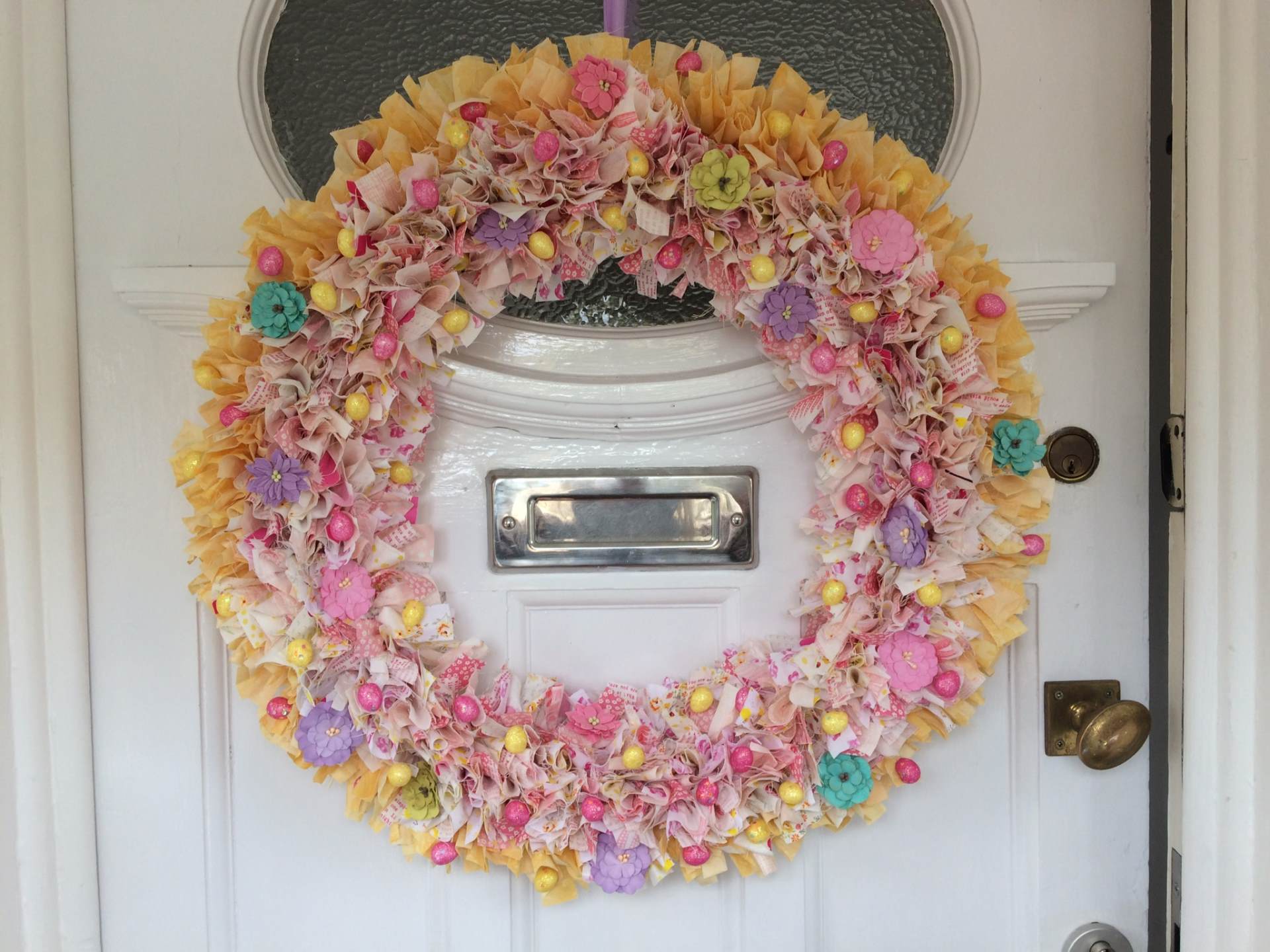 I hope you have a super Easter weekend and are able to spend some lovely time at home with your family. I hope the Easter Bunny visits you too!
I miss you all. Take care and stay safe x
Tuesday 7th April 2020
Good Morning Everybody!
I hope you are all well and happy.
On Sunday, I tidied the garden as I planned. It took me 3 hours to sweep up all the old leaves but as it was lovely and sunny I didn't mind.
Here is a photo of Captain Pancake enjoying the sunshine too.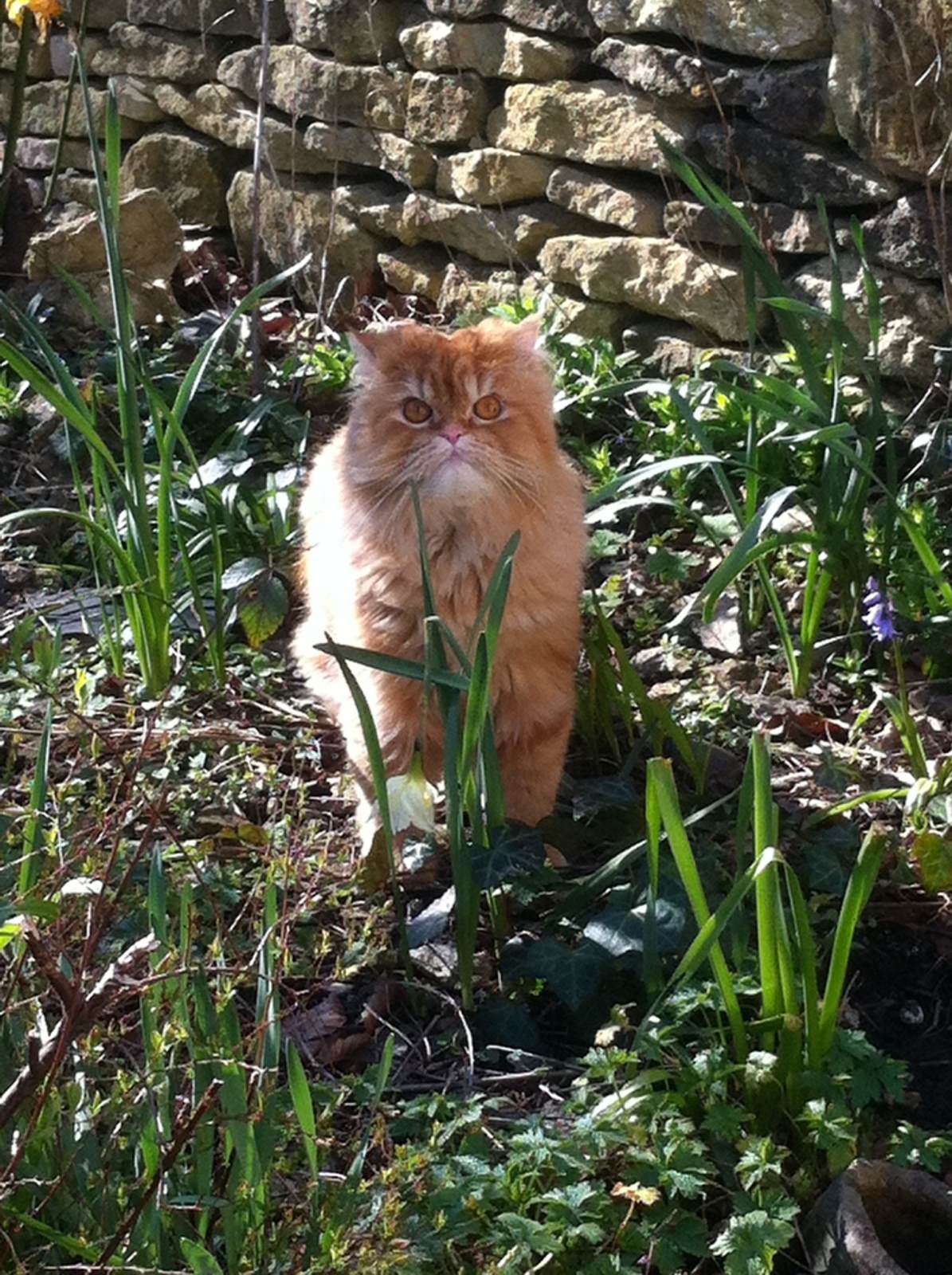 Yesterday, Sam had to make gingerbread biscuits as part of his Home learning. I helped him with the recipe but he made and iced them himself. I think he did a good job, don't you?
Unfortunately, I had a bit of a baking disaster yesterday too, I made brownies for the boys. They were in the oven and as my oven cooks a bit unevenly, I went to turn the tray round halfway through the cooking time and I dropped it on the floor! Disaster! Well, I used a spoon and scooped the mixture back in the tray as best as I could and put it back in the oven to finish cooking. They didn't look very pretty but they tasted ok. I told the boys I was trying out a different recipe that gave a bumpy top....sssshhhh.
Even though I had scooped up as much as I could, there was still a chocolate mess on the kitchen floor so I went to get my mop and bucket. I live in a cottage, which is really little and very old, so next to the kitchen is a tumbledown passageway which I store things in. So off I went to get the mop. But when I came back, the kitchen floor was clean. Spotless in fact! What had happened? Did Charlie, Joe or Sam clean it up for me? No they did not! I went into the sitting room and found Bertie Budge on the sofa looking very pleased with himself. If you look closely you can see brownie mix around his mouth! What a rascal, he had licked the floor clean. Perhaps he thought he was helping? He was lucky there wasn't any actual chocolate in the mix, just a bit of cocoa as chocolate makes dogs very poorly. Bad Bertie Budge....
Sunday 5th April 2020
Hello Everyone,
I hope you are having a good weekend. I am up early to get busy tidying my garden. Today the weather forecast says this morning will be sunny so I have put on some old clothes ready to sweep and dig and sort. I'm sure Pancake and Pretzel will come out too, they like to run around playing with the leaves and when they are tired they like to sit in the sun. Did you know that cats like to be very warm? Pancake likes to sit on the windowsill on our landing which is always a very sunny spot. Or they sit on electrical things like the computer or the tumble dryer that are warm because they are switched on. Pretzel (who is a bit daft) even sits on the cooker hob sometimes- once the gas is turned off I'm pleased to say! Silly puss cat....
As well and clearing and tidying the garden, I have been tidying the kitchen too. Look what I found when I opened this cupboard!
You never know what you might find in a cupboard at our house!
Perhaps you might be helping your grown ups with some gardening today? I have seen some super photos of you in the garden already. Perhaps you could tidy your bedroom instead if you don't have a garden?
Whatever you are doing today, please stay safe and remember to be kind and helpful to each other.
Mrs Budge x
P.S. Bertie hopes you enjoyed storytime!
Thursday 2nd April 2020
Hello Boys and Girls!
It's time to meet some of my pets.
Introducing Prince Pretzel (on the left) and Captain Pancake (on the right).
Captain Pancake and Prince Pretzel are brothers. In fact they were the only 2 kittens in the litter, which is quite unusual. They are a breed of cat called Persian. As you can see they have long fluffy fur, which needs a lot of brushing. Sometimes their fur gets knotty and they need a haircut. It's quite tricky to give a cat a haircut, so I don't do it very often!
They are best brothers and often sit together. Here is a photo of them asleep.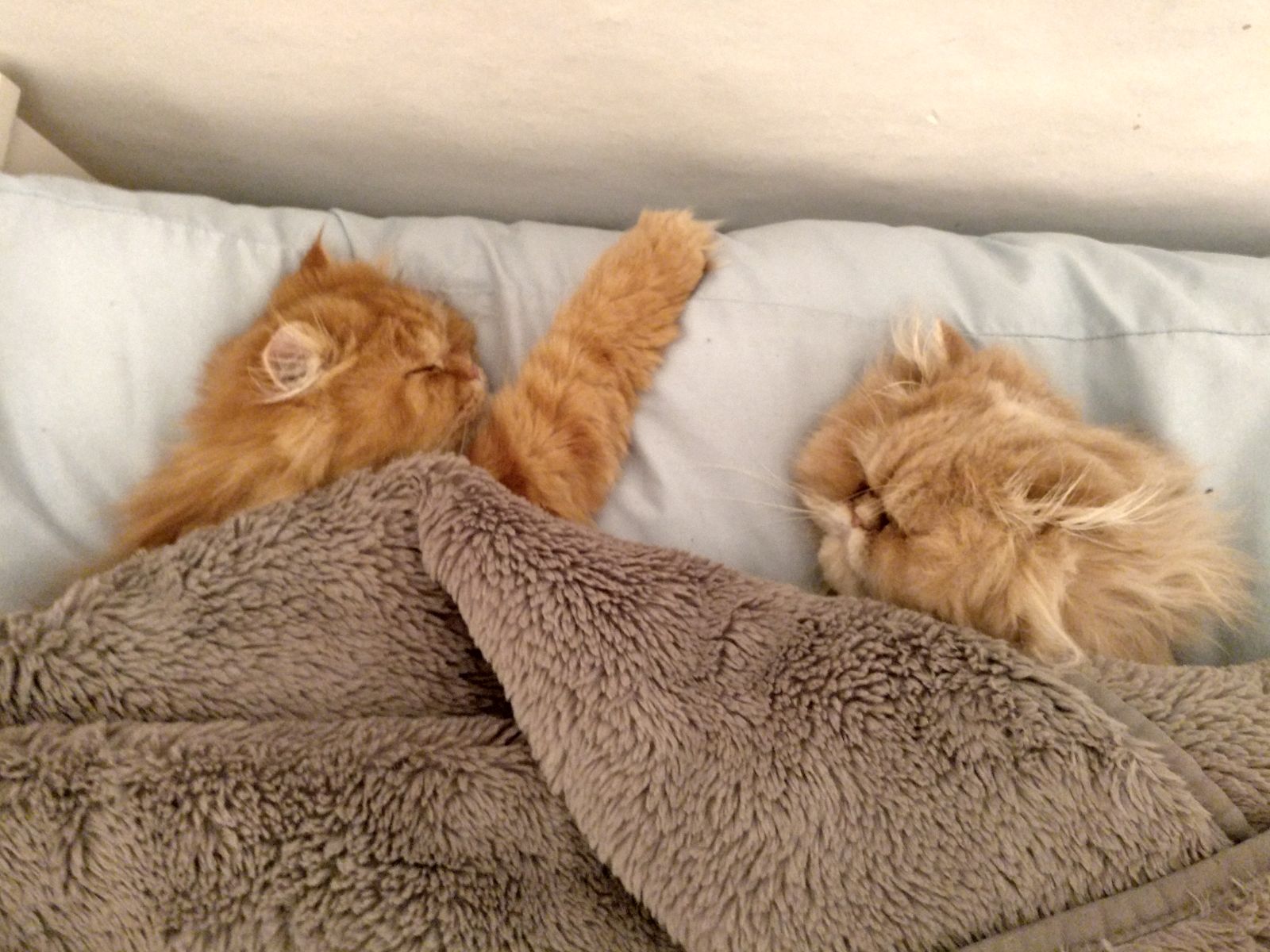 They are really funny and we love them lots!
I hope you enjoy their photos x
Thursday 2nd April 2020
Hello Everyone!
I am so happy to have my own blog to talk to you all, it is so quiet at school without you!
Your home learning photos are fantastic, all the grown ups at school are so proud of you, and your Mums and Dads who are helping you. Please keep sending your photos in to Mrs Newbury deputyhead@westbury-inf.wilts.sch.uk I love looking at them and seeing how you are getting on. I am also getting a little bit worried that your grown ups are doing such a great job, they won't want you to come back to school when we reopen!
I hope you are all trying your best to be helpful and polite at home too- remember, good manners aren't just for school.
As you know, it isn't just Westbury Infant School that is closed, ALL the schools in England (and some other countries) are closed. That means that my children's schools are closed too and they are learning at home, just like you. You might remember me talking about my 3 big boys? Charlie is 19, Joe is 17 (it was his birthday just last week) and Sam is 13. They are all taller than me, but Sam is the biggest, even though he is youngest!
Last week I was at school, and I saw some of you when I delivered your lunch, thank you for your lovely waves and smiles. The first time I did the deliveries it took me a while to find all your houses, but then I got better at it and by Friday I was really quick. You see, we are all learning new things at the moment!
Talking about learning new things, I have never used a blog before. The teachers are very good at it, because they've been doing it a long time, but I've only just started. I am having a go myself first and trying to work it out. I might search the internet if I need instructions. If I need more help I will ask the other teachers (asking a friend) and if I still can't do it, I know I can ask Mrs Newbury, our super smart web wizard. Remember if you are having difficulty with your home learning, that your grown ups can email your teacher for you, who will be happy to help.
I am going to get busy with my own work now. You might think that with school closed, the grown ups have time to put their feet up and have a rest? Well I can tell you, running a closed school is much harder than running an open one! So I must get going.
Take care and stay safe everyone x